October, 10, 2013
10/10/13
2:00
PM ET
OWINGS MILLS, Md. --
Billy Bajema
is the
Baltimore Ravens
' blocking tight end, but he's known to fans as the guy who gets cut and re-signed all the time.
Bajema is the last man on or off the team's 53-man roster, depending on the day of the week. It's only Week 6 of the regular season, and Bajema has been cut three times and re-signed three times.
He was added back to the Ravens on Thursday, just two days after he was released.
[+] Enlarge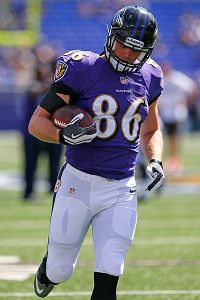 Mitch Stringer/USA TODAY SportsTight end Billy Bajema has already been cut and re-signed three times this season, but he's played in every game.
"Vonta [Leach] says I've got the best job in the NFL, missing practice and coming back and playing," Bajema said. "But really, you want to be here and it's frustrating to not be. It's good to be back."
Let's take a look at Bajema's winding road this year:
Aug. 31: Cut in the team's final major cutdown before the regular season.
Sept. 4: Re-signed on the first day the Ravens could put tight end
Dennis Pitta
on the injured reserve-designated for return list. He plays the next day in Denver.
Oct. 3: Cut when the Ravens acquire offensive tackle
Eugene Monroe
in a trade.
Oct. 5: Re-signed a day before the game at Miami and wide receiver
Brandon Stokley
gets released because he can't play with a groin injury.
Oct. 8: Cut when the Ravens bring back Stokley.
Oct. 10: Re-signed after the Ravens waive running back
Shaun Draughn
, who was signed when the team had injury concerns in the backfield.
Dizzy? Just think how Bajema feels.
"It makes you realize how much you want to be here and want to be part of the team," said Bajema, a nine-year veteran who is in his second season with the Ravens. "Staying at home for a couple of days isn't all it's cracked up to me. You're more appreciative of being here and having the opportunity to play each time I come back."
When Bajema gets cut, it's usually with the assurance that the Ravens are bringing him back. He stays at his nearby apartment, and most of the time he even keeps the playbook.
Bajema isn't alone when it comes to this swingman-type role on the roster.
Ross Ventrone
was involved in 29 roster moves in his three years with the
New England Patriots
, including 21 in 2011.
Despite being let go so many times, he's played in every game, although many might not know it. Bajema's name isn't called too often. He has one catch this season and hasn't committed a penalty. His role is to block, which often goes unnoticed.
"The good thing about this year is I've played in every game," Bajema said. "As long as that happens, it's a little easier to deal with. If you missed games, it would be tougher."
Last week, Bajema was released after Wednesday's practice. He got the call Friday to be at the Ravens facility on Saturday morning, when he re-signed with the team and participated in the walk-through. The next day, he played 13 snaps in the Ravens' win over the Dolphins.
"I'm grateful to be back and excited to get that call and know you're ready to go," Bajema said. "It's kind of like, 'here we go again and let's go and play.'"
October, 4, 2013
10/04/13
8:00
AM ET
Did anyone think the Baltimore Ravens would trail the Cleveland Browns in the AFC North standings in October? I mean, anyone who doesn't have a dog bone in their mouth. The Browns took over sole possession of first place in the division by beating the Buffalo Bills, 37-24, on Thursday night.

Cleveland, which is 3-2 for the first time since 2001, holds a half-game lead over the Ravens (2-2) and Cincinnati Bengals (2-2). Will the Browns still be in first place by themselves at day's end Sunday? We'll find out. The Ravens play at Miami (3-1), and the Bengals play host to unbeaten New England (4-0).

Here's your Friday edition of the wake-up caw ...
August, 10, 2012
8/10/12
7:30
AM ET
The preseason officially kicked off in the AFC North on Thursday night, when the Ravens
won at Atlanta
and the Steelers
lost at Philadelphia
. You can't read too much into the results because the Ravens' starters struggled and the Steelers' first teams started strong.
The Bengals and Browns open their preseasons Friday night. I'll post my thoughts and observations following those games. As for now, it's time for your wake-up call.
BENGALS
: Cincinnati's opener against the Jets will be a welcome challenge for the Bengals' revamped running attack, which features three new starters: running back BenJarvus Green-Ellis and guards Travelle Wharton and rookie Kevin Zeitler. "It will be a good test of communication and getting the calls out and having guys you haven't played next to understanding them and do them," center Kyle Cook told the
Cincinnati Enquirer
. "It's always a good test when you can face somebody that's got a multiple-set defense because obviously in our division we play teams like that."
BROWNS
: With running back Trent Richardson out after having his knee scoped, all of the attention in the opener turns to rookie quarterback Brandon Weeden. Head coach Pat Shurmur tempered expectations by saying he expects Weeden to have some ups and downs in his debut. "Let's remember now, he's a rookie," Shurmur told
The Cleveland Plain Dealer
. "We're looking for him to go out there and execute and be generally efficient and then take the lead of that huddle and direct us into the end zone."
RAVENS
: Baltimore is now down to its third-string tight end after starter Ed Dickson partially dislocated his shoulder on a nine-yard touchdown catch in the preseason opener. "We're pretty sure it's just a sprain but we're going to get an MRI," coach John Harbaugh told
The Baltimore Sun
. "We're probably looking at a couple of weeks." With backup Dennis Pitta (broken hand) out for the preseason, the Ravens are down to four healthy tight ends, including veteran Billy Bajema.
STEELERS
: Pittsburgh was expected to use a fullback more under offensive coordinator Todd Haley, but that plan might have to change after David Johnson suffered a "severe" knee injury in the preseason opener, according to coach Mike Tomlin. The
Pittsburgh Post-Gazette
is reporting Johnson tore his ACL and is done for the season. The only other fullback on the roster is Will Johnson, who signed this year after being out of football in 2011.
August, 2, 2012
8/02/12
9:14
AM ET
By
ESPN.com staff
| ESPN.com