October, 30, 2014
Oct 30
8:00
AM ET
So begins the
Jacksonville Jaguars
' gauntlet.
One week after a two-touchdown defeat to their in-state rival
Miami Dolphins
, the Jaguars on Sunday begin a treacherous three-game stretch of their schedule against a trio of teams with winning records -- and that all look like prime postseason candidates.
Up first, the
Cincinnati Bengals
, an organization that found itself at a unique crossroads late in last Sunday's game against Baltimore. Down four with less than four minutes remaining in a division game, the Bengals needed quarterback
Andy Dalton
to take them on a miracle comeback drive. He did. If he hadn't, the Bengals likely would have lost and fallen to last in the AFC North.
Instead, they're back in first.
ESPN's Jaguars reporter Michael DiRocco and Bengals reporter Coley Harvey are here to preview this matchup:
Coley Harvey:
Mike, Jags QB
Blake Bortles
has four pick-sixes this year to go along with his 12 overall interceptions. How much of his growth hinges on how well he can take pressure? Many of his struggles have come against blitzes, and you have to think Bengals defensive coordinator Paul Guenther wants to expose that.
Michael DiRocco:
Bortles has struggled against the blitz. Though he is completing nearly 60 percent of his throws against five or more rushers, he has thrown five interceptions, has thrown no touchdown passes and has been sacked nine times. His Total QBR is a paltry 2.8 against five or more rushers. This isn't confined to just Bortles, though, because nearly every rookie QB will struggle against pressure. However, the Jaguars need to see improvement over the final eight games. His decision-making has to be better, and the one thing offensive coordinator Jedd Fisch wants to see is Bortles not continue to make the same mistakes. There are going to be interceptions because it's part of the learning process, and it's also because Bortles has a bit of gunslinger in him and likes to take chances. That's partly why he leads the NFL with 12 interceptions. Fisch would like to see that number drop to six over the season's second half. It's a rough process, but the only way Bortles can grow is to go through it. It would be a problem if he wasn't better in the second half of the season than he was in the first half.
Coley,
A.J. Green
says he expects to play against the Jaguars. More than quarterback Andy Dalton, is Green the key to the Bengals' offensive success, not only this week but going forward?
Harvey:
To be honest, Mike, he isn't. Yes, Green is a Pro Bowler and he is a talented player and having him will bring added life to this offense, but we can't overlook the fact this unit has played well without him this season. Green has missed parts of four games this season because of a nagging big-toe injury, and in his place the Bengals have just rolled out a strong group of receivers, running backs and tight ends.
Mohamed Sanu
has been the most direct replacement for Green, catching 21 passes for 383 yards and a touchdown in Green's absence. Since Sanu has served as a runner on reverses, and passed balls in addition to catching them, he has racked up 460 yards of total offense in relief of Green. That's good enough for 31.3 percent of the Bengals' entire offensive production in the games Green has missed. Even if Green returns, expect Sanu to factor in similar ways this week and on down the line. Still, it can't be disputed that Green's potential addition this weekend will help any offensive success Cincinnati has.
Mike, Jacksonville's defense currently ranks as the best in the league in red zone territory. What happens when the Jags get pinned deep that allows them to prevent giving up touchdowns?
DiRocco:
The Jaguars' defensive line, notably tackles
Sen'Derrick Marks
and
Roy Miller
, has played well all season, but especially in the red zone. Teams are averaging just 2.08 yards per rush against the Jaguars in the red zone. In addition, the Jaguars have allowed teams to convert just 27.3 percent of third-down plays in the red zone, which is fifth in the league. They've also intercepted two passes in the end zone. What's funny is the Jaguars have given up six touchdown passes of 20 or more yards, which shows the secondary has been more susceptible to getting beat deep than having trouble in the red zone. The pass rush has helped in the red zone, too. The Jaguars' 25 sacks are tied with Minnesota for second in the NFL behind Buffalo (28).
Which is the real Bengals' defense: the one that held opponents to 11 points per game in the first three games or the unit that gave up 35.7 points over the next three games?
Harvey:
If I had a good answer for that one, Mike, head coach Marvin Lewis, Guenther and the rest of the defensive staff might try to find a job for me. Seriously, it's been one of the most perplexing issues of this season for the Bengals. They came out strong the first three weeks, stopping the run and just outmuscling each of the teams they played. Not only did it look like the Bengals were as good under Guenther as they were under the venerable Mike Zimmer, but they looked better. And then came the bye week. A Week 4, early-season interruption derailed the Bengals, and it appeared to hit the defense the hardest. In the first three games after the bye, they were outscored 107-54. Two of the teams, the Patriots and Colts, picked up more than 500 total yards. All three rushed for more than 100.
I'd say the real Bengals' defense is somewhere in the middle of the fast start and the atrocious post-bye follows. Now that players are starting to get healthy again, I'm thinking it might be closer to the unit we saw at the start of the season.
What has
Denard Robinson
's past two games meant to the balance of Jacksonville's offense, Mike?
DiRocco:
The Jaguars' passing offense is dependent on play-action for it to be effective, and until the past two weeks, the play-action fake really meant nothing to opposing defenses. Through the first six games, the Jaguars averaged 69.5 yards per game rushing. In the past two, they've averaged 180.5 yards per game. Most of that has come from Robinson, who has run for 235 yards and one touchdown. He's doing a much better job of running tough: breaking tackles, running through arm tackles, moving the pile forward and falling ahead for an extra yard. It's no coincidence that the Jaguars' first victory came in a game in which Robinson rushed for 127 yards and a touchdown. Had Bortles not thrown two pick-sixes last week against Miami, the Jaguars probably would have won that game, too -- and Robinson had 108 yards rushing. If Robinson can continue to be effective running the ball, that will allow Fisch to take some pressure off Bortles.
Geno Atkins
looked very good against Baltimore. Is he all the way back from the ACL tear, and what kind of impact does he have on the defense?
Harvey:
I'd say Atkins is back from the season-ending ACL injury he suffered exactly one year ago Friday, Mike. As you mentioned, he played quite well against the Ravens. Guenther called it Atkins' best performance of the season, and you'd be hard-pressed to find anyone who disagreed. Atkins played faster, with more explosion and a bit of his old fire in that game. He had two tackles for loss, a sack and a forced fumble that came when he was one step into the backfield before the ball carrier had time to decide which way he was going to run. It's safe to say after six virtually unproductive games that he's finally all the way back.
October, 5, 2014
Oct 5
8:20
PM ET
JACKSONVILLE, Fla. -- After a team whose season could have gone either way – and still could -- gritted out a win Sunday afternoon, there seemed to consensus among the
Pittsburgh Steelers
that cornerback
Brice McCain
played like a combination of Mel Blount and Rod Woodson last week in practice.
Coach Mike Tomlin said McCain had four interceptions during team drills. Veteran cornerback
Ike Taylor
said it was much higher than that.
"He had like seven picks during the week," said Taylor, who is out with a broken arm. "In one practice, I think he had like three."
McCain had one measly pick Sunday, but his timing was impeccable. The sixth-year veteran turned a pre-snap read into the play of the game, as well as a teaching tool for Tomlin.
[+] Enlarge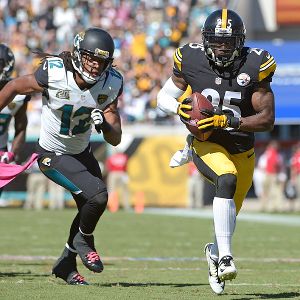 AP Photo/Phelan M. EbenhackBrice McCain turned practice production into a game-changing play in Jacksonville.
McCain jumped a route after a blitz hurried a throw from rookie quarterback
Blake Bortles
, and his interception and 23-yard return for a touchdown allowed the Steelers to hold off the winless
Jacksonville Jaguars
17-9
at EverBank Field.
"I told him before the game, 'Man you had a great week of practice. This is your game,' " Steelers free safety
Mike Mitchell
said.
There were several different ways to look at McCain's game-changing interception two plays after Steelers quarterback
Ben Roethlisberger
lost a fumble deep in Jacksonville territory with Pittsburgh clinging to a 10-9 lead.
It seemed, at first glance, to come from an unlikely source.
McCain, after all, had played so poorly in Houston in 2013 that the Steelers were able to sign the 27-year-old to a veteran minimum contract last March even though he has started in the NFL and is in his prime.
Tomlin preferred to look at the biggest play turned in by the Steelers' defense this season as "football justice."
"That's the type of week [McCain] had in practice," Tomlin said after the Steelers improved to 3-2. "It just reinforces the concept of the things that you do in practice have an opportunity to come up in a game."
How many times do you think Tomlin will make mention of that to his players, especially the younger ones, when the Steelers practice for their game against the surprising
Cleveland Browns
?
A great week of practice and a little intelligence he had gleaned while playing on a team that shares a division with the Jaguars led to McCain making his fifth career interception.
With the Jaguars facing second-and-12 from their own 15, Bortles changed the play from a run to a pass with the Steelers showing blitz.
Split end
Mike Brown
veered inside, and when McCain saw him stick out his elbow, he said he knew from previous experience that the Jaguars were trying to run Steelers cornerback Cortez Allen and McCain into each other.
McCain avoided the traffic, and when
Allen Hurns
looped behind Brown, McCain was waiting for him – and the pass the Bortles wanted back as soon as he threw it.
"I looked back and he threw it right to me," McCain said.
Bortles said Hurns, who is also a rookie, didn't run the wrong route or that he should have shortened his route with the Steelers blitzing.
"I should have stayed with the play that was called, but it was just a bad read by me," Bortles said. "Worst-case scenario, I should have just thrown it over his head."
That wouldn't be too hard, as McCain is generously listed at 5-foot-9 and is anything but the biggest guy in the world.
Despite his lack of height, nobody stood taller in the Steelers' locker room after a win they had to have.
And Taylor, whose arm injury provided the opening for McCain to get on the field regularly as a nickelback, said what Bortles learned in his second career start: Don't overlook McCain.
"He's feisty and he hates to lose," said Taylor, who broke his forearm two weeks ago. "He can run with anybody and you saw what he can do."
April, 17, 2014
Apr 17
12:15
PM ET
The three top quarterbacks are all on the board for the
Cleveland Browns
when they make their first first-round selection in ESPN draft analyst
Mel Kiper's Jr. Mock Draft 4.0

.
It's no surprise Kiper has the Browns taking one at that spot. Everyone and their cousin seems to believe the Browns absolutely have to have a quarterback with the No. 4 pick.
April, 4, 2014
Apr 4
11:00
AM ET
Josh Gordon
said during a recent visit to ESPN that he was a
Johnny Manziel
guy and he thought the
Cleveland Browns
would draft the quarterback with the No. 4 overall pick in May.
He gushed about Manziel during his visit to Bristol.
Gordon

Bridgewater
This week in
an interview on NFL.com
he said if he had a choice he would take Louisville quarterback
Teddy Bridgewater
.
Asked to comment on the quarterbacks in the draft, Gordon didn't even mention Manziel, instead talking up
Blake Bortles
-- "reminds me of Ben Roethlisberger" -- and
Derek Carr
-- "I'm a big fan of Derek Carr" -- and Bridgewater -- "He's been real good on the field."
When pressured about which quarterback he would take he finally gave in and said he would "play it safe" and take Bridgewater.
A few things can be said about this:
Gordon might not have a clue who he likes, and like some players sometimes do might just be saying what he thinks people want to hear.
Gordon really isn't committed to a particular draftable quarterback.
If he really thinks Bortles is Roethlisberger, that's good enough for me.
Playing it safe is not the way to go with the fourth pick in the draft.
The Manziel-to-Bridgewater thing can be filed under the heading: "Go figure."
April, 2, 2014
Apr 2
5:10
PM ET
The
Cleveland Browns
ramped up their evaluation of the top quarterbacks in the draft with a private workout with Central Florida's
Blake Bortles
, ESPN's Adam Caplan confirmed. This comes two days after the Browns brought in
Derek Carr
.
What's the difference between Bortles and Carr? Bortles is worthy of the No. 4 overall pick, and Carr is not.
Bortles has the size, arm strength and athleticism to become a franchise quarterback. The risk in taking him this high is the fact that it's all based on perceived potential.
Any team that takes Bortles will probably have to wait one or two years for him to develop. Patience hasn't been a strong suit of the Browns, who change quarterbacks quicker than most fantasy football league owners do.
Still, no one knows whether Bortles will be there when the Browns are on the clock or whether the Browns will take him if he's still available. ESPN.com Browns reporter Pat McManamon selected Bortles in the
NFL Nation mock draft
of the top five picks.
Something tells me
Brian Hoyer
would like that selection.
March, 27, 2014
Mar 27
5:24
PM ET
Josh Gordon
said it early in the day on ESPN's "SportsCenter." He said it as the day continued. And he reiterated it late in the day in an interview with ESPN.com: He expects the
Cleveland Browns
to take a quarterback with the fourth pick in May's draft.
"I don't think
Ray Farmer
wants to miss out on a quarterback pick," Gordon said in a phone interview Thursday afternoon.
Gordon
Which in words is a slight upgrade from him saying earlier in the day that he was "pretty sure" it would be a quarterback. (Then again ... Gordon also was quick to say Farmer had texted during the day to keep folks guessing.)
Gordon was not saying Farmer told him anything. Just that he had talked with the Browns GM, and after the talks he feels the Browns are leaning toward the passer. To the point that when the possibility of drafting wide receiver
Sammy Watkins
was mentioned, Gordon talked as if he'd be the 26th overall pick, not the fourth.
"It would be great to have him, if he lasts that long," Gordon said.
The three quarterbacks Gordon mentioned as possibilities were
Blake Bortles
of Central Florida,
Johnny Manziel
of Texas A&M and
Derek Carr
of Fresno State.
This is either the greatest smokescreen in draft history, a player just expressing his opinion or a clue to the Browns plans.
Given Farmer's stated belief in keeping others around the league guessing, it might seem more smokescreen than clue. But Gordon is not just another guy on the team. He spent Thursday on several shows with interviews at ESPN. Late in the day he said the Browns need a quarterback and
Brian Hoyer
can win.
"Both are true," he said. "We need a quarterback for sure. We only have one on the roster (actually two, Hoyer and
Alex Tanney
), and you never want to go through that battle of attrition -- like last year."
He called the quarterback carousel of 2013 "extremely frustrating," and sounded like a guy anxious to settle in with a guy. He also sounded more concerned about Hoyer's return from a torn ACL than many others.
"It's never something I'd want to rush on anybody," he said. "That can ruin a career. He can do it on the field, but at the same time you've got to be looking for the future and longevity."
Gordon may have been thinking of his friend and former college teammate at Baylor who came back too soon,
Robert Griffin
III of Washington. Gordon supports Hoyer if he's healthy, and appreciates the notion of Hoyer throwing to him and Watkins.
To a point.
"There's more than enough balls to go around," Gordon said. "The more weapons you have on offense, the harder it is for the defense to key in on one guy. But first and foremost, we need to solidify a quarterback back there."
March, 21, 2014
Mar 21
2:00
PM ET
The
Cleveland Browns
have created a little bit of national buzz with the way they've approached the quarterbacks in this year's draft.

Instead of having the top brass attend the pro days of
Teddy Bridgewater
and
Blake Bortles
to watch them throw, the team had its scouts do the work. Reportedly general manager Ray Farmer attended but did not not watch either throw. Coach Mike Pettine, offensive coordinator Kyle Shanahan and quarterback coach Dowell Loggains have not attended any of the quarterback pro days. (It will be interesting to see what happens with
Johnny Manziel
on March 27.)
Ah, there's more. At the combine, the Browns reportedly did not spend any of their 15-minute interviews with the quarterbacks.
Gasp.
This has created some buzz. To the point that the esteemed
Tony Grossi of WKNR ESPN-Cleveland
has the Browns taking an offensive tackle fourth overall. (Ugh ... Sam-my Wat-kins, clap-clap, clap-clap-clap.)
How, the outraged say, can the Browns skip the workouts? Isn't that part of their job?
It's led to questions ranging from whether they are disinterested in the quarterbacks or being deceptive in their intentions or are they flat-out incompetent (their past chases them in the case of the last question)?
Maybe they're doing their job in a slightly different way.
Because really, what's the big whoop?
Consider:
• Scouts scout. That's what they are paid to do. They watch players, break down their technique and provide evaluations. Scouts should be able to see a player's athleticisim in a workout. And the scouts have already spent months watching these players in the fall.
• The scouts, front office and coaches have reams of game tape and information to watch. If a guy is a player, he should show it better on the field rather than in the packaged environment of a pro day. Show me a team that changes its mind on a guy who struggles in games based on a pro day and I'll show you
JaMarcus Russell
. Game tape is light-years more important than a pro day; football is played on a field in mud and wind and rain, not in an antiseptic setting like a pro day workout.
• The Browns will only say they are evaluating every player, but the rules allow them to bring in the three quarterbacks for interviews and workouts in Berea. They no doubt will, and they can talk to them there for a day and have them throw. A 15-minute interview might be nice, but a day-long one is better. A pro day is interesting, but throwing in a less-controlled environment might even allow the team to better assess a guy's fundamentals and skills.
In some ways, the Browns' approach is refreshing. They are letting people do their jobs, and Farmer isn't obsessing.
Can questions be asked? Of course. But questions always come up this time of year about a team, its approach and its decisions. The bottom line comes when players are picked.
The Browns have done plenty since 1999 to warrant criticism.
But it seems like jumping on the pile to criticize them over this issue.
March, 19, 2014
Mar 19
5:55
PM ET
The reviews from
Blake Bortles
' pro day were positive.
Which in my mind cements him as the
Cleveland Browns
' top choice at quarterback, if they take a quarterback with the fourth pick, which I'm not at all convinced they will do.
I will caution that none of this is based on inside information. The Browns are very close-to-the-vest on their information. I just see the Browns acting in a much more solid and traditional way in free agency, and not trying to outthink the world with their signings. They've added needs, made some smart moves, not overpaid and improved the team.
Thus it seems logical that Bortles would fit the mold of the quarterback they want playing in Cleveland. He's big, thick, has a strong enough arm and will develop. Will they take him fourth? I have no idea. I just know this pro day probably cemented his standing with the team.
"He did everything you'd ask and that's what you want from a potential first-round quarterback," Mike Mayock of the NFL Network said in quotes distributed to the media. "You just want to check the boxes and that's why 95 percent of the workouts are good from high-level quarterbacks because they come in, you see arm strength, you see accuracy, you see movement skills and today we saw all of that."
The thing is, it also may have cemented Bortles' standing with the
Houston Texans
, who have the first overall pick.
"I was very impressed," new Texans coach Bill O'Brien
told the Houston Chronicle
, a statement echoed by Houston GM Rick Smith.
It was a pro day. And we spend a lot of time writing about pro days while diminishing them because they are set up for a quarterback to look good. But when a guy doesn't look good, like
Teddy Bridgewater
of Louisville recently, it's concerning. When he does, he validates previous thinking.
The Browns reportedly sent GM Ray Farmer and some scouts to meet with Bortles, but
Tony Pauline of DraftInsider.net
reported they did not stay for the workout, instead choosing to work Bortles out in Cleveland privately. Farmer was at Bridgewater's pro day, with
Johnny Manziel
's still to come.
Greg Bedard of SI.com
wrote a very insightful and compelling story on Bortles, and how he could be an excellent player if a team is willing to wait a year or two for him to develop. That's been the thinking on him since he declared for the draft -- a team will have to wait. But with the rookie wage cap, a team can also afford to wait.
"I think the word for this kid is potential," Mayock said. "He's young, he's got a lot of work to do – I can see that on tape – but what I saw out there is he's potentially a franchise quarterback."
Want to risk your job and career on that assessment?
Combine the challenge in projecting Bortles with the inherent difficulty in selecting a quarterback, and the challenge is not easy. All anyone can do is base their best judgment on where a guy is now, and where he may be in two or three years.
Where the Browns stand will be known on draft day.
For now, I offer the following two thoughts: It would surprise me mildly if the Browns took Bortles fourth overall, but it would not surprise me in the least if Bortles is the top-ranked quarterback on their board.
March, 13, 2014
Mar 13
2:00
PM ET
ESPN draft analyst Mel Kiper Jr.'s
mock draft 3.0

again goes quarterback-receiver for the
Cleveland Browns
, but the quarterback he has the Browns picking fourth overall is intriguing.

According to Kiper's most recent mock, all three of the top passers --
Blake Bortles
,
Teddy Bridgewater
and
Johnny Manziel
-- are there for the Browns when the fourth selection rolls around.
And the quarterback picked by Kiper is ... Bortles, the tall, strong-armed, humble guy from South Florida. This would have been a (to quote Kobe Bryant) Bikram yoga stretch a year ago, but at this point it makes sense. Bortles has the size that teams love in quarterbacks these days and the arm strength. The Browns might have to give him a year or two to grow, but his attitude and his skills are plenty appealing.
With the second first-round pick, the 26th overall, Kiper has the Browns taking big target
Kelvin Benjamin
out of Florida State. Again, it makes sense, though it's believed the Steelers also are interested in Benjamin. Benjamin is not the fastest, but at 6-foot-5 and 240 pounds he's a big target and would be a solid pickup.
Kiper's picks are logical and sensible, and it would be tough to argue with them.
But he's not making me back off my choice. I stand steady and strong with Clemson's
Sammy Watkins
at the fourth spot, and Ohio State running back
Carlos Hyde
at some point. The Browns can figure out the rest.
February, 24, 2014
Feb 24
4:00
PM ET
Running down five from the combine who will be much discussed when it comes to the
Cleveland Browns
first pick, No. 4 overall.
Player:
Blake Bortles
Position/college:
Quarterback, Central Florida
Combine impression
(1 to 10 scale, with 10 highest): Solid eight, pushing nine.
Likelihood he's there at Browns' No. 4 pick:
50 percent.
Other teams interested:
Houston (first), Jacksonville (third).
[+] Enlarge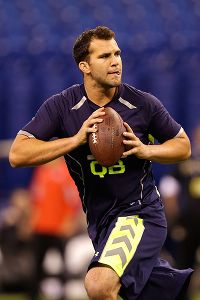 AP Photo/Michael ConroyBlake Bortles was the only one of the quarterbacks projected to be a first-round pick to throw at the combine.
The skinny:
Bortles was the only one of the top quarterbacks in this year's NFL draft to throw at the combine.
That should mean something.
Bortles chose not to go the easy way at a staged pro day at his college, but to throw to unfamiliar receivers with scouts, coaches, GMs and reps from every NFL team watching closely.
Johnny Manziel
didn't throw.
Teddy Bridgewater
watched. Even
Derek Carr
bypassed throwing.
Bortles did not bypass anything.
"I believe that I can compete with any guy here, and that's why I'm doing everything I'm doing," Bortles said "That's why I'm throwing, that's why I'm running, doing all this stuff. Why wait til pro day when you have an opportunity to make your first impression here in Indianapolis? I grew up watching this as a kid and dreamed of competing in it. Why would I sit anything out and do any of that kind of stuff?"
That was one of several impressive things about Bortles, who presented himself very well at the combine (based, of course, on one 15-minute interview) and threw very well.
"We've watched enough that we're very intrigued by him, the traits he has -- big, tall, timing, accuracy, decision-making," Jacksonville coach Gus Bradley said. "Those are the things we take a close look at it."
Bortles is 6-foot-5 and 232 pounds. He looks and talks the part of the quarterback. Last season, he helped put Central Florida on the map by throwing for 3,581 yards with 25 touchdowns and nine interceptions. For folks who want the tall quarterback with a feel in the pocket as opposed to a scrambler, Bortles fits the mold.
Russell Wilson
won a Super Bowl and
Drew Brees
has had great success, but many NFL types favor a guy with Bortles' size. Bortles is able to move in the pocket, but he'll never run like Colin Kaepernick or Wilson. Think a much less mature
Ben Roethlisberger
-style player.
Attitude matters, too, and though Bortles talked confidently he didn't really talk brashly or with a sense of entitlement. He said he had no idea how he'd inspire a fan base other than through winning.
"That should be inspiring enough for a fan base and make them as happy as can be," he said.
Asked if he's the best quarterback at the combine, Bortles said it's not for him to decide, but he'd do all he could to convince people he is.
The general consensus on Bortles is that it may take a year or two for him to truly be ready. One NFL coach said any team that drafts him has to be patient, which means he needs to be in the right situation.
Waiting has benefited a lot of quarterbacks. Others play right away. And even though in this day and age a top-five pick is almost expected to play right away, Bortles, refreshingly, has no issue if he has to wait.
"There's no doubt I need coaching, I need help," he said. "I think everybody in the game does. There's reasons why all these greats out there are continuing to play and continuing to work in the offseason and get coached. One hundred percent, I need coaching, I need help and I'm going to work my butt off to do everything I can to be the best that I can be to help a team be the best that they can be."
Bortles also seemed to make an effort to point out he would not bring off-field problems to a team. He said he can be trusted.
"I won't embarrass an organization off the field by making any bad decisions or anything like that," he said. "Won't embarrass my family's name, and will be a trustworthy guy, a trustworthy player."
February, 21, 2014
Feb 21
5:37
PM ET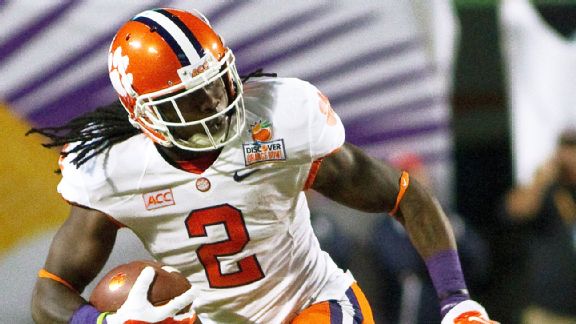 Joshua S. Kelly/USA TODAY SportsClemson receiver Sammy Watkins had 12 touchdowns on 101 catches last season.
INDIANAPOLIS, Ind. -- The accolades flow freely and easily.
The talent that Clemson wide receiver
Sammy Watkins
brings to the NFL is rare, which would also make it special.
Greg Cosell, a guy who is as good as anyone at projecting college players to the NFL, tweeted that Watkins is the "best WR prospect since
A.J. Green
(and)
Julio Jones
."
And Mike Mayock of the NFL Network couldn't stop gushing when asked about Watkins in a recent conference call.
"He's got a little attitude about him," Mayock said. "He blocks people. You can see him getting (angry) during games and going after corners and safeties and linebackers.
"So he's got an attitude like he wants to be the best player there is, and when you combine that with his physical ability I think it's awesome."
In the NFL, receivers aren't supposed to go Top 10. But the last time the pundits gushed this much about a receiver coming out of college was when
Calvin Johnson
left Georgia Tech. That hype also came from the pro scouts and GMs themselves. Every one said Johnson would change the game. He has. Just as Green has changed the Bengals.
Which leads to the inevitable question facing any team picking in the top five of this year's draft: Why not Sammy Watkins?
Count the
Cleveland Browns
among the teams facing that question.
If a team can pair a guy compared to A.J. Green with
Josh Gordon
, why not do it? Imagine the nightmares for defensive coordinators, especially when the ability of tight end
Jordan Cameron
is added to the equation. The Browns would have two guys who could break a big play at any time.
Watkins had 3,391 receiving yards in three seasons at Clemson, including 12 touchdowns on 101 catches last season. He runs a 10.5 100-meter dash, he's 6-foot-1 and 205 pounds and claims he ran a 4.27 40-yard dash at Clemson (yes, take that time with a grain of salt).
He's amazingly quick. He has good hands. He plays football.
"What makes him such a great football player? It's all the other elements," Seattle coach Pete Carroll said. "It's not his height, weight, speed. It's all the other stuff that's part of his makeup, his gifts."
Taking him with the No. 4 pick would mean passing on a quarterback in the top three, but the unmistakeable buzz at the combine this week from NFL coaches and GMs is that they are wary of the top quarterbacks in this year's class.
All have ability, but all have questions -- to the point that many wonder if they will be selected high, not because they are dominant players, but because they play quarterback.
The questions, too, seem legitimate, beyond the annual rite of finding something wrong with every draftable player.
Johnny Manziel
is hit or miss, too small or flawed fundamentally with his whirling dervish moves that worked in college but might not work in the NFL.
Teddy Bridgewater
's lean frame brings his durability into question, and his arm motion is a little quirky.
Blake Bortles
has the size and arm strength, but he needs a couple years to develop.
They're all "yeah, but" guys similar to the quarterback class that included
Christian Ponder
and
Blaine Gabbert
going in the first round -- not because they were the best players to take at those spots, but because they were quarterbacks.
Do the Browns want to roll the dice with the fourth pick with a guy who has legitimate questions?
Teams spend hours studying players and going over reams of information, then when they get to the draft they go away from their philosophy of best player available because a guy plays quarterback. NFL teams constantly tout "innovation" and "innovative thinking," yet rebel against Watkins because the Browns have Gordon.
Having two outstanding receivers would spread the field, open up things for a running back, help an efficient quarterback like
Brian Hoyer
. A quarterback selected 26th or in the second or third rounds could be groomed to follow a guy like Hoyer.
It might mean something or nothing, but the Browns met or will meet with two quarterbacks expected to be taken later in the draft: Northern Illinois's
Jordan Lynch
and Eastern Illinois'
Jimmy Garoppolo
.
The Browns aren't tipping their hand, and the draft is 10 weeks away. Watkins and defensive end
Jadeveon Clowney
of South Carolina are considered instant hits.
Clowney would be tough to pass up.
Watkins should be.
February, 6, 2014
Feb 6
3:00
PM ET
There's agreement on the
Cleveland Browns
' two first-round picks in the second mock drafts of ESPN draft analysts Mel Kiper and Todd McShay.
Both agree the Browns will take a quarterback with the first pick (fourth overall) and a receiver with the second pick (26th overall). They both even agree on the receiver.

All of the picks make sense, and it's tough to argue them -- provided you share the belief the Browns pick a quarterback first. I don't. I'd take Clemson receiver
Sammy Watkins
and at some point I'd take Ohio State running back
Carlos Hyde
, perhaps in the second round. Kiper and McShay disagree.
Kiper has the Browns

taking Louisville quarterback
Teddy Bridgewater
with the fourth overall selection.
Kiper opines that with
Josh Gordon
and
Jordan Cameron
, the Browns have players to help a young quarterback. He calls Bridgewater the guy who "has a lot of traits that translate to early success."
Johnny Manziel
is not available in Kiper's draft when the Browns pick.
He is in McShay's draft
,

but McShay has the Browns taking
Blake Bortles
of Central Florida.
His analysis might not exactly thrill fans, though, as he writes the Browns could wind up with a receiver and could pass on Bortles because he's not the most stout guy. He also has qualifiers about his ability.
"He will not wow scouts with a big-time arm, and, like most young quarterbacks, he can become more consistent with his decision-making," McShay writes. "However, Bortles does have enough arm strength to make all the NFL throws, and unlike many college QBs I study on tape, Bortles sees the entire field, stands strong in the pocket and shows the ability to go through NFL-type progressions."
Kiper and McShay both have the Browns taking Fresno State receiver
Davante Adams
(6-foot-4 and 228 pounds) with the pick they acquired from Indianapolis for
Trent Richardson
.
Kiper calls Adams "a strong receiver who will make plays in traffic and beat defenders for the ball on contested throws." McShay calls Adams "a very good complement to Gordon and a nice weapon for Bortles," whom he has the Browns taking first.
Adams is a redshirt sophomore who declared early. He's big and strong but isn't the fastest.
Physically, he resembles
Greg Little
. But unlike Little, who spent one season at receiver and didn't play his senior year due to NCAA violations, Adams' production in college was impressive. In 2012, he had 102 receptions for 1,312 yards. In 2013, he led the nation in receptions (131), receiving yards (1,719) and touchdowns (24).
Clearly those are some impressive numbers.