October, 18, 2013
10/18/13
12:00
PM ET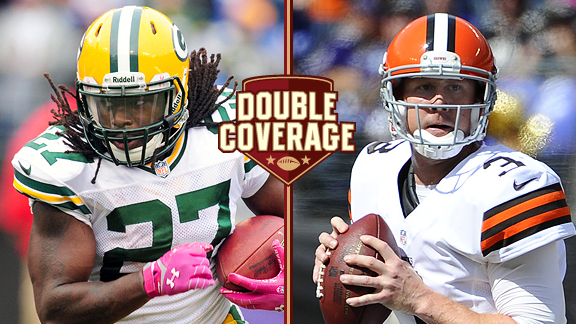 USA TODAY SportsThe Packers may have to rely more on their run game, while Browns QB Brandon Weeden seeks to recover from a forgettable outing.
The
Green Bay Packers
have made it past a difficult stretch in which they played four playoff teams from last season in their first five games.
And they came out of it with a respectable 3-2 record.
The
Cleveland Browns
, despite going from
Brandon Weeden
to
Brian Hoyer
and now back to Weeden at quarterback, also aren't out of anything yet at 3-3.
ESPN.com Packers reporter Rob Demovsky and Browns reporter Pat McManamon break down the matchup:
McManamon:
Rob, what will Green Bay do at receiver with all those injuries, and how much will it affect the offense?
Demovsky:
It's bound to have a significant impact.
Randall Cobb
more or less became the focal point of the passing game last season and if anything, that intensified this season. Sure, he's only a slot receiver and the Packers still have the deep threat of
Jordy Nelson
on the outside. But in this offense, a lot of those quick-hit passes -- especially against teams that blitz -- are directed to the inside. No team used more three-receiver sets than the Packers had until Cobb went down last week against the Ravens. They had used a three-receiver set on 90 percent of their snaps. That number likely will go down beginning this week against the Browns. They might have to rely on their new-found running game more than ever. But with fewer threats in the passing game, teams might be able to load up to stop running back
Eddie Lacy
.
The Browns have offensive issues of their own, Pat. Brandon Weeden's turnovers in the loss to the Lions looked like killers, especially that backhanded, underhand flip. How can they get him to play smarter?
McManamon:
That backhanded, underhand flip will live for a long time in the annals of Cleveland Browns misplays since 1999, Rob. A lengthy list just got longer. As for getting him to play smarter, that's the challenge. And the challenge has gone on for 18 starts. Weeden actually started fairly well as a 29-year-old rookie, but he struggled the end of last season and this season he's played in fits and starts. Which of course won't be good enough against Green Bay. With Brian Hoyer injured, the Browns have few other options -- it's not like
Tom Brady
is on the streets waiting for a job -- so they will stick with Weeden. But you have to wonder whether the Browns aren't coming to the conclusion that what they see is what he'll be when it comes to this 30-year-old quarterback.
Rob, Weeden does not read the rush well and does not move well. The Packers are ninth in the league in sacks. Is that yet another bad recipe for Weeden and the Browns offense?
Demovsky
: It remains to be seen whether they can keep up their sack pace. They did it without
Clay Matthews
last week, getting five sacks at Baltimore, but now they're going to be without another outside rusher,
Nick Perry
. Matthews and Perry each have three sacks on the season, which ties
A.J. Hawk
for the team lead. At some point, those injuries have to slow down their pass rush. The one thing that's helping them is they're playing the run very well, probably the best they have since they led the league in rushing defense in 2009. After shutting down
Ray Rice
last week, they're up to third in the NFL in rushing yards allowed per game (78.2). That's putting teams in a lot of third-and-long situations, which allows defensive coordinator Dom Capers to blitz. That's how Hawk got all three of his sacks against the Ravens.
Perhaps the Browns can help protect Weeden if they run the ball effectively to keep the Packers from rushing like crazy. What are their prospects for doing that?
McManamon:
Running the ball would protect Weeden. But it helps to have a ... well ... a running game. At present, the Browns are in make-do mode with the running game, and as the season continues that will more and more become a problem. Since the trade of
Trent Richardson
the Browns have relied on aging
Willis McGahee
, young
Bobby Rainey
and fullback
Chris Ogbonnaya
. These guys give effort, but there's only so much they can give. McGahee can't run outside, Rainey is inexperienced and Ogbonnaya is what he is. The Browns rank 22nd in the league by running for 86.8 yards per game -- though they are averaging 3.9 yards per carry. If the Browns want to run, they will have to commit to it and pound it out, something I am not sure they can do.
Rob, the Browns have had 19 starting quarterbacks since 1999 -- and it appears next year or soon after that number will hit 20. Do the Packers and their fans realize just how fortunate they have been these many years to have
Brett Favre
and
Aaron Rodgers
?
Demovsky:
They should. There are only a handful of organizations who can say they've had the kind of quarterback transition that the Packers had. The 49ers with
Joe Montana
to
Steve Young
come to mind. Maybe the Colts have that now with
Andrew Luck
following
Peyton Manning
. Not only was Favre a great quarterback, but he was there week in and week out. Rodgers is pretty much the same way. Those guys rarely get injured and when they do, they still play.
Most Packers fans here are still fond of Mike Holmgren, for leading them to the Super Bowl XXXI title. His tenure with as a Browns executive was much shorter. What impact, if any, did he have on the organization?
McManamon
: Let's just say the feelings for Holmgren are a lot warmer in Green Bay -- odd as that sounds -- than in Cleveland. Many fans feel Holmgren's epitaph with the Browns should be "As a president, he was a great coach." A lot of that is frustration at constant losing. Some is frustration at the job title and salary scale Randy Lerner gave Holmgren. More still that Holmgren never took on the coaching duties himself. On balance, Holmgren's tenure was no worse than many, and better than some. He and GM Tom Heckert brought in some good players who are helping the team win now. But with any regime change comes more change, and Joe Banner has gotten rid of some of Holmgren's guys -- notably Richardson. Holmgren's biggest gamble was selecting a quarterback in the first round a year ago who is now 30. But Weeden clearly would have been helped by more continuity in the front office.
.
September, 22, 2013
9/22/13
7:30
PM ET
MINNEAPOLIS -- There was little about the
Cleveland Browns
' week that befitted a typical NFL team's approach to preparing for a game. The Browns traded away running back
Trent Richardson
on the same day they named third-string quarterback
Brian Hoyer
their injury replacement for
Brandon Weeden
, generating more talk about whether they had given up on their season than whether they would beat the
Minnesota Vikings
.
[+] Enlarge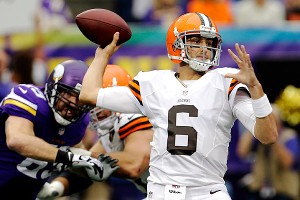 AP Photo/Ann HeisenfeltThrust into the starting role, Brian Hoyer overcame some errors in the second half and led the Browns to victory in the final minute.
Not much about how the Browns pulled off a
31-27 win
over the Vikings on Sunday was conventional, either. Their leading rusher was defensive back
Josh Aubrey
, who gained 34 yards on a fake punt. Wide receiver
Josh Gordon
ran a reverse that gained 22 yards -- or 4 yards fewer than running backs
Bobby Rainey
and
Willis McGahee
combined to gain all day. Hoyer last season completed 30 of the 53 passes he threw; Sunday he was 30-for-54.
The approach might not work again, and it probably shouldn't have worked Sunday. But against a Vikings team that is reeling after a playoff season, the Browns created a victory they won't apologize for.
"It couldn't be a more fitting game in terms of the back-and-forth and the resiliency that our guys showed," coach Rob Chudzinski said. "I told them I believed in them, and they responded and came out and played a complete game."
Hoyer might not get another chance to start if Weeden is ready to return next week, but the impression he left Sunday was of a quarterback able to respond after a mistake-filled second half. He threw two interceptions that appeared to have the Vikings positioned for victory until Minnesota couldn't run out the clock and the Browns got the ball back with 3:21 left. Hoyer found Gordon for 11 yards on third down and connected on four of his next five throws to move the Browns to the Vikings' 7. Then, on third down, he lofted a ball to the corner of the end zone that
Jordan Cameron
caught for the game-winning touchdown.
The Browns spent some time in the national spotlight during the week as a punchline, with pundits suggesting they'd mailed in their season and even a few Vikings players joking about the team trading Richardson. But for one week, with some trick plays and a two-minute drill from Hoyer, the Browns coaxed a win out of their disjointed week.
Asked about the woe-is-us nature of Cleveland fans, Hoyer -- who grew up in the area -- said, "I used to think that way, too. Hopefully, this is a change."
September, 2, 2013
9/02/13
8:00
AM ET
September, 1, 2013
9/01/13
6:01
PM ET
The
Cleveland Browns
were the busiest team when it came to hitting the waiver wire Sunday, signing six players who were cut from other teams a day ago.

But none of the additions was a kicker. So, less than a full week from kicking off the season against Miami, Cleveland doesn't have a replacement for
Phil Dawson
, the team's kicker since the Browns returned to the league in 1999.
Here are the players who are out for the Browns: running back
Brandon Jackson
, tight end
Kellen Davis
, linebacker
L.J. Fort
, offensive lineman
Caylin Hauptmann
, offensive lineman
Jarrod Shaw
and fullback
Brad Smelley
.
Here are the players who are in: running backs Bobby Rainey (Ravens) and
Dennis Johnson
(Texans); tight ends MarQuies Gray (49ers) and Keavon Milton (Saints); offensive lineman Patrick Lewis (Packers); and linebacker Brandon Magee (Cowboys).
"Again, our roster is fluid right now," coach Rob Chudzinski said in what must have been the understatement of the day. "We still need to address our kicker position, so we're not done. We're a young and hungry team with some solid veteran leaders. I like the foundation we have in place as we enter the season. I'm excited to see what we can do."
The Browns now have nine 2013 undrafted rookies when you add the five signed Sunday (Gray, Johnson, Lewis, Magee and Milton) with safety Josh Aubrey, offensive lineman Martin Wallace and linebackers Paul Hazel and Eric Martin. That's nearly 17 percent of the Browns' 53-man roster.
These moves show the Browns wanted to upgrade at running back and tight end. Rainey and Johnson will compete to be the No. 2 running back behind
Trent Richardson
. Gray and Milton will add depth behind
Jordan Cameron
and
Gary Barnidge
.
August, 31, 2013
8/31/13
6:43
PM ET

Most significant move
. The Baltimore Ravens kept seven wide receivers but
Tandon Doss
still didn't make it. Doss, a fourth-round pick in 2011, went from battling for the No. 2 wide receiver job at the start of training camp to not having a job by the end of the preseason. He never had the same chemistry with quarterback
Joe Flacco
that rookies
Marlon Brown
and
Aaron Mellette
did. Doss' stock with the Ravens plummeted in the third preseason game, when Flacco threw an interception because Doss ran the wrong route. The Ravens chose to keep both promising young receivers (Brown, an undrafted rookie; and Mellette, a seventh-round pick) and two receivers dealing with injuries (
LaQuan Williams
and
Deonte Thompson
).
The most surprising move was waiving running back
Bobby Rainey
, who scored two touchdowns in the preseason finale. It looked like Rainey was going to make the team after the Ravens waived
Anthony Allen
and
Delone Carter
. That leaves the Ravens with two tailbacks,
Ray Rice
and
Bernard Pierce
. Rainey likely will go on the practice squad.
Potential return
. When
Dennis Pitta
dislocated his hip in the first contact practice of training camp, coach John Harbaugh ruled out the starting tight end for the season. Harbaugh later said there was a chance that Pitta could return, and it looks like the Ravens are going to give him a chance to do so. The Ravens decided not to put Pitta on injured reserve, which indicates that the team will put him on the injured reserve-designated to return list. But the Ravens can't use that designation, which can only be placed on one player, on Tuesday.
The Ravens currently have one healthy tight end on the roster:
Dallas Clark
. The hope is
Ed Dickson
, who has been sidelined with a hamstring injury, will be ready for the season opener. The Ravens cut veteran
Billy Bajema
and undrafted rookie
Matt Furstenburg
on Saturday. Baltimore will likely bring back Bajema when Pitta is put on IR-designated to return and sign Furstenburg to the practice squad once he clears waivers.
What's next
. General manager Ozzie Newsome says a team can't have enough cornerbacks and he has a history of adding offensive linemen after the final major cutdown. At this point, the Ravens have four cornerbacks on the active roster:
Lardarius Webb
,
Corey Graham
,
Jimmy Smith
and
Chykie Brown
. The fifth cornerback,
Asa Jackson
, is suspended for five games. The Ravens could use another cornerback, especially one who can make an impact on special teams.
Baltimore is carrying eight offensive linemen on the roster, but that could change. Center
Ryan Jensen
, who had foot surgery, could go on injured reserve. The Ravens need to upgrade with a backup offensive lineman who has the versatility of playing multiple positions.
Here are the Ravens' moves to get down to the league limit of 53:
Waived
: S
Omar Brown
, WR Tandon Doss, TE Matt Furstenburg, DT
Cody Larsen
, G
Antoine McClain
, RB Bobby Rainey,
J.J. Unga
, RB Anthony Allen, CB Marc Anthony, ILB
Nigel Carr
, RB Delone Carter, ILB
Brandon Copeland
, QB
Dayne Crist
, OT
Jordan Devey
, OT
Rogers Gaines
, TE
Alex Silvestro
, C
Reggie Stephens
.
Contract terminated
: TE Billy Bajema, QB
Caleb Hanie
.
Injured reserve
:
D.J. Bryant
(knee).
August, 29, 2013
8/29/13
11:26
PM ET
Running back
Bobby Rainey
made the strongest case for one of the final roster spots in the
Baltimore Ravens
'
24-21 loss
at St. Louis in Thursday's preseason finale.

Rainey showed great determination in two first-half touchdowns, which could give him the edge over
Anthony Allen
and
Delone Carter
for the third tailback spot. In a busy night for the undrafted player out of Western Kentucky, he finished with 13 carries for 39 yards, one punt return for 16 yards, two kickoff returns for 25 yards and one special-teams tackle.
Those numbers didn't accurately reflect Rainey's toughness or the countless tackles he broke. On the first touchdown, he was stopped by the pile at the goal line but got the ball across on a second effort. On his second score, Rainey was bottled up at the 5-yard line and bounced to his left to reach the end zone.
Last season, Rainey spent the first six weeks on the practice squad before being promoted to the active roster. He was inactive for three games before going on injured reserve with a knee injury.
His scores were magnified when Allen and Carter failed to punch the ball in the end zone with carries inside the 10-yard line; Allen made it worse by fumbling at the 1. Allen and Carter combined for 3 yards on 13 carries. This will be a tough roster decision because Allen does so much on special teams, especially as the lead blocker on kickoffs.
Here are my other thoughts on the final preseason game for the Ravens, who finished 2-2:
The Ravens' top two draft picks were impressive. Safety Matt Elam, the first-round pick, made four first-quarter tackles and punched the ball out of Tavon Austin's grasp for a forced fumble. Linebacker Arthur Brown, the second-round pick, hit Kellen Clemens so hard that he made the Rams' backup quarterback's nose bleed and made a nice open-field tackle. The rookies both won't start right away, but these performances provide glimpses of the future.
There was a Tandon Doss sighting. For the first time this preseason, Doss did what the Ravens had envisioned, catching passes over the middle and beating defenders straight down the field out of the slot. He had five catches for 75 yards. But Marlon Brown didn't give up any ground in the wide receiver battle. The undrafted rookie scored on a 50-yard touchdown in the fourth quarter. I will provide more thoughts on the wide receiver situation on Friday.
Omar Brown made the roster last year because he made big plays in the preseason. He came up big Thursday night as he looks to become the team's fourth safety. Brown forced a fumble over the middle of the field in the first quarter and nearly picked off a pass in the third quarter. The Ravens' top three safety spots are set with Elam, Michael Huff and James Ihedigbo.
The center battle appears to be over. Gino Gradkowski didn't play in the finale, which suggests that the Ravens didn't need to see any more from him. A.Q. Shipley started, but he hasn't done enough in the preseason to push Gradkowski for the job.
Joe Flacco didn't play, and Tyrod Taylor received the night off after suffering a head injury in the last preseason game. Third-stringer Caleb Hanie got to play the entire game, and it wasn't pretty. He was 20-of-39 for 272 yards, and he didn't receive much support. Hanie was pressured repeatedly and was charged with a fumble after Reggie Stephens (who also had a critical false start late in the fourth quarter) delivered a shotgun snap wide right. Hanie's final pass was intercepted in the final minute of the game.
May, 24, 2013
5/24/13
12:00
PM ET
»
NFC Eight in the Box
:
East
|
West
|
North
|
South
»
AFC
:
East
|
West
|
North
|
South
How does each AFC North team look at running back, and what still needs to be done?

Baltimore Ravens
:
Ray Rice
is only 26, but he has taken a lot of hits. Although he put together a fantastic season, as usual, in 2012, he looked worn down late in the year and during the Ravens' Super Bowl run. He has four straight regular seasons with more than 250 carries and has caught at least 61 passes in each of those seasons. Even though he is still extremely potent, Baltimore might be wise to deflect a few more early-down carries toward
Bernard Pierce
to extend Rice's effectiveness. Pierce isn't close to the receiver Rice is and is still learning pass protection. However, he was very impressive late in the season, and you could argue he was running more effectively than Rice in the postseason. A bigger back than Rice, Pierce averaged 4.9 yards per carry as a rookie and could make a big impact in games in which Baltimore has the lead.
Bobby Rainey
enters his second season as well. He is a shorter back with a thick build, good balance and good feet. Expect him to take a step forward in his second season, but he helps the Ravens mostly on special teams.

Cincinnati Bengals
:
BenJarvus Green-Ellis
will open training camp as the Bengals' top running back. But don't expect him to keep that distinction for long, as
Giovani Bernard
is sure to pass him. Green-Ellis gets what is blocked, has some power to drag tacklers and is reliable with his ball security. What you see is what you get with Green-Ellis -- and it isn't good enough. Bernard is an exciting prospect with loads of big-play ability. He can run inside with quick feet and more power than you might suspect, but is also very dangerous on the perimeter with his long speed and elusiveness in the open field. Green-Ellis will surely be superior to Bernard in pass protection to start the season, but Bernard is far more dangerous as a receiving option. Cincinnati also brought back
Bernard Scott
before the draft, but with the selection of Bernard, Scott's roster spot is far from certain. The Bengals also drafted
Rex Burkhead
, who does everything well and is an underrated prospect overall. In time, I expect Burkhead to be a fine complement to Bernard as Cincinnati's second running back.

Cleveland Browns
:
Trent Richardson
battled numerous injuries during his rookie campaign, and that is the only concern I have about this 21-year-old. New offensive coordinator Norv Turner has an outstanding history of utilizing a true feature back, and Richardson fits that mold with his rare blend of vision, power, lateral agility and speed to go along with excellent receiving skills. There isn't much on Cleveland's depth chart behind Richardson, so maybe the Browns will keep their eyes out for a veteran who gets released. For now,
Montario Hardesty
is No. 2. Injuries have been a big problem for him, but he does have a fair amount of ability. Also in the mix are
Dion Lewis
,
Brandon Jackson
and
Chris Ogbonnaya
. Jackson is bigger and runs with much more power than Lewis, but he isn't as quick. Both do their best work on third down. Ogbonnaya is a big runner with some power, but he lacks any particular skill to wow you. A scatback with big-play ability would be a welcome addition here.

Pittsburgh Steelers
: The Steelers used this year's second-round pick on
Le'Veon Bell
, as they felt their running backs from 2012 were not getting the job done. Bell is very young, has good size and is quite established in the passing game, which is something Pittsburgh wasn't getting from
Isaac Redman
or
Jonathan Dwyer
. Redman and Dwyer are similar players. They both have good size and initiate contact. They get what is blocked, but not much more, and lack dynamic qualities. They are backups in the NFL. Last year, the Steelers drafted
Chris Rainey
to help as a returner and add a running back/wide receiver hybrid to their offense. Rainey didn't work out, but Pittsburgh signed
LaRod Stephens-Howling
this offseason for the same reasons.
Baron Batch
is also in the equation. His most notable contributions come on special teams, but he is a serviceable runner, receiver and blocker. The Steelers were in talks with
Ahmad Bradshaw
before the draft. With the selection of Bell, you would think that ship had sailed, but you never know. Bradshaw will end up somewhere this season. It is also likely that either Redman or Dwyer will be gone before the season.
August, 23, 2012
8/23/12
10:36
PM ET
BALTIMORE -- Ravens quarterback
Joe Flacco
has been showing more command of the offense this preseason. In the
48-17 win
over the
Jacksonville Jaguars
, Flacco looked to be in total control.
Orchestrating the team's new no-huddle attack, Flacco completed 27 of 36 passes for 266 yards with two touchdowns and one interception. These numbers are even more impressive considering he didn't play three full quarters.


Flacco continually looked downfield, completing five passes of more than 15 yards. He also connected with nine different receivers.
This isn't to say Flacco was perfect. He could have been picked off on the team's first trip in the red zone, where he forced a pass in between two defenders to get to
Anquan Boldin
. Flacco also misfired on two deep passes, putting too much air to an open
Torrey Smith
and not putting any air to
Jacoby Jones
.
But Flacco came up big in the critical situations. He hit Boldin on third-and-goal for a 5-yard touchdown and sidestepped a pass-rusher to find
Vonta Leach
for an 8-yard touchdown.
Here are other observations from the Ravens' third preseason game:
In a move that will cause many to jump to conclusions, the Ravens allowed undrafted rookie Justin Tucker to handle all the kicking duties and gave Billy Cundiff the night off. Tucker took advantage by hitting a 53-yard field goal in the second quarter.
Ravens cornerbacks Lardarius Webb (team-leading six tackles) and Jimmy Smith played much more physical than the first two preseason games. That's not a surprise since this game was against quarterback Blaine Gabbert and not Matt Ryan or Matthew Stafford. Smith was too aggressive at times and got flagged for pass interference in the third quarter. It was not a particularly good night for cornerback Cary Williams, who got beat on a 27-yard pass to rookie Justin Blackmon.
A big focus for Baltimore this offseason has been improving special teams after allowing three touchdowns off returns last season. The Ravens, though, have a lot of work to do in that area. Former Ravens running back Jalen Parmele returned the first two kickoffs of the second half for 42 and 47 yards.
Wide receiver Torrey Smith is showing no lingering effects from an ankle injury that sidelined him last game. He caught eight passes for 103 yards, continuing what has been an impressive summer for the 2011 second-round pick.
Bryant McKinnie made his first start at left tackle, but Baltimore didn't really have a choice. With Marshal Yanda being held out with an leg injury (not considered serious), the Ravens moved Bobbie Williams from left to right guard and put Kelechi Osemele from right tackle to left guard. That shifted Michael Oher from left to right tackle. Hope you got all of that because there will be a quiz later.
Undrafted rookie running back Bobby Rainey (Western Kentucky) should have secured a spot as the team's third running back. He caught three passes for 73 yards and showed great burst on a 48-yard touchdown. Backup running back Bernard Pierce had a productive night with 10 carries for 35 yards, which included a 20-yard run. He wowed the home crowd by hurdling a defender.
Albert McClellan started at outside linebacker for the third straight preseason game, but rookie second-round pick Courtney Upshaw saw a lot of time with the starters. The Ravens obviously wanted to get an extended look at Upshaw, who recorded his first sack in the second half.
The Ravens put together five touchdown drives of at least 80 yards against Jacksonville. The 48 points are the most the Ravens have ever scored in a preseason.