AFC North:

Boomer Esiason
January, 3, 2013
Jan 3
10:30
AM ET
The Bengals got one streak off their back when they clinched back-to-back playoff appearances for the first time since 1981-82. Now they're looking to end another mark of postseason futility.

Cincinnati hasn't won a playoff game since Jan. 6, 1991. The 22 seasons without a postseason victory is the longest drought in the NFL. (The Lions have gone 21 seasons without one.)
The last time the Bengals won a playoff game, gas cost $1.19 per gallon, "Home Alone" was the highest-grossing movie of that week and "Justify My Love" by Madonna was No. 1 on the Billboard charts. If that doesn't put it in perspective, wide receiver
A.J. Green
was 2 years old at the time.
The current Bengals players say they don't feel a burden to end this streak.
"It doesn't have anything to do with us," offensive tackle
Andrew Whitworth
said. "What we did in 2006, '07 or '08 doesn't have anything to do with this football team. What we did 20 years ago certainly doesn't. This team is the last two years. Last year, we did what it took to get into the playoffs when a lot of people predicted us to be 0-16. This year, we got back in to the playoffs when a lot of people didn't think we could. We're here. The next step is winning a playoff game. Hopefully, we can let that be a chip on our shoulder."
The Bengals, who play at the
Houston Texans
on Saturday, got their last playoff win against Houston. Of course, it was the Houston
Oilers
, not Texans.
Boomer Esiason
threw two touchdowns, and Ickey Woods ran for another.
Beating the Texans would also mark another couple of firsts for the Bengals. Cincinnati is 0-5 all time on the road in the playoffs, tied with the Saints for the worst road record in NFL postseason history, according to ESPN Stats & Information. Head coach Marvin Lewis is 0-3 all time in the playoffs. The only coach with more postseason losses without a win is Jim Mora, who went 0-6 with the Saints and Colts.
"It'll mean the world to this locker room. It would mean a lot to this city, since it's been so long," Bengals cornerback
Leon Hall
said of a playoff win. "We try to not look at it too big. Obviously, it's a playoff game. It's a big game. If we do what we've been doing, we should be all right."
May, 15, 2012
5/15/12
3:15
PM ET
Bill Cowher wants to
teach men about melanoma
, a form of skin cancer that led to the death of his wife in 2010. But Cowher's name is in the headlines for another reason as well.
NFL analyst Boomer Esiason recently speculated on a couple of landing spots for Cowher, the former
Pittsburgh Steelers
coach who is his CBS Sports colleague.
"The only two coaching spots that I think that he would ever come out of retirement for ... one would be the New York Giants and the other one would be the
Chicago Bears
, because he's that type of guy," Esiason told WSCR-AM 670, via the
Chicago Tribune
. "Being so close to him over the last few years and watching him go through his total personal-life upheaval with the death of his wife and watching how he's handled that with great dignity and professionalism, I'm just telling you, there is no dirt on that man. This guy is as good as he seems. He's everything that you'd expect him to be."
Cowher would instantly become the NFL's hottest coaching commodity if he makes it known he wants to coach again. But I'm not sure we'll ever see that jutting jaw on the sideline ever again. This will mark his sixth season out of coaching.
It was only December when Dan Marino, another one of Cowher's pregame show colleagues, said he didn't think Cowher would coach again.
"I would love to see [Cowher] be the Dolphins' coach or if he wanted to coach again because that would be great for the NFL, but I don't think his mindset is that he wants to coach again," Marino said told the Dolphins' official website six months ago. "And he may change that over time, but my feeling is that he's a pretty straightforward guy that tells the truth most of the time ... and he said on TV that he doesn't have any plans of coming back, and I believe him."
When he left coaching at the end of the 2006 season, his 161-99-1 record ranked him fourth among current-era coaches in career wins. He won a Super Bowl in the 2005 season after six trips to the AFC Championship Game and took the Steelers to the playoffs 10 times.
February, 3, 2012
2/03/12
7:30
AM ET
Every morning, grab a cup of coffee and get your AFC North wake-up call here:
Browns cornerback
Joe Haden
believes the team will make a significant turnaround next season.
"I'm not going to make any guarantees," Haden told the
Cleveland Plain Dealer
. "I'm not going to be that guy. I won't go there. ... But I will say this: I expect us to be much better in 2012. I expect us to have a strong year, and I know my teammates do, as well."
Remaining optimistic is tough for the Browns these days after their season ended with a six-game skid and they lost 11 or more games for the fourth straight season. Haden doesn't want to put the "rebuilding" label on the Browns.
"As players, we can't think like that," he said. "We can't be hearing about three, five, seven years down the road because we might not be here. We want to win as soon as possible."
Hensley's slant
: The Browns' defense certainly played better than a 4-12 record would indicate. Cleveland held teams to 20 points or less 10 times. If the Browns want a turnaround, the pressure is on the offense to carry its weight.
BENGALS
: Former Cincinnati quarterback
Boomer Esiason
thinks the Bengals can challenge the Ravens and Steelers for the division crown in 2012. "Absolutely, because of two things," Esiason told the
team's website
. "Baltimore is old on defense and Pittsburgh isn't blowing up their whole team but they're going to lose a lot of players. I think the Bengals have a chance now. If they do it right. They've got to get some good players in there and with a couple of good draft picks this could be a team that is a formidable foe for both Pittsburgh and Baltimore."
Hensley's slant
: Whether the Bengals can win the AFC North in 2012 depends on if quarterback
Andy Dalton
plays better against the top-notch defenses from Pittsburgh and Baltimore. Cincinnati can help him by strengthening his supporting cast. But Dalton has to cut down on the mistakes against them (five of his 13 interceptions came in those four meetings).
RAVENS
: The Ravens are interested in signing cornerback
Lardarius Webb
to a long-term deal. Webb is a restricted free agent after coming off his best season. "I think it would be best for this organization," general manager Ozzie Newsome said, via the
team's website
. "The sooner you strike, the better deal you can get for yourself."
Hensley's slant
: The Ravens would free up over $8 million in cap room at that position if they cut
Domonique Foxworth
($5.6 million salary next year) and
Chris Carr
($2.5 million). There is a chance that Foxworth's
playing career is over
. The Ravens have quickly developed a talented young cornerback group in Webb,
Jimmy Smith
and
Cary Williams
, and it will be interesting to see how long they can keep them all together.
STEELERS
: If the Patriots beat the Giants, it would mark Bill Belichick's fourth Super Bowl title, which would allow him to join the Steelers' Chuck Noll as the only NFL coaches to win that many. "I have a tremendous amount of respect for Chuck and the job he did with his team and the organization," Belichick said, via
USA Today
. "So it is very flattering to be mentioned in the same sentence with Chuck Noll."
Hensley's slant
: Some would say it was easier to win in Noll's era because there wasn't any free agency. But, even if Belichick wins, there will still be one difference between the coaches. Noll never lost a Super Bowl.
June, 17, 2011
6/17/11
8:00
AM ET
Here are the most interesting stories Friday in the AFC North:
Morning take: Flacco is low key and probably won't respond. So it's good to see someone close to Flacco step up. But eventually Flacco has to answer his critics on the field.
Morning take: Esiason is as familiar with the organization as anyone. The Bengals have been running the same way for a long time. Despite very poor results, they haven't changed.
Morning take: Ward doesn't have to wait long, because the Steelers will visit the Ravens in Week 1. Expect a lot of back-and-forth trash talk during training camp and the preseason.
Morning take: I'm not counting on it. Two years is enough to get a good handle on most players, and despite a few flashes, I don't believe either receiver is Pro Bowl material.
May, 11, 2011
5/11/11
1:02
PM ET
What key event significantly changed the fortunes of the Bengals -- for better or worse? Give us your take and we'll give you our definitive moment May 18.
Despite their struggles the past two decades, the
Cincinnati Bengals
also have a collection of good moments in their history. Using our SportsNation poll, we ask Bengals fans to sift through the good and bad to select the most defining moment in franchise history.
Was it in 1968, when Hall of Fame coach Paul Brown started the franchise? Brown was a great football mind who brought his knowledge and successful track record to Cincinnati.
Twelve years later, the Bengals made their best draft pick by selecting left tackle Anthony Munoz, another Hall of Famer. Munoz protected quarterbacks Ken Anderson and
Boomer Esiason
and helped lead Cincinnati to two Super Bowl appearances.
Speaking of Super Bowls, was the last-minute loss to the
San Francisco 49ers
in Super Bowl XXIII Cincinnati's defining moment? The Bengals nearly won it all for the first time before 49ers quarterback
Joe Montana
worked his magic. Cincinnati hasn't come close to winning a Super Bowl since.
Or was Mike Brown taking over as owner the team's biggest defining moment? Brown has been criticized heavily in Cincinnati, which hasn't won a playoff game in 20 years under his leadership.
Let us know the Bengals' most defining moment. If you vote Other, give us your suggestion in the comments area below.
April, 22, 2011
4/22/11
8:00
AM ET
Here are the most interesting stories Friday in the AFC North: Morning take: Esiason was with Cincinnati during the good times and understands the current climate of the Bengals. Like many, Esiason doesn't believe Palmer is coming back to Cincinnati.
Morning take: Right tackle, in my opinion, is Baltimore's biggest need. But the Ravens could also use youth and depth at guard and center. Look for them to address some of these needs early.
Morning take: For years, the Steelers have passed on offensive tackles in the first round in favor of developmental players later in the draft. This may be the year Pittsburgh changes that philosophy.
Morning take: Cleveland averaged a measly 16.9 points per game last season, which was 31st in the NFL. Fixing a struggling passing game is one of new head coach Pat Shurmur's biggest priorities.
October, 1, 2010
10/01/10
8:30
AM ET
Here are the most interesting stories Friday in the AFC North:
Morning take: There's not a faster player in the division -- and possibly the league -- than Wallace. His two touchdowns last week against Tampa Bay should keep the Ravens' defense honest.
Morning take: Gaither provided a glimmer of hope by practicing on a limited basis Wednesday, but he sat out again on Thursday. The Ravens could use him this week but chances look slim.
Morning take: If Delhomme (ankle) wants to play and he's not 100 percent, should the Browns start him or stick with backup Seneca Wallace? That could be the choice Cleveland has to make.
Morning take: Everyone is trying to figure out what's wrong with Palmer. The Bengals say nothing is wrong, but most will agree the quarterback needs to play better.
June, 23, 2010
6/23/10
12:00
PM ET
Notable players:
OT Anthony Munoz, QB
Boomer Esiason
, RB James Brooks, RB Ickey Woods, DL
Tim Krumrie
, WR Eddie Brown, S
David Fulcher
[+] Enlarge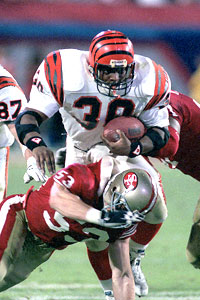 Manny Rubio/US PresswireIckey Woods led the Bengals with 1,066 yards rushing and 15 TDs.
Analysis:
If not for the late-game heroics from
San Francisco 49ers
Hall of Fame quarterback
Joe Montana
, the 1988
Cincinnati Bengals
would have earned the franchise's first and only Super Bowl title. Instead, they join a long list of great teams that are often forgotten after losing in the big game.
With the Bengals leading by three points, Montana drove San Francisco 92 yards for a touchdown late in the fourth quarter to seal a 20-16 victory in Super Bowl XXIII. Montana's game-winning touchdown throw to receiver
John Taylor
with 34 seconds remaining has been replayed constantly and is a reminder of how close the Bengals were to winning the Super Bowl.
But being that close to a title is what makes the '88 Bengals the best team in franchise history.
Cincinnati's explosive offense led the NFL in scoring with 448 points and in total yards in '88. Esiason threw for 3,572 yards and 28 touchdowns, and the Bengals nearly had two 1,000-yard rushers in Ickey Woods (1,066 yards) and James Brooks (931 yards).
The '81 Bengals also won the AFC and are a close second. Coincidentally, Cincinnati lost to San Francisco in the Super Bowl that year as well.
Most impressive win:
Despite Cincinnati lighting up the scoreboard all season, the AFC Championship Game was a defensive battle against the
Buffalo Bills
.
The Bengals had to win with toughness, holding the
Jim Kelly
-led Bills to 181 total yards in a 21-10 victory. Cincinnati held Buffalo to 45 yards rushing and forced three turnovers. The Bengals also ran the ball 50 times for 175 yards in the win to set up their Super Bowl showdown with San Francisco.
Research room:
The Bengals had seven Pro Bowlers in '88. Esiason, Munoz, Brooks, Brown and tight end
Rodney Holman
represented the AFC on offense. On Cincinnati's defense, Fulcher and Krumrie also earned Pro Bowl nods.
The Ickey Shuffle:
To the casual football fan, probably the most memorable aspect of the run made by the '88 Bengals was the invention of the "The Ickey Shuffle."
Woods came up with a famous (infamous?) touchdown dance that consisted of a stutter-step to each side, then a spike of the football. Artistically, "The Ickey Shuffle" wasn't all that great. But it became one of the most well-known touchdown celebrations in NFL history.
Honorable mentions:
1981:
This remains the only other Bengals team to play in a Super Bowl. Quarterback Ken Anderson had a career year, throwing for 3,754 yards, 29 touchdowns and a 98.4 passer rating.
2005:
The best team of the Marvin Lewis era, Cincinnati went 11-5 and won the AFC North. But a first-quarter knee injury to quarterback
Carson Palmer
led to a quick playoff exit against the
Pittsburgh Steelers
.
1975:
Another first-round playoff exit makes this a quality but forgotten team. The Bengals were very well-balanced in '75 and ranked in the top seven in total offense (No. 2) and total defense (No. 7).
February, 23, 2010
2/23/10
3:00
PM ET
It appears former Cincinnati Bengals head coach Sam Wyche is willing to put his football reputation on the line for University of Florida quarterback
Tim Tebow
.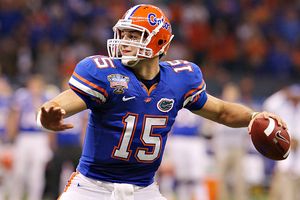 Derick E. Hingle/US PresswireFlorida quarterback Tim Tebow should succeed in the NFL according to former Cincinnati Bengals coach Sam Wyche.
"If this guy can't be a starting quarterback in the NFL, then I was in the wrong profession for a lot of years," Wyche told
Gary Shelton of the St. Petersburg Times.
Wyche has a great track record with quarterbacks. He tutored Boomer Esiason in Cincinnati and was the former quarterbacks coach of Joe Montana with the San Francisco 49ers.
But Tim Tebow?
Wyche is one of the few big names in the NFL community willing to make such a bold prediction for the former Heisman Trophy winner. Tebow was long considered a tremendous college football quarterback who would struggle to translate his skills at the NFL level. Tebow's poor performance in the Senior Bowl certainly didn't help his stock.
But Wyche is working closely with Tebow in preparation for workouts and the NFL draft, so perhaps Wyche has an agenda. Either way, Wyche cannot stop singing Tebow's praises.
"He's accurate," Wyche told Shelton. "He's smart. He anticipates well. He's a commander in the huddle. He has good footwork... He has agility. He has athleticism. So many things are right about this guy."
Wyche is certainly gutsy. He appears fully convinced of Tebow's NFL potential at a time when very few people are.
"[Former Bengals owner and coach] Paul Brown used to say to me, 'Don't tell me about how good an athlete a guy is. Tell me about how good a football player he is,'" Wyche said. "I think Tebow is one of the elite."
January, 9, 2010
1/09/10
1:30
PM ET
Former Cincinnati sports reporter Bill Hemmer witnessed the glory years of the Bengals firsthand. He covered and traveled with the team from 1988 to 1992, which included two playoff berths and a trip to the Super Bowl.

Hemmer
Hemmer eventually left his hometown and today is a well-renowned news anchor for the Fox News Channel in New York. The Bengals will host the
New York Jets
in Saturday's playoff game at 4:30 p.m.
The AFC North blog caught up with Hemmer to reflect on the Bengals and look ahead.
You covered the Bengals during their last great run. What are your memories from that experience?
Bill Hemmer
: That was a great time in my life. You don't realize it when you're in the moment. But when you look back on it, I know how wonderful an experience that can be. I was a young man. I was 24 years old, and I had an opportunity in Cincinnati to go to the games and travel with the team and report on what they were doing. As a sports fan, born and raised in Cincinnati, I bleed orange and black for crying out loud. To be able to have that experience with the team you've grown up to love, it was outstanding. I look back at those times with very fond memories. It took me to every stadium in the country and it put me up close with some guys, to this day, that I still respect. People like Boomer Esiason, Chris Collinsworth, Anthony Munoz and Sam Wyche. These guys are legends of the game. It's amazing how many broadcasters that team produced. As a reporter covering that team back then, they were great for interviews.
The Bengals haven't won a playoff game since you covered them. What do you think happened to this organization?
BH:
I have a nephew. He's 19. He's going to the game on Saturday, because I got him some tickets. He's a huge fan and since he's been alive this is the second winning season he's ever seen. Where would we be without suffering, I think Bruce Springsteen once said. What's gone wrong? Everything. They've had management issues. They've had coaching issues. They've had personnel issues. In recent years they've had horrific injuries. Things like
David Pollack
. You draft a kid out of Georgia, he's so promising, and he breaks his neck the third game of his career. And
Odell Thurman
, those two guys in my mind could have battled for rookie defensive player of the year. After only a couple games I thought they were that good. But Thurman had his off-field problems and he's done. If you think about the events they've gone through this past year with Mike Zimmer's wife dying and
Chris Henry
dies. You wonder if the team is cursed. Well, here is what I think the strategy is, because I've studied this team and watched how management makes decisions. This is my opinion, but if you look at their Super Bowl appearance of '81-'82, they tried to blast off and they finally did. Then they go back in a lull. Maybe it's to save money or turn the payroll. I'm not sure. Then they build up again and they explode in '88-'89. They tried to do it again in the '90s but they failed at it. And here they are almost 20 years later and they got a shot.
You now live and work in New York. How confident are Jets fans after last week's 37-0 drubbing?
BH
: I have got to tell you, I work in a building with thousands of employees. I think everyone in the building knows I'm a Cincinnati fan, and they have let me have it all week long. I tell them, 'Good luck, and here's to a great game this weekend.' In Bengal Nation we are raised to be humble.
What are your thoughts on the Chris Henry story and how sports sometimes converges with hard news?
BH:
I'm a big believer that sports sometimes is a reflection of our society, be it good or bad. I'm one of the guys in the newsroom who will always argues to have highlights on the National Championship Game thrown into the newscast. I lose more of those arguments than I win. But there is a reason why 80,000 people are jammed into a stadium. There is a reason why you can get eight million people to watch a football game on a Sunday night. There is a reason why 50 million people watch the Super Bowl on television in this country alone. There is a fan base for that, and for that reason I'm convinced that the audience is there. But we work in a news business. So I lose a lot of those arguments. But I think you can make the case that many things that happen, especially on the professional level, are a reflection of society.
What's your prediction for the Jets and Bengals?
BH:
I can't go there. But I will predict a very well-played football game. I think it will be solid on both sides of the football. I think fans and viewers across the country are in for a treat. I think what happened Sunday night was an aberration. I'm praying that I'm right with that calculation. But if anything it was a wake-up call to make sure those guys are focused. I believe the Bengals, when they've been forced to concentrate and forced to focus, have played extraordinarily well. I hope that's the case Saturday.
June, 6, 2009
6/06/09
8:00
AM ET
Posted by ESPN.com's James Walker
Here are the top stories Saturday in the AFC North:
Morning take: With Baltimore's young kickers still learning, I wouldn't rule this out, either. It's somewhat telling that Stover and Ravens head coach John Harabugh remain in contact.
Morning take: Sepulveda raised some eyebrows when he still wasn't punting in prior practices this offseason. Now we know why.
Morning take: It appears coach Eric Mangini's strategy is to stockpile as many offensive linemen as possible and let the best five separate themselves this summer.
Morning take: The Bengals' bandwagon is filling up fast, and there's not much room left. At this rate, will they really be "sleepers" in September?
August, 18, 2008
8/18/08
1:02
PM ET
| | |
| --- | --- |
| | |
| | George Gojkovich/Getty Images |
| | Anthony Munoz, an 11-time Pro Bowler, was inducted into the Pro Football Hall of Fame in 1998. |
Posted by ESPN.com's James Walker
Readers' pick: Anthony Munoz, T
Good choice, Cincinnati Bengals fans.
Offensive tackle Anthony Munoz clearly is the greatest player in franchise history.
Munoz was the runaway winner. Most of the remaining votes went to Boomer Esiason and Ken Anderson, who were second and third, respectively.
What stood out most was receiver Chad Johnson coming in fourth. For all of his antics, he gets a lot of respect for his abilities from Bengals fans.
More than one out of 10 feel Johnson is the greatest player ever to put on a Bengals uniform, and his production gives him a case. Johnson, 30, already is the team's all-time leading receiver in yards (8,365) and receptions (559), and he's not done yet.