May, 1, 2014
May 1
3:30
PM ET
The
Baltimore Ravens
are known for trading back in the first round. There were, however, two times over the past seven drafts when the Ravens tried to trade up.
General manager Ozzie Newsome discussed both instances during the team's recent pre-draft luncheon.
The first attempt came in 2007, when quarterback
Brady Quinn
unexpectedly slid down the first round. The Ravens were working out a trade to move up to the
Dallas Cowboys
' spot at No. 22, but they were outbid by the Browns. Cleveland traded its 2007 second-round pick and 2008 first-rounder to get Quinn, and the Ravens selected guard
Ben Grubbs
at No. 29.
"Phil [Savage, Browns general manager] offered more than we did," Newsome said. "And so, they ended up drafting Brady Quinn, and we did not get him, because what Dallas and Jerry [Jones] wanted in the trade from the other team, we did not feel like we should go up to that level. So, Phil got the trade."
What would've happened if the Ravens had drafted Quinn? Here is
my blog post
on the ramifications.
The Ravens were also interested in moving up last year, according to Newsome.
"We were surprised that a player had started to fall that we had rated real high," Newsome said, "and we started to try to move up to get that player. "
Newsome didn't mention the player, but it possibly could've been someone like wide receiver
Cordarrelle Patterson
, who went to the
Minnesota Vikings
at No. 29, or linebacker
Alec Ogletree
, who was drafted by the
St. Louis Rams
at No. 30.
The Ravens ended up selecting safety
Matt Elam
at No. 32, the last pick of the first round.
Could the Ravens look to trade up this year? The problem for the Ravens is they only have four picks to trade, which Newsome said doesn't give the team much "ammunition" to move up from No. 17. The Ravens' four compensatory picks can't be traded.
"I could probably say if one or two players start getting really close to us, we'd be clamoring trying to go up and get them," Newsome said.
April, 29, 2014
Apr 29
11:30
AM ET
When analyzing a draft for a team, the focus is usually on the players drafted. Sometimes, a team's fate is determined by the player it didn't draft.
Case in point: quarterback
Brady Quinn
told
The NFL Network
that the
Baltimore Ravens
were poised to draft him in the first round seven years ago.
[+] Enlarge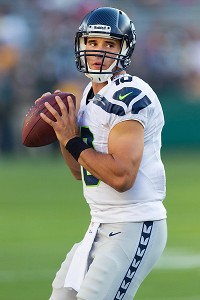 Jeff Hanisch/USA TODAY SportsBrady Quinn has played for several teams, but his NFL career never blossomed as expected.
"During that pick, I was on the phone with the Baltimore Ravens the entire time," Quinn said. "So, I was talking to [general manager] Ozzie Newsome ... coach [Brian] Billick and coach [Rick] Neuheisel, because I hadn't interviewed with them, hadn't worked out for them or anything."
The Ravens never got a chance to take Quinn because the Browns traded with the
Dallas Cowboys
to move up.
"So, all of a sudden, with like a minute left, I get a call from a 216 area code, which happened to be Cleveland," Quinn said. "And it was the Browns calling to tell me they were trading up to the 22nd pick. The Ravens were going to take me ... so I wasn't sure what to think."
What would have happened if the Ravens had drafted Quinn? There would be no
Joe Flacco
in Baltimore and likely no second Lombardi Trophy. Even the toughest Flacco critics would agree that the Ravens don't make that championship run in 2012 without Flacco doing his best Joe Montana impersonation (11 touchdowns, no interceptions).
The Ravens were in a position to draft Flacco in the first round in 2008 because they didn't make a commitment to a quarterback the previous year. In 2007, the only quarterback drafted by the Ravens was Troy Smith in the fifth round.
Some might suggest the Ravens would still have ended up with Flacco based on the team firing Billick at the end of the 2007 season. Many teams look to draft a quarterback in the same year they hires a new coach, and the Ravens might have followed the same path by pairing Flacco with John Harbaugh.
The Ravens' history suggests otherwise. Newsome doesn't give up on first-round picks easily. If the Ravens selected Quinn in the first round, it would have been another Kyle Boller situation. Remember the Ravens suffered through three years of Boller struggling as a starter before they traded for Steve McNair in 2006.
The drafting of Quinn would have kept the Ravens from being a perennial playoff team, just like Boller did. Quinn failed to beat out
Derek Anderson
and establish himself in Cleveland. Before you say Quinn would have had a better chance to succeed in Baltimore than Cleveland, he has bounced around with four teams (the
Denver Broncos
,
Kansas City Chiefs
,
New York Jets
and
St. Louis Rams
) in four years with no success. Quinn is currently a free agent.
Over the years, the Ravens have many reasons to thank Cleveland. They would not have Newsome if not for the Browns moving to Baltimore. They would not have Pro Bowl defensive tackle
Haloti Ngata
if not for the Browns allowing the Ravens to move up one spot to take him in 2006. And the Ravens would not have a second Super Bowl title if not for the Browns trading up to draft Quinn.
January, 7, 2014
Jan 7
11:00
AM ET
The lone AFC North team in the playoffs made another early exit Sunday when the No. 3 Bengals lost to the No. 6 Chargers, 27-10, at Paul Brown Stadium. With all four division teams now in offseason mode, here is a quick look at them by order of finish in the AFC North.
Cincinnati Bengals

2013 record:
11-5, 3-3 in division
Key free agents:
DE
Michael Johnson
, OT
Anthony Collins
Biggest question:
Have coach Marvin Lewis and quarterback
Andy Dalton
taken the Bengals as far as they can?
Biggest reason for hope:
Despite losing in the wild-card round of the playoffs for the third consecutive season, the Bengals have a very good nucleus. Rookie
Giovani Bernard
showed enough to think his time splitting carries with the plodding
BenJarvus Green-Ellis
is over.
Why they might disappoint:
Dalton has faltered too many times in big games to think he can take the next step, and just making the playoffs is no longer good enough in Cincinnati.
Overall state of the franchise:
The Bengals find themselves at a crossroads, but they have little choice but to stick with Dalton -- for now -- unless they want to draft a quarterback in the first round and hand over a veteran team to him.
Pittsburgh Steelers

2013 record:
8-8, 4-2
Key free agents:
OLB
Jason Worilds
, WR
Emmanuel Sanders
Biggest question:
Will the Steelers re-establish themselves as Super Bowl contenders while re-tooling their defense?
Biggest reason for hope:
The offense will be able to mask some of the issues the Steelers have on defense if it builds on its strong second half of the 2013 season.
Why they might disappoint:
The defense could get worse before it gets better if younger players don't emerge in the secondary and Worilds signs elsewhere.
Overall state of the franchise:
The Steelers are facing a lot of uncertainty, but a 6-2 finish and the way the offense has come together point to them returning to postseason play in 2014 after missing the playoffs in consecutive seasons.
Baltimore Ravens

2013 record:
8-8, 3-3
Key free agents:
TE
Dennis Pitta
, LB
Daryl Smith
Biggest question:
Did the Ravens suffer through the dreaded Super Bowl hangover or are they in decline?
Biggest reason for hope:
Joe Flacco
is a franchise quarterback, and there is still plenty of talent on both sides of the ball.
Why they might disappoint:
The Ravens, like the Steelers, are clearly in transition on defense. Two cornerstones of that defense -- outside linebacker
Terrell Suggs
and defensive tackle
Haloti Ngata
-- no longer dominate on a consistent basis.
Overall state of the franchise:
Ozzie Newsome and John Harbaugh are as good as any general manager-coach tandem in the NFL, and they have to be given the benefit of the doubt even though the Ravens slipped this season.
Cleveland Browns

2013 record:
4-12, 2-4
Key free agents:
C
Alex Mack
, S
T.J. Ward
Biggest question:
Will a new coach and a quarterback finally stabilize an organization that has floundered, often spectacularly, since the NFL returned to Cleveland in 1999?
Biggest reason for hope:
There are some pieces in place, most notably wide receiver
Josh Gordon
, cornerback
Joe Haden
and left tackle
Joe Thomas
, and the Browns have a pair of first-round picks, including the fourth overall selection.
Why they may disappoint:
Tim Couch, Brady Quinn and
Brandon Weeden
are the quarterbacks the Browns have drafted in the first round since 1999. Why should Browns fans think they will get it right in this draft?
Overall state of the franchise:
The Browns dumped coach Rob Chudzinski after just one season, and unless they find the right replacement and, oh yeah, a quarterback in the draft, the Browns will continue to bottom feed in the AFC North.
October, 23, 2013
10/23/13
4:36
PM ET
The number 20 is special in many circles.
The 20th anniversary means a little more than the 16th, and a young man or woman who turns 20 feels a little more "adult."
[+] Enlarge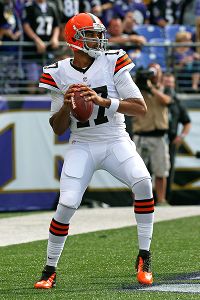 Mitch Stringer/USA TODAY SportsJason Campbell's play at quarterback is a key reason why the Browns are optimistic about making the AFC playoffs.
So when the Browns name their 20th starting quarterback since 1999 -- the year the team returned from a three-year hiatus -- it's worth taking a trip down memory lane (the screams in the background are from Browns fans whose memories are being jogged ... feel free to offer appropriate sympathies).
1999
Ty Detmer -- The plan to have him hold the fort lasted for one blowout loss, in the season opener against Pittsburgh.

Tim Couch -- The original No. 1 choice, had a couple of good years but not enough.
2000
Couch

Spergon Wynn -- Chris Palmer was lobbied to play him by the front office, and he produced two first downs in one game.

Doug Pederson -- Now Kansas City's offensive coordinator, started the Dennis Northcutt/Kevin Johnson quarterback game.
2001
Couch -- The only season when one quarterback started every game.
2002
Couch

Kelly Holcomb -- The year of the Dwayne Rudd helmet-removal game and the blown playoff game in Pittsburgh.
2003
Holcomb -- Incurred the "teeny-tiny break of a non-weight bearing bone in his leg."

Couch -- Late this season, Butch Davis told Couch he was his quarterback for years to come; Couch was released in the offseason.
2004
Jeff Garcia -- He never quite fit in, though he thinks he does now.

Holcomb

Luke McCown -- Interim coach Terry Robiskie admitted when McCown played, it was men against boys.
2005
Trent Dilfer -- Good guy, but chewed up by the Cleveland system always looking for the next guy.

Charlie Frye -- Had moments as a rookie until the Christmas Eve massacre against Pittsburgh.
2006
2007
Frye -- Traded after the Browns lost the season opener.

Anderson -- Had the best season of a Browns QB since 1999, won 10 games, but didn't win the game needed to make the playoffs.
2008
Anderson.

Brady Quinn -- The town was jubliant after Phil Savage traded up to get him and Joe Thomas in the first round.

Ken Dorsey -- At this point hopes were dimmed.

Bruce Gradkowski -- Signed to start the last game when everyone else was hurt.
2009
Quinn and Anderson -- Yo-yoed back and forth by Eric Mangini.
2010
Jake Delhomme -- Mike Holmgren's interim solution.

Seneca Wallace -- Holmgren's backup solution.

Colt McCoy -- Holmgren's drafted solution.
2011
McCoy -- The year he was put back in the game with a concussion in Pittsburgh.

Wallace
2012
2013
Weeden

Brian Hoyer -- Showed promise before unfortunate injury.

Campbell -- Passed over twice, now starting.
October, 25, 2012
10/25/12
1:02
PM ET
It's been a frustrating season for
Troy Polamalu
. A calf injury has limited him to five quarters this season.
But there's one piece of news that he can take comfort in -- Polamalu is the NFL's most well-liked player. In a fan poll conducted by
Forbes
, Polamalu received 63 percent, which edged out Saints quarterback
Drew Brees
(62) and Packers defensive back
Charles Woodson
(62 percent). No other player was above 60 percent.
Topping the list of the NFL's least-liked players was Lions defensive lineman
Ndamukong Suh
. The only AFC North ties to the least-liked list are: former Steelers wide receiver
Santonio Holmes
(No. 8 ) and former Browns quarterback
Brady Quinn
(No. 10).
July, 24, 2012
7/24/12
4:04
PM ET
The Browns didn't buckle in guaranteeing a fourth year to first-round pick
Brandon Weeden
, and I can understand why given their quarterback history.
The last Browns quarterback to start more than eight games in four consecutive seasons was Bernie Kosar from 1985 to 1991. Cleveland
reached a four-year, $8.1 million agreement
with Weeden on Tuesday by guaranteeing more than $900,000 in 2015, according to ESPN NFL Insider Adam Schefter.
Weeden
Someone has to tell Weeden that there's never been any guarantees when it comes to the Browns and their quarterbacks since returning to the NFL in 1999. Not with Tim Couch. Not with
Derek Anderson
. Not with
Brady Quinn
. And not with
Colt McCoy
.
Now, it's up to Weeden to break this two-decade streak and establish himself as a franchise quarterback. This deal allows Weeden to report on time with the rest of the Browns rookies today. This allows him to take snaps in the first full-team practice Friday. This also allows him to seize the starting job immediately.
The Browns have rebuilt their offense in a matter of months, drafting
Trent Richardson
with the third overall pick, taking right tackle
Mitchell Schwartz
in the second round and selecting wide receiver
Josh Gordon
in the supplemental draft. But the key to turning around this offense quickly will be the play of Weeden, the 28-year-old quarterback who was drafted with the No. 22 pick.
While the Browns have yet to name Weeden as their starting quarterback, it's almost a given that he will beat out McCoy and start as a rookie. The bigger question is whether Weeden will establish himself for the long term.
June, 20, 2012
6/20/12
7:30
AM ET
Every morning, grab a cup of coffee and get your AFC North wake-up call here:
Ravens offensive tackle Bryant McKinnie doesn't feel the scrutiny that followed him being held out of mandatory minicamp practices is deserved.
"I'm going to show up at the weight I'm supposed to be and handle my business and get everybody off my back," McKinnie told the
Carroll County (Md.) Times
. "I want to get this work done, come in at the right weight and shut everybody up. I'm only nine pounds away."
McKinnie added, "I'm getting in shape. I'm lower now in my weight than any time last year. I think people got the wrong idea about why I wasn't out there last week."
McKinnie said he currently weighs 354 pounds and wants to get down to 345 pounds. His focus has been cardiovascular workouts, not weight lifting.
"It's the type of cardio you do to keep the wind going," McKinnie said. "It's not doing as much banging on the knees. My whole goal is to slim down. It's about working smart based on losing weight."
Hensley's slant
: McKinnie played all 16 games last season around the 360-pound range, and this took its toll on him. He got off to a strong start for the Ravens, but his play tailed off late in the season. Maybe the Ravens are focusing on conditioning to avoid a repeat of last season.
BENGALS
: Cornerback Adam Jones still remembers getting burned by Texans receiver Andre Johnson on a 40-yard touchdown pass in the playoffs last season. "That game left a bad taste in our mouths, especially in mine," Jones told the
Dayton Daily News
. "I had a double-move put on and I haven't forgotten that play. And I knew that play was coming. I was tired, forgot my technique and that's the type of stuff that will happen. I'm doing everything in my power to make sure that doesn't happen again. That play is a mental note and at the top of my board."
Hensley's slant
: Jones has been working with the first-team defense all offseason because Leon Hall (Achilles) and Nate Clements (abdominal) have been sidelined with injuries. There is a chance he could be pushed back into the starting lineup if Hall isn't ready to start the season. Not counting that touchdown given up in the playoffs, Jones allowed 16 receptions in eight regular-season games, according to Pro Football Focus.
BROWNS
: The
Canton Repository
compared the 22nd overall picks in the 2007 draft (Brady Quinn) to the 2012 one (Brandon Weeden). One of the biggest disparities is the pedigree of the targets for each quarterback.
Quinn's top three targets were 2005 No. 3 overall pick Braylon Edwards, 2004 No. 6 overall pick Kellen Winslow and veteran Joe Jurevicius. Weeden's are 2011 No. 59 overall pick Greg Little, 2009 No. 50 overall pick Mohamed Massaquoi and veteran Ben Watson.
Hensley's slant
: Browns officials are banking that Weeden's strong arm will improve a pedestrian group of pass catchers. But there should be concern that this group of targets will hurt Weeden's productivity because no one has the speed to consistently get open. The Browns have to address the wide receiver position either in free agency or the draft next season. This team can't continue to ignore playmakers in the passing game.
STEELERS
: The returning wide receivers are trying to fill the leadership void left by Hines Ward, according to the
Pittsburgh Post-Gazette
. "In this business, the older guys fizzle out, and the younger guys have to step up," wide receiver Antonio Brown said. "We have to set the pace for the wideouts, let them know what we learned from Hines and lead the way."
Hensley's slant
: The player who needs to replace Ward as a leader on offense is quarterback Ben Roethlisberger. He's a two-time captain who has led the Steelers to last-minute victories. This is the time for Roethlisberger to assume control on the field, in the locker room and in the meeting rooms.
April, 27, 2012
4/27/12
12:26
AM ET
BEREA, Ohio -- The
Colt McCoy
era is over. A new one -- make that
older
one -- began Thursday night when the
Cleveland Browns
selected Oklahoma State quarterback
Brandon Weeden
with the 22nd overall pick.
The Browns have gone from a weak-armed quarterback to a geriatric one by NFL standards. At 28 years, 195 days, Weeden is the oldest player ever to be taken in the first round of the Common Draft era, according to Elias Sports Bureau. Weeden is only two years younger than
Ben Roethlisberger
. He's one year older than
Brady Quinn
, the last quarterback taken by the Browns in the first round.
Drafting running back
Trent Richardson
in the first round was a no-brainer. And, even though I think Weeden can be a quality starter in this league, taking him in the first round makes little sense for a team that is not a quarterback away from contending for a Super Bowl.
The Browns have too many other needs on offense to reach for a failed minor-league pitcher. The Cleveland front office believes it found a franchise quarterback in Weeden, but you have to wonder who is going to block for him at right tackle and who is going to catch the long passes from Weeden's big arm. The Browns are right that Weeden will be an upgrade over McCoy. But, like McCoy, he might have trouble reaching that potential with the holes surrounding him.
In a span of a few hours, the Dawg Pound went from high-fiving over the selection of Richardson to scratching their heads over Weeden.
Why didn't the Browns take a wide receiver like Georgia Tech's
Stephen Hill
? Why didn't Cleveland pick up Iowa offensive tackle
Riley Reiff
or Stanford guard
David DeCastro
? Why did a rebuilding franchise select an older quarterback?
"We went through the process of evaluating him, we became very fond of him," Browns coach Pat Shurmur said. "We all did, from Randy [Lerner, owner] to Mike [Holmgren, team president] to Tom [Heckert, general manager] to myself. I came away saying this is a guy we'd like to have on our team. That's where we're at right now."
It was interesting that Shurmur pointed out that the owner had input on this decision. The pressure is on, and the clock is ticking.
At his age, Weeden has to start immediately. There's no time to let him sit and learn. And, because of his age, the expectation is to win immediately.
Browns officials shrugged off Weeden's age as being an issue. The number they concentrated on is 22, which is Weeden's wins in 25 starts in college.
"We feel like the kid's a winner," Shurmur said. "I wasn't concerned about his age."
The arrival of Weeden could mean the end of McCoy's days in Cleveland. The Browns gave McCoy a major vote of no confidence when they aggressively tried to trade up for
Robert Griffin III
last month.
The question now isn't whether McCoy will compete for the job. It's whether McCoy will even be on this team. Heckert didn't deny the possibility that the Browns could trade McCoy this weekend.
"To be honest, we haven't thought about that. We really haven't," Heckert said. "That's something we'll talk about tonight and tomorrow."
If it wasn't for Weeden's age, he would have been a top-10 pick. He has a strong arm. He's got a quick release. He is a hard worker. He is a respected leader.
There's a good chance that Weeden will be a productive quarterback and might end the string of other "franchise" quarterbacks like Tim Couch,
Derek Anderson
and Quinn. The problem is, teams draft quarterbacks in the first round to be the starter for the next decade. The odds are against that with Weeden, who will turn 30 in October next year.
The Browns have done such a great job in rebuilding the defense in the past two drafts that you want to give them the benefit of the doubt that they'll do the same on offense. When it came time for the Browns to pick at No. 22, Heckert said there was no decision to make especially after Baylor wide receiver
Kendall Wright
was drafted by Tennessee at No. 20.
"Brandon was by far the best player for us," Heckert said. "There wasn't really even an afterthought. As soon as a couple of guys went, we knew we were going to take him."
Weeden might have been the best player available at that point. He was just not the right player for the Browns.
February, 22, 2012
2/22/12
2:57
PM ET
In a GQ article about
Tim Tebow
,
Terrell Suggs
and
Brady Quinn
made critical remarks about the Broncos quarterback.
Suggs
Tebow
Quinn has since clarified his remarks, saying his quotes were taken out of context. Don't expect a similar apology from Suggs.
For some reason, Suggs continually lashes out at Tebow. It's really bizarre for Suggs to go out of his way to bash Tebow when he hasn't played him and he's not in the same division. This is purely a one-sided rivalry which is turning ugly.
In many instances, Suggs does it in a playful manner. In
the GQ article
titled "The Year of Magical Stinking: An Oral History of Tebow Time," he crosses the line with his constant attacks on Tebow. Suggs has become the leading critic of Tebow, and I'm still trying to figure out why.
"They say we were giving him a hard time because he's a Christian. No, that's not it!," Suggs told GQ. "We were giving him a hard time because he was terrible."
Suggs has been critical of quarterbacks in the past, especially
Tom Brady
. I understood that grudge because they jawed on the field and exchanged some trash talking through the media over the years.
Unless I'm missing something, there's no history between Suggs and Tebow. You would think Suggs would like Tebow after what he did to his biggest rival, the Pittsburgh Steelers, in the playoffs.
Suggs has vented about Tebow on ESPN's First Take,
taking a shot
at his religious persona. But he's also been
light-hearted about the Tebowmania
as well. When asked whether he would win NFL Defensive Player of the Year -- which he eventually did -- Suggs said, "I pretty much will leave it in God's hands, leave it in Tebow's hands."
OK, that was funny. His remarks to GQ had no humor at all. I'm not saying that Suggs is wrong to criticize a quarterback. I agree that Tebow is overrated.
But taking repeated shots at a player starts to make it personal. From my perspective, Suggs enjoys taking shots on Tebow off the field as much as he does hitting
Ben Roethlisberger
on the field.
"I mean, it's an insult to us players," Suggs told GQ about Tebow. "You know, wins are hard to come by in this league, and if I was Denver's defense, I would feel a certain way – they're not allowed to, because they're all on one team, but people are making it look like Tim Tebow is the kid from Foxborough [Tom Brady], which that couldn't be more opposite. It's just crazy that we're calling him a phenomenon when basically he's mediocre. [Carolina rookie]
Cam Newton
is a way better quarterback than Tim Tebow, and we don't have a Cam Newton phenomenon."
Let's see if Suggs backs off his comments when the Ravens play host to Tebow and the
Denver Broncos
in 2012. Judging from the past couple of months, my guess is he continues his attack on Tebow.
June, 2, 2011
6/02/11
3:20
PM ET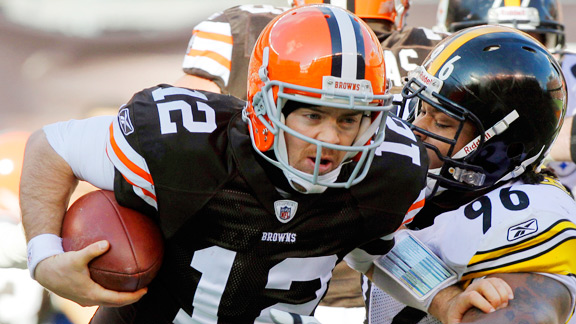 AP Photo/Mark DuncanColt McCoy's numbers suffered when he played in cold-weather conditions.
It sounds like a simple question: Can
Colt McCoy
play in cold, inclement weather?
But the subject of handling the cold continues to be a hot topic in Cleveland and one that will follow McCoy until he proves otherwise with the Browns.
Playing quarterback in Cleveland is not easy. It takes good arm strength -- one of McCoy's biggest weaknesses -- because the stadium is located right off Lake Erie. That makes for heavy winds and creates more snow than usual in the key games in November and December, when many teams try to make a push for the playoffs.
McCoy, college football's all-time winningest quarterback at the University of Texas, didn't play in many cold-weather games in the Big 12. And the few McCoy had were mild compared to what he will face every season as Cleveland's starting quarterback.
McCoy's first NFL experience last year playing in inclement weather didn't go well, leaving many to question if he is the answer for the Browns. According to ESPN's Stats & Information, McCoy played three games during his rookie season in which the temperature was below 40 degrees. In those games, McCoy was 0-3, losing to the
Cincinnati Bengals
,
Baltimore Ravens
and
Pittsburgh Steelers
, and saw his passer rating drop almost 25 points compared to games played in warmer weather. McCoy also threw six of his nine interceptions in those three games.
If playing well in the cold is something McCoy cannot do, it will surely be his undoing in Cleveland.
"Even though we didn't go through with it, that was something in my year with the Browns that we very much believed in: You gotta have a [strong-armed] quarterback because we were next to the lake," said Scouts Inc.'s Matt Williamson, who worked for the Browns in 2004. "And you got to have kickers and punters that are used to playing in that type of weather. I was there with
Jeff Garcia
and he didn't do well."
Coming off his success in San Francisco, Garcia was just 3-7 in his only season in Cleveland and turned out to be a bad fit. But he isn't the only Browns quarterback who has struggled. Former first-round pick
Brady Quinn
also couldn't solve Cleveland's tricky weather conditions.
Quinn spent three years in Cleveland and his numbers were dreadful in cold-weather games. Quinn's completion percentage (46.2) and passer rating (57.8) in games in which the temperature was under 40 degrees were both significantly lower than his career averages (52.1 completion and 66.8 passer rating). That led to Quinn's eventual demise and trade out of Cleveland.
The only Browns quarterback to have a Pro Bowl season in Cleveland since the team returned in 1999 was
Derek Anderson
, and he had the strongest arm of any Browns quarterback of the past dozen years.
Despite his woes in cold-weather games, McCoy scoffed at the idea that Cleveland's weather would be a factor for him late last season.
"I've played in the snow and wind in Kansas a couple times. I've played in Nebraska," McCoy explained. "We had some real wet games back home [in Austin, Texas]."
McCoy added that playing in bad weather is more mental than physical. He clearly didn't enjoy the constant questions about whether his arm strength was good enough to thrive in poor conditions.
"I guess we'll find out, won't we?" McCoy fired back last December.
But the early returns suggests it is an issue. McCoy's numbers across the board took a significant dip when weather became a factor.
McCoy's two victories as a starter came in a dome against the
New Orleans Saints
and an early November win at home against the
New England Patriots
. But back-to-back home games against division rivals Baltimore and Pittsburgh in the final two games of te season exposed McCoy's inexperience and lack of arm strength, as both teams combined for six interceptions.
Many of McCoy's passes fluttered and
Ed Reed
and
Troy Polamalu
easily intercepted his throws. McCoy, who showed good accuracy most of the year, also became erratic in the final two games and his arm wasn't strong enough to cut through the winds and fit the ball into tight windows.
According to Williamson, you may see more of the same from McCoy against Cleveland's division rivals, particularly late in the year.
"I think their passing game is still one of the worst in the league. How much offense can they generate?" Williamson said of the Browns. "Colt McCoy still has a lot to prove, and I don't think he has a real high ceiling. They don't have anyone dangerous that scares you."
The Browns have a lot riding on McCoy in 2011. If he turns out to be a bust, Cleveland's rebuilding process led by president Mike Holmgren, general manager Tom Heckert and rookie head coach Pat Shurmur could be pushed back even further.
June, 1, 2011
6/01/11
5:30
PM ET
Here are the latest happenings Wednesday evening in the AFC North:
May, 18, 2011
5/18/11
4:00
PM ET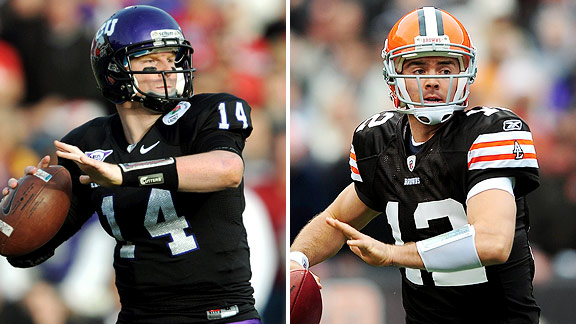 US PresswireThe futures of the Bengals and Browns are tied to young QBs Andy Dalton, left, and Colt McCoy.
Since the AFC North was created during the 2002 realignment, the
Pittsburgh Steelers
and
Baltimore Ravens
have been the biggest bullies within the conference. Those teams have combined for seven division titles in the past nine seasons.
With new eras beginning simultaneously for Ohio's two NFL franchises, young quarterbacks
Andy Dalton
and
Colt McCoy
will be aiming to shift the balance of power toward the
Cincinnati Bengals
and
Cleveland Browns
, respectively. Quarterback is the league's most important position, and if Dalton and McCoy turn out to be the long-term solutions, it could go a long way toward potentially turning the AFC North on its head.
The Steelers and Ravens have their answers at quarterback. Pittsburgh's
Ben Roethlisberger
, 29, already has led his team to three Super Bowls, winning two, and is currently in the prime of his career. Baltimore's
Joe Flacco
, 26, has led the Ravens to three consecutive playoff appearances and continues to get better.
That puts an immense amount of pressure on Dalton and McCoy to catch up. Their futures directly tie into Cincinnati and Cleveland's ability or inability to close the gap within the division. If both are busts, there might not be an end in sight to the dominance by Pittsburgh and Baltimore. Neither the Bengals nor the Browns have any shot of overcoming these perennial contenders with shoddy quarterback play.
"It's horrible; there's nothing good about [inexperienced quarterbacks] facing the Ravens and Steelers," said Matt Williamson of Scouts Inc. "They're not carbon copies of each other, but their philosophy is pretty similar. They're going to take away your running game, and you're not going to outwork them in the trenches or move them. Then you're one-dimensional, and then you're in trouble."
Cleveland has had a number of quarterbacks eaten alive by Baltimore and Pittsburgh since returning to the NFL in 1999.
Tim Couch
,
Kelly Holcomb
,
Jeff Garcia
,
Charlie Frye
,
Derek Anderson
and
Brady Quinn
are just some of the players who were battered, beaten and couldn't maintain long-term success in the AFC North. McCoy is next in line to give it a shot this season.
Last season McCoy showed flashes of promise, but he got off to an inauspicious start against Pittsburgh and Baltimore. He went 0-3 against the Steelers and Ravens, throwing for two touchdowns and eight interceptions in those games. If McCoy has similar performances against Cleveland's biggest rivals in Year 2, he won't hold his starting job very long.
"I think he played like a rookie at times and then he far exceeded my expectations at other times," Browns president Mike Holmgren said recently of McCoy. "It coincided with the games we won and a couple games that we lost. ... Did he exceed expectations from me? I would have to say yes, because I didn't expect him to play. Is there a huge upside and much more to come? I would say yes to that, too, because he is a young man just learning to play the position in our league."
Holmgren echoes the sentiment of Cleveland's coaches and those in the front office, who remain optimistic about McCoy. But Williamson isn't convinced.
Williamson recently
ranked the Browns last
in his post-draft Power Rankings, leading Scouts Inc. to predict Cleveland will take Stanford quarterback Andrew Luck with the top pick in the 2012 draft. If this scenario plays out, McCoy's first full season as a starter in 2011 projects to be a disaster.
"I really worry about the guy's arm strength. I just can't get around that," Williamson said. "When the weather gets bad, he's not going to be able to complete passes in Cleveland. I think he's a real good fit in the West Coast offense. I think he has some moxie to him and I like the way he plays. But when it's December and the Steelers and Ravens are in town, you better be able to complete a deep out."
Former No. 1 overall pick
Carson Palmer
did have success, which is why Cincinnati is the only team other than Baltimore and Pittsburgh to win the AFC North. The Bengals won division titles in 2005 and 2009.
Palmer,
who demanded a trade
and threatened to retire this offseason, was particularly tough against the Ravens. He was
9-4 as a starter
versus Baltimore, and the Ravens certainly won't miss Palmer if he never plays another down in Cincinnati.
That is where Dalton comes in. Barring an unexpected change of heart by Palmer, Dalton is
projected to be the Week 1 starter
in Cincinnati after leading TCU to an undefeated season in 2010.
Dalton, like many successful quarterbacks, comes to Cincinnati with confidence and a very competitive attitude.
"Obviously, everyone knows about the current situation with Carson Palmer," Dalton said. "As far as I know, it's open [competition]. We're trying to figure out who will be the guy, and I'm looking forward to it."
Dalton's biggest strengths are his accuracy and leadership, which will be needed in Cincinnati. Dalton recently said he models his game after some of the top quarterbacks in the league.
"Growing up and watching the NFL, I saw what
Peyton Manning
and
Tom Brady
have done. They seem to have full control over their team," Dalton explained. "You see how well it's worked out for them. Recently, I watched
Aaron Rodgers
even before he won the Super Bowl. He's a guy who took advantage of his opportunity when it was his time. I think those are three guys that I've watched and studied. Hopefully I can take something from each of their games."
Neither McCoy nor Dalton was a top draft pick. McCoy was a third-rounder in 2010, and Dalton was taken in the second round last month. Yet both are projected to start very early in their careers and, thus, will carry pressure similar to being a first-round pick.
Time will tell if Dalton and McCoy will eventually lead to a quarterback changing of the guard in the AFC North. But count Williamson among the biggest skeptics.
"They both won a ton of games in college, were wonderful college players, and you want your daughter to marry them," Williamson explained. "But they just don't throw the football as well as they have to be 'The Guy' in that division."
May, 10, 2011
5/10/11
4:00
PM ET
It's often said that it's unfair to grade a draft class in the NFL until you've had three full seasons to evaluate the body of work.

Therefore, this week in the AFC North blog we will take a look at the 2008 draft classes in the division and provide a letter grade. Tuesday we start with the
Cleveland Browns
.
Draft picks:
LB
Beau Bell
(fourth round), TE
Martin Rucker
(fourth), DT
Ahtyba Rubin
(sixth), WR
Paul Hubbard
(sixth), LB
Alex Hall
(seventh)
Analysis:
This was the final draft of former general manager Phil Savage's tenure in Cleveland, and it turned out to be a bad one. The Browns were coming off a successful 10-6 season in 2007 and had high expectations. Savage made a risky move by trading away all his top picks in 2008 in a draft-day deal for quarterback
Brady Quinn
the year prior and offseason trades to get defensive linemen
Shaun Rogers
and
Corey Williams
. To some degree, you must consider those players in this equation. But none worked out besides one productive season from Rogers. Of the five picks, only Rubin panned out and is still with the team. He is now Cleveland's best defensive lineman, which prevents this draft from being a complete disaster.
AFC North blog draft grade:
D+
On Wednesday we will take a look at the 2008 draft of the
Cincinnati Bengals
.
April, 22, 2011
4/22/11
3:34
PM ET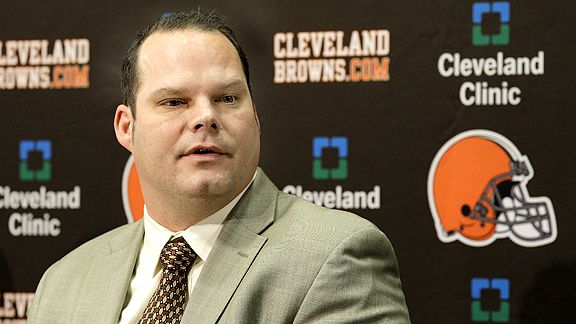 AP Photo/Amy SancettaBrowns GM Tom Heckert has built his reputation on doing solid work in the draft.
BEREA, Ohio -- When you think of the face of the 2011
Cleveland Browns
, high-profile president Mike Holmgren is the first person who comes to mind.
After Holmgren, quarterback
Colt McCoy
, receiver/kick returner
Josh Cribbs
and tailback
Peyton Hillis
might be next. They're among the few Browns players known on a national level. McCoy made his name at the University of Texas, Cribbs is a former Pro Bowler, and Hillis has a chance to become the
"Madden NFL 12" cover boy
next week following a breakout 2010 season in which he rushed for 1,177 yards and scored 13 touchdowns.
But as you continue down the list, eventually you will come across arguably the most important person in the organization: general manager Tom Heckert.
Holmgren has final say in Cleveland. But he is not the person laying the groundwork for the team behind the scenes.
Quietly, Heckert and his staff have worked hard to add talent to what was once a very thin roster. Last year, the Browns signed key veteran free agents such as tight end
Benjamin Watson
and linebacker
Scott Fujita
, in addition to completing a cunning trade with the
Denver Broncos
for Hillis in exchange for former Browns quarterback
Brady Quinn
.
But the draft is where Heckert has built his reputation.
Heckert joined the
Philadelphia Eagles
in 2001 as director of player personnel and worked his way up to general manager five years later. During his stint, Philadelphia went to four consecutive NFC championship games and made the playoffs in seven of Heckert's nine seasons in the front office. He had a major hand in the Eagles' acquisition of recent draft picks such as tailback
LeSean McCoy
, tight end
Brent Celek
, quarterback
Kevin Kolb
and receivers
DeSean Jackson
and
Jeremy Maclin
.
Heckert continued his draft success in Cleveland last season. The Browns acquired three starters in the first three rounds -- first-round corner
Joe Haden
, second-round safety
T.J. Ward
and McCoy in the third round.
Now the Browns have a young nucleus to build around as Heckert tries to work his magic in Year 2.
"I think last year we did a pretty good job," Heckert said in his pre-draft news conference Thursday. "Media-wise there were questions whether T.J. was worth the pick, and we said 'this guy is a good football player. He is going to come in here and start for us and he is worth that pick.' You can try to get cute and say maybe he'll be there later in the second round, so you try to trade down and you lose him. How stupid is that? If you like the guy, take him. Don't try to get too cute."
Getting cute is not what Heckert is about, and he definitely hasn't put himself out there to receive all the credit.
This week the Browns notified the local media that Heckert would hold a solo news conference, and people noticed that the charismatic Holmgren wasn't on the schedule. It was one of the few times since joining the Browns that Heckert addressed the media without the shadow of Holmgren looming over him, presumably to help raise Heckert's low profile.
Working in the shadows is nothing new for Heckert. Eagles head coach Andy Reid commanded the spotlight in Philadelphia while Heckert worked diligently behind the scenes to help find great players year after year.
Heckert's current boss has made it a point to express his appreciation.
[+] Enlarge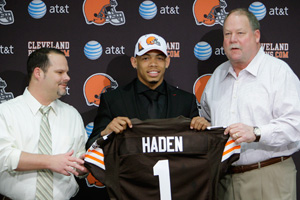 AP Photo/Mark DuncanTom Heckert, left, and Mike Holmgren, right, spent their first-round pick last year on corner Joe Haden, center, who had six picks as a rookie.
"Tom Heckert is the real deal," Holmgren said recently. "The people that work with him, our personnel department, they do their jobs and they do them very well. If I put on my coach hat for a moment, that's a real encouragement to Pat [Shurmur] and the coaches."
This year's draft may go down as one of the most important of the Holmgren-Heckert regime. Cleveland holds eight draft selections, including the No. 6 overall pick in the first round.
The Browns are coming off back-to-back 5-11 seasons, but there is optimism that Cleveland is finally heading in the right direction. If things go as planned for the Browns, this may be the highest draft pick for Heckert and Holmgren in the next several years. In what's considered a deep and talented draft, the Browns cannot afford to miss with their top pick.
"If we end up staying at where we're picking, we are going to get a good football player," Heckert said confidently. "There are six guys, and we are going to get a good football player. Obviously you don't want to be picking up there all the time, but that's the nice thing about it."
The mountain the Browns are trying to climb is steep.
The rival
Pittsburgh Steelers
and
Baltimore Ravens
are unrelenting within the division. They are well-run organizations, perennial contenders in the AFC, and they don't make many mistakes in personnel. That raises the bar for Cleveland to do the same when finding players.
After several front-office failures over the past dozen years, Heckert's track record and experience as general manager give the Browns their best chance. But to make up ground in the AFC North, Cleveland must have another solid draft for the second year in a row, which is not an easy task.
Any big mistakes next week could keep the Browns at the bottom of the pack. So the pressure is on.
"Just try to not force anything," Heckert said of his draft philosophy. "It's easier said than done. ... Once the board is set, I don't think anyone is going to sit there and start jumping guys off their draft board. It happens in the whole process where you may say 'whatever the position is we need this,' so you maybe make the guy better than he is. You just have to be careful of doing that. It happens. I've been guilty of it, just like everyone else. It's a tough thing to do, but you have to be smart about it."