September, 21, 2010
9/21/10
11:00
AM ET
We had another interesting
"Take your pick"
this week in the AFC North blog. Coming off an ugly 0-2 start, we asked our community when will the
Cleveland Browns
earn their first victory?

The Browns have a tough upcoming schedule where seven straight opponents have winning records from a year ago. Here are the responses from our
AFC North inbox:
Austin from Cleveland
writes: I think the Browns will upset the Bengals in Week 4. Both games against the Bengals were close last year, and the Browns are more talented this season. After that, they probably can't win until the road game against the Jaguars.
Jerry from Hallandale, Fla.,
writes: The Browns will win their next game when they quit beating themselves by giving opponents the ball. The Browns will win their next two home games against Cincinnati and Atlanta.
Jimmie from Columbus, Ohio,
writes:
Jake Delhomme
will get vengeance, and the Browns' first win this season will be against the Panthers after Thanksgiving.
Bob from Midland, Texas,
writes: I had the Browns winning five, two of which they have now lost. The first win will be Week 11 against Jags. I still believe we can beat Panthers and Bills. Now it's just like it has been in the recent past: Our Super Bowl is beating the Steelers. I doubt that will happen.
Brandon Crawford from Sykesville, Md.,
writes: The Browns will not get a win until Week 11 against the Jaguars. From there I believe they will go on one of their streaks and win four straight but then finish the year losing the last three against the Bengals, Ravens and Steelers.
Joe from Dover, Ohio
, writes: Browns maybe will win one game in December. But none anytime soon until the coaches learn how to make the proper halftime adjustments.
Patrick from Bradenton, Florida,
writes: I think the Browns' first win will not come until they play Atlanta in Week 5. By that time, either Brian Daboll will be fired or they will have finally figured out that if you give
Peyton Hillis
the ball more, good things will happen. For some reason, Daboll has issues making halftime adjustments and feels that it's a good game plan to stick with what didn't work in the first half, in hopes that the other team won't expect it because it did not work at all [the first time].
Josh from Tempe, Ariz.,
writes: I'll make the fearless prediction that the Browns pull of the major upset this weekend at Baltimore.
Joseph from Los Angeles
writes: I'll go with the bold prediction of the Browns' next win being over the Ravens. All I can hope for is another abysmal outing by
Joe Flacco
and maybe some special teams' miracles. I think the Buffalo game is the next (and possibly only) reasonable matchup.
Eric from Florida
writes: I hate to say it being a Bengals fan, but the Browns best chance for a victory comes Oct. 3 vs. the Bengals. If they don't get it done there, they may be able to handle Atlanta the following week. Otherwise, this stretch looks pretty bleak for them.
Jason from Cocoa, Fla.,
writes: The way I see it, the Browns only have a shot in two games this year -- when Carolina goes to Cleveland, and when the Browns travel to Buffalo. That's it.
Jake from Youngstown, Ohio
, writes: I think the Browns are going to go 0-16 this season. We have a hard schedule coming our way. I do not see the Browns getting a win anytime soon. Injuries and penalties are killing us so far. All the pressure was on
Seneca Wallace
and
Jerome Harrison
that last game. If the Browns are going to play like this the whole season, then the only thing the Browns can look forward to is the draft.
AFC North finals say
James Walker:
It's hard to go undefeated and it's hard to go winless in the NFL. So although it won't happen this week, I have a sneaky feeling Cleveland will win a game during this tough stretch that will surprise people. I can't put a finger on it, but keep an eye on one these upcoming home games over the next several weeks.
May, 20, 2010
5/20/10
1:00
PM ET
»
NFC On the Radar
:
East
|
West
|
North
|
South
»
AFC
:
East
|
West
|
North
|
South
A player, coach or issue that should be on your radar as training camp approaches.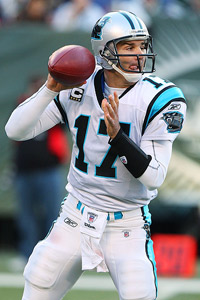 Al Pereira/Getty ImagesDelhomme will likely lead an offense that is a hybrid of the West Coast and Patriots' systems.
How will the
Cleveland Browns
' offense look in 2010?
At this point, it's anyone's guess.
Cleveland's offensive scheme is "constantly evolving," according to Browns head coach Eric Mangini. The lack of success -- the Browns were ranked last in total offense last season -- combined with the addition of influential team president Mike Holmgren have resulted in an exchange of ideas of how to run things more efficiently.
Holmgren is a firm believer in the West Coast offense, which has led him to three Super Bowls as head coach of two franchises. But Mangini and current Browns offensive coordinator Brian Daboll are coaching the team and believe in the
New England Patriots
' system, where they worked up the ranks and also won Super Bowls.
By the end of training camp, Cleveland probably will have a blend of the Patriots' system mixed with some West Coast principles.
"There's been an influx of ideas between the new people of the organization," Mangini explained. "There's been an influx of ideas with offseason studies and things that we liked from other teams that they did ... Now it's a function of trying to figure out where does it fit."
One key to making it all work will be veteran quarterback
Jake Delhomme
, who signed as a free agent from the
Carolina Panthers
.
Delhomme is learning a new system in Cleveland this season. But it's not completely foreign because he knows the West Coast portion of the scheme from the time he spent with the
New Orleans Saints
under former assistant Mike McCarthy, who is now the head coach of the
Green Bay Packers
.
"I think I have a very good background in it," Delhomme said. "Some of the plays, Seneca [Wallace] and I will speak some of the West Coast language, because it's very similar to the system he ran in Seattle and what I ran with Mike."
Cleveland's offense looked dominant during Wednesday's organized team activities that were open to the media. Both Delhomme and Wallace made several nice throws for big gains against Cleveland's defense.
It's early, but perhaps that's a small sign that Cleveland's offense has the potential to improve in 2010. Considering last year's ranking, the unit has nowhere to go but up.