October, 7, 2012
10/07/12
4:07
PM ET
PITTSBURGH -- Thoughts on the
Pittsburgh Steelers
' 16-14
win
over the
Philadelphia Eagles
:


What it means
: The Steelers avoided their first 1-3 start under Mike Tomlin with a sloppy yet dramatic win over the Eagles.
Shaun Suisham
's 34-yard field goal as the game expired helped Pittsburgh improve to 2-2 and keep pace with the Ravens.
Ben Roethlisberger
led a 14-play, 64-yard winning drive in the fourth quarter, which came after Philadelphia took its first lead of the game. The Steelers are 5-1 under Tomlin following a bye and have won five straight home games.
Roethlisberger comes up big
: Roethlisberger carried the Steelers once again and led them on a game-winning, fourth-quarter drive. He completed 4 of 5 passes for 50 yards. His biggest play was converting a third-and-12 with a 20-yard pass to
Antonio Brown
.
Mendenhall makes his mark
: Running back
Rashard Mendenhall
made an impact in his first game since ACL surgery in January. He jump-started one of the worst offenses in the NFL with 81 yards on 14 carries. He scored the Steelers' only touchdown on a 13-yard run (off a Roethlisberger lateral).
Not making the stop
: The Eagles took their first lead of the game in the fourth quarter because the Pittsburgh defense couldn't make the critical stop. The Steelers allowed Philadelphia to convert twice on fourth-and-short and gave up the 2-yard touchdown pass to
Brent Celek
on third-and-goal.
Receivers don't step up
: The Steelers had to settle for a field goal instead of a touchdown on their final drive of the first half. Brown dropped a pass in the end zone, and
Jerricho Cotchery
stumbled after making a catch and fell 2 yards short of the goal line. A drop by
Mike Wallace
on third down ended a drive in the third quarter.
Penalties haunt defense
: With the Steelers ahead 10-0 in the third quarter, the defense helped the Eagles score their first touchdown with two 15-yard penalties that were critical in the 80-yard drive.
Ryan Clark
was flagged for unnecessary roughness, and
Ryan Mundy
was penalized for a helmet-to-helmet hit.
Not cashing in
: The Steelers' defense got turnovers early, but the offense failed to capitalize. Pittsburgh scored no points off two
Michael Vick
fumbles, although one in the red zone stopped the Eagles from scoring. The Steelers had only three takeaways entering this game.
Injuries continue to hurt Steelers
: Safety
Troy Polamalu
left in the first quarter after reinjuring his calf, and linebacker
LaMarr Woodley
later went out with an injured hamstring. Neither returned. Polamalu missed the previous two games with a calf injury, and Woodley was sidelined six games last year with a hamstring injury.
What's next
: After getting a bye in Week 4, the Steelers play their second game in five days when they visit the
Tennessee Titans
.
April, 22, 2011
4/22/11
3:34
PM ET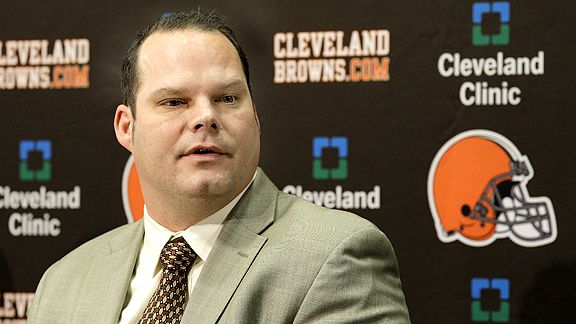 AP Photo/Amy SancettaBrowns GM Tom Heckert has built his reputation on doing solid work in the draft.
BEREA, Ohio -- When you think of the face of the 2011
Cleveland Browns
, high-profile president Mike Holmgren is the first person who comes to mind.
After Holmgren, quarterback
Colt McCoy
, receiver/kick returner
Josh Cribbs
and tailback
Peyton Hillis
might be next. They're among the few Browns players known on a national level. McCoy made his name at the University of Texas, Cribbs is a former Pro Bowler, and Hillis has a chance to become the
"Madden NFL 12" cover boy
next week following a breakout 2010 season in which he rushed for 1,177 yards and scored 13 touchdowns.
But as you continue down the list, eventually you will come across arguably the most important person in the organization: general manager Tom Heckert.
Holmgren has final say in Cleveland. But he is not the person laying the groundwork for the team behind the scenes.
Quietly, Heckert and his staff have worked hard to add talent to what was once a very thin roster. Last year, the Browns signed key veteran free agents such as tight end
Benjamin Watson
and linebacker
Scott Fujita
, in addition to completing a cunning trade with the
Denver Broncos
for Hillis in exchange for former Browns quarterback
Brady Quinn
.
But the draft is where Heckert has built his reputation.
Heckert joined the
Philadelphia Eagles
in 2001 as director of player personnel and worked his way up to general manager five years later. During his stint, Philadelphia went to four consecutive NFC championship games and made the playoffs in seven of Heckert's nine seasons in the front office. He had a major hand in the Eagles' acquisition of recent draft picks such as tailback
LeSean McCoy
, tight end
Brent Celek
, quarterback
Kevin Kolb
and receivers
DeSean Jackson
and
Jeremy Maclin
.
Heckert continued his draft success in Cleveland last season. The Browns acquired three starters in the first three rounds -- first-round corner
Joe Haden
, second-round safety
T.J. Ward
and McCoy in the third round.
Now the Browns have a young nucleus to build around as Heckert tries to work his magic in Year 2.
"I think last year we did a pretty good job," Heckert said in his pre-draft news conference Thursday. "Media-wise there were questions whether T.J. was worth the pick, and we said 'this guy is a good football player. He is going to come in here and start for us and he is worth that pick.' You can try to get cute and say maybe he'll be there later in the second round, so you try to trade down and you lose him. How stupid is that? If you like the guy, take him. Don't try to get too cute."
Getting cute is not what Heckert is about, and he definitely hasn't put himself out there to receive all the credit.
This week the Browns notified the local media that Heckert would hold a solo news conference, and people noticed that the charismatic Holmgren wasn't on the schedule. It was one of the few times since joining the Browns that Heckert addressed the media without the shadow of Holmgren looming over him, presumably to help raise Heckert's low profile.
Working in the shadows is nothing new for Heckert. Eagles head coach Andy Reid commanded the spotlight in Philadelphia while Heckert worked diligently behind the scenes to help find great players year after year.
Heckert's current boss has made it a point to express his appreciation.
[+] Enlarge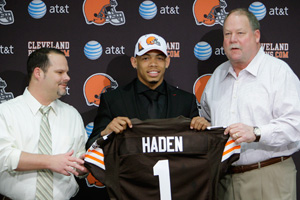 AP Photo/Mark DuncanTom Heckert, left, and Mike Holmgren, right, spent their first-round pick last year on corner Joe Haden, center, who had six picks as a rookie.
"Tom Heckert is the real deal," Holmgren said recently. "The people that work with him, our personnel department, they do their jobs and they do them very well. If I put on my coach hat for a moment, that's a real encouragement to Pat [Shurmur] and the coaches."
This year's draft may go down as one of the most important of the Holmgren-Heckert regime. Cleveland holds eight draft selections, including the No. 6 overall pick in the first round.
The Browns are coming off back-to-back 5-11 seasons, but there is optimism that Cleveland is finally heading in the right direction. If things go as planned for the Browns, this may be the highest draft pick for Heckert and Holmgren in the next several years. In what's considered a deep and talented draft, the Browns cannot afford to miss with their top pick.
"If we end up staying at where we're picking, we are going to get a good football player," Heckert said confidently. "There are six guys, and we are going to get a good football player. Obviously you don't want to be picking up there all the time, but that's the nice thing about it."
The mountain the Browns are trying to climb is steep.
The rival
Pittsburgh Steelers
and
Baltimore Ravens
are unrelenting within the division. They are well-run organizations, perennial contenders in the AFC, and they don't make many mistakes in personnel. That raises the bar for Cleveland to do the same when finding players.
After several front-office failures over the past dozen years, Heckert's track record and experience as general manager give the Browns their best chance. But to make up ground in the AFC North, Cleveland must have another solid draft for the second year in a row, which is not an easy task.
Any big mistakes next week could keep the Browns at the bottom of the pack. So the pressure is on.
"Just try to not force anything," Heckert said of his draft philosophy. "It's easier said than done. ... Once the board is set, I don't think anyone is going to sit there and start jumping guys off their draft board. It happens in the whole process where you may say 'whatever the position is we need this,' so you maybe make the guy better than he is. You just have to be careful of doing that. It happens. I've been guilty of it, just like everyone else. It's a tough thing to do, but you have to be smart about it."
February, 4, 2010
2/04/10
5:00
PM ET
The
Cleveland Browns
could certainly use
DeSean Jackson
on their team.

Heckert
What about tight end
Brent Celek
, or running back
LeSean McCoy
, or receiver
Jason Avant
?
These are all young players general manager Tom Heckert helped draft during his four-year tenure as general manager of the
Philadelphia Eagles
. Heckert jumped at the opportunity to work in a similar capacity with Browns president Mike Holmgren this year.
Heckert's history of finding good offensive players will be needed in Cleveland. The Browns were ranked last in the NFL offensively with 260.2 yards per game and have a lot of questions at quarterback, receiver, tight end, right guard and right tackle.
Perhaps the biggest credit to Heckert is that none of these aforementioned players were first-round picks. Jackson (2008) and McCoy (2009) were taken in the second round, while Avant (2006) was a fourth-round pick and Celek (2007) a fifth-rounder.
With Cleveland leaning towards a West Coast system that both Holmgren and Heckert strongly believe in, look for a major retooling of the offense. The Browns are hoping Heckert can work his draft magic once again in his first year with the team.
December, 30, 2009
12/30/09
2:00
PM ET
As the
Pittsburgh Steelers
continue to morph into a pass-first offense, one of the biggest beneficiaries this season has been starting tight end
Heath Miller
.
Miller
The five-year veteran has already set new career-highs for receptions (71) and yards (733) in a season. Pittsburgh (8-7) will finish its regular season Sunday against the
Miami Dolphins
(7-8).
Miller has also been one of the most dependable targets in the league, catching 71 of 91 passes (78 percent) thrown in his direction.
Here are the NFL's most-targeted tight ends heading into Week 17, courtesy of ESPN Stats & Information: