February, 20, 2015
Feb 20
8:40
AM ET
Injuries hit the
Baltimore Ravens
hard in 2014. All you have to do is take a look at the long list of names on injured reserve.
The Ravens have placed 19 players on IR, which was the seventh-most in the NFL this season, according to ESPN Stats & Information's MC Barrett. The
New York Giants
led the NFL with 26 players on IR.
Injuries typically derail a team's season. In fact, only three of the eight teams that had 19 players or more on injured reserve made the playoffs in 2014 (the Ravens,
Seattle Seahawks
and
Dallas Cowboys
).
[+] Enlarge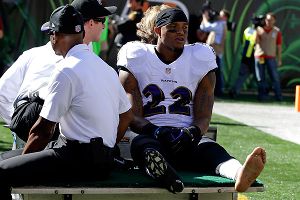 AP Photo/Darron CummingsThe loss of Jimmy Smith to a season-ending foot injury impacted the Ravens' season more than any other Baltimore player who was placed on IR.
The Ravens' IR list includes four starters, three rookie draft picks and two long-snappers. Here is a look at those whose seasons ended early in 2014:
STARTERS
CB Asa Jackson (knee)
: He just can't stay healthy. Jackson suffered three injuries that sidelined him this season, which makes it hard for the Ravens to depend on him going forward. He does have potential as a No. 3 or No. 4 corner.
TE Dennis Pitta (hip)
: Two hip injuries have limited him to seven games in two seasons. The Ravens are still waiting to hear whether Pitta will play this season.
CB Jimmy Smith (foot)
: No injury hurt the Ravens more than this one. The Ravens allowed seven touchdown passes with Smith. They gave up 15 touchdown passes without Smith, their best player at their most vulnerable position.
OT Rick Wagner (foot)
: He was one of the bigger surprises of the season. In his first-year as a starter, Wagner was the second highest-graded right tackle by Pro Football Focus.
ROOKIE DRAFT PICKS
S Terrence Brooks (knee)
: The third-round pick had an up-and-down rookie season because it took longer than expected for him to learn the defense. Brooks never developed into a starter but he showed promise at times.
RB Lorenzo Taliaferro (foot)
: The fourth-round pick was underutilized this season, and the Ravens could've used him toward the end of the season when
Justin Forsett
wasn't as explosive. He ranked fourth among rookie running backs with a 4.2-yard per carry average.
DE Brent Urban (knee)
: The fourth-round pick had a shot at being the top backup to
Chris Canty
, but he tore the anterior cruciate ligament in his right knee on July 30. He'll likely be among those competing for the starting defensive end job if Canty is a salary-cap casualty.
RESERVES
DT Christo Bilukidi (ankle)
: Claimed off waivers after the Bengals cut him, Bilukidi played a total of 47 snaps in four games before being put on IR.
LB Arthur Brown (hamstring)
: The team's second-round pick in 2013 has been slow to develop. Brown was only active for four games and didn't play a down on defense.
WR Jeremy Butler (shoulder)
: He's an undrafted rookie who stood out in the spring offseason workouts but faded in training camp. Ravens coach John Harbaugh has brought up his name a couple of times this offseason when talking about the team's depth at wide receiver.
LS Morgan Cox (knee)
: He's highly regarded by the organization, but his value actually increased after he suffered a season-ending ACL injury midway through the season. Cox's replacements,
Kevin McDermott
and
Patrick Scales
, both struggled at times, putting more emphasis on re-signing their long-snapper of the past five seasons.
CB Danny Gorrer (knee)
: He was signed midway through the season after being waived by the
Detroit Lions
. Gorrer was expected to upgrade the cornerback position but he lasted four games before suffering a season-ending injury.
CB Tramain Jacobs (hamstring)
: The Ravens promoted the undrafted rookie from the practice squad in Week 10 because he provided more upside than
Chykie Brown
. But Jacobs went down after three games.
DE Kapron Lewis-Moore (Achilles)
: An injury sidelined the former sixth-round pick for a second straight season. Lewis-Moore was placed on injured reserve during training camp after being earmarked as the top backup to Canty in 2014.
LS Kevin McDermott (elbow)
: He had some shaky moments in his seven games as the replacement for Cox. A high snap disrupted the timing of a field goal in Week 15, his last game with the Ravens.
G Will Rackley (concussion)
: He lasted only one week in Ravens' training camp in 2014 before getting sidelined the rest of the year with a concussion.
OT Jah Reid (hand)
: The former third-round pick played a career-low four games and 10 snaps in 2014.
TE Konrad Reuland (foot)
: He played 26 games for the
New York Jets
in 2012 and 2013, including three starts. Reuland was signed to the Ravens' practice squad in November but ended the season on IR.
CB Aaron Ross (Achilles)
: He spent most of the past two seasons on injured reserve. In 2014, Ross tore his Achilles' tendon during the Ravens' conditioning test for training camp and never played a game.
August, 19, 2014
8/19/14
11:00
AM ET
A look at how the
Baltimore Ravens
' 2014 draft class has fared halfway through the preseason:
Mosley
C.J. Mosley, inside linebacker
: After an impressive preseason opener, the first-round pick took a step back in Week 2. Mosley was sluggish in coverage and missed a couple of tackles while defending the run. For the most part, Mosley has been strong in training camp, showing athleticism and good instincts. He leads the Ravens with 10 tackles this preseason.
Timmy Jernigan, defensive tackle
: The second-round pick has been among the top rookies in camp. He has repeatedly broken through the line and got penetration up the middle. That hasn't translated to the two preseason games. Jernigan doesn't have a tackle in 47 snaps.
Terrence Brooks, safety
: The third-round pick has moved up the depth chart, playing nickelback with the starters and free safety with the second-team defense. Brooks hasn't broken up a pass in the preseason, but he has a quarterback hit off a blitz.
Gillmore
Crockett Gillmore, tight end
: The third-round pick hasn't stood out in training camp. He has just one catch for three yards in the preseason. Gillmore's role could be expanded if
Owen Daniels
' legs can't hold up for the season.
Brent Urban, defensive end
: The fourth-round pick tore the anterior cruciate ligament in his right knee on July 30 and is out for the season. Urban was expected to back up defensive end
Chris Canty
.
Lorenzo Taliaferro, running back
: The fourth-round pick leads the Ravens with 130 yards rushing this preseason. His physical style of running has caught the coaching staff's attention. Taliaferro is looking to be the primary backup to
Bernard Pierce
when
Ray Rice
is serving his two-game suspension.
John Urschel, guard
: The fifth-round pick delivered a key block in Taliaferro's touchdown run Saturday in Dallas. Urschel has moved up to the second-team offense, replacing
Ryan Jensen
at right guard and increasing his chances of landing one of the final spots on the 53-man roster.
Keith Wenning, quarterback
: The sixth-round pick has improved in camp, although it was hard to tell by his performance in the second preseason game. He was 2 of 4 for 23 yards, fumbling on his first pass attempt (which led to a touchdown). Wenning is expected to go on the practice squad as the No. 3 quarterback.
Michael Campanaro, wide receiver
: The seventh-round pick finished camp strong and is in position to make the final roster. His quickness and route-running make him perfectly suited for slot receiver. Campanaro could develop into a productive returner as well.
August, 10, 2014
8/10/14
4:20
PM ET
OWINGS MILLS, Md. -- Once a position of depth, defensive end has become a concern for the
Baltimore Ravens
a little more than two weeks into training camp.
Kapron Lewis-Moore
suffered a likely season-ending Achilles' injury on Sunday, coach John Harbaugh said after practice. This injury is magnified by the fact that the Ravens lost rookie fourth-round pick
Brent Urban
(torn anterior cruciate ligament) for the season on July 30.
Suddenly, both players expected to rotate with defensive end
Chris Canty
probably won't see the field this season.
"We have tremendous depth around here. But to lose those two guys with all that potential -- and they were doing so well in camp and they definitely showed they were able to help this team win -- it's unfortunate," linebacker
Terrell Suggs
said. "We all know injuries are part of the game. It just sucks that it happened."
Without Lewis-Moore and Urban, the Ravens probably will turn to
DeAngelo Tyson
, who was Canty's backup last season. Tyson is currently listed as the No. 2 nose tackle on the depth chart.
If Tyson moves to defensive end, the Ravens would then use undrafted rookie
Derrick Hopkins
or
Terrence Cody
(on physically unable to perform list with hip injury) to back up starting nose tackle
Brandon Williams
, a first-year starter who only played seven games last season. Another option at defensive end is
Pernell McPhee
, who played that spot for his first two seasons before switching to rush outside linebacker last year.
"The next guy will be up, and we'll find a way to do it," coach John Harbaugh said. "There's always going to be injuries. You adapt, adjust and fill out your position."
Lewis-Moore was injured in a pileup during a joint practice with the
San Francisco 49ers
. As he laid in the middle of the field writhing in pain, players from both teams knelt and dropped their heads, including 49ers coach Jim Harbaugh.
Riding off on the cart, Lewis-Moore could be heard sobbing.
"It's a horrible feeling. I feel terrible," Suggs said. "I wish him a speedy recovery."
Lewis-Moore missed all of rookie season last year after suffering a torn ACL in his right knee in his final game in college. He generated buzz this offseason, and he just played his first NFL game three days ago when he finished with two tackles.
"It's going to be tough for him, and we'll rally around him," Harbaugh said. "He'll be back tougher than ever next year."
An hour before Lewis-Moore was injured, cornerback
Asa Jackson
needed to be helped off the field. Jackson, though, has a minor ankle injury, according to Harbaugh.
"He'l be out for some number of days, but it's not a major deal," Harbaugh said.
July, 30, 2014
7/30/14
6:25
PM ET
OWINGS MILLS, Md. -- The
Baltimore Ravens
are concerned that the knee injury suffered by rookie defensive end
Brent Urban
on Wednesday may be serious.
Urban, the team's fourth-round pick out of Virginia, went down after a block by offensive tackle
Jah Reid
in a drill less than an hour into practice. He couldn't put any weight on his right leg and needed a trainer under each arm to get off the field.
An MRI is scheduled for Urban on Wednesday night.
"We'll just hope and pray for the best on that one," coach John Harbaugh said.
This is the first significant injury of Ravens camp (unless cornerback
Lardarius Webb
's back issue becomes more severe) but it's not the first injury of the year for Urban. He was limited for the early offseason workouts after undergoing ankle surgery in February.
Urban had been projected to back up
Chris Canty
this season. If Urban is out for an extended period,
Kapron Lewis-Moore
would become the primary backup.
But Harbaugh hasn't completely ruled out Urban for the season.
"I'm still hopeful that he'll be back, but we'll have to see," Harbaugh said.
The sixth practice of training camp featured a play that nearly cost the Ravens two rookies on the defensive line. On the same drill where Urban was injured, defensive tackle
Timmy Jernigan
had to leave the field as well.
Jernigan, a second-round pick from Florida State, appeared to hurt his back. He went inside the team facility without any assistance from trainers.
"Timmy looks fine," Harbaugh said.
Defensive line is one of the positions where the Ravens can absorb a hit to their depth. Outside of the starters (Canty,
Haloti Ngata
and
Brandon Williams
), the Ravens have intriguing backups in Jernigan, Lewis-Moore and
DeAngelo Tyson
.
While the Ravens were expecting a huge impact from Urban, a major injury could curtail his development. Urban likely would have a shot at starting next season.
He is the perfect fit for a 3-4 defensive end, which is also referred to as "five technique." At 6-foot-7, 298 pounds, he has nearly the same build as Canty (6-7, 317) but has more upside.
"Brent has made steady progress since the first day he walked in here," defensive line coach Clarnece Brooks said. "We liked him when we drafted him and after he was here for a couple days we knew exactly what we liked about him. He's a great kid, works hard."
July, 30, 2014
7/30/14
2:18
PM ET
OWINGS MILLS, Md. -- Two of the
Baltimore Ravens
' rookie draft picks were injured on the same play at training camp Wednesday.
Defensive end
Brent Urban
and defensive tackle
Timmy Jernigan
both got hurt on a running drill against the offensive line less than an hour into practice.
Urban, a fourth-round pick out of Virginia, looks more seriously hurt with what appears to be a right knee injury. He needed to be helped off the field by two trainers and was later carted off.
The Ravens expected Urban to be the primary backup to
Chris Canty
. Urban missed some early offseason practices after undergoing ankle surgery in February.
Jernigan, a second-round pick from Florida State, suffered a back injury. He followed Urban inside team headquarters but he walked off the field on his own power. Jernigan, who was competing for a starting job, had been one of the more impressive rookies at this year's training camp.
Coach John Harbaugh will be asked about the injuries following practice.
May, 17, 2014
5/17/14
4:00
PM ET
Baltimore Ravens
coach John Harbaugh gave updates on some injured players after the end of rookie minicamp Saturday ...
Offensive lineman Kelechi Osemele
: He underwent season-ending back surgery in November. "K.O. [Kelechi Osemele] looks good. He's been out here; he's been 100 percent in what we've been allowed to do so far. So, we have seen really no issues with him at all."
Running back Bernard Pierce
: He underwent rotator cuff surgery in January. "He's been allowed to move around a little bit, but we just can't risk him falling on it right now and getting a setback. So, you're probably looking at training camp for him, which shouldn't be an issue as long as you don't get a setback."
Wide receiver Michael Campanaro
: The seventh-round pick tweaked his hamstring before the start of minicamp and sat out both practices. "He is going to have to work that back into shape and hopefully he'll be back out there next week."
Defensive end Brent Urban
: The fourth-round pick didn't participate in the Ravens' rookie minicamp, although it was expected. Urban had ankle surgery earlier this year and is not expected to practice until the end of the month at the earliest.
May, 14, 2014
5/14/14
11:30
AM ET
One
Baltimore Ravens
draft pick whose development bears watching is defensive end
Brent Urban
.
Chris Canty
will certainly be paying attention.
When Urban is ready to start, it could signal the exit for Canty. It might come this year or in 2015.
Urban has been mislabeled a project by some. He played out of position in a 4-3 defense at Virginia. He played hurt for most of the season, which dropped his stock in the draft.
[+] Enlarge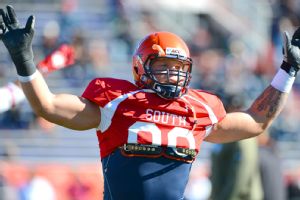 AP Photo/Johnny VyVirginia defensive end Brent Urban impressed the Ravens with his play at the Senior Bowl.
If you need an indication of how much the Ravens like Urban, team officials started talking about drafting Urban in the second round. The conversation that sold the Ravens on Urban came the week leading up to the draft.
Assistant general manager Eric DeCosta was watching film in his office when he got a call from general manager Ozzie Newsome.
"Have you seen Urban at the Senior Bowl?," Newsome asked.
After DeCosta said he did, Newsome said, "He was kicking butt."
Urban, who suffered a high ankle sprain during the season, had to leave the Senior Bowl practices because of the injury, which contributed to him falling to the fourth round. He had surgery in February and expects to get on the field either in late May or early June. The important part is he'll be ready for the start of training camp, when he'll compete for a starting job.
Canty, 31, didn't produce as expected in his first season with the Ravens. He had two sacks in the first two games, but he didn't have another one the rest of the season. He recorded nine tackles in his final six games.
The Ravens have kept Canty, who has the 10th-highest cap number on the team, because there was no one ready to replace him. That could change if Urban and
Kapron Lewis-Moore
, a sixth-round pick who missed all of last season with a knee injury, prove they are able to handle significant roles.
If the Ravens cut Canty this season, it would free up $1.83 million in cap room. If they released him in 2015, the Ravens would clear $2.66 million of cap room. The Ravens are in the middle of the NFL in cap space, so there is no urgency to part ways with Canty right now. The extra cap room could become more necessary if the Ravens need to sign a higher-priced veteran offensive tackle or cornerback.
Urban is the perfect fit for a 3-4 defensive end, which is also referred as "five technique." At 6-feet-7, 298 pounds, he has nearly the same build as Canty (6-7, 317). It's easy to see the line of succession.
The Ravens have used the past two drafts to build their defensive line of the future. Last year, the Ravens started Canty,
Haloti Ngata
and
Arthur Jones
. If the Ravens projections are correct, the starting defensive line could soon be Urban,
Brandon Williams
and
Timmy Jernigan
.
"Urban was a guy that we really liked throughout the whole process, starting in the fall," said Joe Hortiz, the director of college scouting. "The scouts went in there during two-a-days recognizing just the size of him. He is put together; he's chiseled. On film, you see a prototypical five-technique body type who is playing in a 4-3 scheme. But you loved his motor, his competitiveness and really how he played on the early film. We felt like we were getting a potential starter down the road."
May, 12, 2014
5/12/14
11:30
AM ET
Mel Kiper Jr. gave the
Baltimore Ravens
a B in
his post-draft marks
. Now, let's give a grade for each of the Ravens' nine draft picks, based on value, fit, immediate impact and overall projection:
FIRST ROUND
C.J. Mosley, ILB, Alabama
: He was rated among the top 10 players in this year's draft by the Ravens, and their board has been more right than wrong over the years. Mosley has Pro Bowl potential and can anchor the Ravens' defense for years. The only drawback is that this wasn't a glaring need.
Grade
: A-minus.
SECOND ROUND
[+] Enlarge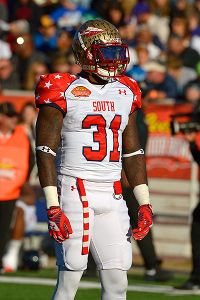 AP Photo/G.M. AndrewsTerrence Brooks will compete with Darian Stewart for a starting safety job.
Timmy Jernigan, DT, Florida State
: There's no question that he has first-round talent and is an impact player when he's on the field. The questions with Jernigan are his endurance and his fit in a 3-4 defense. At the very least, he'll be a major part of the defensive line rotation as a rookie.
Grade
: B.
THIRD ROUND
Terrence Brooks, FS, Florida State
: At no other point in the draft did need meet value better for the Ravens. Brooks is the type of athletic, rangy free safety that the Ravens have been looking for all offseason. Sure, he doesn't have great hands. But no one would have argued if the Ravens picked Brooks a round earlier.
Grade
: A.
Crockett Gillmore, TE, Colorado State
: This was the biggest reach in the draft for the Ravens. He was No. 165 on Todd McShay's prospect rankings, and the Ravens selected him No. 99 overall. Tight ends are a big part of Gary Kubiak's offense, and the Ravens needed a third one behind
Dennis Pitta
and
Owen Daniels
. It's just surprising that the Ravens went with a developmental tight end this early.
Grade
: C.
FOURTH ROUND
Brent Urban, DE, Virginia
: His size and athleticism make him a perfect fit as an end in the Ravens' 3-4 defense. There's a little bit of a risk because he's raw and is coming off injury. Still, he has the burst and length to be a future starter.
Grade
: B-plus.
Lorenzo Taliaferro, RB, Coastal Carolina
: A lot of one-cut runners like Taliaferro have had success in Kubiak's ground game. His size (230 pounds) will improve the Ravens in short-yardage and goal-line situations. But his small-school status and lack of burst make you wonder whether he'll ever be more than a role player.
Grade
: B-minus.
FIFTH ROUND
John Urschel, C-G, Penn State
: Everyone will bring up his intelligence, and it's a fact that Urschel was the draft's smartest player. He's also a solid technician who plays with power. There is potential here, and center could end up being his best position.
Grade
: B-plus.
SIXTH ROUND
Keith Wenning, QB, Ball State
: He's a developmental passer but you can see he has the physical tools to be a legitimate No. 2 quarterback in this league. His poise and toughness stand out, especially late in games. Wenning won't dazzle anyone with his throws deep downfield, and he's at his best working the underneath, timing routes.
Grade
: B.
SEVENTH ROUND
Michael Campanaro, WR, Wake Forest
: The Ravens wanted him so much that they traded a sixth-round pick in next year's draft to get Campanaro in the seventh round this year. It was a surprise to see him last this long in the draft. He isn't the biggest or fastest receiver, but he is a savvy route runner who is exciting to watch after the catch. Durability is a concern.
Grade
: B-plus.
May, 10, 2014
5/10/14
4:55
PM ET
Here's a roundup of what the
Baltimore Ravens
did on Day 3 of the NFL draft:

FOURTH ROUND
Brent Urban, DL, Virginia
(No. 134 overall): The Canadian native is a potentially exciting pick for the Ravens because of his size (6-foot-7) and athleticism. Urban can be used at different spots along the line and could develop into a starter, according to director of college scouting Joe Hortiz. He had ankle surgery and may miss all of the offseason spring workouts.
Lorenzo Taliaferro, RB, Coastal Carolina
(No. 138): The small-school back is the type of bruising, big runner the Ravens have wanted for the past couple of years. A one-cut runner who is a good fit for Gary Kubiak's offense, Taliaferro doesn't have a great burst but he provides insurance behind starter
Ray Rice
(who could face an NFL suspension) and backup
Bernard Pierce
(who won't suit up until training camp because of offseason shoulder surgery).
FIFTH ROUND
John Urschel, G Penn State
(No. 175): The two-time All-Big Ten guard has excelled in the class room, winning the William V. Campbell Trophy, also known as the academic Heisman. He can play all their interior positions on the line, and his football intelligence could translate to being a center down the road.
SIXTH ROUND
Keith Wenning, QB, Ball State
(No. 194): A four-year starter who threw for more than 4,000 yards with 35 touchdowns and 10 fourth-quarter comebacks. He will likely serve as the No. 3 quarterback this year and get a chance to become
Joe Flacco
's primary backup in 2015, when
Tyrod Taylor
is a free agent.
May, 10, 2014
5/10/14
11:30
AM ET
PITTSBURGH -- The Steelers will make six picks today, one each in the fourth and seven rounds and two apiece in the fifth and sixth rounds. They have to address cornerback and wide receivers after not taking a player at either position with their first three picks.
Here are 10 players who might interest them today.
CB Pierre Desir, Lindenwood:
The Steelers found smaller-school cornerbacks in the fourth round when they drafted current starters
Ike Taylor
and
Cortez Allen
. Will they unearth another one if the 6-1, 198-pound Desir is available in the fourth round and they take him?
WR Martavis Bryant, Clemson:
Bryant has good size and speed and averaged almost 20 yards per catch at Clemson. The depth at wide receiver pushed him into the third day, and he could go off the board early in the fourth round.
DE Brent Urban, Virginia:
The 6-7, 295-pounder has the build of a prototypical 3-4 defensive end and defensive line coach John Mitchell said the Steelers still need to add players up front. Injury concerns may be why Urban is still available.
WR Bruce Ellington, South Carolina:
A terrific athlete, Ellington provides good value on the third day. Not sure how much of a fit he is for Pittsburgh as he is lacking in size, and the Steelers don't need a return man after drafting
Dri Archer
.
OLB: Jackson Jeffcoat, Texas:
The Steelers need to add a pass rusher and Jeffcoat has the build to convert from defensive end to outside linebacker. The son of former Cowboys star
Jim Jeffcoat
, Jackson Jeffcoat recorded 12 sacks last season.
CB Jaylen Watkins, Florida:
The 5-11, 194-pounder has good size and speed, and he played both cornerback and safety in Gainesville. Watkins is the brother of
Sammy Watkins
, the fourth overall pick of the draft.
DE DaQuan Jones, Penn State.
Big and physical, Jones projects as a defensive end in a 3-4 scheme after playing tackle at Penn State. The 6-4, 322-pounder might also have the position flexibility to play nose tackle as he holds up well at the point of attack.
CB Ross Cockrell, Duke:
The 6-feet, 191-pounder intercepted three passes, defended 12 of them last season and held his own against Texas A&M's
Mike Evans
in Duke's bowl game. Cockrell, who made a pre-draft visit to the Steelers, would be a good pick in the fifth round.
WR Quincy Enunwa, Nebraska:
Big and physical, the 6-2, 225-pound Enunwa could be available in the sixth or seventh round and might be a nice late-round find. Keep an eye on him, especially if Steelers wait until after the fifth round to take a wide receiver.
CB Antone Exum, Virginia Tech:
Would have likely been a second- or third-round pick if not for injury issues in college. Exum has the versatility to play both cornerback and safety and he performed well at both positions for the Hokies.