July, 31, 2014
Jul 31
4:59
PM ET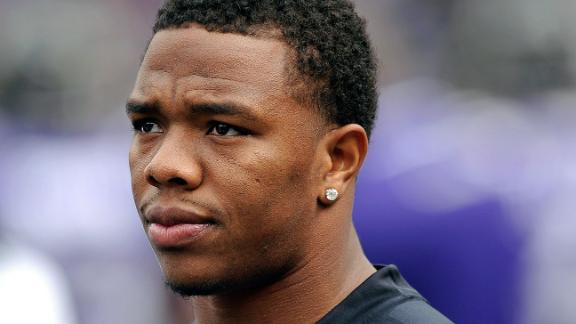 OWINGS MILLS, Md. -- In stark contrast to
Ray Rice
's awkward news conference in May, the
Baltimore Ravens
running back showed Thursday that he finally understood the weight of his actions from the alleged altercation with his then-fiancée in February.
He delivered the correct message, one the NFL failed to do last week with the two-game suspension, by not only apologizing to his wife, Janay Palmer, but also expressing a desire to become an advocate for domestic-violence causes.
Rice was compelling in his contrition, calling it the biggest mistake of his life. He stood in front of the microphone alone, without his wife standing by his side, and took full responsibility for the incident. Perhaps more importantly, Rice actually said the words "domestic violence," which weren't heard in his statement two months ago.
"My actions were inexcusable," Rice said. "That's something I have to live with the rest of my life."
Before anyone pats Rice on the back, this is what he should have said the first time when he broke his silence in May. Instead, Rice nervously fumbled through notes on his phone and apologized to team officials and his sponsors. That debacle of a news conference came across as damage control to his image.
His 17-minute news conference Thursday hit the right tones. He apologized to all women affected by domestic violence. He accepted the blame for losing the respect of fans. Rice came across as genuinely sorry.
"I let my wife down, I let my daughter down, I let my wife's parents down, I let the whole Baltimore community down," Rice said.
Rice's biggest misstep was not talking about what happened in the elevator. He was asked twice about it and declined to answer both times. His stance against domestic violence would have resonated stronger if he had explained his transgressions.
"I'll be honest: Like I said, I own my actions," Rice said. "I just don't want to keep reliving the incident. It doesn't bring any good to me. I'm just trying to move forward from it. I don't condone it. I take full responsibility for my actions. What happened that night is something that I'm going to pay for the rest of my life."
The only way Rice can move forward from this incident and show he's truly sincere is through his actions. It's not by his words. It's not by a hefty donation, which is merely a gesture. It's by proving this will remain a "one-time incident" and by supporting domestic-violence causes.
Thursday represented a small step forward for Rice. But it was an important one.
May, 8, 2012
5/08/12
10:00
AM ET
It's not a newsflash that the
Pittsburgh Steelers
wanted
David DeCastro
. Pittsburgh selected the Stanford guard with the 24th overall pick, taking him over Alabama inside linebacker
Dont'a Hightower
.
But how much the Steelers coveted DeCastro will probably surprise you. According to
NFL Network
, the Steelers had a draft-day trade in place with the
New York Jets
to move up to No. 16, one spot ahead of the Bengals, and take DeCastro.
The Jets were reportedly willing to fall back to the Steelers' spot at No. 24 to get pass-rushing defensive linemen
Bruce Irvin
or
Quinton Coples
. Once the Seahawks surprisingly chose Irvin at No. 15, the Jets backed out of the trade with the Steelers and drafted Coples, NFL Network reported.
On April 26, the night of the first round, Steelers general manager Kevin Colbert was asked if the team had attempted to trade up for DeCastro after selecting him. "I'll leave that to the imagination," Colbert said last month. "I'll just say again, we identified several guys that we thought we would entertain trading up to get, and this kid was one of them."
You could tell the Steelers were excited to get DeCastro that night because they used the word "excited" three times in Colbert and Mike Tomlin's opening statement about DeCastro. In the end, the Steelers still got the top-rated guard in the draft by staying put and not losing draft picks.
It's not known what the Steelers were willing to give up, but they might have had to trade their picks in the third and fourth rounds to move up for DeCastro, according to the
draft trade chart
. Pittsburgh selected linebacker
Sean Spence
in the third round and moved up in the fourth for nose tackle
Alameda Ta'amu
. The Steelers' entire draft would have looked completely different and wouldn't have been as strong.
The reason behind the trade was getting in front of the Bengals, who had been heavily linked to DeCastro leading up to the draft. But Cincinnati was more interested in Wisconsin guard
Kevin Zeitler
than DeCastro. The Bengals passed on DeCastro at No. 17 (when they chose Alabama cornerback
Dre Kirkpatrick
) and No. 21 (when they traded back to No. 27). According to the
Bengals' official website
, the team got an extra third-round pick to fall back six spots to get Zeitler, who would've been their choice if they remained at No. 21.