AFC North:

Bryan Wiedmeier
November, 27, 2013
Nov 27
10:00
AM ET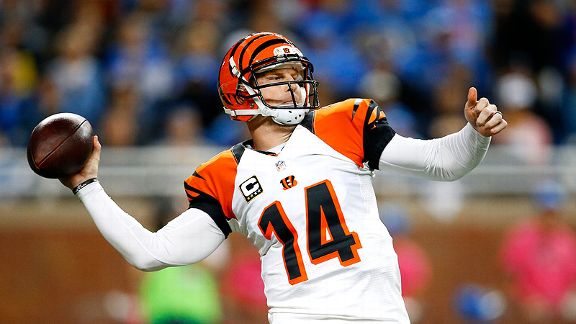 AP Photo/Rick OsentoskiThe Cincinnati Bengals are counting on Andy Dalton to return to the form that helped lead the team to a 4-1 record in October.
CINCINNATI -- Earlier this week,
Cincinnati Bengals
players like cornerback
Chris Crocker
were adamant in pointing out the urgency they need to play with throughout the
month of December
.
"It's all about winning in December," Crocker said. "Let's win out and see where the chips lay. Why can't we win out? I don't see why we can't."
If you ask some Bengals fans and most NFL analysts, they'll give you one big reason why they don't believe Cincinnati will be able to go 5-0 to close out the regular season: No. 14.
That's right. To some, the primary obstacle in the way of end-of-season perfection for the Bengals is
Andy Dalton
, the player who has quarterbacked the franchise into the playoffs each of the past two seasons, and who constantly is trying to prove himself to those who consider him just another member of a mostly failed 2011 quarterback draft class.
For that reason, as the Bengals gear up for a stretch run that could give them a first-round bye and home-field advantage in the playoffs, an important question has to be asked.
Can December Andy mimic October Andy?
As we've written countless times in the past month, October Andy was indeed a dandy. Through the first four games of that month, Dalton threw for 1,243 yards and 11 touchdowns. He also completed 67.9 percent of his passes, won four games, had a passer rating higher than 116.0 and a QBR above 83.0. He was, quite simply, brilliant. His play was so sharp back then that on the final day of the month, hours before the Bengals were set to take on the Dolphins in a road Thursday night game, he was named the AFC's Offensive Player of the Month.
And, yes, even though, comparatively speaking, he didn't look as good overall against the Dolphins and ended up taking the game-winning sack for a safety in overtime, Dalton still had a rather special performance in the 22-20 loss. Aside from not completing a touchdown pass and getting intercepted three times, he threw for 338 yards, marking the fourth straight game he had gone over the 300-yard passing mark.
Overall, October Andy was Good Andy.
But now here comes December with all of its postseason potency. If Cincinnati hopes to set itself up for the type of playoff seeding Crocker believes it deserves, then it will have to play its best ball across the next five weeks. That's especially the case for Dalton and a Bengals offense that has looked rather anemic in the past three games.
One look at Dalton's previous December stats and it doesn't appear the third-year star should have any problem showcasing even a sliver of the success that made him and his team so good about two months ago.
After a rocky December as a rookie in 2011, Dalton was among the difference-makers last season when the desperate Bengals were in need of a strong final month just to secure a playoff berth. One year after going 2-2 in the month, Dalton went 4-1 during December 2012. The lone loss came after the
Dallas Cowboys
made a field goal in the final seconds to win 20-19.
While the level of desperation may be different this December, the Bengals are looking for Dalton to thrive under similar pressure-packed moments during this one. This time around, the pressure on Dalton mainly stems from the fact that so many are fed up with his play from the past three games. In them, he's thrown eight interceptions and been sacked 10 times. Across the latter two of those games, he's completed fewer than 50 percent of his passes and hasn't posted a QBR higher than 18.0.
Weather factored heavily in Dalton's inability to move the ball in those two games. Windy conditions at Baltimore and windy and rainy conditions against the Browns sent some of his passes sailing and forced others into the hands of defensive backs.
Although weather shouldn't be a concern this weekend in San Diego (the forecast calls for partly cloudy skies and a delightful high of 71 degrees Sunday), it could be the rest of the season. Farmer's Almanac projects cold, damp conditions for all of December in the Ohio Valley. It should be noted that after Sunday's game, the Bengals are home three of the next four weeks. Their only remaining road game is at Pittsburgh.
Throughout his career, Dalton has performed better in warmer games. In games with temperatures 50 degrees or higher, he has a 20-14 record, an 85.1 passer rating and a 52.5 QBR. In games with temperatures at 49 and lower, he has a 5-5 record, a 75.4 passer rating and a 32.9 QBR. Dalton's last three sub-49-degree wins came last December, though; a sign that perhaps he's turning a corner in cold-weather contests.
Whatever the conditions and whomever their opponents are, when it comes to the next five weeks, the Bengals can only hope that Dalton turns into the same man who torched through this October.
November, 21, 2012
11/21/12
8:00
AM ET
Just a reminder that the AFC North weekly chat will still be at 2 p.m. today. That's all I got. It's the day before Thanksgiving. In other words, it's the last day in November that you won't be eating turkey. Here's the wake-up call ...
RAVENS
: You would think Ravens safety
Ed Reed
would be happy that his one-game suspension was reduced to a $50,000 fine. But Reed isn't. "It is a contact sport and a brutal one, a violent one at that, the No. 1 violent sport, sad to say," Reed told
The Baltimore Sun
. "I know concussions has been a big thing. I've had concussions before and I know guys are going to have concussions. If you want to stop it, stop the game. Like people say, it's starting to be a flag football thing. I have a flag football tournament. We can make this a big thing is we want to everybody can come get in my league." Reed then added, "I'm not happy with the $50 grand, but what can you do?"
STEELERS
: Safety
Ryan Clark
defended
his decision to visit the Ravens locker room
after Sunday's game and talk with Baltimore safety Ed Reed. They are childhood friends who grew up in Louisiana. Clark received some flak from fans on Twitter for chatting with the enemy. One fan suggested that the reason why the Steelers have lost three in a row to the Ravens was "too much buddy-buddy anymore." Clark responded
on Twitter
: "Love people being upset with what I do after games. I'm more concerned with what I do between the lines!"
BENGALS
: Cincinnati ran the ball 38 times Sunday at Kansas City, the most runs in a single game in Jay Gruden's two seasons as offensive coordinator. The Bengals ran the ball so much because it's what the Chiefs defense was giving them and it's what Cincinnati wanted to emphasize. "It's important for our guys to get dirty," Gruden said, via the
team's official website
. "Guys like [right guard Kevin] Zeitler, who comes from Wisconsin. He likes that stuff. And Trevor [Robinson, center] from Notre Dame. Of course, the rest of the guys followed suit, and we ran the ball well. I think we ran the ball 38 times, and of that 38 I don't think we had any negative plays, which is also a very key element in continuing to run the ball."
BROWNS
: Vice president Bryan Wiedmeier is battling Grade 4 brain cancer, which was diagnosed about three weeks ago. After having surgery to remove a tumor from the parietal lobe in the back of his head, he is going through six weeks of a daily chemotherapy pill and undergoing radiation treatment to fight this aggressive type of cancer. "This thing has happened. It's tough news, but if we can create a positive out of a negative, that's what we want to do," Wiedmeier told
Fox Sports Ohio
. "I don't want a mystery about what it is, or a pity party. There's an opportunity here, no matter what happens, to make this circumstance into a positive. That's the good that's going to come out of it."
January, 11, 2010
1/11/10
5:54
PM ET
As
previously reported over the weekend
, the
Cleveland Browns
officially announced Tom Heckert as the team's general manager Monday evening. Heckert was the former general manager of the
Philadelphia Eagles
.
The team also announced that Bryan Wiedmeier will be Cleveland's executive vice president of business operations.
Heckert has been the favorite to take over the GM post since he interviewed with the Browns last week. Heckert and Holmgren have had a lot of success in the NFL and should be a strong front-office pairing in Cleveland.
"I want to thank [Browns owner] Randy Lerner and Mike Holmgren for this tremendous opportunity," Heckert said in a statement. "I also want to thank [Eagles owner] Jeffrey Lurie, Andy Reid and Joe Banner for an outstanding nine-year run with a first-class organization. It was the Eagles who allowed me to climb the NFL personnel ladder, and I am proud of what we were able to accomplish there."