October, 6, 2013
Oct 6
6:21
PM ET
There's a three-way tie for the AFC North, and the
Cleveland Browns
are one of the three teams.
No, it's not a misprint.
For the first time since the team returned in 1999. the Browns have a winning record after five weeks, and are tied for first.
Where the heck is Kool and the Gang when you need them?
Another oddity: They're not tied with Pittsburgh, which has owned the division for so long. The Steelers are 0-4 and making in-season trades, a rarity for that organization.
The Browns, Ravens and Bengals are all 3-2.
The last time the Browns were 3-2 after five games was former coach Butch Davis' first season in 2001. The Browns opened with a loss to Seattle, but beat Detroit, Jacksonville and San Diego before losing to Cincinnati.
But they were not in first place.
Pittsubrgh had a Week 4 bye, and after the Steelers won in in Week 5, they were 3-1 -- one-half game in front.
It's hardly worth popping champagne to be in first place after five games, but it leads to the familiar refrain: A team that has won 23 games in five seasons should acknowledge any positive step.
January, 1, 2013
Jan 1
8:00
AM ET
If there is a day when you really need a wake-up call, it's going to be after New Year's Eve. You can thank me later ...
RAVENS
: According to the Ravens, "a number of teams" have contacted Baltimore seeking permission to interview assistant general manager Eric DeCosta. But, just like DeCosta did last year, he made it clear that he's not leaving the Ravens. "I love being a part of the Ravens and plan to stay here and help them win championships," DeCosta said in a statement released by the team. "I have no intentions of leaving this team." DeCosta is considered the general manager-in-waiting to Ozzie Newsome.
BENGALS
: The Bengals are starting to win over fans. The sellout crowd for the regular-season finale at Paul Brown Stadium pushed this year's attendance to 489,504. That's an average of 61,888 per game, a 24 percent increase from last season, according to the
Cincinnati Business Courier
. The Bengals averaged just more than 49,000 fans a game in the 2011 season. This season, the Bengals sold out six of their eight home games. Last year, six of Cincinnati's eight home games were blacked out.
STEELERS
: Coach Mike Tomlin gave a strong vote of confidence to defensive coordinator Dick LeBeau. "I think everyone is aware I'm happy with the work of Dick LeBeau," Tomlin said, via The
Pittsburgh Post-Gazette
. "He's a special guy." Last week, LeBeau said he doesn't plan to retire even though he'll be 76 at the start of next season but the decision ultimately rested with Tomlin. The Steelers were the top-ranked defense for a second straight season.
BROWNS
: The Browns braintrust plans to hire a coach first and the general manager after that. The
Plain Dealer
's Terry Pluto believes head coach is a critical hire but the Browns shouldn't downplay the importance of a general manager. "This approach always makes me nervous," Pluto wrote. "That's from watching the Lerner family become so desperate to hire their favorite coaching candidates that the importance of the general manager position was neglected." Under the Lerner family, two coaches -- Butch Davis in 2001 and Eric Mangini in 2009 -- were hired before general managers.
November, 2, 2011
11/02/11
11:07
AM ET
The month of November hasn't given Browns coaches many things to be thankful for over the years.
As Steve Doerschuk of the
Canton Repository
pointed out, the last coach to finish with a winning November record for the Browns was Marty Schottenheimer, who was 14-8 in this month but was last seen on the Cleveland sideline in 1988. That's 23 years ago.
It's been a tough month for the coaches who have followed him: Bud Carson (2-4-1), Bill Belichick (6-15), Chris Palmer (2-6), Butch Davis (5-10), Romeo Crennel (7-10) and Eric Mangini (2-6).
This doesn't inspire much hope for the Browns, who have fallen to 3-4 after losing three of their past four games. For first-year coach Pat Shurmur, his November opponents are: at Houston (5-3), home against St. Louis (1-6) and Jacksonville (2-6) and at Cincinnati (5-2).
May, 31, 2011
5/31/11
4:00
PM ET
Living in Ohio since 2003, I had a chance to cover Ohio State football and former head coach Jim Tressel several times while working for the Columbus Dispatch. Although that's not enough to be an expert on Ohio State football, I probably have a better feel for Tressel than I do for any other college coach.
So as
Tressel resigned from Ohio State
this weekend following NCAA violations for players receiving illegal benefits, I wondered how he would fit in the NFL. After some thought and consulting with people who know the program better than I do, I came to the conclusion that Tressel wouldn't be a good fit.
[+] Enlarge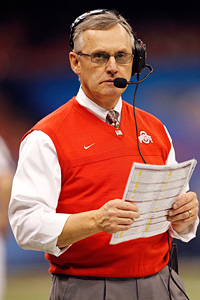 Matthew Stockman/Getty ImagesJim Tressel's coaching style may not be a fit for the NFL.
For starters, college head coaches rarely make a successful jump to the NFL. Bobby Petrino, Nick Saban, Butch Davis and Steve Spurrier are recent examples of failed attempts. It's a different game and a very different culture in the pros where coaches are more so facilitators than dictators. Many college coaches struggle not having that same power. You can't yank a player's scholarship and threaten to send them home, and many NFL players make more money than the coaches, often making the coach expendable.
One of Tressel's biggest assets -- recruiting -- also would be taken away. Ohio State was able to annually land some of the top talent in the country because Tressel and his staff were very good recruiters. Having better players than 90 percent of college football programs played a big role in Tressel's 106-22 record at Ohio State. The NFL playing field is much more balanced. The only recruiting that takes place is during free agency, and usually that comes down to which team is willing to pay the most money.
On the field Tressel was a conservative play-caller. Ohio State's offenses lacked imagination most seasons, despite Tressel having some dynamic players during his 10 years in Columbus. Tressel often described the punt as the most important play in football. In the pass-happy NFL, which is
shifting toward high-scoring offenses
, that philosophy could be a disaster waiting to happen.
Tressel is a great college football coach. But based on his track record, his style of coaching doesn't translate well to the NFL.
There is a good chance colleges will avoid Tressel for now until this most recent scandal fades. So if Tressel wants to immediately get back into coaching, and his only option is the NFL, his best fit would probably be as a position coach and not at the head of the team.
April, 11, 2011
4/11/11
7:00
AM ET
Here are the most interesting stories Monday in the AFC North:
Morning take: Winning comes first and Pittsburgh had good balance during last year's Super Bowl run. Roethlisberger threw for 3,200 yards in 12 games and probably would've had back-to-back 4,000-yard seasons if not for a four-game suspension. Throwing for 5,000 yards won't happen in Pittsburgh.
Morning take: We recently talked with Baldwin and he believes he can help a team at the next level. The Ravens need more playmakers at receiver, and Baldwin has the size and physical tools.
Morning take: Chad Ochocinco could be on the trading block this offseason. So picking Green would fill the spot as Cincinnati's No. 1 receiver. We will have a breakdown of Green's strengths and weaknesses later today in the AFC North blog. Don't miss it.
Morning take: Davis, who now coaches at North Carolina, has several top prospects in this year's draft, such as defensive end Robert Quinn. Davis was 24-34 before resigning in Cleveland, but he's been very successful during his college stints.
March, 11, 2010
3/11/10
11:00
AM ET
I had
my say Wednesday
about
Derek Anderson
's comments and the way quarterbacks are treated with the
Cleveland Browns
. Now it's the Dawgpound's turn.
Here are several responses we received from Browns fans in our
AFC North inbox
:
[+] Enlarge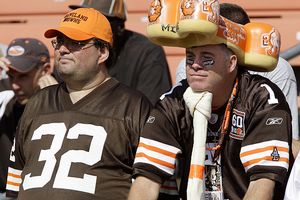 AP Photo/Mark DuncanDerek Anderson had his say. Now Browns fans weigh in on quarterback play in Cleveland.
Ty from Atlanta, Ga.,
writes: We need to re-examine how the fans treat QBs? Tell us when we had a consistent starter to cheer for in the first place. You also didn't mention how miserable the QB situation has been since the Browns returned. You usually write pretty accurate stuff but you are way off base on this. I bet if you had interviewed this frustrated fan base you would know why we look to the guy with the clipboard. Maybe it's because the starter is either always hurt or the starter is never consistent. That's a front-office thing not a fan thing.
Tony from Rootstown, Ohio,
writes: Come on, James. Do you really blame us for coveting the official clipboard holder? The poor level of play we have been subjected to the last 10 years is mind numbing. Most Browns fans are embarrassed that the minority booed Derek that day he laid hurt. Most of us don't wish to see these men hurt, let alone enjoy it. If the players don't consider 10 years of sellout crowds, $4 hot dogs, $8 beer and hundreds, if not thousands, for tickets a sign of support, what should we do as fans? We are frustrated. Take a look at what we have endured as fans, the team redefines inept with every season and Sunday. Yeah, its the fans fault.
Kovacs from Santa Monica
writes: I get your point JW, but Browns fans aren't changing their ways. We are dyed in the wool, stubborn maniacs. Should we have cheered when DA got hurt? No. Was it all his fault? No. Frustration is the word. How can a franchise with such a proud history at QB be left with the garbage that we've had since rejoining the league? Our two best seasons of QB play during that period came from flash in the pan one-year wonders (
Kelly Holcomb
and DA). Other than that the position has been absolutely garbage. So I say again, we probably shouldn't have cheered when the guy got hurt.
Doug Kitts from Ravenna, Ohio,
writes: Cleveland is a brutal town for QBs, yes. But can't some of the blame be laid at the feet of the coaching staffs that have been here. Ever since the Holcomb/Tim Couch debate began with Butch Davis there hasn't been a single coaching staff that has completely backed a QB. If you combine that sort of wishy-washy front with a very frustrated and reactionary fan base it's no wonder the fans so quickly turn. Look, fans should have never cheered for any player to be injured. I don't, by any stretch, condone it. But there comes a point in time that maybe it's not just a cynical group of fans. Maybe it's their reaction to complete and utter ineptitude since this "franchise" was brought back to Cleveland. The front office and coaching staff can do a lot to "set the tone" for a fan base.
Bruce Hicks from Indianapolis, Ind.,
writes: I enjoy your writing but was blown away by your latest blog. D. Anderson has every right to his opinion and I don't think he needed to apologize. However, except in maybe four NFL towns, the backup QB is always popular and Cleveland IS frustrated. What NFL city wouldn't be that's hoping for one decent starter? And, with Quinn and Anderson we have zero.
Justin from Cleveland
writes: I understand why DA would feel so strongly about the fans here. But seriously, he threw away so many games in 2007. I watched most of the games and if he could have connected on short routes and really been the reason we won 10 games, then we would love him. It just remains that he was awful. He was never a good personality, preferring golf over football constantly. If he could have gotten it together and tried AT ALL he could have been ok. But he threw so many bad passes that he played himself out of our favor.
Josh from Atlanta, Ga.,
writes: You said the backup QB is the most popular in Cleveland. Well, that's only because the starter has been so bad since Couch was here. Even in Anderson's Pro Bowl season his numbers against winning teams were TERRIBLE. How [former GM] Phil Savage didn't see that is beyond me.