May, 9, 2014
5/09/14
10:00
AM ET
OWINGS MILLS, Md. -- Many organizations say they always take the best player available on their draft board. The
Baltimore Ravens
proved it when they were on the clock Thursday night.
The Ravens used the No. 17 overall pick on Alabama inside linebacker
C.J. Mosley
when they could've addressed two of their biggest needs: safety and offensive tackle. Baltimore had its choice of the two best safeties in the draft -- Alabama's
Ha Ha Clinton-Dix
and Louisville's
Calvin Pryor
-- and passed on both of them. The Ravens could've reached for an offensive tackle like the
Miami Dolphins
did when they chose Tennessee's
Ja'Wuan James
, a second-round prospect, with the No. 19 overall pick.
Mosley
Instead, the Ravens went with the highest ranked player on their board.
"People always ask about best available player and what that means," assistant general manager Eric DeCosta said. "[Mosley] was the best available player on our board, and he would have been the best available player on our board at [No.] 10. "
I wonder what the Ravens' decision would've been if Notre Dame offensive lineman
Zack Martin
was available at No. 17. Martin was taken by the
Dallas Cowboys
one spot before the Ravens, an order that was determined by a coin clip three months ago.
If the Ravens had selected Martin, he would've started at right tackle, the biggest question mark on the team right now. According to Mosley, his agent said the Ravens were deciding between him and Martin before the Cowboys made their pick.
When asked whether Martin was under consideration, Newsome didn't answer the question directly.
"The board was stacked very well," Newsome said. "All of the players that went before us are players that we had considered at the 17th pick."
Newsome was more definitive when discussing the Ravens' opportunities to trade back in the first round, something they've done in three of the previous six drafts. The Ravens got offers during the first four minutes while on the clock, but there was no "bonanza" deal that would get them out of that spot.
"Nothing came close to what we felt like the value was for us to move back that far," Newsome said.
In the end, the Ravens had a choice between Mosley and one of the top safeties in the draft. But it wasn't much of a decision, according to the Ravens.
"C.J. was the clear-cut guy at that pick," Newsome said.
April, 21, 2014
4/21/14
10:00
AM ET
PITTSBURGH -- Mock drafts have, predictably, been all over the place as far as the
Pittsburgh Steelers
' first-round pick. Most, however, have them taking a wide receiver or a cornerback No. 15 overall, assuming they don't try to trade down.
I think those two positions are most likely the ones the Steelers will target with their first pick, though North Carolina tight end
Eric Ebron
could also be in play if he slides a little in the draft.

Ebron
Ebron is the No. 1 player at one of the few positions that is not particularly deep, and he would give the Steelers a tall receiver while also filling a long-term need. I think
Heath Miller
has at least three good seasons left in him, but the Steelers have to plan for the post-Miller years at some point.
If Ebron is still available when they make the first pick, I think they give him serious consideration, especially if a couple of cornerbacks are already off the board, as well as Texas A&M wide receiver
Mike Evans
.
The Steelers have eight other picks in the draft, three of which are compensatory selections, including one at the end of the third round. They have a lot of needs -- or as general manager Kevin Colbert would frame it "wants" -- particularly on defense.
Here is my projection of the positions they will address with their nine picks, which is contingent on the Steelers not adding extra ones through a trade.
Cornerback (2):
The Steelers could use immediate help here, and they don't have a long-term starter at cornerback after third-year man
Cortez Allen
. I would be surprised if they don't draft two cornerbacks, with one of them coming in the first three rounds. They drafted two cornerbacks in 2011, including Allen in the fourth round.
Defensive line (2):
The Steelers will draft a defensive lineman as early as the second round -- ESPN analyst Mel Kiper Jr. has them taking Notre Dame nose tackle
Louis Nix III
with their second pick in his latest mock draft -- and they need to take at least one end. The signing of
Cam Thomas
gives them a player with position flexibility, but the Steelers' need at defensive end is every bit as glaring as it is at cornerback.
Wide receiver (1):
No position is deeper in the draft, and even if the Steelers don't address it in the first round, they can still get a good prospect later. The Steelers probably won't get a chance to draft Evans unless they trade up in the first round and Florida State's
Kelvin Benjamin
may be too much of a risk to take at No. 15. LSU's
Odell Beckham Jr.
has been linked to the Steelers in various mock drafts, and they could pull the trigger on him if they have him high on their board.
Linebacker (1):
The Steelers have to take a player who projects as an outside linebacker in a 3-4 scheme given how thin they are at the position. It will be interesting to see what they will do if Alabama's
C.J. Mosley
is still on the board at No. 15. Mosley, who projects as an inside linebacker, may be one of the most NFL-ready players in the draft. "He and (Lawrence) Timmons could be your (NaVorro) Bowman and (Patrick) Willis," ESPN analyst and former NFL scout Matt Williamson said. If the Steelers take Mosley, they will also draft an outside linebacker later in the draft.
Safety (1):
The Steelers have hosted at least three safeties for pre-draft visits, including Louisville's
Calvin Pryor
, a projected first-round pick. The signing of
Mike Mitchell
makes it unlikely the Steelers take a safety in the first round but it wouldn't hurt to add another younger player here. The question is whether it makes sense for them to draft a safety -- or instead sign a couple of undrafted free agents -- if they don't take one in the second or third round.
Offensive line (1):
I don't see this as the need that others do. The Steelers got their upgrade up front when they hired Mike Munchak to coach the offensive line and he has plenty of material with which to work. All five starters return, including Pro Bowl center
Maurkice Pouncey
, who tore his ACL eight snaps into last season. And the Steelers have depth up front after re-signing
Cody Wallace
and
Guy Whimper
. The Steelers will probably take a lineman they can develop later in the draft, but I could also see them not drafting one for the second year in a row if they take two linebackers or a tight end.
Running back (1):
The Steelers need depth and they could use a speedster to complement
Le'Veon Bell
and
LeGarrette Blount
. The de-valuing of running backs allows the Steelers to wait until later in the draft to address the position and still get a good prospect. I don't see them taking a running back before the fifth round.
April, 17, 2014
4/17/14
12:15
PM ET
In Mel Kiper Jr.'s previous three mock drafts, he had the
Baltimore Ravens
going offense in the first round. He had the Ravens picking North Carolina tight end
Eric Ebron
in his first two mock drafts, and he went with Oregon State wide receiver
Brandin Cooks
in his third one.
Kiper's latest mock draft
is out on ESPN Insider on Thursday
,

and he has the Ravens taking a defensive player with the No. 17 overall pick.
April, 10, 2014
4/10/14
1:00
PM ET
PITTSBURGH -- The Steelers are hosting two linebackers for visits today, including a potential first-round pick, as well as one of the top all-around safeties in the draft.
Ohio State's
Ryan Shazier
and UCLA's
Jordan Zumwalt
are meeting with the Steelers at their practice facility as well Washington State safety
Deone Bucannon
.
Shazier has been widely projected as a first-round pick and the Steelers would be looking at the former Buckeyes star as an inside linebacker.
Shazier recorded 101 tackles in 2013, the third-highest single-season total in Ohio State history, and the 6-foot-1, 237-pounder has excellent speed.
The Steelers will almost certainly get only one crack at Shazier, as he shouldn't get drafted any later than the early part of the second round.
"You could make an argument he's one of the 10 best football players in this draft based on being a pure, instinctive football player," ESPN NFL draft analyst Mel Kiper Jr. said of Shazier.
Zumwalt also projects as an inside linebacker in a 3-4 scheme, and the former UCLA star is expected to get drafted in the third or fourth round. The 6-4, 235-pound Zumwalt recorded 91 tackles last season and intercepted a pair of passes.
Bucannon is one of the top safeties in the draft and is in the tier of players at the position after Alabama's
Ha Ha Clinton-Dix
and Louisville's
Calvin Pryor
.
The 6-1, 211-pounder had 15 career interceptions at Washington State, including six last season when he also recorded 78 tackles and forced three fumbles. Bucannon could get drafted as high as the second round.
This is the first day that the Steelers are hosting draft prospects since Monday.
General manager Kevin Colbert and coach Mike Tomlin each attended pro days at Penn State and LSU the previous two days.
The Steelers are allowed to host 30 prospects for pre-draft visits and they have met with two linebackers and two safeties this week.
Pryor, a projected first-round pick, visited the Steelers on Monday.
April, 3, 2014
4/03/14
3:00
PM ET
The
Baltimore Ravens
' two biggest needs are offensive tackle and free safety. So, what happens if Notre Dame offensive tackle
Zack Martin
and Louisville safety
Calvin Pryor
are both sitting there when the Ravens pick at No. 17?
ESPN draft analyst Mel Kiper Jr. said Martin gets "the slight nod" at No. 17. Kiper has Martin rated as his 20th-best player in the draft and ranks Pryor two spots behind him.
What really stands out for Kiper is Martin's versatility.
"He can play left tackle if [Eugene] Monroe got hurt," Kiper said. "You can immediately pencil him in as a starter at right tackle. He can play guard, too."
Martin solidified himself as a mid-first-round talent with his consistency at Notre Dame and a strong showing at the Senior Bowl. Pryor, however, hurt his stock after the season.
"Pryor didn't test that well but he played very, very well at Louisville," Kiper said. "He was one of [coach] Charlie Strong's favorite players. On performance, he'd be a top-15 pick. His workouts weren't impressive as a first-rounder. But you put it all together, he'll probably be a late one."
The Ravens may face this same scenario when the first round takes place May 8.
March, 6, 2014
3/06/14
2:00
PM ET
The re-signings of
Troy Polamalu
and
Will Allen
have not made safety any less of a priority in the 2014 NFL draft. The
Pittsburgh Steelers
, who are not expected to re-sign starting free safety
Ryan Clark
, have to draft at least one safety in May in preparation for the post-Polamalu years.

The consensus is that Alabama's
Ha Ha Clinton-Dix
and Louisville's
Calvin Pryor
are the top two safety prospects in the draft, and ESPN's Todd McShay has the
Steelers taking Clinton-Dix

in his third mock draft, which was unveiled Thursday.
McShay had the Steelers taking Notre Dame defensive tackle
Louis Nix III
in his two previous mock drafts, including one right after the NFL scouting combine. He now has the Steelers addressing their secondary with the 15th overall pick, and here is what he wrote:
"I think Pittsburgh's priorities should be to get younger on defense and upgrade the offensive line, but in this scenario there isn't a tackle who really justifies a top-15 pick (although Zack Martin at least merits consideration). If they trade back, nose tackle Louis Nix III could be an option, but I have enough concerns about his 2013 performance that I don't think he'd go off the board this early. So I think this pick comes down to the best available secondary player, and Clinton-Dix is a playmaker at the safety position, with really good range."
What is interesting in regard to Nix is the one time the Steelers have traded down in the first round since Kevin Colbert joined the organization in 2000 happened in 2001. The Steelers moved from No. 16 to No. 19, swapping places with the Jets while also receiving fourth- and sixth-round picks from New York.
They used that pick on nose tackle and hit big, literally and figuratively, on
Casey Hampton
. Nix has been linked to the Steelers because of the perceived need for a successor to Hampton, who was not re-signed after the 2012 season.
Also noteworthy from McShay's latest mock draft is he has the Lions taking Texas A&M wide receiver
Mike Evans
10th overall and Pryor going to the Rams with the 13th pick in the draft.
McShay has the Bears, who pick one spot ahead of the Steelers taking Pitt defensive tackle
Aaron Donald
. He also has five cornerbacks going in the first round with Oklahoma State's
Justin Gilbert
coming off the board at No. 8 to the Vikings.
McShay has a run on cornerback starting with the Cardinals taking Michigan State's
Darqueze Dennard
at No. 20. The other cornerbacks going in the first round of McShay's mock draft are Ohio State's
Bradley Roby
(Eagles), Virginia Tech's
Kyle Fuller
(Bengals) and TCU's
Jason Verrett
(Chargers).
February, 27, 2014
2/27/14
6:30
PM ET
PITTSBURGH -- Few players helped themselves more at the NFL scouting combine than Texas A&M wide receiver
Mike Evans
.
[+] Enlarge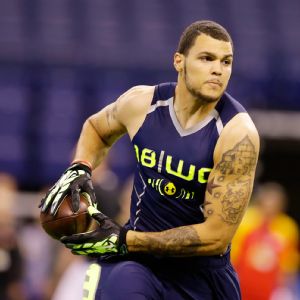 AP Photo/Michael ConroyMike Evans' combination of size and speed means he won't be on the board long come draft day.
That widely shared opinion is reflected in ESPN analyst Mel Kiper Jr.'s post-combine list of the top 25 players in the draft, and it is not necessarily a good thing for the Steelers.
Evans shot up
Kiper's "Big Board,"

moving from No. 15 to No. 6 after performing well in Indianapolis.
Evans, one of the tallest wide receivers in the draft, ran a better-than-expected 4.53 seconds in the 40-yard dash. That speed, along with Evans' size and ball skills, has solidified his standing as the second-best wide receiver in the draft -- and one who may have run himself out of the Steelers' reach.
The Steelers have the 15th overall pick in the draft but Evans could be gone before they make their first selection.
Here is what Kiper wrote about Evans on his updated Big Board:
Evans put together an exceptional combine with great speed and leaping ability for a player his size. No player in the draft is better on contested throws, and every quarterback wants a target like this. Evans uses his reach, jumping ability and long frame to beat shorter defenders like a good rebounder (and he was a good rebounder on the basketball court). I've been concerned about his off-the-line quickness, but he clearly has good top-end speed. Evans could also be a versatile threat -- used on the edge or in the slot to create matchup problems -- because you simply can't defend his size. Seems likely to land in the top 10 now.
Evans did not make as big a jump on ESPN analyst Todd McShay's list of the
top 32 players

in the draft, but had already been in the top 10 and he moved up a spot to No. 7. Here is what McShay wrote in a post-combine update of his top 32 prospects:
[Evans] showcased excellent hands during the gauntlet drill at the combine, and his 4.53 40 time is good for a receiver his size. I've been describing him as a pit bull in terms of his on-field competitiveness; he is one of the best receivers I've ever seen in terms of coming down with contested catches, and he is the most proven downfield threat in this class. I expect him to come off the board somewhere between Nos. 10 and 20.
Southern Cal wide receiver
Marqise Lee
is No. 15 on Kiper's Big Board while McShay has Louisville safety
Calvin Pryor
as the 15th-best prospect in the draft. Pryor is one spot ahead of Alabama safety
Ha Ha Clinton-Dix
.
February, 25, 2014
2/25/14
4:15
PM ET
PITTSBURGH --
Terrence Brooks
said he considers himself the best safety in the 2014 draft, something that runs contrary to the opinion of NFL draft analysts.
The Florida State product can make one claim following the NFL scouting combine: No safety in this year's draft is faster than Brooks.
Brooks ran the 40-yard dash in 4.42 seconds on Tuesday, tops among the safeties in the draft and considerably faster than the times posted by Alabama's
Ha Ha Clinton-Dix
and Louisville's
Calvin Pryor
.
[+] Enlarge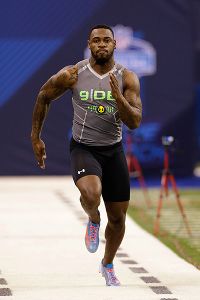 AP Photo/Nam Y. HuhFlorida State defensive back Terrence Brooks turned heads at the combine when he ran a 4.42 in the 40-yard dash.
The two safeties who are widely considered the best ones in the draft each turned in official 40-yard dash times of 4.56 seconds.
The Steelers will take a safety at some point in the draft, but they may need to be blown away to take Clinton-Dix or Pryor at No. 15 overall. Consider that since the AFL-NFL merger in 1970, the Steelers have used their first-round pick on a safety only one time.
That happened in 2003, when they traded up to take
Troy Polamalu
at No. 16.
To say that worked out well for them is an understatement, but even with safety an obvious need, do the Steelers see Clinton-Dix or Pryor as the kind of game-changer who is worth taking in the first half of the draft?
Brooks has emerged as one of the top options if the Steelers wait until later in the draft to grab a safety, and here are more things to like about him aside from his straight-line speed:
Brooks is self-assured but he also plays with a bit of an edge due to arriving at Florida State as less celebrated than a lot of the other recruits in his class.

Brooks played cornerback at Florida State before converting to safety. That should translate into his having the kind of coverage skills that are necessary for a free safety at the next level.

Brooks regularly practiced against elite competition at Florida State, and he said he matched up against Seminoles wide receiver Kelvin Benjamin at times. Look at the drafts under general manager Kevin Colbert and coach Mike Tomlin and it's pretty clear the Steelers value players who come from pedigreed programs and power conferences.

Brooks, who turns 22 next week, played all four years at Florida State and is not among the record number of underclassmen who are in the draft. Colbert said last week at the combine that the maturity level of some of the younger players in the draft is a concern. That presumably wouldn't be as much of a concern with Brooks.
Brooks isn't the biggest safety -- he checked in at 5-foot-11 and 198 pounds in Indianapolis -- and he got overshadowed at Florida State on a defense that was loaded with future NFL players. But he may have pushed his way into the second round of the draft with the sheer speed he displayed at the combine, and he wasn't lacking for confidence before arriving in Indianapolis.
"I have a great feel for knowing where the ball is going. I'm fast and quick and physical, too," said Brooks, who was fifth on the Seminoles with 56 tackles in 2013 and also intercepted two passes. "Any team that wants to take a chance on me won't be disappointed."