AFC North:

Camp confidential
November, 27, 2013
Nov 27
10:00
AM ET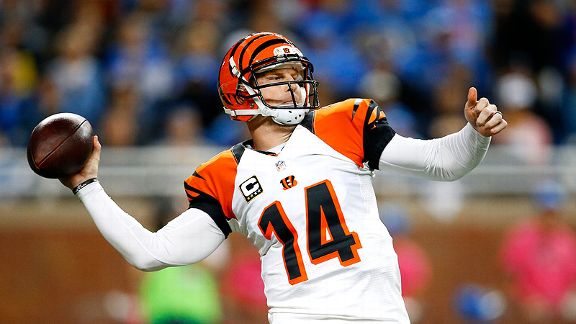 AP Photo/Rick OsentoskiThe Cincinnati Bengals are counting on Andy Dalton to return to the form that helped lead the team to a 4-1 record in October.
CINCINNATI -- Earlier this week,
Cincinnati Bengals
players like cornerback
Chris Crocker
were adamant in pointing out the urgency they need to play with throughout the
month of December
.
"It's all about winning in December," Crocker said. "Let's win out and see where the chips lay. Why can't we win out? I don't see why we can't."
If you ask some Bengals fans and most NFL analysts, they'll give you one big reason why they don't believe Cincinnati will be able to go 5-0 to close out the regular season: No. 14.
That's right. To some, the primary obstacle in the way of end-of-season perfection for the Bengals is
Andy Dalton
, the player who has quarterbacked the franchise into the playoffs each of the past two seasons, and who constantly is trying to prove himself to those who consider him just another member of a mostly failed 2011 quarterback draft class.
For that reason, as the Bengals gear up for a stretch run that could give them a first-round bye and home-field advantage in the playoffs, an important question has to be asked.
Can December Andy mimic October Andy?
As we've written countless times in the past month, October Andy was indeed a dandy. Through the first four games of that month, Dalton threw for 1,243 yards and 11 touchdowns. He also completed 67.9 percent of his passes, won four games, had a passer rating higher than 116.0 and a QBR above 83.0. He was, quite simply, brilliant. His play was so sharp back then that on the final day of the month, hours before the Bengals were set to take on the Dolphins in a road Thursday night game, he was named the AFC's Offensive Player of the Month.
And, yes, even though, comparatively speaking, he didn't look as good overall against the Dolphins and ended up taking the game-winning sack for a safety in overtime, Dalton still had a rather special performance in the 22-20 loss. Aside from not completing a touchdown pass and getting intercepted three times, he threw for 338 yards, marking the fourth straight game he had gone over the 300-yard passing mark.
Overall, October Andy was Good Andy.
But now here comes December with all of its postseason potency. If Cincinnati hopes to set itself up for the type of playoff seeding Crocker believes it deserves, then it will have to play its best ball across the next five weeks. That's especially the case for Dalton and a Bengals offense that has looked rather anemic in the past three games.
One look at Dalton's previous December stats and it doesn't appear the third-year star should have any problem showcasing even a sliver of the success that made him and his team so good about two months ago.
After a rocky December as a rookie in 2011, Dalton was among the difference-makers last season when the desperate Bengals were in need of a strong final month just to secure a playoff berth. One year after going 2-2 in the month, Dalton went 4-1 during December 2012. The lone loss came after the
Dallas Cowboys
made a field goal in the final seconds to win 20-19.
While the level of desperation may be different this December, the Bengals are looking for Dalton to thrive under similar pressure-packed moments during this one. This time around, the pressure on Dalton mainly stems from the fact that so many are fed up with his play from the past three games. In them, he's thrown eight interceptions and been sacked 10 times. Across the latter two of those games, he's completed fewer than 50 percent of his passes and hasn't posted a QBR higher than 18.0.
Weather factored heavily in Dalton's inability to move the ball in those two games. Windy conditions at Baltimore and windy and rainy conditions against the Browns sent some of his passes sailing and forced others into the hands of defensive backs.
Although weather shouldn't be a concern this weekend in San Diego (the forecast calls for partly cloudy skies and a delightful high of 71 degrees Sunday), it could be the rest of the season. Farmer's Almanac projects cold, damp conditions for all of December in the Ohio Valley. It should be noted that after Sunday's game, the Bengals are home three of the next four weeks. Their only remaining road game is at Pittsburgh.
Throughout his career, Dalton has performed better in warmer games. In games with temperatures 50 degrees or higher, he has a 20-14 record, an 85.1 passer rating and a 52.5 QBR. In games with temperatures at 49 and lower, he has a 5-5 record, a 75.4 passer rating and a 32.9 QBR. Dalton's last three sub-49-degree wins came last December, though; a sign that perhaps he's turning a corner in cold-weather contests.
Whatever the conditions and whomever their opponents are, when it comes to the next five weeks, the Bengals can only hope that Dalton turns into the same man who torched through this October.
August, 17, 2012
8/17/12
11:00
AM ET
OWINGS MILLS, Md. -- No team over the past four years has had more playoff success without reaching the Super Bowl than the Ravens. And no one has to remind the Ravens of that frustrating fact.
The last time the Ravens played a meaningful game was the AFC Championship Game seven months ago, when
Lee Evans
' failed catch with 22 seconds left cost them a trip to the NFL's biggest stage. Although Evans is gone, the question that lingers over this team is this: Can the Ravens get to the Super Bowl?

"It's time for us to get over the hump," running back
Ray Rice
said. "And we've got the pieces to do it."
For the first time in 15 years, those pieces appear to be more in place on the Ravens' offense than their defense. Rice can make the argument that he's the best running back in the NFL after producing an league-best 2,068 total yards. Flacco proved he can put a team in position to go to the Super Bowl (as long as the receiver makes the catch the next time). And Baltimore has a promising playmaker in wide receiver
Torrey Smith
.
There has been more uncertainty this offseason about the Ravens' defense, which is traditionally a lock to rank in the top five each season. It began with the Achilles injury to linebacker
Terrell Suggs
, the NFL Defensive Player of the Year, who is out indefinitely. It continued with safety
Ed Reed
skipping all of the offseason workouts, including the mandatory minicamp. Now, throughout training camp, there have been concerns about defensive tackle
Haloti Ngata
gaining too much weight and linebacker
Ray Lewis
losing too much.
The Ravens remain among the favorites to win the division and contend for a Super Bowl. But "getting over the hump" is easier said than done in the NFL. The last team to reach the Super Bowl the season after losing in the conference championship game was the New England Patriots in 2007.
"You want to talk about 22 seconds left in the AFC Championship Game, that's fine," Ravens coach John Harbaugh said. "We have to get back to 22 seconds left in the AFC Championship Game first, and before that, we have to have a great preseason. But what we're really interested in is a really great practice tomorrow. That's what matters. That's what's important now. That's what we need to take care of."
THREE HOT ISSUES
1. Replacing linebacker Terrell Suggs
.
Paul Kruger
, a second-round pick who has one start and 6.5 career sacks, will step into Suggs' rush linebacker position. The reality is no one player will fill Suggs' void. In addition to his AFC-leading 14 sacks, Suggs was a disruptive force who forced an NFL-high seven fumbles and knocked down seven passes. He struck fear in quarterbacks. Some quarterbacks facing Baltimore this season, such as
Eli Manning
and
Tony Romo
, probably have never heard of Kruger.
Having Suggs in the lineup meant the Ravens didn't have to blitz. He recorded 20 sacks the past two seasons when the Ravens sent four or fewer rushers. Until Suggs returns, which might not happen until December, new defensive coordinator Dean Pees could be forced to blitz more often to generate a consistent pass rush. The loss of Suggs comes in a season when the Ravens play 13 games against Pro Bowl quarterbacks.
"To say we're not going to miss Suggs, who's going to believe that?" Pees said. "The truth of it is other guys have to step up. It's not the first time in the NFL that a good player has gone down. I was in New England when we lost [Tom] Brady and went 11-5 with [Matt] Cassel. We lost [Tedy] Bruschi to a stroke, and we went 12-4. Do you want it to happen? No. I would love to have Terrell Suggs. I don't want to make light of that. At the same time, life goes on."
[+] Enlarge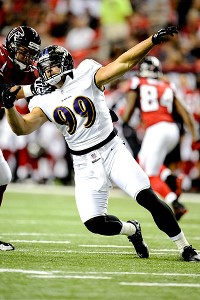 AP Photo/Paul AbellBaltimore's Paul Kruger will be asked to fill in for Terrell Suggs.
2. Deciding on a kicker
. There has been tremendous pressure and scrutiny on
Billy Cundiff
since he hooked a last-minute, 32-yard field goal that would've tied the AFC Championship Game in New England. It was assumed that Cundiff was safe after the Ravens didn't cut him following the miss, and the team didn't sign a veteran kicker as competition. But the kicking battle between Cundiff and undrafted rookie
Justin Tucker
has been closer than expected.
Tucker has outkicked Cundiff in training camp, making 87 of 92 field goal attempts (94.6 percent) in practice. Cundiff has converted 78 of 95 tries (82.1 percent), causing many to wonder whether he's starting to lose his grip on the job. The Ravens are taking a risk with either kicker. Baltimore will go with Cundiff, who has the biggest field goal miss in franchise history looming over him, or Tucker, who has yet to kick in a regular-season game.
The Ravens' coaching staff indicated there would be no apprehension in going with a rookie kicker. "The best player plays," special-teams coordinator Jerry Rosburg said. "That's just the way it is."
3. Flacco's future
. He's entering the final year of his contract despite the sides talking for six months. The trouble is bridging the gap between two tiers of quarterbacks. Flacco is better than the Cardinals' Kevin Kolb (six years, $65 million with $21.5 million guaranteed) and the Bills' Ryan Fitzpatrick (six years, $59 million with $24 million guaranteed). But Flacco isn't on the same level as the Steelers' Ben Roethlisberger (eight years, $102 million) and the Giants' Eli Manning (seven years, $106.9 million).
Asked how this issue ranks as a distraction from 1 to 10, Flacco said, "A one. You might say I'm lying there, and it might not be quite a one. I may be exaggerating a little bit. But there really is no concern. I feel like I'm going to be the quarterback here for a while. It's just a matter of when it happens, it happens."
Flacco is right about not having to worry. The Ravens will either sign him to a long-term deal or put the franchise tag on him, which means Flacco will get paid like a top-five quarterback. The tag for quarterbacks is expected to exceed $15 million in 2013.
REASON FOR OPTIMISM
This is the year when Baltimore's grind-it-out offense can take advantage of Flacco's arm, which ESPN's Ron Jaworski calls the strongest in the NFL. General manager Ozzie Newsome believes that this is
the fastest group of receivers
he has put together.
The Ravens first addressed speed last season when they used a second-round pick on Smith, who is more confident in his second season and is displaying more reliable hands in camp. Baltimore then added
Jacoby Jones
in May after he was cut by Houston. He showed off his speed in the preseason opener, when he sprinted past the entire Falcons secondary.
"I think any time you get guys who are good athletes and get more comfortable and more experience, the better you're going to be on offense," said Flacco, whose 44 completions of more than 20 yards last season ranked 16th in the league. "To add Jacoby and a couple of these young guys, we have a lot of potential."
For the Ravens to throw more downfield, Flacco will need more time to throw. Baltimore's offensive line, which is among the oldest in the league, has to step up its protection.
REASON FOR PESSIMISM
The Ravens own the NFL's longest active streak -- six seasons -- for ranking in the top five in run defense. But this area of strength is a major question mark this season.
There are three new starters in Baltimore's front seven: Kruger, rookie outside linebacker
Courtney Upshaw
and defensive end
Arthur Jones
. Upshaw has the challenge of setting the edge against the run, a thankless job handled by
Jarret Johnson
for the past five seasons.
Suggs' absence hurts the Ravens' run defense just as much as their pass rush. The Ravens allowed 3.4 yards per rush when Suggs was on the field last season, according to ESPN Stats & Information. Baltimore allowed 5.9 yards per rush without Suggs.
[+] Enlarge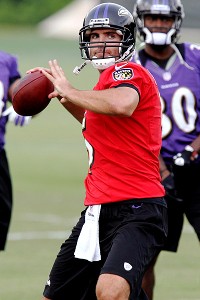 Mitch Stringer/US PRESSWIRERavens coaches continue to put more trust in Joe Flacco.
Ngata expects teams to test the Ravens' run defense this season. "I think we still have some work to do, but we have a lot of young guys that are trying to learn," Ngata said of the run defense. "So, it's just getting those guys together and setting those fronts and getting some camaraderie together out there on the field. I don't think we've really played together well yet, just because it's so new and young."
OBSERVATION DECK
Offensive coordinator Cam Cameron continues to put more trust in Flacco. During one practice, he let Flacco call the entire series, which ended with a touchdown pass to Anquan Boldin. Flacco's influence on the offense is growing.
For all of his talking during the offseason, safety Ed Reed has been extremely quiet and focused this camp. Many predict a big bounce-back year for Reed, whose three interceptions last season were his fewest for a 16-game season.
The Ravens are probably going to stick with Bobbie Williams at left guard to start the season because of his experience. But rookie lineman Kelechi Osemele is better than what the Ravens thought when they used a second-round pick on him in April. His footwork is impressive for a lineman his size, and his wingspan is an asset in pass protection. Osemele could be the starter by the end of the season.
Baltimore still sees Jimmy Smith, a first-round pick from a year ago, as a starting cornerback. He just needs to stay on the field. Smith missed practice time recently because his back tightened up, which was a problem for him in college.
The way Upshaw practices can often get misinterpreted as being lazy. Upshaw is not self-motivated, but he is a hard worker. The team's top pick in this year's draft does whatever the coaching staff asks of him.
The team doesn't know what to make of quarterback Curtis Painter, who is battling Tyrod Taylor to be the top backup. He has looked awful in training camp. At times, he was completing more passes to the defense than his wide receivers. Then, in the first preseason game, Painter threw three touchdown passes.
The Ravens are going to be in trouble if rookie third-round pick Bernard Pierce struggles as the primary backup running back to Rice. The other backs -- Bobby Rainey and Anthony Allen -- aren't ready for that role. Baltimore has high expectations for Pierce, whose one-cut running style reminds the team of Arian Foster.
The dark-horse pick to make the roster is defensive tackle Bryan Hall, who was on the practice squad last season. Known for being a character in the locker room, Hall has impressed the coaches by playing hard and smart. Hall's chances of making the team increased when Ryan McBean needed ankle surgery.
August, 19, 2010
8/19/10
1:31
PM ET
ESPN.com NFL Power Ranking
(pre-camp): 5
WESTMINSTER, Md. -- Pro Bowl talent? Check.
Plenty of depth? Check.
A budding quarterback and tremendous coaching staff? Check and check.
There are plenty of reasons to buy into the Super Bowl hype surrounding the
Baltimore Ravens
this year. Most of the key ingredients are in place for Baltimore to make a deep postseason run.
On paper, this is perhaps the best collection of talent in Baltimore since the team's inception in 1996. It's certainly the most balanced, as last season's third-ranked defense joins quarterback
Joe Flacco
, Pro Bowl tailback
Ray Rice
and new receiver
Anquan Boldin
to give Baltimore a potentially high-scoring offense.
But expectations do not always equal results. Can the Ravens live up to the hype? First they must address these key issues.
THREE HOT ISSUES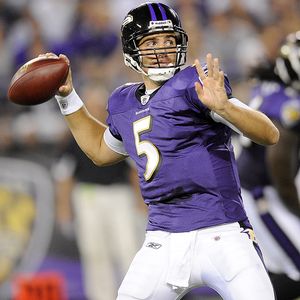 AP Photo/Nick WassRavens quarterback Joe Flacco has plenty of weapons to be successful on offense.
1. Is Flacco ready to take the next step?
There are plenty of weapons on offense, but it's up to the quarterback to make sure everything runs efficiently.
Flacco has improved every year in the NFL. He is entering his third season, and the Ravens expect him to take the next step to become a legitimate franchise quarterback.
There is no reason to believe Flacco will not make the jump this year from a good to great quarterback. He has the best receiving corps of his career, a top-notch running game and a quality offensive line. Perhaps the biggest challenge for Flacco is
keeping everyone happy
, as every starting skill player with the exception of the quarterback has been to the Pro Bowl.
2. Will the cornerbacks hold up?
Baltimore's secondary issues are well-documented.
Top corner
Domonique Foxworth
(knee) is out for the season and starters
Fabian Washington
and
Lardarius Webb
are both coming off major knee surgeries.
Washington will make his 2010 debut
Saturday against the
Washington Redskins
, while Webb is waiting to be cleared for practice. There's also no guarantee both players will instantly get back to their old form once they return.
Players like
Cary Williams
,
Travis Fisher
and
Chris Carr
have been filling in for the time being. But starting roles are simply too big for this group, and that won't cut it in the regular season. In this pass-heavy NFL, you need quality depth at cornerback, and it turns out this is Baltimore's one glaring weakness on an otherwise stacked roster.
3. Can Baltimore survive the AFC North?
Here is a fact Ravens fans often ignore: At least two division rivals currently have Baltimore's number.
The
Cincinnati Bengals
and
Pittsburgh Steelers
have given Baltimore fits in recent years. Bengals quarterback
Carson Palmer
is
8-3 against the Ravens
in 11 career starts, which includes last year's 2-0 sweep. Pittsburgh also is 4-1 (including playoffs) in its last five meetings against the Ravens. The only Baltimore win in that span came against the
Dennis Dixon
-led Steelers in overtime last November.
A deep postseason run would be a lot easier for Baltimore if it won the AFC North division. With that comes a home playoff game(s) and possibly a bye in the first round. But the Ravens will have to play more consistently against their division rivals this season.
BIGGEST SURPRISE
[+] Enlarge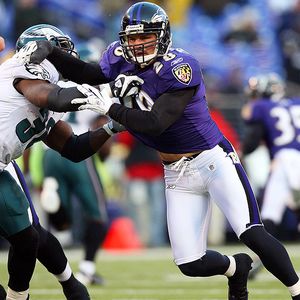 Jim McIsaac/Getty ImagesRavens safety Tom Zbikowski is having an outstanding training camp.
The Ravens are not panicking over safety
Ed Reed
's offseason hip surgery, because
Tom Zbikowski
is having the best training camp of his career. The third-year safety
is leaner and quicker
this year, as Zbikowski continues to earn the confidence of the coaching staff.
Zbikowski has some natural instincts that the Ravens want to take advantage of. He's versatile enough to play in the box, and has very good timing and angles on blitzes. It's unknown if Reed will be ready for Week 1 of the regular season. The Ravens probably can't win a Super Bowl without Reed, but they can win in the short term with an improved Zbikowski.
BIGGEST DISAPPOINTMENT
Jared Gaither
's offseason has been a disaster. The offensive tackle got off on the wrong foot by making contract demands, and things have gone downhill from there.
Right now Gaither has a back injury that's kept him out of camp. He also surprised the Ravens by reporting to the team much lighter than his usual playing weight.
Baltimore has already moved forward by making
Michael Oher
its left tackle, which is the most important position on the offensive line. But if Gaither doesn't straighten things out, the Ravens also may have to figure out what to do next at right tackle. We will explain their options below.
OBSERVATION DECK
Remember the name Oniel Cousins. He will be one of the most important Ravens in the next several weeks. With Gaither working to get back on the field, Cousins could do Baltimore a huge favor by playing well at right tackle. Marshal Yanda also is a possibility, but he's better suited as Baltimore's starting right guard. If Cousins proves to be the answer, the Ravens can maintain continuity with the other four spots on the offensive line.

[+] Enlarge

AP Photo/Rob CarrRavens' Haloti Ngata looks like one of the league's top defensive linemen.

By the end of this season, Haloti Ngata may be mentioned as the top interior defensive lineman in football. It's impressive watching Ngata routinely blow up offensive linemen in practice. He makes it look easy. In one sequence Wednesday, Ngata pushed rookie offensive tackle Ramon Harewood about 5 yards into the backfield. Ngata then yelled to the offensive coaches "get him out," because Harewood's best effort barely offered Ngata any resistance.

I would be surprised if Baltimore doesn't improve its pass rush this season. The "pressures" in camp look more crisp and aggressive this year. It also doesn't hurt that linebacker/defensive end hybrid Terrell Suggs is in great shape and motivated to have a bounce-back season. Last year, the Ravens were ranked 18th in the NFL with 32 sacks in 16 games. The Steelers (47), Cleveland Browns (40) and Bengals (34) all had more sacks in the division.

From what I saw this week, it's pretty clear Marc Bulger deserves to be the No. 2 quarterback behind Flacco. Bulger has a quicker release and more accurate arm than Troy Smith. Bulger still shows flashes of the Pro Bowl-ability he had in St. Louis and can make throws that Smith simply cannot. Bulger would be a better short-term fill in if Flacco goes down.

Webb looked good running and cutting on his surgically repaired knee while doing individual drills this week. He's yet to practice with the team but is very close to being cleared. Baltimore believes Webb could eventually develop into the team's best cornerback. But the team has to be careful and make sure he returns at full strength.

Despite the bad press rookie defensive tackle Terrence Cody received after failing his conditioning test, he is a force once he's on the field. Cody is hard to move in the trenches and has surprisingly good feet for someone his size. The Ravens are experimenting with Cody in various ways, including pairing him with Ngata and also giving Cody an occasional look at fullback in goal-line situations.

I thought I would see more from rookie receiver David Reed this week. Not to put unnecessary pressure on the fifth-round pick, but Reed generated a significant buzz in Baltimore during minicamp and organized team activities. My first impressions of Reed in training camp is that he's still inconsistent. Reed had some drops, but he also had one of this week's best catches by leaping over a defender in the corner of the end zone for a touchdown. Baltimore will need to see more of the latter.

Switching Paul Kruger to full-time defensive end and adding bulk is already paying dividends. Kruger looks more powerful and explosive this summer. The second-round pick was drafted as a linebacker/defensive end hybrid and couldn't find a role on the team his rookie year. Now he's more productive focusing on one position.
August, 11, 2010
8/11/10
1:00
PM ET
ESPN.com NFL Power Ranking
(pre-camp): 28
BEREA, Ohio -- With three teams in the division coming off winning seasons, the
Cleveland Browns
have a long way to go to climb out of the AFC North basement
That's why Cleveland's ownership put together the high-profile pairing of president Mike Holmgren and general manager Tom Heckert. The new front office has reshaped the roster through the draft and free agency in hopes of starting to close the gap with its rivals and improving on last year's 5-11 record.
With so many new faces, Cleveland remains a team in transition. The Browns must come together quickly in training camp to be competitive in 2010.
THREE HOT ISSUES
[+] Enlarge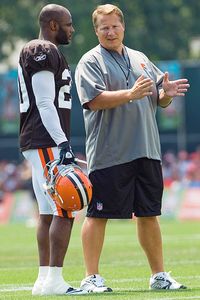 Jason Miller/US PresswireThe heat is on Eric Mangini heading into his second season in Cleveland.
1. Will Eric Mangini win in Year 2?
This is a critical year for Mangini, who begins the season on the hot seat. Holmgren, a longtime head coach, knows that it takes more than one season to implement a program and was fair in giving Mangini a second year. A four-game winning streak to end last season also helped.
But Mangini must keep that momentum going in what should be a very competitive year in the AFC North. He doesn't have the same level of talent to work with as other coaches in the division. But Mangini is optimistic about 2010.
"I feel really good about the progress we've made, the strides we've made," Mangini said. "The second year is different. Guys understand expectations. There are so many things that you don't have to cover because they get it and they become teachers to people who are new, and that helps a lot."
2. Is quarterback Jake Delhomme the answer?
Despite his pedigree, the Delhomme signing has not instilled much confidence with Browns fans.
Delhomme is coming off the worst year of his career (eight TD passes, 18 interceptions) and was benched and eventually released by the
Carolina Panthers
.
But if Delhomme isn't the answer, the team will turn to backup
Seneca Wallace
, who is a longtime Holmgren protégé. Rookie third-round draft pick
Colt McCoy
is regarded as the quarterback of the future but isn't expected to start this season.
[+] Enlarge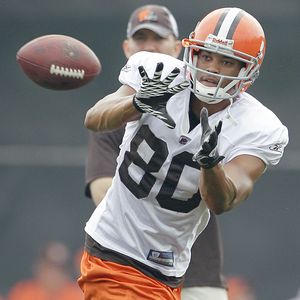 AP Photo/Amy SancettaThe Browns are counting on players like Brian Robiskie to step up and contribute.
3. Will young players step up?
When you have a rebuilding team, young players must step forward. Cleveland has a lot of first- and second-year players who are unproven but expected to be major contributors.
Players such as second-year receivers
Brian Robiskie
and
Mohamed Massaquoi
and rookies
Joe Haden
,
T.J. Ward
, a free safety, and
Montario Hardesty
, a running back, are expected to fill major roles. These players will learn on the job as Cleveland's coaching staff tries to minimize their mistakes.
Haden, a cornerback, will have the biggest spotlight because he was taken No. 7 overall this year and is the first draft pick of the Holmgren and Heckert era. Haden struggled some in minicamp but is starting to look more comfortable. He still must get to the point where he's thinking less and relying more on his football instincts. So far, Haden has been a step late on too many plays.
"It's getting better and better every day," Haden said. "[Tuesday's] practice was better than [Monday's] practice. … now I feel like I'm about at 90 percent of knowing of exactly what's going on, so when I get that next 10, it's going to be full go."
BIGGEST SURPRISE
With so much attention put on Delhomme this season, I thought the best quarterback in camp this week was Wallace. He made some very nice throws, particularly on the run, while leading the second-team offense.
But unless Wallace lights it up in the preseason, do not expect another quarterback controversy in Cleveland. The Browns are paying Delhomme $7 million this season to be the starter.
Despite being a backup, Wallace will play in another capacity as the team's Wildcat quarterback, which we will get to later.
BIGGEST DISAPPOINTMENT
This was supposed to be a breakthrough camp for Hardesty. Instead, his first training camp never got off the ground because of a knee injury.
Hardesty was competing with incumbent
Jerome Harrison
for the starting tailback job, and after a solid spring, many considered him the early favorite. But the second-round pick has missed every full-squad practice of training camp thus far and has fallen behind.
According to Mangini, Hardesty may not return until sometime next week at the earliest.
OBSERVATION DECK
[+] Enlarge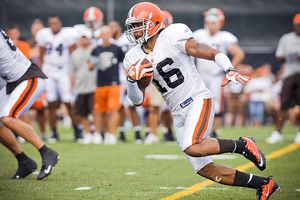 Jason Miller/US PresswireJosh Cribbs should be more involved in the offense as a part of Cleveland's Wildcat package.
Something that jumps out right away is Cleveland's lack of team speed. The Browns look slow and not as athletic as the other two teams I watched in training camp (Pittsburgh Steelers, Cincinnati Bengals). That could be a problem. Cleveland has plenty of thumpers, so size isn't an issue. But the Browns appear more built to win a 13-7 game in inclement weather in December than a 35-30 shootout in September.

The "Flash and Cyclone" package has been successful in training camp. Josh Cribbs and Wallace are arguably the most versatile players on the team and appear to be developing solid chemistry in Cleveland's version of the Wildcat. Both players are elusive and dangerous with the football.

I'm still not sold on Cleveland's receiving corps. Massaquoi has made some plays, but certainly not enough to be a dominant No. 1 receiver. The same goes for Robiskie, who is a projected starter. The Browns are throwing to the tight ends and running backs a lot in this camp, and a reason may be the lack of depth at receiver.

Ward is having a solid training camp. He continues to show up around the football, which is what you want from a starting safety. The rookie second-round pick still makes mistakes in pass coverage, but Ward usually shows good effort and practices hard. He is known as a big hitter.

Keep an eye on running back Peyton Hillis. He was the forgotten player in the Brady Quinn trade this offseason with the Denver Broncos. But Hillis is showing good toughness running between the tackles. He runs solid routes and has soft hands as a receiver out of the backfield. Hillis could be an underrated acquisition who works out well for Cleveland.

Another sleeper on this team could be second-year tight end Evan Moore. Although his run blocking needs work, Moore is probably the best receiving tight end on the roster. With starting tight end Ben Watson and Robert Royal able to do the dirty work, Moore could be a nice change of pace to give the tight-end position some big-play ability.

A weakness in Cleveland's defense could be its outside linebackers dropping in pass coverage. Matt Roth and Marcus Benard, in particular, do not look comfortable shadowing running backs. Hillis and Harrison beat Cleveland's outside linebackers repeatedly on passing routes in camp this week.

It's been difficult to get a firm read on McCoy. He has played a majority of camp with the third-team offense, which consists of many players who will not make the team. Inconsistent in camp, McCoy looks like a typical rookie quarterback. Preseason games probably will be a better gauge of where the third-round pick stands.
August, 5, 2010
8/05/10
12:00
PM ET
ESPN.com NFL Power Ranking
(pre-camp): 11
GEORGETOWN, Ky. -- The
Cincinnati Bengals
are now the hunted, and they believe they have enough talent to prove last year's AFC North division title was no fluke.
It has been 28 years
since the Bengals last posted back-to-back winning seasons. But coming off a playoff appearance and new offseason additions, this is the deepest and most talented group Marvin Lewis has coached in eight seasons.
Cincinnati's six-win improvement was one of the biggest jumps in the NFL last season. On paper, this year's team looks even better, although the Bengals have to prove they can handle a
brutal first-place schedule
.
"Nobody is really sleeping on you. Everybody knows that you can play," Bengals linebacker
Keith Rivers
said of the upcoming season. "So we have to make sure we come out swinging, because teams are going to come out swinging against us."
Pro Bowl receiver
Chad Ochocinco
said
it would be a "shame
" if Cincinnati doesn't win the Super Bowl. That's one example of how high expectations are for the Bengals, who have to address several key issues this summer if they want to make a playoff run.
THREE HOT ISSUES
[+] Enlarge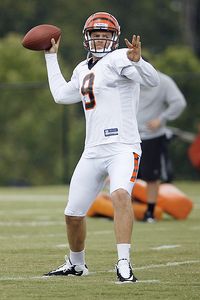 Mark Zerof/US PresswireCarson Palmer is excited about the additional weapons at his disposal this season.
1. Can the Bengals improve their passing game?
Cincinnati's passing offense was a disappointment last season, particularly late in the year. The Bengals aggressively attacked the problem by adding new weapons such as first-round draft pick
Jermaine Gresham
and receivers
Terrell Owens
,
Antonio Bryant
and
Jordan Shipley
.
As a result, Cincinnati could have as many as three new receivers in the top four of its rotation to join Ochocinco. And Gresham is projected to start at tight end for the Bengals, surrounding
Carson Palmer
with enough weapons to make any quarterback happy.
"In the grand scheme of things, we're very explosive," Palmer said.
The chemistry between Palmer and Owens is
still a work in progress
. The difference between Palmer's comfort level with Owens versus his comfort level with Ochocinco, whom Palmer has worked with for eight years, was noticeable in camp.
The deep ball disappeared from Cincinnati's offense during the second half of last season. But with Owens (Batman?) taking some of the pressure off Ochocinco (Robin?), and added receiver depth, expect more fireworks this year.
"What I want the focal point of this team to be is I want the offense to be our strength again," Ochocinco said this week. "I think the defense has sort of taken over the outlook as the strength of the team. I want our receiving corps and the rest of our offense to be that strength, that backbone of this team."
2. Will the Bengals' defense generate a pass rush?
The Bengals were the fourth-best defense in the NFL last season. But one area where they can improve is getting to the quarterback.
Cincinnati had 34 sacks last year, which was middle of the pack at No. 16. Defensive coordinator Mike Zimmer has made it a priority to dial up new and better ways to increase the sack numbers.
The healthy return of starting defensive end
Antwan Odom
should help. He was the team's top pass-rusher last season until he suffered a season-ending Achilles injury. The Bengals also have young, athletic players who could see playing time in passing situations such as linebacker
Michael Johnson
and rookie defensive end
Carlos Dunlap
.

Nugent

Rayner
3. Who's the kicker?
Kickers aren't important until you need them. The Bengals know that all too well after their experience with
Shayne Graham
, who had a knack for
missing field goals in key moments
.
This summer there is an interesting competition going between journeyman kickers
Dave Rayner
and
Mike Nugent
. The two have played for a combined eight teams in their NFL careers.
Nugent is hurt this week, which may have allowed Rayner to take a slight lead. But Rayner has had his ups and downs as well. Earlier this week he made all six of his field-goal attempts, but on Wednesday Rayner was 5-for-8. He missed two 50-yard attempts that were very wide left.
Expect this competition to be settled during the preseason.
BIGGEST SURPRISE
He is not the biggest player or the fastest, but there is something about Shipley that continues to stand out in camp. He has even caught the attention of Ochocinco, who said early that the rookie has potential.
Shipley seems at home in the slot. He has a knack for getting open and has sure hands and good ball security in traffic once the catch is made. The Bengals are
very deep at receiver
this year, so it's questionable how big a role Shipley could have. But for now he's making the most of his opportunities.
BIGGEST DISAPPOINTMENT
Former first-round pick
Matt Jones
seems to be falling behind daily in an effort to earn a roster spot. Once a big athlete with freakish speed, Jones clearly has lost a couple of steps after taking a year away from football.
Jones also suffered a foot injury recently, which hasn't helped his case. Ochocinco, Owens, Bryant, Shipley and
Andre Caldwell
probably will take up five slots at the receiver position. That leaves only one or two more roster spots for Jones and several other receivers to compete for. Do not be surprised if Jones doesn't make the cut.
[+] Enlarge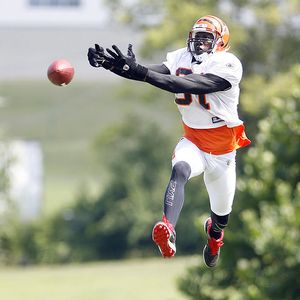 Mark Zerof/US PresswireTerrell Owens is still working on establishing chemistry with Carson Palmer.
OBSERVATION DECK
Despite signing just before camp, Owens arrived in very good shape. He still has to learn the offense, but Owens has shown some flashes of what he can do. On Wednesday night, Palmer connected deep with Owens, who beat cornerback Leon Hall, streaking down the sideline for a 55-yard touchdown. The play was one of the highlights of camp thus far.

Bryant continues to rehab his knee. He participated in the first day of camp but has missed every practice since. The Bengals signed Bryant to a four-year, $28 million contract but he hasn't looked explosive as he continues to heal from offseason knee surgery. The team is hoping he continues to progress.

Watch out for second-year running back Bernard Scott. He is my sleeper pick for the Bengals this season. Scott has a chance to contribute both as Cedric Benson's backup as well as a kick returner. With increased opportunities, Scott should have increased production.

Adam Jones should help the Bengals in some capacity this year. His technique as a cornerback still needs improvement, but he is competing hard in practice and his physical abilities are still apparent. Jones also looks natural as a kick returner and could be an early favorite to win punt and/or kickoff return duties.

Although none of the injuries is major, the Bengals have been banged up this week. Fullback Fui Vakapuna hurt his shoulder and missed practice time. Dunlap suffered a concussion. Linebacker Rey Maualuga injured his hamstring and cornerback Johnathan Joseph also had a thigh injury.

The Bengals don't have a lot of depth at fullback, but the position might not be as important as it once was. Cincinnati's offensive personnel dictates the team will run a lot of three-wide receiver and two-tight end sets. In both instances, the fullback will be taken off the field.

I have not been impressed with Cincinnati's pass protection early in camp. You cannot see everything, because players cannot touch the quarterback. But the number of defenders getting in the passing lanes has been noticeable. That will be something to keep an eye on in the preseason.

I'll exit with a prediction: I have a sneaky feeling the Bengals will keep only two quarterbacks this season. Cincinnati has waves and waves of players at other positions, and cutting the No. 3 quarterback -- most likely Jordan Palmer -- is one way the Bengals can save a roster spot to retain an extra receiver, defensive back or linebacker. Carson Palmer and J.T. O'Sullivan would be the team's quarterbacks, while the Bengals could always add Jordan Palmer or someone else down the road in the event of an emergency.
August, 2, 2010
8/02/10
1:17
PM ET
ESPN.com NFL Power Ranking
(pre-camp)
:
19
LATROBE, Pa. -- Are the
Pittsburgh Steelers
in for a free fall or primed for a bounce-back season?
Coming off a Super Bowl title just two seasons ago, the Steelers have a veteran-laden group that looked very talented and professional during the first weekend of training camp. The team is healthy again and quietly confident about its chances to make a playoff run this year.
But there is an elephant in the room for Pittsburgh. Quarterback and two-time Super Bowl champion
Ben Roethlisberger
will serve a conditional six-game suspension to start the season. It's the primary reason many pundits already have written off the Steelers and believe they'll have to wait another year to get back in the hunt as a legitimate threat in the AFC.
But Pittsburgh is relishing its role as underdog in 2010.
"I look at the times we've been our most successful have been when we're under the radar -- when people don't expect that much from you," Steelers left tackle
Max Starks
said. "I think for us, we just have a blue-collar mentality. We're just going to put our head down, and we're just going to march forward and let everything else drop where it may."
THREE HOT ISSUES
[+] Enlarge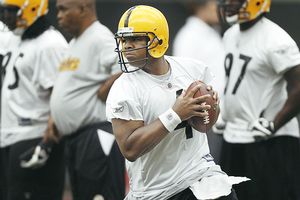 AP Photo/Keith SrakocicQB Byron Leftwich is the favorite to start for the Steelers while Ben Roethlisberger is suspended.
1. Will the Steelers properly handle QBs?
How do you manage a $100 million quarterback who won't play for at least a month, a veteran who is the favorite to replace him, and a talented youngster with very little experience?
There is no handbook for what the Steelers' coaching staff is going through this summer. Roethlisberger's suspension has put Pittsburgh in a unique situation in which the team has to delicately balance preparing for Week 1 and the entire season.
In all likelihood, "Big Ben" will have his suspension reduced to four games for good behavior. But he will be forced to stay away from the team during that span, which means he will miss reps and practice time for at least a month before he returns. That is why training camp is so important for Roethlisberger. Meanwhile, the team also has to find out if
Byron Leftwich
or
Dennis Dixon
is the best option for the Steelers in the immediate future.
"We want to make sure that at the end of this thing that Ben has a productive camp," Steelers coach Mike Tomlin said. "But as we proceed at this juncture, our focus, of course, is who's going to be playing quarterback for us the week of the opener. I like where the guys are right now."
2. Is safety Troy Polamalu back?
Polamalu is a special talent. No other NFL player closely resembles his playing style or offers his versatility.
Last year the Steelers missed that versatility when Polamalu was sidelined for 11 games with a knee injury. Pittsburgh still finished in the top five in defense, but its inability to close out games in the fourth quarter without Polamalu led to several bad losses that kept the Steelers out of the postseason.
[+] Enlarge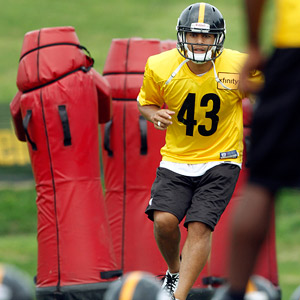 AP Photo/Keith SrakocicThe Steelers missed the versatile Troy Polamalu last season, especially in the fourth quarter.
But Polamalu was healthy for the start of training camp and looks ready to go. He has made sudden cuts without issues, looks fast and was making plays in camp.
"He just kind of opens the playbook to anything you want to do," Steelers defensive coordinator Dick LeBeau said. "It's just a matter of how far off the diving board you want to go."
3. Can the Steelers stay afloat early?
The first four to six games could make or break Pittsburgh's season.
A slow start, such as 1-3 or 2-4, will have the Steelers playing catch-up the rest of the year in a competitive AFC North division. But a .500 record or better during Roethlisberger's suspension could set the table for Pittsburgh to make a playoff push in the second half.
Everything shouldn't be put on the quarterback position. Sure, Leftwich or Dixon has to do his part. But the running game and defense also have to step up for Pittsburgh to win early.
The Steelers' first four games are against the
Atlanta Falcons
,
Tennessee Titans
,
Tampa Bay Buccaneers
and
Baltimore Ravens
. Tampa Bay is the only team in this group that had a losing record last season.
BIGGEST SURPRISE
Although it's very early, there is a noticeable difference already in 2009 first-round pick
Evander "Ziggy" Hood
. The defensive lineman looks to be in great shape and more sure of his role in Pittsburgh's defense. He's thinking less and playing faster, which could be a huge plus for the Steelers.
"He looks like a second-year player," Tomlin said. "He, of course, is markedly better than he was a year ago, as it is expected. The standards of expectations of him change, as it does everyone in his draft class. To this point, he's meeting those challenges."
Pittsburgh's defensive line needs an influx of youth as starters
Brett Keisel
,
Casey Hampton
and
Aaron Smith
are all over 30. Hood is looking to play a much bigger role in the rotation after recording only eight tackles and a sack last season.
BIGGEST DISAPPOINTMENT
I don't think you can truly pick a disappointing player a few days into training camp. But based on the opening weekend, I wasn't particularly overwhelmed by Leftwich.
The veteran quarterback shared snaps with Roethlisberger with the first team, and there is clearly a difference when each player runs the offense. When Roethlisberger was in, the ball rarely touched the ground. Meanwhile, Leftwich missed several throws in team drills that I felt he should have made.
But again, it's very early in camp. A stronger indication will come during the preseason.
OBSERVATION DECK
Roethlisberger may be in the best shape of his career. The quarterback often uses the offseason to rest his body and recover from injuries. But as a result, Roethlisberger usually shows up to camp on the heavy side. That's not the case this year as he's thin and looks like he's in midseason form. Roethlisberger said his offseason incident and time away from the team motivated him to show up in shape as a sign of dedication.

[+] Enlarge

AP Photo/Keith SrakocicFirst-round pick Maurkice Pouncey is getting reps at both right guard and center.

First-round pick Maurkice Pouncey appears to be a good fit. He suffered a hamstring injury that kept him out of practice Sunday. But in the first couple of practices, Pouncey looked very fluid and was showing a mean streak by finishing his blocks. He will most likely play right guard this year, but Pouncey is also getting reps at center.

Look for Pittsburgh to put a stronger emphasis on the running game, especially with Roethlisberger out early in the season. Starting tailback Rashard Mendenhall recorded his first 1,000-yard season in 2009 and should get a lot of carries behind this revamped O-line.

Speaking of the running game, second-year player Frank "The Tank" Summers is getting a good look at fullback. Summers did not contribute his rookie year. But offensive coordinator Bruce Arians, who rarely utilizes fullbacks, seems to be open to seeing if Summers can man the role. Summers made a really good block on outside linebacker James Harrison over the weekend.

Pittsburgh has two potentially sticky contract situations, but neither player plans to cause a distraction. Pro Bowl outside linebacker LaMarr Woodley and kicker Jeff Reed are both disappointed they did not get long-term extensions. The Steelers informed both players before training camp that nothing will be done with their deals before the start of the 2010 season, but both reported to camp on time.

Keep an eye on rookie receivers Emmanuel Sanders and Antonio Brown. Both are very competitive and making plays early in camp. Sanders, a third-round pick, looks smooth running his routes and coming out of his breaks for a first-year receiver. He may be able to contribute at some point this season. Brown, a sixth-round pick, is more raw but always gives good effort.

Do not underestimate the addition of cornerback Bryant McFadden. He's played well in Pittsburgh's system in the past, and McFadden can help fill one of the team's few glaring holes on the defense.

Veteran receiver Antwaan Randle El was fielding punts this weekend and has to be considered one of the favorites to win the job. The kick return game is one area Pittsburgh struggled in last season. Randle El has five punt returns for touchdowns in his career.
August, 17, 2009
8/17/09
1:00
PM ET
| | |
| --- | --- |
| | |
| | Matthew Emmons/US Presswire |
| | Derek Anderson, left, and Brady Quinn continue to battle for the starting QB job. |
Posted by ESPN.com's James Walker
BEREA, Ohio -- It takes only one training camp session to notice who's the new boss of the Cleveland Browns.
Eric Mangini's presence already looms large in Cleveland. Whether it's the improved practice habits, the meticulous charting of plays and game situations, or the constant running of laps after mental errors, the new Browns coach has quickly placed his fingerprints all over this team heading into the 2009 season.
Cleveland is trying to bounce back from an abysmal 4-12 record last year. Most players returning from last season are coming off the worst individual performances of their careers, and part of Mangini's job is to get the best out of them as well as the new additions.
"Nobody cares what anybody did last year," Browns offensive lineman Ryan Tucker said of the team's approach.
But Cleveland still has a lot of issues to address in its first year under new leadership.
Key Questions
1. Who is the starting quarterback?
The Browns have been searching for their franchise quarterback since returning to the NFL in 1999. A decade later there is another controversy at the position involving former Pro Bowler Derek Anderson and 2007 first-round pick Brady Quinn.
Preseason games are going to be huge for these two, and Quinn has jumped out to an early lead with a moderate performance Saturday against the Green Bay Packers. He completed 7 of 11 passes for 68 yards and an interception in a 17-0 defeat, while Anderson didn't fare nearly as well, going 0-for-2 with an interception.
Fantasy Football: 32 Questions

AJ Mass on the Browns' QB situation. Bottom line: It doesn't matter to fantasy owners which QB wins the starting job. Neither guy would be worth starting in fantasy. Story

Mangini says he won't make this decision hastily and will stick with his choice once the decision is made. But based on the offensive system and some early signs, a lot is pointing to the Browns going with Quinn to start the regular season.
2. Will players buy into Mangini's system?
It's no secret that former Browns coach Romeo Crennel was considered a "nice-guy coach." But in four years, that approach didn't work as the team finished with three losing seasons in that span.
| | |
| --- | --- |
| | |
| | Gregory Shamus/Getty Images |
| | New Browns coach Eric Mangini brings a different style of coaching to Cleveland. |
Therefore, the Browns went in the opposite direction in hiring Mangini, who is a stern disciplinarian. At the very least, Mangini expects to clean up some of the lazy mistakes that permeated the team.
There was some butting of heads initially, but at least publicly there haven't been any major dust-ups between Mangini and his players in training camp. It's still questionable if all the players will completely buy into Mangini's disciplinarian approach. Victories probably will be the biggest determining factor of whether everyone stays on board long term.
3. Can the defense improve?
The Browns haven't done many things well defensively the past several seasons. But Mangini and new defensive coordinator Rob Ryan feel they have some answers.
Perhaps the biggest wrinkles that are noticeable in training camp have been added to the pass rush. Ryan is not afraid to bring extra defenders at the expense of exposing his secondary. That is something Cleveland was leery of doing in the past.
Free-agent pickups such as safety Abram Elam and linebackers Eric Barton and David Bowens -- all former New York Jets -- know Mangini's system well and are helping the rest of the defense ease the transition. In the early going, Cleveland's defense looks like the strength of this team.
Market watch
The talent has always been there, but for various reasons receiver Braylon Edwards
has had an up-and-down career in Cleveland.
Edwards got off to a slow start in his first two years because of injuries and rookie mistakes. Then he exploded in 2007 with 80 catches, 1,289 yards and 16 touchdowns. But Edwards faltered again last season by leading the NFL in drops and catching only 55 passes and three touchdowns.
The Browns are counting on the 2007 Edwards to show up this season. This summer he has been the most dominant offensive player in training camp by making spectacular catches look routine. But he did have one drop Saturday in the preseason opener against the Packers.
Much of Edwards' production this year will rely on which quarterback can get him the football. But playing in a contract year, Edwards looks motivated to produce whenever opportunities come his way.
Newcomer to watch
The first draft pick of the Mangini era in Cleveland naturally will have pressure to perform, and that is certainly the case this year with rookie center Alex Mack. The Browns traded down in the first round to select Mack with the No. 21 overall pick.
| | |
| --- | --- |
| | |
| | Gregory Shamus/Getty Images |
| | The Browns are hoping to get early contributions from Alex Mack. |
So far, Mack has been inconsistent in training camp. The Browns are throwing a lot at him mentally and physically. As the center, he has to be aware of all things on offense. In competing with veteran Hank Fraley, Mack also is getting a lot of reps with the second team and is going against Pro Bowl defensive tackle Shaun Rogers, who is dominating most of their one-on-one matchups.
But the Browns are hoping Mack's battles with Rogers help him in the long run when he faces equally stout challenges in the AFC North such as Casey Hampton, Kelly Gregg, Haloti Ngata and Domata Peko.
Observation deck
A crowded field is competing for the No. 2 receiver job opposite Edwards. Rookies Mohamed Massaquoi and Brian Robiskie and veterans Josh Cribbs, David Patten and Mike Furrey are all getting reps at that position. Massaquoi has been the most consistent receiver this summer, but Cribbs also has made a push with a solid preseason opener. ... Rookie tailback James Davis has been one of the early surprises in training camp. The sixth-round pick from Clemson has shown good vision and a burst that may be able to help spell veteran Jamal Lewis. ... Kicker Phil Dawson and Cribbs both are unhappy with their current contracts. But things have been very quiet on that front and it's unknown if the team would be willing to renegotiate with either player before the start of the season.
August, 2, 2009
8/02/09
1:00
PM ET
| | |
| --- | --- |
| | |
| | Matthew Emmons/US Presswire |
| | The Bengals need their offensive line to help keep QB Carson Palmer (9) healthy. |
Posted by ESPN.com's James Walker
Is it boom or bust for the 2009 Cincinnati Bengals?
Judging by the early optimism, the Bengals believe it's going to be a banner year in Cincinnati, despite coming off a dreadful 4-11-1 season.
"There's definitely a different feeling about this camp," an excited Bengals quarterback Carson Palmer said.
Many football observers feel this year's Bengals have a chance to become one of the NFL's biggest surprises. The healthy return of Palmer, a refocused Chad Ochocinco at receiver, and a sneaky-good defense has "Bengaldom" reminiscing about 2005, which was the last time Cincinnati made the postseason.
But despite the excitement, just one winning season in the past 18 years still looms large for Cincinnati. So there are plenty of reasons to either believe or not believe in this struggling NFL franchise.
Continue reading and decide for yourself.
Key questions
1. Can Palmer play a full season?
Like most franchise quarterbacks, Palmer holds the key to the Bengals' season. That couldn't be any more evident than last year, when Cincinnati's offense completely tanked after Palmer shut it down with a severe elbow injury.
After bypassing surgery in favor of rehab, Palmer says he is finally 100 percent. The Bengals have kept him on a pitch count as a precaution, but Palmer's throws look crisp and have the usual zip. He also throws one of the prettiest deep balls in the league.
Palmer hasn't been hit since early last season and that is when the real test will begin. So far there have been no setbacks in practice. But it will be interesting to see how the elbow responds in preseason and regular-season games when defenders are taking their best shots.
2. Will the offensive line improve?
Going hand-in-hand with Palmer's return is the overall performance of the offensive line. There is a reason Palmer has had two season-ending injuries to his knee and elbow the past four years, and it's because of Cincinnati's gradual decline up front.
The Bengals' pass protection was horrendous last season, and it wasn't until the end of the season when the team finally discovered a running game behind starting tailback Cedric Benson.
| | |
| --- | --- |
| | |
| | Tom Hauck/Getty Images |
| | Keith Rivers missed the final nine games of the 2008 season with a broken jaw. |
This year the team will have a lot of new faces in new places. Andrew Whitworth will move from guard to left tackle, while rookie first-round pick Andre Smith is penciled in at right tackle. Nate Livings will take Whitworth's spot at left guard and Bobbie Williams will remain at right guard. There is competition at center, but Kyle Cook is the favorite to win that job.
The offensive line could be the team's biggest litmus test. If the unit plays well and jells early, the Bengals could get off to a fast start. If not, it could be a long season in Cincinnati.
3. Is Cincinnati's defense legit?
Despite just four victories, the Bengals finished No. 12 in overall defense in 2008. The ranking was especially impressive considering the unit got little help from its offense last season.
With the addition of some key veterans like Roy Williams and the return of former first-round pick Keith Rivers from a jaw injury, Cincinnati believes it has the potential to field a top-10 defense.
But when you look closer, you notice a few glaring holes.
For starters, Cincinnati was unable to generate a pass rush last season. The Bengals had just 17 sacks in 16 games, which was tied for the second fewest in the NFL. Their defense also was No. 21 against the run in 2008, as opponents were often able to get the lead early and run out the clock.
With the offense expected to put up points this year, Cincinnati's defense has a shot to improve upon those weaknesses.
Market watch
At a ti
me when some are wondering if Ochocinco, 31, is starting to hit a wall, the charismatic receiver arrived to camp this summer in arguably the best shape of his career.
After suffering through injuries and overall unhappiness in Cincinnati last season, Ochocinco dedicated himself to a strict offseason workout regiment in Los Angeles. The results are already apparent in training camp as Ochocinco has been explosive and extremely tough to guard in single coverage.
With the physical aspect in tow, the only concern is whether Ochocinco will remain happy and focused the entire season. Winning early would help.
Newcomer to watch
Ochocinco has a new running mate this year in Laveranues Coles. The Bengals signed Coles to a four-year, $28 million contract after losing veteran receiver T.J. Houshmandzadeh to free agency.
| | |
| --- | --- |
| | |
| | AP Photo/Tom Uhlman |
| | Wide receiver Laveranues Coles has big shoes to fill as he replaces T.J. Houshmandzadeh. |
Coles has big shoes to fill as Houshmandzadeh recorded at least 90 catches in each of the past three seasons. At this point in his career Coles, 31, is more of a 60- to 70-catch receiver. So the Bengals may need additional help to replace Houshmandzadeh's production.
But Coles' veteran presence could help steady a relatively young receiver corps.
Observation deck
HBO is in Georgetown, Ky., this summer to film its popular "Hard Knocks" television series. The Bengals have opened their doors completely to the network during training camp and production crews and cameras are everywhere. It remains to be seen whether this causes a distraction or helps the team narrow its focus. But Bengals team officials say so far everything has gone smoothly in the first weekend of filming. ... As of Sunday, Smith continues to be the lone absentee for the Bengals and in the AFC North as a whole. He's missed three days of training camp so far and most expect it to be a lengthy negotiation ... Look out for fifth-year receiver Chris Henry. According to his teammates and coaches, the talented receiver has finally matured on and off the field and had the finest offseason of his career. Even as the third receiver, Henry has a chance to put up good numbers this year in the Bengals' pass-heavy offense. ... A primary reason for Cincinnati's lack of pass rush is due to the struggles of starting defensive ends Antwan Odom and Robert Geathers. The pair combined for just 5.5 sacks in 2008 but are aiming for better production this season.
ESPN's Cris Carter discusses the Bengals' wide receivers.
August, 20, 2008
8/20/08
4:00
PM ET
Posted by ESPN.com's James Walker
The hard working staff at ESPN.com's Blog Network visited every NFL training camp this summer to bring the readers the latest issues and trends with their favorite teams. The final camp confidential was published Monday with the Tennessee Titans.
So in case you missed it, here are the overviews of all four training camps in the AFC North:
1. The Baltimore Ravens (July 26 )
2. The Cincinnati Bengals (Aug. 2)
3. The Pittsburgh Steelers (Aug. 5 )
4. The Cleveland Browns (Aug. 17)