December, 30, 2011
12/30/11
11:00
AM ET
Steelers safety
Troy Polamalu
and Ravens linebacker
Terrell Suggs
are considered the top game plan nightmares, according to ESPN Insider's

KC Joyner
.
Polamalu and Suggs were among the four players mentioned in the article, along with Detroit defensive tackle
Ndamukong Suh
and San Francisco cornerback
Carlos Rogers
.
Some might question the selection of Polamalu this year. He has one interception, well below his seven picks from last season, when he was the NFL Defensive Player of the Year.
As Joyner explains: "So far this year, Polamalu has been targeted for 33 passes on plays in which he was in direct coverage (meaning when he has primary coverage responsibility on the play rather than providing over the top help for another defender). Steelers' opponents have gained only 246 yards on those passes, or 7.5 yards per attempt (YPA)."
Suggs has had a career season with 13 sacks, six forced fumbles and two interceptions. Joyner points out that Suggs is equally strong rushing on the right and left sides, which is an undervalued skill among pass rushers.
September, 25, 2011
9/25/11
8:30
PM ET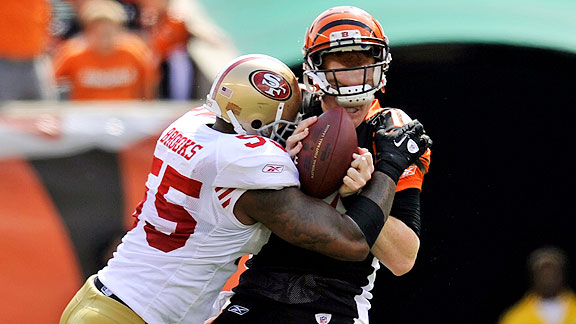 Jamie Sabau/Getty Images
CINCINNATI --
Who Dey?
No, the Bengals' rallying cry today was:
Where Dey?
The Bengals played before 43,363 at Paul Brown Stadium, their smallest crowd for a home opener in 30 years. And the Bengals failed to convince football fans in Cincinnati to change their minds in a
13-8
-- wait, a yawn -- loss to the
San Francisco 49ers
.
It's hard to generate a buzz in the community when the home team fails to score a touchdown. It's difficult to build excitement when the team produces more punts (seven) than offensive points (six).
This was the Bengals' chance to make a strong first impression in front of the home crowd with their young quarterback and wide receiver. Instead, they threw away the opportunity more times than
Andy Dalton
threw a fourth-quarter pass to the 49ers (which was twice).
A solid on-field performance was required after such an embarrassing week off of it. Starting wide receiver
Jerome Simpson
had
a drug bust at his home
, and running back
Cedric Benson
received a three-game suspension from the NFL, which he plans to appeal.
But the Bengals' mistake-filled loss in front of more than 20,000 empty seats only added to their miserable week.
[+] Enlarge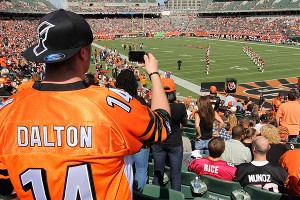 AP Photo/Tom UhlmanA Bengals fan takes a photo just before Sunday's game against the 49ers. The Cincinnati crowd was sparse in the upper deck.
"We can't control fans coming to watch our game," Bengals middle linebacker
Rey Maualuga
said.
Actually, Rey, you can. It's about winning. It's about finishing games. It's about responding to adversity like the rest of the AFC North.
The Steelers rebounded from a rout in Baltimore by shutting out Seattle. The Ravens shook off a deflating loss at Tennessee by stomping St. Louis. And the Browns moved past a fourth-quarter breakdown against Cincinnati to reel off two wins.
The Bengals, though, looked like a young team that had gone through a week filled with distractions -- something coach Marvin Lewis wouldn't agree with.
"It had nothing to do with it," he said. "I don't think any of that can keep us from converting a third down."
Third downs have become a nagging problem. The Bengals converted once on 10 chances a week after going 1-for-11 on third downs.
The real trouble spot is finishing games. A week after Cincinnati couldn't complete the comeback in Denver, it was like a repeat alongside the Ohio River.
There were three plays in the fourth quarter that caused the Bengals to drop to 1-2 on the season:
The biggest error by the defense came with about five minutes left when they didn't cover tight end Vernon Davis -- the only player on the 49ers offense that consistently hurt Cincinnati -- which resulted in a 20-yard pass into the red zone and led to a 7-yard touchdown run by Kendall Hunter to put the 49ers ahead 10-6.

One play after the touchdown, Dalton threw a bad pass right to Carlos Rogers even though the San Francisco cornerback had better position on the sidelines than intended receiver Andre Caldwell. The 49ers turned Dalton's first career interception into a field goal, extending the lead to 13-6.

On the Bengals' final drive, Dalton connected with tight end Jermaine Gresham for 22 and 17 yards to move into San Francisco territory with under two minutes left. But Gresham didn't look for the throw to his back shoulder on the third pass of that series, and it was intercepted by San Francisco's Reggie Smith.
"We're almost there," Maualuga said. "We don't happen to have that finish that we're looking for. We have all the qualities of having a good team. We're just not finishing."
Dalton was nearly perfect on the opening drive of the game, completing 5 of 6 passes for 61 yards. After that, he was 12-for-26 for 96 yards and two interceptions.
"We started fast, which is what you come out to do," Dalton said. "We were flat after that. We couldn't do the things we wanted to do."
Dalton didn't resemble the rookie quarterback who threw for 332 yards at Denver last Sunday.
"In the fourth quarter, Andy did some things we [knew we] might go through at some point," Lewis said. "But he will come back out of it and be fine."
Other issues can't be as easily dismissed. The Bengals allowed Simpson to play, and he managed one pass for 6 yards.
Still, his status for future games is uncertain because the investigation involving 2.5 pounds of marijuana shipped to his house is ongoing. Simpson was not made available to reporters in the locker room.
"Whatever course of action is taken when the time comes will be dealt with accordingly," Lewis said.
Meanwhile, Benson is appealing his three-game suspension from the NFL on Tuesday and has filed an unfair labor practice charge with the National Labor Relations Board against the NFLPA, saying he shouldn't be subject to discipline for conduct that occurred during the lockout. He had been arrested in July for allegedly punching a former roommate in downtown Austin and later served five days in a Texas jail.
"There were some things in the Collective Bargaining Agreement that we were not made aware of, which is really no surprise," Benson said. "That falls on the PA [Players Association]. You would think that they are here to support you and have your back. That's what a union does. I guess in my case that it's different."
These aren't exactly the headlines that the Bengals want to see when they're trying to win back fans. It's been an ongoing problem when you lead the NFL in arrests since 2000 and your starting quarterback takes an early retirement in the offseason.
Players acknowledged noticing the empty seats. It would be hard not to. Only about one-quarter of the upper deck had fans in it.
"We're going to keep playing hard if it's one person out there or 70,000," cornerback
Leon Hall
said. "There's a lot of things to get excited about with this team. I have a good feeling about this team."
The challenge for the Bengals now is to make their fan base believe that.
July, 25, 2011
7/25/11
1:58
PM ET
»
NFC
:
East
|
West
|
North
|
South
»
AFC
:
East
|
West
|
North
|
South
»
Unrestricted FAs
Readiness factor:
The Steelers should be fine. Coming off a Super Bowl appearance, they are well-rested and running the same offense and defense as in recent seasons. For years the Steelers have thrived on continuity, and that should come in handy this fall. Pittsburgh will not be a major player in free agency, so that's not an issue. Like the Ravens, if the Steelers had to line up and play a game next week, they could.

Biggest challenge:
The Steelers were fine up until recently, when receiver Hines Ward and linebacker James Harrison both made headlines in separate incidents.
Ward was arrested
for driving under the influence in Georgia, and
Harrison made controversial remarks
about many people, including NFL commissioner Roger Goodell, Steelers quarterback
Ben Roethlisberger
and running back
Rashard Mendenhall
. Pittsburgh, which has been a model organization for years, has had its share of controversies the past three seasons. This is another example of the team having to band together and
handle its issues internally
before they get worse.
Who's the kicker?
Pittsburgh will need to find a kicker for the 2011 season.
Shaun Suisham
is a free agent after filling in last season for
Jeff Reed
, who was cut. Reed was one of the few kickers who did well in Heinz Field, which is one of the hardest stadiums to kick in. The Steelers didn't draft a kicker, which means they have a short time to search for a solution in free agency.
Key players without contracts for 2011:
Starting cornerback
Ike Taylor
is the only big name for the Steelers. He is an unrestricted free agent and is looking for market value, which could price him out of Pittsburgh. The Steelers have several younger and cheaper alternatives at cornerback, such as
Carlos Rogers
and
Richard Marshall
. Offensive lineman
Willie Colon
is another interesting name. He's been a versatile starter for Pittsburgh at guard and tackle. Tailback
Mewelde Moore
will probably test the market as the Steelers look to get more carries for backup
Isaac Redman
this season.
June, 18, 2011
6/18/11
8:00
AM ET
Let's see what's in
our AFC North inbox
this week.

Eric Brill from Pittsburgh
wants to know if
Crezdon Butler
can win a starting cornerback job with the
Pittsburgh Steelers
.
James Walker:
Eric, first Butler needs a chance to compete, and that will depend on what happens in free agency. I expect the Steelers to make a push for
Ike Taylor
, and if he returns, Taylor and
Bryant McFadden
are the starters. Otherwise, Pittsburgh
may look to secondary options
like
Carlos Rogers
and
Richard Marshall
, and one of those players would take a starting role. But if Pittsburgh doesn't make a move in free agency, Butler has as good a chance as anyone in Pittsburgh.
---
Mike Diaddigo from Chantilly, Va.,
writes: Should the Steelers consider going after Terrelle Pryor in the supplemental draft?
Walker:
Mike, the Steelers are probably the one team in the division that I cannot see taking on a project like Pryor. They are set at quarterback and have plenty of backup options in
Dennis Dixon
,
Byron Leftwich
and
Charlie Batch
.
---

Russell Goodacre from Ijamsville, Md.,
writes: Do you agree with
LaMarr Woodley
's comments
on the NFL Network
about how
Joe Flacco
will never lead the
Baltimore Ravens
to a Super Bowl?
Walker:
I would definitely avoid making predictions for the span of an entire career, Russell. I only make them year-to-year, and as of June and before free agency, the Ravens right now are on my short list of title contenders. Overall, I believe Flacco, 26, will only get better as a quarterback.
---
Jad from Chicago
wants to know if the Ravens could go after free-agent defensive end
Ray Edwards
.
Walker:
I don't see that as a match, Jad. Edwards spent most of his career as a pass-rushing defensive end in a 4-3 defense, and the Ravens switch back and forth between a 3-4 and 4-3. If Edwards comes to the AFC North, he's
probably a better fit
for the
Cleveland Browns
.
---

Gabe from Iowa
writes: With the Bengals wanting a power running game, wouldn't it be wise for them to target free-agent fullback
Lawrence Vickers
?
Walker:
Gabe, it depends on whether the Bengals believes Vickers is a good fit in the West Coast offense. Apparently, Cleveland's coaching staff doesn't believe that's the case, and both Ohio teams share many of the same offensive principles. I would consider Vickers in Cincinnati, especially since the Bengals really want to run the football. Vickers is one of the top run-blocking fullbacks in the league.
---
Becky from Galloway, Ohio,
writes: Any chance the Bengals bring
T.J. Houshmandzadeh
back to help the younger receivers?
Walker:
This is unlikely, Becky. The Bengals are set on getting younger at the position, and it would seem like an odd move to cut one 30-plus receiver (
Chad Ochocinco
) for another (Houshmandzadeh). In my conversations with Houshmandzadeh last season, I also sensed he's set on competing for a title at this point in his career, and the Bengals are not title contenders.
---

Mark from Canton, Ohio,
wants to know what makes the Browns' receivers so bad?
Walker:
There are several factors involved, Mark. The biggest are talent, athleticism and poor choice of roles in the offense.
Brian Robiskie
and
Mohamed Massaquoi
are not considered elite, NFL athletes at the receiver position. Neither is very fast or has the type of size and athleticism to out-jump defensive backs for the football. Those are two important tools for making plays at the position. Also, the Browns have run a shoddy passing offense and put Massaquoi and Robiskie in roles that are too big. From what I've seen, Massaquoi is not a true No. 1 receiver, but he's asked to play that role in Cleveland. Robiskie also may be better suited as a No. 3 receiver or as a reserve coming off the bench.
---
Justin from Colorado Springs, Colo.,
writes: I know you said Tressel wouldn't be a good translation into a head coach job in the NFL, but what are you thoughts about him being an offensive coordinator?
Walker:
Justin, the punt is the most important play in football, according to Jim Tressel. Do you really want him running your NFL offense? It's a bad match.
---
Comment and complaint department
DG from Baltimore
writes: James, I'm sick and tired of Joe Flacco taking so much heat. His stats are almost identical to
Matt Ryan
's, and he also has won 4 playoff games compared to Ryan's zero. Sure, the guy isn't perfect and hasn't come through in the clutch, but he is the best this Ravens organization has had, and he is taking too much heat. This town has been blessed with the likes of Johnny U and even a Bert Jones, but c'mon, give this kid some time.
Mike from Ewa Beach, Hawaii,
writes: Joe Flacco is a really good QB both statistically and by winning percentage. Whether he wins a Super Bowl or not is to be determined but he's still a really good QB and the best Baltimore has seen since Johnny Unitas.
Carson Palmer
was always overhyped and overrated a bit but has zero playoff wins and only two winning seasons. Flacco already has more winning seasons and playoff wins than that guy. Besides, even if Flacco wins multiple championships someone will say it was because of the defense. Haters will hate. He still has to get past the Steelers with
Ben Roethlisberger
and that's a fact.
Walker:
I agree, DG and Mike. This Flacco bashing is starting to get out of hand. First it was media and fans, but now opposing players are getting involved, and that's not the norm. Flacco is a good, young quarterback finishing his third season. He's had more success so far than Ryan and
Josh Freeman
, who are revered, and there's still plenty of room to grow. I think Flacco will be fine in Year 4 and beyond.
---
Brandon Crawford from Baltimore
writes:
Dhani Jones
should
stop worrying about Flacco
and trying to improve to help his pathetic franchise. I mean after they were
voted the worst franchise
by ESPN.
Walker:
Brandon, Jones' remarks surprised me more than Woodley's, even though Flacco has had some bad games against the Bengals and Steelers. Cincinnati is coming off a 4-12 season, and the Bengals have much room to trash talk about other playoff teams and playoff quarterbacks. I thought it was unnecessary.
---
Chris P. from Marietta, Ga.,
writes: I would gladly give you 60 players that are better at his respected position than Ben Roethlisberger in a more organized list than
what Dan gave you.
Walker:
Sorry, Chris. But we're not doing this in the blog every week. Dan talked tough, so I called him out, and he later admitted he couldn't name 60. His list of 52 players came up mostly lame, also, according to our community. I'm sure your list would, too.
---
410-Monster from Baltimore
writes: JW you don't want it in "Madden." You should set up a tourney.
Walker:
Are you sure about that, 410? I was no slouch. The problem is it takes a lot of time and practice to be good in "Madden." One game takes nearly an hour. And as I got older and my job became more intense coming to ESPN three years ago, I no longer had that kind of time during the season. If I wait and buy the game in February once football season is over, it's too late and not nearly as fun. So I retired and just use my XBox now to watch movies. But don't tempt me.
---
AFC North "Homer of the Week"
This week's biggest homer comes from a comment I saw in one of this week's blog entries.
Enjoy.
Noburghfan
writes: With two Ohio teams leading the AFCN at season's end, what will the media do? Quit reporting the game's outcome? No, they will have to admit the obvious! The favorites [Ravens and Steelers] are overdue to relinquish their position! They are not and have not been the best in this division, just the preferred!
Walker:
Noburghfan, you are a rarity to predict the Browns AND the Bengals will be leading the AFC North at the end of the season. And that last sentence. ... I don't even know what that means. But congrats on being our "Homer of the Week."
If you have any future questions, complaints, homer or hater comments, feel free to send them to our
AFC North inbox.
June, 17, 2011
6/17/11
1:30
PM ET
In our final "Hope and Concern" segment, we take a look at the reigning AFC champion
Pittsburgh Steelers
.

Biggest reason for hope: Veteran talent and experience
The Steelers are built to win now. They have been to two Super Bowls in the past three years and should be a contender once again in 2011. Quarterback
Ben Roethlisberger
is distraction-free this year, the Steelers don't have many big-name free agents and Pittsburgh's extended offseason may actually keep this team healthy and well rested. Continuity is extremely important during this unique year and Pittsburgh has it perhaps more than any NFL team. The Steelers should be able to hit the ground running and contend for another division title whenever the season starts.
Biggest reason for concern: Cornerback
Pittsburgh doesn't have many big-name free agents, but the situation involving cornerback
Ike Taylor
could be problematic. The team's No. 1 corner
is seeking market value
, which could price Taylor out of Pittsburgh. Solid starting cornerbacks are getting paid $8-$10 million per season. Taylor, 31, may be able to get that number (or close to it) elsewhere, but it doesn't appear to be a price tag the Steelers are willing to match. Losing Taylor would leave a big hole in the defense. The Steelers drafted a pair of rookie corners in
Curtis Brown
and
Cortez Allen
, but signing a veteran starter is the safest bet. Free agents such as
Richard Marshall
and
Carlos Rogers
could
be viable options
to replace Taylor.
For a recap, check out our "Hope and Concern" blogs for the
Ravens
,
Bengals
and Browns.
June, 9, 2011
6/09/11
1:30
PM ET
Earlier this week, the AFC North blog broke down a list of
top free-agent cornerbacks
. Two players we identified were
Richard Marshall
and
Carlos Rogers
, who could be intriguing options for the
Pittsburgh Steelers
if they do not re-sign veteran
Ike Taylor
.

Rogers

Marshall
On Thursday we caught up with Matt Williamson of Scouts Inc. to get his take Marshall and Rogers.
Matt, let's start by getting your general thoughts on both corners and whether they fit in Pittsburgh.
Matt Williamson:
Rogers and Marshall are probably the best two guys out there who would be cheaper corners. They're Steelers type of signings. They came into the league as high picks and Pittsburgh didn't end up getting them. But now they're coming off their first contract and still have a good pedigree. You can see why they were high picks. They're not busts at this level. The problem with both of those guys is neither had a very good year. I think both are better players than they showed last year. I'm sure some of that was playing on a bad team, especially with Carolina. Their offense always went three-and-out and Marshall was on the field a ton.
Could down years by Marshall and Rogers play to the Steelers' advantage in negotiations?
Williamson:
Yes. The Steelers probably liked both guys coming out of college, they're not far removed and coming off down years. But all of a sudden they come to Pittsburgh and have
LaMarr Woodley
and
James Harrison
coming off the edge and their job gets a lot easier. So I think that could play very much to Pittsburgh's advantage and something they could be strongly considering.
What are some of the differences between the two corners?
Williamson:
Rogers drops a lot of interceptions, which would fit right in with how the Steelers have been with Taylor. I would say Rogers is probably a little bit better in terms of man coverage, where Marshall is a little bit better off as a zone guy, which the Steelers are going to do more of. But there's not a ton of huge differences. I think they're both in the same boat. Rogers had the better year of the two. Marshall struggled and he took a lot of penalties, too, and Rogers is better in that regard.
There is Williamson's take. Now we want yours. Would Marshall and/or Rogers be viable replacements if Taylor leaves Pittsburgh in free agency? Share your thoughts in the comments section below.
June, 7, 2011
6/07/11
11:00
AM ET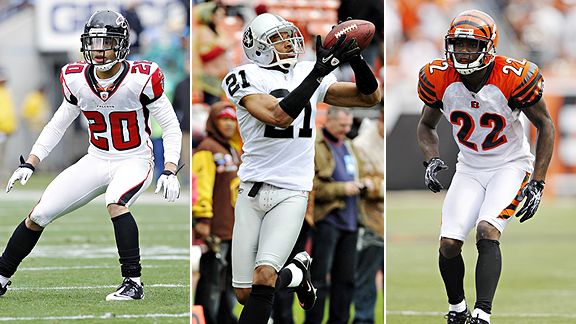 Getty ImagesBrent Grimes, Nnamdi Asomugha and Johnathan Joseph would be the cream of this year's free-agent crop of corners.
To some degree, every team in the AFC North could be looking at free-agent cornerbacks. The glamour position has several solid players who could hit the open market this summer.
Although a new collective bargaining agreement could change who's restricted and unrestricted, here is the AFC North blog's ranking of top available corners:
1. Nnamdi Asomugha
Skinny:
Asomugha is far and away the top cornerback on the market. Quarterbacks stopped throwing his way years ago. Therefore, Asomugha will immediately cut off half the field for whichever teams signs him. But it will come at a very steep cost.
2. Brent Grimes
Skinny:
Grimes worked very hard as an undrafted free agent to become a Pro Bowler in 2010. He's recorded 11 picks in the past two years. Expect the Falcons to do all they can to make sure Grimes remains in Atlanta.
3. Johnathan Joseph
Skinny:
Joseph is 27 and entering his prime. He is one of the best young coverage corners in the league and has good hands to create turnovers. It's doubtful the Bengals would be willing to pay $8-$10 million per year to keep Joseph.
4. Ike Taylor
Skinny:
Taylor has been consistent in Pittsburgh and now wants market value. He may price himself out of Pittsburgh this summer by chasing a big-money deal. At 31, this is probably Taylor's last chance to get a big contract. So you can't blame him if he doesn't accept a hometown discount.
5. Antonio Cromartie
Skinny:
Cromartie is long, good in coverage and very athletic. He could thrive in the right system but may struggle in others. Poor tackling prevents Cromartie from being one of the NFL's best at his position.
6. Richard Marshall
Skinny:
Marshall has playmaking ability, and I think in the right system he could be a great under-the-radar signing. He's a solid tackler (88 in 2009 and 2010) and good with the ball in his hands. I think Marshall could be a potential fit in Pittsburgh if Taylor leaves the Steelers.
7. Carlos Rogers
Skinny:
Rogers is a solid player who has never been able to put it all together and become a great corner. Rogers, 29, is comparable to Taylor in that both corners have poor hands. Rogers has just six interceptions the past five seasons.
8. Josh Wilson
Skinny:
Wilson was solid for the Ravens last year after taking over for
Fabian Washington
. Baltimore drafted
Jimmy Smith
in the first round, increasing the chances that Wilson will be allowed to test the open market. He could be a decent No. 2 corner.