November, 27, 2013
Nov 27
10:00
AM ET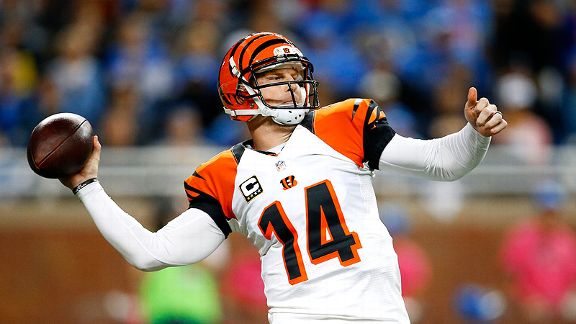 AP Photo/Rick OsentoskiThe Cincinnati Bengals are counting on Andy Dalton to return to the form that helped lead the team to a 4-1 record in October.
CINCINNATI -- Earlier this week,
Cincinnati Bengals
players like cornerback
Chris Crocker
were adamant in pointing out the urgency they need to play with throughout the
month of December
.
"It's all about winning in December," Crocker said. "Let's win out and see where the chips lay. Why can't we win out? I don't see why we can't."
If you ask some Bengals fans and most NFL analysts, they'll give you one big reason why they don't believe Cincinnati will be able to go 5-0 to close out the regular season: No. 14.
That's right. To some, the primary obstacle in the way of end-of-season perfection for the Bengals is
Andy Dalton
, the player who has quarterbacked the franchise into the playoffs each of the past two seasons, and who constantly is trying to prove himself to those who consider him just another member of a mostly failed 2011 quarterback draft class.
For that reason, as the Bengals gear up for a stretch run that could give them a first-round bye and home-field advantage in the playoffs, an important question has to be asked.
Can December Andy mimic October Andy?
As we've written countless times in the past month, October Andy was indeed a dandy. Through the first four games of that month, Dalton threw for 1,243 yards and 11 touchdowns. He also completed 67.9 percent of his passes, won four games, had a passer rating higher than 116.0 and a QBR above 83.0. He was, quite simply, brilliant. His play was so sharp back then that on the final day of the month, hours before the Bengals were set to take on the Dolphins in a road Thursday night game, he was named the AFC's Offensive Player of the Month.
And, yes, even though, comparatively speaking, he didn't look as good overall against the Dolphins and ended up taking the game-winning sack for a safety in overtime, Dalton still had a rather special performance in the 22-20 loss. Aside from not completing a touchdown pass and getting intercepted three times, he threw for 338 yards, marking the fourth straight game he had gone over the 300-yard passing mark.
Overall, October Andy was Good Andy.
But now here comes December with all of its postseason potency. If Cincinnati hopes to set itself up for the type of playoff seeding Crocker believes it deserves, then it will have to play its best ball across the next five weeks. That's especially the case for Dalton and a Bengals offense that has looked rather anemic in the past three games.
One look at Dalton's previous December stats and it doesn't appear the third-year star should have any problem showcasing even a sliver of the success that made him and his team so good about two months ago.
After a rocky December as a rookie in 2011, Dalton was among the difference-makers last season when the desperate Bengals were in need of a strong final month just to secure a playoff berth. One year after going 2-2 in the month, Dalton went 4-1 during December 2012. The lone loss came after the
Dallas Cowboys
made a field goal in the final seconds to win 20-19.
While the level of desperation may be different this December, the Bengals are looking for Dalton to thrive under similar pressure-packed moments during this one. This time around, the pressure on Dalton mainly stems from the fact that so many are fed up with his play from the past three games. In them, he's thrown eight interceptions and been sacked 10 times. Across the latter two of those games, he's completed fewer than 50 percent of his passes and hasn't posted a QBR higher than 18.0.
Weather factored heavily in Dalton's inability to move the ball in those two games. Windy conditions at Baltimore and windy and rainy conditions against the Browns sent some of his passes sailing and forced others into the hands of defensive backs.
Although weather shouldn't be a concern this weekend in San Diego (the forecast calls for partly cloudy skies and a delightful high of 71 degrees Sunday), it could be the rest of the season. Farmer's Almanac projects cold, damp conditions for all of December in the Ohio Valley. It should be noted that after Sunday's game, the Bengals are home three of the next four weeks. Their only remaining road game is at Pittsburgh.
Throughout his career, Dalton has performed better in warmer games. In games with temperatures 50 degrees or higher, he has a 20-14 record, an 85.1 passer rating and a 52.5 QBR. In games with temperatures at 49 and lower, he has a 5-5 record, a 75.4 passer rating and a 32.9 QBR. Dalton's last three sub-49-degree wins came last December, though; a sign that perhaps he's turning a corner in cold-weather contests.
Whatever the conditions and whomever their opponents are, when it comes to the next five weeks, the Bengals can only hope that Dalton turns into the same man who torched through this October.
March, 29, 2011
3/29/11
1:10
PM ET
Pittsburgh Steelers
quarterback
Ben Roethlisberger
often calls teammate
Heath Miller
the best tight end in football. But according to ESPN.com's positional Power Rankings, Miller is not even in the top 12 at his position.
Miller came in at No. 13 in this week's ranking of the NFL's best tight ends. ESPN.com senior writer John Clayton and I were the only two voters who had Miller on their ballots. Clayton voted Miller ninth and I ranked Miller seventh.
This confirms what most of us in the AFC North blog already suspected: Miller remains one of the league's most underrated players. Injuries hurt his numbers in 2010 (42 receptions for 512 yards). But Miller was recently an AFC representative in the Pro Bowl two seasons ago with 76 receptions for 789 yards and six touchdowns.
Miller is not flashy and will never catch 100 passes per season playing in Pittsburgh's offense. But in my opinion, Miller is one of the NFL's most complete tight ends and worthy of being on this list.
Miller makes the most of his limited opportunities. He's sure-handed and great at running downhill after the catch. He's also a phenomenal run- and pass-blocker, and essentially serves as Pittsburgh's third offensive tackle.
The Steelers know how important Miller is to their offense. His contributions cannot be measured strictly by numbers because Miller adds much more with his toughness, blocking ability and being a safety valve over the middle for Roethlisberger.
Miller may not be tops at his position. But I would not select 12 tight ends for my team before taking Miller.
ESPN.com's Tight End Power Rankings
1.
Jason Witten
,
Dallas Cowboys
2.
Antonio Gates
,
San Diego Chargers
3.
Dallas Clark
,
Indianapolis Colts
4.
Vernon Davis
,
San Francisco 49ers
5.
Chris Cooley
,
Washington Redskins
6.
Tony Gonzalez
,
Atlanta Falcons
7.
Kellen Winslow
Jr.,
Tampa Bay Buccaneers
8.
Marcedes Lewis
,
Jacksonville Jaguars
9.
Brandon Pettigrew
,
Detroit Lions
10.
Jermichael Finley
,
Green Bay Packers
Walker's Tight End Power Rankings
1. Jason Witten, Dallas
2. Antonio Gates, San Diego
3. Dallas Clark, Indianapolis
4. Kellen Winslow Jr., Tampa Bay
5. Vernon Davis, San Francisco
6. Tony Gonzalez, Atlanta
7. Heath Miller, Pittsburgh
8. Chris Cooley, Washington
9.
Zach Miller
,
Oakland Raiders
10.
Dustin Keller
,
New York Jets