AFC North:

Chris Henry's death
December, 17, 2009
12/17/09
5:11
PM ET
NFC East blogger Matt Mosley
is familiar with what the
Cincinnati Bengals
are going through
following the passing
of receiver
Chris Henry
. Two years ago,
Washington Redskins
safety
Sean Taylor
also
died during the season
.
Mosley provided the AFC North blog great insight on how the Redskins handled their loss and how the Bengals can learn from those experiences.
Matt Mosley:
I remember the Redskins being in a state of shock after Sean Taylor's death. It was similar in the fact that Taylor was away from his teammates in Miami because of an injury that he was recovering from. I think the fact that he hadn't been around his teammates as much made it harder for them to accept what had happened. Players such as former University of Miami stars
Clinton Portis
and
Santana Moss
took it harder than anyone. I know Moss had already been having a difficult season and he was almost despondent after Taylor's death.
Taylor was obviously a more accomplished player than Henry. And he didn't have a particularly troubled past -- as some people portrayed it to be at the time. One of the most important things that former Redskins coach Joe Gibbs did was allow his players time to grieve. He encouraged everyone to talk about Taylor. I recall hearing that safety coach Steve Jackson could barely make it through a meeting. But the grief and all the tears definitely brought those players closer together.
After a gut-wrenching loss to the Bills, the team flew to attend Taylor's funeral.
Todd Collins
had become the quarterback because of an injury to
Jason Campbell
. The Redskins went on an improbable winning streak and somehow made the playoffs. I know they used their pain and their love for Taylor to drive them during those weeks. I always think it seems trite when we immediately start talking about how teams are going to rally around a tragic situation. I don't look it at that way. But I do think the Redskins played with more passion the rest of the way in order to honor their fallen teammate.
I thought it was one of Gibbs' finest moments in a Hall of Fame career. He let players see him grieving -- and that was important. It let them know that it was OK to open up to each other and put a voice to what they were feeling. With the death of Bengals defensive coordinator Mike Zimmer's wife and now this awful tragedy, the Bengals are a team that has seen a ridiculous amount of adversity. I think this is a team that performs at a high level no matter what the circumstances. But I do think that the Bengals will face a lot of things this week and next that are nearly impossible to prepare for. I think coach Marvin Lewis would be wise to give Gibbs a call. He's one of the few coaches out there who could relate to how Lewis is feeling right now.
December, 17, 2009
12/17/09
3:08
PM ET
ORCHARD PARK, N.Y. --
Chris Henry
caught two touchdown passes last year for the
Cincinnati Bengals
. Both of them were thrown by
Ryan Fitzpatrick
.
A few hours after Henry died Thursday morning, Fitzpatrick stood at his stall in the
Buffalo Bills
' locker room and tried to comprehend that his former teammate was gone.
"I'm still trying to grasp what really happened because it's such tough news and a shock to hear," Fitzpatrick said.
"It was very sad. Tragic news."
Henry died of injuries suffered Wednesday near Charlotte, N.C. He fell out of a pickup truck during what police have called a domestic dispute with his fiancée. Henry was 26.
"It definitely makes you stop and think," Fitzpatrick said. "Everybody in this locker room is affected by it, even the guys that didn't know Chris on a personal level. When the news broke, everybody was gathered around the TV, watching.
"It's always something you never want to see happen, especially somebody in the NFL brotherhood. It affects everybody more than people realize."
Henry wasn't with the team because he's on injured reserve with a broken arm.
The Bengals extended a second chance to Henry, who they released before the 2008 season after he'd been arrested a fifth time and a judge called him "a one-man crime wave."
"I think for the guys that know him, it's very different than the public perception of him," Fitzpatrick said. "The trouble that he got in the past and all that, everybody knows that he's a great guy. He really had his share of problems but really got his life on track.
"Obviously, everybody's hearts and thoughts and prayers go out to his family, his fiancée, his kids. It was really tough news."
Fitzpatrick said he will remember Henry's immense talent and recalled Bengals quarterback
Carson Palmer
used to call Henry "the next
Randy Moss
."
"The way he played on the football field, the passion that he played with, how much he loved the game and really the chance that the Bengals gave him because they knew what kind of person that he was and the talent he possessed," Fitzpatrick said.
December, 17, 2009
12/17/09
2:21
PM ET
As the news
of
Cincinnati Bengals
receiver Chris Henry's passing makes its way around the NFL, more people who knew Henry are starting to chime in.
Here are two reactions from Henry's former teammates, defensive lineman
Justin Smith
and linebacker
Ahmad Brooks
, who currently play for the
San Francisco 49ers
:
Justin Smith
"It's sad. He was a talented guy. When I played with him he was a good guy, quiet in the locker room. He kept to himself for the most part. From everything that it sounded like, he was getting back on track and this happens. My feelings go out to him and his family."
Ahmad Brooks
"I was sad to hear. You hate to see somebody go. He was a good guy. We've all made bad decisions throughout our life, but he grew from it, he learned from it and he had a family, so I'm definitely sad to hear that happen. I knew him very well. I'm just sad to hear that and I'll pray for him, I'll pray for everybody."
December, 17, 2009
12/17/09
1:38
PM ET
The Cincinnati Bengals announced that the team will wear a helmet decal Sunday against the San Diego Chargers in memory of receiver Chris Henry, who passed away Thursday morning.

The decal will consist of the No. 15 and is 1.25 inches, according to the team. Henry played with the Bengals for five seasons.
December, 17, 2009
12/17/09
1:12
PM ET
Here are some additional comments Thursday from
Cincinnati Bengals
coach Marvin Lewis and owner Mike Brown on
the passing
of
Chris Henry
:
Lewis
: "It's a very difficult thing with his loss and a young life that won't ever get to reach his full potential. It's a shame. Our prayers are with his family, his mom, his brother and his children as they deal with his loss."
Brown
: "He was someone who we liked and thought could regroup, catch himself, and restart his life. To his credit, I think he did that. It's a terrible tragedy that, just at the time he was running to daylight, if you will, his life was snuffed out."
Chad Ochocinco
and Marvin Lewis talk about Chris Henry.
December, 17, 2009
12/17/09
11:52
AM ET
The
Cincinnati Bengals
are in the midst of one of their best seasons in recent memory.
[+] Enlarge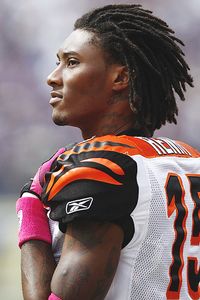 Joe Robbins/Getty ImagesChris Henry was a third-round pick of the Bengals in 2005.
But it's also turning out to be the most painful.
A second member of the Bengals' family passed away this season as receiver
Chris Henry
, 26,
died Thursday morning
. According to a police report, Henry fell out of the back of a pickup truck in Charlotte, N.C., during a domestic incident with his fiancée Wednesday, suffering injuries that led to his death.
In October, the Bengals had to rally their emotions after the passing of Vikki Zimmer, the wife of Cincinnati defensive coordinator Mike Zimmer. Now, the loss of a teammate who spent five seasons with the Bengals provides another shock to the system. Right now football is secondary, but this weekend the Bengals (9-4) will travel to play the
San Diego Chargers
(10-3) in an important game for both teams.
In my recent dealings with Henry, it was clear that he was happy about the present and very excited for the future. Henry realized that his past mistakes meant he had one last shot in the NFL, and it was his plan to make the most of it. He was due to become a free agent in March.
Physically, Henry always had it, and mentally he was starting to get it. Bengals quarterback
Carson Palmer
often called him a young
Randy Moss
and praised Henry for his offseason work and dedication this year.
"He had worked through troubles in his life and had finally, seemingly, reached the point where everything was going to blossom," Bengals owner Mike Brown said Thursday in a news conference. "He was going to have the future that we all wanted for him and he wanted for himself."
But on Nov. 8, Henry broke his forearm in a 17-7 victory over the
Baltimore Ravens
, and I interviewed him briefly in the center of the Bengals' locker room after the game. Henry's family was waiting for him, but he took a few minutes with me anyway to explain how he broke his arm.
Realizing that, I thanked him and let him know I appreciated his time for the interview.
I had no idea that would be the last conversation I would have with Chris Henry.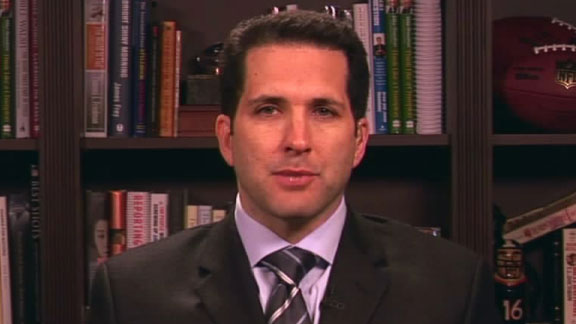 Adam Schefter talks about the league's reaction to the death of Chris Henry.
December, 17, 2009
12/17/09
10:08
AM ET
By
ESPN.com staff
| ESPN.com
Cincinnati Bengals
receiver
Chris Henry
died Thursday,
one day after suffering injures
in a fall from the back of a pickup truck, Charlotte-Mecklenburg police said. He was 26.
Police on Wednesday described the incident as a domestic dispute with his fiancée. Henry was found in the road about eight miles north of downtown Charlotte.