November, 7, 2013
11/07/13
10:45
AM ET
PITTSBURGH -- The
Pittsburgh Steelers
have given up almost 200 rushing yards in each of their past two games. They are No. 31 in the NFL in rushing defense, and
Steve McLendon
takes the Steelers' struggles in a part of the game they have traditionally owned personally.
"If you don't take it personal," McLendon said, "what are you doing here?"
The disgust McLendon expressed over the way teams have run on the Steelers explains why he doesn't care who plays quarterback for Buffalo on Sunday though all signs point to rookie
EJ Manuel
returning to the starting lineup.
"I'm not really thinking about throwing," McLendon said. "We gave up 55 points (at New England). People was running the ball on us. That's what we've got to worry about, stopping the run."
That will be one of the keys to the Steelers beating the Bills.
Buffalo is averaging 145.8 rushing yards per game, second in the AFC, behind the explosive
C.J. Spiller
and the underrated
Fred Jackson
.
Inside linebacker
Lawrence Timmons
described Spiller as a "home-run hitter" and said Jackson will also challenge the Steelers' run defense.
"Jackson has those capabilities too but he's more of an in-between-the-tackles guy," Timmons, the Steelers' leading tackler, said. "He's a balanced back and has good contact balance, too."
"One's just a little faster than the other," McLendon said. "They both can execute the same plays. We have to go out and just execute our game plan."
The Steelers haven't done that nearly enough when it comes to stopping the run, and Dick LeBeau's defense is predicated on forcing teams into second- and third-and-long.
No player was more responsible for the Steelers' dominance in run defense over the last decade than
Casey Hampton
.
The mammoth nose tackle proved to be immovable from the middle of the line, and Hampton made five Pro Bowls while clogging running lanes and freeing up linebackers behind him to swallow up opposing running backs.
The Steelers opted to go with McLendon at nose tackle instead of re-signing Hampton, and he is well aware of the expectations that come with replacing the player affectionately known as "Big Snack."
"You look at Casey, you look at
Chris Hoke
. Both of those guys did an excellent job of stopping the run, especially Casey," McLendon said. "They didn't let anybody score 55 points on them. I've got to go out here and play better, play harder, play faster, play smarter."
McLendon doesn't just take the Steelers' struggles in stopping the run personally. Like his teammates, he shakes his head at criticism of LeBeau.
"The way we can shut that up is to go out here and execute the game plan," McLendon said. "Show that everything we do here does work."
May, 23, 2012
5/23/12
9:30
AM ET
Unlike the other all-time great safety in the division, the Steelers'
Troy Polamalu
is committed to playing this season. But Polamalu did acknowledge to the
Pittsburgh Post-Gazette
that he thinks of the end of his career "all the time."

Polamalu
"People have asked me how many years do you think you can play? My reaction is always, when you live day to day, it's hard to talk years," he said. "It's always been my mantra in life, whether it was my first year as a rookie or year 10, I just live day to day."
It's fair to say that Polamalu, who turned 31, has fewer years ahead in his playing career than behind him. But that won't impact this season. The fact that Polamalu was there for voluntary workouts will.
Polamalu usually skips these practices because he prefers working out with his trainer in Los Angeles. He said he chose to come this year "for obvious reasons."
"We had a lot of our major leadership leave, people that we count on," he said. "I think it's nice for the younger guys to see a familiar face, and, honestly, to get myself better."
This older Polamalu might think of retirement more, but he is also more mature and responsible. He understands the effect of losing the likes of
James Farrior
,
Aaron Smith
and
Chris Hoke
on defense. He understands that the Steelers need him in Pittsburgh and not on the West Coast.
General manager Kevin Colbert said at the NFL owners meetings that he couldn't identify who would become the new leaders on this team. "We're looking for that right now," he said.
Well, the Steelers looked at one when they saw Polamalu entering team headquarters for a workout in May.
April, 11, 2012
4/11/12
10:00
AM ET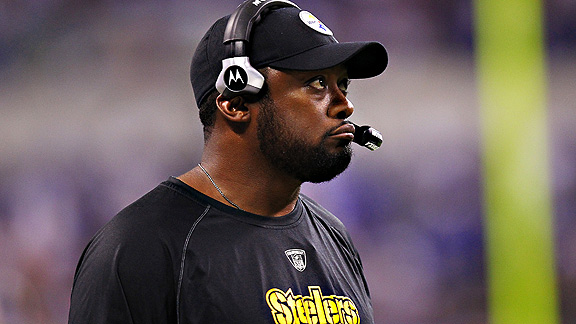 Michael Hickey/US PresswireMike Tomlin and the Steelers need to tap into their draft magic this year more than many.
Nearly a full month into free agency, the Steelers finally signed their first player Tuesday. It was -- yawn --
Leonard Pope
.
Not excited about adding a backup tight end? Well, this is essentially a repeat of last year, when the Steelers' big free-agent signing was wide receiver
Jerricho Cotchery
. Let's face it, Steelers free agency contains as much action as a Sarah Jessica Parker flick. Everyone knows this, and that's why no one is wringing their Terrible Towel over the inactivity.
The Steelers find players in April, not March. They hit on first-round picks every year -- at least in recent memory -- and develop undrafted prospects into starters. No one has built their team through the draft quite like the Steelers this decade. If the season started today, only one of the projected starters (safety
Ryan Clark
) joined the Steelers as an unrestricted free agent.
The Steelers need this remarkable track record in the draft to come through for them again. In some ways, this is the most important draft of the Mike Tomlin era. I'm not saying this is a crucial draft in terms of finding immediate starters. But the pressure is on the Steelers to find "potential" starters for the 2012 season.
The organization lost a piece of its history when it parted ways with wide receiver
Hines Ward
, linebacker
James Farrior
, defensive end
Aaron Smith
, nose tackle
Chris Hoke
and guard
Chris Kemoeatu
this offseason. Some have downplayed these departures because none were major contributors last season. Farrior was a part-time player, Ward was being phased out, Kemoeatu was benched and Smith and Hoke were both injured. The Steelers, though, could have used their experience as backups this season.
The loss of these veteran safety nets makes injuries a major concern. Two starters -- running back
Rashard Mendenhall
and nose tackle
Casey Hampton
-- are candidates to start the regular season on the physically unable to perform list (and miss at least the first six games) after ACL surgeries this offseason. Tomlin has expressed concern about whether right tackle
Willie Colon
and wide receiver
Emmanuel Sanders
can shake their injury histories. And the Steelers have to be worried about
Maurkice Pouncey
's ankle,
LaMarr Woodley
's hamstrings and
Doug Legursky
's shoulder.
If Hampton is placed on the PUP, the starting nose tackle would likely be an out-of-position
Ziggy Hood
. If Legursky is hurt, the current top backup at guard is
John Malecki
. If Colon goes down, the Steelers have to turn to the often-struggling
Jonathan Scott
. If Sanders can't play, the third receiver would be ... well, no one right now. These are all painful scenarios for the Steelers.
This is where the draft comes into play for Pittsburgh. Taking the right college player has always kept the Steelers in the mode of reloading, not rebuilding. No one knows whom the Steelers will select with the 24th overall pick. It could be Alabama inside linebacker
Dont'a Hightower
, Georgia offensive lineman
Cordy Glenn
, Stanford tight end
Coby Fleener
or someone not even linked to Pittsburgh. Based on the Steelers' history, the only certainty is that the pick will become an impact player.
[+] Enlarge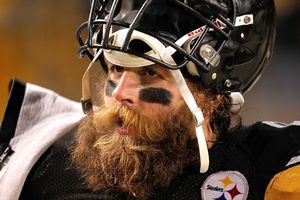 Gregory Shamus/Getty ImagesDefensive end Brett Keisel, taken in the seventh round, is just one of the Steelers' draft finds.
Since 2000, the Steelers' first-round selections have been wide receiver
Plaxico Burress
, Hampton, guard
Kendall Simmons
, safety
Troy Polamalu
, quarterback
Ben Roethlisberger
, tight end
Heath Miller
, wide receiver
Santonio Holmes
, linebacker
Lawrence Timmons
, Mendenhall, Hood, Pouncey and defensive end
Cameron Heyward
. The only one who didn't quite live up to expectations is Mendenhall, and he is hardly a major disappointment, having led the team in rushing for the past three seasons. This great run is more amazing when you consider that only two (Burress and Roethlisberger) were selected in the top half of the first round. Even the Ravens, who are known for excelling in the draft, have had two busts during this span with quarterback
Kyle Boller
and wide receiver
Travis Taylor
.
Steelers general manager Kevin Colbert, one of the underrated decision-makers in the NFL, can't explain this string of success.
"We've been fortunate," he told reporters at the NFL owners meetings. "We are capable as anybody of making a mistake. We never keep score. There's only one score that matters and that's the last game of the year."
If the Steelers had been keeping score, they would realize their success goes beyond the first round. They have come away with current starters in the second round (linebacker Woodley), third round (wide receiver
Mike Wallace
), fourth round (cornerback
Ike Taylor
), sixth round (wide receiver
Antonio Brown
) and seventh round (defensive end
Brett Keisel
). And don't forget about the undrafted finds like Legursky, right guard
Ramon Foster
and running back
Isaac Redman
.
This is why the Steelers don't have to write a $100 million check to free agents. This is why the Steelers can sign one player in the first 28 days of free agency and not sweat about it. Pittsburgh's way of business is about patience and faith. The Steelers believe in their front office to select the right college players and they believe in their coaching staff to develop them. It's a proven system that has led to five AFC North titles in 10 seasons and three trips to the Super Bowl during that span.
As players come and go, the Steelers' goals never change. Like Tomlin always preaches: "The standard is the standard."
"If you have a desire to be in this league for a length of time, you are going to roll with the punches and the ebb and flow, the evolution of the game," Tomlin said at the NFL owners meetings. "Thankfully, I've been in the game long enough to see a little bit of that. Those who are able to sustain success are pliable and flexible."
And the organizations that are able to sustain success are often quiet in free agency and make the most noise in the draft.
April, 6, 2012
4/06/12
2:00
PM ET
Our ESPN NFL Insider Adam Schefter put down his BlackBerry for a few minutes to address the Steelers' draft in
his latest mailbag

. This is what Schefter had to say when asked about Pittsburgh's priority in the draft:
This draft is so deep at defensive tackle that it's easy to see the Steelers looking in that direction on draft day. The one thing about Pittsburgh's defense is that it's aging, quickly -- the Steelers need an infusion of youth and talent. Then again, they also could use some reinforcements to help protect Ben Roethlisberger. But the needs along the defensive line would seem to be the most pressing and if there's a bona fide prospect available, Pittsburgh could pounce on him.
There's no question that the Steelers have depth issues on the defensive line. Nose tackle
Casey Hampton
(ACL) might start the season on the Physically Unable to Perform (PUP) list, which would sideline him for the first six games. Defensive end
Aaron Smith
was released and longtime backup nose tackle
Chris Hoke
retired.
According to
ESPN's Mel Kiper Jr.

, the top defensive tackles in the draft are: Memphis'
Dontari Poe
, LSU's
Michael Brockers
, Mississippi State's
Fletcher Cox
, Michigan State's
Jerel Worthy
and Cincinnati's
Derek Wolfe
. Poe and Cox are expected to be drafted before the Steelers pick at No. 24. Most mock drafts have the Steelers taking Alabama inside linebacker
Dont'a Hightower
in the first round.
April, 6, 2012
4/06/12
10:00
AM ET
I've given my grades out to all the AFC North teams after the first wave of free agency was complete. Now, it's your turn.

Give me your grade and a two-line assessment (good, bad or indifferent) of how the Steelers have fared so far this offseason. You can also send your grade and comment to the
AFC North mailbag
.
This is our final installment of the week-long series, and I will post a fans' report card on Monday.
Here's a recap of the Steelers' offseason:
KEY PLAYERS RE-SIGNED
None
KEY PLAYERS ACQUIRED
None
KEY PLAYERS LOST
WR
Hines Ward
, LB
James Farrior
, DE
Aaron Smith
, CB
William Gay
, NT
Chris Hoke
, G
Chris Kemoeatu
, CB
Bryant McFadden
, WR
Arnaz Battle
, P
Daniel Sepulveda
.
March, 29, 2012
3/29/12
11:00
AM ET
»
AFC Assessments
:
East
|
West
|
North
|
South
»
NFC
:
East
|
West
|
North
|
South
Cincinnati Bengals

Key additions:
RB
BenJarvus Green-Ellis
, S
Reggie Nelson
, G
Travelle Wharton
, CB
Jason Allen
, CB
Adam Jones
, DE
Jamaal Anderson
, DE
Derrick Harvey
Key losses:
DE
Frostee Rucker
(Browns), G
Nate Livings
(Cowboys), G
Mike McGlynn
(Colts), DE
Jonathan Fanene
(Patriots), WR
Andre Caldwell
(Broncos)
Grade after first wave of free agency:
B. The Bengals were the most active team in the division and they should have been. Cincinnati entered free agency with more than $50 million in salary-cap space, which was more than the rest of the AFC North combined. The Bengals upgraded at running back and left guard while bringing back their top free-agent priority in safety Reggie Nelson. The biggest knock against the Bengals is they didn't make a splash by signing a high-profile free agent like guard
Ben Grubbs
or wide receiver
Robert Meachem
.
The prize of the Bengals' signings is running back BenJarvus Green-Ellis, who is an improvement over
Cedric Benson
. Green-Ellis isn't known for breaking long gains, but he is a force in the red zone and has never fumbled in the NFL. Wharton is a step up from Nate Livings at left guard because he is a strong run-blocker who will open holes inside. The biggest losses came on the defensive line, where Cincinnati will miss Frostee Rucker on run defense and Jonathan Fanene in the pass rush.
What's next:
The Bengals can still close the gap between the Ravens and Steelers because they have two first-round picks in the draft (No. 17 overall, which came from Oakland in the
Carson Palmer
trade, and No. 21). Even with the signing of Wharton, Cincinnati needs a right guard and could have a shot at the top interior offensive lineman coming out of college. Stanford's
David DeCastro
is one of the safest picks in the draft and would start immediately for the Bengals.
The second first-round pick could be used on a wide receiver or a cornerback. The Bengals surprisingly didn't add a free-agent wide receiver to pair with
A.J. Green
. Georgia Tech's
Stephen Hill
or Baylor's
Kendall Wright
should be available in the bottom third of the draft. Another need is cornerback because Cincinnati could use an eventual replacement for
Nate Clements
, who is entering his 12th season. Alabama's
Dre Kirkpatrick
, the second best corner in the draft, has a chance of sliding to the Bengals.

Cleveland Browns
Key additions:
DE Frostee Rucker, LB
D'Qwell Jackson
, CB
Dimitri Patterson
, DE
Juqua Parker
Key losses:
RB
Peyton Hillis
(Chiefs), S
Mike Adams
(Broncos), G
Eric Steinbach
, OT
Tony Pashos
Grade after first wave of free agency:
C. Browns president Mike Holmgren and general manager Tom Heckert said they were building this team through the draft and they weren't joking. The Browns desperately needed to improve at quarterback, wide receiver and right tackle. But Cleveland's offense came out of the initial wave of free agency empty-handed. Blame the
Washington Redskins
. The Browns attempted to move up in the draft to take
Robert Griffin III
, and the Rams instead traded the second overall pick to the Redskins. Cleveland reportedly pursued wide receivers
Pierre Garcon
and
Josh Morgan
, and both took high-priced deals from Washington.
The Browns provided more help to the defense in free agency. Frostee Rucker will make an impact in stopping the run, which was the biggest weakness on the NFL's 10th-ranked defense. Juqua Parker, who has 31.5 sacks over the past six seasons, will team with
Jabaal Sheard
to give Cleveland a strong rush coming off both edges. The Browns didn't try to keep Peyton Hillis and Mike Adams from going elsewhere.
What's next:
Offense, offense and offense. Did I mention offense? The Browns need a quarterback but there's no one worthy of the fourth overall pick. Cleveland could trade down to select Texas A&M's
Ryan Tannehill
or wait until the second round for Oklahoma State's
Brandon Weeden
. The big decision comes if the Browns stay put at No. 4. Cleveland's choices are Alabama running back
Trent Richardson
or Oklahoma State wide receiver
Justin Blackmon
. The Browns could use either one because they don't have a starting running back or a No. 1 wide receiver.
Cleveland has a second first-round pick as a result of last year's trade with the
Atlanta Falcons
. The Browns need to target a wide receiver (if they don't take one earlier in the first round), right tackle or outside linebacker with the 22nd overall pick. Baylor receiver Wright, Mississippi offensive tackle
Bobby Massie
and Nebraska outside linebacker
Lavonte David
have been linked to Cleveland.
Baltimore Ravens

Key additions
: C
Matt Birk
, ILB
Jameel McClain
, OLB
Brendon Ayanbadejo
, CB
Corey Graham
, S
Sean Considine
Key losses
: G Ben Grubbs (Saints), OLB
Jarret Johnson
(Chargers), DE
Cory Redding
(Colts) and CB
Domonique Foxworth
Grade after first wave of free agency
: D. The Ravens lost three starters (Ben Grubbs, Jarret Johnson and Cory Redding) from last season's AFC North champion team and have yet to add anyone to replace them. It was a rough start to free agency for Baltimore, which didn't sign any of its first three visits (guard
Evan Mathis
, defensive end
Mark Anderson
and receiver-returner
Ted Ginn
Jr.). The toughest part of free agency was when the Ravens failed to sign Mathis, who re-signed with the Eagles, after Baltimore had just lost Grubbs.
Baltimore was able to keep two free-agent starters, Matt Birk and Jameel McClain, and boost a struggling special-teams group that allowed three touchdowns last season. The Ravens signed Cory Graham, a Pro Bowl special-teams player from the Bears; Brendon Ayanbadejo, a three-time Pro Bowl special-teams standout; and Sean Considine, who played special teams for three seasons under John Harbaugh in Philadelphia.
What's next
: The Ravens' biggest need is at left guard, but there might not be one that warrants being taken at No. 29. Wisconsin center-guard
Peter Konz
's stock has slipped recently even though he can play guard right away before switching to center in future seasons. It's hard to pin down a player for Baltimore, which can go in a lot of different directions in the first round.
The Ravens could take the best wide receiver available (especially if he's a returner) because they need a third target who can eventually take
Anquan Boldin
's starting spot. They could take a safety because
Ed Reed
turns 34 at the start of the season and
Bernard Pollard
is a free agent next year. And they could take an offensive tackle because they don't have a reliable backup and
Bryant McKinnie
is a free agent in 2013.
Pittsburgh Steelers

Key additions
: None
Key losses
: CB
William Gay
(Cardinals), LB
James Farrior
, NT
Chris Hoke
, G
Chris Kemoeatu
, DE
Aaron Smith
, WR
Hines Ward
Grade after first wave of free agency
: D. It's been a quiet free-agency period so far for the Steelers. Then again, it's usually quiet for the Steelers at this point in the offseason. The only team that consistently does less than the Steelers in free agency is the
Green Bay Packers
.
The Steelers avoided a failing grade because they've lost only two starters from last season's playoff team. James Farrior was cut in the team's salary-cap purge, and William Gay left as an unrestricted free agent. What Pittsburgh really lost in trimming $25 million to get under the cap was veteran depth and leadership. Injuries would force young players to step up into starting roles.
What's next
: There are question marks at running back, guard, inside linebacker, nose tackle and cornerback. Despite all of those needs, the consensus has been Pittsburgh will draft Alabama inside linebacker
Dont'a Hightower
if he's available at No. 24. He has a great combination of size and speed and excelled in a 3-4 defense in college. It seems like Hightower would be the perfect fit for Pittsburgh.
There's no chance that Memphis'
Dontari Poe
falls to the Steelers, but there some quality nose tackles in the draft. Those who should be available after the first round are: BYU's
Loni Fangupo
(second round), Washington's
Alameda Ta'amu
(third round) and Alabama's
Josh Chapman
(fourth round). The Steelers likely will become active later in free agency, especially in retaining their own players. Wide receiver
Jerricho Cotchery
, running back
Mewelde Moore
and quarterbacks
Byron Leftwich
and
Charlie Batch
could potentially return to the team.
February, 15, 2012
2/15/12
4:00
PM ET
Football Outsiders

analyzed the biggest holes
facing each AFC North team going into the offseason. While I can't reveal everything because it's an Insider post, I'll provide the most interesting nugget of information for each team.

BENGALS
: Running back, guard. This is a no-brainer because the starting running back (
Cedric Benson
) and the three guards that started the most games (
Nate Livings
,
Mike McGlynn
and
Bobbie Williams
) are unrestricted free agents.
Best note from Football Outsiders
: Livings and McGlynn combined to blow seven run blocks that directly resulted in negative yardage.

BROWNS
: Running back. Honestly, Football Outsiders could have named every position on offense. Running back stands out because of injuries and ineffectiveness.
Peyton Hillis
,
Montario Hardesty
and
Chris Ogbonnaya
all failed to provide big plays in the running game.
Best note from Football Outsiders
: The Browns ranked 30th (2010) and 32nd (2011) in second-level yards by running backs. They also ranked 24th (2010) and 31st (2011) in open-field yards.

RAVENS
: Interior offensive line, special teams. Everyone knows the Ravens could have major holes with center
Matt Birk
and left guard
Ben Grubbs
becoming free agents. The best observation was the struggles of the special teams, especially the coverage teams. It could get worse because four of Baltimore's top five tacklers on special teams are set to become unrestricted free agents:
Tom Zbikowski
,
Haruki Nakamura
,
Brendon Ayanbadejo
and
Jameel McClain
.
Best note from Football Outsiders
: According to Football Outsiders, the Ravens' special teams went from a No. 4 ranking in 2010 to 30th this season, which has to bother a former special-teams coach like John Harbaugh.

STEELERS
: Defensive line. Nose tackle
Casey Hampton
is coming off ACL surgery, and defensive end
Brett Keisel
severely hurt his groin in the playoff loss at Denver. Backup nose tackle
Chris Hoke
retired and defensive end
Aaron Smith
could be next.
Best note from Football Outsiders
: Early indications suggest that
Ziggy Hood
will slide over to nose tackle in place of Hampton,
Cameron Heyward
will start in Hood's old spot on the strong side, Keisel will return at right defensive end.
January, 26, 2012
1/26/12
2:45
PM ET
Nose tackle has suddenly become a priority for the
Pittsburgh Steelers
. A major one.

Hampton
Casey Hampton
told The
Pittsburgh Post-Gazette
that he will have surgery Friday to repair a torn ACL in his left knee. This comes one day after long-time backup
Chris Hoke
decided to retire
. The only other nose tackle with any experience on the Steelers' roster is
Steve McLendon
, and he is considered a backup player.
This news comes as a surprise because it was only two weeks ago that it was reported that Hampton
didn't need surgery
. This marks Hampton's third ACL surgery, two of which have come in his 11-year Steelers career.
The Steelers faced a tough decision with Hampton already because the five-time Pro Bowl nose tackle is scheduled to make $4.89 million, which is a big chunk for the cap-strapped Steelers. There had been talk that it wasn't a guarantee that the Steelers would release Hampton, but now comes this problem. Even if Pittsburgh somehow keeps Hampton, he most likely wouldn't be ready for the start of the regular season because he's having surgery less than eight months before the start of it.
Hampton, 34, injured his knee in the playoff loss in Denver earlier this month.
This is why Mel Kiper has the Steelers selecting Memphis defensive tackle
Dontari Poe
with the 24th overall pick in the first round. He is a space-eater who would be a great fit for the middle of the Steelers' 3-4 defense.
January, 25, 2012
1/25/12
3:56
PM ET
Chris Hoke
will announce his retirement at a news conference, ending one of the greatest runs by a backup defensive lineman. It will also mark the start of a salary cap-induced transition for the Steelers' defense.
With the Steelers projected to be $25 million over the cap, the top candidates on defense to get released in March are: nose tackle
Casey Hampton
($4.89 million salary in 2012), inside linebacker
Larry Foote
($3 million), inside linebacker
James Farrior
($2.82 million), cornerback
Bryant McFadden
($2.5 million) and defensive end
Aaron Smith
($2.1 million).
The biggest void would be at nose tackle, where Hampton and Hoke have been the anchor there for 11 seasons. If both are gone -- and it's not a lock that Hampton is gone -- the pressure is on the Steelers to fill that spot in the draft. The only nose tackle with any experience would be
Steve McLendon
, and he's better suited as a backup.
Ziggy Hood
could also be moved to that spot if Pittsburgh has no other options there.
The loss of Hoke can't be understated. He was the defense's best insurance policy. The Steelers were 17-1 in Hoke's 18 career regular-season starts, many of which came in 2004 when Hampton was injured.
Hoke, 35, who had season-ending neck surgery last month, is in the final year of his contract.
May, 12, 2011
5/12/11
8:00
AM ET
Here are the most interesting stories Thursday in the AFC North: Morning take: Sometimes starting over can invigorate a coach, and Cincinnati is definitely beginning a new era. The Bengals have some young talent to at least make things interesting.
Morning take: Credit Delhomme for showing leadership. But don't be surprised if he's not on Cleveland's roster this fall. McCoy's the starter and Seneca Wallace received an extension, making Delhomme a possible third-stringer.
Morning take: Cornerback Ike Taylor is the most important for the Steelers. Offensive lineman Willie Colon and defensive lineman Chris Hoke also would be a nice veterans to keep for leadership and depth.
Morning take: That's a pretty wise move for a rookie. Taylor, a sixth-round pick, is in line to compete for a backup job. The Ravens will likely sign a veteran, so Taylor needs to hit the ground running.
July, 29, 2009
7/29/09
4:00
PM ET
Posted by ESPN.com's James Walker
In our latest version of "Thought of the Day" in the AFC North, our community got a chance to play virtual general manager of the defending Super Bowl champion Pittsburgh Steelers.

With limited cap room, Pittsburgh likely has a chance to give an extension to one more veterans before the start of the regular season. But with many key players in the final year of their deals -- such as Heath Miller, Ryan Clark, Casey Hampton and Willie Parker -- the Steelers have to be selective.
Here are the best responses from our AFC North inbox:
Mike Mazur from Copley, Ohio writes: Excellent (and scary) topic. Heath Miller is a MUST resign. He does everything well and is entering his prime. The same cannot be said regarding any of the other players. Brett Keisel and Hampton are as good as gone. Parker has a 50% shot of resigning. After Miller is resigned, PLAN B should be Ryan Clark and PLAN C is Jeff Reed.
Steve from Ridgway, Pa. writes: James, this may come as a shock to a of people, but I would sign Ryan Clark because he is the only player position without depth. Brett Keisel and Casey Hampton have Evander "Ziggy" Hood at their position now. Matt Spaeth has proved that he can come up big at the TE position, and we really don't know anything about Rashard Mendenhall at RB. And Reed, well there are plenty of kickers out there in the FA pool. I'd even take [Mike] Vanderjagt.
Brendan from Maryland writes: I think it has to be Casey Hampton. He's one of the best nose tackles in the league and from what I've heard, "Ziggy" Hood is better suited to replace Keisel rather than Hampton. I'm going to hate to see Keisel go, but Hampton is more valuable in my opinion.
Craig from LWood Ohio writes: Hey J-Dub. I can't even fathom having to make a decision like this in real life. But if I had to make this tough decision, I would choose to extend Willie Parker's contract. They can sign him while his value is a bit lower than in other years. Also, he is the least likely to be loyal to the Steelers based on his actions and whining in the past. Miller, Clark, Keisel and Reed seem like they would resign with the burgh, especially if they repeat or go deep in the playoffs, and 'Big Hamp' is about at the end of his career.
Johnny D from Baltimore writes: Great Job covering the AFC North! In response to the thought of the Day. I say sign Jeff Reed first. He has been an accurate and reliable kicker in the clutch and is overlooked. Willie Parker has durability issues and will likely be replaced by Mendenhall. Casey Hampton is more committed to good eating then staying in shape and Hoke fills in and the d-line doesn't miss a beat. Ryan Clark is an option to re-sign, however he may be expensive. Same is true for Miller, he is a great TE, however I don't feel the Steelers truly utilize his talents and Spaeth can fill the void without the high price. Keisel is also an option, however he is aging. His price tag should be more affordable and could only be a 3 year contract. I still say Reed though for his consistency and accuracy. Not everyone can kick at Heinz field and I think he often times gets taken for granted.
Derick Young from Kalispell, MT writes: Heath Miller--He is a very underrated TE in the league, solid blocking on every down, has soft hands, and is young. He is exactly the type of player the Steelers want and need to keep. Blue-collar guy that plays hard every play. Keep him for another five years at least.
Matt Rippin from Pittsburgh writes: I put Ryan Clark first on the list. He figures to be the most affordable of the group, and the free safety is a badly underrated position in Dick LeBeau's defense (especially with someone as active as Troy Polamalu at SS). I'll put Miller just behind him, because he's the best player of the bunch. Keisel goes at the bottom of the list. He's over 30 and the Steelers just drafted his replacement. Thank you sincerely for your efforts, Brett.
R. Andrews from Pittsburgh, Pa. writes: If you're just picking one before the season starts it would be Hampton, because Hood is not ready to be a starter plus you have all season and the off-season to sign the rest of them and Hampton is the most marketable.
Turtle from Chicago, IL writes: James, love the blog. I'm looking forward to your extensive coverage throughout training camp. I think when you factor in value, age and importance of position you have to extend Heath Miller before all others. Casey Hampton is old and wearing down and another team will break the bank on him. Ryan Clark is solid but replaceable, same with Keisel now that we drafted Hood. Heath may be our best blocker on a shaky line on top of his value as a great pass catching tight end. He also is rarely injured and this will only be his fifth year in the league.
Wayne from Columbia, SC writes: I would definitely sign Ryan Clark. He is a beast at safety and makes receivers scared to catch the ball, and that is what Steelers football is all about. I think without him last year, the defense would have been significantly worse.
AFC North final say
James Walker: The Steelers would like to re-sign at least two players off this list, but that seems unlikely before the start of the regular season. Considering money is always a factor, Clark is the AFC North blog's pick to be next in line for a new deal. Miller is in his prime but also comes with a heavier price tag -- one that might eat up nearly every bit of cap space Pittsburgh has left this year. Since teams like to have a little wiggle room entering the season due to injury -- remember the Byron Leftwich signing? -- Pittsburgh may prefer the value pick in Clark.
Thanks to everyone for participating. If you have any future "Thought of the Day" topics, feel free to send to the AFC North inbox.
May, 2, 2009
5/02/09
6:00
PM ET
Posted by ESPN.com's James Walker
PITTSBURGH -- The Pittsburgh Steelers continued their full-squad, mandatory minicamp Saturday to kick off the 2009 football season.
Here are some notes and observations from Day 2:
I'm pleasantly surprised with the way second-year quarterback Dennis Dixon is throwing the football this weekend. In the four practices the past two days, Dixon's ball has been a tight spiral more often than not and his accuracy has been solid. Saturday Dixon placed a ball over the middle through three defenders to hit receiver Brandon Williams in one of the best throws of minicamp thus far.
Linebacker Lawrence Timmons looks ready for a breakout year. He's always been one of the best athletes on the team. But in his third year it looks like he "gets it," in terms of his assignments and Pittsburgh's complicated defensive scheme. Timmons has looked fluid and confident all weekend. He also has little wasted motion when getting to his spots and chasing the ball carriers.
Veteran cornerback Keiwan Ratliff believes he can contribute in Pittsburgh this year. Ratliff was with the Indianapolis Colts last season and played a lot of Cover 2 defense, which is a strong point of Steelers head coach Mike Tomlin. Ratliff says knowing the coverage scheme well will help the transition with his new team.
It what seems to be a daily occurrence at Steelers camp, the funny play for Saturday involved nose tackle Chris Hoke. At 6 feet, 2 inches tall, weighing 302 pounds, Hoke was caught covering speedy, 5-feet-7 scat back Stephan Logan in the flat. The quarterback read the play correctly and quickly threw the ball to Logan, who put a juke move on Hoke that nearly caused him to completely flip over himself. The team went nuts and even congratulated Hoke for selling out and trying to make the play, despite the obvious mismatch.
Receiver Dallas Baker once again flashed some potential Saturday. Baker made four quality catches in the second practice, many of them in traffic, to complete a good day of work. Baker has quietly made plays in camp for the Steelers the past few seasons. This year he is competing again for one of the final roster spots at receiver.
September, 25, 2008
9/25/08
3:30
PM ET
Posted by ESPN.com's James Walker
PITTSBURGH -- Recently we caught up with Steelers nose tackle Chris Hoke to discuss, among other things, his now famous dance and his big assignment this week filling in for the injured Casey Hampton.
| | |
| --- | --- |
| | |
| | Luc Leclerc/US PRESSWIRE |
| | Chris Hoke has some big shoes to fill in replacing Casey Hampton against the Ravens this week. |
1. Chris, I noticed your 'Hoke' dance in training camp was quite the rage. How did that come about?
Chris Hoke: [Laughs.] Before coach [Mike] Tomlin came in, we never did the clapping stuff that we do before practices. So we starting doing that, and one day we just kept clapping and I starting doing a little [dance]. Later it turned into the Russian dance and guys liked it. It got everyone a little fired up and excited. So I started doing that in spring ball and in training camp every once in a while to get the troops fired up.
2. Are you the best dancer on the team?
CH: Me? Of course. No, there are a lot of good dancers on the team. I would have to say Casey Hampton [laughs].
3. Really? Speaking of Hampton, he has an injured groin this week. What are your thoughts of replacing him in the starting lineup against the Baltimore Ravens?
CH: Casey is not going to be out for a long time. So my mentality is to go in and make sure I execute, make sure that I go out and help the defense play well and help the team win. I'm filling in for some big shoes. Hampton is a great player, one of the best nose tackles in the league. So I've got to make sure that I go in there and not try to be Casey Hampton. I have to just go in there and be Chris Hoke, and try to control the center and the line of scrimmage.
4. How has it been to spend your entire career in Pittsburgh thus far?
CH: It's unbelievable. I've been here eight years and I can't imagine myself going somewhere else or playing somewhere else. It's the city, the fans, the ownership, the organization, and all the way down to the players. When new players come in from other teams, you kind of hear their horror stories of what it's like from other teams. I know every team isn't like that, but we think we have it good here.
5. Why do the Steelers and Baltimore Ravens not like each other very much?
CH: When I first got here eight years ago, that's when I think it first started. We were a good team and they were a very, very good team. They won a Super Bowl back in 2000, so it was one of those things where we went back-and-forth over the years and it was a big, old battle. I don't know if it's hatred, but it's a mutual respect for each other's games. They know that we're a good team and we know they're always a good team. So when we're out on that football field, it might look like hatred because there's a lot of talking on the field. But afterwards it's always one of those things where we shake hands and say, "We'll see you next game."