November, 27, 2013
Nov 27
10:00
AM ET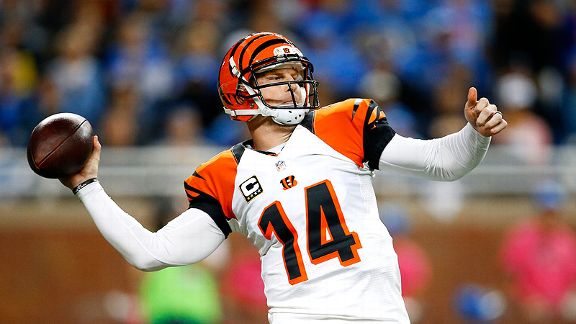 AP Photo/Rick OsentoskiThe Cincinnati Bengals are counting on Andy Dalton to return to the form that helped lead the team to a 4-1 record in October.
CINCINNATI -- Earlier this week,
Cincinnati Bengals
players like cornerback
Chris Crocker
were adamant in pointing out the urgency they need to play with throughout the
month of December
.
"It's all about winning in December," Crocker said. "Let's win out and see where the chips lay. Why can't we win out? I don't see why we can't."
If you ask some Bengals fans and most NFL analysts, they'll give you one big reason why they don't believe Cincinnati will be able to go 5-0 to close out the regular season: No. 14.
That's right. To some, the primary obstacle in the way of end-of-season perfection for the Bengals is
Andy Dalton
, the player who has quarterbacked the franchise into the playoffs each of the past two seasons, and who constantly is trying to prove himself to those who consider him just another member of a mostly failed 2011 quarterback draft class.
For that reason, as the Bengals gear up for a stretch run that could give them a first-round bye and home-field advantage in the playoffs, an important question has to be asked.
Can December Andy mimic October Andy?
As we've written countless times in the past month, October Andy was indeed a dandy. Through the first four games of that month, Dalton threw for 1,243 yards and 11 touchdowns. He also completed 67.9 percent of his passes, won four games, had a passer rating higher than 116.0 and a QBR above 83.0. He was, quite simply, brilliant. His play was so sharp back then that on the final day of the month, hours before the Bengals were set to take on the Dolphins in a road Thursday night game, he was named the AFC's Offensive Player of the Month.
And, yes, even though, comparatively speaking, he didn't look as good overall against the Dolphins and ended up taking the game-winning sack for a safety in overtime, Dalton still had a rather special performance in the 22-20 loss. Aside from not completing a touchdown pass and getting intercepted three times, he threw for 338 yards, marking the fourth straight game he had gone over the 300-yard passing mark.
Overall, October Andy was Good Andy.
But now here comes December with all of its postseason potency. If Cincinnati hopes to set itself up for the type of playoff seeding Crocker believes it deserves, then it will have to play its best ball across the next five weeks. That's especially the case for Dalton and a Bengals offense that has looked rather anemic in the past three games.
One look at Dalton's previous December stats and it doesn't appear the third-year star should have any problem showcasing even a sliver of the success that made him and his team so good about two months ago.
After a rocky December as a rookie in 2011, Dalton was among the difference-makers last season when the desperate Bengals were in need of a strong final month just to secure a playoff berth. One year after going 2-2 in the month, Dalton went 4-1 during December 2012. The lone loss came after the
Dallas Cowboys
made a field goal in the final seconds to win 20-19.
While the level of desperation may be different this December, the Bengals are looking for Dalton to thrive under similar pressure-packed moments during this one. This time around, the pressure on Dalton mainly stems from the fact that so many are fed up with his play from the past three games. In them, he's thrown eight interceptions and been sacked 10 times. Across the latter two of those games, he's completed fewer than 50 percent of his passes and hasn't posted a QBR higher than 18.0.
Weather factored heavily in Dalton's inability to move the ball in those two games. Windy conditions at Baltimore and windy and rainy conditions against the Browns sent some of his passes sailing and forced others into the hands of defensive backs.
Although weather shouldn't be a concern this weekend in San Diego (the forecast calls for partly cloudy skies and a delightful high of 71 degrees Sunday), it could be the rest of the season. Farmer's Almanac projects cold, damp conditions for all of December in the Ohio Valley. It should be noted that after Sunday's game, the Bengals are home three of the next four weeks. Their only remaining road game is at Pittsburgh.
Throughout his career, Dalton has performed better in warmer games. In games with temperatures 50 degrees or higher, he has a 20-14 record, an 85.1 passer rating and a 52.5 QBR. In games with temperatures at 49 and lower, he has a 5-5 record, a 75.4 passer rating and a 32.9 QBR. Dalton's last three sub-49-degree wins came last December, though; a sign that perhaps he's turning a corner in cold-weather contests.
Whatever the conditions and whomever their opponents are, when it comes to the next five weeks, the Bengals can only hope that Dalton turns into the same man who torched through this October.
October, 17, 2013
Oct 17
12:00
PM ET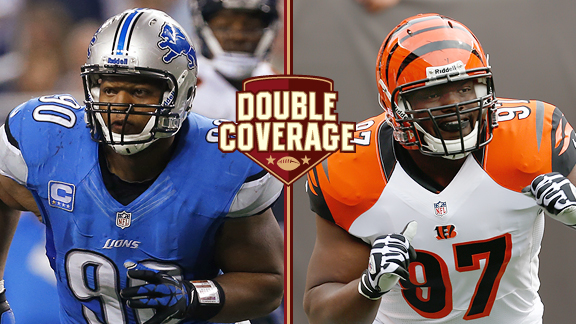 AP PhotoNdamukong Suh and Geno Atkins lead two of the league's best front fours.
The
Detroit Lions
have a chance to solidify themselves for a playoff push. So do the
Cincinnati Bengals
. They may be in different conferences, but this game should be a good test for both teams as to where they stand in the larger picture of the NFL.
Both teams lead their divisions, and both won on the road last week. And in the wacky world of the NFL, Detroit has beaten both teams Cincinnati has lost to (Chicago and Cleveland) while the Bengals have beaten one of the two teams the Lions lost to (Green Bay).
As for this week's game, Bengals reporter Coley Harvey and Lions reporter Michael Rothstein break down what should be an interesting matchup.
Rothstein:
Detroit's cornerbacks continue to either be banged up (starters
Chris Houston
and
Rashean Mathis
) or really young (rookie
Darius Slay
). How much of a problem is
A.J. Green
going to pose in this situation? Does he feast on these matchups?
Harvey:
Given the Lions' lack of experience and consistency at cornerback, that could be a problem for Detroit this weekend. Or maybe it will be a good thing. Here's what I mean: Green does well when he's going one-on-one against particular defensive backs, and he seems to relish having opportunities to expose both really good and really poor corners. Against Buffalo's
Leodis McKelvin
on Sunday, Green caught six passes for 103 yards and a touchdown. He was targeted 11 times as the Bengals went more to their receivers than they had the week before. As good as McKelvin is, though, he's no
Charles Tillman
, whom Green caught nine passes against in Week 1. He also isn't
Joe Haden
, who allowed Green to catch seven balls but held him to just 51 yards in Cleveland three weeks ago. So Detroit having a revolving door at corner could be problematic since Green has had his opportunities against some of the league's best this season.
As far as the inexperience and inconsistency at the position being a good thing for the Lions, I say that because that might prompt Detroit to double-team Green. As we've seen this season, Green struggles when safeties are able to come over the top and help out in coverage against him. If double coverage ends up being a cornerstone of the Lions' game plan, Green could have a tough day.
We'll stick with receivers, and I'll ask you, Michael, about
Calvin Johnson
. We know he's hobbled a bit with that knee injury, but how much do you think he's looking forward to squaring off with a guy like Green, who also is considered one of the game's best receivers?
Rothstein:
Johnson seems to enjoy seeing other top receivers on the field, but he gets more excited to see topflight opposing cornerbacks like
Patrick Peterson
. For instance, he and Peterson swapped jerseys after their Week 2 game.
His knee is a concern. He didn't quite look like himself against Cleveland on Sunday, dropping a couple of passes and not being his typical deep threat. But when he is out there, teams still have to pay extra attention to him because he is the top receiver in the game.
Johnson's presence changes a lot, even if he can't go deep. Detroit can still use him on underneath routes, and he's still likely to draw the double-team or added attention, especially in the red zone. As long as he can do some things and run some routes, Johnson will be out there and making a difference.
That leads me to this question -- how will Cincinnati's defense handle both the questionable health of Johnson combined with everything else Detroit's offense has to offer?
Harvey:
Cincinnati's top corner,
Leon Hall
, likely will draw the bulk of reps against Johnson, even though, at 5-foot-11, he stands some six inches shorter than his 6-5 counterpart. It'll be interesting to see how Hall and the other defensive backs handle the threat of the deep ball, assuming Johnson can run better and get underneath those passes this week. If he's forced to go underneath, the Bengals feel confident their cover linebackers --
Rey Maualuga
,
Vontaze Burfict
and
Michael Boley
-- and cover safety
Taylor Mays
can disrupt short- to intermediate-range passes.
When it comes to stopping
Reggie Bush
in the run game, the Bengals have the type of defensive front that will make such a matchup intriguing. Last week, against the No. 3 rushing offense in the NFL, they gave up 130 yards on the ground but limited
Fred Jackson
to just 35 yards on 10 carries. With fewer big-play threats in the Lions backfield, the Bengals have to be glad they're keying primarily on one running back this week. That said, it'll be interesting to see what they do with linebacker
James Harrison
. He factored heavily in the run defense last week, but with the passing threat Detroit possesses, he likely won't be on the field as much this week.
Speaking of defensive players,
Ndamukong Suh
continues to be a disruptive force in the Lions' interior. Statistically speaking, though, it seems he wasn't very productive last week. Any idea what happened there, Michael?
Rothstein:
That hasn't been unusual. His numbers have not been astronomical, but he picks up double-teams on almost every play, it seems. So just the attention he draws assists everyone. There have been hurries that have led to interceptions as well. He is playing extremely well and very consistent.
Has
Andy Dalton
said anything about Suh this week? They had a prior run-in, and a hit on
Brandon Weeden
last week is being looked at by the league.
Harvey:
Dalton was asked about the body slam Suh gave him during the 2011 preseason opener. But being the polite politician that he is, the quarterback didn't show any ill will toward Suh. Quite the contrary, actually. Like several of his offensive linemen, Dalton simply called Suh a good player and credited the way he passionately plays the game. Though few linemen wanted to make the Dalton-Suh incident a storyline this week, they will have that play in the back of their minds, rest assured.
Oh, and is there a week when the league isn't looking at one of his hits?
Final question for you, Michael. Why does Bush have only one rushing touchdown this year? Is that a function of being part of a good passing offense or something else?
Rothstein:
It's a misleading number, Coley. He would have had two rushing touchdowns in Week 1, but both were reviewed and taken away at the 1-yard line.
Joique Bell
rushed both of them in instead. And he has two receiving touchdowns, so he is finding the end zone. Detroit is more of a passing team that likes to employ screens with its running backs, so that could be why those numbers look strange. But Bush is having a good season, no doubt.