AFC North:

Chris Jennings
September, 11, 2010
9/11/10
12:00
PM ET
Let's see what's in the weekend mailbag.
Becky from Galloway, Ohio,
writes: Do you think Marvin Lewis not getting a new contract will impact the
Cincinnati Bengals
this season?
Walker:
Not right away, Becky. Lately this topic has been low key in Cincinnati but could grow as the season wears on. I hear that not much is currently going on between the two sides. Perhaps Lewis and the Bengals decided to focus on the regular season now that it's here. But things can change if Cincinnati gets off to a hot start.
---
Jeff Chernauskas from Westerville, Ohio,
writes: Do you really think
Pittsburgh Steelers
coach Mike Tomlin would not start
Ben Roethlisberger
against the
Cleveland Browns
?
Walker:
There is very little chance Roethlisberger isn't the starter when he returns, Jeff. I'm not big on "what if" questions, but the only way I see this as even a remote possibility is "if"
Dennis Dixon
started 4-0 and lit up the scoreboard. The chances of that happening are not great. Tomlin said he didn't want to back himself into a corner, and I take that at face value. He doesn't want to be boxed in for comments he made a month ago in the event something completely unforeseen happens in the next four games.
---
William Banik from Houston
writes: Why didn't the Steelers put
Byron Leftwich
on IR?
Walker:
I'm not sure why you believe that's a good idea, Williams. Putting Leftwich on injured reserve would sideline him for the season. When I talked with Leftwich this week, he seemed very optimistic about his progress. The timeline is two to four weeks for his knee injury, and that's a huge difference between sitting Leftwich for the season.
---
Rob Spencer from Las Vegas, Nev.,
writes: What happened to the Browns'
Chris Jennings
?
Walker:
Jennings is now a former running back of the Browns, Rob. He was released last week during the team's final roster cuts. The Browns pretty much had to choose between Jennings and 2009 draft pick
James Davis
, and Davis showed more potential in the preseason.
---
Stephen from El Dorado, Ariz.,
writes: Why did Baltimore sign
T.J. Houshmandzadeh
when they already have a bevy of possession-type receivers on the roster?
Walker:
This wasn't in the plans until two things happened, Stephen. First,
Donte' Stallworth
broke his foot, and second, T.J. Houshmandzadeh was released by the
Seattle Seahawks
. Baltimore's open receiver spot and Houshmandzadeh's willingness to play for cheap because Seattle is paying him made for a good match. The Ravens also traded
Mark Clayton
to the
St. Louis Rams
, and Stallworth is expected to return about midway through the season.
---
Comment and complaint department
Here are comments and complaints this week from our AFC North community.

RC from Baltimore
writes: I saw a story in USA Today about the issues some teams are having with ticket sales. They listed the Cincinnati Bengals as a team that may have TV blackouts of their home games this year. The Bengals haven't had consecutive winning seasons in forever. They wake up last year and sweep the division, bringing all of their fans out of the woodwork and on to every blog and chat boasting of their conquests both past and future. Now we hear that these same die hard amazing fans don't actually show up for the games. Come on, Bengal fans, you have a good team to cheer for this year. That doesn't happen much in your town. Get off your butts and buy a ticket like big boys. I say we ban these knuckleheads from posting on the blog until they sell out their home games.
Rob from Bowling Green, Ohio
, writes: What's with all of these Bengal fans saying that it doesn't matter who our backup QBs are because
Carson Palmer
is the only one who will bring the team success? Not all injuries are season ending, and if No. 9 goes down for a game or two, we're going to need someone who can keep the Bengals in playoff contention.

Ben from Pensacola, Fla.,
writes:
The Browns finish ahead of the Steelers
? That's pretty hilarious. I hope the same people that believe that are around to admit how wrong they were when the Steelers win the AFC North.
Amr from Hazleton, Pa.,
writes: For the most part the Steelers are ranked low because Big Ben will miss a quarter of the season. If the Steelers come out 2-2 or 3-1 how could they not be the favorites? Ben should be playing this season with more to prove then ever before. No matter the outcome beforehand they should be able to pull off 10-2 with Ben. Twelve wins should lock up a wildcard spot and maybe the division.

Kovacs from Santa Monica, Calif.,
writes: Fearless Prediction: Browns will be in first place in the division after Week 2 and still in the bottom five of
ESPN's Power Rankings
. A 0-2 Steelers team will still be in the top 15.
(Editor's note: With zero wins and losses, the Steelers were rated No. 18 this week by our panel.)
Nflreaction via Twitter
writes:
I agree with
everything, save for the Browns. I think they edge out the Bucs and show signs of life to start the season.

Charlie D from Baltimore
writes: I had to comment on how disappointed I am with the Ravens' decision making. While it doesn't hurt to have T.J, Houshmandzadeh, I wish we hadn't signed him. We didn't really need him, and Ozzie Newsome and John Harbaugh keep on neglecting the secondary to the point that it is just ridiculous. Baltimore is about smash-mouth, physical defense. That is the Ravens' identity. All this offensive stacking is nice, but we can't forget what the Ravens do best. Re-sign
Chris McAlister
!
William Wang from Germantown, Md.,
writes: I don't understand why everyone is so down on the Ravens' secondary. I know
Ed Reed
is an absolute beast, and his loss will hurt, but
Tom Zbikowski
is a capable replacement.
Josh Wilson
,
Fabian Washington
and
Chris Carr
are all solid starters. Also,
Lardarius Webb
will be returning soon. Besides, how often do teams throw to their fourth or fifth wide receivers?
There are no glaring "Homer of the Week" comments this time. Good job, everyone.
September, 4, 2010
9/04/10
9:41
PM ET
Check
here
for a full list of Cleveland's roster moves.

Biggest surprise
: The biggest surprise is that Cleveland waited until after 9 p.m. ET Saturday to announce its moves. Supposedly, it was a strategic decision so other teams were not aware of players the Browns made available. I don't think it makes a difference, especially because the Browns are not a team rich with talent to begin with. As far as players, Browns cornerback
Brandon McDonald
's name stood out most on this list. His career has been up and down, but he brought a wealth of starting experience (27 starts) to a young secondary. McDonald may have helped seal his own fate when he made negative headlines this summer for an offensive tweet aimed at
Cincinnati Bengals
receiver
Terrell Owens
. The Browns were not pleased with McDonald's poor judgment.
No-brainers
: Quarterback
Brett Ratliff
had no shot of making this team, because the Browns already have their three players at the position in
Jake Delhomme
,
Seneca Wallace
and rookie
Colt McCoy
. New Browns president Mike Holmgren and general manager Tom Heckert made several additions at cornerback this offseason, including veteran defensive back
Sheldon Brown
and rookie first-round pick
Joe Haden
. That made it very tough for young corners such as
Coye Francies
to make the team. Receiver
Syndric Steptoe
has talent and may get interest elsewhere, particularly as a kick returner. But with Pro Bowl returner
Josh Cribbs
in Cleveland, the Browns have no use for Steptoe.
What's next:
Despite Cleveland establishing its 53-man roster, the Browns should still be active on the waiver wires. This roster overall is not very deep, especially compared to its AFC North counterparts. So the Browns could make some additions in several areas to improve the bottom of their roster. Backups shouldn't get too comfortable in Cleveland.
May, 24, 2010
5/24/10
8:00
AM ET
Here are the most interesting stories Monday in the AFC North:
Morning take: Most Steelers fans agree, while some non-Steelers fans are still rubbing it in. What side are you on?
Morning take: We warned you about this last month with Baltimore's deep and talented offense. McClain drops the first hint.
Morning take: Finally, some good legal news in the AFC North.
Morning take: Pass rush and collapsing the pocket will be key for this group up front. Cincinnati was middle-of-the-pack last year with 34 sacks in 16 games.
April, 19, 2010
4/19/10
6:00
AM ET
Here are the most interesting stories Monday in the AFC North:
Morning take: Colbert is one of the league's best talent evaluators. Pittsburgh has a relatively high pick this year. So it will be interesting to see what happens.
Morning take: Jones is definitely the most well-traveled player in the division. I'm sure he will rejoin the Bengals this year with plenty of stories to share.
Morning take: Click here (sigh).
Morning take: I'm a little surprised Smith is still on Baltimore's roster at this point. Apparently Smith is, too, which is the reason he recently switched agents.
April, 17, 2010
4/17/10
11:02
AM ET
February, 24, 2010
2/24/10
10:00
AM ET
The division inbox
is bustling with trade scenarios, and recently,
San Diego Chargers
cornerback
Antonio Cromartie
is the most prevalent name that comes up.

Cromartie
Below is a sample of recent trade proposals from our AFC North community. Would you accept these offers if you're the Chargers?
Justin from Cleveland and Pittsburgh writes: Do you think the Cleveland Browns will go after Cromartie? We might not be able to package a running back, but maybe Chris Jennings and a fourth-round pick? Or maybe a second-round pick by itself?
Gabby from Baltimore writes: I think the Ravens and Chargers could be partners. The Ravens want Malcom Floyd and Antonio Cromartie and that can fill all their needs. While the Chargers can get Willis McGahee and a pick. What about McGahee, a first-round pick and a fourth for Floyd and Cromartie?
Denny from Fajardo, Puerto Rico, writes: What about the Steelers trading Isaac Redman and a draft pick for Cromartie? Redman was on the practice squad last year. What I saw in last year's preseason he looked good.
December, 4, 2009
12/04/09
4:00
PM ET
»
NFC Final Word
:
East
|
West
|
North
|
South
»
AFC
:
East
|
West
|
North
|
South
Five nuggets of knowledge about Week 13: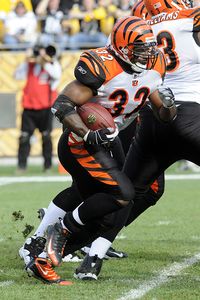 AP Photo/Tom E. PuskarCedric Benson will rejoin a crowded Bengals backfield.
'Big Ben' is back:
Amid controversy and plenty of national headlines, Steelers quarterback
Ben Roethlisberger
returns to the starting lineup Sunday against the
Oakland Raiders
. Team captain
Hines Ward
questioned the decision to pull Roethlisberger one day before Pittsburgh's loss to the
Baltimore Ravens
. But Ward said this week that the issue has been resolved. The best way for the Steelers to truly move on is to get back on the winning track and for Roethlisberger to have a big game. Their three-game skid has caused a lot of discontent for a proud group that's not used to losing this time of year. This game against Oakland is virtually a must-win for the Steelers (6-5), who have a small margin of error if they want to get into the postseason.
Benson rejoins crowded field:
Another player who is returning to the starting lineup, but with less attention, is
Cincinnati Bengals
starting tailback
Cedric Benson
. He missed the past two weeks with a hip injury. Cincinnati's offense has run the ball well without Benson, which makes you wonder how carries will be distributed between Benson, former Pro Bowler
Larry Johnson
and rookie
Bernard Scott
. All three tailbacks have had 100-yard games this season. Benson
wasn't too happy
with the recent signing of Johnson. It will be interesting to see how Cincinnati's coaching staff handles this sensitive matter the rest of the season.
Protections issues:
If the Baltimore Ravens (6-5) want to pull off the upset Monday and beat the
Green Bay Packers
(7-4) at Lambeau Field, the Ravens must apply constant pressure on Packers quarterback
Aaron Rodgers
. Green Bay's offense is red hot, averaging 32 points the past two weeks. But the Packers' biggest weakness has been protecting Rodgers, who has been sacked an astounding 44 times. Baltimore has been inconsistent in rushing the passer. But this is a golden opportunity for the Ravens to turn up the heat against a team that hasn't blocked well all season.
The Clayton factor:
In the first four games after the bye week, Baltimore Ravens receiver
Mark Clayton
had only five catches for 58 yards. Then Clayton exploded for seven catches for 129 yards in last week's huge win over Pittsburgh. The Ravens (6-5) need more of that from their former first-round pick if they expect to make a push to the postseason. Clayton has been one of the great enigmas in the AFC North. He's had big performances over his five-year career but usually disappears for weeks afterward. Clayton's biggest game before Sunday was in Baltimore's season opener against the
Kansas City Chiefs
, when he had five catches for 77 yards and a touchdown.
New rushers:
With the season-ending concussion to
Jamal Lewis
, the
Cleveland Browns
will now turn to backups
Jerome Harrison
and
Chris Jennings
for the remainder of the season. Both Harrison and Jennings have shown a few flashes this year but are averaging only 3.6 and 3.4 yards per carry respectively. The coaching staff pretty much knows what it has in Harrison, who is a smaller, change-of-pace type of runner who struggles with pass protection. Look for the team to give Jennings a lot of touches down the stretch to find out what the former CFL product is made of.
November, 21, 2009
11/21/09
2:00
PM ET
Let's dig into the AFC North weekend mailbag.

Mike Pisano from Chicago writes: Is Brady Quinn's arm strong enough for the NFL? Can he make enough of the throws to play in the league?

James Walker: Quinn still has a lot to prove, Mike, and that's probably the biggest thing Cleveland Browns followers have to look forward to in these final seven games. Living in Cleveland, I have seen Quinn a lot in training camps, practices and in preseason and regular-season games. And in every one of those instances he's struggled to complete deep passes of 20 yards or more. Quinn says his arm strength is fine, but at some point he's going to have to prove it against NFL defenses. He was 0-for-7 on throws of 10 yards or more last Monday against the Ravens.


---
J.Mo from Bed-Stuy wants to know who is the ideal candidate for Browns GM.

Walker: Ideal? Bill Parcells. But it's unlikely the Browns will land "The Tuna," despite some rumors on the contrary. Mike Holmgren also would be a good choice. Pretty much anyone who isn't stepping into the GM role for the first time would be an upgrade for Cleveland. Everything I've heard so far is that former GM George Kokinis was in over his head.


---


Alvin from Bradfordsville, KY wants to know if the Browns will fire head coach Eric Mangini now to get a head start on the coaching search.

Walker: Browns owner Randy Lerner has no interest in firing Mangini during the season. I think in Lerner's heart of hearts, he really wants Mangini to right the ship in these final seven games as a selling point to whoever gets the job as GM/Head of Football Operations. If the new football "czar" in Cleveland is someone like Holmgren, who is experienced and has a proven track record, chances are someone of that caliber at least wants the option to choose his own head coach or he's probably not coming to Cleveland. But if the Browns finish strong, Lerner may have some bargaining chips to convince the new GM to keep the current coaching staff in tact. That will be something to closely monitor this offseason.


---


Shawn from Philadelphia, PA wants to know if I have any thoughts on running back Chris Jennings.

Walker: The Cleveland media is getting giddy --probably too giddy -- over Jennings of late. But I think that's more of a product of having nothing else to get excited about. Jennings is getting a chance to show what he can do. But truthfully not many CFL guys turn out to be feature running backs in the NFL. I still think the Browns need to draft a tailback high next year.


---


Jason from NYC believes Cleveland's next win will be the No. 1 pick in the 2010 NFL draft.

Walker: It's only a win if the Browns pick the right player. Consider the amount of guaranteed money that will be required to sign the top pick next year. It's going to be through the roof. That's why it's important to get a head of football operations in Cleveland ASAP to begin this process, because the Browns have a ton of high picks and will be major players in next year's draft. If the team screws up its top pick, it will set the franchise back several more years.


---


Brad from Atlanta, Ga. doesn't get why most people feel the Baltimore Ravens are struggling, considering they've only lost to the New England Patriots, Minnesota Vikings and the Cincinnati Bengals twice.

Walker: That's a fair point, Brad. But this isn't college football. There is no point system and no such thing as a quality loss. The fact is the Ravens were beaten in four of their last six games. They had a chance to win all of them late with the exception of the second game against the Cincinnati Bengals, which was never close. I believe Baltimore is a good team. But the Ravens must beat some of the elite teams on their schedule at some point if they want to get to the postseason. A win Sunday against the undefeated Indianapolis Colts would be a huge step forward in that direction.


---


Becky from Galloway, Ohio writes: Is Kyle Cook one of the main reasons for the Bengals' offensive line being much improved this season?

Walker: He's a major reason, Becky. Cook is playing as well or better than former center Richie Braham did when the Bengals were last strong up the middle. But left tackle Andrew Whitworth is playing some of the best football of his career protecting Carson Palmer's blindside as well. This may be the most surprising unit in the division this year.


---


Collin from Illinois wants to know what happened to the Pittsburgh Steelers lack of a no-huddle offense against the Bengals.

Walker: The no-huddle has worked for Pittsburgh, but the team doesn't want to turn it into a full-time thing. It's working more as a change of pace right now in certain games. I'm not sure last week it would've help that much, because quarterback Ben Roethlisberger was not playing well. If anything, I thought the Steelers could have run the football more.
October, 3, 2009
10/03/09
3:18
PM ET

Posted by ESPN.com's James Walker
The running game of the
Cleveland Browns
suffered another blow Saturday when the team announced rookie tailback
James Davis
is out for the season. The Browns put Davis on injured reserve and didn't specify the reason. But Davis has been dealing with a shoulder injury and has been in and out of the lineup since Week 1.
Davis led the Browns in rushing during an impressive preseason. The sixth-round pick from Clemson was the team's biggest surprise in training camp but was never able to get going during the regular season.
Cleveland (0-3) signed Chris Jennings from its practice squad to replace Davis. Starting running back
Jamal Lewis
(hamstring) is doubtful for Sunday's game against the
Cincinnati Bengals
(2-1). So backup
Jerome Harrison
likely will be the featured back for the second straight week.