May, 30, 2014
May 30
10:52
AM ET
At the end of one of former coach Butch Davis' seasons with the
Cleveland Browns
, several of his players complained that they wanted Davis to loosen some of his rules.
Primary among them was players wanted to be able to leave the team hotel on Saturdays to go to dinner or visit family and friends.
Earl Little and Robert Griffith said they were professionals and should be able to be trusted for a few hours away from the hotel.
[+] Enlarge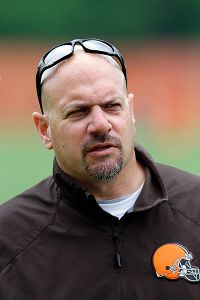 AP Photo/Mark Duncan"We're going to treat our guys like [men] until they prove that they need to be treated otherwise," Browns coach Mike Pettine said.
This, of course, led
Phil Dawson
to make his famous statement that the only thing he wanted changed was wins, and he'd practice naked if he was told to and it meant the Browns would win.
Davis' response, of course, was to "loosen" the rules the next season by telling the players they could indeed go out to dinner, but only to two restaurants he had selected, both within walking distance of the hotel.
It produced some rolled eyes.
This story came to mind during the entire
Johnny Manziel
-Vegas trip/non-story of last weekend. Because coach Mike Pettine made an important statement when he said the Browns would not micromanage players away from the building.
"Just like anybody else, he's a man," Pettine said, "and we're going to treat our guys like that until they prove that they need to be treated otherwise."
The interesting thing is the different ways coaches have of treating players like men. Davis no doubt felt his approach was the best way to keep control of players, who preferred another way.
Don Shula was known as a disciplinarian, but he let players have four or five hours to themselves on the road on Saturday. Some guys would meet friends and family and go out, others would stay in their rooms. That was the system Chris Palmer followed with the Browns before Davis changed it.
Way back when, Forrest Gregg (head coach from 1975-77) had curfews on Fridays and Saturdays before home games. Someone with the team would drive to players' homes and actually look for their cars, and if they didn't see them then they'd call the player at home.
It's not tough to imagine how that went over.
Sam Rutigliano followed Gregg and took the "treat them like men" mindset an extra step by eliminating curfews and allowing the players to stay at home on Saturday nights before games.
It worked well until one player continued his "Party With (Player)" night at a Cleveland establishment the evening before a Monday night game.
There are all kinds of ways for players to make it work.
Peyton Manning
and
Drew Brees
are quiet off the field, and they win. Bobby Layne played fairly well and had a very good time off the field. Joe Namath was renowned for his celebrity appearances at New York nightspots.
Manziel isn't Layne or Namath or anything close, as he's quick to admit. But he does bring celebrity elements to the Browns.
Experience seems to show that the system that works best is the one that has responsible players, guys who understand the sacrifices needed to win. They don't need a lot of rules because they "get it." The Browns seem to have a lot of those kinds of guys.
But experience also shows that Pettine makes good sense by saying he'll treat his players like men until they show they need to be treated otherwise. He'll expect them to know the system and rules and follow both. But he'll not overdo the rules off the field or away from the building. It's a logical approach.
Treat a player like a teenager and he'll probably act like a teenager.
But treat responsible players like men, and they'll probably act like men.
January, 20, 2014
Jan 20
5:34
PM ET
The Browns provided results of a 20-year study they did on coaches who struggled in their first season.
Some of the numbers are interesting.
In the past 20 years -- the salary cap era -- 28 coaches were hired (not counting Rob Chudzinski) who won four or fewer games in their first season. Among them were Chris Palmer and Pat Shurmur in Cleveland.

Six were fired after just one season -- Mike Mularkey in Jacksonville, Romeo Crennel in Kansas City, Cam Cameron in Miami, Art Shell in Oakland, Joe Bugel in Oakland and Richie Petitbon in Washington.
Of the 22 who returned, only five (23 percent) had a winning record in Year 2.
Sixteen of the original 28 were given a third season.
Only four lasted four years or longer.
Only six (28 percent) reached the playoffs at any point in time. And only two (nine percent) had multiple playoff appearances -- Jim Mora in New Orleans and Tom Coughlin in Jacksonville. Coughin was .529 in eight years, Mora .500, and Dom Capers .281 in four years in Houston.
The combined won-lost percentages of the coaches did not make great strides over three years. Coaches won 19.6 percent the first year (91-373), 41.1 percent the second (135-194-1) and 38.5 percent the third (92-147-1).
Five of the six teams that fired their coach after one bad season improved the following season, and two improved by at least nine games (Tony Sparano at Miami in 2008 and Andy Reid this past season with Kansas City).
This would be the argument for making a change when a team feels it's needed; the evidence would indicate that sticking with a struggling coach only makes him struggle longer.
However, it does not take into complete account the quality of the team the coach inherited. In some cases, though not all, the team-building mirrored the struggles of the coaches.
What it also does not take into account is if the coaches took over bad teams in their first season. It would seem a coaching change was made for a reason.
What's interesting is they generally took over bad teams and did worse.
Eighteen of the 28 coaches coached their teams to worse records than the year before they were hired, including Dennis Allen taking Oakland from 8-8 to 4-12, Raheem Morris taking Tampa Bay from 9-7 to 3-13, Cam Cameron taking Miami from 6-10 to 1-15 and Marty Mornhinweg taking Detroit from 9-7 to 2-14.
What might be most interesting is that the Rams were 2-14 the year before Steve Spagnulo arrived, and 1-15 his first year.
Of the 28, 18 took a step back, three stayed the same, three were expansion coaches and four had better records than the year before they took over -- albeit to four wins or fewer.
Teams won 32.2 percent of their games the year before the new hires, 19.6 the year after.
November, 2, 2011
11/02/11
11:07
AM ET
The month of November hasn't given Browns coaches many things to be thankful for over the years.
As Steve Doerschuk of the
Canton Repository
pointed out, the last coach to finish with a winning November record for the Browns was Marty Schottenheimer, who was 14-8 in this month but was last seen on the Cleveland sideline in 1988. That's 23 years ago.
It's been a tough month for the coaches who have followed him: Bud Carson (2-4-1), Bill Belichick (6-15), Chris Palmer (2-6), Butch Davis (5-10), Romeo Crennel (7-10) and Eric Mangini (2-6).
This doesn't inspire much hope for the Browns, who have fallen to 3-4 after losing three of their past four games. For first-year coach Pat Shurmur, his November opponents are: at Houston (5-3), home against St. Louis (1-6) and Jacksonville (2-6) and at Cincinnati (5-2).
February, 18, 2011
2/18/11
11:00
AM ET
Here is one out of leftfield.
The UFL's Hartford Colonials are "interested" in former
Cleveland Browns
head coach Eric Mangini to replace another former Browns coach, Chris Palmer. Palmer recently became offensive coordinator of the
Tennessee Titans
.

Mangini
"He is one of the people we would hope to talk to," Colonials owner Bill Mayer said of Mangini this week. "What comes out of that, I don't know. I've been looking at our Facebook site, and it certainly has generated a lot of conversation. He's a Connecticut native and he's had experience. Whether we end up doing anything with him or not, we haven't sat down yet, so it's not at all clear whether this timing would work for him.
"That doesn't mean we're in negotiations or that he's going to be the next coach, but he's certainly on the list."
Don't look for this to happen, folks.
Mangini still has two years left on his contract with the Browns and will make millions of dollars from it. Therefore, I doubt we will see Mangini on the sidelines this upcoming season, especially if it's not in the NFL. The only reason this is news is because a UFL owner publicly threw out the bait in the event Mangini would be interested.
Mangini has already participated in television analysis and discussed a consultant job with the
Miami Dolphins
since being let go by Cleveland in January. He can stay active in football in various ways, while still getting the rest of his money from the Browns without dabbling in the minor leagues.