AFC North:

Christian Ponder
February, 14, 2014
Feb 14
4:00
PM ET
EDEN PRAIRIE, Minn. -- The
Minnesota Vikings
will begin in earnest their next search for a franchise quarterback at the NFL scouting combine next week, with a first-time head coach, an offensive coordinator who has worked with everyone from Troy Aikman to
Brandon Weeden
, and a general manager who has so far been unable to find the former and has unearthed too many of the latter.
Ponder
The Vikings will likely add a young quarterback to their roster this offseason, and they could bring in a veteran, too, either by re-signing
Matt Cassel
-- who opted out of his 2014 contract last week -- or by adding another free agent this spring. They will be aggressive at the position, general manager Rick Spielman said, but they also know they can't reach for a quarterback with the eighth overall pick just to take one at the top of the draft.
Not with the effects of what happened last time they took a quarterback in the first round still so fresh in their minds.
"You go out and do your due diligence and do everything you possibly can to make those decisions right," Spielman said at his pre-combine news conference on Friday. "We really felt, coming out of the playoffs (in 2012), and the way Christian (Ponder) was playing, because he played well toward the end of the season -- he started out strong, and went in that dip, and started to come, that, 'Hey, this is a second-year guy that's on the come,' and the inconsistencies, didn't carry over last year. That's going to make us look and re-evaluate that position. Like I said, it isn't because we're not here working our rear ends off, trying to get it right, but I think teams that don't have a franchise guy are always going to be doing that."
Ponder is under contract for 2014, and "will be here," Spielman said, but the Vikings certainly aren't proceeding with him at the forefront of their plans. He wouldn't rule out the possibility of new offensive coordinator Norv Turner being able to help Ponder put things together, but it's clear Ponder has burned through his time with the benefit of the doubt.
"Well, right now we're looking at quarterbacks, so we would say we don't have that position solidified," Spielman said. "I know Christian does have the physical abilities to do it, but for whatever reason things haven't come together for him. Sometimes you look at the history of [Alex] Smith, who was out in San Francisco. Sometimes maybe it clicks, maybe it doesn't. Baltimore went through it a little bit with Kyle Boller, and then they went through it with
Joe Flacco
. I know we talk about Seattle, they went through their [struggles] and then they hit on
Russell Wilson
in the third round. You've just got to keep getting up there and trying to keep turning it over to try and find that right combination and that right quarterback for your franchise."
September, 27, 2013
9/27/13
1:00
PM ET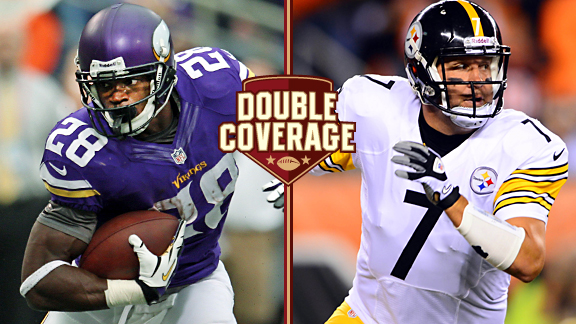 USA TODAY SportsEither Adrian Peterson's Vikings or Ben Roethlisberger's Steelers will leave London with a win.
As exports go, sending the
Minnesota Vikings
and
Pittsburgh Steelers
to London this weekend probably wasn't what the NFL had in mind.
Both teams are 0-3. The Vikings have the second-most turnovers in the NFL (10), and the Steelers are third with nine turnovers. Pittsburgh has yet to force a turnover on defense, and the Vikings gave up last-minute touchdowns the last two weeks in losses to the
Chicago Bears
and
Cleveland Browns
.
And yet, one of these teams will likely head back across the Atlantic Ocean with a win on Sunday. The other will probably have to say goodbye to their already-slim playoff hopes, so there's plenty on the line in London on Sunday. To set up the game, ESPN.com Vikings reporter Ben Goessling and Steelers reporter Scott Brown got together to break things down:
Ben Goessling:
Well, Scott, I don't think this is what either of us expected this game to be -- both of these teams, badly in need of a win, looking lost as they head over to London. For me, the most surprising thing with the Vikings has been how much trouble they've had getting
Adrian Peterson
going.
He's clearly missed fullback
Jerome Felton
(who's back this week) and he's admitted to trying to do too much on a number of runs. I think Peterson gets going this week as he follows Felton's lead, but I can't say I expected him to have only three runs longer than 10 yards through three games. What has surprised you most about how the Steelers have struggled?
Scott Brown:
Ben, to put the Steelers' running game into perspective, consider this: Their leading rusher,
Felix Jones
, has 71 yards, or seven yards fewer, than Peterson had on his first carry of the season. As bad as the running game, and the offense in general, has been, I am most surprised that the defense hasn't made more of what coach Mike Tomlin calls splash plays, especially since
Troy Polamalu
is healthy and has looked terrific. In addition to their lack of takeaways, the Steelers have yet to force a turnover.
Takeaways have been an issue since 2011, and the Steelers have to find a way to force turnovers if they want to have any chance of turning their season around. Speaking of defensive issues, the Vikings have been atrocious against the pass. Is this a get-well game for
Ben Roethlisberger
?
Goessling:
Yes, I think it could be, especially considering how many issues the Vikings appear to have in their secondary.
Chris Cook
,
Jamarca Sanford
and
A.J. Jefferson
are all in some danger of missing the game Sunday, which would likely leave
Josh Robinson
and
Marcus Sherels
as the starters, and
Xavier Rhodes
as the only other healthy corner on the roster.
I've always thought Roethlisberger is one of the league's best at exposing a suspect secondary, since he can extend plays and force defensive backs to stick on their receivers longer than they should need. As effortlessly as everyone has been able to throw on the Vikings so far, I don't see why Sunday's game should be much different.
Let's switch sides of the ball. If
Christian Ponder
plays -- and that appears to be in at least some doubt now that he has a rib injury -- he'll have to properly diagnose the Steelers in their 3-4 defense. As hesitant as Ponder can be sometimes, is this a chance for the Steelers to put some heat on a quarterback?
Brown:
Dick LeBeau will try to confuse Ponder, and the longtime defensive coordinator has traditionally tormented young quarterbacks who struggle to figure out where the Steelers are blitzing from and when they are sending an extra pass-rusher. The best thing the Vikings can do for Ponder, or whoever plays quarterback, is to win on first and second down.
They have just the player who can help them do that and keep them out of third and long in Peterson. He is the best running back on the planet and he is catching the Steelers at a time when their run defense looks vulnerable.
The Steelers are giving up 115.3 rushing yards per game, which is exceedingly high for a team that has finished among the NFL's top three rushing defenses 13 of the past 19 seasons. They yielded 5.4 yards per carry last Sunday night to Chicago's
Matt Forte
. Forte is a good back, but he is no Peterson. Ben, here is my final question for you: What has to happen for the Vikings to win?
Goessling
: Peterson has to have a big day. They haven't had a game yet this year where he's been able to take control of things, and if he can do that Sunday, that'd be a huge help to whomever the Vikings quarterback will be. My hunch is Ponder's injury will be just bad enough -- or it will at least be portrayed as such -- to make
Matt Cassel
the starter, but regardless of the quarterback, the Vikings need Peterson to do what he did last year.
They've also got to cut out the turnovers. Their own 10 turnovers have washed out their defensive productivity in that area, and on a couple occasions, the Vikings have given the ball back right after their defense took it away. That can't happen against a defense that hasn't forced one yet. What's the key for the Steelers to come away from London with their first victory?
Brown:
Contain Peterson. I don't think it is realistic to shut him down, but the Steelers need to put the Vikings in enough third-and-long situations where they can really go after Ponder or Cassel. They also need to generate a couple of takeaways.
The offense also has to build on the positives it produced last Sunday night against the Bears when it gained 459 total yards. Yes, the five turnovers were a killer but I also think the generosity displayed by Roethlisberger (two lost fumbles and two interceptions) was also an anomaly. If the Steelers protect the ball and take it away here and there from the Vikings, I think they win.
.
September, 27, 2013
9/27/13
11:30
AM ET
PITTSBURGH -- A funny thing happened when the
Minnesota Vikings
officially declared
Christian Ponder
out and tabbed
Matt Cassel
to start at quarterback against the Steelers.
Cassel
As much tape as they have watched of Ponder, the Steelers are actually more familiar with his backup having played against Cassel three times, including once last season.
That sample size suggests that the Vikings will rely on All-Pro running back
Adrian Peterson
more than ever Sunday at Wembley Stadium.
Cassel, who started the past four seasons for Kansas City before signing with Minnesota, has completed just 47.4 percent of his passes in the three starts he has made against the Steelers.
He has averaged 190.3 passing yards in those games and thrown two touchdown passes and three interceptions. Cassel is 1-2 against the Steelers in those starts, having played well against them in 2009 in beating them at Arrowhead Stadium.
History isn't all that could benefit the Steelers from the switch the Vikings made because of the rib injury that has sidelined Ponder.
The Steelers had been worried about Ponder's scrambling ability, and that is not as much of a concern with Cassel.
The key for the Steelers is to stop Peterson and make Cassel beat them. If they are successful in doing that the turnovers that have eluded the Steelers defense could come in London.
"There's no question we've got to help our [offense]," defensive coordinator Dick LeBeau said of the Steelers not forcing a turnover through three games this season. "We've had the ball out. We've had the ball bouncing around but haven't got it. I think we're going to get some turnovers."
The Vikings have already committed 10 of them, and if the Steelers can jump on them early they could force Minnesota to rely on Cassel's right arm more than it wants.
Consider that the Steelers' only leads this season have been 3-0 and 2-0.
"It's tough when games are tight and you're not putting quarterbacks in possession where there's long yardage and they're taking risks down the middle of the field," strong safety
Troy Polamalu
said. "That's what makes it tough getting turnovers."
September, 22, 2013
9/22/13
4:24
PM ET
MINNEAPOLIS -- My thoughts on the
Cleveland Browns
'
31-27 win
over the
Minnesota Vikings
at Mall of America Field on Sunday.


What it means:
The Browns pulled out their first victory of the season days after trading running back
Trent Richardson
, with third-string quarterback
Brian Hoyer
shaking off three interceptions to lead a late-game scoring drive. The Vikings, meanwhile, blew a lead and gave up a last-minute touchdown for the second straight week. A team that went 10-6 last season is now 0-3, heading into a quasi-home game in London, and the loss to the Browns exposed serious issues on both sides of the ball.
Vikings stock watch:
Falling -- Vikings' secondary. Minnesota lost
Chris Cook
,
A.J. Jefferson
and
Jamarca Sanford
to injuries, and while it remains to be seen if any of them are long-term problems, the injuries left an already-thin secondary vulnerable to Hoyer, who recovered from a miserable second half to stun the Vikings at home.
Antoine Winfield
is sitting at home, and though the Vikings so far have been reluctant to talk their former Pro Bowl defensive back out of retirement, Sunday's events could change their minds.
Browns stock watch:
Rising -- Browns' run defense. Cleveland had given up an average of just 59.5 yards per game in its first two losses, and even though
Adrian Peterson
ran for 88 on Sunday, the Browns made sure they didn't come easy. Peterson's longest gain of the day was 9 yards, and the Vikings had to rely on
Christian Ponder
and their passing game more than they would have liked to.
Hoyer Watch:
In the first half, Hoyer looked capable of pulling out a surprising victory, making a number of effective throws on rollouts to keep him away from the Vikings' defensive line and burning cornerback A.J. Jefferson on a stop-and-go route to
Josh Gordon
for a 47-yard touchdown. He threw a pair of interceptions in the second half, when the Vikings turned up the heat with blitzing linebackers, but he rebounded to lead an 11-play, 55-yard drive for Cleveland's final touchdown, finding
Jordan Cameron
in the corner of the end zone.
Ponder Watch:
In a game that exposed plenty of issues for the Vikings, Ponder's play was what got fans the most riled up. He crumbled after leading a couple of drives early in the game, throwing for just 7 yards in the third quarter, and was unable to direct a late-game drive to put the game away after the Vikings took a 27-24 lead on a
Blair Walsh
field goal. The Vikings' play calling will come into question after the team handed Peterson the ball just five times in the fourth quarter, and the team's offensive line again left Ponder running for his life. But a quarterback the Vikings drafted 12th overall still has not shown any signs of being a fixture at the position, and on Sunday, a quarterback making his second career start got the last laugh on Ponder.
What's next:
The Vikings (0-3) head to London to take on the
Pittsburgh Steelers
at Wembley Stadium, while the Browns return home for their first division home game of the season, playing host to the
Cincinnati Bengals
next Sunday afternoon.
October, 19, 2011
10/19/11
4:30
PM ET
Bengals quarterback
Andy Dalton
was taken in the second round, but he's winning more than his first-round counterparts. That point was made by NFC South blogger Pat Yasinskas in his weekly "
QB Watch
."
Dalton has led Cincinnati to a 4-2 start while two first-round picks -- Carolina's
Cam Newton
(first overall) and Jacksonville's
Blaine Gabbert
(10th) -- have a combined 1-9 record as starters. Minnesota's
Christian Ponder
, the 12th overall pick, makes his first start Sunday.
There's no question that this is Dalton's team now after the Bengals traded holdout quarterback
Carson Palmer
to the Raiders on Tuesday.
"The quarterback, he is our centerpiece, and we develop offense through Andy,'' Cincinnati coach Marvin Lewis said. "Everything we do comes through Andy. People asked me, 'How are you going to be with a young quarterback?' Well, a young quarterback is going to be our offense and he is going to be what our offense is. You can see what we do and we do it through him. That's why we felt so good about this guy."
May, 2, 2011
5/02/11
10:00
AM ET
The 2011 NFL draft is in the books, and we have another interesting poll question for our community. This week the AFC North blog wants to know who will be the better NFL quarterback:
Christian Ponder
or
Andy Dalton
?
Both were projected to go late in the first round or early in the second round. But the
Minnesota Vikings
pulled off the shocker of the draft, selecting Ponder No. 12 overall Thursday night. Dalton was
picked the next day
by the
Cincinnati Bengals
in the second round, No. 35 overall.
Minnesota
received a lot of heat
for picking Ponder so high, while the Bengals have been commended for waiting and getting solid value in the second round.
But is Ponder the better NFL quarterback? He suffered some injuries in college and had an up-and-down career at Florida State. Ponder will join a veteran team in Minnesota and could start early if the team does not acquire a veteran this offseason such as
Donovan McNabb
.
Or will Dalton perform better than Ponder? Dalton was a favorite of a lot of talent evaluators for his accuracy and winning ways at TCU. Dalton is going to a rebuilding team in Cincinnati but is expected to be the Week 1 starter with
Carson Palmer
threatening retirement.
Using our SportsNation poll, vote for which player will be the better NFL quarterback and share your thoughts in the comments section below.
April, 22, 2011
4/22/11
3:00
PM ET
It's no secret the
Cincinnati Bengals
will take a high-profile quarterback in next week's NFL draft. The only question is which round?
Holding the No. 4 overall pick, the Bengals are not expected to draft one of the top-two quarterbacks: Auburn's
Cam Newton
or Missouri's
Blaine Gabbert
. Therefore, most projections have Cincinnati taking a quarterback at the top of the second round with the No. 35 overall pick. Potential targets could be TCU's
Andy Dalton
, Arkansas'
Ryan Mallett
and Florida State's
Christian Ponder
.
But
according to ESPN's Adam Schefter
, there is a growing sense that Dalton, Mallett and Ponder are moving up draft boards and could be taken late in the first round. If that's the case, that could leave the Bengals empty-handed at No. 35 when it comes to drafting one of the top quarterback prospects.
The Bengals have to be prepared for every scenario, and that includes trading back into the first round if necessary. Dalton, Mallett and Ponder likely aren't rated among the top 32 prospects for every team. But quarterback is such an important position that other quarterback-needy teams may get antsy and take one higher than originally projected.
It's important for Cincinnati to stay alert and keep its eye on this development. Because with franchise quarterback
Carson Palmer
threatening to retire, the worst thing the Bengals can do is come out of next week's draft without a viable replacement.
April, 18, 2011
4/18/11
4:40
PM ET
There is pre-draft speculation linking Arkansas quarterback
Ryan Mallett
as a possible second-round target of the
Cincinnati Bengals
. But will Mallett still be on the board for Cincinnati at No. 35?


New evidence suggests the Bengals could have competition. Lately, the
New England Patriots
have put a lot of resources into researching top-rated quarterbacks.
Last week they met
with Washington's
Jake Locker
, and this week the AFC North blog has learned New England will host Mallett for
a two-day visit
on Monday and Tuesday.
New England is a wild card in the quarterback derby because the team obviously has reigning NFL MVP
Tom Brady
entrenched as the starter. But Brady will be 34 in August. He is signed through 2014 and will be 37 at the end of his contract. At some point within the next few years, the Patriots need to find and begin grooming their quarterback of the future.
The Patriots hold two first-round picks (No. 17 and No. 28) as well as the No. 33 overall pick to start the second round. This gives New England tremendous flexibility to go in a lot of different directions. The Patriots also can use recent flirtations with Locker and Mallett to explore trade possibilities with other teams more desperate for a quarterback.
Perhaps no team is more desperate at quarterback than the Bengals. The position is in turmoil after starter
Carson Palmer
demanded a trade and
threatened to retire
this offseason. Cincinnati likely will take a quarterback with one of its first two picks.
Possibilities include Auburn's
Cam Newton
and Missouri's
Blaine Gabbert
in the first round and TCU's
Andy Dalton
, Florida State's
Christian Ponder
and Mallett in the second round.
March, 25, 2011
3/25/11
9:31
AM ET
By
ESPN.com staff
| ESPN.com
Baltimore Ravens
Safety Tom Zbikowski told The Baltimore Sun that he would like his next NFL contract to
allow him to box next year
and beyond.
The Ravens
should get compensatory draft picks
for losing Dwan Edwards to the Bills (projected to be a fifth-round pick) and Justin Bannan to the Broncos (a likely sixth-rounder).
Cincinnati Bengals
The Bengals are
scheduled to visit with Cam Newton
at Auburn next Sunday and then work him out on April 4.
Cincy Jungle
continues its mock draft
into the second round; it has the Bengals selecting Florida State quarterback Christian Ponder.
Cleveland Browns
Clemson defensive end Da'Quan Bowers will
visit the Browns
on April 11 or 12, according to the Plain Dealer. Tony Grossi has Bowers
going to the Browns
in his latest mock draft.
A Cleveland-area private seat license holder has
sued the NFL, the Browns and the league's 31 other teams
. In his lawsuit, Ken Lanci claims the lockout violates his private seat license contract with the Browns and jeopardizes his right to watch a full season of home games.
Pittsburgh Steelers
In its continuing series looking back at the team's playoff history, the Steelers' website
breaks down 1972 AFC Championship Game
.
Even if the NFL lockout canceled the 2011 NFL season, the Sports & Exhibition Authority, which owns Heinz Field, would be able to tap into a reserve of ticket surcharges to
cover debt payments
.
March, 7, 2011
3/07/11
12:00
PM ET
With quarterback
Carson Palmer
's trade
demands and threats to retire
, the
Cincinnati Bengals
are likely to look for a successor in April's draft.

But is Cincinnati capable of scouting and picking its next franchise quarterback? Two decades of history say it won't be easy.
The Bengals have arguably the NFL's worst track record drafting quarterbacks over the past 20 years. They have drafted high-profile busts
Akili Smith
(No. 3 overall in 1999) and
David Klingler
(No. 6 overall in 1992), mid-round flops
Jeff Rowe
(fifth round in 2007) and
Donald Hollas
(fourth round in 1991), and seventh-rounders
Casey Bramlet
(2004) and
John Walsh
(1995) who never played.
Of the quarterbacks Cincinnati drafted since 1991, Palmer is the only player who has been successful in the NFL. He has made two Pro Bowls with the Bengals and thrown for 22,694 yards and 154 touchdowns in eight seasons.
But Palmer was taken No. 1 overall, and it didn't take much effort or scouting for Cincinnati and the rest of the NFL to know Palmer was the consensus top pick in the 2003 draft. Yet, with zero playoff wins and two major injuries to his knee and elbow, Palmer's career with Cincinnati has fallen short of expectations.
Now that the Bengals are back in the quarterback market, their inability to scout the position is back in the spotlight. Cincinnati owns the No. 4 overall pick in a year when finding a franchise quarterback in the draft is not a slam dunk.
There are significant questions regarding top QB prospects
Cam Newton
,
Blaine Gabbert
,
Jake Locker
,
Ryan Mallett
,
Christian Ponder
and
Andy Dalton
. The group has upside, but none of these prospects is considered a lock. Will the Bengals find their long-term solution at quarterback next month, or just another Smith, Klinger or
Scott Covington
?
March, 3, 2011
3/03/11
1:24
PM ET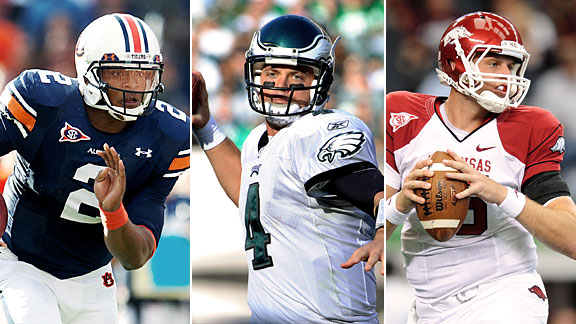 US PresswireCam Newton, Kevin Kolb and Ryan Mallett could be attractive candidates to succeed Carson Palmer.
Thanks to
Carson Palmer
, there is a dark cloud of uncertainty hanging over the
Cincinnati Bengals
. Cincinnati's $100 million quarterback
wants out in the worst way
and has threatened to retire if he doesn't get his wish.
Palmer's stern demands have put the Bengals in a huge bind this offseason, as the franchise now scrambles to find contingency plans in the event Palmer stays true to his word. Not only that, Cincinnati is coming off a disappointing 4-12 season and has plenty of needs throughout its roster.
Bengals ownership has held firm in saying it
will not trade Palmer
, leaving both parties at a stalemate. But there are many wrinkles to this saga that have yet to unfold.
With that in mind, here are five questions and answers on Cincinnati's quarterback issue:
Question No. 1: Who is currently on the roster?
Answer:
For years, the Bengals have put off drafting an eventual successor at quarterback, and the team is now paying for it with Palmer's surprising threat to retire. Cincinnati's in-house options aren't very good. Carson Palmer's younger brother,
Jordan Palmer
, is the No. 2 quarterback on the roster. The four-year veteran has seen limited action in four career games and has a 34.4 passer rating. Jordan Palmer is trying to
take a leadership role
in Cincinnati and rally the receivers to work out together in the offseason. Second-year quarterback
Dan LeFevour
, No. 3 on the depth chart, is unproven. The Bengals picked up LeFevour off waivers from the
Chicago Bears
as a rookie last September. Neither quarterback is starting material and it would be surprising if Cincinnati starts next season with either player under center.
Question No. 2: What is available via trade or through free agency?
[+] Enlarge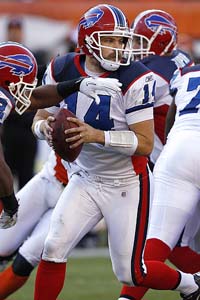 Frank Victores/US Presswire Ryan Fitzpatrick could be a possibility for the Bengals in the free-agent market.
Answer:
Although the Bengals traditionally aren't major players in free agency or the trade market, Cincinnati must an exception if the team wants an experienced quarterback to replace Palmer. As far as trades,
Kevin Kolb
of the
Philadelphia Eagles
would be a solid fit for the Bengals. He's young, has some starting experience and is well-versed in the West Coast offense, which Cincinnati is implementing under new offensive coordinator Jay Gruden. Kolb is a backup in Philadelphia to
Michael Vick
, who was an MVP candidate last season. So for the right price, the Eagles could listen. Other options include
Vince Young
of the
Tennessee Titans
and
Washington Redskins
quarterback
Donovan McNabb
, who are both on the outs with their teams. The Titans, in fact, could be a good landing spot for Palmer if the Bengals are willing to move him. (We will get to that later.) The free-agent market is thinner. But an interesting option, at least in the short term, could be
Ryan Fitzpatrick
of the
Buffalo Bills
. Buffalo has expressed interest in re-signing Fitzpatrick (3,000 yards, 23 touchdowns) after a career year. But the Bills are also could draft their long-term solution at quarterback with the No. 3 overall pick. Fitzpatrick was Palmer's backup in Cincinnati in 2008.
Question No. 3: Who is available in the draft?
Answer:
This is the safest route for the Bengals to grab "Palmer insurance." With labor uncertainty, there will no be trades or player movement until a new collective bargaining agreement is reached. But there is guaranteed to be an NFL draft at the end of April. Cincinnati would be wise to grab one of the top quarterbacks in the draft. The Bengals have the No. 4 overall pick and
could have a shot
at top quarterback prospects Cam Newton of Auburn and Missouri's Blaine Gabbert. But investing such a high pick at quarterback when the team is still unsure about Palmer's future may not be the best route. A quality prospect at the position likely would be available at the top of the second round. Quarterbacks such as Ryan Mallett of Arkansas, Christian Ponder of Florida State and Andy Dalton of TCU could be possibilities there.
Mallett showed great throwing ability
at the combine but has some off-the-field concerns. But the Bengals have typically gone after those types of players in the past.
Question No. 4: What is Palmer's trade value?
Answer:
Palmer is a 31-year-old quarterback whose best years are behind him, but he still has value. He put up a lot of yards (3,970) but not a lot of wins (four) last season. He also tied a career high with 20 interceptions, although some were the result of receivers freelancing and running their own routes. When looking at trade value, you have to examine recent examples. Last year the Eagles traded McNabb to Washington for a second-round pick and a future third- or fourth-round pick, which was conditional. This type of deal seems on par with what the Bengals could receive. Teams just don't give up first-round picks anymore because they're too valuable. So for a veteran such as Palmer, the Bengals could probably land a second-rounder and another pick or two in the middle rounds. Cincinnati also wouldn't have to worry about the $50 million owed to Palmer over the next years. If the Bengals try to call Palmer's bluff and he retires, they get nothing.
Question No. 5: Which teams are potential trade partners?
Answer:
Palmer still has a few good years left and could be a solid quarterback in a winning situation. About a third of the league has questions at quarterback. But that doesn't mean every team is a good fit for Palmer. He doesn't want to be part of another long rebuilding process, which is what's going on in Cincinnati. So the
Minnesota Vikings
,
San Francisco 49ers
, Tennessee,
Miami Dolphins
and
Oakland Raiders
would be ideal landing spots for Palmer, who could be the missing piece to turning these teams into playoff contenders. Other teams with quarterback needs, such as Buffalo and the
Arizona Cardinals
, have a lot more work to do and are in the same spot as Cincinnati. So Palmer probably would be less interested. All of this is contingent, of course, on the Bengals' willingness to trade Palmer.
Considering all of these factors, Palmer vs. the Bengals is undoubtedly a must-watch situation this offseason.