February, 24, 2011
2/24/11
3:48
PM ET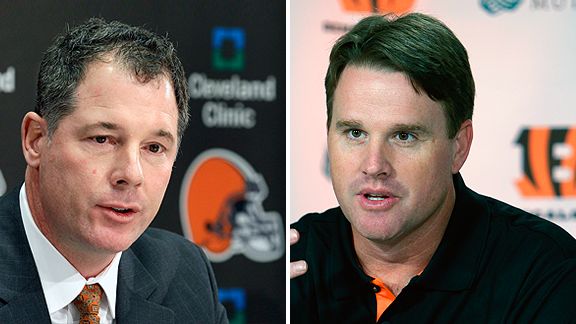 AP PhotoPat Shurmur, left, and Jay Gruden are two of the new faces in the AFC North.
The offseason has just begun, but the coaching carousel has been spinning for all four teams in the AFC North.
Often the struggling teams make significant coaching changes, and that was the case with the
Cincinnati Bengals
(4-12) and
Cleveland Browns
(5-11). But playoff teams like the
Baltimore Ravens
(12-4) and even the Super Bowl runner-up
Pittsburgh Steelers
(12-4) also experienced some turnover on their staff.
Here is a look at each change and what it means for the division:

Cleveland Browns
In:
Head coach Pat Shurmur, defensive coordinator Dick Jauron and a new staff.
Out:
Former head coach Eric Mangini, former defensive coordinator Rob Ryan and former offensive coordinator Brian Daboll.
What happened?
Mangini entered this past season on the hot seat and went 5-11 for the second consecutive year. There were a lot of philosophical differences between Mangini and Browns president Mike Holmgren. So when the team wasn't winning, it made for an easy decision to go in a different direction. Enter Shurmur, who was a surprise hire for Cleveland. Shurmur has no prior head-coaching experience and wasn't on the radar of other teams. The Browns have pretty much cleaned house and hired a new staff, which includes Jauron and veteran defensive assistant Ray Rhodes.
Analysis:
Last year, Holmgren was dumbfounded by some of the things the Browns were doing, particularly on offense. But Holmgren and Shurmur share many of the same views, which will give Holmgren more say in what goes on, and I think being on the same page is important for any team. The Browns are one of the few teams this year that will change both their offense
and
defense. Cleveland will go to a West Coast offense under Shurmur, who did not hire an offensive coordinator and will call the plays. The Browns also will switch to a 4-3 defense, which is something they haven't run since 2004. Shurmur is taking on a lot of responsibility as a rookie head coach and de facto offensive coordinator, which raises some concerns. Cleveland hopes veteran coaches like Jauron and Rhodes will take care of the defense, giving Shurmur one less thing to worry about. In terms of personnel, the Browns have a lot of work to do. They need better receivers on offense if they plan to pass more and playmakers at defensive end to run a 4-3 scheme.

Cincinnati Bengals
In:
Offensive coordinator Jay Gruden, receivers coach James Urban.
Out:
Former offensive coordinator Bob Bratkowski, former receivers coach Mike Sheppard.
What happened?
Changes were inevitable for Cincinnati's coaching staff this season. There was a lot of unrest among players internally who didn't like the scheme on offense. The Bengals entered the season with playoff aspirations but had an abysmal four-win campaign. Quarterback
Carson Palmer
was so unhappy that he demanded a trade after the season. Receivers
Terrell Owens
publicly criticized the coaching staff several times and starting tailback
Cedric Benson
said he was not returning if Bratkowski was still the offensive coordinator. Bratkowski was let go and later hired by the
Atlanta Falcons
, and Sheppard went to the
Jacksonville Jaguars
. Gruden, a former UFL head coach and the brother of former NFL coach Jon Gruden, was hired as offensive coordinator, and Urban was hired as receivers coach from the
Philadelphia Eagles
.
Analysis:
Cincinnati will be the second team in the division implementing a West Coast offense. Gruden also says he wants to make sure Cincinnati has a power running game, which is needed in this division. When the Bengals were at their best in 2009, they ran the football effectively and played tough defense. Cincinnati went away from that last year and had an awful season. How Gruden's offense translates from the UFL to the NFL remains to be seen. Cincinnati also has to handle a lot of personnel issues. Will Palmer retire? If so, who will be the new quarterback? Should the team trade
Chad Ochocinco
? Will Benson return? Cincinnati will have a very busy offseason trying to figure out these questions before putting together its new offense.
February, 16, 2011
2/16/11
5:30
PM ET
Here are the latest happenings Wednesday evening in the AFC North: