AFC North:

Cincinanti Bengals
September, 8, 2011
9/08/11
1:00
PM ET
Everyone is familiar with star players like
Troy Polamalu
,
Ed Reed
,
Peyton Hillis
and
Cedric Benson
. But who will be the lesser-known X factors in these Week 1 matchups?
Here are some additional players who could make an impact Sunday's games in the AFC North:
Lee Evans, WR, Baltimore Ravens
Experience:
Eighth season

Analysis:
Baltimore traded for Evans to add speed to its receiving corps. Pittsburgh and other teams often stacked the box against Baltimore's offense. Opponents didn't respect the Ravens' ability to throw deep. That's where Evans can be a difference-maker. He has the speed to blow by defenders for long gains. If Evans makes a big play or two this weekend, that increases Baltimore's chances against Pittsburgh.
Antonio Brown, WR, Pittsburgh Steelers
Experience:
Second season

Analysis:
The last time Brown played the Ravens, he got behind Baltimore corner
Lardarius Webb
for a huge catch in the playoffs to set up Pittsburgh's game-winning touchdown. Brown has carried that momentum into the preseason. He's been Pittsburgh's most productive receiver in exhibition games and won the job as the team's third receiver. The Ravens have to account for Brown, in addition to
Hines Ward
,
Mike Wallace
and
Heath Miller
.
Leon Hall, CB, Cincinnati Bengals
Experience:
Fifth season

Analysis:
The high-profile matchup between Bengals receiver
A.J. Green
and Browns No. 1 corner
Joe Haden
will get a lot of press. But in contrast, Hall will be asked to shut down Cleveland's passing game, led by quarterback
Colt McCoy
. Hall recently received a big contract extension. He would like nothing better than to make a few big plays against Cleveland in Week 1 to justify his pay raise.
Ahtyba Rubin, DT, Cleveland Browns
Experience:
Fourth season

Analysis:
The Bengals are not hiding the fact they want to run the football. Look for Benson to get a lot of carries to test the young defensive line of the Browns. That's where Rubin comes in. He's the only proven player on Cleveland's front four. Rubin will team with rookie first-round pick Phil Taylor as the biggest pieces to Cleveland's run defense. If Rubin is disruptive to Cincinnati's rushing attack, that will go a long way toward stopping the Bengals' offense.
August, 26, 2011
8/26/11
12:00
PM ET
Are the
Pittsburgh Steelers
too old?

That question comes up nearly every year in Pittsburgh. But the Steelers often prove their critics wrong with another playoff run.
NFC West counterpart Mike Sando
did a great chart this week outlining the age of starters and backups on offense and defense. By that measure, the Steelers are the second-oldest team in the NFL.
Many of Pittsburgh's starters are 30 or older. That includes receiver
Hines Ward
(35), safety
Troy Polamalu
(30), safety
Ryan Clark
(31), linebacker
James Farrior
(36), cornerback
Ike Taylor
(31) and defensive ends
Brett Keisel
(32) and
Aaron Smith
(35). The Steelers have the oldest defense in the league, according to the chart. Pittsburgh's offense is ranked No. 13.
Will age catch up to Pittsburgh in 2011? Probably not. The reigning AFC champions have looked good in training camp and the preseason. Injuries are probably the only thing that could derail Pittsburgh from making the playoffs again this season.
The
Baltimore Ravens
, who cut several veterans and got younger this year, were No. 13. The
Cincinnati Bengals
were No. 22 and the
Cleveland Browns
were No. 29.
August, 8, 2011
8/08/11
9:56
PM ET
GEORGETOWN, Ky. -- The
Cincinnati Bengals
are wasting no time getting the
Andy Dalton
era underway.

Dalton
Bengals head coach Marvin Lewis said Dalton will be the starter in Cincinnati's preseason opener Friday night against the
Detroit Lions
. It could be the first of many starts for Dalton in a Bengals uniform. He was drafted in the second round last April to replace veteran
Carson Palmer
, who demanded to be traded and subsequently retired.
"It's a good opportunity for me," Dalton said after Monday night's practice. "I knew once I got drafted here there was going to be an opportunity. I feel I've come out and worked hard and tried to get better each day. That's all I can do right now."
The Bengals may keep Dalton and the first team on the field longer than usual, according to Lewis. Cincinnati is in the process of learning a new West Coast offense.
"We haven't had all the offseason work that you normally would have," Lewis said. "So I think we need to play together as a football team on both sides of the ball."
June, 30, 2011
6/30/11
1:00
PM ET
»
Best of NFC
:
East
|
West
|
North
|
South
»
AFC
:
East
|
West
|
North
|
South
As part of Best of the NFL Week on ESPN.com, here are five bests for the AFC North:
[+] Enlarge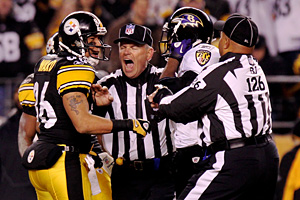 Nick Laham/Getty ImagesThe Ravens and Steelers have the best rivalry in the division and one of the best in the NFL.
Best rivalry:
The
Pittsburgh Steelers
and
Baltimore Ravens
are finally getting their due following a series of classic games the past three years. The rivalry recently included a pair of great playoff matchups following the 2008 and 2010 seasons -- both won by Pittsburgh. The Steelers have had the upper hand in this rivalry recently. Pittsburgh starting quarterback
Ben Roethlisberger
hasn't lost to the Ravens since 2006. But that
hasn't stopped
both teams from
trash-talking
this offseason. The Steelers and Ravens will play in Baltimore in Week 1.
Best QB controversy:
Few teams have a bigger quarterback controversy on their hands than the
Cincinnati Bengals
. Franchise player
Carson Palmer
refuses to play for the team and says he
wants to be traded or will retire.
On the other end, Bengals owner Mike Brown is calling Palmer's bluff and insists he
won't trade the quarterback
. This has been a major league stare down this offseason, and so far neither side has blinked. I don't expect either to back down anytime soon. But we will have a lot more clarity on the situation once a new collective bargaining agreement is reached.
Best team facility:
"The Castle" in Owings Mills, Md., is impressive. It's the best team facility in the division and one of the best in the league. The Ravens have beautiful outdoor practice fields and a huge fieldhouse that is top-notch. The team spared no expense. Pittsburgh's complex is second and the
Cleveland Browns
' training facility in Berea, Ohio, is third. Last is the training facility of the Bengals, who practice at their stadium and are behind the times compared with most NFL teams. Cincinnati doesn't have an indoor practice facility, which has been a point of contention between ownership and Bengals head coach Marvin Lewis.
Best tailgating:
Although I don't tailgate, I do walk and drive by all the AFC North tailgates multiple times during the season. From the looks of it, I would rate Baltimore as the best pregame tailgate. The atmosphere is always energetic and the food smells great. I would be lying if I didn't say I thought about stopping by a few times and grabbing a bite to eat before the game.
Best fan base:
Steeler Nation is everywhere and is one of the top fan bases in the country in any sport. They pack Heinz Field every week during football season, and there's a long waiting list for tickets. Steelers fans also travel extremely well and often take over opposing stadiums. The team has rewarded these loyal fans with an NFL-high six Super Bowl championships. It's a two-way lovefest between the team and its fan base that few pro teams can match.
February, 24, 2011
2/24/11
3:48
PM ET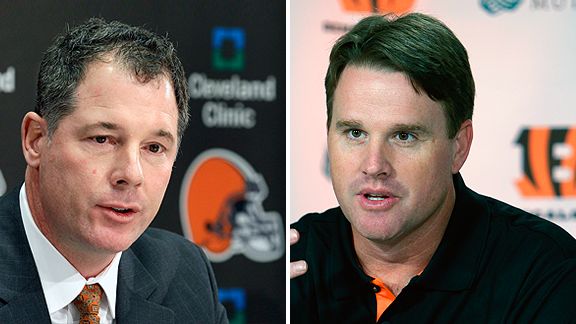 AP PhotoPat Shurmur, left, and Jay Gruden are two of the new faces in the AFC North.
The offseason has just begun, but the coaching carousel has been spinning for all four teams in the AFC North.
Often the struggling teams make significant coaching changes, and that was the case with the
Cincinnati Bengals
(4-12) and
Cleveland Browns
(5-11). But playoff teams like the
Baltimore Ravens
(12-4) and even the Super Bowl runner-up
Pittsburgh Steelers
(12-4) also experienced some turnover on their staff.
Here is a look at each change and what it means for the division:

Cleveland Browns
In:
Head coach Pat Shurmur, defensive coordinator Dick Jauron and a new staff.
Out:
Former head coach Eric Mangini, former defensive coordinator Rob Ryan and former offensive coordinator Brian Daboll.
What happened?
Mangini entered this past season on the hot seat and went 5-11 for the second consecutive year. There were a lot of philosophical differences between Mangini and Browns president Mike Holmgren. So when the team wasn't winning, it made for an easy decision to go in a different direction. Enter Shurmur, who was a surprise hire for Cleveland. Shurmur has no prior head-coaching experience and wasn't on the radar of other teams. The Browns have pretty much cleaned house and hired a new staff, which includes Jauron and veteran defensive assistant Ray Rhodes.
Analysis:
Last year, Holmgren was dumbfounded by some of the things the Browns were doing, particularly on offense. But Holmgren and Shurmur share many of the same views, which will give Holmgren more say in what goes on, and I think being on the same page is important for any team. The Browns are one of the few teams this year that will change both their offense
and
defense. Cleveland will go to a West Coast offense under Shurmur, who did not hire an offensive coordinator and will call the plays. The Browns also will switch to a 4-3 defense, which is something they haven't run since 2004. Shurmur is taking on a lot of responsibility as a rookie head coach and de facto offensive coordinator, which raises some concerns. Cleveland hopes veteran coaches like Jauron and Rhodes will take care of the defense, giving Shurmur one less thing to worry about. In terms of personnel, the Browns have a lot of work to do. They need better receivers on offense if they plan to pass more and playmakers at defensive end to run a 4-3 scheme.

Cincinnati Bengals
In:
Offensive coordinator Jay Gruden, receivers coach James Urban.
Out:
Former offensive coordinator Bob Bratkowski, former receivers coach Mike Sheppard.
What happened?
Changes were inevitable for Cincinnati's coaching staff this season. There was a lot of unrest among players internally who didn't like the scheme on offense. The Bengals entered the season with playoff aspirations but had an abysmal four-win campaign. Quarterback
Carson Palmer
was so unhappy that he demanded a trade after the season. Receivers
Terrell Owens
publicly criticized the coaching staff several times and starting tailback
Cedric Benson
said he was not returning if Bratkowski was still the offensive coordinator. Bratkowski was let go and later hired by the
Atlanta Falcons
, and Sheppard went to the
Jacksonville Jaguars
. Gruden, a former UFL head coach and the brother of former NFL coach Jon Gruden, was hired as offensive coordinator, and Urban was hired as receivers coach from the
Philadelphia Eagles
.
Analysis:
Cincinnati will be the second team in the division implementing a West Coast offense. Gruden also says he wants to make sure Cincinnati has a power running game, which is needed in this division. When the Bengals were at their best in 2009, they ran the football effectively and played tough defense. Cincinnati went away from that last year and had an awful season. How Gruden's offense translates from the UFL to the NFL remains to be seen. Cincinnati also has to handle a lot of personnel issues. Will Palmer retire? If so, who will be the new quarterback? Should the team trade
Chad Ochocinco
? Will Benson return? Cincinnati will have a very busy offseason trying to figure out these questions before putting together its new offense.
February, 3, 2011
2/03/11
9:39
AM ET
A Gruden is coming to the AFC North. But it's not the one you might think.
Jay Gruden, the younger brother of Jon Gruden, has been hired by the Cincinnati Bengals to be their offensive coordinator. Profootballtalk.com first reported the move, which
was later confirmed
by ESPN's Adam Schefter.
Jay Gruden spent the past two years in the UFL and replaces longtime Cincinnati offensive coordinator Bob Bratkowski. Despite some new additions, the Bengals' offense underachieved last season and was ranked 20th in the NFL.
December, 1, 2010
12/01/10
6:00
PM ET
Here are the latest happenings in the AFC North:
January, 19, 2009
1/19/09
1:30
PM ET
Posted by ESPN.com's James Walker
With the Pittsburgh Steelers representing the AFC and the division in Super Bowl XLIII, here are seven notes and observations:
| | |
| --- | --- |
| | |
| | Gregory Shamus/Getty Images |
| | Troy Polamalu's touchdown helped seal a Super Bowl berth for the Steelers. |
There should be no question now of which team is better between the Steelers and Ravens. The first two games left plenty of room for debate, but Pittsburgh outplayed the Baltimore for four quarters Sunday during its 23-14 win in the AFC Championship Game. The Steelers never trailed and led in nearly every major statistical category, including total yards, forced turnovers, time of possession and third-down conversions. But this rivalry should be hotly contested again next year as both clubs should be very good.
We're not going to harp too much on the referees other than to say this was a another poorly officiated game. There were at least two egregiously blown calls involving a roughing the kicker penalty against Baltimore and Steelers receiver Santonio Holmes' touchdown/fumble/incomplete pass sequence that were mind boggling. There were a couple of other calls that were borderline. But officials did make errors on both sides which, I guess in some odd way, should be commended.
It's no surprise that the loss of cornerback Samari Rolle (groin, thigh) hurt the Ravens. The situation was very similar to most of the 2007 season when both Rolle and Chris McAlister also went down with injuries. Teams picked apart the ailing Ravens' secondary at every chance, because that was the only weakness on their defense. Pittsburgh did the same by throwing at replacements Frank Walker and Corey Ivy, who began the season as the No. 4 and No. 5 corners. Starter Fabian Washington also didn't have his best game and Pittsburgh threw for 255 yards, which was the highest passing total in the three meetings.
Ravens middle linebacker Ray Lewis finished the year on a high note. With everything on the line, Lewis had another terrific game with nine tackles and a forced fumble of Pittsburgh tailback Willie Parker. Lewis left his heart on the field and was visibly upset Sunday night while refusing to talk to reporters. It will be interesting to see how the Ravens handle the 33-year-old Lewis in free agency moving forward.
In trying to figure out why Scott Pioli took over as GM of the Kansas Chiefs and ditched the Cleveland Browns, an educated guess is Pioli felt more comfortable with Chiefs ownership. Money wasn't an issue, both teams were awful last year and there's no significant difference between the two rosters. In fact, the Browns probably have more game-breaking talent. But the Hunt family is viewed as one of the best ownership groups in the NFL. The Browns do not have that same league-wide reputation after hiring four regimes in 10 years, and that likely wore on the mind of Pioli when making a major (and risky) career decision to leave the safe nest of the New England Patriots.
Meanwhile, the Browns are getting no favors from the Ravens in regards to expected GM candidate George Kokinis. Baltimore likely will lose Kokinis to Cleveland very soon but has held up the transaction with its playoff run for as long as possible. This is an important time for non-playoff teams to evaluate their roster and plan ahead. New Browns coach Eric Mangini has been alone in that process so far. But with the combine and free agency fast approaching, the expected pair will have to hit the ground running to make up for the late start.
Reports out of Cincinnati state Bengals tackle Stacy Andrews had successful reconstructive knee surgery last week. That's the good news. The bad news is starting with the rehab date of mid-January, the earliest possible return for Andrews probably won't be until mid-September. This has to hurt Andrews' list of suitors, who probably will take a wait-and-see approach with his rehab. It will be surprising if Andrews is taken off the unrestricted free-agent market immediately considering his current status.
November, 24, 2008
11/24/08
11:00
AM ET
Posted by ESPN.com's James Walker
Let's see who's hot and who's not after Week 12 in the AFC North division:

Reed
Who's hot?
1. Ed Reed, S, Baltimore Ravens
In case anyone had doubts, Reed is still an elite safety in the NFL. Despite playing through neck and shoulder injuries, Reed continues to perform at a high level. On Sunday, he recorded two interceptions in a 36-7 thrashing of the Philadelphia Eagles. Arguably the biggest play of the game came in the second half when Reed intercepted a pass deep in the end zone and returned it 108 yards for a touchdown. It was the longest interception return in NFL history. Reed broke his own record of 106 yards that was set four years ago.
2. Dick LeBeau, defensive coordinator, Pittsburgh Steelers

Last week, the Steelers celebrated 50 years of NFL service as a player and coach for LeBeau. That is an amazing accomplishment in itself. But not only that, LeBeau's defenses remain on the cutting edge of the NFL after all these years. The Steelers' defense has yet to have a bad game, and LeBeau is arguably the biggest reason Pittsburgh is sitting pretty at 8-3 and in a position to win every single week.

Polamalu
3. Troy Polamalu, S, Pittsburgh Steelers
LeBeau is the brains on the sidelines, but Polamalu is the heart and soul of Pittsburgh's vaunted defense on the field. He had another stellar performance in Week 12, garnering six tackles and an interception in a 27-10 victory over the Cincinnati Bengals. It was his second pick in as many weeks and fifth on the season. Polamalu has stayed healthy all year and is playing at a Pro Bowl level.
Who's not?

Ocho Cinco

1. Chad Ocho Cinco, WR, Cincinnati Bengals
It doesn't get much worse for a player than to be deactivated and sent home the day of the game. That's what happened to Ocho Cinco before last week's 27-10 loss to the Pittsburgh Steelers. Reportedly he was late for a team meeting the night before the game and subordinate to the team and head coach Marvin Lewis. This may be the last straw for Ocho Cinco in Cincinnati. He clearly wants out and the team is not getting the same level of production from the receiver. Expect a mutual parting of ways before the 2009 season.
2. Brady Quinn, QB, Cleveland Browns

Quinn
What happened? Just last week Quinn was viewed as the savior and future of the Browns' franchise. Suddenly on Sunday he was benched. Quinn finished the game 8-of-18 for 94 yards and two interceptions. It was a surprising move after just experiencing a benching two games prior. But backup Derek Anderson (51 yards, one interception) didn't do much better, which opens a question of who the Browns should turn to moving forward.
3. Cedric Benson, RB, Cincinnati Bengals

Benson
The Bengals have nothing left to play for, but Benson is on a five-game audition for his current team and the rest of the NFL. In Cincinnati's only national game of the season, he had just 35 yards on 16 carries for an average of 2.2 yards per carry against the Steelers. Benson has shown flashes of being a former first-round pick, but he needs to be more consistent down the stretch if he wants to win Cincinnati's starting tailback job for 2009.
November, 18, 2008
11/18/08
9:30
AM ET
Posted by ESPN.com's James Walker
Here are the most interesting stories Tuesday in the AFC North:
Morning take: The Browns continue their trend of unpredictability. They win the games you don't expect, and lose the game they should win.
Morning take: The Ravens won four in a row to put themselves in position to drop a game here and there. The most important thing for Baltimore is not to suffer any long losing streaks the rest of the way if it wants to make the postseason.
Morning take: What's really odd is that the Bengals are playing their best football of the season while the Steelers are not as sharp as they should be. Maybe that combination will produce a highly-competitive game Thursday night.
Morning take: Now that Parker is back, we agree. Pittsburgh quarterback Ben Roethlisberger has thrown the football 82 times the past two games, which is not what Pittsburgh is known for.
November, 14, 2008
11/14/08
2:00
PM ET
Posted by ESPN.com's James Walker
It's venting time once again in the AFC North.
We try to give as many ESPN.com readers a voice here in our AFC North community. So as always, send all of your questions and comments here to be heard.
On the Cleveland Browns:
Mike from Northampton, PA writes: James - I really enjoy your writing. As a Browns fan I have to finally say I think it's time for Crennel to go. I've supported him for a long time. When he accepted the position, he walked into a mess and I knew it would take time to turn it around. As a head coach you have to know when to step in and when to step back...last night was a perfect example of a complete mess. The defense was humiliated and with 54 seconds, two timeouts and a second and one...they throw three straight times. After putting up 160 yards at 5.5 per carry you have to run for the first. Not sure who made the calls, but if it was the Offensive coordinator - it should have been over ruled by the Head Coach. Crennel seems like a good guy, but his time is up in Cleveland. It's time for a new coach.
Eric from LA writes: I really don't think firing Romeo is the answer. Better D-backs are the answer. They cannot continue to change leadership every 3-4 years - NO MORE REBUILDING!
Gene from Indian Trail, NC writes: Romeo is insulted at reports that some players quit? They did - and he's only got himself to blame. Let's face - he is simply not an effective NFL coach - enough is enough - he should step down after the season, and save himself the embarrassment of being let go. PLEASE!
Reader from Washington, DC writes: Why does everyone seem to focus on Anderson and Quinn when they are obviously not the problem. Edwards drops more passes than any 1st receiver I have ever seen. Why doesn't he ever get blamed. I grew up with the rule that if it hits your hands you should make the catch. It seems like every time he has a step on the corner and breaks away, the pass seems to hit both of his brick hands before thudding onto the field.
On the Cincinnati Bengals:
Cam from San Diego writes: James, Although the Bengals are cold (very), I would suggest you add Pat Sims as a "hot" player for your next version of "Who's hot and Who's Not". The rookie has stepped in and played great recently. Hopefully, when paired with Peko they can solve their long term problem of stopping the run. Cam
On the Pittsburgh Steelers:

Erik from Pittsburgh writes: Can Bruce Arians please stop calling the play where no one gets open and makes Roethlisberger hold onto the ball and then receive a punishing hit? Why can't Ben or Bruce figure this thing out? It's so annoying to watch!
Reader from Baltimore writes: James, Why are all the steeler fans saying the Ravens have not beat anyone? Outside of Washington the Steelers have not beaten anyone either. We have beaten the same teams. We have dominated the Steelers and Titans on close games we lost. This week is a big game.....we shall see. Thanks, George
On the Baltimore Ravens:
John from Washington DC writes: Steelers nation likes to bring up the point that the Ravens have not beaten anyone of note yet. Yet, if you look at their schedule, the only 2 teams with a winning record that they beat were the Ravens and the Redskins. The Ravens havent played the Skins, and seem to match up well. So I guess I am wondering why they dismiss the Ravens for an easy schedule, but their wins mean more than ours? It seems to be that the argument there is weak, at best. THEY should beat a winning team before they continue their talking....they were one play away from beating the Giants and the Colts...well, the Ravens were one play away from beating the Titans and the Steelers.
Ben from Potomac, MD writes: James--I know the Ravens have not beaten anyone who is a contender but the teams we beat we beat by a large margin and in dominating form. That shows the signs of a very good team. It is one thing had we just won by a few points but this shows something.
August, 15, 2008
8/15/08
12:00
PM ET
Posted by ESPN.com's James Walker
Thanks to all the readers for their questions and comments regarding the AFC North. Let's see what's on your mind.
Dan K from Baltimore writes: James, I'm a big fan; my boss always catches me reading your stuff. It seems like the Ravens are overlooked this year in the AFC North and the other teams in the division are getting a lot more attention. Even if the quarterback position remains shaky at best, what do you think the odds are that the Ravens could replicate their Superbowl run from the 2000 season? The scenario looks familiar - the Ravens are flying under the radar, the QB position remains questionable, a new head coach (even though it was Billick's second season when they won the Superbowl) and the defense looks solid. You think they can be considered more than a sleeper team this season?
James Walker: Thanks for the kind words, Dan. And tell your boss I said it's OK to read my blog from time to time. To answer your question, this team shouldn't be compared to the Super Bowl team of 2000. This year's defense remains solid, but overall it's older than the unit in 2000 when many of the Ravens' best defenders were 26 or younger and approaching their prime. Trent Dilfer led the offense in 2000, but there also were enough All-Pro caliber pieces such as Shannon Sharpe, Jamal Lewis and Jonathan Ogden around the quarterback to hide some of those deficiencies. Even backup tailback Priest Holmes was a dynamic player coming off the bench that year for Baltimore. This year's team doesn't have as many options offensively to win it all this year, but the Ravens will win more than five games.
---
Reader from Augusta, Ga. writes: What you think about keith rivers from usc? He got 7 sacks starting already with hard hitting sacks. Do you think he will prove his self as starting at all the games? Let me get some feed back.
James Walker: I'm high on Keith Rivers and have been since talking to scouts and personnel people leading up to the NFL draft. Rivers was one of the few players everyone was uniformly confident in terms of getting instant production and having extremely high character. The Bengals need both and did the right thing with their first-round selection.
---
Bryan from Texas writes: James, the Browns do have to play the NFC East this year. Considering the fact that Washington, New York, and now even Dallas have players who excell in the secondary, how can the recievers expect to contribute in their non- conference games?
James Walker: Bryan, Cleveland's receivers will be fine. Braylon Edwards is a Pro Bowl talent that last year played against top-level corners such as Nate Clements of the San Francisco 49ers, Seattle Seahawks' Marcus Trufant and Chris McAlister of the Baltimore Ravens. The addition of Donte' Stallworth also will help as a speedy No. 2 option.
---
Reader from Honolulu writes: Your answer as far as "if the cowboys will sweep the AFC north" left me scratching my head. Please enlighten me on why they would lose to Cleveland and Pittsburgh just because they travel there. I can see Pittsburgh being a competitive game but there will be no competition in Cleveland.
James Walker: I am shocked by the amount of comments and e-mails I received recently claiming how easily the Dallas Cowboys will sweep through the AFC North. The Cowboys have more talent on paper than each individual team, but it's strictly a numbers thing. Dallas has to beat four teams and its toughest games are on the road against the Browns and Steelers, which many feel are the top teams in the division. Therefore, it's not out of the realm of possibility.
---
Greg from Oregon writes: James, do you see Mendenhall taking over for the Steelers at Running back this season? Or at least sharing most of the carries with Willie Parker?
James Walker: Thanks for the question, Greg. Willie Parker remains the featured back in Pittsburgh as long as he stays healthy. So far he looks strong and may even get more opportunities around the goal line this year. But Rashard Mendenhall will get enough opportunities to make an impact. He still has a lot to learn, such as getting his pads lower, but he's showing promise.
---
Leo from Morgan Hill writes: What do you think the chances of the Brownies signing Ty Law or maybe trading for someone like Lito Sheppard?
James Walker: It's not going to happen, Leo. The Browns have players on their own roster who want pay raises. So they're not going to break the bank for an aging corner in Ty Law or mortgage their future by trading away another first- or second-round draft pick for Lito Sheppard. Browns fans need to accept their roster as it is currently constructed going into the season. The way the NFL is set up, you can't be deep at every position. Unless you're the Dallas Cowboys.
August, 12, 2008
8/12/08
3:00
PM ET
Posted by ESPN.com's James Walker
Let's get into some AFC North questions and answers.
Aaron from McDaniel College, MD writes: How much of an impact will Dan Cody have on the Ravens this year?
James Walker: Hello, Aaron. Dan Cody looks the part and the coaching staff likes him in Baltimore. But Cody still needs time to learn the NFL game. Keep in mind he's played less than two games in three years. He is still a rookie in many ways. So for now the Ravens are trying him on various special teams with eventual plan to use him as a situational linebacker and pass rusher on defense. But with the way injuries are happening in Baltimore, his role could increase.
---
Jack from Chicago writes: James, thanks for the good notes on Bengals' camp. I know it is early, but how do the defensive rookies look? I know Rivers is holding out, but how about Sims, Shirley, Lynch, and Craig? Along with Rivers, what is to be expected of these guys, if anything, outside of special teams duties? Thanks again and keep up the good work.
James Walker: No problem, Jack. They are looking as you would expect -- like typical young players. So far defensive tackle Pat Sims has been the most impressive of the defensive rookie group. He's a big body and he's physical. Keith Rivers now is in camp, so expect the rookie talent level to improve dramatically. Rivers is one of my impact rookies to watch in the NFL for 2008.
---
Kyle from Texas writes: Do you think the Cowboys will sweep the AFC north this year?
James Walker: Good question, Kyle. The Dallas Cowboys travel to Cleveland and Pittsburgh this year. They will lose at least one of those games.
---
TJ writes: JAmes, great stuff man, i read this every day. Question though, do you think that the bengals D is really gonna shock some body this year and who do you see coming out on top the division, please dont say steeler. haha. have a good one.
James Walker: Thanks for the support, T.J. I'm going to hold off on firm predictions for now because I want to watch the entire preseason and see which players get injured. But the Bengals defense looks average so far. I watched them close up during their first week of training camp and they didn't make enough plays. Perhaps playing against quarterback Carson Palmer everyday can do that to a defense. They could struggle early, then improve as the season goes on. For more info, check out my interview with Bengals defensive coordinator Mike Zimmer.
---
Jon from Elyria, Ohio writes: James, Have any of Cleveland's WRs (besides Braylon, Donte Stallworth and a healthy Jerevicius) stood out in camp, as far as having good potential to be future starters? Also, do you envision the improved defensive front taking enough pressure of the DBs to field a competitive, effective defense? Thanks a lot!
James Walker: Jon, the light has really come on this summer for Travis Wilson. The former third-round pick had two non-existent years in Cleveland but has suddenly begun making plays now that he's on the bubble. Wilson had a good preseason opener last week with three catches for 58 yards against the New York Jets. It was an extension of what players, coaches and media have seen in practice from Wilson the past couple months. If Wilson can keep this going, he will be the favorite to take the vacant third-receiver spot in Cleveland.
---
Tom from Calgary, Canada writes: Has Brady Quinn shown he is a legitimate contender for the starting quarterback position after his performance against New York in the preseason, and if he does not start how many reps will he get in regular season games.

James Walker: Sorry to break it to you Tom, but Brady Quinn was never a contender for the starting job because the job wasn't open. The Cleveland Browns made it clear in the offseason -- not to mention with the $8 million per year contract -- that Derek Anderson was the starter. The only way Cleveland changes course is through injury or if Anderson plays so awful that he's single-handedly losing games. If neither of those scenarios play out, the Browns will revisit their quarterback situation after the season, because one guy likely will have to go before the 2009 season.
---
Brian from Pittsburgh writes: Is there any chance the Browns go out and get Ty Law to solidify their secondary? Is he still capable of helping a team?

James Walker: I'm hearing that the Browns are still in the market for a cornerback but it's not Ty Law. His price tag is too high, and Cleveland doesn't necessarily feel it needs another starter.
---
Brian Grant from Chicago writes: Mr. Walker, On the Browns, How would you rate their defense this year, is in improved this year from the swiss cheese of last year? Do the Browns have a ligit chance of winning the Division and going deep into the playoff picture. Thanks, Brian Grant
James Walker: It will not be "Swiss cheese," which is a clever way of putting it, Brian. If the defense is middle of the pack, which would be a significant jump, Cleveland would most certainly be in the playoff picture. The biggest question this year is its pass defense, not stopping the run as it has been in past years.