October, 18, 2013
10/18/13
12:00
PM ET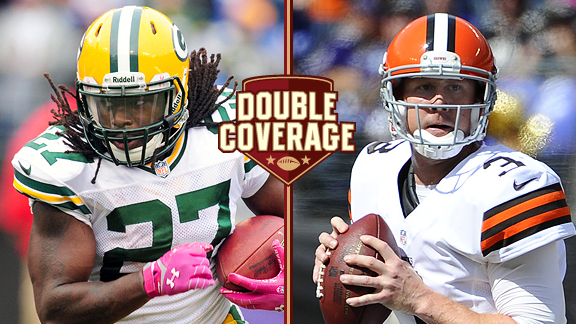 USA TODAY SportsThe Packers may have to rely more on their run game, while Browns QB Brandon Weeden seeks to recover from a forgettable outing.
The
Green Bay Packers
have made it past a difficult stretch in which they played four playoff teams from last season in their first five games.
And they came out of it with a respectable 3-2 record.
The
Cleveland Browns
, despite going from
Brandon Weeden
to
Brian Hoyer
and now back to Weeden at quarterback, also aren't out of anything yet at 3-3.
ESPN.com Packers reporter Rob Demovsky and Browns reporter Pat McManamon break down the matchup:
McManamon:
Rob, what will Green Bay do at receiver with all those injuries, and how much will it affect the offense?
Demovsky:
It's bound to have a significant impact.
Randall Cobb
more or less became the focal point of the passing game last season and if anything, that intensified this season. Sure, he's only a slot receiver and the Packers still have the deep threat of
Jordy Nelson
on the outside. But in this offense, a lot of those quick-hit passes -- especially against teams that blitz -- are directed to the inside. No team used more three-receiver sets than the Packers had until Cobb went down last week against the Ravens. They had used a three-receiver set on 90 percent of their snaps. That number likely will go down beginning this week against the Browns. They might have to rely on their new-found running game more than ever. But with fewer threats in the passing game, teams might be able to load up to stop running back
Eddie Lacy
.
The Browns have offensive issues of their own, Pat. Brandon Weeden's turnovers in the loss to the Lions looked like killers, especially that backhanded, underhand flip. How can they get him to play smarter?
McManamon:
That backhanded, underhand flip will live for a long time in the annals of Cleveland Browns misplays since 1999, Rob. A lengthy list just got longer. As for getting him to play smarter, that's the challenge. And the challenge has gone on for 18 starts. Weeden actually started fairly well as a 29-year-old rookie, but he struggled the end of last season and this season he's played in fits and starts. Which of course won't be good enough against Green Bay. With Brian Hoyer injured, the Browns have few other options -- it's not like
Tom Brady
is on the streets waiting for a job -- so they will stick with Weeden. But you have to wonder whether the Browns aren't coming to the conclusion that what they see is what he'll be when it comes to this 30-year-old quarterback.
Rob, Weeden does not read the rush well and does not move well. The Packers are ninth in the league in sacks. Is that yet another bad recipe for Weeden and the Browns offense?
Demovsky
: It remains to be seen whether they can keep up their sack pace. They did it without
Clay Matthews
last week, getting five sacks at Baltimore, but now they're going to be without another outside rusher,
Nick Perry
. Matthews and Perry each have three sacks on the season, which ties
A.J. Hawk
for the team lead. At some point, those injuries have to slow down their pass rush. The one thing that's helping them is they're playing the run very well, probably the best they have since they led the league in rushing defense in 2009. After shutting down
Ray Rice
last week, they're up to third in the NFL in rushing yards allowed per game (78.2). That's putting teams in a lot of third-and-long situations, which allows defensive coordinator Dom Capers to blitz. That's how Hawk got all three of his sacks against the Ravens.
Perhaps the Browns can help protect Weeden if they run the ball effectively to keep the Packers from rushing like crazy. What are their prospects for doing that?
McManamon:
Running the ball would protect Weeden. But it helps to have a ... well ... a running game. At present, the Browns are in make-do mode with the running game, and as the season continues that will more and more become a problem. Since the trade of
Trent Richardson
the Browns have relied on aging
Willis McGahee
, young
Bobby Rainey
and fullback
Chris Ogbonnaya
. These guys give effort, but there's only so much they can give. McGahee can't run outside, Rainey is inexperienced and Ogbonnaya is what he is. The Browns rank 22nd in the league by running for 86.8 yards per game -- though they are averaging 3.9 yards per carry. If the Browns want to run, they will have to commit to it and pound it out, something I am not sure they can do.
Rob, the Browns have had 19 starting quarterbacks since 1999 -- and it appears next year or soon after that number will hit 20. Do the Packers and their fans realize just how fortunate they have been these many years to have
Brett Favre
and
Aaron Rodgers
?
Demovsky:
They should. There are only a handful of organizations who can say they've had the kind of quarterback transition that the Packers had. The 49ers with
Joe Montana
to
Steve Young
come to mind. Maybe the Colts have that now with
Andrew Luck
following
Peyton Manning
. Not only was Favre a great quarterback, but he was there week in and week out. Rodgers is pretty much the same way. Those guys rarely get injured and when they do, they still play.
Most Packers fans here are still fond of Mike Holmgren, for leading them to the Super Bowl XXXI title. His tenure with as a Browns executive was much shorter. What impact, if any, did he have on the organization?
McManamon
: Let's just say the feelings for Holmgren are a lot warmer in Green Bay -- odd as that sounds -- than in Cleveland. Many fans feel Holmgren's epitaph with the Browns should be "As a president, he was a great coach." A lot of that is frustration at constant losing. Some is frustration at the job title and salary scale Randy Lerner gave Holmgren. More still that Holmgren never took on the coaching duties himself. On balance, Holmgren's tenure was no worse than many, and better than some. He and GM Tom Heckert brought in some good players who are helping the team win now. But with any regime change comes more change, and Joe Banner has gotten rid of some of Holmgren's guys -- notably Richardson. Holmgren's biggest gamble was selecting a quarterback in the first round a year ago who is now 30. But Weeden clearly would have been helped by more continuity in the front office.
.
August, 7, 2012
8/07/12
4:00
PM ET
CINCINNATI --
Rey Maualuga
acknowledges that his first season as an NFL middle linebacker didn't live up to expectations. But he also understands there are heightened expectations based on his college pedigree.

Maualuga
"I'm not Jesus. I'm not Superman. I'm just going to be best football player Rey can be," he said before Tuesday's practice. "Everyone talks about my other fellow companions who are being very successful, Brian [Cushing] and Clay [Matthews]. Where's that guy that we thought we drafted from SC [Southern Cal]? My mindset is I can't worry about what people think."
It's tough for Maualuga not to make comparisons to Cushing and Matthews, all of whom were linebackers at USC and were drafted in the same year (2009). Cushing was the 2009 NFL Defensive Rookie of the Year and Matthews is a three-time Pro Bowl player.
"It's in the back of my head," Maualuga said.
Maualuga believes he will play much better this season after having his ankle surgically repaired in January. He severely sprained it while leaping for a pass in practice on Oct. 13. Maualuga missed the next three games and wasn't the same when he returned.
He said the ankle "is doing fine" and has held up during camp.
Another issue was an assault charge, which was
settled in mediation
. The NFL could have disciplined him for his second off-the-field incident in two years, but Maualuga said he hasn't heard from the league.
"I think that's a positive note," he said. "We can move past all that and get to playing football."
November, 23, 2011
11/23/11
8:57
AM ET
Former Steelers running back
Jerome Bettis
is among 26 modern-era semifinalists for the Pro Football Hall of Fame,
it was announced
Tuesday.
Bettis, who ranks fifth on the NFL rushing list with 13,662 yards in 13 seasons, is one of four Steelers to make the cut. The others are: center
Dermontti Dawson
, linebacker
Kevin Greene
and safety Donnie Shell.
The one Browns player who made the cut was Clay Matthews, a four-time Pro Bowl linebacker who played in Cleveland from 1978 to 1993.
Former Browns and Ravens owner Art Modell, who was on the original list of 103 candidates, wasn't among the semifinalists. He hasn't been a finalist for the Hall of Fame since 2001.
The list will be reduced to 15 modern-era finalists and announced in early January, and between four and seven enshrinees will be announced Feb. 4, the day before the Super Bowl.
February, 28, 2011
2/28/11
11:00
AM ET
The NFL combine was in full throttle over the weekend. Here are some things we picked up as it pertains to the AFC North:
[+] Enlarge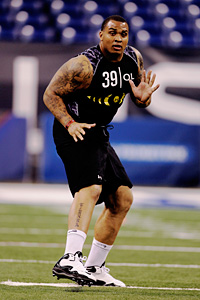 AP Photo/Darron CummingsThe Steelers and Ravens have shown interest in Florida offensive lineman Mike Pouncey.
Florida offensive lineman Mike Pouncey confirmed my initial thoughts entering the combine. Pouncey showed the same quickness, good feet and athleticism this weekend that he showed all season for the Gators. But something under the radar I was impressed with was Pouncey's natural enthusiasm. Not only did Pouncey look good in drills, but he was genuinely enjoying himself more than most prospects. Getting to know Pittsburgh Steelers center Maurkice Pouncey last season, the twin brother also has an upbeat mentality and is enthusiastic about football. Small things like that count in my book. I'm not surprised at all that both the Steelers and Baltimore Ravens have shown interest in Mike Pouncey. Those are two teams that not only look for talented players, but those who genuinely love the game.
The quarterbacks can really run this year. I don't know how many of them can throw at the NFL level, which is a major concern, but extending plays with their feet won't be an issue for this year's class. Top quarterback prospects like Missouri's Blaine Gabbert, Auburn's Cam Newton and Washington's Jake Locker all looked very athletic, and so did lower-profile quarterbacks such as Nevada's Colin Kaepernick. The Cincinnati Bengals are the only AFC North team in the market for a quarterback potentially in the first two rounds after starter Carson Palmer demanded to be traded and threatened to retire.
Speaking of quarterbacks, I think Arkansas' Ryan Mallett likely cemented his place outside of the first round, which might be a good thing for the Bengals. He threw the ball very well and has a cannon for an arm. But he also skipped some combine drills and has off-the-field concerns. When asked to clarify his issues at the combine, Mallet was defensive with the media, which was not the right way to handle it. Mallet said he would do so with teams and not with the public. Teams likely know those issues by now and at some point they may leak to the media anyway. But the Bengals have a track record of drafting talented players who fall down the draft board because of character issues. So Mallet could be a target for them in the second round. With Gabbert not throwing, Mallet was the best pure passer this weekend, in my opinion.
I still like the top two receivers in the draft: Georgia's A.J. Green and Alabama's Julio Jones. I'm convinced you can't go wrong with either player. Jones probably closed the gap on Green in the combine with this freakish athleticism. Jones' 40 time (4.39) and measurables were a little better than Green's (4.48), who remains more polished. Jones needs to work on his consistency catching the football. "The gauntlet" drill exposed him a bit and that could be the difference. I also liked Kentucky receiver Randall Cobb, who ran a 4.45, stood out in his workouts. The Browns, Bengals and Ravens could all look for receivers in the first or second rounds.
The Ravens' strong interest in Oregon inside linebacker Casey Matthews is interesting. For all the great things general manager Ozzie Newsome and his staff have done with the Ravens, they have yet to find a successor to middle linebacker Ray Lewis, who turns 36 in May. But it looks like Baltimore is putting a strong effort into finding that player in this year's draft. Matthews is getting a lot of attention because of the success of brother, Clay, with the Green Bay Packers. But Casey is projected to be a third-rounder.
February, 27, 2011
2/27/11
8:30
AM ET
Here are the most interesting stories Sunday in the AFC North:
Morning take: The Steelers and Baltimore Ravens are two division teams that thrive picking later in the draft. If your scouting staff has put in the work, there is still great talent available.
Morning take: Clay Matthews is lighting up the NFL, which has helped Casey's stock. But Casey's style is different as an inside linebacker. Could he be Ray Lewis' next pupil?
Morning take: This is a good year to do it. This draft is full of good prospects at defensive end and defensive tackle, which are always needed in the physical AFC North.
Morning take: Receiver is the only position the Browns could be in the market for early on offense. But it's debatable whether that's a bigger need than defensive end.
February, 9, 2011
2/09/11
12:00
PM ET
This week's "Take your pick
" in the AFC North blog involved two of the biggest turnovers in Super Bowl XLV.
We asked which play hurt the
Pittsburgh Steelers
the most:
Ben Roethlisberger
's interception that was returned for a touchdown or
Rashard Mendenhall
's fourth-quarter fumble?
Here are responses from our
AFC North inbox
:
The Fumble!
JD from Mt. Lebanon, Pa.,
writes: I honestly believe that Rashard's fumble was way more pivotal in the outcome of the game. This is nothing against Mendenhall, because he had the ball in tight, but the hit was picture perfect to knock out the ball. That being said, we showed that we were able to fight back from Ben's two picks, and we had all of the momentum going into that drive.
Max R. from Cincinnati
writes: The interception put the Steelers in a huge hole early, but throughout the game it felt like they were coming back to steal the lead. But when the fumble happened, that was pretty much the dagger when it came to momentum. All the wind in Pittsburgh's sails left and it was officially the
Aaron Rodgers
show from that point forward. I was rooting for the Packers so I was happy about this.
Michael from Washington, D.C.,
writes: The Mendenhall fumble was bigger. The Steelers had momentum, were establishing the run and were driving for a score at the start of the fourth quarter. That killed the momentum, and Green Bay drove for a touchdown and a commanding lead.
Scott from Utah
writes: The Mendenhall fumble was the biggest turnover of the three. Steelers had all the momentum on their side starting the fourth quarter and the Packers were sputtering big time on offense. The fumble rejuvenated the Packers and sent them on their way.
Alan from Pittsburgh
writes: Mendenhall's fumble was definitely more costly. One of Roethlisberger's interceptions came when he was hit as he was throwing and the defensive back made a great play on the other. I've always had issues with the way Mendenhall held the ball. We started that drive off in great field position for a chance to take the lead, but the ball went the other way thanks to Mendenhall's fumble.
The Interception!
Rich from Collegeville, Pa.,
writes: Although the Mendenhall fumble was a big shift in momentum, I still believe the key turnover was
Nick Collins
' interception of Big Ben. It directly resulted in points and put the Steelers in a big hole very quickly and put them in an insurmountable deficit.
Anthony from Princeton, N.J.,
writes: I gotta go with Ben's pick for sure. The pick six wasn't entirely his fault as he was hit on the play but the other INT he threw was forced into double coverage. Both of the INT's resulted in touchdowns which put my boys in an early deep hole. Mendenhall's fumble wouldn't have mattered that much if we weren't down because of Ben.
Brad from ATL
writes: Mendenhall's turnover provided Pitt's defense an opportunity to stop Green Bay's offense. Ben actually handed over a touchdown. No comparison.
Bill from Washington, D.C.,
writes: Pick six. Mendenhall fumble was bad, but I'll give some credit to
Clay Matthews
for sniffing out the play and getting his helmet to the forearm. Rothlisberger's pick was almost a blind throw -- he didn't read the defense and never looked off the route, but simply pumped and threw. It was a horrible decision and even worse execution, given the pressure in his face.
Milan from Canton, Ohio,
writes: Roethlisberger, and not a second thought about it. He touches the ball every play. He has the most responsibility in wins, he has the most responsibility in losses. That is just the dynamics of the game.
AFC North final say
James Walker:
Roethlisberger's interception led directly to points, but I think the timing of both plays is important. A fourth-quarter turnover is always bigger than a first-quarter turnover. So Mendenhall's fumble was more important for the Steelers. Down four points, Pittsburgh could have potentially taken the lead if Mendenhall doesn't lose the ball. A fourth-quarter lead for the Steelers may have resulted in a different outcome. Instead, they fell behind by 11 and couldn't get any closer.
If you have any future ideas for "Take your pick" in the AFC North, send them to
our division inbox
.
February, 7, 2011
2/07/11
2:00
PM ET
ARLINGTON, Texas -- As the AFC North blog wraps up its week-long trip in the Lone Star State, we want to leave one last question Monday for our community.
Which Super Bowl XLV turnover hurt the
Pittsburgh Steelers
most:
Ben Roethlisberger
's pick-six in the first half or
Rashard Mendenhall
's fourth-quarter fumble? Take your pick.
Both plays were huge and led to
Green Bay Packers
touchdowns in the six-point victory.
Roethlisberger was pressured in the first quarter and threw a lame duck right into the hands of Packers safety
Nick Collins
, who returned it 37 yards for a score, giving the Packers a 14-0 lead. The Steelers were never able to overcome that early deficit. So was Roethlisberger's interception more costly?
Or was the timing of Mendenhall's fumble more important? The Steelers were only down 21-17 and driving when Packers linebacker
Clay Matthews
popped the ball out of Mendenhall's hands. Green Bay scored a touchdown eight plays later to take a 28-17 lead in the fourth quarter and never looked back.
So take your pick between these two costly turnovers by Pittsburgh, and share your comments below. You can also send your thoughts to our
division inbox
and
AFC North Twitter
page, and we will run the best responses throughout the week.
February, 7, 2011
2/07/11
12:53
AM ET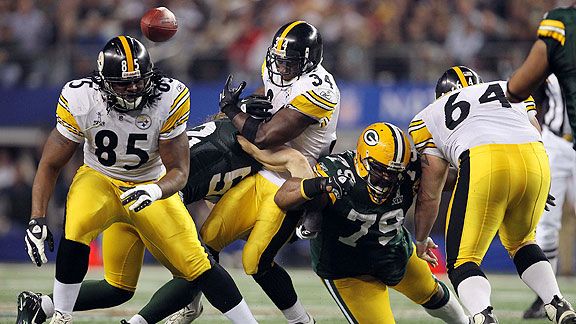 Matthew Emmons/US PresswireRashard Mendenhall's fumble killed Pittsburgh's drive at the beginning of the fourth quarter.
ARLINGTON, Texas -- The team with the most championship experience committed three ugly turnovers in Super Bowl XLV.
A veteran group that came to Texas with plenty of hardware looked shell-shocked early in the first half, falling behind by 18 points.
The
Pittsburgh Steelers
, who planned to take advantage of their Super Bowl experience, in many ways played like first-timers in Sunday's
31-25 loss
to the
Green Bay Packers
. With a minus-three turnover margin, Pittsburgh fell to 6-2 in Super Bowls. And for the current core of
Hines Ward
,
Ben Roethlisberger
,
Troy Polamalu
,
Casey Hampton
and
James Farrior
, this was their first Super Bowl loss in three tries.
Pittsburgh (14-5) hadn't been a sloppy team all season but suddenly became turnover-prone and mistake-laden on the NFL's biggest stage. Pittsburgh's three turnovers led directly to 21 Green Bay points, which was the difference and led to a long flight home and an even longer offseason.
"I'd just rather not be here if I'm not going to take home the trophy," said a sullen Steelers safety
Ryan Clark
. "Just talking to Troy, it's like 'What do we do now? Where do you go from here?' Nothing separates us from the other 30 teams that weren't here. We're just like them."
Pittsburgh's six-point loss was littered with errors often seen from lesser AFC North teams such as the
Cincinnati Bengals
and
Cleveland Browns
. The Steelers were careless with the football (two interceptions, one fumble), were flat early and committed six penalties which negated several good plays.
There were hints during the playoff run that the Steelers could have this type of sloppy Super Bowl.
Pittsburgh hadn't put together four solid quarters of football all postseason and it finally caught up to them against the red-hot Packers. The Steelers fell behind big to the
Baltimore Ravens
in the first half of the divisional round and nearly blew a sizable lead to the
New York Jets
in the AFC Championship Game.
The Steelers' poor second half against New York was extended into the Super Bowl, as Green Bay jumped out to a 21-3 lead in the second quarter and never trailed. Had the Steelers won, they would have overcome the largest deficit in Super Bowl history.
The Steelers nearly pulled it off but couldn't overcome their turnovers. Roethlisberger's two picks in the first half led to a pair of touchdowns, and
Rashard Mendenhall
's huge fumble in the fourth quarter allowed Green Bay to score eight plays later to take a 28-17 lead, essentially sealing Pittsburgh's fate.
Mendenhall has had issues with fumbling throughout his career but improved this season. He only lost two fumbles in 324 regular-season carries but picked an awful time to put one on the ground in his first Super Bowl.
"It just happened and it should not have happened," said Mendenhall, who didn't see Green Bay linebacker
Clay Matthews
on the hit. "When you turn the ball over like we did, you put yourself in a bad position to win the game."
Roethlisberger fell to 10-3 in the playoffs and 2-1 in Super Bowls. He had a chance to win his third ring at age 28 but was inconsistent, throwing for 263 yards, two touchdowns and two interceptions. Roethlisberger's passer rating was 77.4, while Green Bay counterpart
Aaron Rodgers
(304 yards, three touchdowns) held a 111.5 passer rating.
"If I had played a little bit better, I feel like we would have had a better chance to win the game," Roethlisberger said.
Roethlisberger wasn't alone as missed opportunities were the story of the game for the Steelers. Pittsburgh's defense blew some coverages and allowed several big passing plays. The coaching staff made a curious decision to try a 52-yard field goal which wasn't close and blew two costly timeouts in the second half. And just about everyone on the team was at fault for Pittsburgh's really slow start.
But anything can happen in a one-game scenario, and Green Bay was the sharper, more efficient team.
Once the immediate disappointment of a Super Bowl loss blows over, Pittsburgh will eventually look back at this season as a major success. Expectations were extremely low for the Steelers. Roethlisberger missed the first four games because of a suspension and many -- including the AFC North blog -- picked Pittsburgh to finish third in the division.
Instead, this talented and resilient group banded together and surprised everyone by winning the AFC North and making it all the way to the title match. But sloppiness in the final game led to runner-up status and Pittsburgh will think about what could have been.
"It was a good year, but this is not the way you want to finish it," Mendenhall said. "At the same time, it is a blessing to have this opportunity and we didn't take advantage of it. You want to grow from every experience and just move on from here."
January, 29, 2011
1/29/11
9:00
AM ET
Here are the most interesting stories Saturday in the AFC North:
Morning take: Pittsburgh had a very productive week at its training facility. The Steelers will leave for Texas on Monday with hopes of returning with their seventh Lombardi Trophy.
Morning take: A speedy deep threat is needed. Defenses were able to sit on the short and intermediate routes, because the Ravens struggled to get deep.
Morning take: It's a huge week for the Matthews family. I can recall Clevelanders wanting the Browns to draft Clay Matthews III in 2009. But they let another great player get away.
Morning take: This helps the college players get a feel for the pros. But it also helps the Bengals, who may draft a player or two from this game.
January, 28, 2011
1/28/11
1:30
PM ET
It looks more and more like the
Pittsburgh Steelers
will be without
Maurkice Pouncey
in Super Bowl XLV.

Pouncey
The Pro Bowl center suffered a high ankle sprain in last Sunday's AFC title game and, according to the Pittsburgh Post-Gazette, Pouncey also has a broken bone in the ankle, making it "highly doubtful" he will play against the
Green Bay Packers
.
How will this impact the Steelers? ESPN.com's AFC North blog checked in with Matt Williamson of Scouts Inc. to get his thoughts on what Pittsburgh has to do to be successful without Pouncey on offense.
Matt, give us your scouting report on Pittsburgh backup center Doug Legursky. What does he bring to the table, and how does he compare to Pouncey?
Williamson:
He's nowhere near the physical specimen that Pouncey is. If you look at Legursky, he's very undersized, he has short arms, but he's tough and he's gritty. The Steelers will actually use him once in a while as a fullback in short yardage. So he can run and he can move pretty well. But Pouncey still plays lower, is always in tremendous balance and football position, and he's fluid. Pouncey is the total specimen in terms of pulling and doing all the athletic things a center can do. Legursky is not as strong and doesn't do anything as well. It's not even close.
The Steelers lost Pouncey on the first drive and still had success running against the Jets. What led to their success?

Legursky
Williamson:
I went back and watched the game, and I really didn't think Legursky played that well. It was masked early on. When he came in there, they were running the ball and the Steelers had a lot of momentum. Legursky didn't play poorly initially when he went into the game. But if you look at his performance from when he stepped into the game to the final whistle, he played a bad game. I don't think it was an accident that the Steelers' running game fell apart in the second half and got all of their yards early. I also tend to the blame the Jets, because they came in and looked like a tired defense. They played really high and they didn't tackle well. Don't get me wrong, I think the Steelers did a good job. But overall grading that strong running day, I blame the Jets as much as I blame the Steelers.
For those in the AFC North who don't get to see Packers defensive tackle B.J. Raji on a weekly basis, what kind of player is he?

Raji
Williamson:
He's a lot more like
Haloti Ngata
than he is
Casey Hampton
. Hampton right now is a pure nose tackle, one-dimensional run stuffer who needs double teams to move. Where Ngata can line up at defensive end, the Ravens can drop him into coverage, and he can play the nose. That's where Raji is now. Raji moves very, very well. He's very explosive. What's amazing about Raji is he plays every snap and doesn't get tired even though he's 40 pounds overweight or whatever it is. He can shoot gaps and eat up space. He really has it all. The difference between Raji and Ngata to me is Ngata is a bigger looking human being and he's not nearly as fat. I think Ngata also knows the game better. But Raji isn't far off. He's a really disruptive player.
Pouncey had to make all the calls for Pittsburgh, and now the responsibility could be Legursky's. How will that impact the Steelers with pass protection, blitz recognition, etc.?
Williamson:
That's one thing we don't know. But by all accounts, especially for a rookie, Pouncey was tremendous at making all of those line calls and protection adjustments. I don't know how much it's going to change from a mental standpoint with Legursky, but it probably is a drop-off just from experience. You would think interior pressure, particularly with Raji, is going to be more of a problem now for sure. The three people Pittsburgh really have to worry about from a pass-rushing standpoint are
Clay Matthews
,
Cullen Jenkins
and Raji, who's going to be right in the middle. So in a way, it's not like the Steelers where you're going to get two really good edge rushers. You're going to get one guy on the outside and two coming from the interior. But there is an advantage there for the Packers.
January, 27, 2011
1/27/11
1:17
PM ET
PITTSBURGH -- By the end of last Sunday's AFC Championship Game, the Steelers were attempting to punch a ticket to Super Bowl XLV with four offensive linemen who were backups at the beginning of the season.
Trai Essex
,
Ramon Foster
,
Jonathan Scott
and
Doug Legursky
all entered training camp without much fanfare or high expectations. But as offensive linemen continued to go down at different points of the season, this foursome was key to leading Pittsburgh to a 24-19 victory over the
New York Jets
.
On Sunday, the backups joined starting guard
Chris Kemoeatu
, who stayed healthy virtually from start to finish and started in 17 of Pittsburgh's 18 games, including the postseason. This patchwork group will be key against the
Green Bay Packers
' tough defense, which ranked No. 5 in the NFL this season.
[+] Enlarge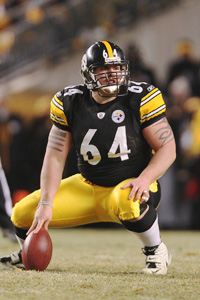 Matthew Emmons/US PresswireIf Maurkice Pouncey is unable to play, Doug Legursky (64) will start at center for Pittsburgh.
Blocking Packers defenders such as
Clay Matthews
and
B.J. Raji
will not be an easy task. But despite various injuries, the Steelers feel they are up for the challenge.
"I have all the faith in the world in those guys," said Steelers quarterback
Ben Roethlisberger
, who has always been supportive of his offensive line. "The last time we were in Tampa [for Super Bowl XLIII] we had a 'makeshift line' and guys filled in. The standard, as coach [Mike Tomlin] says, doesn't change. Guys know that."
Pittsburgh's MASH unit has battled through injuries well this season. Here is a breakdown:
The Steelers suffered their first big loss on the offensive line in the spring when starting right tackle Willie Colon went down with a season-ending Achilles injury while working out. That led to the team signing 13-year veteran Flozell Adams, who will be playing in his first Super Bowl in the home stadium of his former team: the Dallas Cowboys.

Pittsburgh starting left tackle Max Starks suffered a season-ending neck injury in Week 9 against the Cincinnati Bengals and was put on injured reserve. He was replaced by Scott at left tackle for the past nine games.

And the most recent injury was to Pro Bowl center Maurkice Pouncey, who suffered a high ankle sprain on the opening drive against the Jets. Legursky did a solid job filling in for almost the entire game and helped pave the way for tailback Rashard Mendenhall to rush for 121 yards and a touchdown against New York. Pouncey's status for the Super Bowl is in question, as players who suffer high ankle sprains typically sit out four to six weeks.
Legursky could play a key role for the Steelers in Super Bowl XLV. Despite being a rookie, Pouncey is Pittsburgh's best offensive lineman. If he cannot play, it would be a big loss in the middle of the offensive line.
Legursky would have the tough assignment blocking Raji, who is becoming one of the
NFL's fastest rising stars
and is having a breakout run through the playoffs.
"He's a playmaker. You've seen that through the playoffs alone," Legursky said of Raji. "He's a big, old guy, stout there in the middle and we're going to have our hands full."
If Legursky doesn't start, he will remain one of the first subs off the bench. As Pittsburgh's most versatile lineman, Legursky has the ability to play center, guard, tackle and has played tight end this season in goal-line situations.
Legursky's blue-collar work ethic earned him a spot with the Steelers. Already cut once by Pittsburgh, Legursky entered training camp as a long shot behind Pouncey, a first-round draft pick, and last year's starter,
Justin Hartwig
.
But Pouncey's rapid development made Hartwig expendable and he was released, while Pittsburgh preferred Legursky's ability to play various positions. The AFC North blog asked Legursky this week if someone told him a few months ago he could start in a Super Bowl, what would be his reaction?
"I would have said you were crazy," Legursky responded.
Legursky isn't the only versatile player. Both Essex and Foster have the capability of playing both guard and tackle positions. Pouncey, when healthy, is a Pro Bowl center but also is a very good guard, as well. There have been times this season, due to injury, where players have been shifted around during games and it's hard to keep up with who's playing where.
"Looking at this group, to see what they've done with the multitude of positions and guys' versatility, I think it's one of the deepest in the NFL," said Starks, who will watch his teammates from the sideline this year.
Offensive skill players such as Roethlisberger, Mendenhall and receivers
Mike Wallace
and
Hines Ward
will get most of the acclaim leading up to the game. But the play of a versatile and battle-tested offensive line helped get Pittsburgh this far, and the Steelers need another solid effort for this group in Arlington, Texas, to win an NFL-best seventh Super Bowl title.
April, 29, 2009
4/29/09
12:30
PM ET
| | |
| --- | --- |
| | |
| | Dave Stephenson/Icon/SMI |
| | Cleveland spent its first-round draft pick on California center Alex Mack. |
Posted by ESPN.com's James Walker
BEREA, Ohio -- There are two primary reasons center Alex Mack became the first pick of the Eric Mangini era with the Cleveland Browns.
Casey Hampton is one reason; Haloti Ngata is the other.
As the Browns try to play catch-up in the AFC North, they must first close the gap in the trenches with the defending Super Bowl champion Pittsburgh Steelers and AFC rival Baltimore. Cleveland was 0-4 against those two teams last season, losing by a combined score of 106-43, primarily because they were physically manhandled on offense.
Realizing this, the new regime in Cleveland had no reservations making a center its signature pick of the 2009 NFL draft. Mack was widely regarded as the best interior lineman available. The Browns coveted him so much that they opted to trade out of the No. 5 overall pick, then trade two more times before taking the University of California product at No. 21 -- a little higher than most projected.
If Mack begins his pro career by pushing around huge 3-4 nose tackles such as Ngata and Hampton next season and instantly brings smashmouth football back to Cleveland, no one will care how early he was picked.
"I pride myself at being an aggressive run blocker," said Mack, who is listed as 6 feet 4, 311 pounds. "I think that's a fun thing to do when you get to run the ball and really get to impose your will on a defense."