AFC North:

Clinton McDonald
March, 14, 2014
3/14/14
11:00
AM ET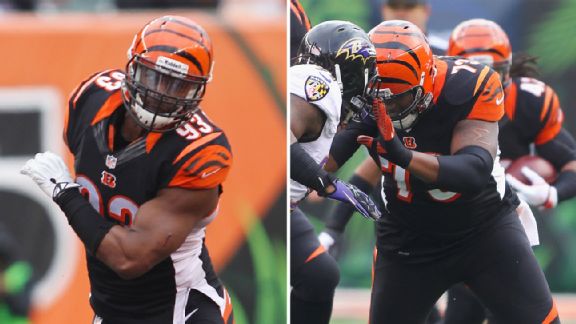 Getty ImagesFormer Bengals Michael Johnson and Anthony Collins have both landed with the Buccaneers.
Each week during the regular season you saw ESPN's NFL Nation reporters team up for "Double Coverage," a back-and-forth midweek banter about the biggest storylines going on ahead of that weekend's games.
There may not be any games right now, but teams have made all kinds of moves during this opening week of free agency. Few moves have been as big as the one that brought defensive end
Michael Johnson
to the
Tampa Bay Buccaneers
on Tuesday, officially putting an end to his five-year stint with the
Cincinnati Bengals
. He wasn't the only former Bengal to start calling Tampa Bay home this week. Offensive tackle
Anthony Collins
also left Cincinnati to sign with the Bucs.
Clinton McDonald
, a 2009 Bengals draft pick who spent the last three seasons in Seattle, also arrived in Tampa Bay.
Bengals reporter Coley Harvey and Bucs reporter Pat Yasinskas decided to check in with each another to put the moves in perspective for you:
Coley Harvey:
Of course we still don't know the date yet, Pat, but the Bengals will be scheduled to visit Tampa Bay this fall as part of the AFC North/NFC South scheduling crossover. Did any of the former Bengals address playing their old team in their news conferences? Whether they did or didn't, what did they say about the ways their careers in Cincinnati ended?
Pat Yasinskas:
None of them really talked about Cincinnati. They all seemed focused on a new start with Tampa Bay. But I'm sure the Cincinnati game will carry extra meaning for them. Playing against your old team always means a little more.
Michael Johnson was the crown jewel of Tampa Bay's free-agent class. He had only 3.5 sacks last season, but 11.5 the year before. Which season is a better indicator of what Johnson brings to the table?
Harvey:
You know, Pat, I'd say the latter. If you look at his stats since the start of his career in 2009, you'll see that the 11.5 number was a bit of an aberration. He had 6.0 in 2011, but 5.5 combined in 2009 and 2010. That said, he can be a good pass-rusher, but I have to imagine Lovie Smith saw something else, too. Johnson has been noted for being a good run-stopper and his insanely long arms are a benefit, too. Why do I bring up his arms? Johnson was a basketball player growing up, and by most accounts a really good one. That skill must have translated to football because he's become known for his ability to swat passes at the line of scrimmage. He tied for the league lead with eight batted balls last year. Two of them tipped into his teammates' hands for momentum-changing interceptions. Another helped negate a potential Packers touchdown pass on their final play of a
34-30 Bengals win
.
Part of the reason there wasn't much pressure on Johnson to collect sacks last season was because of left end
Carlos Dunlap
's success. Dunlap had 7.5 sacks in 2013, tying for the team lead. Now that he's teaming up with another good end in
Gerald McCoy
, what are the Bucs expecting from Johnson?
Yasinskas:
The Bucs envision Johnson as a strong outside pass-rusher. That's something the Bucs sorely lacked last season. McCoy was a force in the middle, but there was almost no outside pass rush. The Bucs are hoping Johnson can be a double-digit sack guy. I think he can do that and I think his presence will only make McCoy better.
On offense, the Bucs invested a lot in Anthony Collins to be their left tackle. Is he capable of keeping the league's best pass-rushers off quarterback
Josh McCown
?
Harvey:
Absolutely. According to Pro Football Focus, we're talking about a guy who hasn't allowed a sack since 2009. Granted, he didn't play much until last season. He was a pure backup from 2008 to 2012. In 2013, injuries forced him into a greater role. He earned seven starts between the playoffs and regular season last year and he didn't disappoint. Called upon to fill in for Pro Bowl veteran
Andrew Whitworth
at Chicago in the season opener, Collins completely shut down sack king
Julius Peppers
. He did the same against
Elvis Dumervil
late in the year and kept outside linebacker
Robert Mathis
silent when the Colts visited Cincinnati. Bengals quarterback
Andy Dalton
has to be pleased with how clean Collins kept him.
Now, it was becoming clear in Cincinnati that Collins was ready to be a starting left tackle, but what was it about his play off the bench that impressed the Bucs so much?
Yasinskas:
General manager Jason Licht said he studied the seven games Collins started very closely and he came away very impressed. Licht said Collins' footwork and athleticism stood out. The Bucs obviously believe strongly that Collins can be a solid starter. They're
paying him $6 million a season
and they released veteran
Donald Penn
to open up the spot for Collins.
Defensive tackle Clinton McDonald is kind of the wild card of Tampa Bay's class of free agents. He had a big impact for Seattle last year. But McDonald was with Cincinnati in 2010 and did very little. The Bucs are planning on having him as a starter. Is he ready for it?
Harvey:
Based off what I saw in Seattle last year, I'd say yes. We talked a lot earlier about sacks. It's not easy for a defensive tackle in constant rotation with others to pick up 5.5 sacks, particularly on a defense like Seattle's that had so many playmakers at every level. That's a dedication to McDonald's blue-collar work ethic and team-focused mentality. He may not have been a great player in Cincinnati, but he was a respected teammate. If he keeps grinding the way he clearly has since he left the Bengals, he should be just fine for the Bucs.
July, 2, 2012
7/02/12
4:00
PM ET
All this week, the AFC North blog will take a look back at the 2009 draft for each team in the division. For Monday, we'll review the draft for the
Cincinnati Bengals
:

First round
:
Andre Smith
, OT
Second round
:
Rey Maualuga
, LB
Third round
:
Michael Johnson
, DE, and
Chase Coffman
, TE
Fourth round
:
Jonathan Luigs
, C
Fifth round
:
Kevin Huber
, P
Sixth round
:
Morgan Trent
, CB, and
Bernard Scott
, RB
Seventh round
:
Fui Vakapuna
, FB,
Clinton McDonald
, DT and Freddie Brown, WR
Thumbs up
: Smith is making this class look better after being one of the most improved players in the league last season. He needs another strong season in 2012 to prove he's a quality starter. Some were disappointed by Maualuga's first season as an NFL middle linebacker, but I think he has a future there with his athleticism. The best value has been Scott, who has exceeded expectations and has become a very productive backup.
Thumbs down
: Johnson has been a minor disappointment, although he ranked third on the team last season with 5.5 sacks. He'll remain a role player if
Carlos Dunlap
becomes an every-down lineman. Huber hasn't lived up to being a fifth-round prospect. His rankings as a punter have been: 19th in 2009, 25th in 2010 and 20th in 2011. The biggest bust was Coffman, who was waived after three catches in two seasons.
Hensley's grade
: B-minus. The Bengals currently have two starters (Smith and Maualuga), two role players (Johnson and Scott) and an adequate punter out of this draft. Solid, not spectacular.
August, 29, 2011
8/29/11
2:59
PM ET
The
Cincinnati Bengals
made another trade, acquiring former
Seattle Seahawks
cornerback
Kelly Jennings
. Cincinnati shipped defensive tackle
Clinton McDonald
to Seattle.

Here are some thoughts on the move:
Jennings is fast, and that's the most important part of this deal. Cincinnati lacks speed on defense and in the secondary. The Bengals lost their best pure athlete in Johnathan Joseph in free agency. Jennings can be the speedster in the secondary Cincinnati needs.
Jennings is a former first-round pick with a lot of starting experience. Therefore, he can step in if Leon Hall or Nate Clements is injured. Cincinnati doesn't have a lot of experience on its bench behind the starters. Adam Jones is a former starter but is out with a neck injury.
You also wonder what this means for Jones. The Bengals traded for an experienced veteran less than two weeks before the regular season. That could be a sign they're not optimistic about Jones' chances early in the season. Jones had a second neck surgery in June. He may be a candidate for the physically unable to perform list (PUP) to start the season.
September, 6, 2009
9/06/09
2:50
PM ET

Posted by ESPN.com's James Walker
The
Cincinnati Bengals
signed eight players to their practice squad Sunday.
The full list is as follows:
June, 23, 2009
6/23/09
9:25
AM ET
Posted by ESPN.com's James Walker
Here are the most interesting stories Tuesday in the AFC North:
Morning take: Holmes, who has yet to have a 1,000-yard season, should be able to eclipse that mark this year if he's consistent and continues the momentum from his Super Bowl performance.
Morning take: One of the best things to happen in Baltimore was that Harbaugh and Ray Lewis hit it off early and developed a mutual respect. Once Lewis bought into the new program, a lot of other things fell into place.
Morning take: A rookie seems to get signed almost daily in the AFC North, which is a good trend this summer.
Morning take: Even as a rookie, Thomas never looked lost and always had a veteran presence. By the way, he's also great at fishing.