October, 26, 2014
10/26/14
3:30
PM ET
PITTSBURGH --
Pittsburgh Steelers
linebacker
Ryan Shazier
will start today against the
Indianapolis Colts
after missing the last four games with a sprained knee.
Shazier has been listed as probable on Pittsburgh's final injury of the week and his return should help the Steelers with tight ends
Dwayne Allen
and
Coby Fleener
a prominent part of the Colts' passing game.
The Steelers will be without one of the starters on their offensive line against the Colts, who are tied for third in the NFL with 21 sacks.
Right tackle
Marcus Gilbert
has been deactivated after suffering a concussion last Monday night in the Steelers' 30-23 win over the
Houston Texans
.
Mike Adams
will make his first start of the season in place of Adams.
Joining Gilbert on the Steelers' inactives list because of injuries are nose tackle
Steve McLendon
(shoulder), cornerback
Ike Taylor
(forearm) and safety
Shamarko Thomas
(hamstring).
Wide receiver
Justin Brown
, cornerback B.W. Webb and quarterback
Landry Jones
are the Steelers' healthy scratches.
The Colts are without starting wide receiver
Reggie Wayne
(elbow) and
Hakeem Nicks
will start in his place. Running back
Trent Richardson
(hamstring) will play against the Steelers but the third-year man will be limited.
Ahmad Bradshaw
will start in place of Richardson.
October, 17, 2014
10/17/14
5:00
PM ET
CINCINNATI -- We've written a fair amount this week about the
Cincinnati Bengals
' inability to stop the run the last two weeks, both from running backs and quarterbacks.
But what about stopping the pass?
The Bengals certainly can't forget to do that, either.
Just like they have the last two games, in particular, the Bengals this week will have their hands full trying to slow down an offense that features a good group of tight ends, and multiple playmaking receivers, including a young wideout who has progressed faster than many expected.
There's a reason the
Indianapolis Colts
have the NFL's No. 1 total offense, and that reason doesn't only include quarterback
Andrew Luck
.
Luck's pass-catchers, namely
Hakeem Nicks
,
Reggie Wayne
,
T.Y. Hilton
,
Dwayne Allen
and
Coby Fleener
, have had as large a role in that top ranking as anything else. Hilton and Wayne are among the top 15 in the league in receptions and receiving yards. Among tight ends, Allen and Fleener are among the top 13 in yards per reception and touchdowns.
Combine all of that with a decent enough running game and Luck's ability to create plays and you get an efficient and seemingly well-oiled offense.
Part of the reason Luck has had such success passing this season is because he's doing better with deep balls. After having a completion rating of 37.2 on passes at least 15 yards downfield in 2012-13, Luck has completed such deep throws at a 56.4 percent clip this year. His total QBR also has increased on throws that have traveled at least 15 yards. The first two years of Luck's career his QBR on such throws was 75.2. His QBR on them this season is 99.2.
Another benefit for Luck? Wayne's sure-handed play. Entering this week the receiver led all players in the league with the most targets without a drop. He has 54 ahead of Sunday's game.
As for Hilton, the third-year player is having the best year of his young career. One glance at his statistics shows where he has experienced growth each season.
This ESPN The Magazine graphic
from Thursday demonstrates where his catches per game, yards per game, catch percentage and receptions per routes run have all increased incrementally each year to this point in the season. It also demonstrates where his drop percentage has gone down incrementally each year to this point in the season.
If there is a candidate in the NFL for breakout player of the year, Hilton could very well be it.
Fleener and Allen have caused their own headaches for opposing defenses and could do the same against the Bengals. Expect both to field their share of attention from Cincinnati, following the Bengals' issues covering
Rob Gronkowski
and
Greg Olsen
the last two weeks. Gronkowski had six catches for 100 yards and a touchdown two weeks ago, and Olsen had six catches for 62 yards and a score.
"We've got to do a better job, no question," Bengals defensive coordinator Paul Guenther said about the coverage versus tight ends.
His job will be a little more difficult this week, too, with cover linebacker
Emmanuel Lamur
out with a shoulder injury. It means the Bengals may be forced to go into nickel packages regularly and use safety
Taylor Mays
to line up in man coverage with Fleener or Allen. Other linebackers also will be forced into helping stop Indianapolis' largest playmakers.
April, 15, 2012
4/15/12
8:00
AM ET
Teams can begin their voluntary offseason workout programs Monday, but that doesn't mean we're taking the day off here on the AFC North blog. Let's buckle up our helmets and open some mail ...
...
DogPound32 (Rocky River, Ohio) writes:
Call me crazy, Jamison, but why in the world would any Browns fan want us to draft a QB, unless it was a late late round pick? Give my boy
[Colt] McCoy
a chance and surround him with [running back
Trent] Richardson
, [wide receiver
Stephen] Hill
, and [offensive tackle
Bobby] Massie
in this year's draft. Then if you want to pick up a QB in the seventh round, pick up
Kellen Moore
and call it a day. Wasting anything more than a late round pick on a QB is not worth it for the Browns this year. Moore may be smaller, but he's a proven winner with ice in his veins. He can definitely be a solid backup for Colt this year and it comes at a low risk. Thoughts?
Jamison Hensley from AFC North headquarters
: You're not crazy. That is, unless your real name is DogPound32. Your argument, however, is a valid one. I see two franchise quarterbacks in this draft,
Andrew Luck
and
Robert Griffin III
. After failing to get RG3, the Browns should focus their energy on upgrading the surrounding talent on offense. That would put Cleveland in the best position to go all-in for a franchise quarterback next season. I do have to admit that Oklahoma State quarterback
Brandon Weeden
intrigues me more and more as the draft approaches. But getting Weeden at the bottom of the first round or early in the second would mean missing out on a wide receiver or offensive tackle. And that doesn't make sense to me.
---
Ben (Pensacola, Fla.) writes:
Even if the Steelers draft a guard in the first round, they should pass on a running back to draft another guard in the second. Somehow I doubt any back in the draft is going to help much if Big Ben gets injured again.
Doug Legursky
and
Ramon Foster
are nice backups, but neither belongs as a starter. Frankly, I'd be perfectly happy if the Steelers passed on
Dont'a Hightower
to grab guards in both the first and second rounds:
Amini Silatolu
in the first and
Kelechi Osemele
in the second.
Isaiah Pead
would be worth a look in the fourth round, but that's the earliest I would go for a running back with the bigger needs on the roster.
Jamison Hensley from AFC North headquarters:
Silatolu is my sleeper pick for the Steelers in the first round. He's a nasty offensive lineman who has Pro Bowl potential. I agree that Legursky needs to be replaced; his strength is being a versatile backup. But Foster is serviceable at right guard, so you don't need to draft a guard in the second round. I think a back who is tougher and more decisive than
Rashard Mendenhall
could make this line look a lot better. I like the idea of taking Virginia Tech's speedy
David Wilson
or Boise State's powerful
Doug Martin
in the second round.
---
Brian (Cincinnati) writes:
What are the chances the Bengals have an All-Stanford first round this year with guard
David DeCastro
at No. 17 and tight end
Coby Fleener
at No. 21? The Bengals desperately need a No. 2 tight end in Jay Gruden's offense. Considering the free agents available and the fact that this draft class is not deep at all at tight end, why not take the best available?
Jamison Hensley from AFC North headquarters
: The Bengals are bringing back their top three tight ends after re-signing
Donald Lee
. Like you, I would like to see another pass-catching tight end, but I wouldn't classify Cincinnati as desperate for one. The Bengals just took a tight end (
Jermaine Gresham
) in the first round in 2010, so it's highly unlikely they would use one on another tight end so soon. If the Bengals draft DeCastro, which would be a great move for the Bengals, the second first-round pick can be used on a wide receiver, safety, cornerback or outside linebacker. Those are bigger needs than a No. 2 tight end.
---
Ben P (Boston) writes
: What do you think are the chances that the Ravens trade up to the 23rd or 22nd pick in the first round? Both Detroit and Cleveland are probably just looking for best available players at that point and so they might be willing to trade back for extra picks. It would give Baltimore a chance to fill a need and keep a really good player like offensive lineman
Cordy Glenn
or linebacker Dont'a Hightower away from the Steelers.
Jamison Hensley from AFC North headquarters
: I would say there is a greater chance of the Ravens moving back than moving up. Baltimore covets draft picks and it only has eight, which is the fewest among AFC North teams this year. The only way the Ravens trade up -- and they indicated they would only go as high as No. 19 -- is if one of their top 15 prospects slides into the 20s. I got the impression from the team's pre-draft press conference that the Ravens want more picks, which means moving back.
---
April, 11, 2012
4/11/12
10:00
AM ET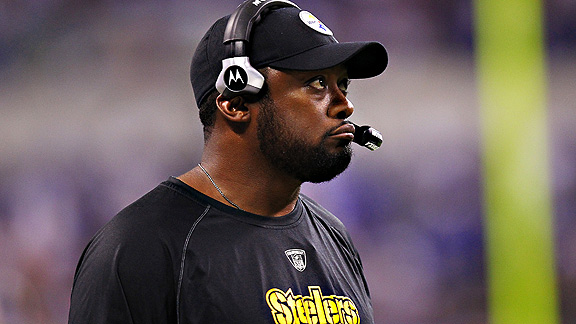 Michael Hickey/US PresswireMike Tomlin and the Steelers need to tap into their draft magic this year more than many.
Nearly a full month into free agency, the Steelers finally signed their first player Tuesday. It was -- yawn --
Leonard Pope
.
Not excited about adding a backup tight end? Well, this is essentially a repeat of last year, when the Steelers' big free-agent signing was wide receiver
Jerricho Cotchery
. Let's face it, Steelers free agency contains as much action as a Sarah Jessica Parker flick. Everyone knows this, and that's why no one is wringing their Terrible Towel over the inactivity.
The Steelers find players in April, not March. They hit on first-round picks every year -- at least in recent memory -- and develop undrafted prospects into starters. No one has built their team through the draft quite like the Steelers this decade. If the season started today, only one of the projected starters (safety
Ryan Clark
) joined the Steelers as an unrestricted free agent.
The Steelers need this remarkable track record in the draft to come through for them again. In some ways, this is the most important draft of the Mike Tomlin era. I'm not saying this is a crucial draft in terms of finding immediate starters. But the pressure is on the Steelers to find "potential" starters for the 2012 season.
The organization lost a piece of its history when it parted ways with wide receiver
Hines Ward
, linebacker
James Farrior
, defensive end
Aaron Smith
, nose tackle
Chris Hoke
and guard
Chris Kemoeatu
this offseason. Some have downplayed these departures because none were major contributors last season. Farrior was a part-time player, Ward was being phased out, Kemoeatu was benched and Smith and Hoke were both injured. The Steelers, though, could have used their experience as backups this season.
The loss of these veteran safety nets makes injuries a major concern. Two starters -- running back
Rashard Mendenhall
and nose tackle
Casey Hampton
-- are candidates to start the regular season on the physically unable to perform list (and miss at least the first six games) after ACL surgeries this offseason. Tomlin has expressed concern about whether right tackle
Willie Colon
and wide receiver
Emmanuel Sanders
can shake their injury histories. And the Steelers have to be worried about
Maurkice Pouncey
's ankle,
LaMarr Woodley
's hamstrings and
Doug Legursky
's shoulder.
If Hampton is placed on the PUP, the starting nose tackle would likely be an out-of-position
Ziggy Hood
. If Legursky is hurt, the current top backup at guard is
John Malecki
. If Colon goes down, the Steelers have to turn to the often-struggling
Jonathan Scott
. If Sanders can't play, the third receiver would be ... well, no one right now. These are all painful scenarios for the Steelers.
This is where the draft comes into play for Pittsburgh. Taking the right college player has always kept the Steelers in the mode of reloading, not rebuilding. No one knows whom the Steelers will select with the 24th overall pick. It could be Alabama inside linebacker
Dont'a Hightower
, Georgia offensive lineman
Cordy Glenn
, Stanford tight end
Coby Fleener
or someone not even linked to Pittsburgh. Based on the Steelers' history, the only certainty is that the pick will become an impact player.
[+] Enlarge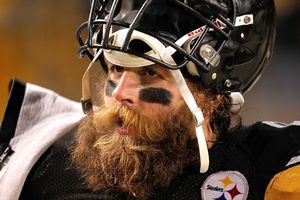 Gregory Shamus/Getty ImagesDefensive end Brett Keisel, taken in the seventh round, is just one of the Steelers' draft finds.
Since 2000, the Steelers' first-round selections have been wide receiver
Plaxico Burress
, Hampton, guard
Kendall Simmons
, safety
Troy Polamalu
, quarterback
Ben Roethlisberger
, tight end
Heath Miller
, wide receiver
Santonio Holmes
, linebacker
Lawrence Timmons
, Mendenhall, Hood, Pouncey and defensive end
Cameron Heyward
. The only one who didn't quite live up to expectations is Mendenhall, and he is hardly a major disappointment, having led the team in rushing for the past three seasons. This great run is more amazing when you consider that only two (Burress and Roethlisberger) were selected in the top half of the first round. Even the Ravens, who are known for excelling in the draft, have had two busts during this span with quarterback
Kyle Boller
and wide receiver
Travis Taylor
.
Steelers general manager Kevin Colbert, one of the underrated decision-makers in the NFL, can't explain this string of success.
"We've been fortunate," he told reporters at the NFL owners meetings. "We are capable as anybody of making a mistake. We never keep score. There's only one score that matters and that's the last game of the year."
If the Steelers had been keeping score, they would realize their success goes beyond the first round. They have come away with current starters in the second round (linebacker Woodley), third round (wide receiver
Mike Wallace
), fourth round (cornerback
Ike Taylor
), sixth round (wide receiver
Antonio Brown
) and seventh round (defensive end
Brett Keisel
). And don't forget about the undrafted finds like Legursky, right guard
Ramon Foster
and running back
Isaac Redman
.
This is why the Steelers don't have to write a $100 million check to free agents. This is why the Steelers can sign one player in the first 28 days of free agency and not sweat about it. Pittsburgh's way of business is about patience and faith. The Steelers believe in their front office to select the right college players and they believe in their coaching staff to develop them. It's a proven system that has led to five AFC North titles in 10 seasons and three trips to the Super Bowl during that span.
As players come and go, the Steelers' goals never change. Like Tomlin always preaches: "The standard is the standard."
"If you have a desire to be in this league for a length of time, you are going to roll with the punches and the ebb and flow, the evolution of the game," Tomlin said at the NFL owners meetings. "Thankfully, I've been in the game long enough to see a little bit of that. Those who are able to sustain success are pliable and flexible."
And the organizations that are able to sustain success are often quiet in free agency and make the most noise in the draft.