December, 11, 2011
12/11/11
8:55
PM ET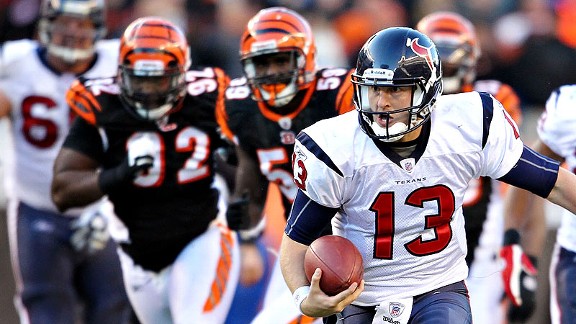 Andy Lyons/Getty ImagesWith the game on the line, Houston's rookie QB T.J. Yates made the clutch plays, not the Bengals.
CINCINNATI -- The
Cincinnati Bengals
aren't a playoff team this year.
That's not to say they're eliminated from the postseason. That's not to say the Bengals will fail to reach the playoffs next season and the next five years after that. But Sunday's
20-19
loss -- make that punch-in-the-gut collapse -- to the
Houston Texans
illustrates one point: The Bengals aren't ready.
Playoff teams come through in the clutch in December. They don't allow a rookie third-string quarterback to drive 80 yards in the final minutes to score the winning touchdown.
Playoff teams finish off teams on their home turf during a playoff run. They don't squander nine-point leads in the fourth quarter. They don't let a receiver go uncovered across the middle of the field on second-and-goal in the final seconds.
It would be easy to say the Bengals looked like the Bungles. Let's not go there. The Bengals simply looked like a young team that flinched when they needed to punch back.
"It's a defeated feeling today," safety
Chris Crocker
said. "I can't even put it into words how bad this hurts, especially being in it until eight seconds left. We just had so many opportunities. I can't even put a word on how much this hurts."
Crocker added, "It was just one of those games where there were missed opportunities time after time after time. It was our own fault. We put ourselves in bad positions. Offensively and defensively, we just made critical errors all day long. And that's why we lost this game."
Some might argue that this is putting too much into one game. But Marvin Lewis was the one who called this the "biggest" game of his nine-year Bengals coaching career. Instead, he suffered one of the biggest collapses. Lewis talked about a "rebirth." Instead, he watched a loss that might have killed his best coaching season.
Hey, what's that saying ... If a team falls and there is no one there to see it, does it make a sound? Ok, that's a low blow, but it's accurate. The second-smallest crowd (41,202) in Paul Brown history showed up, leaving 24,333 seats unfilled. Those empty seats matched the Bengals' empty feeling.
"As far as the team goes, they are very disappointed and I'm going to have to pump some air in them," Lewis said. "We have to make some corrections and get back on track. Before this game, we controlled our own destiny, and now I can't tell you what is going to happen. We have to move forward and see what happens."
The Bengals entered this game with a hold on the sixth and final playoff spot in the AFC. They left with a 7-6 record, one game back of the
New York Jets
(8-5), who grabbed the No. 6 seed away from them.
Even if Cincinnati is able to get that playoff spot back in the final three weeks, the Bengals will be a playoff team in name only. The Bengals are a team that will do damage in future seasons. They have the NFL's best rookie quarterback-receiver combination in the past two decades. They have a defense that will come back stronger with a healthy
Leon Hall
and
Carlos Dunlap
.
At this point, Cincinnati isn't on the same level as Baltimore and Pittsburgh. And the Bengals proved today that they can't beat a Texans team that is without its top two quarterbacks and star wide receiver
Andre Johnson
.
The Bengals are now 1-6 against teams that currently have winning records.
"It's not even about the playoffs anymore. It's about winning games," Crocker said. "We can't think about the postseason until we start winning games. It's a remote idea right now."
Everything that the Bengals did right -- a 97-yard touchdown drive, a 49-yard field goal in the final seconds of the first half and a season-high four turnovers forced -- gets lost in what the Bengals did wrong.
Cincinnati had first-and-goal at the Houston 1-yard line in the first quarter until right guard
Bobbie Williams
' false start (that led to a field goal instead of a touchdown). The Bengals were 1 of 3 in the red zone.
Cincinnati had a 13-point lead to open the second half until quarterback
Andy Dalton
was stripped from behind on the second play of the third quarter. Rookie tight end
Colin Cochart
couldn't block
Connor Barwin
, who caused the fumble inside the Bengals' 20-yard line (leading to a quick Texans touchdown).
And Cincinnati forced a fumble early in the fourth quarter, but defensive end
Frostee Rucker
coughed it up while trying to score. Then, Bengals safety
Reggie Nelson
and linebacker
Manny Lawson
fought over the ball, which allowed the Texans to regain control at their own 2-yard line.
Leading 19-10 at the time, the Bengals could have had the ball in the red zone and with a chance to put the game away. But three Bengals couldn't hold onto the fumble. The Texans marched 83 yards for a field goal to pull within 19-13 and set up the dramatic finish.
"That should have been one of the [turnovers] that would have helped us tremendously," Lawson said.
Their biggest downfall came on the final drive. On third-and-15, the Bengals allowed Yates to scramble for 17 yards. Then, after a 17-yard pass interference penalty on cornerback
Adam Jones
, they allowed the 152nd pick of the draft to throw the winning touchdown when linebacker Brandon Johnson followed tight end
Owen Daniels
and let Walter run free over the middle.
"A rookie quarterback beat us today," Crocker said. "I don't even know what to say. Wow. I don't even know what to say."
The Bengals are a good team. They are a promising one. But the Bengals have made it clear that they're not a playoff team.
"We knew if we came out there and outperformed them, it was a matter of time where we would get our chance to shine," Maualuga said. "But it sucks to look at that scoreboard and see that we lost by one point when we knew we had the whole game in the palm of our hands."
November, 13, 2011
11/13/11
7:12
AM ET
Here's your game-day warm-up:
CINCINNATI -- The Steelers are looking to avoid their first 0-3 start in the AFC North when they play the Bengals at Paul Brown Stadium today.
Pittsburgh lost its first two division games this year when it got swept by the Ravens. The Steelers have only had one three-game losing streak in the division since the AFC North began in 2002.
A majority of the ESPN
NFL experts
believe the Steelers will get their first division victory today. Six of the eight prognosticators have Pittsburgh (6-3) beating the Bengals (6-2), who have won five consecutive games (the longest current streak in the AFC).
ESPN's NFL experts also have the Ravens and Browns winning today. The Ravens (6-2) play at Seattle (2-6), and the Browns (3-5) are home against St. Louis (1-7).
Here are some story lines for today's games:
November, 6, 2011
11/06/11
5:32
PM ET
Thoughts at halftime of the Bengals-Titans game in Tennessee:
August, 13, 2011
8/13/11
12:48
PM ET
GEORGETOWN, Ky. -- It's a new era in Cincinnati. But will it result in more victories?
That's the question facing the new-look
Cincinnati Bengals
this season.
Cincinnati hit the reset button after a disappointing 4-12 campaign in 2010. The Bengals moved on from the
Carson Palmer
-
Chad Ochocinco
era, replacing them with rookie quarterback
Andy Dalton
and No. 4 overall pick
A.J. Green
.
But going young often brings growing pains.
That was evident in
Cincinnati's lackluster 34-3 loss to the
Detroit Lions
in Friday's preseason opener. The Bengals' starters and backups looked shell-shocked and were dominated on offense, defense and special teams.
"It's our first step in a long, long journey," Bengals coach Marvin Lewis
told reporters Friday night
. "There's a lot of work to do. I knew it coming in. Now we have a chance to coach off the tape and make corrections off the tape and get after it quickly."
The rebuilding Bengals have nowhere to go but up this season. They were
ranked last in ESPN.com's preseason Power Rankings.
THREE HOT ISSUES
[+] Enlarge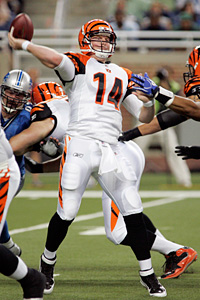 AP Photo/Duane BurlesonCincinnati could face growing pains with rookie QB Andy Dalton.
1. Is Andy Dalton ready?
Palmer's unexpected retirement in January thrust Dalton into the starting lineup as a rookie.
This is unfamiliar territory for Lewis. Lewis sat Palmer, a No. 1 overall pick, during his entire rookie year in 2003.
I asked Lewis this week about his different approach with rookie quarterbacks.
"The football team that I took over in 2003 couldn't afford to lose games because of the quarterback," Lewis said. "They had a guy who had been in the seat and a lot of people were very, very comfortable with. Jon [Kitna] had done some good things, so it was a different situation.
"This football team is put together differently. They're tough, they're physical, they know how to go out there and compete. I didn't know those things coming in 2003. I know what this team is made of now. I know where the leaders are. I didn't know those guys then."
The Bengals hope to get immediate results from Dalton. He made some rookie mistakes in practice during the week and looked shaky in his preseason debut. Dalton's first throw was an interception. His third pass attempt was a sack. He finished with 69 passing yards and a pick.
Overall, Dalton is confident and has good presence. But things will not come together overnight.
2. How is Cincinnati's new West Coast offense?
The West Coast offense is known for its precision passing. But expect a heavy dose of tailback
Cedric Benson
in Cincinnati's system.
First-year offensive coordinator Jay Gruden acknowledged that he wants a power running game to protect his rookie quarterback. Benson is coming off back-to-back 1,100-yard seasons. He is the most reliable offensive commodity the Bengals have.
If Benson runs well, it should open things up for Cincinnati's passing game. Gruden is particularly high on starting receivers Green and
Jerome Simpson
.
Look for Cincinnati's opponents to stack the box against the run this season. But Gruden will not be afraid to take shots downfield with Simpson and Green, based on what I've seen in practice.
"Those two guys on the outside are very athletic," Gruden said. "You almost have to take a different approach as a quarterback when those two guys are running down the field. If a defensive back has his back turned, you have to give [the receiver] a chance. A lot of times you want to tell a quarterback, 'It's either us or nobody.' But with these two guys you can throw it up high and let them go get it."
3. Can the defense rebound?
The Bengals were No. 4 in total defense in 2009. That led to a playoff run.
In 2010, Cincinnati's defense dropped to No. 15. The Bengals finished 4-12 last season.
The success of the defense is vital. The Bengals return veterans such as cornerback
Leon Hall
, defensive lineman
Domata Peko
, safety
Chris Crocker
and third-year linebacker
Rey Maualuga
. The team also added cornerback
Nate Clements
to replace
Johnathan Joseph
and new linebackers
Manny Lawson
and
Thomas Howard
.
Improving the pass rush will be key. The Bengals only had 27 sacks in 16 games last season. Defensive end
Carlos Dunlap
accounted for 9.5 of those sacks.
Speed on defense also is an issue. Cincinnati is not very fast in the front seven or in the secondary.
BIGGEST SURPRISE
I went into Bengals camp unfamiliar with
Colin Cochart
. But by the end of the week, the undrafted rookie tight end from South Dakota State was one of my favorite players.
Cochart is an aggressive blocker, which is a valued commodity. He blocked in every practice as though it was the Super Bowl. That got under some teammates' skin and caused some extra pushing and shoving.
Cochart's blocking makes him a sleeper to make the Bengals as a third tight end behind
Jermaine Gresham
and
Bo Scaife
.
BIGGEST DISAPPOINTMENT
I wanted to see more from backup running back
Bernard Scott
. But he has been sidelined most of training camp with a hamstring injury.
Many players across the league, particularly speedy ones, are suffering hamstring injuries after the lockout. Scott showed flashes in past seasons. But he needs to stay healthy and be more reliable to back up Benson this season.
OBSERVATION DECK
[+] Enlarge

AP Photo/Carlos OsorioReceiver A.J. Green, a first-round draft pick, has looked as good as advertised so far in camp.

Green is the real deal. He is an extremely good athlete with great hands and the ability to go up and get the football. But he needs to work on is his routes. Green relied mostly on athleticism in high school and college. He needs to be more precise getting out of his cuts to get the most out of Cincinnati's West Coast offense. There is little margin for error at the NFL level.

Former 2009 first-round pick Andre Smith is in much better shape this year. He is down to 335 pounds. Smith's quickness, footwork and endurance have improved. This is his first full training camp. He missed the first two camps because of a contract dispute and prior injuries. Smith's weight loss also takes pressure off his surgically repaired foot.

Veteran backup quarterback Bruce Gradkowski looks to be a decent signing. Gradkowski knows the West Coast offense and is making plays in camp. The Bengals are counting on Dalton to be the starter. Dalton's ceiling is higher. But right now there isn't a wide gap separating Cincinnati's top two quarterbacks.

Simpson looks ready to bust out. He was one of the best players in practice last week and continues to make highlight-reel catches, even when covered by defenders. Simpson has been quiet for three seasons in Cincinnati. But he finished strong in the final month of last season. Simpson has to prove he can be productive for 16 games.

The Bengals can use a healthy Adam Jones this season. The backup cornerback will miss all of training camp after neck surgery. Jones is by far Cincinnati's best athlete in the secondary. It doesn't appear the commissioner will act on Jones' offseason arrest for disorderly conduct. Jones says he was wrongfully arrested.

Michael Johnson looks more comfortable back at defensive end. The Bengals experimented with moving Johnson to outside linebacker last season, but he never looked comfortable standing up. Now, Johnson is making more plays in training camp at his natural position. He was listed as a starter on the team's first depth chart.

Maualuga is another player who looks better at his natural position of middle linebacker. He has good instincts and is a force against the run. Maualuga sheds blocks well and gets to ball carriers. He had two tackles for loss Friday against Detroit. The past two seasons Maualuga often was forced to cover tight ends in pass coverage and struggled.
August, 10, 2011
8/10/11
1:30
PM ET
The AFC North blog has made it to three training camps thus far. We saw the
Pittsburgh Steelers
,
Cleveland Browns
and
Cincinnati Bengals
up close to get a feel for the division in 2011.
Here are three unheralded players who caught our eye:

Pittsburgh Steelers
Player:
Baron Batch
, running back
Analysis:
Steelers head coach Mike Tomlin won't admit it, only saying "He's a rookie," but Pittsburgh's seventh-round pick is showing toughness and a good burst at tailback. Batch's pass blocking also is solid. But making a veteran team like Pittsburgh is going to be tough. Tailback
Rashard Mendenhall
,
Isaac Redman
and
Mewelde Moore
are proven. Pittsburgh may have to keep four running backs for Batch or place him on the practice squad.

Cincinnati Bengals
Player:
Colin Cochart
, tight end
Analysis:
Cochart is a personal favorite of mine during this week's visit to Bengals camp. The undrafted rookie tight end from South Dakota State is gritty and doesn't give an inch. Cochart's best asset is his run blocking. He's strong and keeps a good base at the point of attack. I've seen Cochart make two pancake blocks this week, including Tuesday against Bengals defensive end
Frostee Rucker
. Cochart could be a sleeper to make the Bengals as a third, blocking tight end.

Cleveland Browns
Player:
Branndon Braxton
, offensive lineman
Analysis:
Braxton was undrafted in 2009 and played well in the UFL for two seasons. He is hungry to make the Browns' 53-man roster this year. Braxton has a good chance at right tackle, which is a thin spot for Cleveland. Braxton has good size (6-foot-6, 315 pounds) and is holding up well in pass protection. He is surprisingly pushing veteran right tackle
Tony Pashos
in Browns camp.
August, 8, 2011
8/08/11
9:00
PM ET
By
Jame Walker
| ESPN.com
GEORGETOWN, Ky. -- The
Cincinnati Bengals
began their second week of training camp with a full-padded practice Monday night.

Here are several notes and observations: