AFC North:

Collective Bargaining Agreement
August, 1, 2011
8/01/11
1:30
PM ET
LATROBE, Pa. -- Distractions and controversy? What distractions and controversy?

The opening of training camp was business as usual for the reigning AFC champion
Pittsburgh Steelers
. Despite offseason incidents that ranged from
Hines Ward
's arrest to
Rashard Mendenhall
's misuse of Twitter to
James Harrison
ripping commissioner Roger Goodell and teammates, players
quickly deflected any issues
and seemed genuinely happy to get back to work.
The Steelers believe their off-the-field problems are a
thing of the past
, and the team is ready to move forward and attempt to make another title run in 2011.
"Any time we come to training camp, our goal is the Super Bowl," Ward said. "Anything less than the Super Bowl is a down year for us. Having experienced and tasted a loss in the Super Bowl is not a good feeling. So, hopefully we can get back there and come out on the winning side."
The Steelers have a lot of work to do before the start of the regular season. Here are some early questions:
THREE HOT ISSUES
1. How will the Steelers get under the cap?
According to the new collective bargaining agreement, the Steelers have until Thursday to get under the $120 million salary cap. Despite a flurry of roster moves last week, Pittsburgh remains about $7 million to $10 million over, which is where the team started this summer.
The Steelers made several key salary cuts, including veteran receiver
Antwaan Randle El
and offensive tackles
Max Starks
and
Flozell Adams
. But the re-signings of in-house free agents such as cornerback
Ike Taylor
have basically nullified those moves.
Expect more tough decisions to be made this week.
"We have to find ways to get under [the cap] and in compliance," Steelers general manager Kevin Colbert said. "We're going to look at every and all possibilities."
There is some good news for the Steelers.
The new CBA allows teams to use three $1 million exceptions in 2011, and Colbert says he will use them all. Teams have this onetime flexibility to add an extra $3 million to the cap, which essentially brings the Steelers' number up to $123 million. This could allow Pittsburgh to retain some veterans it otherwise would lose.
[+] Enlarge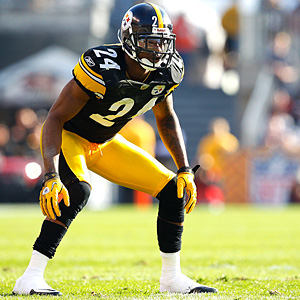 Jared Wickerham/Getty ImagesIke Taylor has 11 interceptions in eight NFL seasons.
2. Has Pittsburgh fixed its pass defense?
The last memory Steelers fans have of their defense is
Green Bay Packers
quarterback
Aaron Rodgers
carving up the secondary for 304 yards and three touchdowns in Super Bowl XLV. Since then, Pittsburgh hasn't made any significant additions to the secondary, leaving many to wonder whether this problem is fixed.
Because Pittsburgh is fielding the same players in the secondary, it's difficult to imagine the pass defense being better than it was last season. The Steelers re-signed veteran corners Taylor and
William Gay
and drafted rookies
Curtis Brown
and
Cortez Allen
.
"You can't worry about what people think outside the locker room, because we've been so successful on the field," Taylor said of the criticism. "So it really doesn't matter. Everybody has their own opinion. It comes with the territory."
Expect many teams to spread the Steelers out this season by using three- and four-receiver sets. That will force backups such as Gay or some of the young corners to play important roles on the defense.
3. How thin is Pittsburgh's offensive line?
Pittsburgh's offensive line could be the thinnest group in the league.
Outside of second-year center
Maurkice Pouncey
, who is a stud, the rest of the line is littered with questions.
Jonathan Scott
plays the important role of left tackle and was inconsistent last year. Guards
Ramon Foster
and
Chris Kemoeatu
are decent run-blockers but struggle in pass protection. And right tackle
Willie Colon
is coming off an Achilles injury that forced him to miss the entire 2010 season.
Cutting Starks and Adams severely hurt the talent and depth of this group. Those were two of the most experienced linemen Pittsburgh had. Cap issues make it unlikely the team will sign another starting offensive lineman in free agency.
"You can't go into it and expect to have veteran depth at every position," Colbert admitted. "It just doesn't work out financially. You have to trust some of your young guys."
[+] Enlarge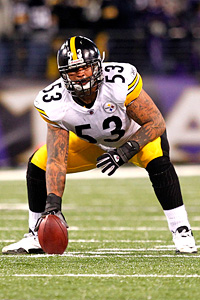 Geoff Burke/Getty ImagesMaurkice Pouncey is the rock of the Pittsburgh offensive line.
BIGGEST SURPRISE
It's only the first weekend of camp, but backup cornerback
Keenan Lewis
has been a pleasant surprise.
Lewis is gaining valuable experience
working with the first-team defense. Taylor signed a four-year contract in free agency and isn't allowed to practice with the team until later this week.
Despite a rocky two years in Pittsburgh, Lewis is a good athlete. He has good size and quickness and is making fewer mental mistakes, which is key. The competition for the important nickel role in the secondary will be intense this summer, and Lewis could have the inside track.
BIGGEST DISAPPOINTMENT
With the lengthy NFL lockout, someone was bound to show up out of shape. Backup running back
Jonathan Dwyer
was that person for the Steelers.
I expected to see more from Dwyer, a sixth-round pick in 2009. But he struggled mightily during the conditioning evaluations and hasn't done much in the practices. The Steelers' running back corps is deep, and Dwyer is definitely on the roster bubble.
OBSERVATION DECK
July, 11, 2011
7/11/11
5:50
PM ET

Atlanta police
have released additional details
on the recent arrest of
Pittsburgh Steelers
receiver
Hines Ward
.
According to the police report, Ward failed a sobriety test and at one point hit a curb with his Aston Martin vehicle. On Saturday a representative denied Ward was drunk
through a statement.
This will certainly catch the attention of the NFL. Expect the league to look into this case,
along with the arrest
of
Cincinnati Bengals
cornerback
Adam Jones
, once a new collective bargaining agreement is reached. But this is the first brush with the law for Ward, which definitely helps his case.
July, 10, 2011
7/10/11
12:50
PM ET
It has been an awful weekend for off-the-field misconduct in the AFC North.
Cincinnati Bengals
cornerback
Adam Jones
became the second division player in as many days to get arrested
after a bar incident
in Cincinnati. Jones and
Pittsburgh Steelers
receiver
Hines Ward
were both apprehended by police
in separate incidents
over the weekend.

Here are some thoughts on Jones' arrest:
Jones, who was charged with disorderly conduct, is probably the last player who can afford any bad media coverage. Jones responded via Twitter that he wasn't drunk, but anything involving Jones and the police is not a good sign. The embattled cornerback has had many brushes with the law and is already down to his last strike. That could hurt his case if the NFL decides to look into this once a new collective bargaining agreement is reached.
The Bengals are relying on Jones to play a major role this season. If the team doesn't re-sign free-agent cornerback Johnathan Joseph, Jones is expected to be the starter. If Joseph returns, Jones could still play an important nickel role in the secondary. Jones is coming off a season-ending neck injury and has to get healthy. He was still wearing a neck brace in his mug shot.
July, 5, 2011
7/05/11
1:00
PM ET
Will the
Cincinnati Bengals
have to spend their full resources?
We could find out soon if the NFLPA has its way with mandatory spending of the salary cap, which is one of the biggest sticking points remaining in the new collective bargaining agreement. The league wants a rookie wage scale, which the players are open to. But in return, veteran players want to make sure owners do not take all the extra money saved and keep it.
Mandatory spending could affect the Bengals perhaps more than any NFL team. Cincinnati often searches for cheaper alternatives in free agency to help with payroll.

Here are some additional thoughts on Cincinnati and mandatory spending:
The Bengals may want to hire a general manager. Cincinnati is known for making shaky personnel decisions, and that will only be amplified with increased spending. I've made the case for years that it's more cost-effective for the Bengals to pay a GM to make good decisions than it is to have ownership make costly mistakes such as signing receiver Antonio Bryant. According to ESPN.com senior writer John Clayton, the Bengals have about $36 million in cap room and would have about $54 million available if embattled quarterback Carson Palmer ($11.5 million) and receiver Chad Ochocinco ($6.35 million) came off the books. A smart and talented GM could make that money go a long way. But don't expect the Bengals to view it that way.
This could be good news for in-house free agents Johnathan Joseph and Cedric Benson. Because of the high price good corners have fetched in the free-agent market ($8-$10 million per year), Joseph probably was a goner after Cincinnati failed to reach a deal before the lockout in March. But mandatory spending could put Joseph back in play for the Bengals and increase Cincinnati's chances of matching any offers. The same goes for Benson, who wants to return and was the Bengals' leading rusher the past two years.
Overall, proposed mandatory spending could be a victory for Bengals fans. The Bengals have gone 20 consecutive years without winning a playoff game, and there is doubt in Cincinnati whether the Bengals are truly committed to winning a championship. Spending to the salary cap every year would at least force the Bengals to spend more money on their product, as opposed to annually searching for bargain-basement free agents or troubled players down to their last strike.
March, 16, 2011
3/16/11
2:30
PM ET
You have to give the AFC North division credit for having multi-talented athletes.
While
Baltimore Ravens
safety
Tom Zbikowski
is
boxing professionally
again and already has one knockout this offseason,
Cincinnati Bengals
receiver
Chad Ochocinco
is
taking up professional soccer
. He will get a four-day tryout with Sporting Kansas City of the MLS.
Although this might come off as a publicity stunt -- and to some degree it is -- Ochocinco has always had a love and appreciation for soccer. He talks about it all the time on Twitter and occasionally in the locker room during football season. I've also seen videos where Ochocinco has some nifty soccer moves.
Whether Ochocinco is good enough to play soccer at the pro level remains to be seen. Sporting Kansas City said they will evaluate where Ochocinco stands after a four-day trial.
With the NFL experiencing a lockout, players like Zbikowski and Ochocinco are free to participate in any activities they wish until a new collective bargaining agreement is reached. Both players have key roles for their respective AFC North teams. So the Ravens and Bengals will keep their fingers crossed that no injuries occur.
March, 2, 2011
3/02/11
5:32
PM ET

Joe Reedy of the Cincinnati Enquirer reports the Bengals put the
highest restricted tender
on starting cornerback
Johnathan Joseph
Wednesday, less than 48 hours before his contract expires.
But this move likely is for show. Under the current collective bargaining agreement, teams would have to give up a first- and third-round pick to sign Joseph. But the CBA expires on Friday, and with a new CBA Joseph is expected to become an unrestricted free agent.
With the asking price skyrocketing to
$10 million per season
for lower-profile corners, the Bengals will have a hard time keeping Joseph. He has been Cincinnati's best cornerback for several seasons and recorded 42 tackles and three interceptions in 2010.
February, 28, 2011
2/28/11
1:30
PM ET
Last week the
Oakland Raiders
paid cornerback
Stanford Routt
$31.5 million
over three years
, which is an average of more than $10 million per season.
Most AFC North fans are probably asking, "Who is Stanford Routt?" And that is the point.
It's a great year to be a free-agent cornerback in the NFL. Even low-profile ones like Routt are getting a ton of money this offseason, which does not bode well for the
Pittsburgh Steelers
.
The reigning AFC champion and Super Bowl runners-up have begun
preliminary negotiations with Ike Taylor
, who is Pittsburgh's No. 1 cornerback. The Steelers are very thin at that position, and it is perhaps their biggest need entering next season.
But when players like Routt, who recorded two interceptions last season as Oakland's No. 2 cornerback, are getting more than $10 million per season, that drives up the market for all free-agent corners. Taylor is not a shutdown player, but he is solid at the position. He recorded 66 tackles and two interceptions last season.
The
Cincinnati Bengals
have
the same issue with
pending free agent
Johnathan Joseph
, who is 26 and in his prime. Cincinnati only has one player (quarterback
Carson Palmer
) making more than $10 million per season, and the Bengals probably won't go that high for Joseph.
Now that the
franchise tag has gone
to outside linebacker
LaMarr Woodley
, the Steelers will be negotiating with other teams for Taylor, who will soon become an unrestricted free agent.
Would Taylor ask for more than $10 million per season? If so, it becomes questionable that he would return to Pittsburgh. It's also possible Taylor, who spent his entire career in Pittsburgh, would accept a "home-team discount," despite the high going rate for corners.
We won't have any firm answers until the NFL and NFLPA reaches a new collective bargaining agreement. But keep an eye on this development in Pittsburgh.
February, 22, 2011
2/22/11
4:00
PM ET
The
Cleveland Browns
are rebuilding under rookie head coach Pat Shurmur in 2011.

Shurmur and his staff want to implement a new West Coast offense. Cleveland also wants to begin installation of a 4-3 defense, which the Browns haven't run since 2004. But everything could be put on hold with the threat of an NFL lockout.
With less than two weeks remaining until the expiration of the collective bargaining agreement, both the NFL and NFLPA have been in negotiations to reach a middle ground. The threat of missing games isn't big at this point, but delaying free agency and missing offseason workouts are much closer to a reality.
This would severely hurt the progress of rebuilding teams such as Cleveland, which has turned over an entirely new coaching staff and wants to add players to its roster. The offseason workout program and minicamps are when teams begin building its chemistry for the upcoming season and learning the playbook. The Browns' playbook will be entirely new on both sides of the football. So Cleveland's players have a lot to pick up this offseason.
During a lockout, players cannot workout or have communication with their teams. Therefore, expect the rebuilding Browns to be one of the more nervous franchises these next few weeks.
February, 11, 2011
2/11/11
4:00
PM ET
At least one AFC North player will likely get hit with the franchise tag this offseason. According to a source,
Pittsburgh Steelers
outside linebacker
LaMarr Woodley
is expected to get "tagged" by the AFC champions before the Feb. 24 deadline.

Woodley
Woodley, 26, was one of the NFL's best bargains playing out the final year of his rookie contract. Including playoffs, he recorded 60 tackles, 13 sacks, two interceptions and made just $550,000 last season for Pittsburgh. Woodley also became the second player in franchise history to record three consecutive seasons of double-digit sacks, joining teammate
James Harrison
.
The franchise tag for linebackers is projected to be worth approximately $10.2 million next season. That would be a significant raise for Woodley, although labor uncertainty makes it unclear how the tag will be used once a new collective bargaining agreement is reached.
"I wouldn't be against it at all," Woodley
said during Super Bowl week
. "Whatever happens, happens. Would you like to have a long-term contract? Yeah. But a franchise tag, it doesn't matter to me."
The Steelers and Woodley, a former second-round pick, are currently hamstrung with working out a long-term deal because of difficulties with the 30-percent rule under the old CBA, which expires in March. The franchise tag would keep Woodley off the open market and would buy both sides time to work out a long-term deal once a new CBA is reached.
July, 13, 2010
7/13/10
11:00
AM ET
On Monday ESPN.com reported
Pittsburgh Steelers
Pro Bowl linebacker
LaMarr Woodley
will
not get a long-term extension
before the start of the 2010 season. Since Pittsburgh rarely negotiates with players during the season, Woodley has a good chance to hit free agency next year.
So what's next for Woodley and the Steelers? Here are three possibilities:
[+] Enlarge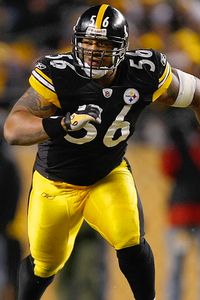 Scott Boehm/Getty ImagesLaMarr Woodley could be headed for the free-agent market after next season.
1. Try to negotiate a short-term deal
Analysis:
The 30 percent rule during an uncapped year is making long-term negotiations extremely challenging. This is especially the case for Woodley, who was a second-round pick and could only make a maximum salary of $598,000 this season. A short, two-year deal could be a way around it. Pittsburgh can provide Woodley enough of a raise in short-term bonuses, while the base salaries wouldn't be as big an issue compared to a five- or six-year deal. But the Steelers have already closed the door on negotiations, so chances are very slim.
2. Wait for the new collective bargaining agreement
Analysis:
This is a more likely route for the Steelers. Once a new CBA is in place, that can provide a road map to reopen contract talks with Woodley. One issue is it's unknown when a new CBA will be completed. Another is Woodley could price himself out of the Steelers' range with another Pro Bowl season. For example, would another season of double-digit sacks from Woodley this year command
Terrell Suggs
($63 million) or even
DeMarcus Ware
($78 million) type money on the open market? If so, are the Steelers willing to pay it?
3. Franchise tag
Analysis:
If Woodley has another monster year, there is a chance he could get the franchise tag. This option for teams has been the bane of a lot of top-flight players in the past. The tricky part is it's unknown whether teams will be able to use the franchise tag next year. NFL teams want it. The NFLPA wants it to disappear. This is one of many points of contention between the two groups. If the franchise tag sticks, that gives the Steelers one more option to consider with Woodley next year.
January, 22, 2010
1/22/10
2:30
PM ET


We looked ahead
to the offseason in our latest "Thought of the Day" in the AFC North.
The question was which team has the quicker fix: The
Pittsburgh Steelers
or
Baltimore Ravens
?
Both teams entered this past season as Super Bowl contenders and fell short. Therefore, which organization is closer to becoming a title contender in 2010?
Here were responses from our
AFC North inbox:
Dan from Omaha, Nebraska,
writes: This is an easy one, James. Pittsburgh is closer. Pittsburgh's biggest problems this year were motivation and injuries (
Troy Polamalu
). Pitt played down to its level of competition all year. Pitt played well against the good teams and bad against the bad ones. There's a reason they call it a Super Bowl hangover. There's something to it and Pitt is neither the first or last team to suffer from it.
Don from Pittsburgh
writes: This one is easy. B-more signs one big-time WR and its problems on offense are solved. Pittsburgh on the other hand has a horrible secondary, no real backup for 31-year-old
James Harrison
, a D-line that has been old for three years now, an O-line that is just lacking talent, and a hole at backup RB if
Willie Parker
leaves in free agency. The Steelers are also experiencing quite a lot of turnover in their coaching ranks this year.
Joey from Cincinnati
writes: Both teams should be solid again, but you have to say that Pittsburgh is the team most likely to rebound. There are many reasons why this is the case, but you can pretty much sum it up with two words: Big Ben.
Ben Roethlisberger
is proven and a game changer.
Joe Flacco
hasn't shown it, and until he does, I'll pick the Steelers every time.
Mike Pallatto from Houston
writes: Baltimore in my view is easier to fix. Pittsburgh is getting old on defense, and that will take time to fix, especially considering they draft players and hardly ever make any big free-agent signings. The offense is pretty much set, but they need depth at RB and OL.
Tim from Philly, PA,
writes: The Steelers only need to add a little depth on defense. We can be corrected in the draft. The Ravens look like they may be losing even more depth on defense and offense with the possible retirements of
Derrick Mason
and
Ed Reed
.
Hank from Bel Air, MD,
writes: The Steelers are in a better position today. Much will depend on the CBA. Baltimore could be in a position to losing a number of starters, especially in the wide receiver area. It sure looks like Flacco is going to have many new faces to throw the ball to and that doesn't bode well for Baltimore. Flacco and his new receivers will need a year or two to get on the same page. Baltimore is also short on tight ends.
Todd Heap
is good but the Ravens couldn't go with a lot of two tights during the year
James Savich from Bradenton, Florida,
writes: I believe that the Steelers are closer to a title than the Ravens. Baltimore is getting old and key players might not be back next year. Pittsburgh has a nice draft pick this year, and the core of that team is coming back. If Pittsburgh picks up one of these three positions they will be solid next year, either a offensive lineman, linebacker, or a cornerback.
AFC North Final Word
James Walker:
I have confidence in both front offices to make the necessary moves to be a contender next season. But as of January, Pittsburgh has fewer concerns. With a healthy Polamalu next season, the Steelers are already a playoff team in my opinion. Add depth and a few upgrades here and there through the draft and free agency, and Pittsburgh should have a bounce-back season. Meanwhile, the Ravens have a lot of free agents (Mason,
Jared Gaither
,
Mark Clayton
,
Dawan Landry
,
Fabian Washington
,
Justin Bannan
,
Troy Smith
) who have key roles with the team. They will have to take care of those decisions in addition to finding a big-name receiver, which
will not be easy
in an uncapped year. The possible retirements of Mason and Reed are also major, pending issues the team may have to deal with. I expect more work for Baltimore this offseason.
If you have any future "Thought of the Day" topics for the AFC North, feel free to send them to our
division inbox.
January, 13, 2010
1/13/10
10:00
AM ET

Wednesday probably isn't the best time to harp on free agency when it comes to the
Baltimore Ravens
. But I want to give our AFC North readers an early heads up on an interesting development that will tremendously impact the Ravens in the next several weeks.
Unless something changes with the current Collective Bargaining Agreement, Baltimore will not be able to sign a free agent this offseason until one of its own free agents sign with another team. Once that happens, any new free-agent signing has to match up dollar for dollar. This could greatly hinder the Ravens' chances of making a huge splash this offseason.
I checked around this week to get clarity on this complicated rule, which is in place for the final eight teams that advanced to the divisional round. This is another layer of protection by the NFL to prevent free agency from getting out of hand during an uncapped year.
Baltimore is the only AFC North team affected by this rule. The other seven teams are the
New York Jets
,
San Diego Chargers
,
New Orleans Saints
,
Minnesota Vikings
,
Dallas Cowboys
,
Arizona Cardinals
and
Indianapolis Colts
, who will host the Ravens in Saturday's playoff game.