AFC North:

Cordarrelle Patterson
September, 19, 2013
9/19/13
12:00
PM ET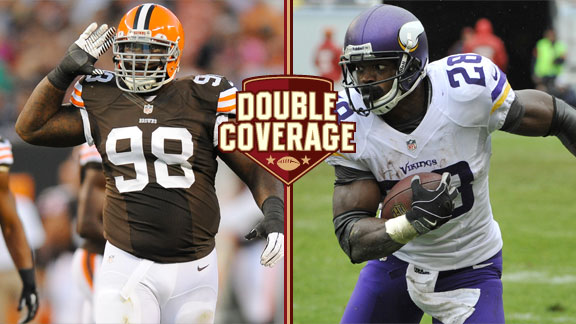 Getty ImagesPhil Taylor and the thus-far stout Browns run defense gets a major test in Adrian Peterson.
A pair of teams desperate for their first victory square off in Minneapolis this weekend when the
Minnesota Vikings
host the
Cleveland Browns
.
The Vikings are coming off a last-second loss in Chicago, after which players were venting about the defensive call that led to the Bears' touchdown with 10 seconds left. Minnesota goes from Minneapolis to London for a date with the
Pittsburgh Steelers
, and the Vikings are in dire need of some positive momentum.
The Browns, meanwhile, have scored just 16 points in a pair of losses, and already have made major changes. They will start
Brian Hoyer
at quarterback this weekend with starter
Brandon Weeden
out because of a thumb injury. Meanwhile, the Browns traded running back
Trent Richardson
on Wednesday, parting with their top playmaker in exchange for the
Indianapolis Colts
' 2014 first-round draft pick.
As the teams meet for the first time since 2009, ESPN.com Vikings reporter Ben Goessling and ESPN NFL Insider Matt Williamson break down the game:
Goessling:
Matt, the last time these two teams faced each other, it was on opening day in 2009,
Brady Quinn
was under center for the Browns and Brett Favre was playing his first regular-season game in a Vikings uniform. How things have changed since then. The Vikings have their own quarterback issues --
Christian Ponder
probably keeps his job for now after a solid second half in Chicago last week, though he's in serious need of some consistency. With Hoyer at quarterback, Richardson gone to Indianapolis and
Josh Gordon
coming back from a suspension, what can we expect from the Browns' offense?
Williamson:
I was feeling optimistic about Cleveland's offense going into Week 3 with Gordon returning and the disaster at the right guard position seemingly resolved. But now Weeden is out and Hoyer is in. That doesn't bother me nearly as much as the loss of Richardson, who should be the foundation of this offense as a runner and underrated receiver. I truly think the Colts got themselves a great young back. But that leaves the Browns in a very precarious situation in the backfield. It is going to be a long year on this side of the ball.
The Vikings had an outstanding rookie class in 2012 and made three picks in the first round of this latest draft. Although there are obvious concerns at the quarterback position, Minnesota has quietly established a fine young nucleus. What roles do you see for its three first-round picks for this game, as well as going forward in 2013?
Goessling:
It's interesting you bring that up, because
Cordarrelle Patterson
's role -- or perhaps his absence -- has been a big topic of conversation this week. He got only five snaps in the Vikings' first game, and had just six as a receiver last Sunday, even after he ran the opening kickoff back 105 yards for a touchdown. He's young, and raw, but he might also be one of the most dangerous players the Vikings can put on the field, aside from
Adrian Peterson
. Coach Leslie Frazier all but called for Patterson to be on the field more during his news conference Monday. The challenge for the Vikings is to either work him into their base offense or go to enough multiple-receiver sets that they can use him, but I don't doubt we'll see him more going forward.
That could be especially important considering how good the Browns have been against the run in their first two games. They've allowed just 59.5 yards per game -- how will they fare against Peterson this weekend?
Williamson:
Well, facing Peterson is obviously the ultimate challenge, and his run blocking, including the tight ends and fullbacks, is quite good as well. But I am very impressed with the Browns' run defense -- and it starts up front. I believe that
Phil Taylor
is on the verge of stardom; his battle with
John Sullivan
, an excellent center in his own right, in the middle of the formation, will be crucial for the success of Cleveland's interior run defense. But the Browns also have very good size at outside linebacker and do a nice job containing the outside run; their second- and third-level defenders get to the ball carrier well.
I mentioned before that the right guard position has been a nightmare, but the Browns' excellent set of offensive tackles,
Joe Thomas
and
Mitchell Schwartz
, also has struggled much more than would be expected against two formidable defenses. As you know,
Jared Allen
is still playing at a very high level. But as some might not know,
Brian Robison
is also excelling this year and
Everson Griffen
is a highly athletic and intriguing end, too. Could Minnesota's defensive ends rule the day?
Goessling:
They certainly could. They struggled in Week 1 in Detroit, as
Matthew Stafford
found
Reggie Bush
on a number of early screen passes before the rush could get home. But the Vikings put consistent pressure on
Jay Cutler
last week, and Allen caused a Cutler fumble that Robison returned 61 yards for a touchdown. The Vikings also have not played at home yet, which means they will have the advantage of the crowd disrupting the opposing offense's snap count for the first time this year. Minnesota has enough issues on the back end of its defense that it needs a strong pass rush to cover up for some of those deficiencies, and if the defensive line can get to Hoyer, the Vikings should be able to slow the Browns down and win the game.
To close this up, what's the biggest thing you think the Browns need to do to win the game? What kind of a shot will they have without Weeden and Richardson?
Williamson:
I really don't like Cleveland's chances at all, but its defense could keep this game close and limit Peterson's production. Of course, Ponder could have a very poor game, or the Browns could score on defense or special teams. But I can't see their offense this week moving the football with any sort of consistency. As Cleveland's front office is doing, it is time to start looking toward next year.
May, 1, 2013
5/01/13
2:20
PM ET
Last July, I thought it was the right move when the
Cleveland Browns
selected wide receiver
Josh Gordon
in the second round of the supplemental draft. A year later, the Browns look even smarter with the decision, even though chief executive officer Joe Banner refuses to admit it.
Gordon
After a slow first quarter of the season, Gordon kept improving throughout the season, catching 43 passes and scoring five touchdowns in his final 12 games. He showed flashes of being the team's long-term answer at the No. 1 receiver spot.
The decision to take Gordon started with the Browns choosing running back
Trent Richardson
over wide receiver
Justin Blackmon
in the top five of last year's draft. Blackmon was
suspended Tuesday for the first four games
of the 2013 season for his second violation of the substance abuse policy in less than a year.
Gordon was also considered a risk after he failed multiple drug tests during his college career. Still, there's a difference between investing a first-round pick and a second-round one on a player with red flags.
I believe the Browns made the right move with Gordon because I'm not sure he lasts until the Browns' second-round pick this year. The Browns gave up the 39th pick overall in this year's draft by taking Gordon last year.
Steve Muench of Scouts Inc.
told me that he would have projected Gordon to be a late first or early second-round pick.
"I don't see him getting past 41 where Buffalo took Southern Cal wide receiver
Robert Woods
, so I think he would have been a top-five wide receiver in last year's class," Muench said. "It's just tough to find that kind of size, speed and athletic ability."
Gordon might have gone as early at No. 27 in the first round, according to Muench. That's where the
Houston Texans
selected Clemson wide receiver
DeAndre Hopkins
, the second receiver to get drafted. "Hopkins is a good value and fit there, but the same can be said about Gordon. So the Texans would have had a tough choice," Muench said.
Muench thinks the
Minnesota Vikings
would've still gone with
Cordarrelle Patterson
over Gordon at No. 29 because of his ability to make plays in space, but Gordon might have been selected over
Justin Hunter
by the
Tennessee Titans
at No. 34.
Based on Muench's analysis, it looks like the Browns got the right value in using a second-round pick on Gordon, and got an additional year out of him because it was a supplemental pick. Still, the Browns' new regime isn't ready to applaud the move made by former president Mike Holmgren and general manager Tom Heckert.
Asked if he can say now whether or not Gordon was worth the second-round pick, Banner said last weekend: "My answer is the same as it was. I think Josh has a lot of potential, and we are excited about what he can do. We're all going to see how he develops and what he can turn into. In the end, that question will answer itself, I think. We're certainly rooting for him to prove that was a great decision."
April, 24, 2013
4/24/13
2:20
PM ET
So, you're tired of all the first-round mock drafts, and the three-round one by Mel Kiper, Jr. didn't satisfy you, either. Well, this
seven-round mock draft

is the one for you. Scouts Inc. projects every pick in this week's draft. It's an Insider post, so you'll need a subscription to view pick by pick. But I can disclose the selections for each of the AFC North teams. Enjoy.
CLEVELAND BROWNS

First round
:
Tyler Eifert
, TE, Notre Dame
Third round
:
Landry Jones
, QB, Oklahoma
Fourth round
:
Kiko Alonso
, ILB, Oregon
Fifth round
:
Steve Williams
, CB, California, and
Kerwynn Williams
, RB, Utah State
Sixth round
:
Alvin Bailey
, G, Georgia
Seventh round
:
Dustin Hopkins
, K, Florida State
Hensley's comments
: The Browns upgrade at tight end and find another potential franchise quarterback (this time, taking the
Colt McCoy
third-round route). The concern is the Browns failed to draft a starting cornerback or address the free safety spot.
PITTSBURGH STEELERS

First round
:
Jarvis Jones
, OLB, Georgia
Second round
:
DeAndre Hopkins
, WR, Clemson
Third round
:
Le'veon Bell
, RB, Michigan State
Fourth round
:
Mike Gillislee
, RB, Florida
Fifth round
:
T.J. McDonald
, S, USC
Sixth round
:
Jake Stoneburner
, TE, Ohio State, and
Josh Johnson
, CB, Purdue
Seventh round
:
Braden Brown
, OT, BYU
Hensley's comments
: Jones and Hopkins are considered risks for different reasons, but both address needs for the Steelers. Jones can step into
James Harrison
's spot, and Hopkins adds a physical presence to the wide receiver group. With
Isaac Redman
and
Jonathan Dwyer
both scheduled to be free agents next year, Scouts Inc. has the Steelers taking a top-10 running back in Bell and a projected backup in Gillislee.
CINCINNATI BENGALS

First round
:
Cordarrelle Patterson
, WR, Tennessee
Second round
:
Menelik Watson
, OT, Florida State, and D.J. Swearinger, S, South Carolina
Third round
:
Khaseem Greene
, OLB, Rutgers
Fourth round
:
Marcus Lattimore
, RB, South Carolina
Fifth round
:
Oday Aboushi
, OT, Virginia
Sixth round
:
Rod Sweeting
, CB, Georgia Tech, and
Sean Renfree
, QB, Duke
Seventh round
:
A.J. Klein
, ILB, Iowa State, and
John Lotulelei
, ILB, UNLV
Hensley's comments
: It would be a mild surprise for the Bengals to take Patterson in the first round considering the coaches' high hopes for
Mohamed Sanu
. The Bengals would get good value with Watson in the second round, especially if he's going to be the starting right tackle. I like the choices of the aggressive Swearinger and Lattimore, who could end up being the best running back of this draft.
BALTIMORE RAVENS

First round
:
Eric Reid
, S, LSU
Second round
:
Quinton Patton
, WR, Louisiana Tech
Third round
:
Jonathan Bostic
, ILB, Florida
Fourth round
:
Brandon Jenkins
, OLB, Florida State, and
Reid Fragel
, OT, Ohio State
Fifth round
:
Joseph Fauria
, TE, UCLA, and
J.C. Tretter
, G, Cornell
Sixth round
:
Johnny Adams
, CB, Michigan State,
Josh Boyd
, DT, Mississippi State and Ryan Boyd, QB, Tulane
Seventh round
:
Jamoris Slaughter
, S, Notre Dame, and
Kapron Lewis-Moore
, DE, Notre Dame
Hensley's comments
: The Ravens' three biggest needs are addressed with the first three picks. Reid would start right away, but Patton and Bostic might need more time to develop. Patton projects to be a No. 3 receiver, and Bostic has to become more consistent.
April, 22, 2013
4/22/13
12:30
PM ET
ESPN NFL draft analyst Todd McShay put together a
Mock 5.1

. How is this different from his Mock 5.0? This one accounts for the
Darrelle Revis
trade and makes a major change for the Browns at No. 6. But this version is still Insider, so you'll need a subscription to view the entire post. As always, I can clue you in on the AFC North picks:

6. Cleveland Browns
McShay's pick
:
Tyler Eifert
, TE, Notre Dame
Hensley's
comment
: I've questioned the value of taking a tight end like Eifert for the Steelers at No. 17. So, you can imagine my thoughts on taking Eifert at this spot. If you are sure Eifert is the next
Rob Gronkowski
, taking him in the top 10 makes some sense. The problem I have is the Browns passing on linebacker
Dion Jordan
and cornerback
Dee Milliner
. Jordan is a better prospect than Eifert and cornerback is a bigger need than tight end.

17. Pittsburgh Steelers
McShay's pick
:
Jarvis Jones
, OLB, Georgia
Hensley's
comment
: Once again, McShay has the Steelers married to Jones. He sure fits the description of that explosive Steelers pass-rusher. This pick is an extremely logical one, even if other players are considered less of a medical risk. The Steelers need an heir apparent to
James Harrison
and need to add some spark to a pass rush that generated 37 sacks last season (tied for 15th in the NFL) and 35 sacks in 2011 (tied for 17th).

21. Cincinnati Bengals
McShay's pick
:
Cordarrelle Patterson
, WR, Tennessee
Hensley's
comment
: McShay went away from putting cornerback
Desmond Trufant
at this spot and decided to throw a curveball with Patterson, who is a boom-or-bust type prospect. This would be a surprise because the Bengals continue to talk about their confidence in
Mohamed Sanu
to be the team's No. 2 wide receiver. The Bengals would prefer to have safety
Kenny Vaccaro
or offensive tackle
D.J. Fluker
fall to them, but McShay has both of them going in the top half of the draft.

32. Baltimore Ravens
McShay's pick
:
Eric Reid
, S, LSU
Hensley's
comment
: Reid is generally considered the fourth-best safety prospect in the draft. He is a big-time hitter but there are questions whether he has the speed to hold up in deep coverage. The Ravens should take a safety early in this draft because I'm not sold on them going with
James Ihedigbo
as a starter.
April, 19, 2013
4/19/13
12:00
PM ET
»
NFC Eight in the Box
:
East
|
West
|
North
|
South
»
AFC
:
East
|
West
|
North
|
South
What's the ideal first-round scenario for each team?

Baltimore Ravens
: California wide receiver
Keenan Allen
. Sure, the ideal scenario is Baltimore native
Tavon Austin
falling to the Ravens. That's just not realistic, given that he's expected to be taken in the top half of the first round. The Ravens desperately need a wide receiver after not replacing
Anquan Boldin
in free agency. Allen, who is the top-rated receiver on some teams' draft boards, would be a fine complement to the speedy
Torrey Smith
. He would have to slip past five potentially interested teams from picks Nos. 24 to 31 (Indianapolis, Minnesota, Houston, New England and San Francisco) in order for him to fall to Baltimore. Allen's strengths are size, toughness and sure hands in going over the middle. Sure sounds like Boldin, doesn't it?

Cincinnati Bengals
: Texas safety
Kenny Vaccaro
. Finding a reliable starter next to
Reggie Nelson
in the back of the defense has been a challenge for the past couple of seasons. It's time for the Bengals to finally upgrade from
Chris Crocker
. Vaccaro is the consensus top-rated safety in the draft. He has the size to make an impact in run defense and the versatility to play man coverage. It's questionable whether Vaccaro will last until the Bengals are on the clock at No. 21. Vaccaro has been projected to go as early as No. 15 (New Orleans), No. 16 (St. Louis) or No. 17 (Pittsburgh). The big hurdle is Vaccaro getting past Dallas at No. 18. Some would say the Bengals need to get a right tackle, especially if
Andre Smith
is unsigned before the draft. But Cincinnati can plug in
Anthony Collins
in that spot. Safety is the bigger need.

Cleveland Browns
: Oregon linebacker
Dion Jordan
or trading down. Some would say getting Alabama cornerback
Dee Milliner
at this spot is the ideal scenario for the Browns. While drafting a cornerback is a priority, I'm not sold on Milliner being worthy of a No. 6 overall pick, based on how draft experts break him down. The better scenario is having Jordan fall into Cleveland's laps. Jordan is a top-five talent who is a perfect fit in the Browns' new aggressive 3-4 defense. He could get taken as high as No. 2 overall by Jacksonville. Philadelphia coach Chip Kelly knows Jordan from their days at Oregon, so the Eagles may also be interested at No. 4. If Jordan is selected in the top five, the ideal scenario for Cleveland is trading down in the first round to acquire a second-round pick. The Chargers and Dolphins, both of whom are in need of a left tackle, should be interested in jumping ahead of Arizona at No. 7.

Pittsburgh Steelers
: Having a choice between linebacker
Jarvis Jones
, Tennessee wide receiver
Cordarrelle Patterson
and Notre Dame tight end
Tyler Eifert
. These prospects are the most popular choices for the Steelers at No. 17. Which one is the ideal one? It depends on your point of view. Eifert is the safest pick and would provide insurance if
Heath Miller
(torn ACL) isn't the same player this season. The issue here is whether taking a tight end this high represents the best value. Jones is the biggest risk because of a poor performance at his pro day and the medical concerns, but he has the potential to be heir apparent to
James Harrison
. And Patterson is the wild card. He would provide much-needed height and length to the Steelers' wide receivers group and still has the speed to be an elite playmaker. The knock on Patterson is he's raw in his route-running and he disappeared for large chunks of time in college games. Patterson, Jones and Eifert all have a good shot at being there when the Steelers are on the clock.
April, 17, 2013
4/17/13
2:00
PM ET
The AFC North blog continues to look at the different positions and rank each team in terms of draft need. For Wednesday, the blog is addressing wide receivers. Mel Kiper Jr.'s top five receivers are: West Virginia's
Tavon Austin
, Tennessee's
Cordarrelle Patterson
and
Justin Hunter
, California's
Keenan Allen
(before he was
red-flagged for a drug test
) and Southern California's
Robert Woods
.
Here's the rankings ...
1. Baltimore Ravens
: The Ravens traded
Anquan Boldin
to the 49ers for a sixth-round pick and have yet to replace him.
Torrey Smith
is expected to take over Boldin's role as the No. 1 receiver, but
Jacoby Jones
is seen more as a returner than a receiver. That leaves a big hole in the starting lineup. Team officials said
Tandon Doss
,
David Reed
and
Deonte Thompson
all will have shots at stepping up. But none of them have shown any promise during their limited playing time. The Ravens have been linked to wide receivers in the first round from Allen to Woods to Louisiana Tech's
Quinton Patton
. Based on need, the Ravens should take a receiver somewhere in the first three rounds.
2. Pittsburgh Steelers
: This would be a bigger need if the Steelers hadn't matched the
New England Patriots
' offer sheet to
Emmanuel Sanders
. Pittsburgh has one of the quickest receiver tandems in the league in Sanders and
Antonio Brown
. There's a big drop-off after them. Right now, the third receiver is either
Jerricho Cotchery
or
Plaxico Burress
. This is why some have linked the Steelers to Patterson in the first round. He's a playmaker with the ball in his hands but he tends to disappear for long stretches in games. The last wide receiver taken in the first round by the Steelers was
Santonio Holmes
in 2006.
3. Cleveland Browns
:
Josh Gordon
and
Greg Little
are far from established, but the Browns are hopeful both will develop. The expectations for Gordon have been heightened after making 50 catches and five touchdowns. Little has the potential to be the complementary No. 2 target if he can cut down on his drops. The third receiver could be either
David Nelson
, who is expected to be finished rehabbing his knee by training camp, or the undersized
Travis Benjamin
. Like last year, the Browns will probably take a wide receiver somewhere in the middle rounds.
4. Cincinnati Bengals
: You could make the case that the Bengals should rank second on this list because they don't have a proven No. 2 receiver opposite
A.J. Green
. Some have projected the Bengals to take a wide receiver early in the draft, and you can't rule that out. The Bengals, though, have repeatedly talked about how much they like this receiving group of
Mohamed Sanu
,
Andrew Hawkins
,
Marvin Jones
and
Brandon Tate
. As far as offense, wide receiver ranks behind offensive tackle and running back in terms of need. The Bengals may still draft a wide receiver, but it seems like it will be in the later rounds.
April, 2, 2013
4/02/13
8:00
AM ET
Some Browns fans are upset that Colt McCoy was
traded to the 49ers
without getting a fair shot to start. Some Steelers fans are upset with me for saying you could
make a case
for giving Pittsburgh an 'F' for free agency this year. I obviously underestimated the impact of William Gay and Matt Spaeth. Believe me, I won't make that mistake again. But today is a new day. And, with every new day, you get a new wake-up call ...
RAVENS
: The
Baltimore Sun
's Mike Preston believes the Ravens were never in a bidding war with Houston over safety Ed Reed. According to Preston, the Ravens made it seem that way out of respect for Reed, and it ultimately caused the Texans to pay him more. "Ravens coach John Harbaugh wanted Reed back as much as he wants a root canal," Preston wrote. "It was the perfect time for both parties to go their separate ways." Six days after Reed signed with the Texans, the Ravens signed Michael Huff to replace him.
BENGALS
: Cornerback Terence Newman re-signed with the Bengals on Monday, but he nearly chose to go to the Raiders. "I honestly was very, very, very, very close to going to Oakland," he told Cincinnati reporters, via the
team's official website
. "For what I wanted and how I would expect my career to end -- if it is to end in two years -- (Cincinnati) is a football team that has made the playoffs the last two years. The defense played well. Looking at those things, I thought this was probably the best place for me."
STEELERS
: It was about two weeks ago when team officials had dinner with Tennessee quarterback Tyler Bray before his pro day. Ed Bouchette of the
Pittsburgh Post-Gazette
put a different spin on the reported meeting. "Did anyone think that maybe the braintrust wanted to subtly pick Bray's brain about one of his receivers, Cordarrelle Patterson?," Bouchette wrote. Patterson is the second-best wide receiver in the draft, ranking only behind West Virginia's Tavon Austin. He is big (6-foot-3) and can stretch the field. The Steelers could take a wide receiver with the 17th overall pick because Mike Wallace is gone and Emmanuel Sanders is a free agent next season.
BROWNS
: Only two players currently on the team's 63-man roster failed to report for the start of the Browns' offseason workouts, a source told the
Akron Beacon Journal
. Quarterback Colt McCoy, who was
traded to the 49ers later Monday
, was among those who showed up for the strength and conditioning phase of the offseason workout program, which lasts two weeks. "It was great to see the guys as a group for the first time," Browns coach Rob Chudzinski said in a statement. "I was extremely pleased with the turnout. These next two weeks will be an opportunity for the players to get acclimated to our offseason program, spend some time getting to know each other and also to have some meeting time with their position coaches before having our first organized on-field work on April 16."