November, 27, 2013
Nov 27
10:00
AM ET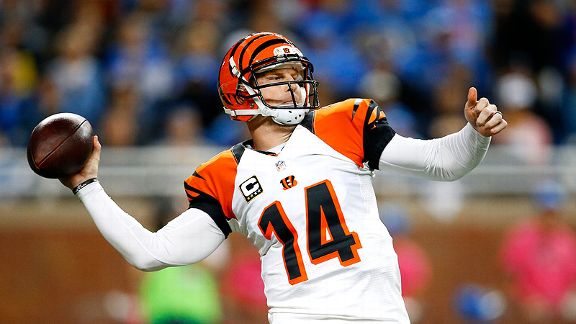 AP Photo/Rick OsentoskiThe Cincinnati Bengals are counting on Andy Dalton to return to the form that helped lead the team to a 4-1 record in October.
CINCINNATI -- Earlier this week,
Cincinnati Bengals
players like cornerback
Chris Crocker
were adamant in pointing out the urgency they need to play with throughout the
month of December
.
"It's all about winning in December," Crocker said. "Let's win out and see where the chips lay. Why can't we win out? I don't see why we can't."
If you ask some Bengals fans and most NFL analysts, they'll give you one big reason why they don't believe Cincinnati will be able to go 5-0 to close out the regular season: No. 14.
That's right. To some, the primary obstacle in the way of end-of-season perfection for the Bengals is
Andy Dalton
, the player who has quarterbacked the franchise into the playoffs each of the past two seasons, and who constantly is trying to prove himself to those who consider him just another member of a mostly failed 2011 quarterback draft class.
For that reason, as the Bengals gear up for a stretch run that could give them a first-round bye and home-field advantage in the playoffs, an important question has to be asked.
Can December Andy mimic October Andy?
As we've written countless times in the past month, October Andy was indeed a dandy. Through the first four games of that month, Dalton threw for 1,243 yards and 11 touchdowns. He also completed 67.9 percent of his passes, won four games, had a passer rating higher than 116.0 and a QBR above 83.0. He was, quite simply, brilliant. His play was so sharp back then that on the final day of the month, hours before the Bengals were set to take on the Dolphins in a road Thursday night game, he was named the AFC's Offensive Player of the Month.
And, yes, even though, comparatively speaking, he didn't look as good overall against the Dolphins and ended up taking the game-winning sack for a safety in overtime, Dalton still had a rather special performance in the 22-20 loss. Aside from not completing a touchdown pass and getting intercepted three times, he threw for 338 yards, marking the fourth straight game he had gone over the 300-yard passing mark.
Overall, October Andy was Good Andy.
But now here comes December with all of its postseason potency. If Cincinnati hopes to set itself up for the type of playoff seeding Crocker believes it deserves, then it will have to play its best ball across the next five weeks. That's especially the case for Dalton and a Bengals offense that has looked rather anemic in the past three games.
One look at Dalton's previous December stats and it doesn't appear the third-year star should have any problem showcasing even a sliver of the success that made him and his team so good about two months ago.
After a rocky December as a rookie in 2011, Dalton was among the difference-makers last season when the desperate Bengals were in need of a strong final month just to secure a playoff berth. One year after going 2-2 in the month, Dalton went 4-1 during December 2012. The lone loss came after the
Dallas Cowboys
made a field goal in the final seconds to win 20-19.
While the level of desperation may be different this December, the Bengals are looking for Dalton to thrive under similar pressure-packed moments during this one. This time around, the pressure on Dalton mainly stems from the fact that so many are fed up with his play from the past three games. In them, he's thrown eight interceptions and been sacked 10 times. Across the latter two of those games, he's completed fewer than 50 percent of his passes and hasn't posted a QBR higher than 18.0.
Weather factored heavily in Dalton's inability to move the ball in those two games. Windy conditions at Baltimore and windy and rainy conditions against the Browns sent some of his passes sailing and forced others into the hands of defensive backs.
Although weather shouldn't be a concern this weekend in San Diego (the forecast calls for partly cloudy skies and a delightful high of 71 degrees Sunday), it could be the rest of the season. Farmer's Almanac projects cold, damp conditions for all of December in the Ohio Valley. It should be noted that after Sunday's game, the Bengals are home three of the next four weeks. Their only remaining road game is at Pittsburgh.
Throughout his career, Dalton has performed better in warmer games. In games with temperatures 50 degrees or higher, he has a 20-14 record, an 85.1 passer rating and a 52.5 QBR. In games with temperatures at 49 and lower, he has a 5-5 record, a 75.4 passer rating and a 32.9 QBR. Dalton's last three sub-49-degree wins came last December, though; a sign that perhaps he's turning a corner in cold-weather contests.
Whatever the conditions and whomever their opponents are, when it comes to the next five weeks, the Bengals can only hope that Dalton turns into the same man who torched through this October.
April, 6, 2011
4/06/11
2:05
PM ET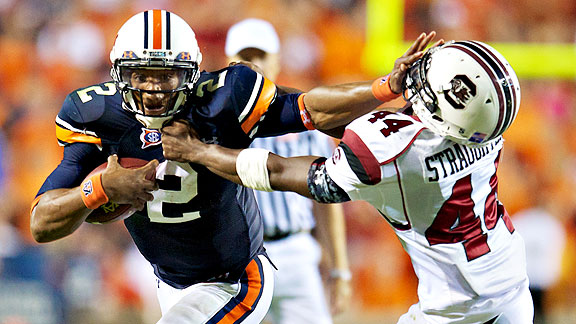 Dale Zanine/US PresswireCam Newton would be an awful fit for Cincinnati, but will the Bengals draft him anyway?
Let's start by saying I'm torn on
Cam Newton
.
The former Auburn quarterback has a ton of athletic ability that could make him a future Pro Bowler. Yet, after watching Newton this season and talking to people around the league, I'm also convinced he is one of the biggest boom-or-bust candidates of the past few years.
If a hit-or-miss prospect like Newton is drafted by the
Cincinnati Bengals
, his career probably will go bust. That is why the potential pairing of Newton and the Bengals would be disastrous for both sides.
Last week
NFC South blogger Pat Yasinskas
explained why the
Carolina Panthers
should take Newton with the No. 1 overall pick. This week I will explain why Newton and the Bengals, who hold the No. 4 pick, must avoid each other at all costs.
Remember
Carson Palmer
?
Eight years ago, Palmer was the safest possible pick in the 2003 draft. He had the prototypical size and arm strength and played in a pro-style offense at USC. He was considered a can't-miss prospect, and the Bengals took him No. 1 overall.
[+] Enlarge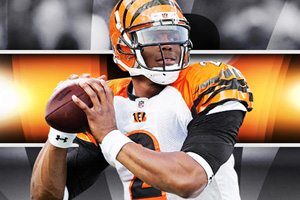 ESPN.com IllustrationThe Bengals would have to be patient with Cam Newton as he takes time to develop and acclimate to playing in the NFL.
Eight years later, Palmer is a disgruntled, battered quarterback who has never won a playoff game or reached his full potential. The 31-year-old
has been "Bengalized"
and wants out of Cincinnati, which is why the team is interested in Newton in the first place. Palmer told the Bengals to
trade him or he's retiring
. He has no intentions of playing another down in Cincinnati.
This year, Palmer joined teammate
Chad Ochocinco
and former Bengals
Corey Dillon
and
Takeo Spikes
as players who
all grew tired of the losing
. It would be sad to see Newton suffer the same fate in Cincinnati, which hasn't had back-to-back winning seasons in 29 years or won a playoff game in two decades.
The Bengals do not have a strong support system in place to cater to Newton, who is a raw talent and needs time and patience to develop. Cincinnati hired first-year offensive coordinator Jay Gruden from the UFL; he will be learning on the job this season while trying to implement a West Coast offense. It's questionable if Newton can even thrive in that system after playing in a shotgun/spread formation at Auburn. Is Cincinnati's coaching staff creative enough to alter the offense to fit Newton's unique abilities?
Newton also would enter the toxic situation of replacing Palmer. All through training camp, Newton would have to answer Palmer questions, which are distracting and unrelated to his development. In addition, the possibility still lingers of Palmer having a change of heart and wanting his job back, which the Bengals are hoping for. How would Newton handle that?
Fair or unfair, Newton would
draw instant comparisons
to draft bust
Akili Smith
in Cincinnati, who was taken No. 3 overall by the Bengals in 1999. Both players transferred from junior colleges to have one productive year in Division I before skyrocketing up the draft boards. Because of this, Bengals fans would be on edge before Newton threw his first NFL pass. Newton is already a lightning rod for controversy and doesn't need the added pressure.
In terms of personnel, the Bengals' offensive line is in shambles, starting tailback
Cedric Benson
is a free agent and the team is looking to go younger at receiver. Cincinnati's best receiver, Ochocinco, could be trade bait once a new collective bargaining agreement is reached. Pairing two strong personalities like Newton and Ochocinco is probably a bad idea anyway, especially with Newton trying to get his NFL career off the ground.
Another hurdle to Newton's getting his career started on the right path would be facing the vicious defenses of the
Pittsburgh Steelers
and
Baltimore Ravens
a combined four times per year. I've seen Baltimore and Pittsburgh ruin the confidence of many young quarterbacks, and some were never able to recover.
Can you imagine Steelers outside linebacker
James Harrison
blasting Newton from the blind side next season? Or
Ray Lewis
coming up the middle, unblocked, to stick his helmet in Newton's chest? Pro Bowl safeties
Ed Reed
and
Troy Polamalu
could have field days picking off Newton's passes.
Ask
Cleveland Browns
quarterback
Colt McCoy
, who went 0-3 against Pittsburgh and Baltimore and threw two touchdowns and eight interceptions last season as a rookie. It's a nightmare for an inexperienced quarterback to play the Steelers and Ravens twice a year. Newton's chances for a long and successful career are much better facing those elite defenses only once every several seasons.
Time will tell whether Newton will be a great NFL quarterback or a draft bust. But for all the reasons above, Cincinnati is the worst possible destination for Newton to ply his trade. He'd be better off in Carolina, Buffalo, Arizona, San Francisco, Washington, Minnesota or just about any team not in southern Ohio.
For the betterment of both sides, Cincinnati, do the right thing.
Pass on Cam Newton.
March, 2, 2011
3/02/11
9:15
AM ET
Are the
Cincinnati Bengals
as bad as
Carson Palmer
thinks they are?
Based on the starting quarterback's stern trade demands and
reported comments via a confidant
, it is clear Palmer believes the Bengals are hopeless. He is not buying into the team's 2-1 finish, recent coaching changes or the idea of young players quickly developing. In Palmer's eyes, he doesn't see an end to the losing following a 4-12 season.
This should serve as a huge wake-up call for the Bengals organization.
Palmer knows the Bengals extremely well. He's the franchise quarterback who, over the past eight years, has been privy to all the inner workings of one of the most downtrodden organizations over the past two decades. Since Palmer was drafted as the No. 1 overall pick in 2003, the Bengals have had only two winning seasons and zero playoff victories.
[+] Enlarge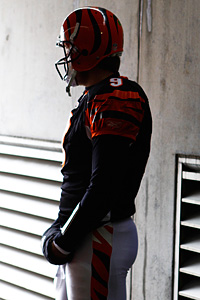 Frank Victores/US PresswireCarson Palmer is the latest Bengals star player to want out of Cincinnati.
It's not a shock that a Bengals player wanted out this offseason. This happens every few years in Cincinnati, whether it's
Chad Ochocinco
,
Corey Dillon
or
Takeo Spikes
.
But the surprising part is that it was Palmer, who is (was?) one of the most optimistic and naturally upbeat athletes in the NFL. He's never complained to the media about the Bengals in eight seasons. Now, he suddenly doesn't want anything to do with the franchise.
Longtime readers of the AFC North blog know I've never had much confidence in Cincinnati's non-traditional organizational setup. The Bengals have no general manager, a small scouting staff (ESPN's scouting staff is bigger) and they make too many bad personnel decisions without putting enough money back into their product.
How can you consistently compete in today's NFL with this model?
If this is easy to see from the outside, then Palmer certainly knows this from the inside as the team's starting quarterback. He would rather retire and spend time with his family than continue to suffer through more losing seasons and take the physical pounding on his 31-year-old body.
In my opinion, Palmer's wanting out is a much bigger reflection on the Bengals than it is Palmer. He isn't the first star player to lose hope in the organization, but I think Palmer's situation is the most telling.
As of March, it appears Palmer will never play another down for the Bengals. It remains to be seen if this holds true in September. But regardless of how this saga ends, the Bengals should really take this latest debacle as a sign that a lot of improvements need to be made within the organization to prevent
the next star player from being "Bengalized."
February, 23, 2011
2/23/11
7:22
AM ET
With the offseason in full swing, let's take a look at one major question facing each AFC North team as it begins preparations for the 2011 season:
CINCINNATI BENGALS
Should the Cincinnati Bengals give into Carson Palmer's trade demands?

After eight underachieving seasons in Cincinnati,
Palmer wants out
and everyone from his agent
to teammates
to his realtor believe Palmer is absolutely serious. So how should the Bengals handle this situation?
Cincinnati is consistently one of the NFL's more downtrodden franchises and has been through this before. In the past, players such as
Takeo Spikes
,
Corey Dillon
and
Chad Ochocinco
have expressed the desire to get out of Cincinnati and couldn't leave on their terms.
But Palmer's situation is different for two reasons. First, he's the franchise quarterback, the most important player on the team. Second, he's threatened to retire if he's not traded, which is something Spikes, Dillon and Ochocinco never did. These two factors up the ante tremendously in terms of putting pressure on the Bengals.
If Palmer, 31, holds firm on his demands, that leaves
Dan LeFevour
and
Jordan Palmer
as the other quarterbacks on Cincinnati's roster. The Bengals cannot start the 2011 season with either of those players under center. As more time goes by with uncertainty, it becomes more likely the Bengals must
do something to get quarterback help
in the draft or free agency.
In my opinion
, the Bengals should trade Palmer while they can still get decent value for him. Cincinnati will be rebuilding for the next two years anyway -- with or without Palmer -- and there are plenty of teams in need of a good quarterback.
But the
Bengals are standing their ground
, hoping Palmer will have a change of heart. That's a dangerous assumption with free agency potentially starting next month and the NFL draft coming in April.
BALTIMORE RAVENS

Are concerns about Baltimore Ravens quarterback Joe Flacco legit?
As we continue the subject of quarterbacks, we move over to Baltimore. Flacco is getting drilled this offseason by media and fans for not leading the Ravens past the divisional round. Baltimore entered last season as a Super Bowl favorite and by those standards the team -- and particularly the offense -- underachieved.
Now people are starting to doubt Flacco. He has struggled in the playoffs, recording just one passer rating above 90.0 in seven career postseason games. It's no secret an organization is tied into the success and development of its quarterback. But are the expectations of Flacco, in his third season, too high too soon? The answer is, yes.
Flacco has become a victim of his own early success. He advanced to the AFC title game as a rookie and has had expectations of getting to the Super Bowl thrust upon him since.
Last season, Flacco set career-highs in passing yards (3,622), touchdowns (25) and passer rating (93.6) for the Ravens (12-4). But it's the second-round loss to the
Pittsburgh Steelers
that stands out in most people's mind.
Flacco likely must
get past rival
quarterback
Ben Roethlisberger
of Pittsburgh for the Ravens to take that next step. But there is no shame in losing to the eventual AFC champions in the postseason.
Young quarterbacks such as
Matt Ryan
,
Mark Sanchez
and
Josh Freeman
are viewed in a much more favorable light in their cities. Flacco has had as much career success and put up equal or better numbers than all of them. He deserves a break.
PITTSBURGH STEELERS
What will the Steelers do at cornerback?

As their Super Bowl XLV loss to the
Green Bay Packers
proved, the Steelers must add quality depth in the secondary. The Packers,
New England Patriots
and
New Orleans Saints
provide the blueprint of how to beat Pittsburgh's vaunted defense: spread the Steelers out with multiple receivers.
The Steelers simply don't have enough good cornerbacks to defend three- and four-receiver sets. This also takes Pittsburgh's strongest players-- its linebackers -- off the field in favor of players such as
William Gay
and
Anthony Madison
.
Now that linebacker
LaMarr Woodley
received
the franchise tag
, veteran cornerback and pending free agent
Ike Taylor
is Pittsburgh's No. 1 priority. Taylor is Pittsburgh's best corner, but he's also 31 and the Steelers must gauge how much money and how many years to give to him.
The draft will also be important. Previous draft picks at corner such as
Keenan Lewis
,
Joe Burnett
and
Crezdon Butler
have not panned out for the Steelers, who typically address this position in the middle rounds. It's time Pittsburgh invests a high draft pick at this position to increase the probability of finding a future starter.
Do not be surprised if Pittsburgh retains Taylor in free agency and spends its first- or second-round pick on a cornerback in April to fix this issue.
CLEVELAND BROWNS
Are the Cleveland Browns fine without an offensive coordinator?

Pat Shurmur of the Browns has a lot on his plate this year. Not only is he a first-time head coach, but Shurmur is also taking over the role as offensive coordinator in his first season with Cleveland.
Is this a good idea?
After a brief search, the Browns decided to leave the position vacant. Shurmur is a former offensive coordinator for the
St. Louis Rams
and didn't want to give up those responsibilities after becoming a head coach.
A head coach's first responsibility is to manage all 53 players. But Shurmur clearly will give more special attention to his players on offense. That's a major reason the Browns hired experienced defensive coaches such as Dick Jauron and Ray Rhodes to manage the other side of the football.
President Mike Holmgren and general manager Tom Heckert have both done a good job so far in Cleveland. But I have reservations about creating this type of setup with a rookie head coach on a rebuilding team.
January, 24, 2011
1/24/11
12:06
PM ET
Well, this is getting interesting.

One day after
ESPN's Chris Mortensen
reported that
Cincinnati Bengals
quarterback
Carson Palmer
requested a trade, the team's website quotes owner Mike Brown as saying "
We are not trading Carson
." Brown confirmed that Palmer asked to be traded last week.
So there is the first line in the sand between Bengals ownership and their franchise player. Without a doubt this will be one of the most fascinating stories to watch unfold this offseason. Palmer reportedly threatened to retire if Cincinnati doesn't trade him.
Palmer joins a long list of players who grew unhappy with the
constant losing in Cincinnati
. That list included Corey Dillon,
Takeo Spikes
and most recently
Chad Ochocinco
, who all requested to be traded or released with mixed results.
How will this Palmer saga end? Stay tuned.
May, 4, 2010
5/04/10
8:00
AM ET
Here are the most interesting stories Tuesday in the AFC North:
Morning take: I keep warning football fans not to believe everything you read, especially this time of year. This rumor seemed too far-fetched from the beginning.
Morning take: I had the chance to talk with Pouncey over the weekend and was very impressed. Pittsburgh may have a keeper if he's productive on the field.
Morning take: This was the second arrest for Dillon in the past month in California.
Morning take: I know tight ends catch passes, too. But I think Cleveland needs more help at receiver.
April, 22, 2010
4/22/10
8:00
AM ET
Here are the most interesting stories Thursday in the AFC North:
Morning take: That would be a mistake. It doesn't matter who's having the up or down year in this rivalry, because both teams show up ready to play. Week 4 should be interesting regardless of who Pittsburgh has at quarterback.
Morning take: As long as Roethlisberger is on the roster, it shouldn't be in the first two rounds. But if the Steelers plan to trade Roethlisberger, they need a viable long-term replacement.
Former Cincinnati Bengals tailback Corey Dillon was arrested for suspicion of DUI.
Morning take: Even former AFC North players are getting arrested this offseason. Sheesh!
How many wins will the Cleveland Browns get this upcoming season?
Morning take: We will have a much better idea after this weekend. But, honestly, my spider senses are not getting the same "sleeper" vibe in the division that I felt last year.