March, 4, 2010
3/04/10
9:48
AM ET

Baltimore Ravens
Potential unrestricted free agents
: DL
Justin Bannan
, DL
Dwan Edwards
, CB
Corey Ivy
, WR
Derrick Mason
, TE
L.J. Smith
, WR
David Tyree
, CB
Frank Walker
, WR
Kelley Washington
Potential restricted free agents:
OT
Jared Gaither
, K
Billy Cundiff
, S
Dawan Landry
, CB
Fabian Washington
, P
Sam Koch
, OG
Chris Chester
, QB
John Beck
, QB
Troy Smith
, OT
Tony Moll
, FB
Le'Ron McClain
, LB
Prescott Burgess
, WR
Mark Clayton
, WR
Demetrius Williams
Franchise tag:
None
What to expect:
The Ravens have a ton of quality free agents. It will be interesting because Baltimore is the only division team which has to abide by the "
Final Eight Plan
" for making the divisional playoffs. This will restrict Baltimore from making a lot of moves. Therefore, expect the team to keep most of its key restricted free agents while trying to explore the trade market. On the unrestricted side, the Ravens are negotiating with receiver Derrick Mason and are expected to keep him. But two players who could get some interest in the open market are defensive linemen Dwan Edwards and Justin Bannan. Baltimore likes both players but could lose at least one.

Cincinnati Bengals
Potential unrestricted free agents
: K
Shayne Graham
, FB
Jeremi Johnson
, RB
Larry Johnson
, DT
Tank Johnson
, TE
Reggie Kelly
, OG
Bobbie Williams
, S
Roy Williams
, TE
J.P. Foschi
Potential restricted free agents:
LB
Brandon Johnson
, LB
Rashad Jeanty
, OL
Evan Mathis
, C
Kyle Cook
, DE
Frostee Rucker
, CB
David Jones
, LB
Abdul Hodge
, QB
Jordan Palmer
, TE
Daniel Coats
, DT
Shaun Smith
Franchise tag:
None
What to expect:
The Bengals have yet to announce their tenders, so this list could change by Thursday evening. But traditionally they are not big spenders in free agency and will stay true to that even with an uncapped year. Cincinnati could make one or two decent outside signings that may help the team. Finding a receiver would be the most likely target. The most interesting in-house name is offensive guard Bobbie Williams, who likely will test the market. Bengals defensive coordinator Mike Zimmer also would like to keep veteran Roy Williams and Tank Johnson. But the team hasn't made a major push for either player before they're let loose Friday.

Cleveland Browns
Potential unrestricted free agents:
WR
Mike Furrey
, TE
Michael Gaines
, OG
Rex Hadnot
, CB
Hank Poteat
, OL
Ryan Tucker
, OG
Billy Yates
Potential restricted free agents:
RB
Jerome Harrison
, LB
D'Qwell Jackson
, FB
Lawrence Vickers
, S
Brodney Pool
, S
Abram Elam
, DE
Matt Roth
Franchise tag:
None
What to expect:
Cleveland has the money to spend and the biggest talent deficit. So look for the Browns to attempt to make up ground in free agency. Major names like defensive end
Julius Peppers
and tailback
Thomas Jones
have been mentioned as possibilities for Cleveland, but that remains to be seen. Internally, the Browns should be interested in keeping Harrison and Vickers in their backfield. Jackson also has value. None of their unrestricted players are priorities for the team and will be allowed to hit free agency.

Pittsburgh Steelers
Potential unrestricted free agents:
QB
Charlie Batch
, LB
Rocky Boiman
, S
Tyrone Carter
, S
Ryan Clark
, DE
Nick Eason
, WR
Joey Galloway
, DE
Travis Kirschke
, RB
Willie Parker
, CB
Deshea Townsend
, FB
Carey Davis
, OG
Darnell Stapleton
Potential restricted free agents:
OT
Willie Colon
, CB
William Gay
, P
Daniel Sepulveda
, TE
Matt Spaeth
Franchise tag:
K
Jeff Reed
What to expect:
The Steelers are pretty predictable. Pittsburgh intends to keep all of its restricted free agents, get a long-term deal complete with Reed, who has the franchise tag, and let nearly all of their unrestricted free agents test the market. The exception is Clark, who the Steelers targeted as a priority but has yet to reach a long-term extension before Friday's deadline. Negotiations have been ongoing and should go to the final hour to decide whether both sides can come to an agreement or allow Clark to test the market.
February, 15, 2010
2/15/10
1:00
PM ET
»
AFC Free Agency
:
East
|
West
|
North
|
South
»
NFC
:
East
|
West
|
North
|
South
An early look at the free-agent situation in the AFC North.
Note
: These projected lists reflect notable unrestricted free agents for each team. The NFL will not issue an official list of free agents until the signing period begins March 5.
Baltimore Ravens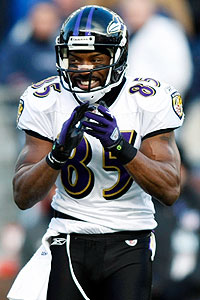 Greg M. Cooper/US PresswireThe Ravens' already-thin receiving corps will take a big hit if Derrick Mason retires.
Unrestricted free agents: DL
Justin Bannan
, K
Billy Cundiff
, DL
Dwan Edwards
, CB
Corey Ivy
, WR
Derrick Mason
, TE
L.J. Smith
, WR
David Tyree
, CB
Frank Walker
, WR
Kelley Washington
Key figures:
Derrick Mason is contemplating retirement. But if he wants to play, the Ravens have every intention of keeping their leading receiver. Look for Baltimore also to make a push for another significant addition at receiver to assist the development of budding quarterback
Joe Flacco
. Sleeper players on this list include the two defensive linemen: Justin Bannan and Dwan Edwards. The Ravens like both players and will probably make a push to keep at least one on the roster. Baltimore also lacks cornerback depth and might elect to bring back Frank Walker, despite his penchant for giving up big plays and committing penalties.
Cincinnati Bengals
Unrestricted free agents:
K
Shayne Graham
, FB
Jeremi Johnson
, RB
Larry Johnson
, DT
Tank Johnson
, TE
Reggie Kelly
, DT
Shaun Smith
, OG
Bobbie Williams
, S
Roy Williams
Key figures:
Bobbie Williams is an interesting name. He's one of Cincinnati's most consistent offensive linemen over the last several years, but he turns 34 in September. Kicker Shayne Graham, who was franchised last season, had a solid career in Cincinnati. But he missed kicks in big spots, potentially ending his run with the Bengals. Running back Larry Johnson was third string in Cincinnati and should get more playing time elsewhere in 2010.
Cleveland Browns
Unrestricted free agents:
WR
Mike Furrey
, TE
Michael Gaines
, OG
Rex Hadnot
, CB
Hank Poteat
, OL
Ryan Tucker
, OG
Billy Yates
Key figures:
This is not an impressive list as most of Cleveland's key free agents -- such as
Jerome Harrison
,
Lawrence Vickers
and
D'Qwell Jackson
-- are restricted. Mike Furrey is a high-character player that coach Eric Mangini likes on his football team, and he might be retained. The remaining players on this list likely will hit the open market. The Browns have an interesting decision to make with Harrison, who led the team in rushing after a tremendous second half of the 2009 season. Harrison could garner some interest as a restricted free agent if the Browns do not offer a high enough tender.
Pittsburgh Steelers
Unrestricted free agents:
QB
Charlie Batch
, LB
Rocky Boiman
, S
Tyrone Carter
, S
Ryan Clark
, DE
Nick Eason
, WR
Joey Galloway
, NT
Casey Hampton
, DE
Travis Kirschke
, RB
Willie Parker
, K
Jeff Reed
, CB
Deshea Townsend
Key figures:
The Steelers are aiming to keep most of their key veterans, while infusing some youth through the draft. All indications are the team will offer extensions to safety Ryan Clark and kicker Jeff Reed. Pro Bowl nose tackle Casey Hampton is the biggest name on this list. But he's a strong candidate for the franchise tag, because there is no full-time replacement on the roster. This offseason probably will mark the end of tailback Willie Parker's tenure in Pittsburgh. Parker, 29, helped lead the Steelers to two Super Bowl wins during his career. But various ailments since initially breaking his leg in 2007 hampered his production.
December, 22, 2009
12/22/09
8:00
AM ET
Here are the most interesting stories Tuesday in the AFC North:
Morning take: The team has no business thinking about the postseason with the Baltimore Ravens (8-6) coming to town. But I'm sure projections are fun for Steeler Nation.
Morning take: With the secondary ailing, many in Baltimore are clamoring for the team to sign another former Raven in Chris McAlister. Would Ravens fans settle for Ivy instead?
Morning take: This has been a really tough week for Cincinnati, and today's trip to the New Orleans area is another chapter in that journey.
Morning take: I also expect this to be at the top of Holmgren's list. Look for him to spend a lot of time with the coaching staff in the next two weeks to do his own evaluations.
November, 27, 2009
11/27/09
4:00
PM ET
»
NFC Final Word
:
East
|
West
|
North
|
South
»
AFC
:
East
|
West
|
North
|
South
Five nuggets of knowledge about Week 12:
[+] Enlarge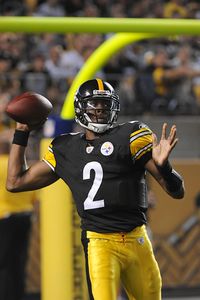 George Gojkovich/Getty ImagesDennis Dixon will be making his first career start for the Steelers.
Replacing Big Ben:
Pittsburgh Steelers
second-year quarterback
Dennis Dixon
will make his first career start Sunday night against the
Baltimore Ravens
. Dixon has thrown just one career pass in two years, but was thrown into action after
Ben Roethlisberger
(concussion) was pulled from the starting lineup Saturday morning. This puts a lot of emphasis on the running game and tailback
Rashard Mendenhall
. The Ravens have only allowed four touchdowns in the past three games and are playing some of their best defense of the season.
Covering kickoffs:
The Steelers finally made moves to boost their fledgling kickoff coverage by signing cornerback
Corey Ivy
and linebacker
Rocky Boiman
. Both players could make an impact Sunday on a unit that's allowed four returns for a touchdown this season and two in the past two weeks. Both players are veterans and have a wealth of special teams' experience. Pittsburgh head coach Mike Tomlin also added he will not be afraid to use more starters on his kickoff team as well.
Where is the Suggs package?
In the midst of Baltimore's recent struggles in the red zone, perhaps the biggest offensive mystery is the disappearance of the "Suggs package." Baltimore's variation of the Wildcat offense, led by backup
Troy Smith
, worked very well last year as a changeup to its power running game. It was also used as a form of protection for then-rookie quarterback
Joe Flacco
. But since Flacco's development in Year 2, the Ravens have virtually moved away from the innovative package and stuck to their conventional offense. Now that Baltimore is struggling to score touchdowns, it may be time for the team to dig back into its bag of tricks.
Quinn tries to do it again:
Was last week's performance for
Cleveland Browns
quarterback
Brady Quinn
the start of something special or merely a farce? We will find out this week when Quinn and the Browns take on the first-place
Cincinnati Bengals
. Quinn had a career-best performance in a loss to the
Detroit Lions
, throwing for 304 yards and four touchdowns. He did a lot of nice things, but it came against a Lions defense that has allowed more than 29 points per game. Cincinnati's defense is a much stiffer test.
Bengals need to make statement:
With their long history of losing, it was evident after last week's 20-17 loss to the lowly
Oakland Raiders
that the Bengals (7-3) are still learning how to be winners. This is the best team Cincinnati has had in a while. Yet, the Bengals are not good enough to completely sleepwalk against an inferior opponent and still pull out a win on the road. Cincinnati needs to make a statement against Cleveland, another inferior opponent, that it will no longer play down to its competition in order to be taken seriously as a title contender. The Browns, who lost in overtime, almost upset the Bengals earlier this season in Cleveland.
November, 24, 2009
11/24/09
5:30
PM ET
I have a few roster moves to pass along from the
Baltimore Ravens
(5-5) and
Pittsburgh Steelers
(6-4). Both teams play this week in a huge AFC North matchup with playoff implications.
First, for the Ravens, the team placed cornerback
Fabian Washington
(knee) and running back
Matt Lawrence
(knee) on season-ending injured reserve. Baltimore signed two additional players to take up those roster spots in fullback
Charles Ali
and cornerback
Cary Williams
.
For the Steelers, in an effort to boost their special teams they signed veteran cornerback
Corey Ivy
and linebacker
Rocky Boiman
. Pittsburgh released cornerback
Keiwan Ratliff
and linebacker
Donovan Woods
to make room for the two moves.
(Update: The Cleveland Browns also announced Tuesday evening that the team released linebacker Josh Stamer, who was signed last week.)
September, 5, 2009
9/05/09
6:30
PM ET

Posted by ESPN.com's James Walker

Biggest surprise:
The Browns released some veterans they hoped would contribute more to the team this year in receiver
David Patten
and cornerback
Corey Ivy
. Both signed in Cleveland as free agents to provide veteran stability, but neither played well enough in training camp or the preseason. Ivy was one of the extra cornerbacks in Cleveland's sub packages, and now the team needs to find someone else to fill that role before next week's game against the
Minnesota Vikings
. The Browns also made enough cuts to leave one roster spot available, which means they're up to something in the coming days.
No-brainers:
Reports
began to circulate
in the past 24 hours that starting tailback
Jamal Lewis
would be released Saturday by the Browns. But that proved to be nothing more than a rumor. The Browns have no proven talent behind Lewis and would have gone into the season with a rookie sixth-round pick -- James Davis -- as their starting running back. Plus, the Browns paid Lewis a sizable roster bonus this offseason and would have taken a significant cap hit as a result. Piecing it all together, it made the most sense for Cleveland to keep Lewis.
What's next:
As evident by their open roster spot, the Browns should be one of the more active teams in the next 48 hours. Compared to the rest of the AFC North, Cleveland is lacking overall depth and talent at several positions. Browns head coach Eric Mangini has a penchant for acquiring his former players. So look for the Browns to experience some turnover at the bottom of their roster for veterans Mangini is familiar with.
June, 24, 2009
6/24/09
9:15
AM ET
Posted by ESPN.com's James Walker
Here are the most interesting stories Wednesday in the AFC North:
Morning take: For several months, I was the official ringleader of the Bengals' 2009 "sleeper bandwagon" in the national media. Yet, I never went this far this early. So consider Brandt the new leader in the clubhouse.
Morning take: I'm a little surprised by these results. The player fans chose certainly has talent but doesn't fit the Ravens character-wise.
Morning take: With two rookie cornerbacks and the free-agent signing of Keiwan Ratliff, Bryant was questionable to make the Steelers had he stayed.
Morning take: Ivy could help Cleveland in substitute packages this year. Unlike last season, the Browns did a decent job of bringing depth to the secondary.
March, 19, 2009
3/19/09
5:14
PM ET
Posted by ESPN.com's James Walker
The Cleveland Browns are making national headlines Thursday for mostly the wrong reasons.
Here is an evening update on today's developments in the AFC North:
January, 23, 2009
1/23/09
10:00
AM ET
Posted by ESPN.com's James Walker
PITTSBURGH -- Steelers rookie second-round pick Limas Sweed knew the question was coming this week.
| | |
| --- | --- |
| | |
| | Streeter Lecka/Getty Images |
| | Limas Sweed has missed a couple of deep passes this season, including one in the AFC Championship Game. |
What happened?
"I just need to follow it in all the way," Sweed said of his dropped pass and potential touchdown against the Baltimore Ravens in the AFC title game. "I need to slow down. I think it was a learning experience being in that game and playing in that game. I gained a lot of experience."
Sweed has played sparingly during the regular season, recording just six catches for 64 yards. But he received extended playing time last week against the Ravens due to a knee injury in the first half to starter Hines Ward.
The rookie receiver responded with two receptions for 20 yards and a crushing block on Ravens cornerback Corey Ivy following the drop.
Sweed, who also dropped another deep pass two weeks ago in the divisional round, said he's doing extra work in practice this week with backup quarterbacks Dennis Dixon and Byron Leftwich to make sure it is no longer an issue.
"I'm catching 5 to 10 deep balls from both sides every day until the Super Bowl," Sweed said sternly. "I'm going to go over that every day, because it was something that I wanted to do. It seems to be the only thing that I drop -- a couple deep balls. So why not attack it every day?"
January, 21, 2009
1/21/09
10:00
AM ET
Posted by ESPN.com's James Walker
Can the Pittsburgh Steelers beat the Arizona Cardinals in Super Bowl XLIII without star receiver Hines Ward?
| | |
| --- | --- |
| | |
| | Gregory Shamus/Getty Images |
| | The Steelers are hoping that top receiver Hines Ward will be able to play in the Super Bowl despite a sprained knee. |
The Steelers are hoping they don't have to find out.
Ward, the Steelers' leading receiver, is expected to miss practice time this week with a sprained MCL in his knee that he suffered Sunday against the Baltimore Ravens.
Typically, recoveries from MCL sprains can range 2-4 weeks, depending on the severity. I was among a group of reporters talking to Ward about his chances of playing in the Super Bowl Sunday night, and he seemed confident in his return.
"I will play," Ward said in the locker room. "Rain, sleet or snow, I will be there."
Steelers head coach Mike Tomlin and teammates also expect Ward to tough it out in two weeks. But let's say Ward doesn't play or, at the very least, participates in a limited role. What does this mean for Pittsburgh?
Nate Washington would be the starter. Washington has come up with big catches all year as the No. 3 receiver. But he's mostly beaten backup cornerbacks and could struggle against Arizona starters Rod Hood and Dominique Rodgers-Cromartie. Washington had three receptions for 21 yards replacing Ward against Baltimore.
This also would mean rookie second-round pick Limas Sweed would get significant playing time. Pittsburgh loves to run three-wide receiver sets, particularly on third down. So after sitting on the bench most of this season, Sweed will have to be ready for the opportunity. He dropped a big touchdown catch against Baltimore but bounced back with a pair of receptions and a crushing block on Ravens defensive back Corey Ivy.
Starting receiver Santonio Holmes would take over as quarterback Ben Roethlisberger's top target. Holmes had a huge, 65-yard touchdown reception, which was his second score of the playoffs.
"I told [Ward] when we came into the locker room at halftime that I had his back," Holmes said. "If there was going to be a play to be made, I was going to be the guy to make the play."
Even if Ward plays, he will be coming off an injury and mostly likely not at 100 percent. So players like Holmes, Washington and Sweed will need to be ready to step up on the big stage.
January, 19, 2009
1/19/09
2:19
AM ET
| | |
| --- | --- |
| | |
| | Don Wright/US Presswire |
| | The Ravens' AFC Championship Game loss to the Steelers might be the last time that key members of the defensive unit play together, including linebacker Ray Lewis, who is an unrestricted free agent. |
Posted by ESPN.com's Tim Graham
PITTSBURGH -- Rex Ryan's eyes were red and glassy. He smiled at the question, and although he uttered only three words, a melancholy tone was evident.
The Baltimore Ravens defensive coordinator probably won't be back next year. As the team's airplane rolled on the tarmac after Sunday's night's 23-14 loss to the Pittsburgh Steelers in the AFC title game, rumors were circling that Ryan might already have agreed to become the New York Jets head coach.
For Ryan, the defeat was an emotional one.
"It always is," Ryan said in the locker room, his voice trailing off at the thought of leaving some great players behind.

Asked to elaborate, he smiled again.
"I'd rather not think about it, to be honest with you," Ryan said.
Not only did Sunday conclude a fabulous season, leaving the Ravens just short of the Super Bowl, but Ryan almost certainly will be saying goodbye.
So, too, will some players from an elite defense that was ranked No. 2 in the NFL.
Linebackers Ray Lewis, Terrell Suggs and Bart Scott are all unrestricted free agents. So are defensive backs Jim Leonhard and Corey Ivy. Defensive tackle Brandon McKinney and defensive backs Dawan Landry and Evan Oglesby are restricted free agents.
The team's longest-tenured player, kicker Matt Stover, is also unrestricted. His career could be over. The Ravens brought in rookie Steven Hauschka for kickoffs and long field goals.
Ravens pro personnel director George Kokinis has been linked to the Cleveland Browns' general-manager vacancy. Ryan could lure some assistants to the Jets.
"We don't know our future," Scott said. "It's just the way the business goes. If it's the last time, it's the last time. You just hold onto the memories that you have."
Sports seasons turn rosters into mini families, but they never stay the same. Free agency, the salary cap, injuries and retirements cause teams and players to part ways. Sunday may have marked the end of the road for this gang. Their chance to win it together might be over.
"These are all your brothers and your cousins no matter who they are," said Ravens defensive tackle Trevor Pryce, "because when you spend as much time as a professional football team spends together, you get know each other as much more than just teammates. We become friends, family."
Familiar faces will be missing from next year's team photo. They will be replaced by rookies, free agents and practice squad graduates.
Ravens general manager Ozzie Newsome will have several difficult decisions to make over the offseason.
"That's the business of the NFL," Pryce said. "If you know that, then you're mentally prepared for it. If you don't know that, then it becomes a problem. My first few years, I didn't understand that. I want the same guys on the team, and every year there were five or 10 new ones."
These are the processes that prevent us from accurately projecting next year's winners and losers. The variables begin to accumulate, the question marks mount.
Without Ryan, the defensive patriarch, the Ravens will lose a significant part of their soul. He has been with the Ravens for a decade.
"Ten years," Ryan said. "That's an eternity. It's special people."
In that time, he has helped the Ravens become the standard by which all defenses are measured. From the time Ryan joined the Ravens in 1999 as defensive line coach, through this season, they rank second in total defense, first in run defense, first in points per game allowed, first in takeaways, first in third-down conversions and fourth in sacks.
| | |
| --- | --- |
| | |
| | NFL.com Video |
| | The Steelers defeat the Ravens 23-14 in the AFC Championship Game. |
This year's defense was one of Baltimore's best despite losing a slew of contributors.
"This group of guys overcame so much this year," Ryan said. "I know we had more injuries on defense than any team in the NFL. Yet we kept competing. We used everybody we had.
"It's the unit. It's the strength of the unit that keeps us going, not the individual. That's how this team played."
Much of the credit, of course, goes to Lewis, the perennial Pro Bowler and first-ballot Pro Football Hall of Famer.
"He's a once-in-a-lifetimer," Ryan said, "not just as a player, but as a person, as a leader. He's just tremendous."
Lewis brushed off reporters in Baltimore's locker room. He didn't want to talk.
The face of the franchise indicated Friday he wants to come back for a 14th season, but he hasn't said much more than that, stating it would be selfish to talk about his contract rather than focus on the Super Bowl.
Lewis performed Sunday like a man with plenty left to give. He finished with a game-high nine tackles (unofficially) and forced a Willie Parker fumble.
Scott said Sunday night the loss was too fresh to even consider next season.
"Nothing you can say," Scott said. "We lost. Just go on vacation. Forget about it."