AFC North:

Cowboys Stadium
February, 8, 2011
2/08/11
3:15
PM ET
Pittsburgh resident and Steelers fan Dan Powell felt fortunate to land tickets to Super Bowl XLV on Feb. 6. It was a rare opportunity to see his team compete in person for a seventh championship on the NFL's biggest stage.
But Powell's Super Bowl experience was anything but super. In fact, it was awful. Powell was one of
the reported 400 fans
who purchased tickets but couldn't watch the game because of a seating issue at Cowboys Stadium.
In a telephone interview Tuesday, Powell shared his Super Bowl experience with ESPN.com's AFC North blog.
"At no point during the whole thing did anyone come down and talk to us and told us what the story was," a disappointed Powell said. "Everything we know about it we read through the paper the next day or were looking through our phones online. ... No one had any info."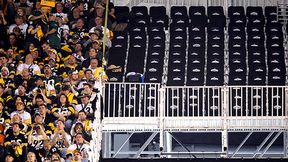 AP Photo/Chris O'MearaA section of empty seats are seen at Cowboys Stadium before Super Bowl XLV. The temporary seats weren't completed and were deemed unsafe.
Powell said he entered Super Bowl week with extremely high expectations.
His father is a longtime Steelers season-ticket holder who won the lottery and was able to buy two Super Bowl tickets directly through the team at face value. Powell and his brother, Brad, jumped at the chance and bought two tickets for $800 each. The tickets were for Section 430A, Row 25.
Dan Powell and his brother arrived at Cowboys Stadium about four hours before kickoff in order to soak in the Super Bowl experience. They wanted to see the Steelers warm up, the pregame festivities and all the new stadium has to offer. But only delays and complications would follow.
"We waited in line for about an hour and a half to get through security, but we didn't really care about that because we were expecting to wait in line for that long," Powell said. "Then we get through all the security and gave our tickets to the people, and they said, 'Your tickets are no good.'"
From there it was a complete state of confusion, according to Powell. After talking to various people and getting little info, he was sent over to a ticket solution's booth near the Texas Rangers' baseball field.
"By this time it's about 4 p.m. [CT], so we sprint over there, and it's a hike," Powell said. "We get over there and we wait about 15 minutes or so before they come out and make an announcement. There's about a 1,000 people crowded around this little tent waiting and they kept saying, 'Somebody will have answers. Somebody will have answers.'
"Finally a guy comes out and says 'Your tickets have been reactivated. You all are good to go in.'"
So Powell and his brother sprint back to Cowboys Stadium to try to catch the little time there was left of the pregame atmosphere. It took another 45 minutes to get through security a second time, but the pair got in about 30 minutes before kickoff.
When Powell thought he'd made it through an already tough day, things got even worse when he got to his seats.
"We gave our tickets to the usher and she says, 'Sorry, everything above row 12 is closed. You can't go up there,'" Powell said, still flabbergasted days later.
The NFL deemed those seats unsafe due to an installation issue. Powell was among the unlucky few who owned a ticket in that area. Well after kickoff, some were relocated to "equal or better seats," according to the NFL. But Powell and his brother were among the reported 400 ticket holders forced to watch the game from a pair of sports bars in the basement of the stadium.
"It was two bars and they told us Steelers fans in one and Green Bay fans in the other," Powell said. "I don't know why they split us up. But at this point the game was about to start, and people down there as you could imagine were going crazy and screaming at anyone who would listen. Most of them were security guards and police who really couldn't do anything. I felt bad for them, actually, but I understood the people being angry."
Finally, a little before halftime representatives from the NFL entered the sports bar and passed out
letters to ticketed fans
. The letter stated a refund was due for three times the original value of the tickets and the fans would be granted entry to a hospitality area while at Cowboys Stadium, which is where the Powells already were.
It's been reported that special amenities were provided during Super Bowl XLV. But Powell says in his experience that wasn't the case.
"The NFL is acting like they treated us very, very well, like royalty or something," Powell said. "But they gave us no info. They said it was free food and drinks. There was absolutely no free food. I went to the bar and talked to the bartender in getting two free beers -- one for me and one for my brother. But that was at the bartender's discretion. So some people got them."
In total, Powell estimates he and his brother spent about $4,000 each on Super Bowl tickets, hotel, airfare, ground transportation, parking, food and entertainment. He said he would have much rather sat in a sports bar Sunday in Pittsburgh and had the same experience while saving thousands of dollars.
Reportedly the NFL plans to give Powell and others free tickets to Super Bowl XLVI next year in Indianapolis to make up for the huge error. But with no way of knowing the participating teams, Powell says it probably won't be the same.
"There's no guarantee the Steelers will be in another Super Bowl ever. But I wish they could give us a Super Bowl ticket next year and be guaranteed a ticket the next time the Steelers go," Powell said. "I wouldn't be real interested in seeing any other teams. I went to this Super Bowl strictly because the Steelers were in it."
February, 6, 2011
2/06/11
4:29
PM ET
ARLINGTON, Texas -- The
Pittsburgh Steelers
are one of the NFL's most-experienced teams. That is a major reason they are participating in Super Bowl XLV Sunday against the
Green Bay Packers
.
But here is a breakdown of several key Steelers who will see their first action on the NFL's biggest stage:
WRs Mike Wallace, Emmanuel Sanders and Antonio Brown
Analysis:
Known in Pittsburgh as the "Young Money Crew," Wallace, Sanders and Brown have stepped up huge for the Steelers. Wallace is an elite deep threat and has carried the Steelers' passing game this year. Sanders has come on as a legit No. 3 receiver, while Brown has made his mark in the playoffs with back-to-back big catches to end games. This trio needs to step up for Pittsburgh to win its seventh championship.
RBs Rashard Mendenhall and Isaac Redman
Analysis:
Both running backs are playing in their first Super Bowl but under different circumstances. Mendenhall was on the roster in 2008 but broke his shoulder as a rookie early and missed the playoff run. Now Mendenhall is playing well in his first postseason. Redman has earned his way on the active roster this season after impressing the coaching staff while on the practice squad.
C Doug Legursky
Analysis:
It was questionable if Legursky would make the team out of training camp. Now the backup center is starting in the biggest game of the season. Pro Bowl center
Maurkice Pouncey
suffered a high ankle sprain in the AFC title game against the
New York Jets
. Legursky filled in admirably for more than three quarters and also had two full weeks to prepare.
DE Ziggy Hood
Analysis:
Hood is another injury replacement. He filled in for
Aaron Smith
(triceps) most of this season and played well. Pittsburgh still led the NFL in run defense and the Steelers finished second in total defense, despite Smith's injury. Hood also is playing his best football in the playoffs.
OT Flozell Adams
Analysis:
Although one of Pittsburgh's oldest players, Adams, 35, has zero Super Bowl experience as a longtime member of the
Dallas Cowboys
. The Steelers have taken the approach all week to "win one for Flozell." Not only does Adams have a chance to win his first ring, but he can do it in the same city he played most of his career.
February, 6, 2011
2/06/11
2:34
PM ET


ARLINGTON, Texas -- The AFC North blog has checked into humongous Cowboys Stadium in preparation for Super Bowl XLV between the
Pittsburgh Steelers
and
Green Bay Packers
.
There were tons of fans from both teams outside. Here are some pictures of my trip into the stadium you can check out
here
,
here
and
here
.
It should be a fun day. We're just getting warmed up.
February, 5, 2011
2/05/11
2:30
PM ET
»
Super Bowl XLV Final Word
:
Steelers
|
Packers
Five nuggets of knowledge about Super Bowl XLV:
[+] Enlarge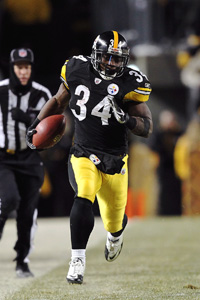 Al Bello/Getty ImagesRashard Mendenhall has been a potent weapon for the Steelers, rushing for 167 yards in two playoff games.
Big stage for Mendenhall:
The play of
Pittsburgh Steelers
tailback
Rashard Mendenhall
has been
under the radar
throughout the playoffs. But Mendenhall's performance will be very important for Pittsburgh to beat the Packers. Mendenhall has rushed for 167 yards and three touchdowns in Pittsburgh's two playoff games. Playing in his first Super Bowl, Mendenhall has the ability to keep the chains moving and keep Green Bay quarterback
Aaron Rodgers
off the field. The Packers' run defense has struggled at times, ranking just No. 18 in the NFL this season.
Win one for Flozell:
Nearly all the veteran players on the Steelers own at least one Super Bowl ring. But one veteran who doesn't own any jewelry is starting right tackle
Flozell Adams
. He played a dozen years for the
Dallas Cowboys
and
signed with the Steelers
before training camp. With Adams returning to his old stomping grounds, Pittsburgh is taking the approach to "Win one for Flozell." Offensive linemen all wore throwback Michigan State jerseys of Adams on the flight to Dallas on Monday as a show of solidarity.
Keeping the streak:
One of the safest bets in sports has been the Steelers in Super Bowls. Pittsburgh is 6-1 all time in the big game, with the only loss coming to the Dallas Cowboys following the 1995 season. (Credit
Neil O'Donnell
.) Pittsburgh's current group of veterans such as receiver
Hines Ward
, quarterback
Ben Roethlisberger
, safety
Troy Polamalu
and linebacker
James Farrior
are looking to go
3-0 in Super Bowls
. Experience definitely favors Pittsburgh and may play a factor in this game.
Taking shots:
Steelers receiver
Mike Wallace
hasn't made many big plays in the postseason, as defenses have been geared to stop him. But Super Bowl XLV could be an opportunity for Wallace to get back to making those game-changing plays. Packers defensive coordinators Dom Capers blitzes often, and that will present chances for Wallace to go over the top of the defense against single coverage. Much has been said about Green Bay's speed advantage indoors. But Wallace will undoubtedly be the fastest player in this game.
The big Legursky:
It was questionable if
Doug Legursky
would make Pittsburgh's roster out of training camp last summer.
Now he's
replacing
Maurkice Pouncey
as the Steelers' starting center in the Super Bowl. It has been a wild ride this season for Legursky, who made the team once veteran center and former starter
Justin Hartwig
was cut. Legursky filled in at various positions this season. He feels center is his best position, and the Steelers hope he's correct when he faces the Packers on the biggest stage.
January, 26, 2011
1/26/11
6:00
PM ET
PITTSBURGH -- Offensive tackle
Flozell Adams
spent the majority of his career with the
Dallas Cowboys
. But that was the last team he cared to talk about on Wednesday.
"I'm a Steeler," Adams said, dodging any questions in the locker room about Dallas. "So that's how we roll."
[+] Enlarge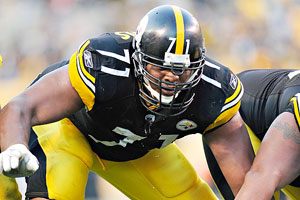 Icon SMIFlozell Adams will be returning to Cowboys Stadium, but this time with the Pittsburgh Steelers.
After a dozen years with the Cowboys, Adams will return to the place where it all started. This time Adams will be the starting right tackle for the AFC champion
Pittsburgh Steelers
, who will play the
Green Bay Packers
in Super Bowl XLV at Cowboys Stadium.
It's yet another twist of irony between the Steelers and Cowboys, who are two of the NFL's winningest franchises, combining for 11 Super Bowl championships. Adams never had the chance to win a title with the Cowboys. But he gets his first shot at a ring on the Cowboys' home turf in his first season with the Steelers (14-4).
"It would mean just as much, if not more, for me to win it for Flozell," Steelers quarterback
Ben Roethlisberger
said. "To go back to Dallas and he's never had a chance to go to a Super Bowl. To get to play in one, and it's in Dallas, I want to win one for him as much as I do myself."
Adams, 35, was released by the Cowboys this past offseason. Pittsburgh signed him as a replacement for the injured
Willie Colon
, who tore his Achilles and was out for the season.
Adams had to switch from left tackle to right tackle with the Steelers but got better as the season went on. His run blocking, in particular, has been solid. Adams helped pave the way for tailback
Rashard Mendenhall
(1,273 yards, 13 touchdowns) to have a career season.
"It was a challenge," Adams said of the position switch. "I had some trouble adjusting with it and learning the scheme in the beginning. But I just stuck with it."
Less than a year after being released, the sight of Adams potentially holding up the Lombardi Trophy at Cowboys Stadium may not sit well with many Dallas fans. But don't ask Adams to reflect on his days as a Cowboy. He's not interested in talking about his former organization this week.
"It's been a while; I don't remember," Adams said, laughing. "I'm just talking about the Steelers and what we're doing for this Super Bowl right now, that's all."