AFC North:

Crezdon Butler
August, 28, 2011
8/28/11
9:14
AM ET
The
Pittsburgh Steelers
were the last AFC North team to complete Week 3 of the preseason on Saturday night.
Here are some observations:

Steelers 34, Falcons 16
The Good
Receiver Antonio Brown continues to be Pittsburgh's star of the preseason. The second-year standout lit up Atlanta with four catches for 137 yards and two touchdowns. Brown's two scores were for 77 and 44 yards. Brown had a huge reception in last season's playoffs to help Pittsburgh beat the Baltimore Ravens. He is carrying that momentum and confidence into this season. After Saturday's stellar performance, Brown likely has the edge over veteran Jerricho Cotchery to become Pittsburgh's No. 3 receiver.
Pittsburgh backup cornerback Crezdon Butler showed playmaking ability against Atlanta. Butler returned an interception 95 yards for a touchdown at the start of the fourth quarter. Butler was also active. He led the Steelers with nine tackles and made a big impression. He could be one of Pittsburgh's top reserves in the secondary.
The Bad
Steelers backup quarterback Byron Leftwich broke his arm Saturday and reportedly could miss the entire season. Leftwich had a good chance to be Pittsburgh's No. 2 quarterback. Now, that job goes to Dennis Dixon and reduces his chance for a trade. The biggest goal of the preseason is to prevent injuries. Leftwich and top cornerback Ike Taylor (broken thumb) suffered big injuries in two of Pittsburgh's three preseason games.
Pittsburgh's first-team defense gave up chunks of yards to Falcons No. 1 receiver Roddy White. He recorded eight receptions for 101 yards and a touchdown. The Steelers didn't make any significant upgrades to the secondary in the offseason and teams will continue to attack Pittsburgh through the air this season.
August, 1, 2011
8/01/11
1:30
PM ET
LATROBE, Pa. -- Distractions and controversy? What distractions and controversy?

The opening of training camp was business as usual for the reigning AFC champion
Pittsburgh Steelers
. Despite offseason incidents that ranged from
Hines Ward
's arrest to
Rashard Mendenhall
's misuse of Twitter to
James Harrison
ripping commissioner Roger Goodell and teammates, players
quickly deflected any issues
and seemed genuinely happy to get back to work.
The Steelers believe their off-the-field problems are a
thing of the past
, and the team is ready to move forward and attempt to make another title run in 2011.
"Any time we come to training camp, our goal is the Super Bowl," Ward said. "Anything less than the Super Bowl is a down year for us. Having experienced and tasted a loss in the Super Bowl is not a good feeling. So, hopefully we can get back there and come out on the winning side."
The Steelers have a lot of work to do before the start of the regular season. Here are some early questions:
THREE HOT ISSUES
1. How will the Steelers get under the cap?
According to the new collective bargaining agreement, the Steelers have until Thursday to get under the $120 million salary cap. Despite a flurry of roster moves last week, Pittsburgh remains about $7 million to $10 million over, which is where the team started this summer.
The Steelers made several key salary cuts, including veteran receiver
Antwaan Randle El
and offensive tackles
Max Starks
and
Flozell Adams
. But the re-signings of in-house free agents such as cornerback
Ike Taylor
have basically nullified those moves.
Expect more tough decisions to be made this week.
"We have to find ways to get under [the cap] and in compliance," Steelers general manager Kevin Colbert said. "We're going to look at every and all possibilities."
There is some good news for the Steelers.
The new CBA allows teams to use three $1 million exceptions in 2011, and Colbert says he will use them all. Teams have this onetime flexibility to add an extra $3 million to the cap, which essentially brings the Steelers' number up to $123 million. This could allow Pittsburgh to retain some veterans it otherwise would lose.
[+] Enlarge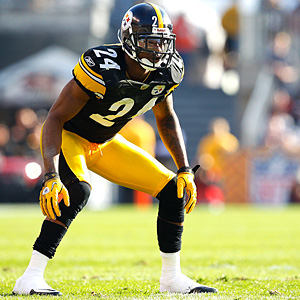 Jared Wickerham/Getty ImagesIke Taylor has 11 interceptions in eight NFL seasons.
2. Has Pittsburgh fixed its pass defense?
The last memory Steelers fans have of their defense is
Green Bay Packers
quarterback
Aaron Rodgers
carving up the secondary for 304 yards and three touchdowns in Super Bowl XLV. Since then, Pittsburgh hasn't made any significant additions to the secondary, leaving many to wonder whether this problem is fixed.
Because Pittsburgh is fielding the same players in the secondary, it's difficult to imagine the pass defense being better than it was last season. The Steelers re-signed veteran corners Taylor and
William Gay
and drafted rookies
Curtis Brown
and
Cortez Allen
.
"You can't worry about what people think outside the locker room, because we've been so successful on the field," Taylor said of the criticism. "So it really doesn't matter. Everybody has their own opinion. It comes with the territory."
Expect many teams to spread the Steelers out this season by using three- and four-receiver sets. That will force backups such as Gay or some of the young corners to play important roles on the defense.
3. How thin is Pittsburgh's offensive line?
Pittsburgh's offensive line could be the thinnest group in the league.
Outside of second-year center
Maurkice Pouncey
, who is a stud, the rest of the line is littered with questions.
Jonathan Scott
plays the important role of left tackle and was inconsistent last year. Guards
Ramon Foster
and
Chris Kemoeatu
are decent run-blockers but struggle in pass protection. And right tackle
Willie Colon
is coming off an Achilles injury that forced him to miss the entire 2010 season.
Cutting Starks and Adams severely hurt the talent and depth of this group. Those were two of the most experienced linemen Pittsburgh had. Cap issues make it unlikely the team will sign another starting offensive lineman in free agency.
"You can't go into it and expect to have veteran depth at every position," Colbert admitted. "It just doesn't work out financially. You have to trust some of your young guys."
[+] Enlarge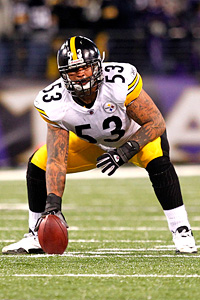 Geoff Burke/Getty ImagesMaurkice Pouncey is the rock of the Pittsburgh offensive line.
BIGGEST SURPRISE
It's only the first weekend of camp, but backup cornerback
Keenan Lewis
has been a pleasant surprise.
Lewis is gaining valuable experience
working with the first-team defense. Taylor signed a four-year contract in free agency and isn't allowed to practice with the team until later this week.
Despite a rocky two years in Pittsburgh, Lewis is a good athlete. He has good size and quickness and is making fewer mental mistakes, which is key. The competition for the important nickel role in the secondary will be intense this summer, and Lewis could have the inside track.
BIGGEST DISAPPOINTMENT
With the lengthy NFL lockout, someone was bound to show up out of shape. Backup running back
Jonathan Dwyer
was that person for the Steelers.
I expected to see more from Dwyer, a sixth-round pick in 2009. But he struggled mightily during the conditioning evaluations and hasn't done much in the practices. The Steelers' running back corps is deep, and Dwyer is definitely on the roster bubble.
OBSERVATION DECK
June, 18, 2011
6/18/11
8:00
AM ET
Let's see what's in
our AFC North inbox
this week.

Eric Brill from Pittsburgh
wants to know if
Crezdon Butler
can win a starting cornerback job with the
Pittsburgh Steelers
.
James Walker:
Eric, first Butler needs a chance to compete, and that will depend on what happens in free agency. I expect the Steelers to make a push for
Ike Taylor
, and if he returns, Taylor and
Bryant McFadden
are the starters. Otherwise, Pittsburgh
may look to secondary options
like
Carlos Rogers
and
Richard Marshall
, and one of those players would take a starting role. But if Pittsburgh doesn't make a move in free agency, Butler has as good a chance as anyone in Pittsburgh.
---
Mike Diaddigo from Chantilly, Va.,
writes: Should the Steelers consider going after Terrelle Pryor in the supplemental draft?
Walker:
Mike, the Steelers are probably the one team in the division that I cannot see taking on a project like Pryor. They are set at quarterback and have plenty of backup options in
Dennis Dixon
,
Byron Leftwich
and
Charlie Batch
.
---

Russell Goodacre from Ijamsville, Md.,
writes: Do you agree with
LaMarr Woodley
's comments
on the NFL Network
about how
Joe Flacco
will never lead the
Baltimore Ravens
to a Super Bowl?
Walker:
I would definitely avoid making predictions for the span of an entire career, Russell. I only make them year-to-year, and as of June and before free agency, the Ravens right now are on my short list of title contenders. Overall, I believe Flacco, 26, will only get better as a quarterback.
---
Jad from Chicago
wants to know if the Ravens could go after free-agent defensive end
Ray Edwards
.
Walker:
I don't see that as a match, Jad. Edwards spent most of his career as a pass-rushing defensive end in a 4-3 defense, and the Ravens switch back and forth between a 3-4 and 4-3. If Edwards comes to the AFC North, he's
probably a better fit
for the
Cleveland Browns
.
---

Gabe from Iowa
writes: With the Bengals wanting a power running game, wouldn't it be wise for them to target free-agent fullback
Lawrence Vickers
?
Walker:
Gabe, it depends on whether the Bengals believes Vickers is a good fit in the West Coast offense. Apparently, Cleveland's coaching staff doesn't believe that's the case, and both Ohio teams share many of the same offensive principles. I would consider Vickers in Cincinnati, especially since the Bengals really want to run the football. Vickers is one of the top run-blocking fullbacks in the league.
---
Becky from Galloway, Ohio,
writes: Any chance the Bengals bring
T.J. Houshmandzadeh
back to help the younger receivers?
Walker:
This is unlikely, Becky. The Bengals are set on getting younger at the position, and it would seem like an odd move to cut one 30-plus receiver (
Chad Ochocinco
) for another (Houshmandzadeh). In my conversations with Houshmandzadeh last season, I also sensed he's set on competing for a title at this point in his career, and the Bengals are not title contenders.
---

Mark from Canton, Ohio,
wants to know what makes the Browns' receivers so bad?
Walker:
There are several factors involved, Mark. The biggest are talent, athleticism and poor choice of roles in the offense.
Brian Robiskie
and
Mohamed Massaquoi
are not considered elite, NFL athletes at the receiver position. Neither is very fast or has the type of size and athleticism to out-jump defensive backs for the football. Those are two important tools for making plays at the position. Also, the Browns have run a shoddy passing offense and put Massaquoi and Robiskie in roles that are too big. From what I've seen, Massaquoi is not a true No. 1 receiver, but he's asked to play that role in Cleveland. Robiskie also may be better suited as a No. 3 receiver or as a reserve coming off the bench.
---
Justin from Colorado Springs, Colo.,
writes: I know you said Tressel wouldn't be a good translation into a head coach job in the NFL, but what are you thoughts about him being an offensive coordinator?
Walker:
Justin, the punt is the most important play in football, according to Jim Tressel. Do you really want him running your NFL offense? It's a bad match.
---
Comment and complaint department
DG from Baltimore
writes: James, I'm sick and tired of Joe Flacco taking so much heat. His stats are almost identical to
Matt Ryan
's, and he also has won 4 playoff games compared to Ryan's zero. Sure, the guy isn't perfect and hasn't come through in the clutch, but he is the best this Ravens organization has had, and he is taking too much heat. This town has been blessed with the likes of Johnny U and even a Bert Jones, but c'mon, give this kid some time.
Mike from Ewa Beach, Hawaii,
writes: Joe Flacco is a really good QB both statistically and by winning percentage. Whether he wins a Super Bowl or not is to be determined but he's still a really good QB and the best Baltimore has seen since Johnny Unitas.
Carson Palmer
was always overhyped and overrated a bit but has zero playoff wins and only two winning seasons. Flacco already has more winning seasons and playoff wins than that guy. Besides, even if Flacco wins multiple championships someone will say it was because of the defense. Haters will hate. He still has to get past the Steelers with
Ben Roethlisberger
and that's a fact.
Walker:
I agree, DG and Mike. This Flacco bashing is starting to get out of hand. First it was media and fans, but now opposing players are getting involved, and that's not the norm. Flacco is a good, young quarterback finishing his third season. He's had more success so far than Ryan and
Josh Freeman
, who are revered, and there's still plenty of room to grow. I think Flacco will be fine in Year 4 and beyond.
---
Brandon Crawford from Baltimore
writes:
Dhani Jones
should
stop worrying about Flacco
and trying to improve to help his pathetic franchise. I mean after they were
voted the worst franchise
by ESPN.
Walker:
Brandon, Jones' remarks surprised me more than Woodley's, even though Flacco has had some bad games against the Bengals and Steelers. Cincinnati is coming off a 4-12 season, and the Bengals have much room to trash talk about other playoff teams and playoff quarterbacks. I thought it was unnecessary.
---
Chris P. from Marietta, Ga.,
writes: I would gladly give you 60 players that are better at his respected position than Ben Roethlisberger in a more organized list than
what Dan gave you.
Walker:
Sorry, Chris. But we're not doing this in the blog every week. Dan talked tough, so I called him out, and he later admitted he couldn't name 60. His list of 52 players came up mostly lame, also, according to our community. I'm sure your list would, too.
---
410-Monster from Baltimore
writes: JW you don't want it in "Madden." You should set up a tourney.
Walker:
Are you sure about that, 410? I was no slouch. The problem is it takes a lot of time and practice to be good in "Madden." One game takes nearly an hour. And as I got older and my job became more intense coming to ESPN three years ago, I no longer had that kind of time during the season. If I wait and buy the game in February once football season is over, it's too late and not nearly as fun. So I retired and just use my XBox now to watch movies. But don't tempt me.
---
AFC North "Homer of the Week"
This week's biggest homer comes from a comment I saw in one of this week's blog entries.
Enjoy.
Noburghfan
writes: With two Ohio teams leading the AFCN at season's end, what will the media do? Quit reporting the game's outcome? No, they will have to admit the obvious! The favorites [Ravens and Steelers] are overdue to relinquish their position! They are not and have not been the best in this division, just the preferred!
Walker:
Noburghfan, you are a rarity to predict the Browns AND the Bengals will be leading the AFC North at the end of the season. And that last sentence. ... I don't even know what that means. But congrats on being our "Homer of the Week."
If you have any future questions, complaints, homer or hater comments, feel free to send them to our
AFC North inbox.
May, 4, 2011
5/04/11
2:30
PM ET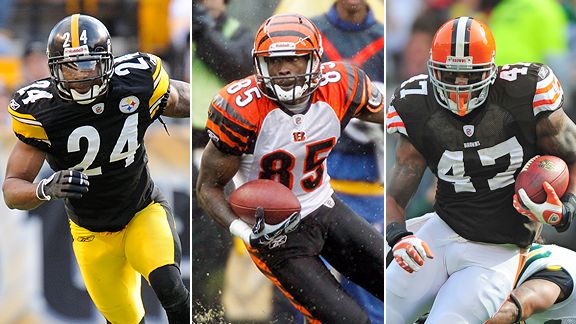 AP PhotoDraft-day moves by their teams could mean Ike Taylor (Steelers), left, Chad Ochocinco (Bengals), middle, and Lawrence Vickers (Browns) will be wearing different uniforms next season.
While one dream was being made last week, another was coming to an end.
Saturday in California, former Stanford fullback
Owen Marecic
happily took a call from the
Cleveland Browns
in the fourth round. Marecic was excited to be entering the NFL and knowing his destination in 2011.
Soon after, current Browns fullback and pending free agent
Lawrence Vickers
' phone began buzzing constantly to let the veteran know Cleveland
likely drafted his replacement.
"Honestly, my first reaction was 'Wow,'" Vickers told the AFC North blog this week. "I'm amazed. I was amazed I was still a free agent and wasn't signed [by the Browns] before the deadline. I didn't understand it. But at the same time I do understand, because nothing has ever come easy to me. So I was prepared for it.
"If they want me, they want me. If they don't, they don't. As a man, you have to be prepared for anything. But in the back of my mind I thought I would be in Cleveland."
Welcome to the harsh world of the NFL.
As teams were making draft picks last week, each move to replace players and plug holes could impact what AFC North teams do in free agency. Let's take a look at where each division team stands.

Cleveland Browns
Top draft picks:
DT
Phil Taylor
, DE
Jabaal Sheard
, WR
Greg Little
, FB Owen Marecic
Potential impact:
The Browns were in need of talented players and could have as many as four Week 1 starters in this year's draft class. Health permitting, Taylor and Sheard are heavy, heavy favorites to start at defensive tackle and defensive end, respectively. Cleveland doesn't have many bodies at those positions. Little will be thrown into a receiving corps that includes
Brian Robiskie
and
Mohamed Massaquoi
. Both have struggled and Little, who missed last season at North Carolina because of a suspension, will have every chance to compete for a starting role. But Marecic was the pick that turned some heads. The Browns were eerily quiet about Vickers' pending free agency this offseason, and speculation began to grow that the new coaching staff didn't feel he was a good fit for the West Coast offense. Those thoughts were confirmed Saturday, when Cleveland made a surprise pick for a fullback in the fourth round. Vickers, one of the top blocking fullbacks in the NFL, is expected to test the market, where he will surely get interest. The Browns did a good job of filling holes but still need to address certain areas. Safety and the right side of the offensive line remain glaring needs.

Cincinnati Bengals
Top draft picks:
WR
A.J. Green
, QB
Andy Dalton
, OLB
Dontay Moch
, G
Clint Boling
Potential impact:
Cincinnati's first two picks were not a surprise, but both were telling. It likely
signaled the end
of the
Chad Ochocinco
-
Carson Palmer
era with the Bengals. Both veterans, who have been the faces of the franchise for years, are under contract. But Ochocinco is in the final year of his deal and is expected to be traded or released following the acquisition of Green. Palmer
wants to be traded
or he plans to retire, which is why the Bengals drafted Dalton. Bengals head coach Marvin Lewis is already projecting Dalton to be the Week 1 starter. Cincinnati should get all the value it can for Ochocinco and Palmer. It's questionable whether any team is willing to trade and pay the approximate $6 million for one year with Ochocinco. But it takes only one team. With Palmer, there will be several teams lined up and ready to pounce if the Bengals put him on the market. Cincinnati's coaching staff appears ready to move on without Palmer, so it will come down to ownership. Bengals owner Mike Brown said recently that the team has
no intention of trading Palmer
. The Bengals did not draft a cornerback until the seventh round (
Korey Lindsey
), but that probably has no bearing on pending free agent
Johnathan Joseph
. Cincinnati isn't expected to retain Joseph, who will be one of the league's top free agents. But the team has
Adam Jones
for insurance to pair with starter
Leon Hall
. The Bengals also want starting tailback and pending free agent
Cedric Benson
back, as evidenced by the team not drafting a replacement.

Baltimore Ravens
Top draft picks:
CB
Jimmy Smith
, WR
Torrey Smith
, OT
Jah Reid
, WR
Tandon Doss
Potential impact:
The Ravens took one of the
biggest risks in the draft
by selecting Smith of Colorado. He has a long list of off-the-field issues at Colorado, but the Ravens feel confident Smith will stay out of trouble. In terms of talent, Baltimore landed a player with the potential to be the team's first shutdown corner since
Chris McAlister
. Smith is expected to start right away, and this impacts two pending free agents in
Josh Wilson
and
Chris Carr
. Wilson played well for Baltimore once he earned the starting job in the second half of the 2010 season. With the pickup of Smith, Wilson and Carr are no longer huge priorities in free agency. The Ravens are getting
Domonique Foxworth
back from a knee injury and
Lardarius Webb
is still on the roster. The pick of Torrey Smith in the second round fills a need for a speedy receiver to pair with
Derrick Mason
and
Anquan Boldin
. He is expected to fill the No. 3 receiver role
T.J. Houshmandzadeh
will leave behind. Ravens coach John Harbaugh also spoke highly of Reid, the team's third-rounder. Former starting offensive tackle
Jared Gaither
was injured last season and has been in the doghouse for quite some time and isn't expected to return. In terms of holes, the Ravens still need an impact pass-rushing threat to pair with Pro Bowl defensive end/linebacker
Terrell Suggs
.

Pittsburgh Steelers
Top draft picks:
DE
Cameron Heyward
, OT
Marcus Gilbert
, CB
Curtis Brown
, CB
Cortez Allen
Potential impact:
The Steelers stayed true to form by drafting for depth in the first two rounds with Heyward and Gilbert. Barring injury, both players will be put in the rotation but are not expected to start. But the third and fourth rounds are where things got interesting for Pittsburgh. The Steelers went with cornerbacks in back-to-back rounds with Brown and Allen. They hope one or both rookies can make an immediate impact. That might be asking a lot for the reigning AFC champions. Brown was the second-best corner on his team at the University Texas to
Aaron Williams
, on whom the Steelers passed in the first round. Allen played at a small school (Citadel) and will make a significant jump to the NFL. All of these factors
increase the value
of
Ike Taylor
, who is Pittsburgh's biggest free agent. The Steelers' No. 1 corner would fill an important starting role and take a lot of pressure off the team's young corners. That way Brown, Allen,
Keenan Lewis
and
Crezdon Butler
can all compete for reserve roles and develop at a more gradual pace. The price tag will be the biggest question. The going rate for solid cornerbacks this offseason has been about $10 million per season. It's doubtful the Steelers are willing to pay that much to retain Taylor. Also look for the Steelers to fill their kicker positions in free agency and perhaps add another backup tailback to replace
Mewelde Moore
.
April, 11, 2011
4/11/11
4:00
PM ET
With the reigning AFC champion
Pittsburgh Steelers
thin at cornerback and
Ike Taylor
about to hit free agency, we have more statistical evidence why it's vital for Pittsburgh to address this need in the offseason.
According to ESPN's Stats and Information, NFL offenses are increasingly using three or more receivers, which dictates personnel on defense. In 2010 teams lined up three or more receivers on offense 48.2 percent of the time, up from 46.1 percent in 2009 and 45.7 percent in 2008.
As a result, defenses needed to use three or more cornerbacks on 48.5 percent of snaps last season. For Pittsburgh, that means some combination of backups
William Gay
,
Anthony Madison
and
Crezdon Butler
would need to see the field on nearly half of the defense's plays.
The
Green Bay Packers
, who run a West Coast offense, won Super Bowl XLV in February primarily by utilizing multiple-receiver sets to take advantage of Pittsburgh's lack of secondary depth. Passing teams like the
New Orleans Saints
and
New England Patriots
also were able to expose this weakness last season.
Thanks to various rule changes the past several years, it's harder than ever to defend the pass, and it's up to the Steelers to adjust. Pittsburgh rarely uses first-round picks on cornerbacks because its primary focus is dominating the line of scrimmage. But statistical evidence suggests the Steelers might want to reconsider and invest more resources into pass defense.
February, 24, 2011
2/24/11
3:48
PM ET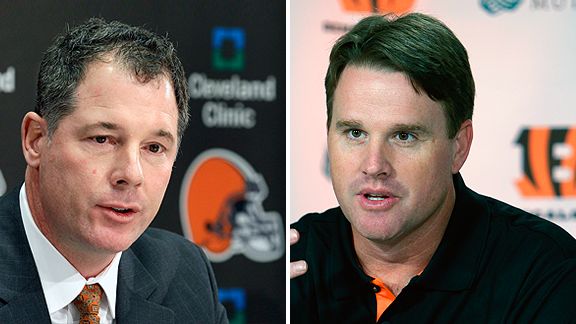 AP PhotoPat Shurmur, left, and Jay Gruden are two of the new faces in the AFC North.
The offseason has just begun, but the coaching carousel has been spinning for all four teams in the AFC North.
Often the struggling teams make significant coaching changes, and that was the case with the
Cincinnati Bengals
(4-12) and
Cleveland Browns
(5-11). But playoff teams like the
Baltimore Ravens
(12-4) and even the Super Bowl runner-up
Pittsburgh Steelers
(12-4) also experienced some turnover on their staff.
Here is a look at each change and what it means for the division:

Cleveland Browns
In:
Head coach Pat Shurmur, defensive coordinator Dick Jauron and a new staff.
Out:
Former head coach Eric Mangini, former defensive coordinator Rob Ryan and former offensive coordinator Brian Daboll.
What happened?
Mangini entered this past season on the hot seat and went 5-11 for the second consecutive year. There were a lot of philosophical differences between Mangini and Browns president Mike Holmgren. So when the team wasn't winning, it made for an easy decision to go in a different direction. Enter Shurmur, who was a surprise hire for Cleveland. Shurmur has no prior head-coaching experience and wasn't on the radar of other teams. The Browns have pretty much cleaned house and hired a new staff, which includes Jauron and veteran defensive assistant Ray Rhodes.
Analysis:
Last year, Holmgren was dumbfounded by some of the things the Browns were doing, particularly on offense. But Holmgren and Shurmur share many of the same views, which will give Holmgren more say in what goes on, and I think being on the same page is important for any team. The Browns are one of the few teams this year that will change both their offense
and
defense. Cleveland will go to a West Coast offense under Shurmur, who did not hire an offensive coordinator and will call the plays. The Browns also will switch to a 4-3 defense, which is something they haven't run since 2004. Shurmur is taking on a lot of responsibility as a rookie head coach and de facto offensive coordinator, which raises some concerns. Cleveland hopes veteran coaches like Jauron and Rhodes will take care of the defense, giving Shurmur one less thing to worry about. In terms of personnel, the Browns have a lot of work to do. They need better receivers on offense if they plan to pass more and playmakers at defensive end to run a 4-3 scheme.

Cincinnati Bengals
In:
Offensive coordinator Jay Gruden, receivers coach James Urban.
Out:
Former offensive coordinator Bob Bratkowski, former receivers coach Mike Sheppard.
What happened?
Changes were inevitable for Cincinnati's coaching staff this season. There was a lot of unrest among players internally who didn't like the scheme on offense. The Bengals entered the season with playoff aspirations but had an abysmal four-win campaign. Quarterback
Carson Palmer
was so unhappy that he demanded a trade after the season. Receivers
Terrell Owens
publicly criticized the coaching staff several times and starting tailback
Cedric Benson
said he was not returning if Bratkowski was still the offensive coordinator. Bratkowski was let go and later hired by the
Atlanta Falcons
, and Sheppard went to the
Jacksonville Jaguars
. Gruden, a former UFL head coach and the brother of former NFL coach Jon Gruden, was hired as offensive coordinator, and Urban was hired as receivers coach from the
Philadelphia Eagles
.
Analysis:
Cincinnati will be the second team in the division implementing a West Coast offense. Gruden also says he wants to make sure Cincinnati has a power running game, which is needed in this division. When the Bengals were at their best in 2009, they ran the football effectively and played tough defense. Cincinnati went away from that last year and had an awful season. How Gruden's offense translates from the UFL to the NFL remains to be seen. Cincinnati also has to handle a lot of personnel issues. Will Palmer retire? If so, who will be the new quarterback? Should the team trade
Chad Ochocinco
? Will Benson return? Cincinnati will have a very busy offseason trying to figure out these questions before putting together its new offense.
February, 23, 2011
2/23/11
7:22
AM ET
With the offseason in full swing, let's take a look at one major question facing each AFC North team as it begins preparations for the 2011 season:
CINCINNATI BENGALS
Should the Cincinnati Bengals give into Carson Palmer's trade demands?

After eight underachieving seasons in Cincinnati,
Palmer wants out
and everyone from his agent
to teammates
to his realtor believe Palmer is absolutely serious. So how should the Bengals handle this situation?
Cincinnati is consistently one of the NFL's more downtrodden franchises and has been through this before. In the past, players such as
Takeo Spikes
,
Corey Dillon
and
Chad Ochocinco
have expressed the desire to get out of Cincinnati and couldn't leave on their terms.
But Palmer's situation is different for two reasons. First, he's the franchise quarterback, the most important player on the team. Second, he's threatened to retire if he's not traded, which is something Spikes, Dillon and Ochocinco never did. These two factors up the ante tremendously in terms of putting pressure on the Bengals.
If Palmer, 31, holds firm on his demands, that leaves
Dan LeFevour
and
Jordan Palmer
as the other quarterbacks on Cincinnati's roster. The Bengals cannot start the 2011 season with either of those players under center. As more time goes by with uncertainty, it becomes more likely the Bengals must
do something to get quarterback help
in the draft or free agency.
In my opinion
, the Bengals should trade Palmer while they can still get decent value for him. Cincinnati will be rebuilding for the next two years anyway -- with or without Palmer -- and there are plenty of teams in need of a good quarterback.
But the
Bengals are standing their ground
, hoping Palmer will have a change of heart. That's a dangerous assumption with free agency potentially starting next month and the NFL draft coming in April.
BALTIMORE RAVENS

Are concerns about Baltimore Ravens quarterback Joe Flacco legit?
As we continue the subject of quarterbacks, we move over to Baltimore. Flacco is getting drilled this offseason by media and fans for not leading the Ravens past the divisional round. Baltimore entered last season as a Super Bowl favorite and by those standards the team -- and particularly the offense -- underachieved.
Now people are starting to doubt Flacco. He has struggled in the playoffs, recording just one passer rating above 90.0 in seven career postseason games. It's no secret an organization is tied into the success and development of its quarterback. But are the expectations of Flacco, in his third season, too high too soon? The answer is, yes.
Flacco has become a victim of his own early success. He advanced to the AFC title game as a rookie and has had expectations of getting to the Super Bowl thrust upon him since.
Last season, Flacco set career-highs in passing yards (3,622), touchdowns (25) and passer rating (93.6) for the Ravens (12-4). But it's the second-round loss to the
Pittsburgh Steelers
that stands out in most people's mind.
Flacco likely must
get past rival
quarterback
Ben Roethlisberger
of Pittsburgh for the Ravens to take that next step. But there is no shame in losing to the eventual AFC champions in the postseason.
Young quarterbacks such as
Matt Ryan
,
Mark Sanchez
and
Josh Freeman
are viewed in a much more favorable light in their cities. Flacco has had as much career success and put up equal or better numbers than all of them. He deserves a break.
PITTSBURGH STEELERS
What will the Steelers do at cornerback?

As their Super Bowl XLV loss to the
Green Bay Packers
proved, the Steelers must add quality depth in the secondary. The Packers,
New England Patriots
and
New Orleans Saints
provide the blueprint of how to beat Pittsburgh's vaunted defense: spread the Steelers out with multiple receivers.
The Steelers simply don't have enough good cornerbacks to defend three- and four-receiver sets. This also takes Pittsburgh's strongest players-- its linebackers -- off the field in favor of players such as
William Gay
and
Anthony Madison
.
Now that linebacker
LaMarr Woodley
received
the franchise tag
, veteran cornerback and pending free agent
Ike Taylor
is Pittsburgh's No. 1 priority. Taylor is Pittsburgh's best corner, but he's also 31 and the Steelers must gauge how much money and how many years to give to him.
The draft will also be important. Previous draft picks at corner such as
Keenan Lewis
,
Joe Burnett
and
Crezdon Butler
have not panned out for the Steelers, who typically address this position in the middle rounds. It's time Pittsburgh invests a high draft pick at this position to increase the probability of finding a future starter.
Do not be surprised if Pittsburgh retains Taylor in free agency and spends its first- or second-round pick on a cornerback in April to fix this issue.
CLEVELAND BROWNS
Are the Cleveland Browns fine without an offensive coordinator?

Pat Shurmur of the Browns has a lot on his plate this year. Not only is he a first-time head coach, but Shurmur is also taking over the role as offensive coordinator in his first season with Cleveland.
Is this a good idea?
After a brief search, the Browns decided to leave the position vacant. Shurmur is a former offensive coordinator for the
St. Louis Rams
and didn't want to give up those responsibilities after becoming a head coach.
A head coach's first responsibility is to manage all 53 players. But Shurmur clearly will give more special attention to his players on offense. That's a major reason the Browns hired experienced defensive coaches such as Dick Jauron and Ray Rhodes to manage the other side of the football.
President Mike Holmgren and general manager Tom Heckert have both done a good job so far in Cleveland. But I have reservations about creating this type of setup with a rookie head coach on a rebuilding team.
November, 18, 2010
11/18/10
2:56
PM ET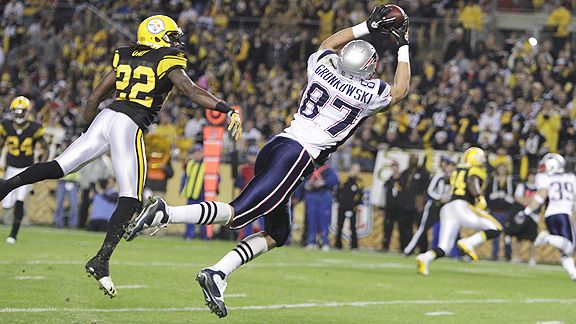 AP Photo/Gene J. PuskarWilliam Gay struggling in the secondary is just one reason Pittsburgh's pass defense has been vulnerable this season.
In one of the most unpredictable seasons in recent memory, one thing is clear in the AFC North: Pass defense is the division's Achilles' heel.
An 0-4 Week 10
highlighted the AFC North's secondary woes. Whether it was
Tom Brady
picking apart
the
Pittsburgh Steelers
,
Roddy White
running
circles around
the
Baltimore Ravens
, or
Santonio Holmes
zipping by
the
Cleveland Browns
in overtime, it was an ugly week for defensive backs in the division.
Can anything be done about the AFC North's flimsy pass defense? We teamed with Scouts Inc.'s Matt Williamson to diagnose the problem and offer some solutions.

Pittsburgh Steelers (6-3)
Total defense:
No. 9
Pass defense:
No. 26
Scouts Inc.'s diagnosis:
"All their cornerbacks are mid-round picks, and that's what they do. They bring in mid-round corners and spend first-round picks on other positions and groom them for a year or two. Pittsburgh's cornerbacks play a lot of 'off coverage,' and a team like New England can exploit that. The Patriots took what they gave them with short and intermediate passes, and it's a really bad fit for the Steelers. They've been successful giving you a lot of the smaller stuff. But what worries me is the pass rush has fallen off a little bit." --Williamson
AFC North blog's solution:
Pittsburgh has by far the NFL's best run defense at 63.2 yards per game. At the beginning of the season, opponents were banging their heads against the wall trying to establish the run in the first half, and that played right into Pittsburgh's hands. Now teams have adjusted and determined it's better to throw for 5-7 yards on first and second down instead of trying to get it on the ground. This is where the Steelers have to adjust. More press coverage would help. Although that's not Pittsburgh's identity, mixing in cornerbacks playing closer to the line of scrimmage could reduce the short and intermediate passes against its defense. Also, taking a look at young cornerbacks
Keenan Lewis
and/or
Crezdon Butler
may not be a bad idea in sub packages, where
William Gay
has really struggled.

Baltimore Ravens (6-3)
Total defense:
No. 10
Pass defense:
No. 13
Scouts Inc.'s diagnosis:
"They have very average corners, and I think they only have one pass-rusher. They need a
LaMarr Woodley
-
James Harrison
pairing. The Ravens have
Terrell Suggs
, but they don't have the other guy. They drafted Sergio Kindle and he got hurt, obviously. Baltimore has one pass-rusher who is very good, but you can take Suggs away by chipping him or keeping your better players on him. So, to me, they need either one better corner or a better pass-rusher. But with the combination Baltimore has now, it's going to be a liability." --Williamson
AFC North blog's solution:
Don't be fooled by Baltimore's No. 13 ranking. The Ravens were No. 1 against the pass through the first several games, which is an indication of how much they are struggling. As Williamson mentioned, the Ravens are in a tough spot. Baltimore says it has four or five starting-caliber cornerbacks, but none is playing like a No. 1 corner. I don't like the musical chairs Baltimore is playing with
Lardarius Webb
,
Fabian Washington
,
Josh Wilson
and
Chris Carr
. The Ravens need to pick who they believe are their two best players and go with them. Being shuffled in and out of the lineup has seemingly thrown everyone off rhythm and perhaps made each cornerback unsure of his role in the defense. Suggs had his
first multi-sack game
of the season against the
Atlanta Falcons
, and that could go a long way to helping the pass rush. Getting safety
Ed Reed
100 percent healthy as well will be a major boost. There is hope for this pass defense despite a midseason slump.

Cleveland Browns (3-6)
Total defense:
No. 24
Pass defense:
No. 23
Scouts Inc.'s diagnosis:
"I think the Browns are a well-coached defense. They are physical in the front seven and obviously want to stop the run first. But the Joe Hadens of the world, and
Eric Wright
and
T.J. Ward
are working to get better. So I tend to think inexperience is the issue as opposed to these guys just can't get it done. In the case with Baltimore and the Steelers, and lately with the Browns, if you're going to game plan against these defenses, you're going to throw." --Williamson
AFC North blog's solution:
Indeed, the blitz-heavy Browns are being tested through the air and giving up too many big pass plays. That is a major reason they are 3-6. Wright has been the biggest culprit
and admitted as much
to the media this week. But Cleveland plays hard on defense. The Browns' secondary simply needs experience and to avoid mistakes at the worst possible times, such as overtime last week against the
New York Jets
. Haden, Cleveland's first-round pick, is starting to improve, and it's time to insert him into the starting lineup permanently. With
Sheldon Brown
(shoulder) injured, Haden could start Sunday against the
Jacksonville Jaguars
.

Cincinnati Bengals (2-7)
Total defense
: No. 15
Pass defense:
No. 12
Scouts Inc.'s diagnosis
: "I think they're weak at safety, but they're very strong at corner. I also thought
Adam Jones
looked great when he played. It looked like he was coming back to form [before a season-ending neck injury]. But injuries have taken a toll, and the pass rush is worse than people even realize. I think that deserves a lot of blame. They don't have anybody exceeding expectations as a pass-rusher. I know
Carlos Dunlap
got a lot more snaps this past week, and it may be time to see what he has. For
Michael Johnson
and a lot of those young guys, it may be time to put those guys in." --Williamson
AFC North blog's solution:
I have the least amount of worries about the Bengals' pass defense. It still has the highest rating in the division despite the worst pass rush. Health has been an issue, too. If cornerback
Johnathan Joseph
and veteran safety
Chris Crocker
can remain in the lineup the rest of the season, that's two starters who will provide stability. The pass rush looks pretty hopeless, and I don't see much potential to improve. With the exception of Dunlap, who is very raw, there isn't a natural pass-rusher on the Bengals' defense. That should be a major priority in next year's draft. Cincinnati showed signs of playing good pass defense last week against the
Indianapolis Colts
, and it needs to build off that. Colts quarterback
Peyton Manning
had some trouble against this secondary, and that's a good sign.
October, 27, 2010
10/27/10
8:00
AM ET
Here are the most interesting stories Wednesday in the AFC North: Morning take: No question the Bengals are sloppy and to some degree everything falls on the coaches' desk. But players also need to be accountable for not knowing the snap count, missing tackles, dropping passes and running the wrong routes.
Morning take: Starter Todd Heap has taken a pounding this year, so one of these rookies needs to step up to keep him fresh. Dickson has made a few big plays this year.
Morning take: It's time for the Browns to move on. They're coming off a huge win over the Super Bowl champs, yet Cleveland is still talking about Harrison.
Morning take: Pittsburgh could add a defensive lineman, likely Steve McClendon from the practice squad. But someone has to go, and candidates include defensive backs Keenan Lewis or Crezdon Butler, or rookies Thaddeus Gibson and Jonathan Dwyer.
June, 16, 2010
6/16/10
1:00
PM ET

The
Pittsburgh Steelers
aren't playing around.
Just one day after announcing
four rookie signings
, the Steelers got two more draft picks under contract Wednesday, signing offensive tackle
Chris Scott
and cornerback
Crezdon Butler
to three-year deals.
Pittsburgh now has eight of its 10 draft picks under contract. First-round pick
Maurkice Pouncey
and second-round linebacker
Jason Worilds
remain unsigned. Steelers players report to training camp on July 30.