February, 24, 2014
Feb 24
3:45
PM ET
PITTSBURGH -- The
Pittsburgh Steelers
almost certainly won't get a chance to draft
Sammy Watkins
.
But the other wide receiver from Clemson could be a possibility in the second round if the Steelers address a different position with the 15th overall pick.
[+] Enlarge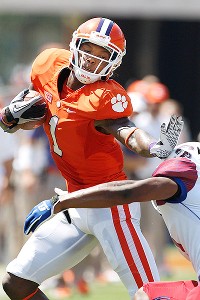 Tyler Smith/Getty ImagesWR Martavis Bryant finished his three-year Clemson career with 1,354 yards and 13 touchdowns.
ESPN draft analysts Steve Muench and Kevin Weidl wrote that
Martavis Bryant
was among the wide receivers who helped themselves at the NFL combine, and indeed he posted impressive measurables across the board.
Bryant checked in at 6-4 and 211 pounds, and he ran an official 40-yard dash time of 4.42 seconds, tied for fifth and a tick better than the more celebrated Watkins.
Bryant further flashed his athleticism by tying for sixth among wide receivers in the vertical jump (39 inches) and tying for eighth in the broad jump (10 feet, 4 inches).
Here is what Muench and Weidl
wrote as part of a report

on the running backs and wide receivers following the physical tests:
Bryant dealt with a few focus drops throughout the season, and being more of straight-line receiver, he wasn't an ideal fit within the Clemson offense. However, he has an intriguing skill set that translates well and could bring strong return in the fringe Day 2 range for teams like the Ravens, Steelers, Lions and Panthers who are looking for a vertical threat to team up with a strong-armed quarterback.
Bryant appears to have a ton of upside, and he set a Clemson record by averaging 22.2 yards per reception during his career. But he played sparingly his first two seasons at Clemson and didn't start until 2013 when he caught 42 passes for 828 yards and seven touchdowns.
Questions teams such as the Steelers will have to answer when evaluating Bryant: Did his supreme physical skills not translate into more production at Clemson because he was overshadowed by
DeAndre Hopkins
, a first-round pick last year, and Watkins?
Also is Bryant's best football ahead of him or are his measurables more of a tease than an indicator of success in the NFL?
Bryant, who has been training with Pro Football Hall of Famer
Cris Carter
in Florida, was asked by reporters in Indianapolis what strengths he will take to the next level.
"Great speed off the ball. Good hands," he said. "I love to run past defenses after catching the ball."
March, 1, 2012
3/01/12
11:30
AM ET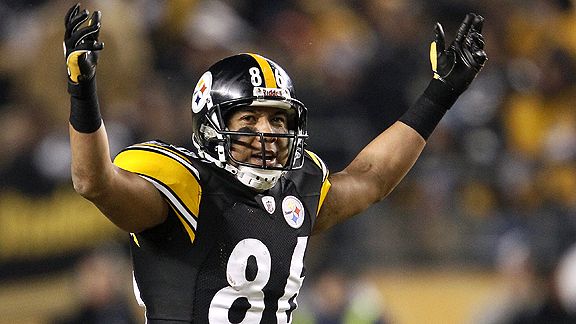 AP Photo/Matt SlocumWide receiver Hines Ward's consistency and toughness help make him a Hall of Fame candidate when he decides to hang it up.
When
Hines Ward
decides to call it quits -- and he should definitely consider retiring as a Pittsburgh Steeler after the team announced it will release him -- he will have completed a Hall of Fame career.
Whether Ward sees his bust immortalized in Canton is up for debate. He is certainly far from a slam dunk to get voted into the Hall of Fame, and the odds are currently against him from getting inducted. But he deserves to be there.
Ward should get in for his productivity. He is one of eight players in NFL history to reach 1,000 career receptions.
Ward should get in for his consistency. He averaged 85.6 catches during a nine-year period (2001 to '09).
Ward should get in for his toughness. He is the only wide receiver who will be remembered as much for his bone-jarring hits as his clutch catches.
Perhaps the best argument for Ward's enshrinement is that there are only two players in NFL history to catch 1,000 passes and win multiple Super Bowls: Ward and
Jerry Rice
. That's elite status, which is what the Hall of Fame represents. It's the best of the best.
The reality is Ward will have trouble making the Hall of Fame. Just ask
Cris Carter
,
Tim Brown
and
Andre Reed
. They've been waiting for years, even though their credentials say they should get in. Brown ranks fourth on the NFL's all-time receiving yards list and sixth in touchdown catches. Carter is eighth in yards and fourth in touchdowns.
One theory is that voters are split among those three receivers, so Carter, Brown and Reed cancel one another out. Another theory is Hall of Fame voters don't value wide receivers, which is something Carter believes.
Only seven receivers in the Hall of Fame started their careers after the 1970 AFL-NFL merger:
Michael Irvin
, Steve Largent,
James Lofton
,
Art Monk
, Rice, John Stallworth and Lynn Swann. That's fewer than quarterbacks, running backs, offensive linemen, defensive linemen, linebackers and defensive backs.
The struggles of Carter and Brown to get into the Hall work against Ward. He has significantly fewer catches, receiving yards and touchdowns than each of them. Ward also has been to half as many Pro Bowls. In many ways, getting into the Hall of Fame is a numbers game, and that's not what Ward wants to hear.
Ward's best shot at reaching the Hall of Fame is his entire body of work. He wasn't the best deep threat. He wasn't the receiver with the most touchdowns. But he was the most complete wide receiver of his generation. No wide receiver blocked like Ward, and he fearlessly made catches over the middle. His reputation will stand the test of time.
Receivers are often considered divas. Ward is ruthless. He's an old-school player who stood out because of his physical play.
"Is there another receiver in the past 12 years who has a tougher reputation than Hines?" Swann said.
Once the Hall of Fame voters resolve this current logjam with wide receivers, Ward could be faced with another one once he is eligible. (A player becomes a candidate five years after his final game.) He could be going against the likes of
Terrell Owens
(No. 2 on the all-time receiving yards list),
Randy Moss
(No. 5) and
Marvin Harrison
(No. 6). This could mean a long wait for Ward, who is 18th on that list.
From my perspective, Ward has strong enough numbers to put himself in the Hall of Fame conversation. It's his other credentials -- violent blocker, Super Bowl MVP and great leader -- that put him over the top.
February, 6, 2010
2/06/10
7:43
PM ET
One of the top centers of all-time will continue to play the waiting game.

Dawson
Thirteen-year
Pittsburgh Steelers
offensive lineman
Dermontti Dawson
, who made seven consecutive Pro Bowls from 1992-98, was once again passed over for the Hall of Fame. This was the sixth consecutive time he failed to make it to Canton since becoming eligible in 2005.
Dawson made the cut
from 15 to 10 finalists this year. But Dawson wasn't part of
the five inductees
that included
Jerry Rice
,
Emmitt Smith
, Russ Grimm,
John Randle
and
Rickey Jackson
. Senior nominees Dick LeBeau and Floyd Little also are part of the 2010 class.
This year was perhaps the closest Dawson came to making the Hall of Fame. He also was a finalist in 2008 and a semifinalist in 2005, 2006, 2007 and 2009.
There is an impressive backlog of players currently not in the Hall of Fame. In addition to Dawson, strong candidates such as
Cris Carter
,
Cortez Kennedy
,
Richard Dent
,
Andre Reed
,
Charles Haley
,
Tim Brown
and
Roger Craig
were all rejected this year alone.
Several more impressive candidates such as
Marshall Faulk
,
Deion Sanders
,
Jonathan Ogden
and
Jerome Bettis
also will be eligible very soon. That will further congest the Hall of Fame voting process, which doesn't help Dawson's candidacy.