AFC North:

Dane Sanzenbacher
October, 20, 2013
Oct 20
8:40
PM ET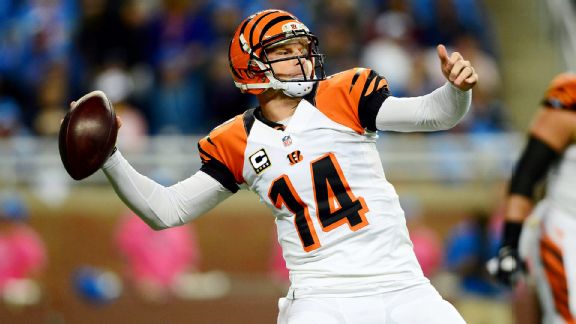 Andrew Weber/USA TODAY SportsBengals QB Andy Dalton throws one of six passes to wideout A.J. Green in a win at Detroit.
DETROIT -- The days of nicknaming Cincinnati's football team the Baby Bengals are officially done.
Finished. Kaput. Finito.
No more is this a fresh-faced group, wondering which way to turn, who to block and where to run. These days, the Queen City's club is a team of grown men who know exactly what to do when a game gets in doubt, and when the line between a win or a loss becomes razor-thin.
On Sunday, during yet another one of their big regular-season road games, the Bengals proved as much when, as time expired, they picked up a
27-24 win
against the
Detroit Lions
at Ford Field.
Mike Nugent
's game-ending field goal was his second in as many weeks and helped send a message to the rest of the league: This is one bad (the John Shaft kind of bad) team that seriously thinks it will end its season at MetLife Stadium.
If they keep grinding out victories like their past two, the Bengals have good reason to believe a Super Bowl appearance could be in their future. That's because, again, these aren't the Baby Bengals you've come to know the past few years. Defining wins such as these are signs they're maturing.
Last week, on the road in front of a hostile Buffalo crowd, the Bengals overcame a fourth-quarter rally by outlasting the Bills in overtime. Nugent's 43-yard field goal midway through the period led to another
27-24 win
. It was one that helped lay the foundation for Sunday's victory over a team that came in with the same record, a similar physical makeup on the offensive and defensive lines, and its own solid quarterback-receiver tandem that had big-play potential. All last week, the Bengals felt confident that if they could beat this mirror image of themselves, they finally could begin letting the rest of the football universe know what they already did: that they are pretty good.
"It means we're growing up," 24-year-old defensive end
Carlos Dunlap
said. "We're going to need this win right here down the road when we play a few other good teams on the road. Teams like this help build our confidence and make us grow up. We had a young football team last year and now we're older."
Cincinnati was so young last season that its opening-weekend 53-man roster ranked as the third-youngest in the NFL. After making a few tweaks this offseason, it entered 2013 as the 12th-youngest.
How fitting it was then, that on the day the Bengals faced the team that was the league's oldest in Week 1, Cincinnati would pull out perhaps its biggest win of the season.
"It's a win where the young guys and this team had to grow up and win the game by whatever it takes," eight-year veteran offensive tackle
Andrew Whitworth
said. "Two weeks in a row we've shown that. That's one of the biggest things you take from this. Is it perfect? Are there things that need to be better? Heck yeah. But this football team, two weeks in a row, with the game on the line, found a way to win. That's really where you want to be."
He's right. It is. But in order to understand where the Bengals were Sunday, you have to understand how they got there. It wasn't easy.
The Bengals have played physical games all season, but this one in Detroit may have been one of their most intense of the year. They certainly boarded the plane late Sunday banged and bruised in ways they hadn't been all year.
In all, seven players were evaluated for injuries at some point during the game. Two of them, cornerback
Leon Hall
and backup defensive tackle
Devon Still
, didn't return. Hall's Achilles injury is a "significant" one, according to coach Marvin Lewis. Still's injury is less severe, but could require him to miss some time.
As beat up as the Bengals were, they made it through this game thanks to their young stars. Specifically, it was the play of reserve cornerback
Dre Kirkpatrick
and roving defensive back
Taylor Mays
who helped plug in the hole Hall left. It was the gritty play of backup defensive tackle
Brandon Thompson
that helped alleviate any issues caused with Still's departure. On offense, it was quarterback
Andy Dalton
's 372-yard, three-touchdown performance, and
A.J. Green
's six-catch, 155-yard effort that helped keep the offense running while the defensive stars were falling out.
On the game-winning drive, third-year Bengals receiver
Dane Sanzenbacher
and rookie running back
Giovani Bernard
caught a pair of passes that pushed the Bengals, with less than 30 seconds, from their own territory and into a position where the veteran Nugent could forget his earlier miss, clear his mind as an elder player should, and deliver the clutch make.
"That's just poise," veteran
Reggie Nelson
said. "We always preach poise. And we did a good job of that [Sunday]. We just have to keep on grinding."
The more the Bengals grind, the more they trim up, shape up and clean up, the more they can put the Baby Bengals moniker behind them.
"This is a huge step forward," Whitworth said. "Does it mean you're world-beaters? No. You've got a lot of work to do. But, man, heck. It's a heck of a win."
It's a grown-man win.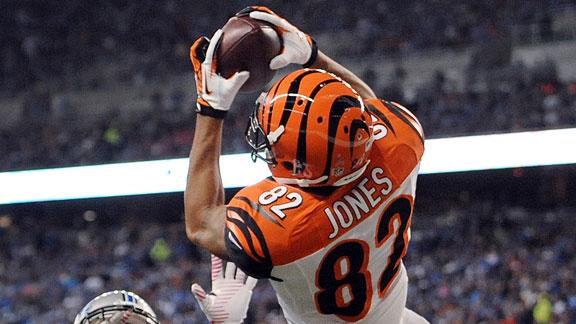 August, 18, 2013
Aug 18
12:43
AM ET
Thoughts on the
Cincinnati Bengals' 27-19 win
over the
Tennessee Titans
Saturday night at Paul Brown Stadium:
Andy Dalton

was sacked by defensive tackle

Jurrell Casey

, who stripped the quarterback and took away the fumble on the first third down the Bengals faced. But Cincinnati got great conversion passes from Dalton on two touchdown drives after that -- a 24-yard gain to

Mohamed Sanu

on a third-and-10 and a 10-yard pass to Sanu on a third-and-5. Sanu, making his bid for the No. 2 receiver spot while No. 1

A.J. Green

(knee) is out, also made a pretty catch on a 2-yard fade for a score.

In their preseason opener, the Bengals got nothing out of two rookies they are counting on, running back Giovani Bernard and tight end Tyler Eifert. Both showed what they can do in this game. Bernard got four straight touches to start the Bengals' second drive, running for 9, 9, and 7 yards before taking a pass for 22 more. Dalton threw to him on the next snap as well, but it got knocked down at the line. Eifert broke open between three defenders to pull in a 25-yard reception from John Skelton in the second quarter. Eifert caught two other short balls.
The Bengals' pass rush didn't get to starter Jake Locker or No. 2 quarterback Ryan Fitzpatrick. The two sacks came late against third-stringer Rusty Smith. Chris Johnson, Shonn Greene and Locker averaged 4.4 yards a carry in the first half running behind a line the Titans expect to be a team strength.
Bubble receiver Dane Sanzenbacher shined last week. This week he made a 12-yard catch with rookie corner Blidi Wreh-Wilson on him tight. The throw from Josh Johnson got the Bengals into the red zone for a field goal that provided the final points of the game. Sanzenbacher also had a 16-yard punt return in which he picked up a ball that bounced beyond him and salvaged something.
Young running back Dan Herron made a bad decision late in the third quarter. He had a lot of room outside and was on course for it moving to his right. But he inexplicably cut back into the middle, where there was a pile of traffic. He more than made up for it a few plays later. He started right, then bounced back left and went 40 yards for a touchdown. Titans right defensive end Scott Solomon was responsible for containing his side, but moved too far into the middle of the field and was victimized.
In Atlanta, penalties were a concern as the first-team offense committed three early on. Against the Titans, the Bengals were flagged six times for 48 yards, with just two for 25 yards in the first half. Tackle Andre Smith was flagged for grabbing the face mask on a play that started a small fight.
Taylor Mays got the start at strong safety a week after George Iloka got the nod. Iloka (wrist) didn't play while Mays was in on four tackles. Rookie Shawn Williams led the team with 10 tackles and added one on special teams. He surely remains a contender for the starting slot. (Apologies for botching his production in an earlier version of this post.)
The Bengals benefitted from at least three drops by Tennessee as well as three missed field goals, two by veteran Rob Bironas and one by rookie Maikon Bonani.
August, 14, 2013
Aug 14
4:00
PM ET
A look at some players on the roster bubble heading into Week 2 of the preseason:
RAVENS:
WR
LaQuan Williams
. The Baltimore native was the star of the preseason opener for the Ravens, recovering a fumble on special teams and scoring touchdowns off a blocked punt and on a 21-yard catch. While he doesn't figure into the current logjam at the No. 2 receiver position, he has a great shot at making the team by being one of the Ravens' core special-teams players.
BENGALS:
WR
Dane Sanzenbacher
. To be honest, I considered Sanzenbacher a long shot before he showed off his playmaking skills in the preseason opener. He scored touchdowns on a 71-yard punt return and a 36-yard pass from
John Skelton
. On the scoring catch, Sanzenbacher made it look to0 easy when he outran the Falcons defenders on a seam route. His chances definitely increased with the ankle injury to receiver
Andrew Hawkins
, who likely will be placed on the injured reserve-designated to return list (which opens up a roster spot).
STEELERS:
LB
Adrian Robinson
. He made the 53-man roster last year as an undrafted rookie and played in 12 games. But his spot is far from guaranteed. Robinson had a solid preseason opener, scoring a touchdown off a botched snap and recording three tackles. He needs to show the ability to not only get pressure on the quarterback but deliver the sack.
BROWNS:
K
Brandon Bogotay
. General manager Mike Lombardi said the preseason will play a big factor in the team's kicking battle. Bogotay will get to handle all of the kicking duties Thursday, from kickoffs to extra points to field goals. The Browns want to see how he holds up because he was a kickoff specialist in college. Shayne Graham, who hit a 41-yard field goal in the preseason opener, is a 12-year veteran and the Browns know what he can do. If the competition is close, some have suggested that the Browns will go with the rookie because he has a higher ceiling, which may mean Graham has little margin for error.
August, 8, 2013
Aug 8
11:26
PM ET
Here are some observations from the
Cincinnati Bengals
' 34-10
preseason win
at the
Atlanta Falcons
:
Judging by the first two series by the first-team offense, the Bengals are going to use two tight ends as their primary formation. It makes sense because that way both Jermaine Gresham and Tyler Eifert, two first-round picks, are on the field. Of Andy Dalton's eight drop-backs, three passes went to his tight ends. By going with two tight ends, the Bengals use a single back and no fullback.
Dalton didn't have much time to get into a rhythm. He was 3-of-7 for 37 yards. In his two drives, the Bengals managed 24 total yards and two first downs but never crossed midfield.
The Bengals played without three starters on offense, but that doesn't excuse them for hurting themselves worse with mistakes. The offense committed three penalties in the first quarter and every one came from the offensive line. Left guard Clint Boling had a false start on third down, and the other two penalties were committed by players competing for the starting center job (Kyle Cook and Trevor Robinson).
Rookie running back Giovani Bernard provided a glimpse of what he could do. On his first catch of the game, he nearly converted a third-and-20, gaining 16 yards on a short pass. He then ended the first half with a 1-yard touchdown on fourth-and-goal, which put the Bengals up 17-3 at halftime.
In the backup quarterback battle, Josh Johnson made big plays and John Skelton looked better than he has all summer. Even though Johnson isn't the most consistent thrower, he comes up with yards in big chunks, with his feet as well as his arm. Johnson had 60 yards on three runs in the first half, including a 43-yard scramble. He later connected on a 21-yard touchdown with Brandon Tate, getting the ball through tight coverage. Skelton, though, threw his best pass as a Bengal, hitting Dane Sanzenbacher on a 36-yard touchdown in the fourth quarter. He finished 4-of-5 for 72 yards, which resulted in a perfect passer rating of 158.3.
Speaking of Sanzenbacher, he scored two touchdowns in the preseason opener. In addition to the touchdown catch, he ran back a punt 71 yards for a score in the third quarter.
One of the biggest knocks on middle linebacker Rey Maualuga is his pass coverage. But he came up big on third down in the first quarter, running to the sideline to stop former Bengals tight end Chase Coffman short of the first down.
Starters who didn't play: WR A.J. Green (hamstring), LT Andrew Whitworth (knee), FB Chris Pressley (knee) and DE Carlos Dunlap (concussion).
August, 8, 2013
Aug 8
1:00
PM ET
A look at what to keep an eye on for Thursday night's preseason opener between the
Cincinnati Bengals
and the
Atlanta Falcons
, which will air on ESPN at 8 p.m.:


1. Backup quarterback job
. The Bengals are set with
Andy Dalton
as their starter, and he is expected to go a couple of series. Then, it's time to get a look at who is going to be backing up Dalton.
Josh Johnson
has the edge over
John Skelton
so far in training camp, and that was to be expected. He has a better understanding of the offense, having played under Jay Gruden in Tampa in 2008. Skelton has never played in a West Coast offense, but has more game experience than Johnson. I'm interested to see if Skelton closes the gap tonight.
2. Strong safety competition
. This looks like a three-player race now with
George Iloka
,
Taylor Mays
and rookie
Shawn Williams
. Iloka is currently atop the team's depth chart, and it's assumed that he will get the start. But Williams has looked very good at times in camp and seems to be a better fit at strong safety because of his physical style. I wouldn't be surprised if the third-round pick out of Georgia moves up the depth chart if he can make some plays in the preseason.
3. Wide receiver depth
. There will be plenty of opportunity for the young receivers to impress.
A.J. Green
(knee) and
Andrew Hawkins
(ankle), two of the team's top three receivers, didn't make the trip to Atlanta. Another promising wideout,
Marvin Jones
(hamstring), is doubtful to play.
Mohamed Sanu
, who is expected to start opposite Green in the regular season, is the most experienced receiver who will be suiting up. For most of the game though, expect to see
Dane Sanzenbacher
,
Cobi Hamilton
and
Ryan Whalen
trying to state their case to make the team.
July, 10, 2013
Jul 10
10:46
AM ET
By
ESPN.com staff
| ESPN.com
Baltimore Ravens
First-rounder Matt Elam has no plans to hire an agent and will
negotiate his own rookie contract
, according to The Baltimore Sun's Aaron Wilson.
Will Joe Flacco continue in 2013 to
perform like an elite QB
, like he did in last season's playoffs? Phil Gentile of Purple Reign doesn't think so. Gentile: "I feel like Flacco will continue his up-and-down play in the regular season in 2013. Sorry. Does this make me a Flacco 'hater?' I don't really care. He's been an up-and-down quarterback in every regular season of his career. Why would that change now? Of course, if he continues to excel in the playoffs (and I think he will) then who really cares what he does in the regular season?"
Cincinnati Bengals
Without a long-term deal, Michael Johnson is set to play this season under the franchise tag.
He opened up about his contract situation
in an interview with Sirius NFL Radio. Johnson: "I'm the right defensive end and I'll play in every game and do my best for the team. I can't worry about that and prepare myself day in and day out. There is no ill will on either side, it's a business. They have to make these moves much like players have to do the same thing. I have to go out and perform. The bottom line is to help the team win."
Though his numbers dipped from his first season with the Bears to his second,
Dane Sanzenbacher says he became a better receiver
, reports Steve Junga of the Toledo Blade. Sanzenbacher was traded to the Bengals last December and now he's one of 10 receivers vying for six jobs. Sanzenbacher: "I'm getting a fresh start in Cincinnati. You carry over the confidence you've gained, and all the little things you've learned. It's my third year, and I think it's a good time for me to progress. I think it's really going to be a good situation for me."
Geoff Hobson of Bengals.com points out
five statistical areas in which the Bengals must improve
in order to "put them over the top" this season.
Cleveland Browns
Scott Entsminger didn't get the six Browns pall bearers he requested for his funeral, but the team did send representatives to his memorial service Tuesday and
presented his family with a customized jersey
, reports NFL.com's Kevin Patra.
Paul Warfield comes in at No. 19
on The Plain Dealer's list of the top 100 Browns of all time.
Spencer Lanning has a few things going in his favor
in the competition to replace punter Reggie Hodges, writes Tony Grossi of ESPNCleveland.com.
Pittsburgh Steelers
Fullback Will Johnson gives fans
a look into his life off the field
in a video from Steelers.com.
Pennlive.com's Dustin Hockensmith has a
training camp preview of the linebackers
, including a breakdown of the projected starters, key reserves, new faces to watch and key losses.
With several key players aging,
the window for the Steelers to contend
for a Super Bowl is closing, writes Gil Brandt of NFL.com.