June, 30, 2014
Jun 30
3:00
PM ET
PITTSBURGH -- A preseason experiment could lead to the NFL tinkering with the point after touchdown attempt, and to this I say ...
really
?
I couldn't agree more with ESPN.com NFL columnist Ashley Fox, who recently questioned why the
extra point is even on the radar
of the league's competition committee. I would be in favor of getting rid of it altogether and rewarding teams with an extra point, which is almost automatic anyway, for scoring a touchdown.
Getting into the end zone in the NFL should be respected even with offenses becoming more and more prolific and scoring showing no sign of abating.
[+] Enlarge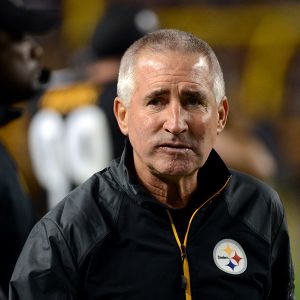 George Gojkovich/Getty ImagesAFC North kickers could be at a slight competitive disadvantage if extra point attempts are moved back, argues special-teams coach Danny Smith.
Also, eliminating the extra point would allow the NFL to trim some time off of the length of games, something the league needs to find ways to do without compromising the integrity of its product.
Moving extra-point attempts back -- teams will snap them from the 15-yard line instead of the 3-yard line for their first two preseason games this season -- could actually create a competitive disadvantage albeit a minor one as Steelers' special-teams coordinator Danny Smith pointed out recently.
"A long extra point becomes an issue when you're in Pittsburgh in December, when you're in Cleveland, when you're in Baltimore, when you're in Cincinnati or you're going to New England," Smith said.
Translation: Dome and warm-weather teams will have an advantage if the extra point is moved back.
As for the preseason experiment with extra points, Smith said, "I don't think it's going to really tell us a whole lot in the preseason because we're all going to be kicking in sunny days and hot days like that. I would question fooling with the game at this point I don't have a vote so I don't have an opinion."
Smith did recently offer his take on two subjects more pertinent to the Steelers' special teams than the future of the extra point:
On the pool from which the Steelers will choose their primary punt returner in 2014: "Obviously Dri Archer is going to be a big factor. He has a lot to learn, a lot to work on and he does and he will. His speed speaks for itself but there will be a big pool of numbers and again you can never have enough of those kind of guys. We'll filter that down as we get into camp and we get into preseason of who is going to do it and who's not and that will be again a tough decision. We have more to choose from than we've had in the past. That's a great situation to be in."

On having Antwon Blake for an entire season and adding Arthur Moats as a free agent helps the kick coverage units: "We've upgraded at that position really from a personnel standpoint and it's my job to get it all on the same page. And I think those guys are going to be great contributors as well with the rookie class coming (and) with those kinds of seasoned vets that you're talking about that have some experience in this business. It's an upgrade and we're going to have to make some tough choices. It's a good situation to be in."
October, 21, 2013
10/21/13
2:00
PM ET
An examination of four hot issues from the
Pittsburgh Steelers
' 19-16 win over the
Baltimore Ravens
:
[+] Enlarge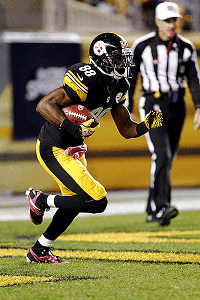 Charles LeClaire/USA TODAY SportsEmmanuel Sanders' clutch kick return set up the Steelers' winning drive in the fourth quarter.
Making a statement:
An offensive line that provided a consistent push up front and protected quarterback
Ben Roethlisberger
is what the Steelers envisioned before the start of the season. That finally translated into the Steelers controlling the line of scrimmage, and they did it against a defense that had been giving up fewer than 100 rushing yards per game. Right guard
David DeCastro
, who is really starting to come into his own, said the Steelers used some inside zone blocking on the way to a season-high 141 rushing yards. But it didn't take a Stanford education for DeCastro to break down why the Steelers were so successful on the ground. "Winning one-on-one blocks," the second-year man said. "I think we're finally starting to jell. We're communicating really well. It's a positive."
Gamble pays off:
Emmanuel Sanders
received the green light from special teams coordinator Danny Smith to return the game's final kickoff no matter how deep he fielded it in the end zone. That confidence and Sanders' speed almost delivered a dramatic touchdown. Even though Sanders stepped out of bounds -- and it appears that his left foot touched the chalk, albeit barely -- his return set up the offense with good field position at Pittsburgh's 37-yard line. That allowed the Steelers to employ a methodical approach to their game-winning drive instead of forcing Roethlisberger to take chances down the field. "It was one of those ones where [Sanders] started running out [of the end zone] and you said to yourself no, no, no and then yes, yes, yes," Roethlisberger said. "What a heck of a play by him."
A trick and a treat:
The Steelers used a trick play to score their only touchdown. But the 2-yard touchdown pass to tight end
Heath Miller
on a left-handed flip from Roethlisberger had been a part of the Steelers' offensive repertoire for years. The Steelers used the shovel pass with Hines Ward, and Roethlisberger lobbied the coaches early last week to bring the play out of retirement. The Steelers executed it perfectly and Miller crashed into the end zone for his 40
th
career touchdown. "We knew that their ends like to come up the field," Roethlisberger said. "As a quarterback you love those short, easy passes and let Heath do all the work."
Return to form:
The Steelers were as effective at stopping the run as they were running the ball. They held the Ravens to 82 yards rushing and limited them to 3.1 yards per carry. On half of Baltimore's 26 runs, it gained 2 yards or fewer. The Steelers have allowed 165 rushing yards in the two games since Minnesota's
Adrian Peterson
gashed them for 140 rushing yards and two touchdowns.
July, 19, 2013
7/19/13
9:40
AM ET
By
ESPN.com staff
| ESPN.com
Who is the most important player
for each team in the AFC North? It's the Ravens' Elvis Dumervil, Bengals' Andy Dalton, Browns' Joe Haden and Steelers' Troy Polamalu, writes NFL.com's Adam Schein.
Baltimore Ravens
The Ravens and first-round pick Matt Elam
agreed in principle to a four-year contract
which includes a fifth-year option, the team announced Thursday.
Jameel McClain's health could play a pivotal role
in the competition at inside linebacker heading into training camp, writes Ryan Mink of BaltimoreRavens.com.
Cincinnati Bengals
The Bengals need to find out during camp
what they can expect this season from Dre Kirkpatrick
, who was limited to just five games in 2012 because of injury, writes the Cincinnati Enquirer's Joe Reedy.
Will returning to HBO's "Hard Knocks" be a distraction
for the team during training camp? Reedy doesn't think so.
Cleveland Browns
Although the offensive line is one of the few positions groups that can be considered better than average, "this will not be a dominant group until
it proves it can meet the challenge of seizing a game in the fourth quarter
and not letting it go," writes ESPNCleveland.com's Tony Grossi in a training camp preview of the offensive line.
Dick Schafrath comes in at No. 8
on The Plain Dealer's list of the top 100 Browns of all time.
Will better conditioning mean better health
? "There is no doubt that the Browns' overall physical conditioning is as good as it has ever been, and that Brad Roll, their new strength and conditioning coach, has made a noticeable impact in a relatively short time," writes Vic Carucci for the team's official website.
ESPN's Matt Williamson
pegged Josh Gordon as a breakout candidate at wide receiver
. "Gordon is a big, fast vertical receiver with an extra gear that is perfect for what the Browns now want him to do," Williamson writes.
Pittsburgh Steelers
After 37 years of coaching, special-teams coordinator Danny Smith is
finally coaching for the Steelers
, the organization he idolized as a youth, writes Ray Fittipaldo of the Pittsburgh Post-Gazette. "But this opportunity [with the Steelers], I was hoping for it in my heart. Those things come if you keep working for it. When the opportunity came, I really wanted to do it. I feel very fortunate to do it," Smith said.
A judge ordered
three men accused of stabbing of Steelers offensive tackle Mike Adams
to stand trial on charges of attempted homicide, conspiracy to steal a vehicle and other crimes, reports Liz Navratil of the Pittsburgh Post-Gazette.
The Steelers brought in Brian Moorman as competition for incumbent punter Drew Butler, and he's been
impressed with the organization
, writes Alan Robinson of the Pittsburgh Tribune-Review. "It's a great experience to come here and see how coach [Mike] Tomlin leads this team and what a great coach he is," said Moorman, who has played on just one winning team in 12 NFL seasons.
What aspect of his game would cornerback Cortez Allen like to improve the most? "
Staying healthy right now
. Being able to finish a full season would be my goal. I think the most important thing is to stay healthy," Allen said in a fan Q&A session with Teresa Varley of Steelers.com.
January, 31, 2013
1/31/13
8:00
AM ET
Thursday marks the final day for the media to meet with the players on the Ravens and the 49ers before Sunday's Super Bowl. The only availability on Friday is with the head coaches. Now that you have the schedule, it's time for your wake-up call ...
RAVENS
: While the 49ers worked at the Saints' indoor facility to prepare for the Super Bowl at the Superdome, the Ravens dealt with wind gusts up to 24 mph at Tulane University. The Ravens had the option of working at the Saints' indoor facility late in the afternoon or early evening after the 49ers finished, but coach John Harbaugh preferred to stick with the usual schedule of practicing mid-afternoon. "We didn't like the wind, but we got all of our work done," Harbaugh said. "Spirits are high. They looked great.''
STEELERS
: Redskins special-teams coordinator Danny Smith accepted the same position with the Steelers. Pittsburgh received permission to speak with Smith just two days ago after Amos Jones became the special-teams coordinator with the Cardinals. According to
The Pittsburgh Post-Gazette
, the Steelers also were considering LSU assistant Thomas McGaughey for the position. The Redskins' coverage teams both ranked in the top 12 last season.
BENGALS
: Hue Jackson will take over as running backs coach, multiple sources told
The Cincinnati Enquirer
. In other news, Jackson apologized for setting up Mitch Ross, a co-owner of Sports with Alternatives to Steroids (SWATS), with Ravens linebacker
Ray Lewis
when Jackson was Baltimore's quarterbacks coach. Ross told Sports Illustrated that he gave deer-antler extract to Lewis to speed up his recovery from triceps surgery. "I never knew the young man [Ross] could be that way," Jackson told
The Baltimore Sun
. "I apologize for the whole organization."
BROWNS
: It's unknown whether the Browns will look to trade for or sign 49ers quarterback
Alex Smith
as a free agent, but it sounded like Smith would be open to reuniting with offensive coordinator Norv Turner. Smith played under Turner in 2006 with the 49ers. "Loved my time with Norv," Smith said, via
The Plain Dealer
. "[It was] a very, very friendly QB system. For [Cleveland], it's going to be a terminology change going from a West Coast system to the digits, but very, very QB-friendly, big-play potential for the offense with a lot of chunk plays."
January, 29, 2013
1/29/13
7:30
AM ET
It's media day at the Super Bowl, and I'll be covering this crazy event at the Superdome so you don't have to do so. Unfortunately, this conflicts with the introductory news conference for Browns defensive coordinator Ray Horton. I will post something off of that as soon as I can, but it could be later in the afternoon. Now that you have the game plan, here's your wake-up call ...
RAVENS
: Safety Ed Reed agrees with President Obama that
football needs to be made safer
. "I have a son. I am not forcing football on my son," he said. "If he wants to play it ... I can't make decisions for him. All I can do is say, 'Son, I played it so you don't have to.'" Reed, who has been playing with a nerve impingement in his neck, believes the league can do more to improve the health of players. "Every medical training room should be upgraded; training rooms can be a lot better," he said. "When you've got the president talking about it, you got something."
BENGALS
: The 49ers' Colin Kaepernick is the first quarterback of the 2011 draft to reach the Super Bowl. Bengals quarterback Andy Dalton, who was drafted one spot ahead of Kaepernick in the second round that year, met him for the first time at the Manning passing camp in 2010. "He's a little more quiet but he had one of the strongest arms in the camp," Dalton told
The Cincinnati Enquirer
. "He can run well and can really read the zone schemes and different things."
STEELERS
: The Steelers have received permission from the Redskins to interview special teams coach and Pittsburgh native Danny Smith, according to the
Pittsburgh Post-Gazette
. He has coached the Redskins' special teams since 2004. The Steelers have a vacancy there because Mike Tomlin fired Al Everest in the preseason last year and assistant Amos Jones left to become the special teams coach for the Arizona Cardinals.
BROWNS
: If the Browns want Colt McCoy to remain their backup quarterback, the cost to keep him has risen. McCoy's playing time and performance from his first two seasons have increased his 2013 base salary from the league minimum to $2.325 million, according to
Yahoo! Sports
. McCoy, who lost his starting job to Brandon Weeden in 2012, earned the league minimum $540,000 last season.