April, 7, 2011
4/07/11
2:00
PM ET
ESPN draft analysts Mel Kiper Jr. and Todd McShay both provided their latest NFL mock drafts this week.
Here is how they view things playing out in the AFC North:
Cincinnati Bengals (No. 4)
Kiper:
A.J. Green
, WR, Georgia
McShay:
Green
Analysis:
Cincinnati is the only AFC North team Kiper and McShay share the same thinking. Both believe the Bengals will take Green, the top-rated receiver in the draft. I like Green a lot, but I don't think he's the best pick for Cincinnati. It's unknown who will throw the ball to Green with franchise quarterback
Carson Palmer
threatening to retire. The Bengals also have plenty of young receivers, and for now
Chad Ochocinco
remains under contract. The Bengals would be better off addressing their front seven on defense for next season.
Cleveland Browns (No. 6)
Kiper:
Julio Jones
, WR, Alabama
McShay:
Robert Quinn
, DE, North Carolina
Analysis:
I like the Quinn pick, but both of these selections come with questions. Quinn and Jones would address Cleveland's two biggest needs, which are defensive line and receiver. But Quinn missed all of 2010 with a suspension and would have to overcome rust next season. Jones is a dynamic talent but a bit of a reach unless Cleveland trades down. In both cases, the Browns may choose to go safer with the No. 6 overall pick.
Baltimore Ravens (No. 26)
Kiper:
Jimmy Smith
, CB, Colorado
McShay:
Brandon Harris
, CB, Miami
Analysis:
Smith and Harris are talented prospects. But I'm not convinced Baltimore is going cornerback in the first round. The Ravens have starter
Domonique Foxworth
returning from knee surgery.
Josh Wilson
was solid last year and will be pursued by Baltimore in free agency. The team also likes young corner
Lardarius Webb
. Cornerback is a possibility if the Ravens stick to the best player available. But in terms of need, a right tackle and pass-rusher would be more important.
Pittsburgh Steelers (No. 31)
Kiper:
Aaron Williams
, CB, Texas
McShay:
Danny Watkins
, G, Baylor
Analysis:
Both players would fill needs for Pittsburgh in the secondary and offensive line. But with No. 1 corner
Ike Taylor
not under contract, Williams may be the better pick. The Steelers are very thin at corner and were exposed in that area at times last season. If Pittsburgh cannot re-sign Taylor, which is not a guarantee, it's a must that the team adds depth early in the draft. Williams is physical and his solid tackling would fit well with defensive coordinator's Dick LeBeau's aggressive style. I also like Harris in this spot if he makes it to No. 31.
March, 16, 2011
3/16/11
8:00
AM ET
Here are the most interesting stories Wednesday in the AFC North:
Morning take: Ideally, Pouncey would drop to No. 31 for Pittsburgh. But I don't see it happening. If the Steelers want Pouncey to join his twin brother, Maurkice, they will likely have to trade up.
Morning take: Cleveland is one of the few teams which has to learn a new offense and new defense this offseason. Shurmur and president Mike Holmgren are confident, but the longer this goes, the worse it is for the Browns.
Morning take: Baltimore needs a deep threat but not bad enough to get one in the first round. A first-round receiver would be, at best, a No. 3 option for the Ravens. A first-round right tackle has a chance to start in Week 1.
Morning take: Watkins is a prospect to watch for this division. To some degree, every AFC North team has questions on the offensive line, and Watkins could be a target late in the first round or early in the second round.
March, 9, 2011
3/09/11
11:00
AM ET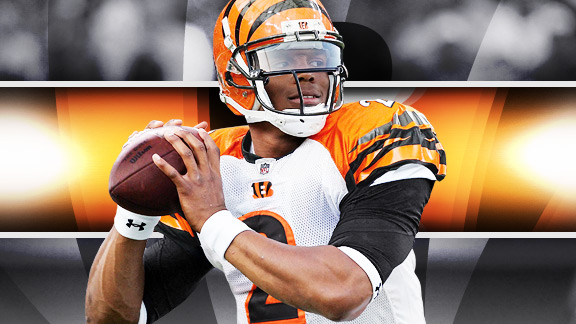 ESPN.com IllustrationWith Carson Palmer wanting out of Cincinnati, Mel Kiper projects the Bengals to take Cam Newton.
The NFL draft is getting closer, and this week ESPN's Mel Kiper Jr. provided
his third installment

in a popular series of mock drafts.
Let's examine how Kiper views the AFC North.

Cincinnati Bengals (No. 4)
Kiper's pick:
Cam Newton
, QB, Auburn
Analysis:
Newton is
the most polarizing player
in the NFL draft, and Kiper believes the Bengals will take him at No. 4.
Cincinnati's quarterback position is in turmoil
with starter Carson Palmer demanding a trade and threatening to retire. But is Newton the right replacement? He has tremendous athleticism but also comes with boom or bust potential. Because of his athleticism and one year of starting experience,
some have compared
Newton to Akili Smith. Right or wrong, those comparisons will only increase if he goes to Cincinnati.

Cleveland Browns (No. 6)
Kiper's pick:
A.J. Green
, WR, Georgia
Analysis:
The best receiver in the draft goes to Cleveland, according to Kiper. The Browns' receivers desperately need help, and Green would give them a legitimate No. 1 option in their new West Coast offense. I'm not against this pick, but there is a lot of debate in Cleveland about whether this team should address its defensive line in the first round. I think the Browns are leaning more in that direction. Cleveland is going to a 4-3 scheme in 2011 and need help at both defensive end and defensive tackle. There should be some good prospects there at No. 6.

Baltimore Ravens (No. 26)
Kiper's pick:
Jimmy Smith
, CB, Colorado
Analysis:
Kiper remains steadfast in believing the Ravens will take a cornerback in the first round. In his second mock draft, the pick was corner
Aaron Williams
of Texas. In this mock draft, it's Smith. The Ravens do have the propensity to take the best available player, but I think they will address a need in the first round. Baltimore definitely could use help at offensive tackle and also with its pass rush. According to Kiper's mock, Colorado offensive tackle
Nate Solder
would be available at No. 26, and that would be a great value pick for Baltimore. With starting cornerback Domonique Foxworth returning, I would be surprised if Baltimore takes a corner early.

Pittsburgh Steelers (No. 31)
Kiper's pick:
Danny Watkins
, G, Baylor
Analysis:
With Florida guard
Mike Pouncey
long gone in this mock, Kiper says Watkins is the pick. The Steelers need depth and youth on their offensive line. But I believe Pittsburgh is the most likely AFC North team to trade up in this draft. The Steelers are coming off a Super Bowl appearance and were very close to winning a championship. They only need a few pieces, and if the right cornerback or offensive lineman is available, the Steelers shouldn't be afraid to part ways with some of their picks.