May, 2, 2011
5/02/11
12:00
PM ET
Over the next few years, the
Cleveland Browns
and their fans should keep an eye on the defensive line of the
Tampa Bay Buccaneers
.
Why, you ask? Because that is where former Clemson defensive end
Da'Quan Bowers
landed with the No. 51 overall pick in the second round.
[+] Enlarge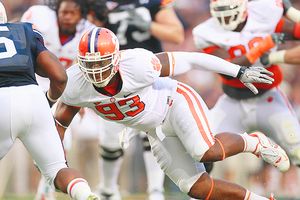 Kevin C. Cox/Getty ImagesThe Browns skipped over Da'Quan Bowers, above, in the second round and instead took defensive end Jabaal Sheard.
Bowers was a dominant pass-rushing end in college and a top-10 talent before knee concerns plummeted his stock. Cleveland entered the draft extremely thin at defensive end and passed on Bowers twice.
The Browns skipping Bowers is the first round was expected. But, fair or unfair, Cleveland picking Pittsburgh defensive end
Jabaal Sheard
adds some additional pressure on the second-round pick. The Browns passed over Bowers for another prospect at the same position, but general manager Tom Heckert was happy with the decision.
"He's a good football player we think he can play the run, he obviously can rush the passer," Heckert said. "I think he was the defensive player of the year this year in the Big East. He's a really good player. He was a guy we targeted a long, long time ago and we were happy he was there. We were a little nervous about it but we're glad he was there."
Time will tell if Heckert was correct. But previous Browns regimes have been known to pass over great players.
Minus the knee concerns, many felt Bowers had the potential to be a future Pro Bowler. That would not be good for Cleveland, especially if Sheard doesn't have the same level of production for the Browns.
Keep tabs development as both young defensive ends progress in their careers.
April, 29, 2011
4/29/11
6:37
PM ET
BEREA, Ohio -- The
Cleveland Browns
are not taking any chances with the defensive line of their new 4-3 defense.
Just one day after drafting massive defensive tackle
Phil Taylor
in the first round, the Browns got their pass-rushing end in
Jabaal Sheard
from Pittsburgh in the second round with the No. 37 overall pick.
Sheard registered 19 sacks the past three seasons and has a chance to compete for a starting job in training camp for Cleveland.
What is interesting is the Browns drafted a defensive end with Clemson's
Da'Quan Bowers
still on the board. Bowers was a top-10 prospect before recent knee surgery, which has dropped him on every team's draft board. It's clear Cleveland was more concerned with Bowers' medical issues than they were letting on.
April, 15, 2011
4/15/11
4:00
PM ET
Let's see what's in the
AFC North mailbag
this week for the
Cleveland Browns
and
Cincinnati Bengals
.

Allan from Columbus, Ohio,
and
Kyle from Tiffin, Ohio,
wants to know if free agent defensive end/linebacker
Vernon Gholston
could fit with the Browns.
James Walker:
Someone will give Gholston another chance, Allan. But the Browns are switching to a 4-3 defense, and I don't see Gholston fitting into that scheme. I've covered
New York Jets
coach Rex Ryan since he was in Baltimore, and I have a lot of respect for his coaching ability, particularly on defense. If Ryan couldn't get anything out of Gholston in two years, there's a good chance he's legitimately a bust. Sometimes a change of scenery can help a player, but for Ryan to give up on Gholston says a lot.
Anton from Fort Collins, Colo.,
writes: What are the chances of Cleveland drafting a running back in the later rounds?
Walker:
It's a very good possibility, Anton. The Browns relied on
Peyton Hillis
too much in the running and passing game last season, and as a result he got hurt late in the year. The Browns were really counting on 2010 second-round pick
Montario Hardesty
, but his history of knee injuries is a concern. Look for the Browns to take a scat-back type to complement Hillis in the middle or late rounds. One name to keep an eye on is
Shane Vereen
from Cal.

Brian from Solon, Ohio,
writes: Does Clemson's
Da'Quan Bowers
' past injuries make him a big risk for the Bengals or Browns?
Walker:
Brian, Bowers' knee injury and surgery probably drops him out of consideration for the first six picks. It's a shame because, if healthy, I think he would be a good fit in Cleveland or Cincinnati. Bowers led the nation with 15 sacks last year, and that kind of production is exactly what the Browns and Bengals need. But it's hard to invest such a high pick in a player when you're not sure he's healthy.
Jacob from Cincy
wants to know if
Green Bay Packers
backup quarterback
Matt Flynn
is a trade possibility for the Bengals.
Walker:
Jacob, it's hard to gauge interest in trades during this lockout because there is no movement and no discussions between teams and players. When I talk to people around the league, everything is really at a standstill aside from the draft. With free agency pushed back this year, I fully anticipate the Bengals' finding "
Carson Palmer
insurance" in this draft. That way they don't have to give up any compensation to other teams, and having a rookie quarterback still gives the Bengals flexibility of welcoming Palmer back as the starter without any issues if he has a change of heart this summer.
April, 8, 2011
4/08/11
8:00
AM ET
Here are the most interesting stories Friday in the AFC North: Morning take: History says Bengals owner Mike Brown won't budge and Palmer seems content on retirement, as well. Look for this high-stakes poker game to go well into the summer to see who blinks first.
Morning take: Zbikowski is taking full advantage of the lockout by getting back into boxing, which is something he's very good at. The Ravens have to hope no injuries occur to Zbikowski, who could be the team's starting safety next season.
Morning take: Beside the fact both players had knee surgeries, I think comparing these two is a stretch. Bowers' surgery is relative minor compared to the multiple knee injuries Hardesty suffered in recent years.
Morning take: Pittsburgh has done a great job finding receivers in the later rounds. Pettis is another player who had a productive career and could be a mid-round prospect this year.
April, 1, 2011
4/01/11
2:03
PM ET
Clemson defensive end
Da'Quan Bowers
deemed himself
100-percent healthy
following his pro day on Friday. This could be good news for the
Cincinnati Bengals
and
Cleveland Browns
, who own the No. 4 and No. 6 overall pick, respectively.


Bowers led the nation with 15.5 sacks last year. He was projected to go in the top five before recent knee surgery led to concerns about his health entering the draft.
Bowers reportedly worked out in front of at least 20 teams on Friday. If he's 100 percent, as he claims, Bowers could fit well in the 4-3 defenses of the Browns and Bengals. Both AFC North teams lack a solid pass-rush, which is Bowers' best asset.
Cleveland is extremely thin at defensive end, and Bowers would have a good chance to be a Week 1 starter for the Browns. With the Bengals, the thought of pairing Bowers with second-year defensive end
Carlos Dunlap
(9.5 sacks) in Cincinnati could be dangerous.
Of course, the medical portion would have to check out for either team to spend such a high pick on Bowers. So it will be up to Cleveland and Cincinnati's medical staffs to do its homework over the next several weeks.
March, 25, 2011
3/25/11
9:31
AM ET
By
ESPN.com staff
| ESPN.com
Baltimore Ravens
Safety Tom Zbikowski told The Baltimore Sun that he would like his next NFL contract to
allow him to box next year
and beyond.
The Ravens
should get compensatory draft picks
for losing Dwan Edwards to the Bills (projected to be a fifth-round pick) and Justin Bannan to the Broncos (a likely sixth-rounder).
Cincinnati Bengals
The Bengals are
scheduled to visit with Cam Newton
at Auburn next Sunday and then work him out on April 4.
Cincy Jungle
continues its mock draft
into the second round; it has the Bengals selecting Florida State quarterback Christian Ponder.
Cleveland Browns
Clemson defensive end Da'Quan Bowers will
visit the Browns
on April 11 or 12, according to the Plain Dealer. Tony Grossi has Bowers
going to the Browns
in his latest mock draft.
A Cleveland-area private seat license holder has
sued the NFL, the Browns and the league's 31 other teams
. In his lawsuit, Ken Lanci claims the lockout violates his private seat license contract with the Browns and jeopardizes his right to watch a full season of home games.
Pittsburgh Steelers
In its continuing series looking back at the team's playoff history, the Steelers' website
breaks down 1972 AFC Championship Game
.
Even if the NFL lockout canceled the 2011 NFL season, the Sports & Exhibition Authority, which owns Heinz Field, would be able to tap into a reserve of ticket surcharges to
cover debt payments
.
March, 24, 2011
3/24/11
9:41
AM ET
By
ESPN.com staff
| ESPN.com
March, 17, 2011
3/17/11
9:00
AM ET
Here are the most interesting stories Thursday in the AFC North:
Morning take: History says the Bengals won't budge, but they've never been in this position with a franchise quarterback. With the lockout, Cincinnati cannot do anything but prepare for the draft. But the team should explore all avenues, including trade options, when the time is right.
Morning take: Bowers' recent knee surgery may be a concern for some teams, but the talent is certainly there. If he drops to Cleveland at No. 6, he could fill a huge need and be a good addition to Dick Jauron's 4-3 defense.
Morning take: Sharing the same training facility, the Steelers should have a good idea for the talent at Pittsburgh. Receiver Jon Baldwin and defensive end Jabaal Sheard are the two biggest names pro scouts are keeping an eye on.
Morning take: Cundiff tied the NFL record last season with 40 touchbacks while kicking the ball from the 30-yard line. Barring injury or a sudden decrease in leg strength, Cundiff should break the record next season if he's given five additional yards.
March, 16, 2011
3/16/11
4:30
PM ET
ESPN draft guru Todd McShay provided a special treat for NFL draftniks Wednesday. McShay projected a
two-round mock draft

for each team.
Here is how McShay views the AFC North:
Cincinnati Bengals
McShay's picks:
A.J. Green
, WR, Georgia (No. 4);
Stephen Paea
, DT, Oregon State (No. 35)
Analysis:
McShay remains consistent from his
previous mock draft
in picking Green for Cincinnati, but I don't agree with this selection. It's very risky drafting a receiver No. 4 overall when you have a variety of needs. This also is assuming quarterback
Carson Palmer
will return to throw to Green, which is
not a slam dunk
. The Bengals would be wise to get a pass-rushing defensive end in the first round and look for a quarterback in the second or third round as insurance. A combination of a receiver and defensive tackle doesn't help Cincinnati all that much.
Cleveland Browns
McShay's picks:
Da'Quan Bowers
, DE, Clemson (No. 6);
Jimmy Smith
, CB, Colorado (No. 37)
Analysis:
This would be a solid tandem to help Cleveland's new 4-3 defense under Dick Jauron. The Browns need defensive linemen, and Bowers could be plugged in right away as a starting defensive end. Bowers has top-five ability, but recent knee surgery may allow Cleveland to get him at No. 6. With cornerback
Sheldon Brown
slowing down, Smith's youth and athleticism would make him a good pupil. Smith is talented but comes with character concerns, which is why he may be available in the second round.
Baltimore Ravens
McShay's picks:
Cameron Heyward
, DE, Ohio State (No. 26);
Torrey Smith
, WR, Maryland (No. 58)
Analysis:
I like McShay's train of thought for Baltimore. I believe Purdue's
Ryan Kerrigan
would be a
more versatile fit
for the Ravens, but Heyward also is talented. The Ravens need help getting to the quarterback and taking pressure off their secondary. Baltimore has expressed a lot of interest in Smith and likely would be pleased if he's still available at the bottom of the second round. Smith has good speed and could complement Baltimore's possession receivers
Anquan Boldin
and
Derrick Mason
.
Pittsburgh Steelers
McShay's picks:
Orlando Franklin
, G, Miami (No. 31);
Ras-I Dowling
, CB, Virginia (No. 63)
Analysis:
This combination would fill Pittsburgh's two biggest needs, which are offensive line and cornerback. But in McShay's mock draft Texas corner
Aaron Williams
and Smith are both on the board at No. 31. If that's the case, I think Pittsburgh takes a cornerback in the first round. The Steelers are very thin at the position, and it's unknown if pending free agent
Ike Taylor
will return. This draft is stocked with offensive and defensive linemen, and Pittsburgh could probably find good prospects in the second round and beyond.
March, 9, 2011
3/09/11
6:00
PM ET
Here are the latest happenings Wednesday evening in the AFC North:
February, 17, 2011
2/17/11
11:30
AM ET
ESPN's draft guru Mel Kiper provided his
latest mock draft

this week with some intriguing picks for the AFC North.
Let's take a look.

Cincinnati Bengals (No. 4)
Kiper's current pick:
A.J. Green
, WR, Georgia
Kiper's previous pick:
Da'Quan Bowers
, DE, Clemson
Analysis:
I liked Kiper's previous pick from January because it fills a need. But with early projections, it doesn't appear Bowers will make it this far. Veteran receiver Chad Ochocinco has one year left on his contract. But even if he's traded, I think the Bengals have bigger holes to fill than receiver. Green could be a pick to appease disgruntled quarterback Carson Palmer, and that may have factored into Kiper's thinking. Cincinnati may also want to look at quarterbacks come April if the team still has no answer from Palmer, who has
threatened to retire if he's not traded.

Cleveland Browns (No. 6)
Kiper's current pick:
J.J. Watt
, DE, Wisconsin
Kiper's previous pick:
Green, WR, Georgia
Analysis:
This is a surprise pick, and Kiper admits as much. Although this may change during the workout and combine process, Watt seems like a reach right now with the No. 6 pick. But the Browns will be looking for defensive ends to help in their new 4-3 defense under defensive coordinator Dick Jauron. Cleveland recently cut
two veteran linebackers and two defensive linemen
, leaving the team thin at both positions. Receiver also is a major need, hence the Green pick by Kiper last month.

Baltimore Ravens (No. 26)
Kiper's current pick:
Aaron Williams
, CB, Texas
Kiper's previous pick:
Brandon Harris
, CB, Miami
Analysis:
With Kiper's first two mock drafts, he's convinced the Ravens will go with a cornerback. I'm not so sure, as needs at right tackle and another pass-rusher may be too great to ignore. Kiper likes Williams, who is physical and could fit in well with Baltimore. But with starting cornerback Domonique Foxworth returning from a knee injury, I think he's just as good as adding a high draft pick. Josh Wilson also is a free agent who may be retained, Lardarius Webb is a growing young talent and Chris Carr is a solid backup. The Ravens don't have nearly that kind of depth at offensive tackle or with pass-rushers behind Terrell Suggs and would be better served filling one of those two positions.

Pittsburgh Steelers (No. 31)
Kiper's current pick:
Cameron Heyward
, DE, Ohio State
Kiper's previous pick:
Tyron Smith
, OT, USC
Analysis:
Although I like Heyward the player, I don't like this pick for Pittsburgh. Kiper mentions the Steelers need additional 3-4 defensive ends. But with the emergence of Ziggy Hood, Brett Keisel making the Pro Bowl last season and Aaron Smith (triceps) getting healthy, I don't view this as a big need. Coming off a Super Bowl appearance, Pittsburgh does have the luxury to take the best available player. But the Steelers
are by no means a perfect team
and could use some youth and depth on the offensive line and at cornerback.
January, 20, 2011
1/20/11
10:00
AM ET
The offseason is upon us for three of the four teams in the AFC North, which means NFL draft talk will begin to heat up. Always ahead of the curve, ESPN draft guru Mel Kiper Jr. provided his first of many mock drafts that will run for the next four months.
Here is a look at Kiper's first offering:

Cincinnati Bengals (4-12)
Pick:
No. 4 overall
Kiper's pick:
Da'Quan Bowers, DE, Clemson
Analysis:
The Bengals' roster is hard to forecast in January, as there could be a lot of changes in free agency at positions such as running back and receiver. But as of right now, I think adding Bowers at defensive end makes the most sense. A potential pairing of Bowers and rookie defensive end
Carlos Dunlap
, who came on strong in the second half of the season, would add a good dimension to the Bengals' defense. Cincinnati's pass rush the past few years is definitely an area the team needs to improve.

Cleveland Browns (5-11)
Pick:
No. 6
Kiper's pick:
A.J. Green
, WR, Georgia
Analysis:
This pick tugs at me, and I'm warning you now that I'll probably go back and forth with Green to the Browns between now and April. On one end, wide receiver is obviously Cleveland's biggest need, and Green is a great talent and the best at his position. On the other end, I hold firm to the theory that you do not draft a receiver with a top-10 pick. Teams selecting that high have too many holes, and a wide receiver is not very important on the positional hierarchy. Case in point,
Andre Johnson
,
Calvin Johnson
and
Larry Fitzgerald
are arguably the three best receivers in the NFL and none of their teams had winning records this season. With the No. 6 pick, maybe the Browns should look elsewhere. But quarterback
Colt McCoy
, running back
Peyton Hillis
and Green at receiver does have me thinking of the possibilities. It's an interesting debate we will revisit in the coming months.

Baltimore Ravens (12-4)
Pick:
No. 26
Kiper's pick:
Brandon Harris, CB, Miami
Analysis:
The Ravens have a great track record of drafting quality players late in the first round. I can't say I know much about Harris at this juncture, but cornerbacks are in short supply in Baltimore. Keep in mind the healthy return of
Domonique Foxworth
may alleviate the need to take a corner so early, and I think the Ravens could get more help in other areas. A pass rusher to assist Pro Bowl defensive end/linebacker
Terrell Suggs
would help the defense tremendously. Someone I like for Baltimore is Ohio State defensive end Cameron Heyward, who I think would be a great fit for the Ravens if he falls this late. A deep threat at receiver could also help third-year quarterback
Joe Flacco
.

Pittsburgh Steelers (12-4)
Pick:
TBD
Kiper's pick:
Tyron Smith, OT, USC
Analysis:
The mock has the Steelers with the last pick (No. 32) in the first round, because they have the best record of the remaining teams. But the results of the playoffs will determine the final order. I like Kiper's line of thinking with Pittsburgh upgrading at offensive tackle.
Jonathan Scott
is not the answer at left tackle for the Steelers.
Max Starks
will be healthy and return next season, but
Flozell Adams
' future is up in the air. So Pittsburgh needs to infuse some youth at the position. The Steelers hit it big with Pro Bowl center
Maurkice Pouncey
in the first round this season. Another hit in the first round at offensive tackle would make franchise quarterback
Ben Roethlisberger
happy.