AFC North:

Darren McFadden
March, 1, 2014
Mar 1
9:00
AM ET
Good Saturday morning to you.
After taking a week off last weekend due to a busy couple of days at the NFL combine in Indianapolis, we're back with another
Cincinnati Bengals
mailbag. And because we got such a great rush of questions on Twitter this week, we'll be splitting this mailbag up into two separate posts. Here is Part 1. Come back Sunday morning to check out Part 2.
This edition of the weekend's Bengals mailbag is devoted primarily to free agency (although, a couple of free agency questions will sneak into Sunday's post, as well). Are there free agents the Bengals could go after, including their own 14 unrestricted and restricted players? Who might some of those targets be? Is Oakland running back
Darren McFadden
one of them?
We try to answer some of these questions below:
February, 24, 2014
Feb 24
10:00
AM ET
Last week, in the days leading up to the start of on-field workouts at the NFL combine, we counted down five of the top position needs for a
Cincinnati Bengals
team that will go into May's draft looking to build depth instead of trying to find immediate starters.
As part of the countdown, I listed three players from each position who I said I would have my eyes on during the interview and testing portions of the event. Now that the combine is concluding, wrapping up Monday and Tuesday with all defensive workouts, I figured this would be a good time to go back and look at the numbers posted by the players who were part of the countdown. Each day this week, we'll be doing a rewind of the countdown, analyzing how well the players who were in it worked out.
Up first:
Running back
The Bengals have shown over the years that they are more apt to adding impact players through the draft over free agency, but could that change this year? Last month new Bengals offensive coordinator Hue Jackson, the one-time head coach of the
Oakland Raiders
, made waves when he gushed about Raiders running back
Darren McFadden
to a San Francisco Bay Area radio station. McFadden is up for free agency starting next month, opening the door for the Bengals to maybe consider signing him.
Not saying it'll happen, but as the Bengals think about shoring up a physical running game that they want to use to pace the balance of the offense, we still may want to keep him in mind as the next two months play out.
Whether McFadden gets brought to Cincinnati or not, the Bengals still have to think a little about the running back position from a depth standpoint.
BenJarvus Green-Ellis
will be 29 when training camp opens for the final season on his current contract. His production was down in 2013, too, raising some concern about his longer term future in Cincinnati. So even if McFadden comes in to form a three-headed monster at running back, the Bengals may want to add another young rusher to pair with
Giovani Bernard
, and to groom for the coming years when McFadden and Green-Ellis won't be there.
The three running backs I highlighted last week -- James Wilder Jr. (Florida State),
Antonio Andrews
(Western Kentucky) and
David Fluellen
(Toledo) -- are all physical runners who are likely to be selected in the middle-to-late rounds. A taller, upright runner with good balance, Wilder actually reminds me of McFadden. Wilder measured at 6-foot-3, 232 pounds last week. McFadden is listed at 6-1, 218.
Here are numbers (per NFL.com) from the trio's workout Sunday:
James Wilder Jr. (Florida State)
40-yard dash: 4.86 seconds
Bench: 18 reps (at 225 pounds)
Vertical: 35 inches
Broad jump: 121 inches
3-cone drill: 6.92 seconds
-- Wilder didn't test well Sunday. His 40-yard time was the third worst among running backs, and his bench-press numbers were in the lower tier, too. The bench might be explained by the shoulder injuries he battled in college, but the speed tests were a bit of an anomaly for a player who previously had been recorded running a 4.55 40. His vertical and broad-jump numbers were strong for a player his size and reflected the athleticism he routinely showcased on his longer runs.
Antonio Andrews (Western Kentucky)
40-yard dash: 4.82 seconds
Bench: 20 reps (at 225 pounds)
Vertical: 29.5 inches
Broad jump: 106 inches
3-cone drill: 7.24 seconds
-- Andrews had a tough time with the drills that tested his speed, too. Although a shade faster than Wilder, the 5-10, 225-pound back still was looking to test a little better in those exercises. Per ESPN Insider, he previously ran a 4.6 40. During the receiving drills, Andrews performed considerably better, drawing audible praise from coaches on the NFL Network telecast of the session. As the first running back to begin the drills -- drills are done in alphabetical order -- he had the unenviable task of setting the tone for everyone else.
David Fluellen (Toledo)
40-yard dash: 4.72 seconds
Vertical: 36.5 inches
Broad jump: 120 inches
3-cone drill: 6.9 seconds
-- Fluellen could be drafted the lowest of the players in this group, but his athleticism should end up making him attractive to some team. Like Wilder, his three-cone drill numbers indicate a measure of agility and quick feet. His vertical and broad-jump distances show some explosive ability, as well. At 5-11, 224 pounds, he and Andrews are similar sizes.
January, 13, 2014
Jan 13
4:30
PM ET
CINCINNATI -- Hue Jackson's "introductory" news conference Friday morning had barely ended before I started getting bombarded with tweets from those curious about the possibility the newly promoted offensive coordinator might want to bring one of his old players to the
Cincinnati Bengals
.
At the time, I wasn't so sure the Bengals would be interested in bringing in an injury hobbled
Darren McFadden
to join their already dynamic two-man running back tandem of
Giovani Bernard
and
BenJarvus Green-Ellis
. I even
wrote as much
in the first question of a Twitter mailbag that ran Saturday morning.
Well, it looks like the gag may be on me.
Comments Jackson
gave a San Francisco Bay Area radio station
late Friday would seem to suggest the coach isn't just interested in exploring the possibility of putting McFadden in his backfield, but he might strap on the six-year veteran's helmet, tie his shoelaces and tape his wrists, too.
[+] Enlarge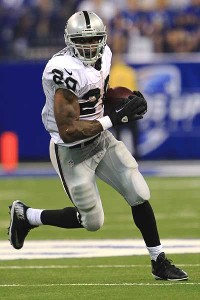 Pat Lovell/USA TODAY SportsOakland running back Darren McFadden will become a free agent in March.
One thing is clear from Jackson's interview -- which comes here courtesy of ESPN.com colleague Paul Gutierrez -- he loves some Darren McFadden.
"He's still one of my favorite players," Jackson told the ESPN affiliate. "What a tremendous talent."
Jackson, who was McFadden's offensive coordinator in Oakland in 2010 and head coach in 2011, went on to add that he still thought McFadden is "a downhill runner." He still believes McFadden can make a difference not only in gaining chunk yards on the ground, but by catching screens and taking them those long distances, too.
"Somebody's going to get a really good football player here in the future if he doesn't stay there in Oakland and I just wish him the best," Jackson said.
McFadden's contract has come to an end, and he'll be entering free agency if the Raiders don't re-sign him by March 8. That date has some significance because it's the last day the Raiders hold exclusive negotiations rights with McFadden. Until that time, no representative from another team can make "any public or private statement of interest, qualified or unqualified, in another club's player or to that player's agent or representative, or to a member of the news media," according to the NFL's anti-tampering policy.
So, having said that, the Bengals could have another issue on their hands with respect to the Jackson-McFadden affair, depending upon how the NFL interprets the interview and depending upon whether the Raiders believe any measure of tampering has occurred with their player.
OK, with all of that background out of the way, let's get back to how we started this post: me arguing against a McFadden sighting in the Bengals' running back rotation.
There's a chance Jackson just purely admires the player and wishes he had a spot on the roster for him, but doesn't. There's also a chance Jackson was trying to help prop up one of his former players so that another team might be interested in giving him a try after March 8. There's also a chance that Jackson really does want McFadden and will figure out a way to squeeze him in this offseason.
If you parse Jackson's words, it sounds just he might be thinking the latter.
He shouldn't, in my most humble opinion.
You'll often see these words from me: "If it ain't broke ..."
In this case, the Bengals' running game doesn't need fixing. All it needs is life. If Cincinnati ran as often during this past season as it appears it will next season, the Bengals could have had two 800-yard rushers, and might still be competing in the playoffs.
From a talent perspective, they're set. Green-Ellis is the team's steady veteran and straight-ahead, pile-moving power rusher. He's the workhorse. As the young, flashy -- in play only -- speedy, shifty and entertaining finesse runner, Bernard is Cincinnati's show horse. In most backfields, there's room for only two such horses, unless a third, a pure blocker, gets added to the mix. The Bengals do need one of those, but it would be hard for any team to convince a back like McFadden to pick up and move some 2,400 miles just to be a fullback.
Between their slew of receivers and backs, the Bengals have enough show and workhorses to go around. Another playmaker like McFadden would add to the complications of figuring out just who all deserved to be fed the ball.
I just don't see where McFadden factors into Jackson's plans.
Bernard, who was drafted by Jackson and head coach Marvin Lewis last April, rushed for 695 yards in the regular season and had a hand in seven total touchdowns, certainly appears to be a heavy part of the Bengals' game plan going forward. For now, Green-Ellis does, too, although it will be interesting to track his contract negotiations after next season. He'll be turning 30. McFadden is two years his junior, and could make for a logical replacement for Green-Ellis if the Bengals are committed to developing Bernard and bringing along a bigger veteran to pair with him.
To me, that's about the only reason you bring in a rusher like McFadden next year. But even that's a shaky argument, to me.
So, to answer the question (
could McFadden fit into the Bengals' running-back rotation?)
I say "no." Maybe at a different time. And maybe also if the circumstances involving the Bengals' current backfield setup were slightly altered. But for now, the Bengals appear to be doing just fine with their two-back scheme.
If it ain't broke, Hue ...
October, 27, 2013
10/27/13
9:55
PM ET
OAKLAND -- The Raiders struck a first blow Sunday that was as stunning as it was spectacular when quarterback
Terrelle Pryor
kept the ball on a read-option and raced 93 yards for a touchdown.
There were several factors behind how Pryor ripped off the longest run by a quarterback in NFL history, starting with his fake to running back
Darren McFadden
.
Pryor
"I saw D Mac carrying out the fake and I heard the crowd screaming and I was trying to figure out what they were screaming about," Raiders safety
Charles Woodson
said, "and all of sudden T. Pryor is at the 50-yard line running the ball."
The Steelers bit on the fake, though left outside linebacker
LaMarr Woodley
carried out his assignment when he went after McFadden and buried the seventh-year veteran.
That left strong safety
Troy Polamalu
as the key guy once Pryor kept the ball instead of putting it in McFadden's belly.
"I was saying in my head Polamalu has to get blocked," Pryor said.
Wide receiver
Rod Streater
took care of that, tying up the Steelers' best defensive player and allowing Pryor to flash through an opening on the right side and into the open field.
Polamalu couldn't shed Streater's block, but he didn't get any help from the back end of the Steelers' defense either.
"I should have been a little patient in the middle of the field so if things broke down I could kind of overlap," free safety
Ryan Clark
said.
The Raiders pulled a guard to help sell a hand-off to McFadden, but the Steelers were also guilty of overpursuing on the play.
"Even if you're excited about stopping McFadden, you have to understand the beast that's playing quarterback," Clark said. "Once a guy like him gets a in front of the whole defense, he's a legit 4.4 (speed in 40-yard dash). It just looks slow because he's 6-6 but he was moving."
Raiders coach Dennis Allen said Oakland picked that play to open the game as a way of easing Pryor into action against his hometown team.
Pryor's touchdown set the tone for the Raiders, who gashed the Steelers for 197 rushing yards en route to their
21-18 victory
. But, said Polamalu, "We had 59-and-a-half minutes to come back. We had our opportunities. We just didn't seize them."
November, 11, 2012
11/11/12
8:00
AM ET
BALTIMORE -- Sunday will start an AFC North doubleheader for me in Week 10. I will begin with the Raiders-Ravens game today and head to Pittsburgh on Monday for the Chiefs-Steelers game.
As for Sunday's game at M&T Bank Stadium, this one will likely be decided by the backfields. The Ravens' struggling run defense catches a break with the Raiders' top two running backs,
Darren McFadden
and
Mike Goodson
, out with high-ankle sprains. Oakland will rely on fullback
Marcel Reece
and third-string running back
Taiwan Jones
.
In what doesn't seem fair, the Ravens still have
Ray Rice
, who will go against a Raiders defense that gave up 251 yards rushing to Buccaneers rookie
Doug Martin
last Sunday.
"Obviously, you look at it and you start to get excited when you see it happening," Rice said. "Anybody goes over 200 yards, you have to figure there is a problem there."
Last Sunday, the Raiders allowed three touchdown runs of 40-plus yards. Since the start of the 2010 season, the Raiders have allowed 12 rushing touchdowns of at least 40 yards, according to ESPN Stats & Information. That's by far the most in the NFL The next three teams on the list have 12 combined.
While I will be attending the Ravens' and Steelers' games, I won't forget about the Giants-Bengals game, which kicks off at 1 p.m. I will file a wrap-up to the Bengals game after I get done with the Ravens locker room.
September, 19, 2012
9/19/12
11:00
AM ET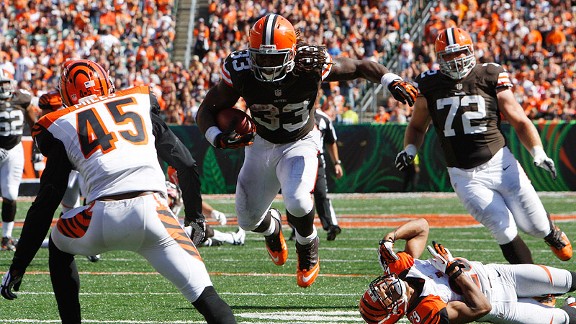 AP Photo/David KohlTrent Richardson's bruising running style might help finally turn the Browns around.
Teams shouldn't spend a top-five pick on a running back in this pass-happy age of football. Two knee surgeries in less than a year reveal that
Trent Richardson
is damaged goods. Even Jim Brown, the greatest runner in Browns -- and perhaps NFL -- history, took a shot at Richardson, labeling the first-round pick as "ordinary."
Two weeks into the regular season, all of this criticism seems laughable. While it's correct not to make any sweeping conclusions after a couple of games, no one can consider the Browns' drafting of Richardson a mistake at this point. His power, speed and jaw-dropping moves in the open field prove he's the key piece in turning around the NFL's worst offense over the past decade.
Richardson's attitude is the perfect jolt to a Browns franchise that has accepted last place as a way of life since returning to the league in 1999. He runs angry. Knocking off the helmet of would-be tackler
Kurt Coleman
in the season opener -- it flew five yards after the crushing collision -- is a great example of that. He gets ticked off. Delivering a breakout game following
Rey Maualuga
's lukewarm assessment of him is another warning that you don't want to challenge him.
Richardson is a violent right hook for the usually punchless Browns, who have ranked 28th or worse in offense nine times in the previous 13 years. Relying on a running back like
Peyton Hillis
, who missed a game because of strep throat, wasn't going to cut it. Drafting a hard-nosed playmaker like Richardson is Cleveland's best hope to change its culture of losing, even if it has yet to provide immediate results for the winless Browns (0-2).
For entertainment purposes alone, Richardson made a Browns game worth watching Sunday. Richardson totaled 109 yards rushing and 36 yards receiving against the Bengals on Sunday. Those numbers don't illustrate how impressive Richardson looked. On his 32-yard touchdown run, he took a delayed handoff and raced to the end zone without being touched. On what will go down as a 23-yard touchdown reception, Richardson caught a short pass before running through two tackles and spinning out of another to reach the end zone.
"He's a special player," Browns rookie quarterback
Brandon Weeden
said. "He's a difference-maker."
Richardson became first NFL rookie to record 100 yards rushing, a rushing touchdown and a receiving touchdown in the same game since
Samkon Gado
seven years ago. He also scored two 20-yard-plus touchdowns for a team that had seven of them all of last season.
"I think I was just more comfortable with myself that, 'Hey, I'm still able to run like I used to' and do it much better," Richardson said of his improvement from Week 1. "In my head, [I was thinking] 'I've got to run much stronger because these guys are much stronger than the guys in college.' Hopefully I'll come out stronger next week."
Five months ago, everyone christened
Andrew Luck
as the next great franchise quarterback and applauded the Redskins for moving up to take
Robert Griffin III
. The Browns received mixed reviews when they jumped one spot up to make sure they landed Richardson.
Teams have gotten burned in the past by taking a running back that high. Before Richardson, there were five running backs selected in the top five over the previous 10 drafts:
Cadillac Williams
(2005),
Cedric Benson
(2005),
Ronnie Brown
(2005),
Reggie Bush
(2006) and
Darren McFadden
(2008). Only Brown has reached the Pro Bowl and only McFadden is still with the team that drafted him.
[+] Enlarge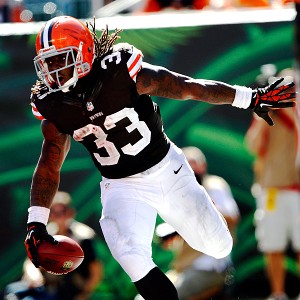 Frank Victores/US PresswireTrent Richardson celebrates his 23-yard catch-and-run TD in the third quarter against the Bengals.
Richardson's stock didn't rise when a second procedure on his left knee in less than a year sidelined him for the entire preseason. In his NFL debut, he managed 39 yards, which prompted Bengals linebacker Maualuga to say "he didn't do nothing spectacular." Maualuga was wrong. Exactly one month after knee surgery, no matter if it's minor or not, Richardson carried the ball 19 times. In terms of toughness, that is spectacular.
Richardson can be a top-five running back in the NFL as early as next season. That isn't to say he's the next
Adrian Peterson
right now.
"I still think he can do some things better when he doesn't have the football, which means we probably ought to give him the ball every time he's in there," coach Pat Shurmur said.
Richardson still has a ways to go before he convinces everyone about his talent. Jim Brown, who was critical of Richardson after the Browns drafted him, told The Plain Dealer that
he was impressed
with Richardson's performance against the Bengals. But he stopped short of fully endorsing the former Alabama star.
"Richardson has to show he can consistently carry a team," Brown told the paper. "The Browns have had some players that looked like they could, and it didn't work out. (Peyton) Hillis had a lot of talent."
Brown is right in that respect. It doesn't matter how many 1,000-yard seasons Richardson records. He was drafted to turn around a franchise that regularly loses more than 10 games a season and hasn't won a playoff game since 1994. Losing hasn't been easy on Richardson, who went 36-4 in three seasons at Alabama and won two national championships.
"At some point we have to put up more points than the other team is putting up," Richardson said. "If they score on special teams, we have to come back and score. We did a good job (offensively), but I think we can do an even better job. When we start winning, it's going to be much better."
Based on the first couple weeks of the season, Richardson is at his best when faced with a challenge.
April, 26, 2012
4/26/12
10:10
PM ET
BEREA, Ohio -- The
Cleveland Browns
couldn't hide their enthusiasm for
Trent Richardson
.
The Browns wanted him so badly that they gave up three picks to move one spot to make sure they got the only elite running back in this draft. Then, even before the
Washington Redskins
made their pick at No. 2, Cleveland turned in its card with Richardson's name on it.
Richardson brings new life and enthusiasm to one of the worst offenses in the NFL. He also brings something equally important -- a physical identity.
Cleveland's long-plodding offense is now tougher, rougher and meaner. With all due respect to Jim Brown, Richardson is far from "ordinary." Richardson is the type of no-nonsense running back a team needs when colliding with the likes of the
Pittsburgh Steelers
and
Baltimore Ravens
.
In the SEC, one of the best college conferences in the country, Richardson set Alabama season records for rushing yards (1,679) and touchdowns (21) by showing no hesitation when running between the tackles. He was fearless in bulling past defenders and stiff-arming them. What makes him a playmaker is his ability to also make players miss in the open field. His power and elusiveness are a special combination.
This is a draft where the Browns must rebuild their offense. They started by finding the centerpiece for it.
"We're thrilled. He's one of the guys who's passionate, productive and durable," Browns coach Pat Shurmur said. "He's the kind of runner that we feel is going to help us to put an offense together to score the points that we need to win the games that we're going to win.
"If you don't sense the excitement in my voice, then you're missing it."
What the Browns were missing last season was a spark on offense. Cleveland ranked 29th in yards and 30th in scoring. That's why trading up to secure Richardson wasn't just the right move. It was the only one.
It was an aggressive move for an aggressive player. Outside of quarterbacks
Andrew Luck
and
Robert Griffin III
, Richardson was the only other player in this draft who could immediately affect an offense.
Problem: The Browns scored four rushing touchdowns last season, which was tied for the the second-fewest in the past 15 NFL seasons, according to ESPN Stats & Information.
Solution: Richardson is one of three players in SEC history to score 20 or more rushing touchdowns in a season.
Problem: The Browns' running backs averaged the fewest yards after contact (1.77) last season.
Solution: Richardson thrives on contact and talked openly Thursday night about crashing into
Ray Lewis
and
Troy Polamalu
.
There's a risk in taking a running back so high in the draft, which is why few teams do it. There have been five running backs taken in the top five in the previous 10 drafts:
Cedric Benson
(2005),
Ronnie Brown
(2005),
Cadillac Williams
(2005),
Reggie Bush
(2006) and
Darren McFadden
(2008). They've combined for one Pro Bowl.
Shurmur indicated that if the Browns didn't take Richardson in the top five, another team would have. This prompted the Browns to give up picks in the fourth (118th overall), fifth (139th) and seventh (211th) rounds to move up one spot to get Richardson. The
Tampa Bay Buccaneers
and
St. Louis Rams
reportedly were thinking about trading up for him.
[+] Enlarge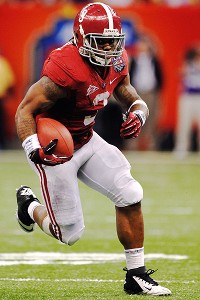 AP Photo/Dave MartinThe Browns couldn't contain their excitement over getting Alabama's Trent Richardson.
Why were so many teams interested in Richardson? As Shurmur describes him, Richardson is virtually flawless.
"He can run with power. He can make you miss when he gets in the open. He can score," Shurmur said. "I like the fact that when he's asked to pass-protect, he will do it aggressively. And, when you throw him the football, he catches it. Unless I'm missing something there, that's what runners got to do."
The Browns needed a playmaker at running back. Perhaps just as important, they needed a running back who will show up every week. That was a major problem last season, when
Peyton Hillis
,
Montario Hardesty
and
Brandon Jackson
missed a chunk of the season with injuries.
"The other guys on this team, the coaches and our fans need to know that our players are going to show up," Shurmur said. "I've seen this in this player. We feel like that's what we're getting."
Richardson has his skeptics, namely the best running back in Browns history. When asked Thursday afternoon about the possibility of Cleveland taking Richardson, Jim Brown said, "I'm not overwhelmed with it. The problem is that he's ordinary. I think he's ordinary." Asked what about him is ordinary, Brown said, "the size, the speed, his moves."
You have to admire how Richardson responded to the criticism. Like his style of play, he attacked it head on.
"I got a lot to prove," he said on a conference call with reporters. "I'm going to make sure they all mention my name and compare people to me."
Shurmur couldn't say at what point during the draft process that the Browns knew Richardson was going to be their pick.
It could have been during his pro day in late March, when he knocked down Cleveland running backs coach Gary Brown in a blocking drill.
It could have been when he took 17-year-old cancer survivor Courtney Alvis to the senior prom 10 days before the draft.
Richardson acknowledged he didn't know he was going to be taken this high. But he's as excited as the Browns that it happened.
"It's bigger than winning the national championship game," Richardson said.
In a perfect scenario, the Browns would've been able to trade up last month to get RG3. They didn't get their quarterback, but they were determined not to lose out on their running back.
But Richardson is more than a running back to the Browns. He's their cornerstone and their new identity.
"He's going to be what we think is going to be a really, really fine addition to the
Cleveland Browns
team," Shurmur said. "He's going to be one of those players that our fans and our community will be able to watch run the ball for a lot of years. That's what we're excited about."
March, 2, 2012
3/02/12
2:00
PM ET
Raiders running back
Michael Bush
is now expected to hit the free-agent market on March 13 after Oakland used its franchise tag on strong safety
Tyvon Branch
.
Bush
The only way the cap-strapped Raiders would've kept Bush was putting the franchise tag on their backup running back. Now, Bush can look for a starting job elsewhere because he won't be the top back with
Darren McFadden
in Oakland.
I can see Bush coming to the Cincinnati. The Bengals want to improve over last year's starter,
Cedric Benson
. They have the salary-cap room to lure the free agents that they want. They offer Bush a chance to play near his hometown of Louisville. And they have new assistant Hue Jackson, who was Bush's head coach last season in Oakland.
Bush would become the Bengals' No. 1 back, but he wouldn't carry the entire load. Offensive coordinator Jay Gruden is leaning toward using a running-back-by-committee, which should suit Bush. After running for 100 yards in back-to-back weeks, he seemed to wear down in his final six games, averaging 63 yards on the ground.
At 27, Bush doesn't have the usual wear-and-tear of other free-agent running backs because he's been a backup for most of his career. He's a bruising runner who can gain the tough yards. He's also an above-average receiver, which would add another element to the Bengals' passing game.
"He's big, he runs hard, he's fast, and when you get him to the second level he's extremely hard to tackle," Chiefs coach Romeo Crennel said of Bush last year. "He can catch also. I forgot to mention that. He's the total package."
The other division team who could show interest in Bush is Cleveland. But it appears like the Browns will first attempt to re-sign
Peyton Hillis
at a reasonable price.
October, 14, 2011
10/14/11
4:30
PM ET
The results are in from our
SportsNation poll
and the AFC North team that draws the toughest playmaker Sunday is ... the
Cleveland Browns
.
In trying to go over .500 for the season, the Browns must stop Raiders running back
Darren McFadden
, the NFL's rushing leader. That's why the Browns received 53 percent in a poll that totaled over 7,500 votes.
McFadden is so hard to defend because he runs with speed and power. Among running backs, he ranks first in rushing yards per game (103.8), second in yards per carry (5.7) and tied for first in 20-yard runs (seven).
In the other AFC North games, the Ravens have to go against Houston's
Arian Foster
, the Steelers face Jacksonvillie's
Maurice Jones-Drew
and the Bengals line up against Indianapolis'
Reggie Wayne
.
October, 14, 2011
10/14/11
1:30
PM ET
»
NFC Final Word
:
East
|
West
|
North
|
South
»
AFC
:
East
|
West
|
North
|
South
Five nuggets of knowledge about Week 6
:
Get defensive early:
The Pittsburgh defense is slow. Well, to be specific, the defensive players are slow starters. The Steelers have allowed three opening-drive scores in their first five games, two of which went for touchdowns. This is a surprising trend considering it's a veteran defense and it's never been a problem before. Last season, Pittsburgh gave up three opening-drive touchdowns in 19 games. The Steelers will look to reverse this against the Jaguars, who have scored two of their five offensive touchdowns this season on their opening drive.
[+] Enlarge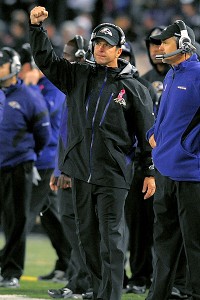 Icon SMIJohn Harbaugh and the Ravens host the 3-2 Texans in Week 6.
Regain momentum:
Few teams have been as dominant as the Ravens coming off a week of rest. Baltimore is 3-0 following byes under coach John Harbaugh, winning by an average margin of 19 points. But the bye couldn't have come at a worse time for the Ravens, who were dominant in their first three wins of the season. The challenge for the Ravens is to regain that momentum against a Texans team that starts fast. Houston has averaged nearly 10 points scored in the first quarter this season.
No holes in the Black Hole:
The Browns rank 25th in rushing yards allowed and have given up at least 95 yards rushing to three backs in four games:
Cedric Benson
(121 yards),
Daniel Thomas
(95) and
Chris Johnson
(101). The test in playing at Oakland is containing the NFL's leading rusher,
Darren McFadden
, who has the most 20-plus yard runs in the league with seven. Cleveland is vulnerable on the edges because the defense lacks elite speed there. Still, the Browns have allowed two runs over 20 yards. Only four teams have given up fewer.
Give the Green light
:
A.J. Green
shouldn't have to demand the ball Sunday against Indianapolis. The Bengals should already know that good things happen when they throw the ball to the fourth overall pick of the 2011 draft. In Cincinnati's three wins this season, he has been a big-play producer, averaging 24.9 yards on 10 catches. Of those 10 catches, three have gone for over 40 yards and two have resulted in touchdowns. Overall, Green leads NFL rookies with 402 receiving yards.
On the rebound
: The last time
Joe Flacco
took the field, he completed 10 of 31 throws (32.3 percent) and failed to connect on passes in the second and third quarters. But Flacco typically doesn't have poor back-to-back performances. In fact, he responds quite impressively. Over the past couple of years, Flacco has completed less than half of his passes three previous times. Here's how he has followed them up in the next game: 62 percent completion rate, 293.6 yards passing, seven touchdowns and no interceptions.
October, 11, 2011
10/11/11
5:00
PM ET
The AFC North's tough defenses will be facing some top playmakers this week. The division is going head-to-head with three of the NFL's top nine rushers on Sunday in addition to one of the best wide receivers over the past decade.
Here's a look at the match ups:
So, which AFC North team is facing the most dangerous playmaker this week? Go ahead and register your vote and/or let me know what you think in the comments section below. I'll follow up by the end of the week.
December, 9, 2010
12/09/10
4:07
PM ET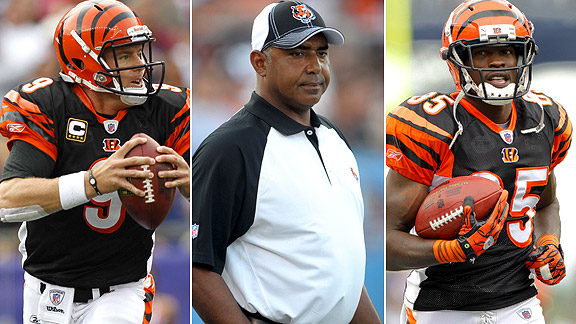 US PresswireWith the Bengals in need of a major makeover, it may be time for Carson Palmer, Marvin Lewis and Chad Ochocinco to find new homes.
Last month the AFC North blog said it was
time to blow up
the
Cincinnati Bengals
.
Now we will explain how to rebuild this struggling franchise.
Coming off a division title and playoff appearance in 2009, Cincinnati is having its most disappointing season in recent memory. The Bengals are 2-10 and headed toward one of the top picks in the draft.
It will be a very interesting offseason in Cincinnati. The Bengals have key decisions to make on their coaching staff, as well as positions such as quarterback, running back and receiver.
The AFC North blog put on its general manager hat and spent this week sifting through the Bengals' roster to determine who stays and who goes. We came up with a blueprint that will get this team headed in the right direction.
Keep in mind, this is not a prediction of what the Bengals
will
do. It's our guide to what we believe the Bengals
should
do.
Head coach
Analysis:
Bengals coach Marvin Lewis has four games left on his contract, and to our knowledge there have been no recent negotiations. It's a good time for Lewis to step away. He has fought battles against heavy-handed ownership for eight seasons and done all he could, leading the downtrodden Bengals to two playoff appearances. There is already speculation Lewis may have interest in the head-coaching opening at the University of Pittsburgh, where he has local ties.
He dodged that question earlier this week
. Don't expect a big-name hire in Cincinnati. The Bengals don't want to pay the kind of money it takes to land someone like Bill Cowher or Jon Gruden, and big-name coaches wouldn't go to a team that doesn't have a GM, ownership makes the football decisions, and there are average facilities and very few scouts. Our best pick is Hue Jackson. He's a former receivers coach in Cincinnati and has done a great job in stops with Baltimore, Atlanta, Washington and Oakland. As offensive coordinator in Oakland this season, he has helped make the Raiders a playoff contender and is very familiar with the AFC North. Jackson is a rising star and would be an excellent choice. Mike Zimmer remains the best in-house candidate. He has the respect of the locker room and helped turn around the defense in recent seasons. Perhaps a Jackson (HC) and Zimmer (DC) tandem would infuse much-needed energy into this team.
Quarterback
Analysis:
This is probably the toughest decision the Bengals will make this offseason, but it wasn't difficult for the AFC North blog. We're convinced it's time to part ways with quarterback
Carson Palmer
. The QB, who is in the middle of a $118.75 million contract, will be one of the NFL's highest-paid players next season with a base salary of $11.5 million. We can't justify paying Palmer that type of money based on his production the past few seasons. The Bengals have a good shot at the No. 1 overall pick, and that's the perfect spot to draft a quarterback. We think Andrew Luck from Stanford is the best of the group. If the Bengals do not have the top pick, maybe Auburn's
Cam Newton
is another possibility later in the first round. If the Bengals can't land either, our next step would be sticking with Palmer and seeing whether he's willing to take a pay cut. It's a tough business.
Running back
Analysis:
We like second-year running back
Bernard Scott
. But there are still questions about whether he can be a feature tailback. With
Cedric Benson
's contract expiring, it's time to search for a new running back. The Bengals got solid production out of Benson the past two years at little cost. But he's only averaging 3.5 yards per carry this year, and we need more from that position. We would find a bruising back and pair him with the quicker Scott . Pending free agent
Michael Bush
, 26, would be a good fit. He's the backup tailback to
Darren McFadden
and one of Jackson's main weapons in Oakland. The Bengals rarely spend a lot of money in free agency, but this signing would be worth it. Also, we would re-sign backup running back
Brian Leonard
, who is very good on third down.
Wide receivers
[+] Enlarge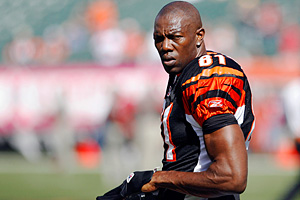 Mark Zerof/US PresswireWide receiver Terrell Owens is having a great season, but he's 37 and not a player the Bengals can build around for the future.
Analysis:
We like
Chad Ochocinco
-- but not at the price the Bengals would have to pay him. A $6 million team option is a bit much for a 32-year-old receiver who's had two bad seasons in three years. We would let Ochocinco walk, but the Bengals will consider keeping him. Teammate and pending free agent
Terrell Owens
is an interesting case. He's having a great year, but he's 37 and probably wants the security of a multiyear extension. Another team may give it to Owens, but we're looking to get younger at receiver. This is a position we would attack in the draft, probably in the second or third rounds. This also gives
Jordan Shipley
, who is solid, a bigger role in the offense next year. You can't be strong everywhere when rebuilding.
Tight end
Analysis:
No questions here. The Bengals drafted
Jermaine Gresham
in the first round this year and he has produced (47 receptions for 409 yards and three touchdowns). He's only going to get better next season and beyond.
Offensive and defensive lines
Analysis:
The offensive line needs work. Tackle
Andrew Whitworth
and guard
Bobbie Williams
are mainstays, but the other three positions could use depth.
We would not
extend
Andre Smith
's contract to six years. We're keeping his deal at four years to see whether we can get anything out of him at right tackle in the final two seasons. Some have suggested moving Smith,
who broke his foot
for the second straight year, to guard. But we're already paying Smith left tackle money to play right tackle. So we definitely wouldn't pay Smith left tackle money to play guard. We would upgrade center and one guard position via the draft and free agency. The defensive line must be more productive, but there are some good young players there. We like
Carlos Dunlap
's recent production and would start him at defensive end in 2011. He's earned it with his play down the stretch.
Geno Atkins
has shown flashes and also would be in competition to start at defensive tackle next to veteran
Domata Peko
. End
Robert Geathers
hasn't been the same since micro-fracture surgery, and it's time to find his replacement. If the Bengals don't draft a quarterback in the first round, another pass-rushing defensive end would be the logical choice.
Linebackers
Analysis:
Bengals outside linebacker
Rey Maualuga
has played out of position his entire pro career, and it's time to move him to his natural spot at middle linebacker next season. He will be a better player when he can use his best attribute -- his physicality -- instead of constantly chasing tight ends in coverage.
Dhani Jones
, 32, will be a free agent, and it's time to cut ties with him.
Keith Rivers
stays outside, but we need another outside linebacker. Maybe
Michael Johnson
can step into that role. He's not a natural linebacker, but he's athletic enough to play the position. We're also not sure we can trust his consistency for 16 games. We'd probably add someone else via the draft or free agency to compete with Johnson for the starting job.
Secondary
Analysis:
The Bengals' secondary had a down year with a lot of injuries, but we still think it's in pretty good shape. Cornerback
Johnathan Joseph
is the one free agent we believe the Bengals must re-sign. He's the Bengals best cornerback, and the secondary doesn't look the same when he's not playing. Joseph makes corner
Leon Hall
and the safeties better. There were some negotiations before the season between Joseph and the Bengals, but nothing came to fruition.
Adam Jones
will return from a season-ending neck injury and is a solid third cornerback. Starting safety
Chris Crocker
also had a season-ending knee injury and remains under contract.
Chinedum Ndukwe
, a pending free agent, plays hard and would be a good safety to keep for depth. Roy Williams is often injured and too one dimensional for our liking. So we would let Williams go and try to add another starting safety.
Specialists
Analysis:
Punter
Kevin Huber
stays, although he hasn't had a great year. But the Bengals must find a dependable kicker.
Mike Nugent
did fine before he was injured, so maybe he's a candidate for training camp when he gets healthy.
Whew! Now that was a major reconstruction.
It's time for the Bengals to rebuild and turn the franchise over to younger players. It's not going to be a quick fix. But if the Bengals follow these moves, they will be better than they were this season and in solid position for long-term success.