AFC North:

Darren Woodson
October, 6, 2011
10/06/11
12:00
PM ET
Do you think the Steelers aren't as physical as recent years? Former NFL safety
Darren Woodson
has an explanation -- the new practice rules.
Under the new collective bargaining agreement, there can only be one padded practice per day in training camp and players can't be on the field for more than four hours per day. During the regular season, there can be just 14 padded practices for the entire season, and 11 of those must be held in the first 11 weeks. Teams can't hold more than two padded practices per week.
These changes in practice have affected how the Steelers play, according to Woodson, an ESPN NFL analyst. Pittsburgh currently ranks lower than usual in two areas — 21st in running the ball and 22nd in stopping the run.
"They're always a battle-hardened unit,"
Woodson told the Scott Van Pelt Show

. "With having these limited practices, where you can't put the pads on and be physical, I think it hurts a team that it's within them to be physical. They're (blue-collar) guys. They have to practice at a certain level for it to transfer on over."
The Steelers didn't embrace the new rules when they were announced this summer.
"It is something, I must say, I think I have mixed feelings about," Steelers president Art Rooney II told the
Pittsburgh Tribune-Review
in July. "It's probably fair to say that if it were up to us, we probably would've had a little different approach to some of the practice rules."
May, 3, 2011
5/03/11
1:00
PM ET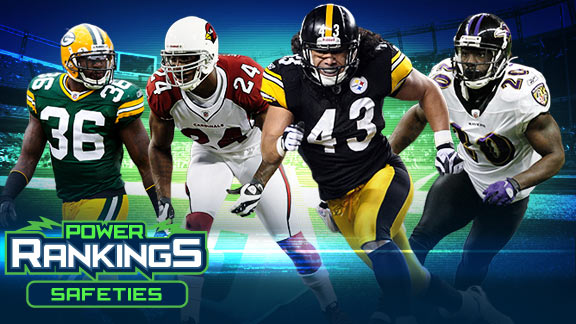 ESPN.com IllustrationPittsburgh's Troy Polamalu (43) and Baltimore's Ed Reed (20) were the consensus top picks in the ESPN.com safety Power Rankings.
ESPN.com's NFL writers rank the top 10 safeties in the league today. Next week: top 10 owners.
When it comes to rating NFL safeties, there's
Troy Polamalu
and
Ed Reed
followed by a huge gap before everyone else.
As expected, the star safeties for the
Pittsburgh Steelers
and
Baltimore Ravens
dominated ESPN.com's positional Power Rankings this week. No other safety received a vote higher than third place.
But what is surprising is that Polamalu -- the reigning NFL Defensive Player of the Year -- became the first player in this year's series to sweep all eight first-place votes. Bill Belichick of the
New England Patriots
did the same
among head coaches
.
This should finally put to rest the
"Troy Reed" debate
that has been raging for years between these two great safeties. According to our panel, there is a clear separation between the two. Reed received all second-place votes to finish with 72 points.
"Polamalu and Reed are the secondary's version of
Tom Brady
and
Peyton Manning
. They are the gold standard of safety play," AFC West blogger Bill Williamson said. "While Reed is great, Polamalu is stunning. I've never seen him play and not make a jaw-dropping play."
Both safeties have different styles. But our panel preferred Polamalu's versatility to play closer to the line of scrimmage. Steelers defensive coordinator Dick LeBeau uses Polamalu all over the field to help defend both the run and the pass.
Reed is more of a ballhawking safety who defends the deep portion of the field. He led the NFL with eight interceptions last season despite missing six games because of offseason hip surgery.
"Taking nothing away from Ed Reed, who is a great player in his own right, but Troy Polamalu is the first guy I think of when I think of safeties," NFC South blogger Pat Yasinskas said. "He's been a huge force in Pittsburgh's recent championships. He's just a great all-around player and still in the prime of a career that's going to land him in the Hall of Fame on the first ballot."
Don't fret, Reed supporters. Someone is in your corner.
Earlier this year I interviewed
former five-time Pro Bowl safety and current ESPN analyst
Darren Woodson
, who said he would choose Reed over Polamalu.
"As far as changing the game, I would probably start my defense with Ed Reed, to be honest with you," Woodson explained. "I know I can put him in any situation. I know I can put him on any team, and he will be the free safety in the middle of the field who makes plays on the ball. Now, Troy, it will be a little different. If you put him in a conventional defense, he's probably not going to be the same guy."
The best of the rest:
There wasn't much of a consensus after Polamalu and Reed.
Fresh off a big interception return for a touchdown in Super Bowl XLV,
Nick Collins
of the
Green Bay Packers
finished third with 56 points. But Collins received votes as high as third and as low as seventh. He was a distant 24 points behind Polamalu and 16 points behind Reed.
Adrian Wilson
of the
Arizona Cardinals
finished fourth, but he drew the widest range of votes among safeties in the top 10. ESPN.com senior writer John Clayton and Bill Williamson ranked Wilson No. 3, and NFC North blogger Kevin Seifert ranked Wilson No. 10.
In the final tally,
Kansas City Chiefs
upstart
Eric Berry
was fifth,
Michael Griffin
of the
Tennessee Titans
placed sixth and
Donte Whitner
of the
Buffalo Bills
finished seventh. New England Patriots safety
Brandon Meriweather
was eighth,
Antrel Rolle
of the
New York Giants
was ninth and the
Indianapolis Colts
'
Antoine Bethea
and
LaRon Landry
of the
Washington Redskins
tied for 10th.
"There is a pretty wide gap for sure after the top two," said Matt Williamson of Scouts Inc. "Nick Collins would be my third safety, but the gap is pretty large. I think it is because Troy and Reed are just so good."
Seventeen safeties received votes, which was the second-highest total to date in our Power Rankings. Last month, 23 cornerbacks received votes for our top 10.
In addition, every voter had at least one player on his ballot who failed to make the cut. For example, NFC West blogger Mike Sando and I both voted for longtime
St. Louis Rams
safety and current Redskin
Oshiomogho Atogwe
, who finished 14th.
"I really struggled putting together the list after Polamalu and Reed," Sando said. "I kept shuffling around names and eliminating various guys, only to revive them out of necessity. This wasn't a list to feel good about."
What about Bob?
It was not long ago when
Bob Sanders
was mentioned in the same sentence as Reed and Polamalu. When healthy, Sanders was a game-changing safety and helped lead the Indianapolis Colts to a Super Bowl title after the 2006 season.
But for the past three seasons, Sanders has been injured and spent more time off the field than on it. The Colts cut Sanders, and he was picked up this offseason by the
San Diego Chargers
.
It's dramatic how fast and how far Sanders has fallen out of the conversation. He didn't receive a single vote from our panel.
"Sanders just hasn't played," AFC South blogger Paul Kuharsky explained. "In his prime and healthy, he's fantastic. But who knows if we will see that again. He's played nine games in the last three years. There is no reason to even consider him for a list like this at this point."
The next generation:
Polamalu (30) and Reed (32) will not play forever. Therefore, someone needs to step up as the next great safety to carry the torch Polamalu and Reed will leave behind.
Berry, 22, is the most likely candidate. The 2010 first-round pick was voted in the top five after helping lead the Chiefs to the postseason. Berry recorded 92 tackles, two sacks and four interceptions his rookie season.
"I think it's safe to project that Berry will be the premier safety in the NFL in the second half of this decade," Bill Williamson said. "He became the signature player on a surprise playoff team as a rookie. Soon, he will be the face of a rising organization."
Other up-and-coming candidates include Whitner (25), Bethea (26) and Landry (26).
Seattle Seahawks
safety
Earl Thomas
, 21, also garnered votes from two panelists.
"Eric Berry and Earl Thomas should lead the next wave of top safeties," Sando said. "Berry's peers voted him among the top 100 players in the game for 2011, but I think it's premature to say Berry or any other second-year player is going to become the next Polamalu or Reed. Those guys have set such a high standard."
January, 14, 2011
1/14/11
4:51
PM ET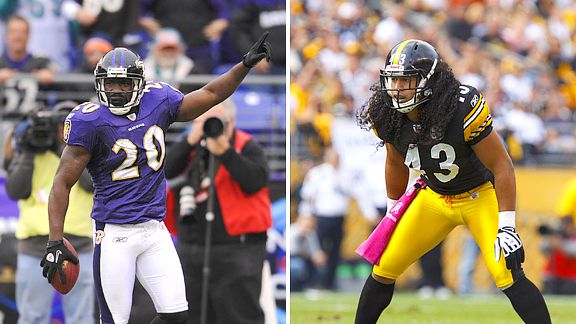 US PresswireEd Reed and Troy Polamalu are two of the best playmaking safeties ever.
There are a lot of opinions about the talents and accomplishments of
Pittsburgh Steelers
safety
Troy Polamalu
and
Baltimore Ravens
counterpart
Ed Reed
. But very few people have a perspective like Darren Woodson's.
The five-time Pro Bowler played the position at a very high level for 12 years with the
Dallas Cowboys
. He has won three Super Bowls and now is a football analyst for ESPN.
The AFC North blog caught up with Woodson this week to get his insight on our always interesting "Troy Reed" debate and what makes both players so special.
Darren, let's start with your breakdown of each safety.
Woodson:
Ed is in the middle of the field probably 90 percent of the time. So basically he's the quarterback of the defense, making calls in the secondary, and he's the guy we would call the "windshield wiper." What's impressive about him is being able to cover sideline-to-sideline and having the range that he does. I don't think I've ever seen anybody in history at that position who has the range that Ed Reed has. What makes him special is he's able to read route combinations. Whatever Reed sees, he believes. He has so much confidence in his own abilities that when he sees something, he's going to take a chance, and that's what you don't see with a lot of free safeties. ...
I think Polamalu is probably the best anticipator in the league. Polamalu is a guy who, with everything that's in front of him, he has that ability to make a play. If he's seeing the quarterback, he's able to react, whether it's making a tackle or getting an interception. That's what he's special at. And one thing I don't think people realize about Troy is he's a [great] athlete. It's almost like when Junior Seau first came in the league, where he's jumping over guys and making interceptions. They are so similar in that way, where if the ball is in the air, or it's a tipped ball, Troy has a way of coming up with that play. He has great hands and an innate ability to be around the football all the time. His blitzing, timing the blitz and knowing the cadence of the quarterback -- you have to be in that film room all day long trying to memorize a quarterback's habits. I don't think there's a better blitzer from the safety or defensive backs position than Polamalu. Charles Woodson is a great blitzer. But Troy Polamalu, the timing that he has on those blitzes is impeccable.
It's pretty clear Reed and Polamalu are different types of safeties. Considering you played the position for a dozen years, which style is more difficult?
Woodson:
Well, I think Ed's position is easier to play, because there's never really any coverage responsibility. He's free 90 percent of the time and he's not covering anybody. He's the free guy. Troy's situation is different, because they ask him to do so much. The Steelers will ask Troy to cover a slot receiver at times. They'll ask him to blitz. But I think that puts Troy in a position to make more plays than Ed.
Any comparisons you can make with past players to these two safeties?
Woodson:
Let's see, starting with Ed. Who is a middle-of-the-field free safety I could compare him to? I think to [former San Francisco standout]
Merton Hanks
. He's a guy from the corner position who moved to the free safety position and would get interceptions. I think Ed is 10 times better than Merton. But as far as playmakers, both of them were always around the ball. Troy? As a safety? Man, he's unique. [Former Niners star]
Ronnie Lott
was more of a hitter. But I think as far as a game-changer, you can probably compare him to Ronnie Lott.
Polamalu and Reed are now considered the NFL prototypes, but they've been in the league for a while. Why, in the past seven or eight years, has there not been another safety like Polamalu or Reed to come along?
Woodson:
Because I think their talents are that much better than everyone else who's come through the league. They're also in the perfect situation. When you talk about these two guys, you have to look at the defenses as a whole first. These are two extremely aggressive defenses that are always in attack mode. Most defenses aren't always in attack mode the way these two defenses are. So they're playing on two teams that fit their styles. Ed is always in the middle of the field and he can go from sideline to sideline. He fits that type of lane and that's a benefit to him. Troy, the Steelers are always in attack mode, too. But Troy is always in the box for eight-man fronts. He can shadow underneath and make a play that way. I think the systems really benefit what they do and make them that much better football players. If you put these two guys on different teams, say you put Ed Reed on St. Louis, will he be the same guy? Probably not. But he's still going to make plays because of his ability, and Troy being the same way.
Last question and this might be the toughest one. If you had to pick one safety to start your defense with, who would it be, Reed or Polamalu?
Woodson:
Whew! That is a good one. [Long pause.] Man. ...that's a hard one to answer. I would probably say Ed Reed to start a defense with. Because Ed is a guy who will always make a play on the ball. He has the best hand-eye coordination I've ever seen. And the hardest thing for a safety or a defensive back is when the ball is in the air, you're trying to find that ball. It's like Willie Mays making that basket catch. It's hard to run one way, then run backward, and then find the receiver and the ball at the same time. No doubt about it, I've never seen anybody do that like Ed Reed. So as far as changing the game, I would probably start my defense with Ed Reed, to be honest with you. I know I can put him in any situation. I know I can put him on any team, and he will be the free safety in the middle of the field who makes plays on the ball. Now, Troy, it will be a little different. If you put him in a conventional defense, he's probably not going to be the same guy.
So there you have it from one of the best NFL safeties of the past 20 years. If Woodson could only choose one safety for his defense, he's going with Reed.
Here are other opinions on both Pro Bowl safeties from this week:

Lewis
Ravens MLB Ray Lewis
"I don't know if there's that much of a difference. They both play the game with great instincts. They both prepare incredibly [well] and they just love the game. They love the game. And those are the two few safeties that actually turn the game into an offensive possession when they do have the ball in their hands. And, I think that's what makes both of those guys who they are – Ed and Troy. It's an honor watching both of them play. It's not really [an honor] watching him play when he's playing against us, but it's a real honor to sit back and watch, probably, two of the best safeties to ever play this game go at it."

Harbaugh
Ravens coach John Harbaugh
"One thing I think about these two safeties is they have unbelievable hands. These are two guys that just have a great ability to catch the football, and that gives them a chance to make plays on the ball downfield. They make great catches, so they get turnovers. They're both hitters, they both are very instinctive, they both know the game inside and-out."

Clark
Steelers safety Ryan Clark
"Totally different players. Troy mixes it up a little bit more. Ed is the consummate ballhawk. Troy has ball-hawking skills, but Troy is a box guy. Troy plays in the middle of the field and plays near the linebackers. I think Ed is a true, true free safety."