AFC North:

Darrin Simmons
March, 11, 2014
Mar 11
2:00
PM ET
CINCINNATI -- There will be other, more glamorous free-agency signings than the one the
Cincinnati Bengals
announced just before noon Tuesday. That is a fact.
But that shouldn't diminish the importance of the organization's decision to bring back
Brandon Tate
.
OK, so his name didn't have the free-agency sex appeal of
Michael Johnson
's. He wasn't courted by as many teams as
Andrew Hawkins
and won't be making as much money next year as
Anthony Collins
. Still, his return to Cincinnati has a much deeper meaning than the fact he's a little-used backup receiver who occasionally returns a few kicks.
[+] Enlarge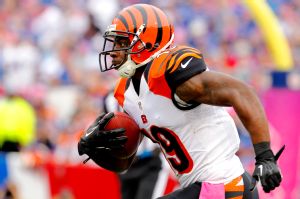 Timothy T. Ludwig/USA TODAY SportsFifth-year veteran Brandon Tate is considered to be one of the Cincinnati Bengals' "core special teams players," says coordinator Darrin Simmons.
Tate's re-signing
embodies what this particular offseason will be all about for the Bengals. When it comes to adding and retaining players, the mission in 2014 is about creating depth. You've already seen it in free agency with Cincinnati's re-signing of offensive guard
Mike Pollak
last weekend. You'll see it in the draft when the Bengals start looking at cornerbacks who can play both the edge and the slot, as well as offensive linemen who can line up at some combination of guard, center and tackle.
Since their starting rotations are nearly set with defensive end
Michael Johnson as the only casualty
from 2013's regular rotation (it seems it will stay that way), the Bengals are calmly going through this offseason looking like a team with few major needs to address. That's why once the attention surrounding Johnson and Collins begins to fade, the Bengals' focus will shift toward role players, such as Tate.
The role Tate played last year in his third season in Cincinnati was an important one. Among qualifying kick returners he ranked ninth in the league in kick return average, consistently advancing the ball 26.1 yards per return. He also served as the team's primary punt returner once injuries in the secondary forced longtime return man
Adam Jones
to be a special teams observer.
While he was mostly better at returning kickoffs than he was at returning punts, Tate still had a knack for breaking a timely punt return, too. Arguably his best punt return of 2013 was a 29-yarder in overtime that helped set up
Mike Nugent
's game-winning field goal at Buffalo in October.
"Brandon's numbers speak for themselves, and I've got a lot of confidence in him," Bengals special teams coordinator Darrin Simmons said. "This could be a real breakout year for him."
Simmons and the Bengals haven't yet said whether Tate will remain the team's starting punt returner, but his statement of confidence seems a clear indication they're hopeful he can continue contributing there. With the anticipation of having a fully healthy secondary ahead of training camp, the Bengals have good reason to put Jones back in the normal punt-return rotation.
Tate's return gives the Bengals options, and those options could even increase in the coming months depending upon which players the Bengals end up drafting. Some of the defensive backs who stand the best chance of being claimed early in the draft by Cincinnati have punt and/or kick return experience.
Along with Tate's occasionally explosive special teams play, he also provides a measure of sure-handedness. In his five NFL seasons -- the first two in New England -- Tate has only one fumble and three dropped passes in 71 attempts. He's another veteran who not only knows what it takes to win in Cincinnati, but has some measure of postseason experience with a franchise regarded as one of the NFL's modern-era dynasties.
There's also the depth Tate provides at receiver. One of the deepest returning positions, the Bengals have strong personnel numbers at receiver. Still, they need to bolster their ranks there just in case. Hawkins is an unrestricted free agent, as is
Dane Sanzenbacher
. After offering tenders to both players last week, the Bengals are in wait-and-see mode until another team formally offers the pair salary numbers that can be matched. In the event Cincinnati can't match one or both of the free-agent receivers, at least they still have Tate as a last resort pass-catching option.
No, Tate's re-signing isn't sexy nor should it even be attempted to be construed that way. But it's just the type of important, depth-chart specific move that a team looking to build off its relative success from a year ago is trying to maintain.
November, 17, 2013
11/17/13
4:30
PM ET
CINCINNATI -- A few thoughts on the
Cincinnati Bengals
'
41-20 victory
against the
Cleveland Browns
.

What it means:
After getting derailed in their two previous games, the Bengals showed glimpses of their former selves in Sunday's blowout against the Browns. From a scoring perspective, they had a truly complete game, getting touchdowns on offense, defense and special teams. It was their best team performance since their 49-9 Week 8 home victory against the
New York Jets
. Even though quarterback
Andy Dalton
still struggled to get into a rhythm and play like the signal-caller who breezed through October, he still threw three touchdowns. Most importantly, though, Sunday's victory extended the Bengals' AFC North lead to 2 1/2 games over the Browns, who entered in a second-place tie with the
Baltimore Ravens
. If the Ravens beat the
Chicago Bears
-- their weather-delayed game didn't end until after the Bengals-Browns tilt -- Cincinnati's lead remains 1 1/2 games over them.
Stock watch:
Bengals special teams: rising. Bengals special teams coach Darrin Simmons has been hinting much of the season at how he believed his various units were making progress. That progress was quite visible against the Browns when his punt return team tipped one punt, blocked another (returning it for a touchdown) and set up a 27-yard return that was the longest of the season for
Adam Jones
. Add in punter
Kevin Huber
's 44.6 punting average and
Mike Nugent
's two made field goals, and it's clear Cincinnati's special teams had their best single-game showing of the season.
Momentum changer:
Early in the game, it appeared the Bengals were headed for a third straight loss. They spotted the Browns 13 points in the first quarter, and even gave up a defensive touchdown when cornerback
Joe Haden
jumped a pass route on
A.J. Green
and sprinted in for a 29-yard interception return for a touchdown. With 44 seconds remaining in the period, though, the momentum shifted. Bengals linebacker
James Harrison
tried to replicate Haden, tipping a
Jason Campbell
pass to himself and breaking tackles and pirouetting into the end zone. A penalty after the interception took away the touchdown, but it wouldn't matter. The Bengals ended up scoring on the ensuing possession, kicking off a string of 31 unanswered Bengals points. Their 31 points in the second quarter marked a franchise record for points in a single quarter.
What's Next?
The Bengals (7-4) will have two weeks off before going for their second straight win. They'll spend the next 14 days rehabbing minor injuries and getting refocused for their final four games of the regular season. That end-of-year stretch begins Dec. 1 when they travel to San Diego.
October, 10, 2013
10/10/13
5:45
PM ET
CINCINNATI -- As more healthy players finally return to their defensive backfield, the
Cincinnati Bengals
are starting to see a sort of domino effect play out on the rest of the team.
It's one they are happy to see.
Now that
Dre Kirkpatrick
and
Reggie Nelson
have come back from injuries, and
Leon Hall
and
Brandon Ghee
appear poised this weekend to do the same, the Bengals are in the enviable position of having a perfectly healthy secondary. By extension, it means they ought to have a fully healthy group of special teams units, too. As strange as it might sound to some, the amount of injuries in one area of a team very much coincides with the amount of injuries on another.
[+] Enlarge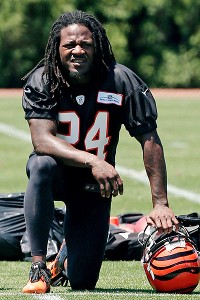 AP Photo/Al BehrmanBetter timing is all that is keeping Adam Jones from breaking a long punt return, says special teams coordinator Darrin Simmons.
"We've got a lot of moving parts," special teams coordinator Darrin Simmons said of his unit. "Hopefully now with the injuries we're starting to get through, guys can settle in. Through the first five games, we were very unsettled as far as personnel."
That's one big reason why he believes Cincinnati wasn't as good as it could be on punt returns through the first quarter of the season. After witnessing a couple of flashes on one of the two returns the Bengals did have against New England last weekend, Simmons said this week that he believed his now more stable return group was getting "close" to being exactly where it should.
Adam Jones
, the veteran cornerback who also returns punts for the Bengals, missed two games on special teams because of a dearth of players at his defensive position. Forced into making him a defensive starter, Cincinnati couldn't run the risk of getting Jones hurt on the punt return unit. If he did get injured trying to return punts, the Bengals would not only have been without a punt returner, they would have been down a much-needed defensive player.
Sunday's game against the Patriots was Jones' first as a punt returner after the two-game layoff. Even though he only had two returns totaling 10 yards, it was the second one, on which he gained all 10 of his yards, that really caught Simmons' attention.
"On his first one, he didn't have much of a chance," Simmons said. "It was a good job by them. They did a good job of identifying some things. The second one, we had a chance to get out of it."
The Bengals were steps away from converting a long return on Jones' second return, Simmons said.
"We've just got to play it better," Simmons said. "We've got to get another block, and he's got to make one more cut."
Jones, the player also known by his nickname "Pacman," wasn't so sure about the block, but he knew if he could have been a little quicker making a decision as to which hole he wanted to sprint through, he could have ripped off a big return.
"I just have to stick it," Jones said. "Hopefully I'll get better this week, get a little bit of room and see if I can wiggle through there."
He displayed significant wiggle in the season opener when he broke off a 50-yard punt return that had the potential to set the Bengals up with great field position for a score. The play was nullified, though, when officials penalized
Cedric Peerman
for an illegal block below the waist.
Jones hasn't had a return as long since. Overall this season, he has four returns for 29 yards. Again, Simmons says a big part of that is because the Bengals haven't had much continuity on their special teams units as roles have shifted on the various coverage and return teams because of injuries. Another factor is the lack of opportunities Jones has had because of those injuries.
Another lesser, but still important, factor has to do with Jones himself.
"He's got so much confidence in himself, and that's the good and the bad," Simmons said. "In his mind, he's going to score every time."
Because of that thought process, Jones has a tendency to over-think his returns, Simmons said. At times, he'll try to dance a little too much or not fire through his best hole quick enough because he thinks he sees another.
"You've got to be decisive, and once he's decisive, he's got to go," Simmons said. "That's the good part and the bad part about him. The good part about that is what you saw in the Chicago game. He can make a ton of cuts that nobody in the league can make.
"The time he makes one too many cuts, he gets tackled."
At earlier points in his career, Jones wasn't getting tackled much. Twice since 2005, he has averaged more than 10 yards a return. In 2006, arguably his best all-around season, he took back three for touchdowns. In his career, he has five punt returns for touchdowns.
"The more opportunities he gets, the better he'll get," Simmons said. "The return game is a lot about timing. It's getting to this spot at this time when this guy gets there, and it's not quite there yet."
But it's close.
July, 31, 2013
7/31/13
8:00
AM ET
It's a special day for the division today. Your resident blogger is celebrating his birthday. I know, you forgot to send a card. Don't sweat it. My gift to you is the Bengals' Camp Confidential and a piece on soon-to-be inducted Jonathan Ogden, both of which will be posted later today. Until then, here's the wake-up call ...
RAVENS
: Experts are optimistic that tight end
Dennis Pitta
can return from a hip injury next season, according to
The Baltimore Sun
. "With a professional athlete like Dennis, his rehabilitation protocol should allow for him to return to full capability by next season," said Dr. Derek Ochiai, an orthopedic hip surgeon based in Arlington, Va. "I would expect him to be ready by the middle of [next] summer. What they let him do as far as offseason stuff and training camp next year is obviously far ahead of him and up to the Ravens and Dennis. But with a lot of hard work and patience, he should be back."
BENGALS
: The Bengals have plenty of options at returner this year, according to
The Cincinnati Enquirer
. The favorite appears to be
Adam Jones
, who finished seventh in the league in punt-return average (11.6 yards per return). "He creates a lot of stress and anxiety for coaches, which is what you want to do," special-teams coach Darrin Simmons said. "I think he applies pressure to everyone he faces."
STEELERS
: The Steelers believe
Le'Veon Bell
is a good fit in the team's new zone-blocking scheme. "You have to have enough speed to threaten them, that's the big thing," offensive-line coach Jack Bicknell told
The Pittsburgh Post-Gazette
. "You don't have to be a 4.2 guy. You just have to have enough speed to threaten the outside, to make them think 'Hey, he could get around the edge,' and I think we have that."
BROWNS
: A week into training camp, offensive tackle
Joe Thomas
believes the new blitz-happy defense is "willing to bring the house." Said Thomas, via
The Plain Dealer
: "I think this defense is going to take more risks. I think (Steelers defensive coordinator) Dick Lebeau is less likely to take a risk and give up a big play with a blitz or a pressure than our coordinator Ray Horton. He's more willing to try to hit the quarterback and force an interception, force a turnover."
May, 29, 2013
5/29/13
8:00
AM ET
All four AFC North teams are on the field today for more voluntary practices. The Cleveland Browns will hold their mandatory minicamp next week, and the rest of the division teams will do so in the second week of June. Now that your calendar is set, here's your wake-up call ...
RAVENS
: The Ravens lost seven starters from their Super Bowl-winning team and added the likes of Elvis Dumervil, Michael Huff, Matt Elam and Arthur Brown. Coach John Harbaugh was asked if this year's team is better than the one that hoisted up the Lombardi trophy a year ago.
"
That's definitely the idea, our goal is to get better," Harbaugh told
105.7 The Fan in Baltimore
. "The proof is in the pudding, we proved that last year. We'll have a lot of work to do between now and then to prove it again this year. But, we have a chance, I like our young players
."
BENGALS
: After two weeks of offseason workouts, special teams coach Darrin Simmons told the
team's official website
that he has been impressed with the overall team speed. "It's as high as it's ever been; maybe ever," Simmons says. "We had a couple of fast groups from '04-'06. We had some fast guys then. I think our team speed was fast then. I think we're (more) experienced, so we're even in a better place now." Safety Shawn Williams, a third-round pick, has stood out. "He's as natural as an instinctive guy -- as far as understanding football concepts -- as I've seen come out in a long time; really natural," Simmons said.
STEELERS
: Despite not significantly improving the offense in his first year as coordinator, Todd Haley told the
team's official website
that the expectation this season is "to get to that confetti game, as Coach [Mike] Tomlin likes to call it." To do that, the Steelers have to be better than 21st in offense. "I would expect great development up front (with the offensive line), and I think our quarterback is as good as anybody's," Haley said. "We just need to do a better job of protecting him and him of protecting himself. And we need to run the ball more efficiently, because I think we'll be able to throw it with anybody."
BROWNS
: As
The Plain Dealer
put it, when was the last time a Browns assistant lost two Pro Bowl players? That's the challenge facing special teams coach Chris Tabor, who watched kicker Phil Dawson and returner Josh Cribbs sign elsewhere in free agency. "It was obviously great to coach those guys," Tabor said. "I feel very fortunate. But at the same time I'm excited about this group and the challenges that lie ahead and the things that we can build upon. In some areas, we will start from scratch but that's OK. In my opinion as a coach that's the fun process."
March, 1, 2013
3/01/13
8:45
AM ET
I will be rolling out the top salary-cap figures for the Steelers and Ravens today. Just click here to see the ones for the
Bengals
and
Browns
from yesterday. Our weekly feature "Eight in the Box" will get posted at noon. With those programming notes out of the way, here's your wake-up call ...
RAVENS
: The Ravens are expected to show interest in 49ers defensive lineman
Ricky Jean Francois
, according to
The Baltimore Sun
. Francois, an unrestricted free agent later this month, only has five career starts but he was part of San Francisco's rotation, playing nose tackle and both defensive end spots. The Ravens could be looking to replace aging
Ma'ake Kemoeatu
, a free agent who beat out
Terrence Cody
last season. The Packers are also reportedly interested in Francois.
BENGALS
: Special-teams coach Darrin Simmons looked at his stopwatch frequently at his 16th NFL combine. "When it comes to special teams," Simmons told the
team's official website
, "it's the only play that every snap is at least 40 yards. So you better be able to run. I'm looking for size-speed guys." In 2012, the Bengals ranked in the top half of the NFL in both punt-return and punt coverage but they were in the bottom half in kickoff-return and kickoff coverage.
STEELERS
: Free-agent wide receiver
Steve Breaston
, who is from Pittsburgh, took a physical with the team Thursday, according to the
Pittsburgh Post-Gazette
. There is no news to whether negotiations have begun with Breaston, who was released by the Chiefs on Feb. 19. The Steelers also claimed former Alabama quarterback
John Parker Wilson
off waivers from the Jaguars, according to the
Pittsburgh Tribune-Review
. He has spent his first three years in the league on the Falcons' and Jaguars' practice squads.
BROWNS
: Have teams been tampering with Browns' soon-to-be free agent
Josh Cribbs
? In an interview with
ESPN Radio in Cleveland
, Cribbs said, "There is a lot of interest. There are already numbers brought to the table. Things are happening. Wheels are turning behind closed doors." Cribbs' agent, Peter Schaffer, told
The Plain Dealer
that Cribbs is inaccurate. "Our conversations to this point have been exclusively with the Browns," Schaffer said. League rules state that teams can't talk to free agents from other teams until March 9. All we know right now is someone's not telling the truth. Either Cribbs is lying to make it sound like he's a hot commodity or the agents are lying about not talking to other teams.
July, 20, 2011
7/20/11
8:00
AM ET
Here are the most interesting stories Wednesday in the AFC North: Morning take: The Steelers first have to take care of players in-house and get under the salary cap. We will have more on that later today (hint, hint).
Morning take: Home-field advantage usually counts for about three points. So this sounds right. Will Baltimore quarterback Joe Flacco get his first win against Pittsburgh's Ben Roethlisberger?
Morning take: The Browns have money to spend and plenty of needs. Cleveland has to make moves if it wants to compete in the AFC North in 2011.
Morning take: This is a good point. Special teams coaches usually deal with younger players. With the lockout, coaches have had zero time to work with these players.