August, 26, 2012
8/26/12
4:39
PM ET
The Browns and Ravens have already made some cuts as teams need to get down to the 75-player limit by Monday at 4 p.m.

As everyone knows by now, the Ravens cut kicker
Billy Cundiff
in
a gutsy move
by the team. That means undrafted rookie
Justin Tucker
takes over as kicker.
"Billy had a great camp, the best he has had with us," coach John Harbaugh said in a statement. "He showed, like he always has, a toughness and an ability to come back and be a top-flight NFL kicker. These decisions are never easy, and this one was difficult for all of us -- Ozzie [Newsome, general manager], Jerry [Rosburg, special-teams coordinator] and me."
Harbaugh added, "Of course, that says something about Justin, the way he has kicked and our belief in him. But, that does not say something less about Billy. Billy was ready in every way to be our kicker. He'll kick in the NFL. He's a very good kicker and an even better person."
The Ravens had signed Cundiff to a five-year, $14.7 million contract that included a $3 million signing bonus just 19 months ago.
The one notable player waived by the Ravens was center
Cecil Newton
, the brother of Panthers quarterback
Cam Newton
. Cecil Newton was on the team's practice squad last season. Here are the other players waived: tight end
Davon Drew
(a 2009 fifth-round pick), receiver
Devin Goda
, OL
Addison Lawrence
, cornerback
Jordan Mabin
, long-snapper
Patrick Scales
, quarterback
Chester Stewart
and receiver Patrick Williams.
These cuts bring the Ravens' roster down to 81 players, meaning six more need to go by Monday's deadline. One move could be placing wide receiver
Tommy Streeter
, who didn't practice Saturday, on injured reserve to store him away for a year.

For the Browns, the biggest name to go was wide receiver
Carlton Mitchell
.The Browns had hopes they could develop Mitchell when they drafted the 6-foot-3, 215-pounder in the sixth round in 2010. But he managed three catches for 31 yards in two seasons. Cleveland decided to move on after drafting
Josh Gordon
in the supplemental draft and taking
Travis Benjamin
in the fourth round in April.
Here are the other players waived by the Browns: offensive linemen
Jake Anderson
and
Matt Cleveland
, defensive back
Emanuel Davis
, linebacker
JoJo Dickson
, punter
Spencer Lanning
and wide receivers
Bert Reed
,
Jermaine Saffold
and
Owen Spencer
.
The Browns now have 80 players on their roster and need to make five more moves by Monday's deadline.
July, 5, 2012
7/05/12
2:30
PM ET
All this week, the AFC North blog will take a look back at the 2009 draft for each team in the division. For Thursday, we'll review the draft for the
Baltimore Ravens
:

First round
:
Michael Oher
, OT
Second round
:
Paul Kruger
, OLB
Third round
:
Lardarius Webb
, CB
Fifth round
:
Jason Phillips
, LB, and
Davon Drew
, TE
Sixth round
:
Cedric Peerman
, RB
Thumbs up
: The Ravens came away with the best cornerback of the draft when they selected Webb with the 88th pick. He's proven better than the likes of Miami's
Vontae Davis
(first round) and Denver's
Alphonso Smith
(second round). The only other starter from this group is Oher, and he can be viewed as a disappointment. The Ravens traded a fifth-round pick to move three spots up to get Oher at No. 23, and teams do that with the expectation of getting a left tackle. But Oher hasn't been able to hold down a job on "The Blind Side," which is also the name of the movie based on his life.
Thumbs down
: The big miss for the Ravens was Kruger, who was supposed to be a high-motor pass rusher. The team even gave him
Michael McCrary
's No. 99 jersey. All Kruger has produced in three seasons is 6.5 sacks and one start. This is a pivotal season for Kruger, who steps into
Terrell Suggs
' rush linebacker role. The only other player remaining with the Ravens is Drew, the third-string tight end.
Hensley's grade
: C-plus. The Ravens got the AFC North's second-best player out of the 2009 draft in Webb (who still ranks behind the Steelers'
Mike Wallace
in this draft), but they fell short everywhere else. Oher isn't a franchise left tackle, and Kruger is far from a feared pass-rusher.
September, 4, 2010
9/04/10
4:57
PM ET
Check
here
for a full list of Baltimore's roster moves.

Biggest surprise:
The biggest name on this list, and perhaps in the AFC North, is backup quarterback
Troy Smith
. He nearly had Baltimore's starting job two years ago but an illness knocked him out of the running and opened the door for starter
Joe Flacco
. The Ravens were open to trading Smith but couldn't find a suitor.
Shayne Graham
was the preseason favorite to win Baltimore's kicking job after signing as a free agent. But after a stiff competition in training camp and the preseason, incumbent
Billy Cundiff
edged Graham, who statistically is one of the NFL's most accurate active kickers. Receiver
Demetrius Williams
was another surprise.
No-brainers:
Tight end
Davon Drew
's fate was sealed early when the Ravens drafted two rookies at his position high in the draft.
Todd Heap
,
Ed Dickson
and
Dennis Pitta
all looked solid this preseason, making Drew expendable. Cornerback
Travis Fisher
was another player who had an opportunity to show what he can do. Because of injuries, Fisher spent a brief time with the starters this summer but played poorly and didn't take advantage. Baltimore also pulled off a trade for backup linebacker
Antwan Barnes
with the
Philadelphia Eagles
for a conditional draft pick. The Ravens were deep at linebacker and gained back a pick for next year that they lost to the
Seattle Seahawks
recently in the
Josh Wilson
trade.
What's next:
Baltimore may scan the waiver wires to see if there's any hidden gems available in the secondary. Cornerback depth is always welcomed on the Ravens and safety
Ed Reed
going on the physically unable to perform list makes adding another safety an option. Otherwise, Baltimore's roster is stacked and ready to go. It's time for the Ravens to prepare for their Week 1 showdown with the
New York Jets
on "Monday Night Football."
August, 31, 2010
8/31/10
2:22
PM ET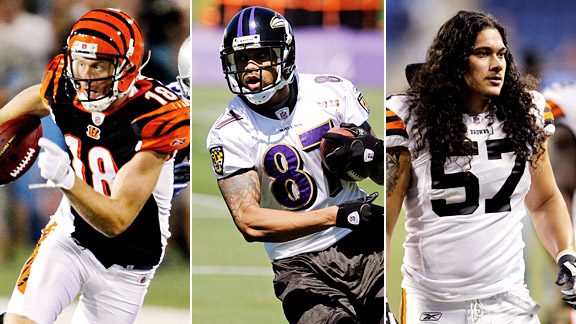 AP PhotosMatt Jones, Demetrius Williams and David Veikune are among the AFC North players in danger of not making their teams' final 53-man rosters.
With teams required to cut down to 53 players by Saturday, it's time to focus on the final rosters in the AFC North.
Expect plenty of chatter internally this week among general managers, scouts and coaches throughout the division on who should make the team. This is always one of the most intriguing weeks of the NFL season.
With that said, here are several noteworthy players on the bubble in the AFC North:
1. Matt Jones, WR, Cincinnati Bengals
Analysis:
The Jones experiment probably will end this week. The Bengals took a chance on Jones, who was out of football in 2009 for off-field issues, to see if he had anything left. Except for a few flashes, such as the Hall of Fame Game, the former first-round pick has been injured and not nearly the same explosive player he was several years ago. Jones also signed a team-friendly, one-year contract, which makes him easy to release. The Bengals have a lot of depth at receiver, and Jones doesn't appear to be in their plans.
Cut-O-Meter:
80 percent
2. David Veikune, LB, Cleveland Browns
Analysis:
Despite entering only his second season, this was a very important training camp for Veikune. The former second-round pick was a major disappointment in his rookie season. Veikune hasn't stepped up so far and is having another nondescript preseason. His best chance to make the Browns is his high draft status. But first-year president Mike Holmgren and general manager Tom Heckert added their own linebackers and have no personal investment in Veikune.
Cut-O-Meter:
80 percent
3. Demetrius Williams, WR, Baltimore Ravens
Analysis:
Placing Williams on the roster bubble has become an annual tradition in Baltimore -- and every year he survives. This year could be the same for Williams, who has a lot of ability but has yet to live up to his potential. Williams received a lucky "break," both literally and figuratively, when veteran receiver
Donte' Stallworth
suffered a broken foot in the third preseason game. Stallworth will be out approximately two months, increasing Williams' chances of making Baltimore's 53-man roster.
Cut-O-Meter:
35 percent
4. Justin Hartwig, C, Pittsburgh Steelers
Analysis:
Hartwig struggled at center last year and lost his job this preseason to first-round pick
Maurkice Pouncey
. The Steelers believe Pouncey is a star-in-the-making, which leaves Hartwig's future in limbo. Despite the benching, there is no question Hartwig is one of Pittsburgh's best 53 players. That should be enough. But Hartwig also is scheduled to make a little more than $2 million this season. He's being paid as a starting center and that's no longer his role. There's a chance Hartwig could compete at right guard or simply be the first center/guard off the bench in the event of injury. Hartwig's experience and versatility help his case.
Cut-O-Meter:
30 percent
5. Jerome Simpson, WR, Bengals
Analysis
: Simpson is another second-round pick who is running out of chances. Despite coming from small-school Coastal Carolina, the Bengals were enamored with his physical abilities and reached for Simpson in the second round of the 2008 draft. But the Bengals tired of waiting for Simpson to develop and made several offseason additions at receiver, which included signing
Terrell Owens
and drafting
Jordan Shipley
in the third round. But
Antonio Bryant
's surprising
release helps Simpson's chances
.
Cut-O-Meter:
50 percent
6. James Davis, RB, Browns
Analysis:
It's funny how quickly things can change in the NFL. Last summer, Davis was the talk of Cleveland after he led the Browns in rushing during the preseason as a rookie. This year, Davis is on the bubble after a lot of offseason additions at running back. The top three tailbacks for Cleveland are locks:
Jerome Harrison
,
Peyton Hillis
and
Montario Hardesty
. The question now is how many running backs Cleveland will keep. If the answer is four, Davis and
Chris Jennings
are battling for the final spot. I give Davis the edge.
Cut-O-Meter:
40 percent
7. David Reed, WR, Ravens
Analysis:
Reed, a fifth-round pick, burst on the scene in Baltimore with a stellar spring. But since then he's been inconsistent and is back on the bubble. Like Williams, Reed also benefits from Stallworth's injury and the extra roster spot available at receiver. That increases Reed's chances to make it. Otherwise, the Ravens would love to develop him on the practice squad.
Cut-O-Meter:
50 percent
[+] Enlarge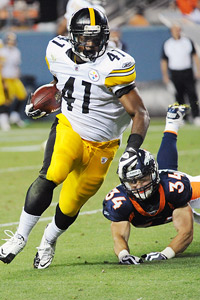 AP Photo/Jack DempseyJonathan Dwyer led the Steelers in rushing against the Broncos, but will it be enough to earn him a roster spot?
8. Jonathan Dwyer, RB, Steelers
Analysis:
Dwyer
made a strong push late
for a roster spot in Pittsburgh. After a disappointing training camp, Dwyer led the Steelers in rushing with 89 yards and a touchdown in Sunday's preseason loss to the
Denver Broncos
. Running back
Isaac Redman
has been stellar and secured the third running back job that was intended for Dwyer. Thursday's preseason finale will be vital for the sixth-round pick.
Cut-O-Meter:
55 percent
9. Brett Ratliff, QB, Browns
Analysis:
Do not believe the hype in Cleveland involving third-round pick
Colt McCoy
being on the bubble. From everything we're told, there is no truth to the speculation. This means Ratliff, barring injury, is probably spending his final week with the Browns. Ratliff will play a half Thursday in Cleveland's final preseason game against the
Chicago Bears
. That could be a nice showcase for Ratliff to try to latch on with another team. Browns coach Eric Mangini traded for Ratliff as part of the draft-day deal with the Jets to be a developmental project last year. But Holmgren is calling the shots now and drafted his own developmental project: McCoy.
Cut-O-Meter:
95 percent
10. Maurice Purify, WR, Bengals
Analysis:
Purify is one of Cincinnati's top special-teams players. But the Bengals' immense depth at receiver and
Purify's one-game suspension
for violating the NFL's personal conduct policy make it very unlikely he makes the cut. There is no reason for Cincinnati to take a roster spot away from a player who will be available for the start of the regular season to keep Purify.
Cut-O-Meter:
95 percent
Here are five additional names to watch:
September, 5, 2009
9/05/09
5:41
PM ET

Posted by ESPN.com's James Walker

Biggest surprise:
The Ravens didn't have any major surprises on Saturday's cut list. Perhaps the only move that was mildly surprising was releasing receiver
Justin Harper
, who started training camp and the preseason extremely well but hit a wall as of late. He was once in competition for Baltimore's No. 3 receiver job, yet by the end of the summer Harper finds himself looking for a job. Receiver and return specialist
Yamon Figurs
was on the bubble all offseason. So although he has a name people in Baltimore are familiar with, cutting Figurs wasn't a huge shock. Fourth-year cornerback
Evan Oglesby
made a late push but it wasn't enough.
No-brainers:
The Ravens confirmed what most media members suspected with the release of kicker
Graham Gano
. By midway through the preseason, it was clear
Steven Hauschka
was separating himself in the race to take over Baltimore's kicking duties. But Hauschka cannot breathe easy, because longtime Ravens kicker
Matt Stover
remains just a phone call away. Therefore, Hauschka needs to continue to make field goals in the regular season to hold his spot on the active roster.
What's next:
The Ravens traded cornerback
Derrick Martin
Saturday to the
Green Bay Packers
for guard/tackle
Tony Moll
. The move adds depth to their offensive line, as Moll has 18 career starts in three seasons. Also look for Baltimore to attempt to reclaim some of its rookie draft picks such as running back
Cedric Peerman
and tight end
Davon Drew
. Even Gano may be a solid practice-squad candidate who can keep Hauschka sharp and in a competitive mode during the regular season.
June, 5, 2009
6/05/09
8:00
AM ET
Posted by ESPN.com's James Walker
Here are the top stories Friday in the AFC North:
Morning take: There seems to be varying reports on Cincinnati's interest, or lack thereof, in Ellis. He has a connection with Bengals defensive coordinator Mike Zimmer, so we will see if anything develops.
Morning take: With injuries to tight ends Todd Heap, L.J. Smith and Quinn Sypniewski, Drew is getting a lot of reps right now with the starters. Signing early doesn't hurt the rookie, either.
Morning take: For most NFL players this isn't much of a news item. But when it happens to Roethlisberger, it is a big deal for two days.
Morning take: If the team wants a full evaluation of its two quarterbacks, preseason games have to be a part of the equation. Expect a decision sometime around the third preseason game.
June, 2, 2009
6/02/09
8:57
AM ET
Posted by ESPN.com's James Walker
Here are the top stories Tuesday in the AFC North:
Morning take: Hood is in a good spot in Pittsburgh. He will be in the rotation at defensive line but not as a starter, which will give him reps for experience and yet enough time to learn the NFL game.
Morning take: Now that the judicial system has run its course, it is up to the league to decide whether it wants to take further action for Hall's off-the-field misconduct.
Morning take: With starter Todd Heap (back) and backing L.J. Smith (groin) still recovering from injuries, rookie Davon Drew is getting a lot of reps this offseason. But if everyone gets healthy this summer, this could turn out to be an area of strength for Baltimore.
Morning take: I question if Williams, a natural 4-3 defender, will ever be fully comfortable playing in a 3-4. It will be up to the new coaching staff in Cleveland to get the best out of Williams in an unnatural role.
May, 27, 2009
5/27/09
7:25
AM ET
Posted by ESPN.com's James Walker
Here are the top stories Wednesday in the AFC North:
Morning take: Because of his pedigree, the Moon Township native and former Penn State center has a chance to become a fan favorite in Pittsburgh. But Shipley must first prove he can play at the next level.
Morning take: Palmer is extremely confident in his team this season. It will be interesting to see if that optimism translates to on-the-field success.
Morning take: Sypniewski was a decent addition to Baltimore's offense when healthy. But in the past couple of months, the Ravens signed veteran tight end L.J. Smith and drafted Davon Drew, putting Sypniewski's roster spot at risk this summer.
Morning take: Last year, young corners Brandon McDonald and Eric Wright had no starting-caliber players behind them when they struggled. Now competition at the position should help the Browns.