November, 27, 2013
Nov 27
10:00
AM ET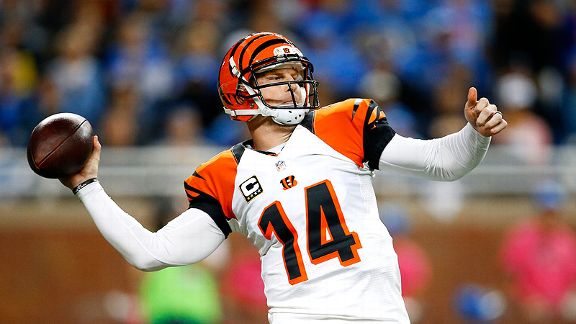 AP Photo/Rick OsentoskiThe Cincinnati Bengals are counting on Andy Dalton to return to the form that helped lead the team to a 4-1 record in October.
CINCINNATI -- Earlier this week,
Cincinnati Bengals
players like cornerback
Chris Crocker
were adamant in pointing out the urgency they need to play with throughout the
month of December
.
"It's all about winning in December," Crocker said. "Let's win out and see where the chips lay. Why can't we win out? I don't see why we can't."
If you ask some Bengals fans and most NFL analysts, they'll give you one big reason why they don't believe Cincinnati will be able to go 5-0 to close out the regular season: No. 14.
That's right. To some, the primary obstacle in the way of end-of-season perfection for the Bengals is
Andy Dalton
, the player who has quarterbacked the franchise into the playoffs each of the past two seasons, and who constantly is trying to prove himself to those who consider him just another member of a mostly failed 2011 quarterback draft class.
For that reason, as the Bengals gear up for a stretch run that could give them a first-round bye and home-field advantage in the playoffs, an important question has to be asked.
Can December Andy mimic October Andy?
As we've written countless times in the past month, October Andy was indeed a dandy. Through the first four games of that month, Dalton threw for 1,243 yards and 11 touchdowns. He also completed 67.9 percent of his passes, won four games, had a passer rating higher than 116.0 and a QBR above 83.0. He was, quite simply, brilliant. His play was so sharp back then that on the final day of the month, hours before the Bengals were set to take on the Dolphins in a road Thursday night game, he was named the AFC's Offensive Player of the Month.
And, yes, even though, comparatively speaking, he didn't look as good overall against the Dolphins and ended up taking the game-winning sack for a safety in overtime, Dalton still had a rather special performance in the 22-20 loss. Aside from not completing a touchdown pass and getting intercepted three times, he threw for 338 yards, marking the fourth straight game he had gone over the 300-yard passing mark.
Overall, October Andy was Good Andy.
But now here comes December with all of its postseason potency. If Cincinnati hopes to set itself up for the type of playoff seeding Crocker believes it deserves, then it will have to play its best ball across the next five weeks. That's especially the case for Dalton and a Bengals offense that has looked rather anemic in the past three games.
One look at Dalton's previous December stats and it doesn't appear the third-year star should have any problem showcasing even a sliver of the success that made him and his team so good about two months ago.
After a rocky December as a rookie in 2011, Dalton was among the difference-makers last season when the desperate Bengals were in need of a strong final month just to secure a playoff berth. One year after going 2-2 in the month, Dalton went 4-1 during December 2012. The lone loss came after the
Dallas Cowboys
made a field goal in the final seconds to win 20-19.
While the level of desperation may be different this December, the Bengals are looking for Dalton to thrive under similar pressure-packed moments during this one. This time around, the pressure on Dalton mainly stems from the fact that so many are fed up with his play from the past three games. In them, he's thrown eight interceptions and been sacked 10 times. Across the latter two of those games, he's completed fewer than 50 percent of his passes and hasn't posted a QBR higher than 18.0.
Weather factored heavily in Dalton's inability to move the ball in those two games. Windy conditions at Baltimore and windy and rainy conditions against the Browns sent some of his passes sailing and forced others into the hands of defensive backs.
Although weather shouldn't be a concern this weekend in San Diego (the forecast calls for partly cloudy skies and a delightful high of 71 degrees Sunday), it could be the rest of the season. Farmer's Almanac projects cold, damp conditions for all of December in the Ohio Valley. It should be noted that after Sunday's game, the Bengals are home three of the next four weeks. Their only remaining road game is at Pittsburgh.
Throughout his career, Dalton has performed better in warmer games. In games with temperatures 50 degrees or higher, he has a 20-14 record, an 85.1 passer rating and a 52.5 QBR. In games with temperatures at 49 and lower, he has a 5-5 record, a 75.4 passer rating and a 32.9 QBR. Dalton's last three sub-49-degree wins came last December, though; a sign that perhaps he's turning a corner in cold-weather contests.
Whatever the conditions and whomever their opponents are, when it comes to the next five weeks, the Bengals can only hope that Dalton turns into the same man who torched through this October.
October, 4, 2012
10/04/12
11:00
AM ET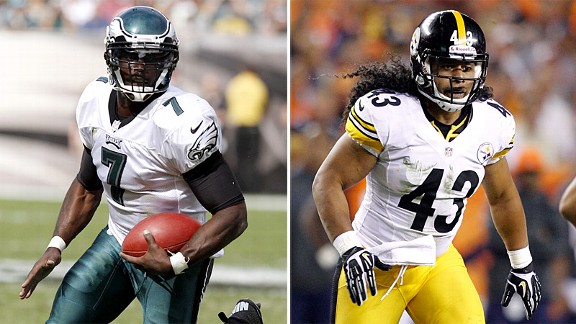 Icon SMI, AP PhotoMichael Vick, left, needs another turnover-free game against Troy Polamalu and the Steelers.
AFC North blogger Jamison Hensley and NFC East blogger Dan Graziano discuss the issues surrounding Sunday's game between the Philadelphia Eagles (3-1) and the Pittsburgh Steelers (1-2):
Jamison Hensley
: While there will be plenty of talk this week about
Peyton Manning
going against
Tom Brady
, the biggest game of the week is the Philadelphia Eagles at the Pittsburgh Steelers. That's where myself and NFC East blogger extraordinaire Dan Graziano come in. To get you prepared, we decided to provide some "Double Coverage" for this game. A major storyline will be turnovers. The Steelers don't force any, and the Eagles seem to give the ball away like Christmas gifts. Pittsburgh has only three takeaways this season and had a league-low 15 last season. Dan, what's the over-under on Eagles turnovers for this one?
Dan Graziano
: Wow, what an introduction, "blogger extraordinaire." I'll take it, even if I do remember being a little punchy myself in that sleep-deprived, new-dad phase way back when. As for turnovers, yeah, the Eagles turned it over 12 times in their first three games, which always looks like a misprint but isn't. They did not turn it over once against the Giants on Sunday night, and it's a good thing, too, since they only won by two points and a few field-goal inches. My sense is that it's easy for these NFC East teams to get and stay focused when they're playing the Giants (as I think the Cowboys showed in Week 1, as well), and that maintaining the newfound responsibility for ball security will be a greater challenge for
Michael Vick
this week in Pittsburgh. It's encouraging for the Eagles that this year's Steelers haven't been too opportunistic, because I think if the Eagles don't turn the ball over they can beat just about anybody. But I'll set the over/under at 2, and I think if they're under they'll win. What's the latest on linebacker
James Harrison
and the injury situations on defense in Pittsburgh? That could have a lot to say about this, as Vick is more turnover-prone when pressured.
JH
: Injuries have really taken a toll on the Steelers. It's gotten so bad that I have ESPN injury expert Stephania Bell as one of my favorites in my iPhone contact list. Steelers coach Mike Tomlin said Tuesday that he's optimistic that safety
Troy Polamalu
and Harrison will both play against the Eagles. I see Polamalu starting, but my guess is Harrison will be limited. The Steelers are always smart with their injured players, and they will look to ease Harrison back. He had a setback with his knee last week. That's why Harrison could be more of a pass-rush specialist Sunday. The return of Polamalu helps the Steelers, because he brings unpredictability. Quarterbacks don't know where he's going to line up, even though it's hard to miss him with that helmet of hair. If Harrison does play, the Steelers have a much better shot at getting to Vick. Without Harrison, Pittsburgh has just five sacks this season. The Steelers also expect to get back running back
Rashard Mendenhall
, who hasn't played since tearing his ACL in last year's season finale. Pittsburgh ranks 31st in the NFL in running the ball, and the hope is Mendenhall can provide a boost in that area. Is there any chance the Steelers will have success running the ball against the Eagles?
DG
: Chance, sure, but this isn't your older brother's Eagles defense. All the tackling and gap-control problems they had last season that led to allowing big plays in the run game seem to have been shored up with the addition of
DeMeco Ryans
at middle linebacker and
Mychal Kendricks
on the strong side. The Eagles have turned the ball over 12 times in four games, scored just 66 points, and are 3-1. Their defense isn't playing well, it's playing great. And I imagine it will have to continue to do so. Polamalu is a bad matchup for a quarterback like Vick, who doesn't read blitzes or defenses well and doesn't always see all of his available options down the field. I'm thinking this could be a low-scoring game. One thing I'm interested to see is how the Eagles set up their coverages against the Steelers' receivers.
Nnamdi Asomugha
seems to be having trouble staying with the speedier guys, so
Dominique Rodgers-Cromartie
has been taking most of those assignments and handling them very well. Which of the Steelers' great receivers is the burner?
Mike Wallace
still?
JH
: Wallace is still the best deep threat on the team. He didn't attend offseason workouts in the spring or training camp to protest the lack of a new contract, but he kept himself in great shape.
Antonio Brown
is quick as well, and he finds a way to get open on the crossing routes. Generating big plays, though, has been a problem for the Steelers this season.
Ben Roethlisberger
is averaging 7.5 yards per attempt (12th in the league) and is one of four starting quarterbacks who have yet to complete a pass beyond 40 yards. New offensive coordinator Todd Haley has been stressing a short passing game. I expect the Steelers to take more shots against the Eagles if Roethlisberger has enough time to throw it. And that's a big "if." This is essentially the same offensive line that failed to protect Roethlisberger last season. Should the Steelers be worried about the amount of pressure the Eagles will bring?
DG
: They should. The Eagles didn't get a sack Sunday night, and I believe they're annoyed about that. The Giants helped out their tackles by chipping the defensive ends, and most of the pressure the Eagles produced against
Eli Manning
was from the interior, where
Cullen Jenkins
and
Fletcher Cox
had great games. The Eagles believe they're eight deep with quality defensive linemen. They believe in pressuring the quarterback with the front four, so they don't blitz much. I'm interested to see whether they can contain and wrap up Roethlisberger if and when they get to him, since his reputation is that of a guy who keeps plays alive longer than most, where someone like Manning gets rid of the ball quickly. Different challenge for the Eagles' front this week, but they believe they're deep and talented enough to keep the pressure up for all 60 minutes. This time last season, the Eagles were 1-3 having blown three fourth-quarter leads. This year, the fourth quarter is where they've been at their best. Do you think coming off the bye helps the Steelers against a team built on the idea of outlasting people?
JH
: If the Eagles are annoyed about not getting a sack, you can imagine what the Steelers are feeling after failing to hold a 10-point lead in the fourth quarter at Oakland. The Steelers had an extra week to think about how they allowed
Carson Palmer
and the Raiders to score on all three of their fourth-quarter possessions to pull off the upset. This has been a bad trend for the Steelers this season. In their two losses (at Denver and at Oakland), the Steelers have been outscored 30-6 in the fourth quarter. That being said, Pittsburgh is a different team when playing at Heinz Field. The Steelers have won nine of their past 10 at home. In its win against the Jets, Pittsburgh shut out New York for the final 39 1/2 minutes, which doesn't seem much of an accomplishment after this past weekend. You know their recent fourth-quarter collapses have to be in the back of the Steelers' mind when they're watching film of Vick's late-game heroics. Do you think this game comes down to the final couple of minutes?
DG
: It probably should. The Eagles' offense hasn't played well enough to think they could run away with a game in a place like Pittsburgh, and the defense has played too well to forecast a blowout in the other direction. What's amazing is what a difference a year makes, and the idea that after what happened last year you might pick Vick and the Eagles to win a game in the final minutes against Roethlisberger and the Steelers. But they did it Sunday against Manning and the Giants, so anything is possible. This season's Eagles are definitely tougher than last season's were. I think it should be a good game, and I look forward to seeing you there Sunday.
April, 11, 2012
4/11/12
4:32
PM ET
The rumored trade of linebacker
Keith Rivers
to the
New York Giants
appears to be a reality, even though the Bengals have yet to announce the move.
Multiple outlets, including the
NFL's official website
, are reporting that the Bengals received a fifth-round pick from the Super Bowl champions in exchange for the oft-injured Rivers. Even Rivers has confirmed the deal, tweeting out the "Theme from New York, New York." (On a side note, Rivers' first misstep is attributing the quote to "Frank Santria.")
Rivers
Once again, the Bengals are the winners in a trade. Cincinnati is getting the 167th overall pick for a first-round pick who could never stay healthy. Rivers has talent but he missed 29 games in four seasons. A wrist injury sidelined him for the entire 2011 season.
So, the Bengals got a fifth-rounder when they probably would've taken anything to unload the disappointing No. 9 pick from the 2008 draft and his $2.1 million salary. That's the best offer that the Bengals could've received for Rivers, who lost his starting job to
Thomas Howard
and would've played special teams this season.
How lucky are the Bengals to get a fifth-round pick? The Texans got a fourth-rounder for middle linebacker
DeMeco Ryans
, who was the franchise's all-time leading tackler and a two-time Pro Bowl selection.
This is not a surprise because the Bengals continue to come out on top in such moves. Since last July, Cincinnati has traded away two players for draft picks and gotten the better end of the deal both times. The Bengals sent wide receiver
Chad Ochocinco
to the Patriots for a fifth-round pick this year and a sixth-rounder in 2013. Then, they dealt quarterback
Carson Palmer
to the Raiders for a first-round selection this year and a second-rounder in 2013.
The Bengals now have nine draft picks: First round (17th and 21st overall), second round (53rd), third round (83rd), fourth round (116th), fifth round (156th, 166th and 167th) and sixth round (191st).
*
UPDATE
: Two sources told
ESPN NFL Insider Adam Schefter
that the Bengals and Giants do not expect to finalize trade today. The hope is to have it completed by Thursday. It's possible that the trade is continent on Rivers passing a physical.
July, 16, 2008
7/16/08
1:00
PM ET
Posted by ESPN.com's James Walker
This is the second of a three-day series examining drafts for each AFC North team over the past three years. Grades are based on performance, where players were picked (too high, too low) and whether they remain with their original team.
Here is a look at the Browns' 2006 draft:
Analysis: The Browns didn't hit any home runs in this draft, but they gave themselves some building blocks to work with. First-round pick Kamerion Wimbley and second-round pick D'Qwell Jackson are both quality starting linebackers. In the second round the Browns just missed out on DeMeco Ryans, who went one pick ahead of Jackson to the Houston Texans and was the Defensive Rookie of the Year in 2006. Cleveland did well with a pair of late-round running backs in Jerome Harrison and fullback Lawrence Vickers. Both are contributors, and Vickers
was an alternate for the Pro Bowl last season. Fourth-rounders Leon Williams and Isaac Sowells both provide the team depth at the linebacker and guard position, respectively.
Grade: B
Next we look at the Pittsburgh Steelers.