December, 3, 2013
12/03/13
12:00
PM ET
CINCINNATI -- One day after learning left offensive guard
Clint Boling
tore his ACL in Sunday's 17-10 win at San Diego, the
Cincinnati Bengals
on Tuesday placed Boling on season-ending injured reserve and re-signed fellow lineman
Dennis Roland
.
Roland was on the Bengals' roster for three games earlier this season before getting waived. He comes back as the Bengals look to shore up depth on their line amid the possibility that they may shake up the lineup to feature Pro Bowl tackle
Andrew Whitworth
at Boling's old spot.
A third-year player from the University of Georgia, Boling started every game for the Bengals last season, and did the same in all 12 of this year's contests. He only lasted five plays against the Chargers on Sunday, though, going down on just the second drive of the game. Almost instantly the Bengals knew the injury was serious when Boling needed to be helped off the field by tight end
Alex Smith
.
Boling becomes the ninth Bengals player to head to the IR, and the first on offense. Receiver
Andrew Hawkins
was lost for all of the preseason and half of the regular season when he was added to the IR/designated to return list in August. He was the only other non-PUP (physically unable to perform list) offensive player to miss significant time this season. Hawkins came back at Miami four games ago.
Also a Georgia product, Roland is a sixth-year player who has spent his entire career with the Bengals. Although he was released Sept. 25, he didn't play for any other team before getting re-signed Tuesday. He has seen action in 69 career games and three postseason games. A tackle by trade, Roland's arrival could be a sign the Bengals are bolstering their depth at offensive tackle in the event they decide to move Whitworth to Boling's position more permanently.
After Boling went down Sunday, the Bengals' offensive line -- with Whitworth at left guard, reserve
Anthony Collins
at left tackle and
Mike Pollak
at right guard in place of an injured
Kevin Zeitler
-- led the way for a 164-yard team rushing performance. It was among the top three rushing efforts for Cincinnati this season.
August, 31, 2013
8/31/13
7:45
PM ET

Most significant move
. The Bengals surprisingly cut
John Conner
and kept
Orson Charles
. This means the Bengals aren't going with a traditional fullback. The Bengals will use two tight ends in their primary formation with
Jermaine Gresham
and first-round pick
Tyler Eifert
. When the Bengals need a lead blocker, they'll go with Charles, who is more of an H-back. Conner worked with the starting offense in the preseason finale and was the lead blocker on
Giovani Bernard
's one-yard touchdown. He also played a part in the top rushing attack in the preseason.
Cincinnati also cut offensive tackle
Dennis Roland
, who joined the Bengals in 2008 and played in every game for the previous four seasons. Rookie fifth-round pick
Tanner Hawkinson
made Roland expendable. And, as expected, the Bengals parted ways with defensive end
Dontay Moch
, a disappointing third-round pick who never produced a tackle in two seasons with the team. The release of quarterback
John Skelton
means
Josh Johnson
is the backup to
Andy Dalton
.
Surplus at two spots
. Most expected the Bengals to choose between Ryan Whalen and
Dane Sanzenbacher
. But they kept both. Sanzenbacher helped his cause by producing big plays as a receiver (averaged 20 yards on five catches) and punt returner (71-yard touchdown) in the preseason. The Bengals are carrying seven wide receivers for the second straight season. They did waive
Cobi Hamilton
but the rookie sixth-round pick is expected to go on the practice squad.
The Bengals decided to keep five safeties, the same amount as cornerbacks.
George Iloka
is listed as the starter with
Reggie Nelson
, but rookie third-round pick
Shawn Williams
will likely be the eventual starter. Like wide receiver, Cincinnati was expected to choose between
Taylor Mays
and
Jeromy Miles
for the fourth safety spot and it kept both. Miles survived because of his play on special teams.
What's next
. The Bengals likely will put wide receiver
Andrew Hawkins
(ankle) on the injured reserve-designated to return list, but they can't make the move until after 4 p.m. Tuesday. Based on its numbers at linebacker, that's the position Cincinnati will look at on the waiver wire. The Bengals are currently carrying five:
James Harrison
,
Vontaze Burfict
,
Rey Maualuga
,
Jayson DiManche
and
Vincent Rey
. The Bengals will probably sign linebacker
J.K. Schaffer
, the leading tackler in the preseason, on the practice squad after waiving him Saturday. The Bengals may add a sixth cornerback.
Here are the moves made by the Bengals to get down to the league limit of 53:
Waived
: FB John Conner, TE-LS
Bryce Davis
, S
Tony Dye
, OT
Reid Fragel
, WR Cobi Hamilton, RB
Dan Herron
, C
T.J. Johnson
, CB
Chris Lewis-Harris
, CB
Onterio McCalebb
, DE Dontay Moch, CB
Shaun Prater
, WR
Taveon Rogers
, WR
Roy Roundtree
, LB J.K. Schaffer, QB John Skelton, DT
Terrence Stephens
, G
John Sullen
, LB
Bruce Taylor
.
Contract
terminated
: OT Dennis Roland.
Physically Unable to Perform list
: RB
Bernard Scott
.
Injured reserve
: LB
Emmanuel Lamur
(shoulder).
August, 30, 2012
8/30/12
11:06
PM ET
Nearly all the AFC North teams played it safe in Thursday night's preseason finales.
Ben Roethlisberger
,
Joe Flacco
and
Brandon Weeden
all sat out and watched the backup quarterbacks play.
The only starter who played, the Bengals'
Andy Dalton
, left in the first quarter with an injury but it's not considered serious. Dalton said his hand went "a little numb" after getting hit in the arm but it's "no problem at all." Bengals coach Marvin Lewis said, "Andy's fine. He'll be fine for Baltimore. He would have gone right back in this game if it had been the regular season." So, crisis averted.
If you couldn't watch all four division teams play simultaneously, you're in luck. I had my eye on each one and here are some observations:
BENGALS AT COLTS


In the
20-16 loss at Indianapolis
, Dalton was hurt on the opening drive after getting sandwiched. Offensive tackles
Andrew Whitworth
and
Dennis Roland
both got beaten for sacks on the play. It hasn't been a great preseason for Whitworth, who is the second-best left tackle in the division.
The Bengals didn't play their top two running backs,
BenJarvus Green-Ellis
and
Bernard Scott
, because both are recovering from injuries and are getting ready for the regular-season opener. For once, Cincinnati's run game didn't suffer.
Brian Leonard
ran hard and broke tackles for 27 yards on three carries.
Cedric Peerman
, who makes more of an impact on special teams, looked good on a 13-yard run up the middle.
No one wants to see Dalton hurt. The Bengals, though, have to feel comfortable with backup
Bruce Gradkowski
. He finished 12 of 19 for 95 yards and led his fourth touchdown drive of the preseason.
Rookie wide receiver
Marvin Jones
displayed some resiliency in the second quarter. On the same drive in which he dropped a touchdown pass, he came back to catch a back-shoulder throw from Gradkowski and ran into the end zone. Jones is making a push for some playing time this year.
BEARS AT BROWNS


In the
28-20 loss to Chicago
,
Colt McCoy
watched his strong preseason take a nosedive. In his first start this summer, McCoy was 2 of 5 for 16 yards for a 9.1 quarterback rating. That's going to put a dent into McCoy's 119.1 rating from the first three games. McCoy was also intercepted on a high pass that was thrown with no pressure around him. The Browns will let everyone know what they plan to do with McCoy on Friday.
The Browns have a concern at linebacker after rookie
James-Michael Johnson
left with an oblique injury. With
Chris Gocong
out for the season with an Achilles injury and
Scott Fujita
facing a three-game suspension from the NFL, Cleveland planned to depend on Johnson and
Kaluka Maiava
. The Browns might need Fujita to win his appeal to avoid going deeper on the depth chart. Johnson was having a strong performance before getting injured on an open-field tackle.
Backup running back
Montario Hardesty
had trouble getting back to the line of scrimmage because he got little help from his blockers. He finished with 24 yards on six carries and he didn't fumble for the first time since the preseason opener.
Brandon Jackson
fared much better, gaining 48 yards on seven carries.
Cornerback
James Dockery
was flagged twice for pass interference in the second quarter. The second one eventually led to a touchdown. Rookie cornerback
Trevin Wade
was physical and had good coverage in allowing the first touchdown of the game.
As if the Browns needed something else to worry about, they have to iron some things out on special teams.
Reggie Hodges
got his second punt blocked this preseason.
RAVENS AT RAMS


In a
31-17 loss at St. Louis
,
Sergio Kindle
hurt his chances of surviving Friday's cutdown. He hit quarterback
Sam Bradford
a full second late, drawing a roughing-the-passer penalty to help the Rams convert third-and-22. Kindle, a 2010 second-round pick, was on the bubble entering this game.
Continuing Thursday night's trend of rookies getting hurt, second-round pick
Courtney Upshaw
will have an MRI for his strained shoulder, according to coach John Harbaugh. Upshaw has been backing up
Albert McClellan
at outside linebacker.
Veteran linebacker
Brendon Ayanbadejo
had his worst game with the Ravens. Working with the first-team defense because most of the starters sat, Ayanbadejo struggled against the run and got lost in coverage. It was so bad that he
apologized for his performance
on Twitter.
What I like the most about
Tyrod Taylor
, who started in place of Flacco, is his ability to make plays with his legs. Even though he focused more on being a pocket passer, Taylor wasn't hesitant to take off for a 22-yard scramble. He did get stripped from behind earlier in the game, but it was the result of a third-string lineman (
Cord Howard
) getting beat by a former first-round pick (
Robert Quinn
).
Looking at
Curtis Painter
's up-and-down performance, I'm not sure he convinced the Ravens to keep three quarterbacks. He threw two touchdowns and was intercepted three times. One interception was returned 76 yards for a touchdown.
Justin Tucker
missed his first kick of the preseason, but it's difficult to be critical of him. It was a 57-yard attempt. He later hit a 49-yarder in the third quarter.
PANTHERS AT STEELERS


If this was
Charlie Batch
's last game with the Steelers, he made it a memorable one, or at least as memorable as the preseason gets. In the
17-16 victory
over Carolina, he completed 11 of 14 passes for 102 yards. Batch showed great touch in leading Emmauel Sanders out of double coverage for a 37-yard touchdown. The new rule regarding injured reserve helps Batch's chances of sticking around Pittsburgh for an 11th season, but there's no guarantee that he'll make the cut.
For the second consecutive week, a Steelers draft pick went down with a serious knee injury. With two minutes left in the third quarter, linebacker
Sean Spence
hyperextended his knee while chasing quarterback
Jimmy Clausen
. Spence's knee bent awkwardly underneath him, and the third-round pick needed to be carted off the field. Spence was expected to make an impact on special teams this season and could have received playing time if there were injuries at inside linebacker. Unlike
David DeCastro
's knee injury, this one happened on the natural grass of Heinz Field.
This isn't a newsflash, but rookie running back-receiver-returner
Chris Rainey
is a game-changer. He twice scored on punt returns in one quarter, only to have both brought back because of penalties. This would've given him the touchdown trifecta. The fifth-round pick had scored on a 41-yard run and a 57-yard catch this summer.
Nose tackle
Casey Hampton
made his preseason debut after having ACL surgery in January. His presence was felt immediately as he got off a block from guard
Mike Pollak
and made a tackle. Hampton's return was good to see for the Steelers, even though
Steve McLendon
has played well enough to start.
Jonathan Dwyer
solidfied himself as the primary backup to
Isaac Redman
, and the Steelers could need him based on Redman's durability. Dwyer was physical (even delivered a stiff-arm) and showed good feet to elude tacklers. He finished with 63 yards on 13 carries, a 4.8-yard average.
April, 12, 2012
4/12/12
8:15
AM ET
Every morning, grab a cup of coffee and get your AFC North wake-up call here:
The Baltimore Ravens could be in line to make a repeat appearance on HBO's "Hard Knocks" this summer.
If the New York Jets pass on the show, HBO has interest in featuring the Ravens and San Francisco 49ers, sources told
Fox Sports
. The show, which chronicles training camp, would feature the NFL's head-coaching brothers John and Jim Harbaugh.
A Ravens spokesman told the
Baltimore Sun
that he was unaware of any request from HBO. The Ravens were the first team to be featured on "Hard Knocks" in 2001 when they were defending Super Bowl champions.
The Ravens might not be high on HBO's list anymore. Sources told
ESPNNewYork.com
that HBO has extended an offer to the Atlanta Falcons to be on this year's show.
Hensley's slant
: I would be shocked if the Ravens agreed to be on the show. When the Ravens were on "Hard Knocks" 11 years ago, their head coach was Brian Billick, who never minded the media attention and actually seemed to enjoy it. The same can't be said for John Harbaugh, who seems uncomfortable when the local media shoot parts of the open media viewing of practice. That's why I can't see Harbaugh signing off on cameras in meeting rooms and having it broadcast on national TV.
BENGALS
: The team announced that it re-signed offensive tackle Dennis Roland, who was used mainly as an extra blocking tight end last season after being the primary starter at right tackle in 2009 and 2010. Bengals coach Marvin Lewis also did not completely rule out re-signing Bobbie Williams. "We can't close the door to it," Lewis said, via the
Cincinnati Enquirer
. "What Bobbie has meant to this team, he's been an incredible locker room guy and in the huddle."
Hensley's slant
: The thinking here is that Williams would be a solid fallback option if the Bengals don't like any of the guards available in the early rounds of the draft. I still see the Bengals having a good shot at either Stanford's David DeCastro with the 17th overall pick or Georgia's Cordy Glenn at No. 21.
BROWNS
: The team wraps up its pre-draft visits by meeting with Texas A&M quarterback Ryan Tannehill on Sunday and Monday, according to the
Cleveland Plain Dealer
. The paper believes that the Browns have four options with the fourth overall pick if they decide not to trade down: Tannehill, Oklahoma State receiver Justin Blackmon, Alabama running back Trent Richardson and LSU cornerback Morris Claiborne.
Hensley's slant
: I'm still not buying the Browns' interest in Tannehill at No. 4. There's also a chance that he won't even be available when the Browns are on the clock at this spot. Some predict the Miami Dolphins will trade to move up to No. 3 to take Tannehill.
STEELERS
: Tight end-fullback David Johnson signed his
restricted free-agent tender
, which will pay him $1.26 million this season. The
Pittsburgh Post-Gazette
's Gerry Dulac expects the Steelers to carry three tight ends this season and sees the team cutting Weslye Saunders if it likes recently signed Leonard Pope. Saunders has reportedly been suspended the first four games for violating the NFL's policy on performance enhancing substances.
Hensley's slant
: This scenario could very well happen because the suspension might be causing the Steelers to reconsider why they signed Saunders as an undrafted free agent. He left South Carolina after his junior season because he was kicked off the team in September 2010 for violating team rules. That was one of the reasons teams didn't draft him even though he was regarded as one of the top tight ends coming out of college last year.
October, 7, 2010
10/07/10
2:00
PM ET
What's wrong with
Andre Smith
and why isn't he starting for the
Cincinnati Bengals
?
[+] Enlarge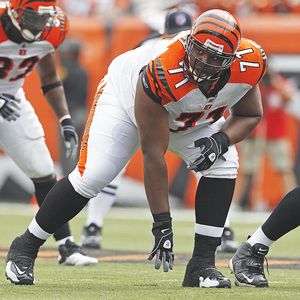 Frank Victores/US PresswireAndre Smith saw extensive action against the Browns last weekend with mixed results.
We get this question often in our
AFC North inbox
. The former No. 6 overall pick came to the Bengals last year with high expectations but hasn't produced because of issues with weight, health and lack of performance.
But on Sunday, Smith received extensive playing time, rotating series with starting right tackle
Dennis Roland
in Cincinnati's 23-20 loss to the
Cleveland Browns
. The AFC North blog went back to study film of each Smith snap to grade his performance.
Points were awarded or deducted on a five-point scale, depending on how good or bad Smith performed on each play. Here is what we found:
Smith is out for the first and second offensive series. Roland is in.
Smith enters game on third series at right tackle.
Unbalanced line, Bengals run a stretch play left for 2 yards. Smith looks a bit awkward in space trying to find someone to block away from the play. (-1 point)

On his second play from scrimmage, Smith allows Browns defensive end Kenyon Coleman to bull rush and get under his pads. Coleman shakes Smith off easily and sacks Bengals quarterback Carson Palmer. (-5 points)

On third down in an obvious passing situation, Smith does a decent job on Browns linebacker Matt Roth. But Palmer throws incomplete and Bengals go three-and-out. (+2 points)
Grade for drive: -4 points
Smith in for Bengals' fourth series.
Browns linebacker Scott Fujita brings pressure on the right side and Smith picks it up. Palmer finds receiver Chad Ochocinco for a 42-yard catch on the right sideline. (+3 points)

Bengals go with an unbalanced line. Browns blitz and Smith gets mixed up on who to pick up and doesn't block anyone. Pass incomplete. (-3 points)

Cincinnati calls a screen left and Smith blocks Browns defensive end Brian Schaefering on the backside. After making his block, Smith hustles to the action to get another block but doesn't get there in time. Solid effort. (+2 points)

Browns linebacker Marcus Benard puts a spin move on Smith and blows right by him. Palmer moves in the pocket to avoid Benard and completes a 12-yard pass to receiver Terrell Owens for a first down. (-2 points)

Smith puts a good block on Schaefering, then goes to the second level to hit Fujita to pave the way for Bernard Scott's 5-yard run. Good play. (+3 points)

Smith holds his ground against Schaefering for a 2-yard run by Scott. (+1 point)

On third down, Smith blocks Roth. Palmer rolls to his side but throws an incomplete pass. (+1 point)
Grade for drive: +5 points
Smith is replaced by Roland on Cincinnati's fourth and fifth series.
However on special teams, Smith allows Fujita to penetrate on his left side to block a 44-yard field-goal attempt before halftime. The play cost Cincinnati points it could've used. (-5 points)
Grade for special-teams play: -5 points
Smith replaces Roland in the sixth series.
Palmer fumbles on an odd play where he second-guesses a throw and tries to pull his arm back. Smith, with his back to Palmer, is unaware the ball is on the ground and the player he's blocking (Coleman) recovers the football. (-1 point)
Grade for drive: -1 point
Smith in for seventh series.
Schaefering is stuffed by Smith as Palmer has time and finds Owens for a 17-yard gain. (+3 points)

Smith tries to block Roth but fails miserably. Roth stands Smith up, then impressively throws him to the ground and makes a tackle on Cedric Benson for a 3-yard run. (-3 points)

Smith crashes line to help with pass protection. Palmer finds receiver Jordan Shipley for a 9-yard reception. (+1 point)

Smith tries to move in space but quickly loses footing on a nice Benson run to the left for 12 yards. I notice a trend with Smith struggling to block in space and on the move. (-1 point)

On a passing play, Smith tries to engage Schaefering. But Schaefering quickly sheds him and puts pressure on Palmer, who throws the ball away. (-2 points)

Fujita blitzes again on the right side and Smith gets in good position to stop it. Palmer finds Owens for a 19-yard reception. Good blitz pickup. (+3 points)

Smith continues to have trouble with Coleman, who sheds Smith again and pressures Palmer. Roth eventually gets the sack. Smith is having trouble stringing two and three good plays together. (-2 points)

Schaefering beats Smith to assist on a tackle of Benson for 2 yards. (-2 points)

Smith whiffs at blocking Roth who forces Palmer to check down to running back Brian Leonard. Smith's footwork wasn't good. (-2 points)
Grade for drive: -5 points
Smith sits out eighth and ninth series.
Smith's game grade: -10 points
AFC North blog's analysis:
Smith still has a long way to go in his development. There are several flashes that you can see above, but too often Smith makes negative plays and mistakes. The Bengals are giving Smith every chance to win the starting job at right tackle. But Cincinnati's offensive line is already struggling and it could be risky to insert Smith full time while he's learning on the job and making this many errors. Smith needs to improve rapidly and be more consistent to make a bigger contribution.
December, 14, 2009
12/14/09
2:30
PM ET

The
Cincinnati Bengals
(9-4) committed 11 penalties that helped lead to Sunday's
30-10
loss to the
Minnesota Vikings
(11-2). It's an issue that Cincinnati's coaching staff will have to fix as the team inches closer to the playoffs.
But before the Bengals fix their penalties, they first have to get to the root of the issue. The AFC North blog provides some assistance by determining if the team's problems are mental or physical errors.
By our count, seven of Cincinnati's 11 penalties were mental errors. These types of infractions often drive coaches crazy.
Bengals head coach Marvin Lewis will have to preach to his team to play smarter and more discipline next week against the
San Diego Chargers
(10-3). Because another game with 11 penalties likely will lead to the same losing result.