AFC North:

Desmond Bryant
November, 25, 2013
Nov 25
4:38
PM ET
There were some oddities in the way the
Cleveland Browns
defended the
Pittsburgh Steelers
on Sunday.
Defensive coordinator Ray Horton changed things, often using two linemen and two outside linebackers to provide pressure. He rarely called blitzes; as a result the Browns rarely got pressure.
It's the third time season Horton dialed back the aggressiveness -- the same happened against the
Detroit Lions
and the
Green Bay Packers
.
The common denominators?
Matt Stafford,
Aaron Rodgers
and
Ben Roethlisberger
-- the guys at quarterback.
When the Browns have faced an experienced and talented quarterback, they dial back the pressure. There's two ways to look at this of course. Pressuring an experienced guy only gives that guy more room to throw. The flip side is pressuring him disrupts the passing game, which is what Horton and the Browns tried to do with the less talented guys.
Defensive lineman
Desmond Bryant
said after the game the Browns did not blitz as much, and added: "Ray makes the calls and I do my job."
The Browns' thinking revolved around the Steelers getting rid of the ball quickly. Roethlisberger worked a lot from the shotgun, threw several quick screens to receivers and held the ball less than he got rid of it.
That puts the onus on the secondary and linebackers to disrupt routes, and to make tackles to prevent yards after catch.
Neither happened Sunday, at least not well.
The end result of using two down linemen meant somebody would not have as much playing time. That fell on Phil Taylor, who was on the field for just 25 of the 69 defensive snaps. The majority of the play went to Bryant (44 plays) and
Ahtyba Rubin
(39 plays). Taylor's plays were the third highest among linemen.
Which, combined with the bad losses the past two weeks, may have contributed to Taylor's silence the past two days.
Sunday he said he was "not answering any questions" before he left the locker room.
Monday, Taylor walked to his locker, grabbed some items and strolled right past a waiting group of reporters.
It should be said out of fairness to Taylor that he's been one of the more cooperative and accessible players for the Browns this season.
"I'm sure," said linebacker
D'Qwell Jackson
, "a lot of guys are frustrated."
November, 17, 2013
Nov 17
8:33
PM ET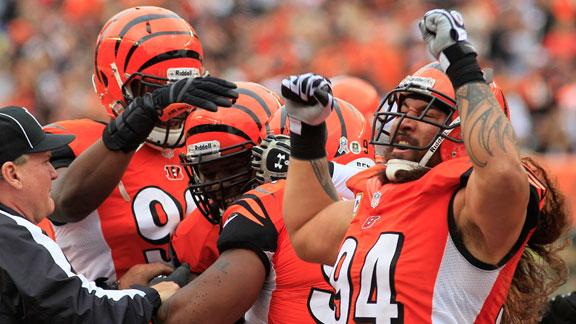 CINCINNATI -- It's not common for a team to have a punt blocked and returned for a touchdown.
It's less common that a team has that happen in the same game when it has another punt tipped, holding said punt to 9 yards.
But that's part of the reason the
Cleveland Browns
fell apart in the 41-20 loss to the Bengals: They couldn't get off a punt. There were other miscues, of course.
Jason Campbell
's pass from his 20-yard line with the Browns ahead 13-0 was tipped at the line and intercepted by
James Harrison
. It would have been a touchdown had a Cincinnati player not blocked in the back for a penalty.
No matter, it merely set up Cincinnati's first touchdown.
[+] Enlarge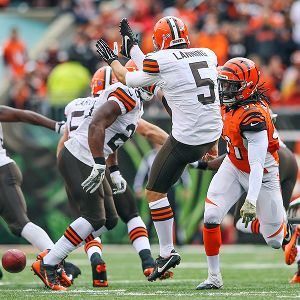 Kevin Jairaj/USA TODAY SportsBengals linebacker Jayson DiManche, 51, blocked Spencer Lanning's punt, which Tony Dye returned for a touchdown.
The Bengals forced a punt, which Lanning had tipped and went 9 yards. That set up the Bengals' second touchdown, which put them ahead for good.
Two possessions later, rookie
Barkevious Mingo
missed a block in protection and Lanning's punt was blocked, except this time the Bengals ran it in for a touchdown and a 21-13 lead.
The barricade was starting to cave.
"It's definitely a game-changer," Lanning said of the blocks.
Mingo took responsibility for the second blocked punt. Lanning said the snap, step and kick from his point of view were fine.
"I felt the operation was good," Lanning said. "Credit to them for dialing up good rushes."
Lanning was amid the scrum for the ball with
Tony Dye
, but he neglected to touch Dye when he recovered the kick on the ground. That let Dye get up and run.
"I have no idea," Lanning said when asked if he touched Dye. "I slid and was trying to fight for the ball."
Lanning said he expected to be rushed kicking into the wind, and he got the pressure he expected. It could be, too, that the Bengals saw something they liked on the first tipped punt and decided to go after the second.
"Unacceptable," coach Rob Chudzinski said of the poor special-teams protection.
The Browns then compounded their problems. On their ensuing possession,
Chris Ogbonnaya
fumbled after a short completion and the Bengals returned it for a touchdown and a 28-13 lead.
Then on third-and-13 with 42 seconds left,
Jordan Cameron
caught a short throw from Campbell and ran out of bounds. That allowed Cincinnati to save a timeout, and when the Browns didn't cover the punt well Cincinnati was able to kick a field goal.
The Browns implosion led the Bengals to score 31 points in the quarter, a franchise record.
"A few plays here and there, it could have been a different outcome to the game," defensive lineman
Desmond Bryant
said.
Which, technically, is true.
But when every play goes against the team making the errors, it creates a steamroll effect that is next to impossible to fight.
And when the same team makes mistakes big and less big -- like
Armonty Bryant
jumping offside on a Cincinnati punt in the third quarter on fourth-and-2 -- it adds up.
Figure that Campbell returned to his pre-last-two-weeks self and threw three interceptions, and it's not hard to grasp why Browns lost a game by 21 when they held the opposing quarterback to 93 yards passing (on 27 attempts) and when they held the opposing star (receiver
A.J. Green
) to two catches for 7 yards.
"We handed them the game," said wide receiver
Josh Gordon
.
"Too many mistakes," said safety
T.J. Ward
. "Too many errors. We're not ready … we're not ready."
October, 16, 2013
Oct 16
4:09
PM ET
A question about the
Cleveland Browns
confidence in quarterback
Brandon Weeden
after the play against Detroit was put to defensive lineman
Desmond Bryant
today.
"Which play?" he asked.
The Browns circled the wagons around their quarterback, with not a hint of criticism or doubt emerging. Teammates said they understood Weeden simply made a mistake with his backward flip.
"He's a professional in this league,'" Bryant said. "He's one of my teammates. I believe in his ability and obviously so does the rest of the team. That's why he's out there playing.
"Not everybody's going to have great plays every play. You can't win them all. I don't have perfect plays every play. There's times where I don't do what I'm supposed to do and I don't execute like I want to. So I understand that's going to happen to him as it happens to everybody out there. His are a little more magnified, scrutinized, whatever.
"He's still our quarterback. He's one of the leaders of this team. I'm always going to ride with him."
Joe Thomas
was more succinct.
His support is "unwavering," he said.
Ditto with running back
Willis McGahee
.
"It's just a fact that everybody is pointing at that interception he threw," McGahee said. "But that's part of the game, and we got his back. So no worries over here."
Quentin Groves
agreed, and his support matched what sounds like the very mature approach of his teammates.
"We all make those plays," Groves said. "It just happens that the plays he makes are amplified a lot because he's the quarterback. He's been under so much scrutiny that any little thing that he does wrong everybody wants to jump on his back about it."
That goes with the territory, of course. A quarterback gets the fame, the adulation and the money when things go well. When a team struggles, he gets the blame.
An NFL adage is that when a team wins the quarterback spreads the credit, but when it loses he takes the blame.
"When your mental toughness is tested your character comes out," Packers quarterback
Aaron Rodgers
said on a conference call. "You learn how to move forward from those things. You have to go through it. We all did. You have to learn from those things, be critical of yourself every week and realize it's part of the territory that comes with playing quarterback."
September, 8, 2013
Sep 8
4:29
PM ET
My thoughts on the
Cleveland Browns
'
23-10 loss
to the
Miami Dolphins
:


What it means
: New regime, same result. In the first game of the Joe Banner-Rob Chudzinski era, the Browns had a similar look of past teams: a solid defense and a struggling offense, albeit a short-handed one without its No. 1 receiver and a third-string right guard. Cleveland fell to 1-14 in home season openers since rejoining the NFL.
Stock watch
: Rising -- Tight end
Jordan Cameron
. He was the Browns' best offensive weapon with nine catches for 108 yards and the team's only touchdown. He was the only Browns player with a catch longer than 20 yards.
Falling -- CB
Buster Skrine
. He got burned by
Brian Hartline
on a double move for the Dolphins' first touchdown, and he was penalized in the end zone, which led to Miami's second touchdown. Undisciplined play has always been a problem for Skrine, who committed nine penalties last year.
Don't blame Weeden
: It's easy to point the finger at quarterback
Brandon Weeden
, who threw three interceptions in the first half and finished with 23-of-53 passing (49 percent) for 289 yards. But one interception came off a drop by
Greg Little
, and the Dolphins converted only three points off those turnovers. Weeden didn't get much help from his receivers, who dropped a handful of passes, and pass protection (five sacks allowed). Right tackle
Mitchell Schwartz
allowed three sacks, and right guard
Oniel Cousins
struggled mightily, too. Cousins' holding penalty negated a touchdown in the fourth quarter.
Pass defense falters
: The Browns got pressure on
Ryan Tannehill
in the first half, limiting him to 98 yards passing before halftime. But Cleveland gave him too much time in the second half and allowed 174 yards passing. The Browns didn't stop the Dolphins enough on third downs. Free-agent pickup
Desmond Bryant
was a bright spot, stopping two drives with sacks.
Where was Richardson?
Running back
Trent Richardson
is the Browns' best playmaker, and offensive coordinator Norv Turner didn't get him involved enough, especially with No. 1 receiver
Josh Gordon
suspended for the first two games. The Browns abandoned the run too early, and Richardson finished with 47 yards on 13 carries. If Turner didn't think the running game was working, the Browns had to get the ball to Richardson more in the passing game. Richardson had one catch for 18 yards.
What's next
: The Browns (0-1) look to end a 10-game losing streak to the
Baltimore Ravens
(0-1) when they visit Baltimore next week.
May, 13, 2013
May 13
12:01
PM ET
The AFC North blog will conclude its rankings of each position this week with defense. This is a projection on how the group will fare this season. It's not an evaluation based on last year. For Friday, let's look at the defensive line.
1. Cincinnati Bengals
: When it comes to defensive lines in the AFC North, it's the Bengals and then there's everyone else.
Geno Atkins
is the NFL's best interior defensive lineman.
Michael Johnson
looked like
Jason Taylor
during his breakout year last season.
Carlos Dunlap
's production could finally meet his potential this year. And
Domata Peko
is one of the more underappreciated nose tackles in the game. Plus, there's talented depth with
Robert Geathers
,
Wallace Gilberry
,
Devon Still
,
Brandon Thompson
and
Margus Hunt
.
2. Cleveland Browns
: The Browns' best addition this offseason was
Desmond Bryant
. an under-the-radar free agent from Oakland who can become a game-changer up front in the Browns' new 3-4 defense.
Phil Taylor
will benefit if he moves to nose tackle. He's a powerful big body who can hold up against double teams in run defense and push the middle when rushing the passer.
Ahtyba Rubin
, who didn't make the same impact in 2012 as he did the previous season, has shed some pounds in anticipation of moving to end.
3. Baltimore Ravens
: This could end up being the most improved defensive line from a year ago, when the Ravens' defensive line was the weakest spot on the team.
Haloti Ngata
is primed for a bounce-back season after playing out of position last season. He is expected to line up more inside (perhaps replacing
Terrence Cody
at nose tackle), where he's more comfortable playing. The free-agent addition of
Chris Canty
will boost the pass rush and the signing of
Marcus Spears
will significantly upgrade the run defense.
Art Jones
got better as the season progressed, starting six of Baltimore's final 10 games.
4. Pittsburgh Steelers
: The only certainty on the line is
Brett Keisel
, and he showed his age at times last season. This is likely the last season for Keisel, who turns 35 in September. This is also the last season for
Ziggy Hood
to prove he deserves a second contract. He hasn't been a bust, but he hasn't lived up to expectations of a first-round pick. The Steelers are banking on
Steve McLendon
to replace
Casey Hampton
. This is a tough ranking considering the Steelers' run defense has ranked in the top three for eight of the past nine seasons. But there's a lot of question marks with this group this year.
In case you missed the other AFC North position rankings this week, you can click here for
quarterbacks
,
running backs
,
wide receivers
,
tight ends
and
offensive line
.
April, 4, 2013
Apr 4
12:00
PM ET
The
Cleveland Browns
and
Cincinnati Bengals
opened free agency with a lot of salary-cap room, and three weeks later, they still rank among the top-five teams with the most cap space.
According to the
NFL Players Association
, the Browns have the second-highest amount of cap space with $27.2 million (49 players under contract). Only the
Jacksonville Jaguars
have more with $28.3 million. Cleveland used $17.3 million of its 2013 cap space when it signed linebacker
Paul Kruger
($8.1 million), defensive lineman
Desmond Bryant
($8 million) and pass-rusher
Quentin Groves
($1.2 million) in free agency.
The Bengals are fourth in the league with $25.9 million in cap room (48 players under contract). Cincinnati used over $30 million of cap space in retaining their own free agents, which included four starters.
On the other end of the spectrum, the
Pittsburgh Steelers
rank fifth in the smallest amount of cap space with $2.06 million (48 players under contract). The Steelers will receive an additional $5.5 million in two months because guard
Willie Colon
was designated a June 1 cut.
The
Baltimore Ravens
are in the middle of the pack with $5.3 million in cap room (42 players under contract). The Ravens are one of 14 teams who have less than $6 million in cap space. Baltimore will get $807,000 in cap room when the release of linebacker
Brendon Ayanbadejo
becomes official (if he's not designated a June 1 cut). The Ravens will also free up an additional $2 million on June 1 for the release of safety
Bernard Pollard
.
The salary cap is $123 million in 2013 and only takes into account the 51 highest-paid players on the roster.
March, 22, 2013
Mar 22
12:00
PM ET
»
NFC Eight in the Box
:
East
|
West
|
North
|
South
»
AFC
:
East
|
West
|
North
|
South
A look at whether each AFC North team has been a winner or a loser in free agency.

Baltimore Ravens:
Losers. No debate here. The Super Bowl champions have been among the biggest losers in free agency. The Ravens have parted ways with seven starters (including five on defense), and free agency is only 11 days old. Baltimore also lost a chunk of its history when linebacker
Ray Lewis
retired and safety
Ed Reed
signed with the
Houston Texans
in free agency. Both players were past their prime, but their departures create a major leadership void. The losses that will hurt the Ravens the most are wide receiver
Anquan Boldin
(traded to San Francisco) and linebacker
Dannell Ellerbe
(signed with Miami). The Ravens don't have the depth at either position to replace them. The only additions have been defensive linemen
Chris Canty
and
Marcus Spears
, both of whom will improve the run defense.

Cincinnati Bengals:
Winners. You can't really call the Bengals "losers" because they've only lost one starter from last season's playoff team, and Cincinnati wasn't interested in bringing back outside linebacker
Manny Lawson
(signed with Buffalo). The biggest criticism is the Bengals haven't been aggressive in free agency. Cincinnati is one of three teams that haven't signed a free agent from another team this offseason. The Bengals have been active in keeping their team intact, re-signing nine of their own free agents. That list includes three starters (linebacker
Rey Maualuga
and defensive ends
Michael Johnson
and
Robert Geathers
), kicker
Mike Nugent
and punter
Kevin Huber
. The Bengals will feel more like winners if they can retain their top priority, offensive tackle
Andre Smith
. With about $30 million in salary-cap room remaining, Cincinnati is looking to bring back cornerback
Terence Newman
and extend the contract of defensive tackle
Geno Atkins
. The Bengals also need to address voids at strong safety and outside linebacker.

Cleveland Browns:
Winners. This is a close call. The Browns improved their front seven by signing linebacker
Paul Kruger
and defensive lineman
Desmond Bryant
and added to the pass rush by bringing in linebacker
Quentin Groves
. Cleveland overpaid for Kruger ($20 million guaranteed for someone who has 15.5 career sacks), but the Browns get the sacks leader from the Super Bowl champions who is entering the prime of his career. The best signing was Bryant, an under-the-radar free agent who can become a game-changer up front in the Browns' new 3-4 defense. The excitement over these additions is tempered by the fact that the Browns said goodbye to two longtime franchise fixtures in kicker
Phil Dawson
(signed with San Francisco) and receiver-returner
Josh Cribbs
(expected to sign with Arizona). The Browns can come out of free agency looking much better if they can land Falcons free agent
Brent Grimes
, the top cornerback remaining on the market.

Pittsburgh Steelers:
Losers. This is no surprise. The Steelers' salary-cap restraints have meant a significant amount of losses and few additions in free agency over recent years. This offseason, the Steelers cut their top pass-rusher (aging
James Harrison
) after he refused to take a pay cut, watched their best deep threat (
Mike Wallace
) get $30 million guaranteed from the
Miami Dolphins
, chose not to outbid the
New Orleans Saints
for their young rising cornerback (
Keenan Lewis
) and declined to re-sign a former first-round pick (running back
Rashard Mendenhall
). There will also be changes along the offensive and defensive lines. Pittsburgh released guard
Willie Colon
and aren't expected to re-sign offensive tackle
Max Starks
and nose tackle
Casey Hampton
. The Steelers added depth with quarterback
Bruce Gradkowski
, cornerback
William Gay
and wide receiver
Plaxico Burress
. But Pittsburgh has to cross its fingers that New England won't sign wide receiver
Emmanuel Sanders
to an offer sheet.
March, 19, 2013
Mar 19
12:15
PM ET
Sure, we're still about six months from the start of the regular season. There's also this thing called the NFL draft that will take place next month. But our Power Rankings voters at ESPN.com, which includes me for a second year, weighed in to see where the teams stand after the first week of free agency.
Here's an AFC North recap of the March edition of the
pre-draft NFL Power Rankings
, where the Seahawks sit at No. 1:

BALTIMORE RAVENS
ESPN Power Ranking
: No. 8
My ranking
: No. 11
2012 record
: 10-6
Comment
: The Ravens have already lost six starters from their Super Bowl team and could say goodbye to another if safety
Ed Reed
signs elsewhere. General manager Ozzie Newsome will sign a few players over the next month and will find a couple of starters in the draft. But right now, the Ravens have major question marks at inside linebacker, left tackle and both safety spots.

CINCINNATI BENGALS
ESPN Power Ranking
: No. 10
My ranking
: No. 10
2012 record
: 10-6
Comment
: There's always a feeling that the Bengals could really take over the division if they were more aggressive in free agency. The priority has been to keep their own free agents, and the Bengals have been successful doing so. Cincinnati still has holes at right tackle, strong safety and outside linebacker.

PITTSBURGH STEELERS
ESPN Power Ranking
: No. 16
My ranking
: No. 15
2012 record
: 8-8
Comment
: The Steelers parted ways with their best pass rusher over the past six years (
James Harrison
) and their most promising cornerback (
Keenan Lewis
). Pittsburgh's salary-cap problems have once again limited the team from improving in free agency. The Steelers need to find a running back and a pass-rusher in the draft because there is little confidence in the likes of
Jonathan Dwyer
,
Isaac Redman
and
Jason Worilds
.

CLEVELAND BROWNS
ESPN Power Ranking
: No. 25
My ranking
: No. 26
2012 record
: 5-11
Comment
: The Browns' free-agent focus was improving their front seven. Cleveland gave $35 million in guaranteed money to linebacker
Paul Kruger
and defensive lineman
Desmond Bryant
. Not sure how that helps a Browns offense that averaged 18.9 points per game.
March, 19, 2013
Mar 19
8:00
AM ET
Baltimore Ravens receiver-returner Jacoby Jones did
the Cha Cha Cha
-- at least that's the wife told me -- on his "Dancing With The Stars" debut Monday night. There was also a quarterback shuffle, Matt Hasselbeck went to the Colts, Ryan Fitzpatrick to the Titans, and that left the Browns and Bengals without a veteran quarterback. Now, let's move onto the wake-up call ...
BALTIMORE RAVENS
CINCINNATI BENGALS
PITTSBURGH STEELERS
CLEVELAND BROWNS
March, 15, 2013
Mar 15
7:30
AM ET
Ravens safety
Ed Reed
-- or is it soon-to-be former Ravens safety? -- had dinner in Houston on Thursday night with Texans officials and wide receiver
Andre Johnson
, who was Reed's teammate at the University of Miami. According to
ESPN NFL Insider Adam Schefter
, signs point to Reed getting a deal done with the Texans on Friday. Let's see if it plays out that way. Reed is the most unpredictable player I've ever covered in my 14 years in the NFL. Now let's go to the wake-up call ...
BALTIMORE RAVENS
The Ravens didn't attempt to match the Eagles' three-year, $17 million deal to cornerback Cary Williams. "I completely understand," Williams told The Baltimore Sun. "I get it. They weren't trying to do anything at this point or bring back the old offer. No, there's no hard feelings. It's not something that you get upset about it. We won a Super Bowl, and now I'm moving on."
The Ravens officially announced the release of safety Bernard Pollard. "There are many difficult decisions we make every offseason," general manager Ozzie Newsome said in a statement. "They become even more difficult when they involve players who helped us get another Super Bowl trophy."
Baltimore re-signed reserve cornerback Chris Johnson to a one-year deal. Johnson, 33, played four games for the Ravens last season.
CINCINNATI BENGALS
PITTSBURGH STEELERS
CLEVELAND BROWNS
Chief executive officer Joe Banner dismissed rumblings that the Browns are interested in trading defensive linemen Phil Taylor or Ahtyba Rubin. There was speculation they could be involved in a deal for Patriots backup Ryan Mallett. "Our purpose has been to put together a really strong unit, have some depth so we can rotate and so if we have any injuries the line will still be one of the primary assets of the team," Banner said, via The Akron Beacon Journal. "That's what we feel like we're achieving. We're not looking to be trading anybody."
Browns new defensive lineman Desmond Bryant is eager to put the past behind him. He was arrested in Miami on Feb. 24 on a misdemeanor charge of criminal mischief. He allegedly entered a neighbor's house inebriated and caused a commotion, according to the San Francisco Chronicle. "I made a mistake," Bryant said at his introductory press conference, via The Plain Dealer. "I apologize for everything that happened. . .. That's really not the kind of person that I am. I think in time I will show you guys and whoever wants to know that that's not indicative of me. I've moved beyond that and hopefully everybody else will, too."
March, 14, 2013
Mar 14
3:03
PM ET
Here are some details for free-agent contracts involving AFC North teams ...
BALTIMORE RAVENS
Chris Canty, defensive lineman
: Three years for a maximum total of $8 million. It includes a $2 million signing bonus and a $500,000 roster bonus if he's on the team on the fourth day of the 2014 league year.
CINCINNATI BENGALS
Robert Geathers, defensive end
: Three years for max value of $9 million. This includes a $1.25 million bonus. He can gain up to $150,000 in incentives each year.
Wallace Gilberry, defensive end
: Three years for max value of $6.3 million. This includes a $1.25 million bonus.
CLEVELAND BROWNS
Paul Kruger, linebacker
: Five years for max value of $40.5 million. This includes a $6 million signing bonus. His 2014 base salary ($7 million) is guaranteed.
Desmond Bryant, defensive line
: Five years for a max value of $34 million. This includes a $5 million signing bonus. His 2014 base salary ($3 million) is guaranteed for injury.
Quentin Groves, linebacker
: Two years for max value of $2.4 million. This included a $500,000 bonus. He can gain up to $500,000 in incentives each year.
PITTSBURGH STEELERS
Larry Foote, linebacker
: Three years for max value of $5.5 million. This included a $1 million signing bonus.
March, 12, 2013
Mar 12
9:40
PM ET
When you heard about the free-agent interior defensive linemen, the list included popular names such as
Richard Seymour
and
Cullen Jenkins
. But
Desmond Bryant
-- not to be confused with
Dez Bryant
-- will make more of an impact than both of them this season.
Bryant
Bryant agreed to a five-year, $34 million contract with the Cleveland Browns on Tuesday, according to
The Plain Dealer
. While the Browns'
first move of free agency
can be debated, the team's second one is shrewd.
At 27 years old, Bryant is one of those under-the-radar players who has the chance to be a game-changer on the Browns' new 3-4 defense. He spent four seasons on an underachieving Oakland Raiders defense, but he always showed great tenacity and a high motor.
The red flag on Bryant was
his arrest last month
in Miami on a misdemeanor charge of criminal mischief. The positives with the 6-foot-6, 311-pound lineman out of Harvard outweigh this incident.
Bryant's reputation is being a run-stuffer, but he can get collapse the middle of the offensive line. According to Pro Football Focus, his 35 total pressures ranked him fourth among all qualifying defensive tackles.
It's uncertain what effect this signing has on the future of Browns interior lineman
Ahtyba Rubin
. All that is known now is the Browns added two pieces to the new defense's front seven with Bryant and outside linebacker
Paul Kruger
, and it's only the first day of free agency.