AFC North:

Devin McCourty
January, 18, 2012
1/18/12
11:00
AM ET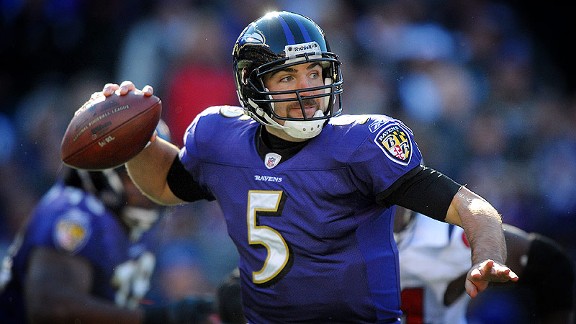 Kirby Lee/Image of Sport/US PresswireTeammate Ed Reed said Joe Flacco looked "rattled a little bit" in Sunday's win over Houston.
In order for the Ravens to reach the Super Bowl,
Joe Flacco
has to take them there.
He has to strong-arm Baltimore to victory over New England in Sunday's AFC Championship Game because that's how you beat the Patriots this season. New England has lost three games, and every time, the quarterback has been the deciding factor.
Ryan Fitzpatrick
,
Ben Roethlisberger
and
Eli Manning
exploited the AFC's worst defense by throwing for 984 yards (an average of 328 yards passing) and a total of six touchdowns.
So it's time for Flacco to step up in the playoffs. It's time for Flacco to prove he deserves that new contract. It's time for Flacco to quash his critics, as well as a critical teammate.
A feisty Flacco entered the playoffs saying if the Ravens win the Super Bowl, "I'll have nothing to do with why we won, according to you guys."
On Sunday, let's take the chip off the shoulder and put the team on his back -- because that's exactly how this game will play out.
Tom Brady
and the Patriots are averaging 32.8 points per game. That means scoring three points in the final three quarters won't cut it in this playoff game.
New England will direct its focus on stopping running back
Ray Rice
, especially after Bill Belichick plays that 83-yard touchdown run from two years ago about 100 times this week. That means the Patriots are going to force Flacco to beat them.
"We're going to have to make sure we prepare well all week and bring our A-game up there," Flacco said.
There's no question that Flacco is a winner. His 44 victories are the most ever by an NFL starting quarterback in his first four seasons. He's also the only quarterback in NFL history to win a playoff game in each of his first four years.
But there have been very few "A-games" when it comes to the postseason. In eight playoff games, Flacco has completed 53 percent of passes and has averaged 153.3 yards passing. He's thrown six touchdowns and seven interceptions for a quarterback rating of 31.5.
In last Sunday's 20-13 victory over Houston, Flacco completed 14 of 27 passes (51.9 percent) for 176 yards with two touchdowns and no interceptions. It wasn't just the media that criticized Flacco after this performance. Ravens safety
Ed Reed
said Flacco "was kind of rattled a little bit" Sunday.
"They had a lot of guys in the box on him and they were giving it to him. I think a couple of times he needed to get rid of the ball. It just didn't look like he had a hold on the offense," Reed told
SiriusXM satellite radio
Monday. "I don't know how much of [that was] the play calling … but it just didn't look like he had a hold on the offense, you know, of times past."
Reed added, "It was just kind of like they [were] telling him [what] to do -- throw the ball or get it here, you know, get it to certain guys."
Reed believes Flacco needs to improve his play for the Ravens to win at New England.
"He can't play like that," Reed said.
It's never a good sign when a teammate is talking about his quarterback this way. Just ask
Mark Sanchez
.
The Ravens are entering a crucial time, and this goes beyond the current postseason. Baltimore is going to have to make a decision on its level of commitment to Flacco. Ravens owner Steve Bisciotti said last March that he expects to sign Flacco to a long-term contract extension sometime in 2012. Flacco later responded that he doesn't think he should have to wait that long.
The problem is, Flacco's statistics say he regressed this season. He completed a career-worst 57.6 percent of his passes. His touchdowns went down, from 25 in 2010 to 20 this season. His interceptions went up, from 10 to 12.
Asked whether it's difficult to measure Flacco's impact by statistics, coach John Harbaugh said: "I've done that many times, and I don't really feel like running down all those things right now. I can just tell you in this last game, he won, and his quarterback rating was 97. That's a winning performance, and Joe -– I told him [Sunday] night -– I thought he played very, very well. In a lot of situations in this game when he was under duress, he handled himself really well. There were plenty of things he'd like to have back and could have done better, and he'd be the first to tell you that. So, you just try to get better, you try to improve and you try to play winning football, no matter what position you play. And that's what we value around here."
The path to this season's playoffs wasn't an easy one for Flacco, who finished 15th in QBR for a reason. He played 12 games against defenses ranked in the top 10, throwing 14 touchdowns and six interceptions in those games.
There's no such excuse when it comes to taking on the Patriots' defense. New England ranked 31st in yards allowed in the regular season and gave up the most passing yards in the AFC.
"A quarterback has to do what his team needs him to do to win, and Joe has done that," Belichick said. "I don't know how to improve much on 11-5 and 12-4, and they just keep doing it. He's been a solid guy since his rookie year in terms of managing the game and using the clock and making good decisions and those types of things."
A game manager isn't going to get the Ravens past the Patriots on Sunday. Baltimore needs Flacco to play like Brady, not like
Trent Dilfer
.
New England gave up the most 20-yard passes in the NFL this season: 79, which was eight more than any other defense. Patriots cornerback
Devin McCourty
has allowed 1,115 yards and six touchdowns this season (according to Stats LLC), and cornerback
Kyle Arrington
has given up 827 yards and five touchdowns.
It's clear that Flacco has to attack a vulnerable Patriots secondary and help out a Ravens defense facing Brady,
Wes Welker
and
Rob Gronkowski
.
The stage is yours, Joe Flacco.
April, 7, 2010
4/07/10
7:00
AM ET
Here are the most interesting stories Wednesday in the AFC North:
Morning take: Maualuga was sincere in his apology last week. Now he has to get ready for the season and move forward.
Morning take: Starks is one of several teammates to publicly back their quarterback, as the team awaits word on the investigation.
Morning take: Gresham is certainly a viable option. If it helps quarterback Joe Flacco get better next season, then it doesn't hurt.
Morning take: The Browns are out of the market for a first-round cornerback with the acquisition of Sheldon Brown. But Cleveland could still seek help there in the later rounds.
March, 19, 2010
3/19/10
1:00
PM ET
Let's see what's in our
division inbox
.
Eric from Mountain View, Calif.,
wants to know whether the
Pittsburgh Steelers
will join the "Wildcat crazy" this season.
James Walker:
The Steelers have the personnel to run the Wildcat and other trick formations, Eric. But knowing Pittsburgh offensive coordinator Bruce Arians, I have to put this into the believe-it-when-I-see-it category. The Wildcat just isn't something Arians believes in, so someone might have to really twist his arm to give it a look. But with
Dennis Dixon
and
Antwaan Randle El
both on the roster, I suppose you can't rule it out 100 percent.
---
Adam W. from Miami and John from NYC
want to know whether the
Cincinnati Bengals
have "given up" on second-year tight end
Chase Coffman
.
Walker:
Not at all, John. Usually teams allow at least two years for players to develop, depending on draft status. Coffman was hurt for most of last year so it turned out to be a redshirt season. But even if Coffman develops, the team is short on tight ends. Combine that with what Coffman showed in one season, and I think the Bengals would be smart to add some depth to the position.
---
Mike from Columbus, Ohio,
writes: Does the acquisition of fullback
Peyton Hillis
mean the end for
Lawrence Vickers
in Cleveland?
Walker:
It's a little early to tell for certain, but my initial thought is that's not the case, Mike. There is always room on a team for more than one fullback (unless you're the Steelers, who are allergic to fullbacks). Hillis reminds me of
Brian Leonard
, someone who can swing between fullback and tailback depending on the team's need on a given week. Vickers has a second-round tender. So unless the Browns are actively shopping him, a team probably won't make a play at that price.
---
Michael from Virginia
wants to know my assessment of Rutgers cornerback Devin McCourty and if he's an option for the
Baltimore Ravens
.
Walker:
I can't say I watched a lot of Rutgers games last season, Michael. But I can say McCourty is a player whose name keeps coming up and is receiving a lot of interest around the league. The Browns reportedly took a look at him recently. He's probably more of a second rounder at this point, and Baltimore's had success in that round with Rutgers players before (see
Ray Rice
).
March, 17, 2010
3/17/10
7:00
AM ET
Here are the most interesting stories Wednesday in the AFC North:
Morning take: Baltimore has now lost Edwards and Justin Bannan in free agency. The team needs to replenish its depth through the draft.
Morning take: I'm not sure Ramon Foster and Trai Essex are the answer. If the Steelers don't find an upgrade, those will be their two choices.
Morning take: The Browns need cornerbacks, so it makes sense. I'm not sure New York's defense needs much help.
Morning take: Bengaldom will represent well in Canton, Ohio. With Dick LeBeau getting inducted and Cincinnati playing its first preseason game, it should be a fun weekend for the AFC North.