AFC North:

Dezmon Briscoe
September, 4, 2010
9/04/10
11:00
AM ET
Let's see what's in the weekend mailbag.
Brian from Conshohocken, Pa.,
writes: How much more will RB
James Davis
be a factor in the Browns' offense with
Montario Hardesty
's knee injury?
James Walker:
Hardesty's season-ending injury
took Davis off the bubble. But Hardesty's role in the offense would have been bigger. They are two different running backs. Hardesty had the talent to be an every-down back who eventually could have pushed for a starting job. Davis is more of a change-of-pace back who will get significantly less playing time. The Browns will still run the ball well this year, but
Jerome Harrison
and
Peyton Hillis
will get the majority of the carries.
---
Eric from Princeton, N.J.,
wants to know if the
Cleveland Browns
will be interested in former
Cincinnati Bengals
receiver
Antonio Bryant
.
Walker:
I don't foresee any interest in Bryant from the Browns or anyone else until he gets healthy. The fact the Bengals completely gave up on him indicates it could be a while before Bryant sees the field again.
---
Eric from Chicago
writes: With the recent release of Bryant, will the Bengals sign another wide receiver or are they set with the group they have?
Walker:
The Bengals are set. Even after Bryant's release, they still have tough decisions at the position. The team has to choose between
Matt Jones
,
Jerome Simpson
,
Maurice Purify
and
Dezmon Briscoe
. Cincinnati can only keep one (maybe two) from this group. But the team doesn't need to look outside for additional help.
---
Richard from Beijing
writes: Is there some particular reason the Ravens are grabbing up former University of Maryland cornerbacks?
Walker:
Some of it is coincidence.
Domonique Foxworth
was a free agent and
Josh Wilson
were available via trade at the right time for Baltimore. But the Ravens naturally have a good relationship with the University of Maryland, because of the location. It's nearby, easy to scout, and many of their players grew up in Ravens' territory and know about the team.
---
Lenny from Hollywood, Md.,
writes: Random question but do you think
Jamal Lewis
is a Hall of Famer?
Walker
: I don't have a vote, so I usually avoid these questions. But an educated guess is Lewis doesn't get in. It still shouldn't take away from a great career.
---
Comment and complaint department
We have plenty of comments and complaints from our community this week.

Jay from Dublin, Ohio,
writes: James, no way
the Steelers go 1-3
without Big Ben. The Steelers defense is loaded and will help grind out a close game with Atlanta. Remember without
Troy Polamalu
and Big Ben we had the Ravens beat in Baltimore. Worst-case scenario is 2-2, and I wouldn't count us out against Tennessee. I am not convinced
Vince Young
is the real deal, and we know
Chris Johnson
isn't going to run on the Steelers' D.
Will from Nashville, Tenn.,
writes: I feel like the Steelers as an organization should uphold the six-game suspension. It would be a good message to send players and fans that their standards are higher than what the league imposes. It also says that appropriate punishment for personal mistakes is more important than playing time and a winning season. Current good behavior should not be able to make up for previous appalling actions.
Rhonda Pierce from Illinois
writes: I am Pittsburgh born and bred. I love my Steelers, but Ben's suspension should not have been reduced. His success and our franchise's history and image mandated that Ben demonstrate more responsibility and appreciation for the team and city. His behavior has forever tarnished the gold in the Black and Gold dynasty. I believe Leftwich's injury played a role in the Roger Goodell's decision, because not enough time has elapsed for the commissioner to know if Ben has really changed. How will he conduct himself in the offseason is the question? More than one "sexual" incident is more than one too many.

Zack from Middletown, Conn.,
writes: You know what I like about other fans in the AFC North? The way Ravens fans think
Tom Zbikowski
will step in for a Hall of Famer and there will be no drop off; the way Steeler fans think that
Byron Leftwich
or
Dennis Dixon
are actually quality QBs; and the way Browns fans think that
Jake Delhomme
is actually good. Bengals may have their issues. But they aren't replacing Pro Bowl [level] talent with guys who are washed up and were never that good in the first place. All they've done is add young talent and veterans for depth without losing key pieces.
Luke from Cincinnati
writes: Why can't my Bengals get any love? I understand the Ravens and Steelers are great, but c'mon! We bring back basically everyone on a top five defense that's only going to get better and have appeared to strike gold with
Adam Jones
at the nickel. And on offense we add
Jordan Shipley
and T.O. to surround
Carson Palmer
with a great receiving core AND a great running game. This is the same team that swept the division last year, and were going to be even better this year!
Jason Myers from Baltimore
writes: Hey, JW! How come you never point out the obvious to Bengals fans? They're always commenting about how they swept the division last year and that they're the defending AFC North champs. But it seems that they forget how they got bounced in the first round of the playoffs last year. Will you please tell them to win a playoff game first and then they can talk a little trash. I mean, seriously, as a Ravens fan I don't care if the Bengals sweep us every year as long as we continue to win in the playoffs and they continue to be...well...the Bengals.

Ben from Pensacola, Fla.,
writes: What is it about the Ravens' offense that is so stacked?
Joe Flacco
hasn't been anything better than solid and has been flat-out terrible in the clutch (especially in the playoffs).
Anquan Boldin
and
Derrick Mason
are a good possession duo, but neither screams downfield threat.
Mark Clayton
and
Donte' Stallworth
have never done anything worth noting on the field and, frankly. aren't good players.
Todd Heap
is still a nice TE but the rest of the group are rookies. There's a very good stable of RBs but you can't give them all the ball or even have them all on the field at one time. Two strong possession WRs and a TE to go with a good running game isn't a stacked offense. Talk about overhyped.
Shaneeka from High Point, N.C.,
writes: Hey James, you want to know why Ravens fans are not allowing the teams recent record vs. division rivals to rain on the teams Super Bowl hopes? It's because the Ravens have been to the playoffs 3 of the last 4 years, including back to back trips. So the Ravens poor showing vs. division rivals have not cost them playoff berths and once the playoffs start, as the Cards showed in 2008 and the Jets last season, it's anyways game. So, no we don't care about Carson Palmer's winning record vs. the Ravens, nor do we care that the team has only beaten Pittsburgh once in two years. Neither of them kept the team out of the postseason. To think that it would now is pushing it considering the Bengals history and all the drama Pittsburgh has gone through this offseason.

Kovacs from Santa Monica
writes: We knew the Browns would have a tandem backfield, it just looks like a different tandem. I do think Peyton Hillis should start. He's endeared himself to the team and is great out of the backfield. He also seems like a guy that you'd love to get going early with his physicality to wear a defense down. Then bring in Jerome Harrison to gash a defense with his speed late in the game.
AFC North Homer of the Week
Darryl from Oakland, Calif.,
writes: I'd rather have Dennis Dixon than
Matt Ryan
. I know you disagree, but I'll check back after Week 4.
August, 31, 2010
8/31/10
2:22
PM ET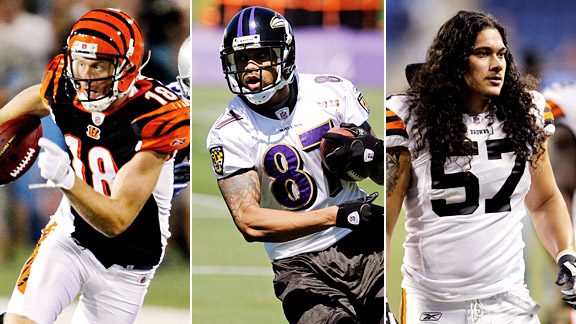 AP PhotosMatt Jones, Demetrius Williams and David Veikune are among the AFC North players in danger of not making their teams' final 53-man rosters.
With teams required to cut down to 53 players by Saturday, it's time to focus on the final rosters in the AFC North.
Expect plenty of chatter internally this week among general managers, scouts and coaches throughout the division on who should make the team. This is always one of the most intriguing weeks of the NFL season.
With that said, here are several noteworthy players on the bubble in the AFC North:
1. Matt Jones, WR, Cincinnati Bengals
Analysis:
The Jones experiment probably will end this week. The Bengals took a chance on Jones, who was out of football in 2009 for off-field issues, to see if he had anything left. Except for a few flashes, such as the Hall of Fame Game, the former first-round pick has been injured and not nearly the same explosive player he was several years ago. Jones also signed a team-friendly, one-year contract, which makes him easy to release. The Bengals have a lot of depth at receiver, and Jones doesn't appear to be in their plans.
Cut-O-Meter:
80 percent
2. David Veikune, LB, Cleveland Browns
Analysis:
Despite entering only his second season, this was a very important training camp for Veikune. The former second-round pick was a major disappointment in his rookie season. Veikune hasn't stepped up so far and is having another nondescript preseason. His best chance to make the Browns is his high draft status. But first-year president Mike Holmgren and general manager Tom Heckert added their own linebackers and have no personal investment in Veikune.
Cut-O-Meter:
80 percent
3. Demetrius Williams, WR, Baltimore Ravens
Analysis:
Placing Williams on the roster bubble has become an annual tradition in Baltimore -- and every year he survives. This year could be the same for Williams, who has a lot of ability but has yet to live up to his potential. Williams received a lucky "break," both literally and figuratively, when veteran receiver
Donte' Stallworth
suffered a broken foot in the third preseason game. Stallworth will be out approximately two months, increasing Williams' chances of making Baltimore's 53-man roster.
Cut-O-Meter:
35 percent
4. Justin Hartwig, C, Pittsburgh Steelers
Analysis:
Hartwig struggled at center last year and lost his job this preseason to first-round pick
Maurkice Pouncey
. The Steelers believe Pouncey is a star-in-the-making, which leaves Hartwig's future in limbo. Despite the benching, there is no question Hartwig is one of Pittsburgh's best 53 players. That should be enough. But Hartwig also is scheduled to make a little more than $2 million this season. He's being paid as a starting center and that's no longer his role. There's a chance Hartwig could compete at right guard or simply be the first center/guard off the bench in the event of injury. Hartwig's experience and versatility help his case.
Cut-O-Meter:
30 percent
5. Jerome Simpson, WR, Bengals
Analysis
: Simpson is another second-round pick who is running out of chances. Despite coming from small-school Coastal Carolina, the Bengals were enamored with his physical abilities and reached for Simpson in the second round of the 2008 draft. But the Bengals tired of waiting for Simpson to develop and made several offseason additions at receiver, which included signing
Terrell Owens
and drafting
Jordan Shipley
in the third round. But
Antonio Bryant
's surprising
release helps Simpson's chances
.
Cut-O-Meter:
50 percent
6. James Davis, RB, Browns
Analysis:
It's funny how quickly things can change in the NFL. Last summer, Davis was the talk of Cleveland after he led the Browns in rushing during the preseason as a rookie. This year, Davis is on the bubble after a lot of offseason additions at running back. The top three tailbacks for Cleveland are locks:
Jerome Harrison
,
Peyton Hillis
and
Montario Hardesty
. The question now is how many running backs Cleveland will keep. If the answer is four, Davis and
Chris Jennings
are battling for the final spot. I give Davis the edge.
Cut-O-Meter:
40 percent
7. David Reed, WR, Ravens
Analysis:
Reed, a fifth-round pick, burst on the scene in Baltimore with a stellar spring. But since then he's been inconsistent and is back on the bubble. Like Williams, Reed also benefits from Stallworth's injury and the extra roster spot available at receiver. That increases Reed's chances to make it. Otherwise, the Ravens would love to develop him on the practice squad.
Cut-O-Meter:
50 percent
[+] Enlarge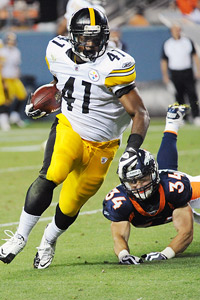 AP Photo/Jack DempseyJonathan Dwyer led the Steelers in rushing against the Broncos, but will it be enough to earn him a roster spot?
8. Jonathan Dwyer, RB, Steelers
Analysis:
Dwyer
made a strong push late
for a roster spot in Pittsburgh. After a disappointing training camp, Dwyer led the Steelers in rushing with 89 yards and a touchdown in Sunday's preseason loss to the
Denver Broncos
. Running back
Isaac Redman
has been stellar and secured the third running back job that was intended for Dwyer. Thursday's preseason finale will be vital for the sixth-round pick.
Cut-O-Meter:
55 percent
9. Brett Ratliff, QB, Browns
Analysis:
Do not believe the hype in Cleveland involving third-round pick
Colt McCoy
being on the bubble. From everything we're told, there is no truth to the speculation. This means Ratliff, barring injury, is probably spending his final week with the Browns. Ratliff will play a half Thursday in Cleveland's final preseason game against the
Chicago Bears
. That could be a nice showcase for Ratliff to try to latch on with another team. Browns coach Eric Mangini traded for Ratliff as part of the draft-day deal with the Jets to be a developmental project last year. But Holmgren is calling the shots now and drafted his own developmental project: McCoy.
Cut-O-Meter:
95 percent
10. Maurice Purify, WR, Bengals
Analysis:
Purify is one of Cincinnati's top special-teams players. But the Bengals' immense depth at receiver and
Purify's one-game suspension
for violating the NFL's personal conduct policy make it very unlikely he makes the cut. There is no reason for Cincinnati to take a roster spot away from a player who will be available for the start of the regular season to keep Purify.
Cut-O-Meter:
95 percent
Here are five additional names to watch:
August, 30, 2010
8/30/10
12:37
PM ET
With the preseason coming to a close this week, here are seven notes and observations on the AFC North:
Are the Pittsburgh Steelers lacking discipline? Their first-team defense uncharacteristically had four personal fouls Sunday in a 34-17 loss to the Denver Broncos. Two were by second-year cornerback Keenan Lewis, who was subsequently benched and earned a spot in coach Mike Tomlin's doghouse. Lewis also made a bad situation worse by reportedly punching through a glass sign after the game. If you add cornerback Ike Taylor's fight last week against the New York Giants that cost him $10,000, Pittsburgh is having problems keeping its cool lately.

[+] Enlarge

Ron Chenoy/US PresswireJames Farrior lost his helmet during a play in Sunday night's game.

I'm noticing an unusual amount of players losing their helmets this preseason. The two most high-profile occurrences were with New York Giants quarterback Eli Manning and Sunday with Steelers linebacker James Farrior. Both players suffered cuts to the head and were knocked out of the game. These are not isolated incidents. I've seen several preseason games this summer where helmets are dangerously flying off at an alarming rate.

Baltimore's pass protection is not as sharp as expected. The Giants recorded five total sacks against the Ravens Saturday and the pocket overall wasn't consistently solid. At times, it was miscommunications. Other times New York simply outplayed Baltimore up front. We're not convinced Tony Moll is the answer at right tackle. Giants defensive end Justin Tuck had his way with Moll on several occasions. Baltimore tackles Oniel Cousins and/or Jared Gaither need to get healthy quickly.

We liked what we saw from Haruki Nakamura covering receivers in the slot. For a safety, he has pretty quick feet to keep up with receivers and make plays on the ball. Nakamura is considered an experiment in the slot until Baltimore's secondary gets healthy. But based on his performance, it's looking pretty good so far.

The Cleveland Browns have an update on safety Nick Sorensen. The bad news is he suffered a concussion Saturday against the Detroit Lions. But the good news is he is improving. Sorensen was not at practice Monday, and according to Browns coach Eric Mangini he will be resting for "a while."

Speaking of Mangini, this will be his first year putting together a 53-man roster with new president Mike Holmgren and general manager Tom Heckert. Cleveland currently has a mix of players leftover from the previous Mangini-George Kokinis regime and the new Holmgren-Heckert regime, setting up an interesting dynamic this week. Mangini will have his input and opinion on who stays and who goes, but Heckert and Holmgren will have the final say.

Cincinnati's receiver position is somewhat clearer now with Antonio Bryant's release. Cincinnati has a lot of depth at receiver, where six (maybe seven) could make the team. Chad Ochocinco, Terrell Owens, Jordan Shipley and Andre Caldwell are four locks. But at least two roster spots remain open for receivers Quan Cosby, Jerome Simpson, Matt Jones and Dezmon Briscoe. An educated guess is Cosby is in, making it a three-way tossup between Simpson, Jones and Briscoe.
August, 8, 2010
8/08/10
1:30
PM ET

The
Cincinnati Bengals
will play the
Dallas Cowboys
Sunday at 8 p.m. ET in the first preseason game of 2010. The AFC North blog will be in Canton, Ohio, keeping tabs on the Bengals.
Here are five things I will be looking at:
1. How does WR Terrell Owens fit in the offense?
Skinny:
Many football fans will tune in just to watch Owens. There is a lot of excitement surrounding the Bengals after the acquisition of T.O., and many are curious of what his role will be and how he fits within the Bengals' scheme.
2. Will the defense get to the quarterback?
Skinny:
Cincinnati defensive coordinator Mike Zimmer wasn't happy with his pass rush last season, which finished No. 16 in the NFL. As a result, Zimmer has been dialing up blitzes all camp, and the team will get to see how effective the packages are in live action.
3. Who will emerge at wide receiver?
Skinny:
The Bengals have a lot of depth at wide receiver, but not everyone will make the cut.
Andre Caldwell
,
Matt Jones
,
Jerome Simpson
,
Jordan Shipley
,
Quan Cosby
and
Dezmon Briscoe
are trying to find roles. Their preseason tape is a huge part of the evaluation process.
4. Which young players will stand out?
Skinny:
Bengals coach Marvin Lewis said a great thing about having five preseason games is the coaching staff will get an extended look at young players. Don't expect the starters to play beyond the first quarter tonight. But Cincinnati has a lot of rookies and second-year players who need work.
5. Will a kicker step up?
Skinny:
The kicking competition in Cincinnati hasn't been very thrilling.
Mike Nugent
has been injured, and
Dave Rayner
has failed to run away with the job in Nugent's absence. Exhibition games will go a long way to determine who wins this job, and there's no better time to start kicking well than the preseason opener.
July, 28, 2010
7/28/10
12:00
PM ET
You would be hard-pressed to find a division with more offseason intrigue and drama this year than the AFC North.
Whether it was the
suspension of a star quarterback
in Pittsburgh,
controversial signings
in Cincinnati,
new leadership
in Cleveland, or
Super Bowl hype
in Baltimore, this division remained in the headlines.
Three AFC North teams finished with winning records last year and enter 2010 with even bigger aspirations. Now it's time get on the football field and get the pads cracking in training camp, as each team has issues to address.
FOUR BIG QUESTIONS
Baltimore Ravens: Will the secondary get healthy this summer?
Ed Reed
and cornerbacks
Lardarius Webb
and
Fabian Washington
all have significant health concerns and began training camp on the physically unable to perform list.
Reed is coming off major hip surgery and is unsure if he will start the regular season on the PUP list, which would require him to miss the first six games. Webb and Washington are rehabbing knee injuries and also are possible PUP candidates for the regular season. Baltimore's secondary is one of the team's few questionable areas, and the Ravens would benefit greatly if any of these players are ready by Week 1.
Cincinnati Bengals: Can T.O. and the passing game jell?
The Bengals' downfall at the end of last season was due to their inability to pass effectively. Cincinnati became predictable and relied heavily on tailback
Cedric Benson
to move the offense. As a result, Cincinnati placed a huge emphasis on improving its passing game this offseason.
The Bengals paid receiver
Antonio Bryant
$28 million and
most recently added
receiver
Terrell Owens
with a one-year, $2 million deal. They also spent three draft picks on first-round tight end
Jermaine Gresham
and receivers
Jordan Shipley
and
Dezmon Briscoe
. With so many new faces, can everyone coexist and
quickly find their roles
? Training camp and the preseason will be key for Cincinnati to put it all together.
Cleveland Browns: Will QB Jake Delhomme erase concerns?
Whether you're Browns president Mike Holmgren, the coaching staff or a fan of the team, no one is exactly sure what Cleveland
will get out of Delhomme this year
.
Carolina Panthers
.
The Browns are quietly confident that last year was an aberration. But a strong performance in training camp and the preseason would go a long way to ease concerns. If Delhomme, 35, doesn't have anything left, backup quarterback
Seneca Wallace
and rookie
Colt McCoy
are waiting for their opportunity.
Pittsburgh Steelers: How will coach Mike Tomlin divide quarterback reps?
Should suspended quarterback
Ben Roethlisberger
get more first-team reps this summer than
Byron Leftwich
and
Dennis Dixon
?
This is an interesting issue facing Pittsburgh's coaching staff. The Steelers need to find the best quarterback option between Leftwich and Dixon because Roethlisberger will not be available for the first four to six games of the regular season. Yet, training camp and the preseason are the only times "Big Ben" can get practice reps and playing time, because he will be banned from the facility during his suspension. How do the Steelers properly balance short- and long-term preparation at quarterback simultaneously?
HOTTEST SEATS
Ravens: Terrell Suggs.
The three-time Pro Bowler raised the stakes for himself this offseason by saying his sub-par performance in 2009 will "
never happen again
." The Ravens certainly hope so, because Suggs did not live up to standards (he had a career-low 4.5 sacks) in the first season of his new contract. Baltimore needs more of a pass rush this year, and Suggs is the most capable to help in that area.
Bengals: Carson Palmer.
Cincinnati's aforementioned struggles passing the football have raised questions about its franchise quarterback. Is Palmer, 30, past his prime? Have knee and elbow injuries caught up to him? Can Palmer get back to his 4,000-yard form of 2006-07? This is a very important year for Palmer. It's the deepest team he's had in Cincinnati, and added weapons in the passing game leave no excuses for not performing well.
Browns: Eric Mangini.
Perhaps no person in the entire AFC North is on a hotter seat than Mangini. He must be successful this year to keep his job, and it's not going to be an easy task getting Cleveland out of the basement in the division. As a former head coach, Browns president Mike Holmgren believed Mangini deserved more than one year to implement his program. Cleveland won five games last season under Mangini and will have to do better in 2010 to impress "The Big Show."
Steelers: Bruce Arians.
Pittsburgh's offensive coordinator was on the hot seat even before Roethlisberger's suspension. Now Arians really has to be on top of his game for the Steelers to be successful early in the season. Arians has been
a lightning rod with Steeler Nation
. Despite Pittsburgh having a 4,000-yard quarterback, a 1,000-yard tailback and two 1,000-yard receivers last year, Arians still has a lot of detractors. He can prove many of his critics wrong by helping lead Pittsburgh to victories without the team's best offensive player.
SECRET WEAPON
Steelers WR Mike Wallace:
Pittsburgh is showing a
tremendous amount of confidence
that Wallace, a second-year receiver, can step up for the departed
Santonio Holmes
. The No. 2 receiver opposite starter
Hines Ward
is an important position in Pittsburgh's offense. It's reserved for the receiver who consistently makes big plays, which Wallace is certainly capable of with his speed.
Wallace had 39 receptions for 756 yards and six touchdowns last season. He averaged an impressive 19.4 yards per catch, quickly gaining the trust of Roethlisberger by making plays when his number was called. Now in the starting lineup, expect Wallace's number to be called more this year and for him to post better numbers, especially in the second half of the season once Roethlisberger is back in the groove.
FEARLESS CAMP PREDICTIONS
Ravens:
Expect a closer kicking competition than expected between free agent
Shayne Graham
and
Billy Cundiff
. Graham will eventually win the job, but Cundiff was solid for Baltimore last year and won't go away without a fight.
Bengals:
Adam Jones
will win the third cornerback spot in training camp. After sitting out an entire year, he's had enough time to get his football legs back and
his natural athleticism
will help keep him ahead of the competition.
Browns:
Rookie receiver
Carlton Mitchell
will be a pleasant surprise this summer for Cleveland. Mitchell, a sixth-round pick, comes to the Browns with few expectations. However, he has a nice combination of speed and size and will get plenty of opportunities at a thin position for the Browns.
Steelers:
Look for second-year cornerback
Keenan Lewis
to raise some eyebrows in this training camp.
Ike Taylor
and
Bryant McFadden
are the starters, but Lewis' size, athleticism and second year in the defense will earn him a role with the team in sub packages.
July, 27, 2010
7/27/10
10:00
AM ET
The Cincinnati Bengals had plenty of competition at wide receiver even
before
they re-opened negotiations
with free-agent Terrell Owens. So what happens to receivers on the bubble in Cincinnati if Owens is signed?

Owens
The Bengals likely will carry six receivers on their 53-man roster this year. That number may increase to seven with consideration given to special teams, but it's not expected. Therefore, with the possible addition of Owens, five players would be slotted into those six roster spots, making for a very tight competition this summer.
Chad Ochocinco, Antonio Bryant, Andre Caldwell, rookie Jordan Shipley and potentially Owens would be locks to make the team. That leaves players like Matt Jones, Jerome Simpson, Quan Cosby, Dezmon Briscoe and Maurice Purify essentially battling for one roster spot, barring injuries.
Either way, the Bengals would end up with quality depth at wide receiver. But by potentially adding a proven veteran like Owens, they could also let a player get away this summer with some potential.
Who's in and who's out?
Here's a look at which receivers are a lock and which are on the bubble:
Chad Ochocinco:
Lock
Antonio Bryant:
Lock
*Terrell Owens:
Lock
Andre Caldwell:
Lock
Jordan Shipley:
Lock
Matt Jones:
Bubble
Quan Cosby:
Bubble
Jerome Simpson:
Bubble
Dezmon Briscoe:
Bubble
Maurice Purify:
Bubble
*Bengals are in negotiations with Owens.
July, 13, 2010
7/13/10
2:00
PM ET
Every year teams have tough decisions to make to trim their rosters to 53 players. Sometimes the coaching staff and front office can't agree on who stays and who goes, and the debates get pretty heated.
With training camp approximately two weeks away, here are eight AFC North players who could be heavily debated and on the roster bubble this summer:
1. Adam Jones, CB, Cincinnati Bengals
[+] Enlarge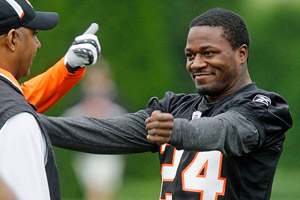 AP Photo/Al BehrmanBengals cornerback Adam Jones looked good in training camp.
Case for:
There is no denying Jones' talent. The former first-round pick looked quick and athletic playing cornerback and returning kicks during last month's mandatory minicamp. What's interesting is Jones is still working himself back into football shape after sitting out the 2009 season. The Bengals lacked a reliable third cornerback to go with starters
Johnathan Joseph
and
Leon Hall
. So there is a role available.
Case against:
Jones sat out last season for off-field reasons. He has
said and done the right things so far in Cincinnati
, but he's on a very short leash with the league office. One mishap and Jones could be off the team and out of the league for the rest of the year. But if he stays clear of trouble, he has enough ability to make the team and contribute.
Chances of making team:
80 percent
2. Matt Jones, WR, Bengals
Case for:
Jones has good size and experience. The former first-round pick had 166 career receptions and 15 touchdowns during his stint with the
Jacksonville Jaguars
. Outside of starters
Chad Ochocinco
and
Antonio Bryant
, Cincinnati has a pretty young group of receivers. That could give Jones a chance to earn roster spot if he's polished enough to contribute now for the defending AFC North champs.
Case against:
After sitting out all of 2009 because of off-field issues, Jones appears to have lost a step. This spring he hasn't looked nearly as explosive as the freakish athlete who impressed at the NFL combine in 2005. Similar to Adam Jones, it's possible that Matt Jones can regain some of his form in the process of a grueling training camp. Jones also has an inexpensive, team-friendly contract, which the Bengals can easily terminate if they don't like what they see.
Chances of making team:
40 percent
3. Jerome Simpson, WR, Bengals
Case for:
Despite a lack of production, Simpson has stuck around for two reasons: draft status and lack of receiver depth. It's hard for teams to give up on second-round picks. The Bengals invested a lot in Simpson and still want to get a return on their high pick, even if it means an extended wait. In the past, the Bengals haven't had a lot of receiver depth, which has allowed Simpson to make the 53-man roster. But that has changed this year, as Cincinnati's receiving corps has a lot of competition.
Case against:
The Bengals appear tired of waiting on Simpson, who has one reception in two seasons. They drafted two rookie receivers to compete for roster spots,
Jordan Shipley
and
Dezmon Briscoe
. This is a make-or-break training camp for Simpson. He showed occasional flashes in practice but not nearly enough to earn the trust of the coaching staff when it matters in the regular season. Entering his third NFL season, there are no more excuses for Simpson not to produce.
Chances of making team:
50 percent
4. Demetrius Williams, WR, Baltimore Ravens
[+] Enlarge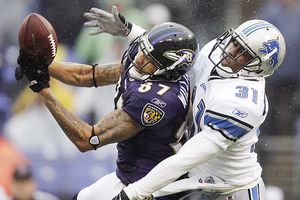 AP Photo/Rob CarrRavens receiver Demetrius Williams could be the team's deep-threat option.
Case for:
With his speed and athleticism, a case can be made that Williams potentially is Baltimore's most dangerous deep threat.
Anquan Boldin
and
Derrick Mason
are more savvy, consistent receivers, while
Donte' Stallworth
is trying to get his legs under him after sitting out a year. Williams has averaged an impressive 16 yards per catch in his career, including two touchdown receptions of 70 yards or more. There is an open role for someone to get deep in Baltimore's high-powered offense, and Williams has a chance to be that player.
Case against:
Health has always been an issue for Williams. He has played in 16 games once in his four-year career. Baltimore has kept Williams because of his potential, but at some point the Ravens would like to see consistency. To do that, Williams must stay healthy to find a role on a Ravens team with
very high expectations.
Chances of making team:
70 percent
5. John Beck, QB, Ravens
Case for:
Beck knows offensive coordinator Cam Cameron's system well from their days together with the
Miami Dolphins
. Beck's future in Baltimore
could come down
to
Troy Smith
's situation. There have been rumors of interest in Smith from the
Philadelphia Eagles
. Quarterback injuries in training camp and preseason could also increase Smith's trade value this summer, which would gift wrap the No. 3 quarterback job for Beck.
Case against:
If nothing happens on the trade front, the Ravens have an interesting decision to make between Smith and Beck. With
Joe Flacco
,
Marc Bulger
and Smith, Beck is probably the team's fourth quarterback right now, which naturally makes him the odd man out. If Smith is still on the roster, Beck will have to make up ground the old-fashioned way and outperform Smith in the preseason to win a roster spot.
Chances of making team:
40 percent
6. Bobby Engram, WR, Cleveland Browns
Case for:
The Browns have
little depth and little experience at receiver
. Engram potentially could provide both. The 14-year veteran played for Cleveland president Mike Holmgren when both were with the
Seattle Seahawks
and knows what to expect. Engram recently had a big year in 2007, when he had 94 receptions for 1,147 yards and six touchdowns. He also can serve as a mentor to young receivers such as
Mohamed Massaquoi
and
Brian Robiskie
.
Case against:
It's questionable what Engram, 37, has left. Last season he had only five receptions in five games for the
Kansas City Chiefs
. Holmgren is hoping Engram has one more decent year left in him to help Cleveland's struggling offense, which finished last in the NFL in 2009. But if there's any team Engram can make this year, it's the Browns.
Chances of making team:
60 percent
7. James Davis, RB, Browns
Case for:
Davis was arguably Cleveland's biggest rookie surprise last summer when he led the team in rushing during the preseason. But high expectations were crushed when a season-ending shoulder injury limited Davis to only two games. Now he's back for his second season and looks healthy.
Case against:
Cleveland's situation at running back is very crowded. One of the best things Holmgren and new general manager Tom Heckert did this offseason was put together a solid group of rushers. The Browns traded up to draft tailback
Montario Hardesty
in the second round and got
Peyton Hillis
from the
Denver Broncos
in the
Brady Quinn
trade. Last year's leading rusher,
Jerome Harrison
, also returns to make for a versatile group of ball carriers. All three running backs are ahead of Davis on the depth chart. So barring injury, Davis looks like a strong candidate for the practice squad.
Chances of making team:
35 percent
8. Jonathan Dwyer, RB, Pittsburgh Steelers
[+] Enlarge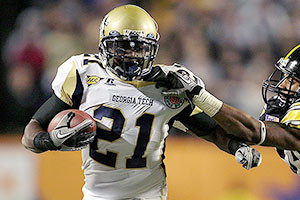 Doug Benc/Getty ImagesPittsburgh sixth-round pick Jonathan Dwyer might be headed to the practice squad.
Case for:
Despite being a sixth-round pick, Dwyer has a chance to contribute early for the Steelers. He displayed strong legs and good power in college, and that could translate into a short-yardage option for Pittsburgh. The Steelers struggled in the red zone and in short-yardage situations. If Dwyer proves he can move the chains, that would be more than enough to earn a roster spot.
Case against:
Although the Steelers may end up with a bargain, no team is afraid to put a sixth-round pick on the practice squad. Dwyer played in a triple-option offense at Georgia Tech, which means he may need some time to learn a pro-style offense. But Dwyer could pan out in a limited role.
Chances of making team:
75 percent
June, 25, 2010
6/25/10
2:00
PM ET
The
Cincinnati Bengals
signed their first rookie for 2010 Friday, agreeing to terms with sixth-round pick
Dezmon Briscoe
.
Briscoe put up outstanding numbers in three seasons at Kansas. He is the school's all-time leader in touchdowns (31) and receiving yards (3,240).
The Bengals have a deep group of receivers competing for roster spots this season. Cincinnati drafted Briscoe and third-rounder
Jordan Shipley
in hopes of improving its inconsistent passing game.
April, 27, 2010
4/27/10
12:30
PM ET

For those in "Bengaldom" interested and perhaps looking to buy jerseys of their favorite rookies, the
Cincinnati Bengals
have assigned numbers to first-year players.
Here they are, according to
the team's website
:
Jermaine Gresham, TE, No. 84
Carlos Dunlap, DE, No. 96
Jordan Shipley, WR, No. 88
Brandon Ghee, CB, No. 21
Geno Atkins, DT, No. 97
Roddrick Muckelroy, LB, No. 56
Dezmon Briscoe, WR, No. 11
Otis Hudson, OG, No. 60
Reggie Stephens, C, No. 61
April, 25, 2010
4/25/10
12:00
PM ET
I'm not big on grading an NFL draft 24 hours after it's complete. But I know a lot of people are.
So we bring in ESPN draft guru Mel Kiper to do the heavy lifting and provide his evaluations for the AFC North:
Baltimore Ravens
Kiper's draft grade:
A
Analysis:
Only two teams received the highest grade possible from Kiper, and the Ravens were one of them. To fully appreciate what Baltimore did in the draft, you have to consider the team began the week with just five draft picks. Then the Ravens shrewdly traded out of the first round with the
Denver Broncos
for three picks later in the draft, and that's when the Ravens went to work. Kiper loves the second-round selections of linebacker
Sergio Kindle
and defensive tackle
Terrence "Mount" Cody
. Kiper also believes the team grabbed a pair of quality tight end prospects in
Ed Dickson
and
Dennis Pitta
. Baltimore acquired as much talent as anyone without having a single selection in the first 42 picks.
Pittsburgh Steelers
Kiper's draft grade:
B
Analysis:
Kiper doesn't believe the Steelers drafted any huge impact players. But he liked the solid acquisitions, which resulted in a solid grade. I haven't seen anyone so far who doesn't like the choice of first-round pick
Maurkice Pouncey
. The former Florida center seems like a perfect fit in Pittsburgh's interior offensive line and should bring toughness to that unit. Linebackers
Jason Worilds
and
Thaddeus Gibson
were risky in terms of need, but Kiper believes they can help for now on special teams. Kiper highlighted running back
Jonathan Dwyer
as a possible sleeper.
Cincinnati Bengals
Kiper's draft grade:
C
Analysis:
Outside of the opening pick of tight end
Jermaine Gresham
, Kiper wasn't all that impressed with the Bengals' draft. Kiper, like most draft experts, believes defensive end
Carlos Dunlap
is a boom-or-bust player who underachieved despite great physical tools. Third-round cornerback
Brandon Ghee
potentially could help in sub packages against multiple-receiver sets, where Cincinnati struggled last season. No mention of receiver
Jordan Shipley
from Kiper. But he does think former Kansas receiver
Dezmon Briscoe
, who was taken in the sixth round, might surprise.
Cleveland Browns
Kiper's draft grade:
C
Analysis:
The first draft of the Mike Holmgren era in Cleveland also received an average grade from Kiper. He praised the pick of cornerback
Joe Haden
at No. 7 overall. But otherwise Kiper felt safety
T.J. Ward
and tailback
Montario Hardesty
were drafted too high and considered them reaches. Cleveland traded up in the second round to get Hardesty, who Kiper likes but didn't think the move up was necessary. Kiper also questioned why the Browns drafted Ward and
Larry Asante
, who are both considered "in-the-box" safeties. Kiper feels quarterback
Colt McCoy
at the end of the third round was a good value pick.

AFC NORTH SCOREBOARD
Thursday, 8/21
Saturday, 8/23
Sunday, 8/24