November, 27, 2013
Nov 27
10:00
AM ET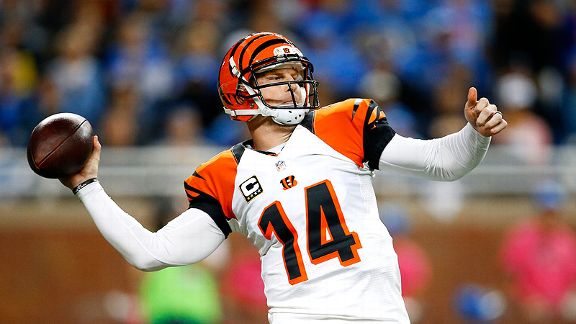 AP Photo/Rick OsentoskiThe Cincinnati Bengals are counting on Andy Dalton to return to the form that helped lead the team to a 4-1 record in October.
CINCINNATI -- Earlier this week,
Cincinnati Bengals
players like cornerback
Chris Crocker
were adamant in pointing out the urgency they need to play with throughout the
month of December
.
"It's all about winning in December," Crocker said. "Let's win out and see where the chips lay. Why can't we win out? I don't see why we can't."
If you ask some Bengals fans and most NFL analysts, they'll give you one big reason why they don't believe Cincinnati will be able to go 5-0 to close out the regular season: No. 14.
That's right. To some, the primary obstacle in the way of end-of-season perfection for the Bengals is
Andy Dalton
, the player who has quarterbacked the franchise into the playoffs each of the past two seasons, and who constantly is trying to prove himself to those who consider him just another member of a mostly failed 2011 quarterback draft class.
For that reason, as the Bengals gear up for a stretch run that could give them a first-round bye and home-field advantage in the playoffs, an important question has to be asked.
Can December Andy mimic October Andy?
As we've written countless times in the past month, October Andy was indeed a dandy. Through the first four games of that month, Dalton threw for 1,243 yards and 11 touchdowns. He also completed 67.9 percent of his passes, won four games, had a passer rating higher than 116.0 and a QBR above 83.0. He was, quite simply, brilliant. His play was so sharp back then that on the final day of the month, hours before the Bengals were set to take on the Dolphins in a road Thursday night game, he was named the AFC's Offensive Player of the Month.
And, yes, even though, comparatively speaking, he didn't look as good overall against the Dolphins and ended up taking the game-winning sack for a safety in overtime, Dalton still had a rather special performance in the 22-20 loss. Aside from not completing a touchdown pass and getting intercepted three times, he threw for 338 yards, marking the fourth straight game he had gone over the 300-yard passing mark.
Overall, October Andy was Good Andy.
But now here comes December with all of its postseason potency. If Cincinnati hopes to set itself up for the type of playoff seeding Crocker believes it deserves, then it will have to play its best ball across the next five weeks. That's especially the case for Dalton and a Bengals offense that has looked rather anemic in the past three games.
One look at Dalton's previous December stats and it doesn't appear the third-year star should have any problem showcasing even a sliver of the success that made him and his team so good about two months ago.
After a rocky December as a rookie in 2011, Dalton was among the difference-makers last season when the desperate Bengals were in need of a strong final month just to secure a playoff berth. One year after going 2-2 in the month, Dalton went 4-1 during December 2012. The lone loss came after the
Dallas Cowboys
made a field goal in the final seconds to win 20-19.
While the level of desperation may be different this December, the Bengals are looking for Dalton to thrive under similar pressure-packed moments during this one. This time around, the pressure on Dalton mainly stems from the fact that so many are fed up with his play from the past three games. In them, he's thrown eight interceptions and been sacked 10 times. Across the latter two of those games, he's completed fewer than 50 percent of his passes and hasn't posted a QBR higher than 18.0.
Weather factored heavily in Dalton's inability to move the ball in those two games. Windy conditions at Baltimore and windy and rainy conditions against the Browns sent some of his passes sailing and forced others into the hands of defensive backs.
Although weather shouldn't be a concern this weekend in San Diego (the forecast calls for partly cloudy skies and a delightful high of 71 degrees Sunday), it could be the rest of the season. Farmer's Almanac projects cold, damp conditions for all of December in the Ohio Valley. It should be noted that after Sunday's game, the Bengals are home three of the next four weeks. Their only remaining road game is at Pittsburgh.
Throughout his career, Dalton has performed better in warmer games. In games with temperatures 50 degrees or higher, he has a 20-14 record, an 85.1 passer rating and a 52.5 QBR. In games with temperatures at 49 and lower, he has a 5-5 record, a 75.4 passer rating and a 32.9 QBR. Dalton's last three sub-49-degree wins came last December, though; a sign that perhaps he's turning a corner in cold-weather contests.
Whatever the conditions and whomever their opponents are, when it comes to the next five weeks, the Bengals can only hope that Dalton turns into the same man who torched through this October.
April, 15, 2012
4/15/12
8:00
AM ET
Teams can begin their voluntary offseason workout programs Monday, but that doesn't mean we're taking the day off here on the AFC North blog. Let's buckle up our helmets and open some mail ...
...
DogPound32 (Rocky River, Ohio) writes:
Call me crazy, Jamison, but why in the world would any Browns fan want us to draft a QB, unless it was a late late round pick? Give my boy
[Colt] McCoy
a chance and surround him with [running back
Trent] Richardson
, [wide receiver
Stephen] Hill
, and [offensive tackle
Bobby] Massie
in this year's draft. Then if you want to pick up a QB in the seventh round, pick up
Kellen Moore
and call it a day. Wasting anything more than a late round pick on a QB is not worth it for the Browns this year. Moore may be smaller, but he's a proven winner with ice in his veins. He can definitely be a solid backup for Colt this year and it comes at a low risk. Thoughts?
Jamison Hensley from AFC North headquarters
: You're not crazy. That is, unless your real name is DogPound32. Your argument, however, is a valid one. I see two franchise quarterbacks in this draft,
Andrew Luck
and
Robert Griffin III
. After failing to get RG3, the Browns should focus their energy on upgrading the surrounding talent on offense. That would put Cleveland in the best position to go all-in for a franchise quarterback next season. I do have to admit that Oklahoma State quarterback
Brandon Weeden
intrigues me more and more as the draft approaches. But getting Weeden at the bottom of the first round or early in the second would mean missing out on a wide receiver or offensive tackle. And that doesn't make sense to me.
---
Ben (Pensacola, Fla.) writes:
Even if the Steelers draft a guard in the first round, they should pass on a running back to draft another guard in the second. Somehow I doubt any back in the draft is going to help much if Big Ben gets injured again.
Doug Legursky
and
Ramon Foster
are nice backups, but neither belongs as a starter. Frankly, I'd be perfectly happy if the Steelers passed on
Dont'a Hightower
to grab guards in both the first and second rounds:
Amini Silatolu
in the first and
Kelechi Osemele
in the second.
Isaiah Pead
would be worth a look in the fourth round, but that's the earliest I would go for a running back with the bigger needs on the roster.
Jamison Hensley from AFC North headquarters:
Silatolu is my sleeper pick for the Steelers in the first round. He's a nasty offensive lineman who has Pro Bowl potential. I agree that Legursky needs to be replaced; his strength is being a versatile backup. But Foster is serviceable at right guard, so you don't need to draft a guard in the second round. I think a back who is tougher and more decisive than
Rashard Mendenhall
could make this line look a lot better. I like the idea of taking Virginia Tech's speedy
David Wilson
or Boise State's powerful
Doug Martin
in the second round.
---
Brian (Cincinnati) writes:
What are the chances the Bengals have an All-Stanford first round this year with guard
David DeCastro
at No. 17 and tight end
Coby Fleener
at No. 21? The Bengals desperately need a No. 2 tight end in Jay Gruden's offense. Considering the free agents available and the fact that this draft class is not deep at all at tight end, why not take the best available?
Jamison Hensley from AFC North headquarters
: The Bengals are bringing back their top three tight ends after re-signing
Donald Lee
. Like you, I would like to see another pass-catching tight end, but I wouldn't classify Cincinnati as desperate for one. The Bengals just took a tight end (
Jermaine Gresham
) in the first round in 2010, so it's highly unlikely they would use one on another tight end so soon. If the Bengals draft DeCastro, which would be a great move for the Bengals, the second first-round pick can be used on a wide receiver, safety, cornerback or outside linebacker. Those are bigger needs than a No. 2 tight end.
---
Ben P (Boston) writes
: What do you think are the chances that the Ravens trade up to the 23rd or 22nd pick in the first round? Both Detroit and Cleveland are probably just looking for best available players at that point and so they might be willing to trade back for extra picks. It would give Baltimore a chance to fill a need and keep a really good player like offensive lineman
Cordy Glenn
or linebacker Dont'a Hightower away from the Steelers.
Jamison Hensley from AFC North headquarters
: I would say there is a greater chance of the Ravens moving back than moving up. Baltimore covets draft picks and it only has eight, which is the fewest among AFC North teams this year. The only way the Ravens trade up -- and they indicated they would only go as high as No. 19 -- is if one of their top 15 prospects slides into the 20s. I got the impression from the team's pre-draft press conference that the Ravens want more picks, which means moving back.
---
April, 13, 2012
4/13/12
1:02
PM ET
The Bengals retained veteran tight end
Donald Lee
, the team announced. The signing of a blocking tight end doesn't stir a lot of debate, but it got me to think about Cincinnati's level of activity in free agency.

These have been some busy Bengals. Lee is the 14th player signed by the Bengals in free agency, which is now 30 days old. That's almost an average of one signing every two days. Even after the flurry of signings, the Bengals still have the most salary-cap room in the NFL, a reported $20 million in cap space.
Seven of those free agents were re-signed: Lee, safety
Reggie Nelson
, linebacker
Manny Lawson
, cornerback
Adam Jones
, defensive tackle
Pat Sims
and offensive tackles
Anthony Collins
and
Dennis Roland
.
Seven of the free agents came from other teams: running back
BenJarvus Green-Ellis
(Patriots), guard
Travelle Wharton
(Panthers), cornerbacks
Jason Allen
(Texans) and
Terence Newman
(Cowboys), guard
Jacob Bell
(Rams) and defensive ends
Jamaal Anderson
(Colts) and
Derrick Harvey
(Broncos).
By keeping Lee, the Bengals will return their top three tight ends from last season with
Jermaine Gresham
and
Colin Cochart
.
November, 13, 2011
11/13/11
7:12
AM ET
Here's your game-day warm-up:
CINCINNATI -- The Steelers are looking to avoid their first 0-3 start in the AFC North when they play the Bengals at Paul Brown Stadium today.
Pittsburgh lost its first two division games this year when it got swept by the Ravens. The Steelers have only had one three-game losing streak in the division since the AFC North began in 2002.
A majority of the ESPN
NFL experts
believe the Steelers will get their first division victory today. Six of the eight prognosticators have Pittsburgh (6-3) beating the Bengals (6-2), who have won five consecutive games (the longest current streak in the AFC).
ESPN's NFL experts also have the Ravens and Browns winning today. The Ravens (6-2) play at Seattle (2-6), and the Browns (3-5) are home against St. Louis (1-7).
Here are some story lines for today's games:
November, 6, 2011
11/06/11
5:32
PM ET
Thoughts at halftime of the Bengals-Titans game in Tennessee: