November, 11, 2013
11/11/13
1:45
PM ET
PITTSBURGH -- Steelers defensive coordinator Dick LeBeau has often said sacks aren't the only measure of how much pressure a defense -- or a defensive player -- puts on opposing quarterbacks.
But, man, that had to look good to a lot of people in the Steelers organization when
Jarvis Jones
overwhelmed Bills quarterback
EJ Manuel
with a burst of speed and recorded his first NFL sack on Sunday.
"It's been a long time coming," Jones said after the Steelers' 23-10 win over the Bills. "I'm a pass-rusher so when you're a pass-rusher and you don't have any sacks people are looking at you like 'What kind of pass-rusher is he?' I think I should have had like two other sacks, but it was a good start."
[+] Enlarge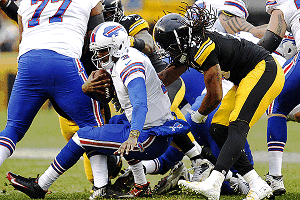 Charles LeClaire/USA TODAY Sports"It's been a long time coming," Steelers rookie LB Jarvis Jones said of notching his first career sack.
If nothing else it lifts something that had to be weighing on the rookie outside linebacker.
Sacks came in bunches for Jones while at Georgia even as he played in an elite conference such as the SEC.
His production in college – Jones had 14.5 sacks his senior season on the way to consensus first-team All-America honors – established the 6-foot-2, 245-pounder as one of the most ready-made players in the 2013 NFL draft.
And just one game into the season Jones became the first rookie starter at outside linebacker since the Steelers switched to a 3-4 defense in the early 1980s.
Of course, little this season for the Steelers has followed a tidy script, and that includes the progress of their rookies.
Running back
Le'Veon Bell
was sidelined early with knee and foot injuries. Wide receiver
Markus Wheaton
missed four games after surgery on his broken right pinkie. Safety
Shamarko Thomas
became the latest first-year player to go down with an injury as he hurt his ankle in the win over the Bills.
Jones hasn't been immune to injuries as he missed a game after suffering his first-ever concussion. He has also had to overcome something else: a demotion.
Jones officially lost his starting job a couple of weeks ago when the Steelers moved
Jason Worilds
ahead of him on the depth chart at right outside linebacker.
"For me, when I was moved to second on the depth chart, it just made me work harder," Jones said. "I'm not just a sitting duck on the sidelines. I'm watching the game and looking at different techniques and trying to help my teammates."
That approach to his benching has been a refreshing one, and the Steelers remain confident they made the right call when they took Jones with the 17
th
overall pick of the 2013 draft.
No less an authority than LeBeau has twice said he expects big things from Jones and that he has been encouraged by the progress the latter has made.
The one thing the Steelers can do without when it comes to Jones: the unnecessary roughness penalty he received during the opening kickoff of the second half, something he heard about from coach Mike Tomlin when he returned to the sidelines.
Jones atoned for that penalty in the fourth quarter when he sacked Manuel for a 7-yard loss.
"It was just bad timing and a bad reaction," Jones said of his penalty. "I should have just kept it in between the lines. That's a rookie mistake and something that won't happen no more."
November, 11, 2013
11/11/13
9:45
AM ET
PITTSBURGH -- A review of four hot issues from the
Pittsburgh Steelers
'
23-10 win
over the
Buffalo Bills
:
[+] Enlarge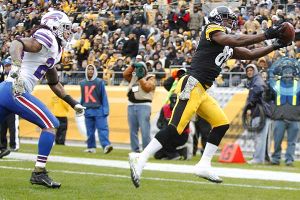 Charles LeClaire/USA TODAY SportsSteelers wide receiver Jerricho Cotchery catches a touchdown behind Bills cornerback Stephon Gilmore during the second quarter of their Week 10 game.
It's a start:
The Steelers improved to 17-2 against rookie quarterbacks since 2004, and
EJ Manuel
averaged less than four yards per passing attempt. Manuel's inexperience and the fact he was playing in his first game in five weeks because of a knee injury precluded the Steelers' players from saying the defense is back after giving up 610 total yards the previous week at New England. "No offense [to the Bills], but they have a quarterback who hasn't had the opportunity to play in awhile," Steelers free safety
Ryan Clark
said. "I think they played extremely vanilla and didn't allow him to do much so we needed to stop the run and that was the first step toward getting back, but we have a long way to go."
Sleeper hold:
Jerricho Cotchery
tied his career high for touchdown receptions in a season when the 10th-year veteran hauled in his sixth scoring catch late in the second quarter. Running what he called a "fall-asleep fade," Cotchery delayed his release and caught Bills cornerback
Stephon Gilmore
peeking into the backfield. Quarterback
Ben Roethlisberger
put enough touch on the pass for the touchdown that snapped a 3-3 tie. "It was a great call by [offensive coordinator Todd] Haley," Cotchery said. "He went into the archives for that one and pulled it out at the right time." According to Cotchery, it was a play Haley had used when he coached the wide receivers for the Bears from 2001 to '03. "It's something that we've been working on," Cotchery said. "We executed it well."
Key to victories:
Roethlisberger always talks about how important balance is to the Steelers' offense, and the math backs him up. In the Steelers' three wins, they have run the ball 51.1 percent of the time. In six losses they have run the ball just 30.5 percent of the time. The Steelers established the run early against the Bills and rushed for 136 yards on 4.1 yards per carry. Roethlisberger, meanwhile, had fewer passing attempts (30) than Steelers rushing attempts (33). "I thought we were able to find a rhythm and establish the running game and convert on some third downs," Steelers coach Mike Tomlin said.
OL sustains another injury:
The Steelers lost another offensive lineman to injury when left guard
Ramon Foster
hobbled off the field early in the third quarter after hurting his ankle. Safety
Shamarko Thomas
(ankle) and outside linebacker
LaMarr Woodley
(calf) also left the game with injuries and did not return. Tomlin said all three were evaluated after the game but he did not have any information beyond that. Woodley said his injury was not serious. "I'll be good to go," he said.
November, 10, 2013
11/10/13
8:00
PM ET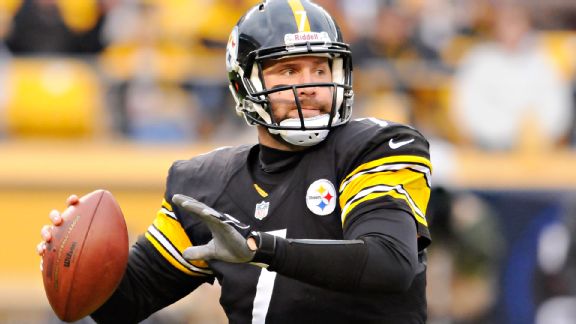 Mark Konezny/USA TODAY SportsBen Roethlisberger insists he'll be a Steeler past this season, despite a report to the contrary.
PITTSBURGH -- He wore a No. 7 jersey and watched quizzically from the arms of a
Pittsburgh Steelers
staffer as his father addressed a semi-circle of reporters near the front of the home locker room.
Ben Roethlisberger
Jr. either received as strong an assurance as possible that he will long call the Pittsburgh area home. Or he witnessed an acting job worthy of an Oscar nomination, courtesy of his old man.
The elder
Ben Roethlisberger
turned in a workmanlike performance in the Steelers' 23-10 win against the hapless
Buffalo Bills
at Heinz Field on Sunday.
He later allowed himself to look ahead only so he could angrily deny an NFL Network report he took personally because of its most titillating claim: that Roethlisberger might want out of Pittsburgh after this season because he is so unhappy with the direction of a franchise that has won a record six Lombardi Trophies.
"It's one of the most B.S. stories I've ever heard," Roethlisberger said after throwing for 204 yards and a touchdown against the Bills. "When it comes to wanting to go somewhere else, that's completely unacceptable."
So is what the Steelers' season had devolved into following a 55-31 unmasking last Sunday in New England. The 3-6 Steelers did not restore hope after beating the Bills on Sunday in a game that was as drab as a gray, cold day, as much as they stanched the latest round of bleeding.
The reality is the Steelers are almost certainly going to miss the playoffs for the second season in a row. That and the fact that Roethlisberger isn't getting any younger -- and continues to take a beating behind a patchwork offensive line -- led to a report that appears to have added two and two and gotten five.
Forget the layers of denials, and that Roethlisberger's agent unequivocally discredited the report even before talking to his client about how to handle it.
Roethlisberger has always said he wants to play for the Steelers his entire career. And his roots here extend now beyond leading the Steelers back to Super Bowl glory.
Roethlisberger's wife, Ashley, is from New Castle, which is about an hour north of Pittsburgh. The couple's first child was born here, and they are expecting another child.
Do you really think Roethlisberger wants to uproot his growing family just so he can link up with his good buddy and former Steelers offensive coordinator Bruce Arians in Arizona?
A lot of tough decisions loom for the Steelers this offseason, and they will almost certainly have to hire their second offensive coordinator since sending Arians into what the team framed as retirement at the end of the 2011 season.
It is simply not working out between Roethlisberger and Todd Haley -- the two still have a frayed relationship, according to a source, despite their appearance of working better together this season -- and guess which one is more expendable?
The offense continues to labor under Haley, and it managed just two touchdowns against the Bills despite a balanced attack and short fields provided by an
Antonio Brown
punt return and a
Ryan Clark
interception.
The Steelers, however, so thoroughly dominated the Bills that they extended for at least another week hope that a season that started 0-for-September can still be salvaged.
Not that the Steelers players dared go there after the get-well win.
"It was one step in the right direction," Steelers defensive end
Brett Keisel
said. "If we play like this we can be tough."
The Steelers agave those fans who braved the biting air and whipping winds what coach Mike Tomlin called an "appropriate" response following the Steelers' loss at New England.
They looked like the Steelers of old as opposed to the old Steelers in dominating both lines of scrimmage, toying with a rookie quarterback and taking control of the game with touchdowns that bridged the second and third quarters.
They played angry, none moreso than
Lawrence Timmons
, who had eight tackles and a teeth-rattling sack of
EJ Manuel
.
The caveat is that the Bills are even worse in the win-loss column than the Steelers, and that Pittsburgh has now beaten
Joe Flacco
and two rookie quarterbacks this season.
That is why when Roethlisberger was asked if the Steelers remain relevant relative to the playoff picture he said, "It's way too early to tell."
It's apparently not too early for Roethlisberger to foresee how the rest of his career plays out, and the 10
th
-year veteran and the Steelers publicly pledged their allegiance to one another.
"I'm not quitting on anything, this season, this team, these fans," Roethlisberger said. "I'm going to give it everything I have. This is home."
This is also the place where he won his 90th-regular season game on Sunday -- and where Roethlisberger still represents the best hope of winning, even with so much uncertainty swirling around the Steelers.
"I've always wanted to be a Steeler for life," he said.
The reiteration of that desire trumped the other big news of the day: that the Steelers aren't dead.
Yet.
April, 15, 2013
4/15/13
4:00
PM ET
Leading up to the start of the NFL draft (it's only 10 days away), the AFC North blog will evaluate each position and where it stands as a need for each division team. Let's start with the quarterbacks, which is an intriguing draft talking point in the AFC North.
The
Cleveland Browns
are the only AFC North team without an established starter, but it wouldn't be a surprise to see the other division teams use a mid-to-late round pick on a quarterback. While I list the Browns as having the biggest draft need at quarterback, you can make a case for the Bengals, Ravens and Steelers being No. 2.
This is the ranking in terms of needing to draft a quarterback:
1. Cleveland Browns
: I don't see Cleveland taking a quarterback with the No. 6 overall pick. The Browns, though, could take one as early as the second round if they trade back in the first round and acquire a pick in the second. Cleveland has taken an up-close look at most of the top quarterbacks, from
Geno Smith
to
Matt Barkley
to
E.J. Manuel
to
Ryan Nassib
. All of the options are open for the Browns, who can draft a quarterback to compete with
Brandon Weeden
and
Jason Campbell
or select one to develop behind them.
2. Cincinnati Bengals
: The Bengals have
Josh Johnson
and
John Skelton
as backups to
Andy Dalton
. I wouldn't say they are set at quarterback. Johnson and Skelton have a combined 8-14 record as starters. The Bengals have worked out Manuel and Nassib, which shows they're doing their homework on some of the top quarterbacks in the draft. Still, it would be a surprise to see Cincinnati draft a quarterback in the first three rounds. The Bengals may take one in the middle rounds if the right quarterback is there.
3. Baltimore Ravens
: This may raise some eyebrows because the Ravens have gone with
Tyrod Taylor
as the backup to
Joe Flacco
for the past two seasons. There has been a sense that the Ravens would like to upgrade the backup spot. Baltimore brought in
Curtis Painter
to compete with Taylor last offseason. Taylor also didn't instill confidence in a sporadic performance in the regular-season finale at Cincinnati. The Ravens have multiple picks in the fourth, fifth, sixth and seventh rounds. In other words, they have enough to take a flier on a quarterback.
4. Pittsburgh Steelers:
The Steelers have been questioned in recent years about when they're going to draft a quarterback to develop behind
Ben Roethlisberger
. With Roethlisberger turning 31 last month, those questions will only increase. The Steelers
created some buzz
when they had dinner with quarterback
Tyler Bray
before attending his pro day. Pittsburgh is set at backup quarterback after signing
Bruce Gradkowski
this offseason. The Steelers, though, can draft a quarterback to compete with
John Parker Wilson
for the No. 3 spot.
April, 3, 2013
4/03/13
8:00
AM ET
A programming note: I'm attending a summit for ESPN.com bloggers in Bristol, Conn. (I'm representing the AFC), and will be in meetings all day. While I won't be able to react to news as quickly as I would like, I will have blog posts throughout the day, including my weekly column that should be posted before noon. I will touch base either late Wednesday or early Thursday. Here's the wake-up call ...
RAVENS
: Baltimore recently had a pre-draft visit with Alabama right tackle D.J. Fluker, according to
The Baltimore Sun
. He is projected to be gone before the Ravens are on the clock for the last pick in the first round. West Virginia wide receiver Tavon Austin is scheduled to attend the Ravens' local pro day workout,
The Sun
reported. Austin, who is also expected to go earlier in the first round, went to high school in Baltimore.
BENGALS
: Tommy Urbanski, who was paralyzed in a 2007 strip-club shooting that was sparked by cornerback Adam Jones, told the
New York Daily News
that he has yet to receive any money from last year's $13.4 million judgment. Urbanski has filed papers in Ohio to seek 25 percent of Jones' earnings this year. Jones, who re-signed with the Bengals last month, will earn $750,000 in 2013.
STEELERS
: Georgia outside linebacker Jarvis Jones, who has been linked to Pittsburgh in the first round, had a pre-draft visit with the Steelers on Tuesday, according to the
Pittsburgh Tribune-Review
. Jones is an explosive pass-rusher who could fill James Harrison's spot on the defense. There is concern whether Jones has stenosis, which is the narrowing of the spinal column. His medical condition, along with
a disappointing pro-day performance
, may cause Jones to fall to the Steelers at No. 17.
BROWNS
: Syracuse quarterback Ryan Nassib will have a private workout with the Browns on Thursday, according to
ESPN NFL Insider Adam Schefter
. Head coach Rob Chudzinski and offensive coordinator Norv Turner are scheduled to attend. Nassib is the latest quarterback prospect to get an up-close look by the Browns, who have the No. 6 overall pick. The Browns have a private workout scheduled with Florida State's E.J. Manuel on Friday and are expected to have one with West Virginia's Geno Smith. Chief executive officer Joe Banner previously said taking a quarterback early in the draft is not the team's focus.