July, 24, 2013
7/24/13
10:42
AM ET
Cleveland Browns
offensive coordinator Norv Turner has coached the NFL's leading rusher five times. Could running back
Trent Richardson
be the next one?
Richardson
Turner got every fantasy football owner's attention Tuesday when he indicated Richardson could carry the ball 300 times this season. All five players who cracked 300 carries last season ranked in the top six in the NFL in rushing.
"If that player is your best player, then I think it's probably a good thing to have him in the game and give him the ball," Turner said, via
The Plain Dealer
. "So I would hope Trent would have that many carries. That means he's playing healthy and playing at a pretty high level."
Under Turner, Emmitt Smith, Ricky Williams and LaDainian Tomlinson all won rushing crowns and handled a major workload in doing so. Smith carried the ball 365 times in 1991 and 373 times in 1992. Williams had a whopping 383 carries in 2002. And Tomlinson ran the ball 315 times in 2007.
Few running backs have to take such a pounding these days. In the previous two seasons, only seven players have carried the ball more than 300 times. The past 10 rushing champions, however, have averaged 353 carries during their respective league-leading seasons.
Richardson did some heavy lifting as a rookie last year under coach Pat Shurmur even though the No. 3 overall pick battled injuries. He played 702 offensive snaps in 2012, which was ninth-most among NFL running backs. Richardson established himself as a workhorse despite undergoing a knee scope early in training camp, breaking his ribs in Week 6 and missing the season finale due to an ankle sprain. He finished 18th in the NFL in rushing with 950 yards but tied for fifth in the league with 11 rushing touchdowns.
Turner was asked how Richardson measured up against the likes of Smith and Tomlinson.
"Just watching him and seeing him against us when I came here in October and then watching the tape, yeah, he's that type of runner," Turner said. "Obviously he's the third pick in the draft. I think he has a lot of great days ahead of him. I always have a problem comparing players because each guy has his own unique style, but I think he's capable of doing great things."
November, 15, 2012
11/15/12
11:00
AM ET
It took
Trent Richardson
some time to win over Jim Brown. But he always had one Hall of Fame running back in his corner.
Richardson has a close relationship with former Cowboys running back
Emmitt Smith
. They attended the same high school (Escambia High School in Pensacola, Fla.), and Richardson regularly gets advice from Smith.
When the Browns play at the Cowboys on Sunday, Richardson hopes Smith will be in attendance.
"I'm one of Emmitt's biggest fans, so it would mean a lot to me if he's at the game," Richardson told the
Chronicle-Telegram
. "He's someone who I've gotten to know pretty well and he's a great man. We talk probably two or three times a month, and the thing I appreciate the most is he'll be straight with you. He'll tell me exactly how I've been doing and what I need to do to get better."
Richardson is going for that elusive Browns rookie trifecta. He is looking to become the first Browns rookie to ever rush for 100 yards in three consecutive games.
Before the bye, Richardson ran for 122 yards against San Diego and 105 yards against the Ravens. On Sunday, he is going against Dallas and the NFL's 13th-ranked run defense.
Because of the break, Richardson should be healthier now than his previous two productive games. He has been dealing with a rib injury, but he told coach Pat Shurmur that he feels better now.
"I haven't, like, punched him in the ribs or anything, but he's going to be out there practicing," Shurmur said. "He said he feels good."
On the official practice report, Richardson had full participation Wednesday but he is listed with rib, chest and finger injuries.
August, 6, 2011
8/06/11
10:38
PM ET
CANTON, Ohio -- When was the last time you heard the name
Roland Williams
?
What about
Ernie Conwell
or
Ricky Proehl
?
[+] Enlarge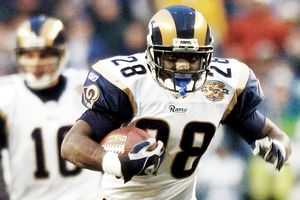 AP Photo/Paul SakumaMarshall Faulk finished his career with more than 19,000 yards from scrimmage and 136 touchdowns.
Even Mike Martz, who is under fire in Chicago, got some love during
Marshall Faulk
's Hall of Fame speech Saturday night at Fawcette Stadium. Faulk credited many people and former teammates. But the Rams of the late-1990s and early-2000s mostly defined Faulk's career.
Spending most of his career under the tutelage Martz and Dick Vermeil in St. Louis, Faulk (19,154 yards) finished fourth all-time in yards from scrimmage behind
Jerry Rice
,
Emmitt Smith
and Walter Payton.
Martz made Faulk into the secret weapon. Martz found ways to get Faulk the ball in the running game, out of the backfield and also lined up as a receiver. Faulk became the new gold standard for all-purpose backs.
"Before
Aaron Rodgers
threw the ball [39] times in the Super Bowl against a vaunted Steelers defense, and before his counterpart
Ben Roethlisberger
threw it [40 times]. ... we had Mike Martz," Faulk explained. "The 'Mad Scientist' is what they called him."
Faulk also thanked former Rams stars like
Kurt Warner
and
Isaac Bruce
. They are among the cogs that made the "Greatest Show on Turf" great and well ahead of its time.
Today most offenses will throw 40 times in a game at some point during the season. But none of those teams have another Marshall Faulk.
May, 24, 2011
5/24/11
11:15
PM ET
It's not quite another Lombardi trophy. But
Pittsburgh Steelers
receiver
Hines Ward
can add another piece of championship hardware -- the mirror ball trophy -- to his distinguished collection.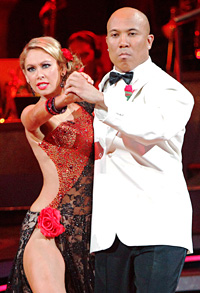 AP Photo/Adam TaylorHines Ward is this season's "Dancing with the Stars" champion.
Ward, a two-time Super Bowl champion, became just the second NFL player to win the popular "Dancing with the Stars" competition on ABC, joining former running back
Emmitt Smith
. Ward and partner Kym Johnson had great chemistry from the start and became the prohibitive favorites, and they finished the job Tuesday night with another great performance to beat Kristie Alley and Maksim Chmerkovskiy, who came in second.
Ward and Johnson, wearing the Steelers' black-and-gold colors, performed the Samba and didn't miss a step. He showed fluid moves and sported his trademark smile the entire performance, which scored a perfect 30 points from the judges Tuesday. The final tally was the combined result of the judges and the fans.
To be honest, I didn't expect Ward to win "Dancing With The Stars." Ward is not the fastest or the quickest receiver in the NFL, but his abilities translated very well on the dance floor. Ward admits he never danced before, but he is an intense competitor and you can tell he put his all into winning this competition.
I also had questions about Ward's taking part in this lengthy competition spanning more than two months in the spring, but it turned out to be the right call. Due to the lengthy NFL lockout, Ward didn't miss any offseason activities and was able to do something to stay in shape and further his career after football. Perhaps dancing this offseason will also help Ward become more nimble in the twilight of his career.
Ward may have come up one drive short in Super Bowl XLV against the
Green Bay Packers
this past February. But credit Ward, a consummate winner, for working hard to bring a different kind of title to Pittsburgh this year.
May, 16, 2011
5/16/11
10:30
AM ET
Character issues aside
, the
Baltimore Ravens
are getting some praise for drafting former Colorado cornerback
Jimmy Smith
at No. 27 overall. On the field Baltimore is a getting a potential top-10 talent at an important position late in the first round.
Add Matt Williamson of Scouts Inc. to the list of experts who like the pick.
Williamson recently tweeted
Smith has the potential to win Defensive Rookie of the Year in 2011. This week we caught up with Williamson to explain.
Matt, break down your recent prediction that Smith will win Defensive Rookie of the Year honors.

Smith
Williamson:
I'm uncharacteristically backtracking a little, but I will tell you why. I think with Jimmy Smith, when you think about the Defensive Rookie of the Year, cornerbacks rarely win that honor. If you're a great corner, people stop throwing at you. So it will probably be difficult for Smith to win that award. But I did say afterward that I think Smith will have the best rookie season of any defensive player, and I mean that. He's not going to get a ton of tackles, he's not going to get many sacks and interceptions are tough to count on. So to say that a corner is going to win Defensive Rookie of Year isn't a real smart thing to say. But I love the fit. I think he will immediately be their No. 1 corner. He's the
Chris McAlister
-type they needed. He had no business lasting that long in the draft. I don't worry about the character stuff, especially in his first year when he's trying to impress everybody and get acclimated in that locker room.
The Ravens made an interesting point that Smith will help their pass rush. In what ways can that happen?
Williamson:
If the Ravens can trust Smith, they can bring another linebacker or a safety blitz or the opposite corner without a lot of fear. They can put Smith on the No. 1 receiver and he's going to do pretty well. And, by the way, Baltimore also has
Ed Reed
roaming around and eliminating any other issues. So, yeah, I don't think Baltimore is loaded with pass-rushers. But Smith will very much help the pass rush.
Finally, what are your thoughts on the Nnamdi Asomugha comparisons? Fair or too much too soon?
Williamson:
Comparisons are rough. In general I'm not a fan of them, because no one compares these players to somebody bad.
Mark Ingram
is the next
Emmitt Smith
. Well, Emmitt Smith has rushed for more yards than anybody ever, and Nnamdi is the second-best corner in the league. Does Jimmy Smith have that kind of ability? I would say yes. I think he is more physically gifted than
Prince Amukamara
and he's right there with
Patrick Peterson
as the most gifted corners in this draft. He has the size, the speed, the hips -- he really has it all. So in terms of just physical gifts, putting Smith against Nnamdi, they're not that far off.
April, 27, 2011
4/27/11
3:00
PM ET
Cleveland Browns
running back
Peyton Hillis
joined
Philadelphia Eagles
quarterback
Michael Vick
on ESPN.com Wednesday to discuss the finals of the "Madden NFL 12" cover tournament. The results will be announced later today.
Hillis
Hillis is surprised he made it this far and had no idea he was this popular. Browns fans have
come out in droves
to support Hillis during this tournament, where he's upset four straight higher seeds to make it to the finals.
Here are some other thoughts from Hillis:
On the Madden curse:
Hillis:
For people to believe in this so-called curse, I can't wait to prove people wrong. From what I believe and where I am in my spiritual life, it would be good to prove them wrong in that sense.
On his football idols growing up:
Hillis:
My football idol growing up, I was named after Walter Payton, but my idols at RB were
Barry Sanders
and
Emmitt Smith
.
On his running style and longevity:
Hillis:
When I play the game, I feel that I need to put it all into it. I don't care if I play 2 or 5 years. I just want to put it all into it. I don't think players will pick that up, they want longevity.
For the full chat transcript,
click here.
August, 7, 2010
8/07/10
10:00
PM ET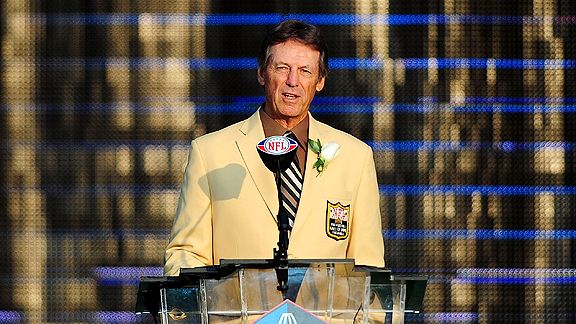 Andrew Weber/US PresswireDick LeBeau cherished his moment at the podium. "Life is a gift. It's a joy," he said.
CANTON, Ohio --
Pittsburgh Steelers
head coach Mike Tomlin and president Art Rooney II stood side-by-side as dozens of players behind them gradually stepped off the team's buses.
Each player carried a Terrible Towel as he entered Fawcett Stadium. Many Steelers smiled as one of their own -- a coach, a mentor, and in some ways a father figure -- was about to enter football immortality.
It was a joyous and celebratory day for Dick LeBeau. The longtime Steelers defensive coordinator and former Pro Bowl cornerback with the
Detroit Lions
received his Hall of Fame bust Saturday after recording 62 career interceptions and becoming one of the greatest defensive minds in football history.
"It's very special," Steelers defensive end
Aaron Smith
said. "He's done more for me as a person off the field than he could ever do with me on the field. It's just an honor."
LeBeau joined an outstanding 2010 Hall of Fame class that also included Jerry Rice, Emmitt Smith, John Randle, Russ Grimm, Rickey Jackson and Floyd Little. LeBeau went in as a Lions player, but Saturday's induction had more of a Steeler Nation feel to it.
[+] Enlarge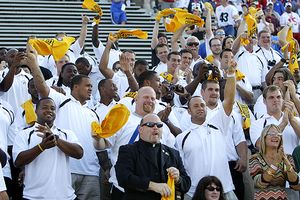 AP Photo/Mark DuncanMembers of the Pittsburgh Steelers cheered on Dick LeBeau on Saturday.
Steelers coaching staff and players made the trip from training camp in Latrobe, Pa., to support and honor LeBeau. They proudly stood in a roped-off section to the left of the stage and waved their Terrible Towels.
LeBeau's brother, Bob, introduced him and soaked in every moment.
"Man, this really is a great day to be alive!" Dick LeBeau said.
Dick LeBeau spent most of his adult life making life hard on quarterbacks. His 62 picks are eighth all time. His invention of the zone blitz defense also led the Steelers to two Super Bowl titles, making him arguably the greatest assistant coach in NFL history.
One of the first things LeBeau did Saturday was give credit to his players, which is something he does frequently. His wisdom and youthful energy have helped him relate to players during his coaching career.
In typical LeBeau fashion, he credited many of the people who shaped his career and contributed to his success. The Steelers hung on LeBeau's every word during his speech and were equally complimentary.
Some Pittsburgh players have been to Canton to participate in the Hall of Fame Game, but this was the first time many got to enjoy the ceremony.
"It's great to be a part of this induction," Steelers cornerback
Bryant McFadden
said. "It's a lot different actually getting to see this and celebrate it. For us this is very important."
LeBeau, 72, is coaching on a year-to-year basis with Pittsburgh. But his legend and contribution to football for more than 50 years were officially solidified Saturday night.
Showing his wisdom and charm, LeBeau left the crowd at Fawcett Stadium with a strong message.
"Life is for living, folks," LeBeau said. "Don't let a number be anything other than a number. Don't let somebody tell you that you're too old to do this or too old to do that. Stay in life. Life is a gift. It's a joy. Don't drop out of it."
May, 25, 2010
5/25/10
1:00
PM ET
»
NFC Big Question
:
East
|
West
|
North
|
South
»
AFC
:
East
|
West
|
North
|
South
Does participating in five preseason games impact regular-season success?
Brad from Atlanta sent an interesting thought to our
AFC North inbox
. He wondered if the Hall of Fame game had a positive or negative impact on teams in the regular season.
Because of the risk of injuries, there is some debate whether it is fair to ask only two NFL teams to play five exhibition games during the summer, while the other 30 teams play four preseason games. But the Hall of Fame game has a rich history, and it is an honor to represent the league in the first preseason game of the year.
On Aug. 8, the
Cincinnati Bengals
will play the
Dallas Cowboys
in Canton, Ohio. Cincinnati wanted to participate in this game for years because of the deep connection between Bengals founder Paul Brown and northern Ohio. Also, Dallas has Cowboys great
Emmitt Smith
being inducted in what should be a tremendous, weeklong celebration for its franchise.
On the field, there hasn't been any significant impact one way or the other with teams playing a fifth preseason game. The overall record of the last 10 Hall of Fame game participants is 83-77, which is slightly above .500. Five of those teams had winning records, three had losing records and two finished 8-8.
That means Bengals and Cowboys fans shouldn't worry. If they have a good team, like the 2008
Indianapolis Colts
and 2007
Pittsburgh Steelers
, the latest Hall of Fame game participants will make the playoffs this year. If they don't have a good team, like the 2009
Buffalo Bills
, the postseason won't be in their future.
But there's no statistical proof that playing an additional preseason game will cause Dallas or Cincinnati to have a poor season.
March, 15, 2010
3/15/10
4:42
PM ET

Here is a memo to
Cincinnati Bengals
fans: Tickets for the Hall of Fame Game between Cincinnati and the
Dallas Cowboys
will go
on sale Tuesday
.
The game, which is the first exhibition of the 2010 season, will be held at Fawcett Stadium in Canton, Ohio, on Aug. 8. Tickets range from $47 to $62.
Cincinnati facing off against Dallas will be one of the many events scheduled for this year's Hall of Fame ceremony. The 2010 class consists of Dick LeBeau, Jerry Rice, Emmitt Smith, Russ Grimm, Rickey Jackson, Floyd Little and John Randle.
February, 6, 2010
2/06/10
7:43
PM ET
One of the top centers of all-time will continue to play the waiting game.

Dawson
Thirteen-year
Pittsburgh Steelers
offensive lineman
Dermontti Dawson
, who made seven consecutive Pro Bowls from 1992-98, was once again passed over for the Hall of Fame. This was the sixth consecutive time he failed to make it to Canton since becoming eligible in 2005.
Dawson made the cut
from 15 to 10 finalists this year. But Dawson wasn't part of
the five inductees
that included
Jerry Rice
,
Emmitt Smith
, Russ Grimm,
John Randle
and
Rickey Jackson
. Senior nominees Dick LeBeau and Floyd Little also are part of the 2010 class.
This year was perhaps the closest Dawson came to making the Hall of Fame. He also was a finalist in 2008 and a semifinalist in 2005, 2006, 2007 and 2009.
There is an impressive backlog of players currently not in the Hall of Fame. In addition to Dawson, strong candidates such as
Cris Carter
,
Cortez Kennedy
,
Richard Dent
,
Andre Reed
,
Charles Haley
,
Tim Brown
and
Roger Craig
were all rejected this year alone.
Several more impressive candidates such as
Marshall Faulk
,
Deion Sanders
,
Jonathan Ogden
and
Jerome Bettis
also will be eligible very soon. That will further congest the Hall of Fame voting process, which doesn't help Dawson's candidacy.